Overview
You have just started your online business on Shopify and you want to continue using the current domain you have purchased from a third-party provider, with your new Shopify store. In this post, we will show you the detailed steps to transfer domain to Shopify, an optimal solution to the above-mentioned situation.
Why do you need to transfer your domain?
First, let's have a look at those below reasons to thoroughly understand why you should transfer domain to Shopify:
Better management of the domain: When you transfer a domain, you will also move the management of the domain to Shopify, which means that you can adjust your domain settings, pay for your domain, and renew your domain directly in your Shopify admin.
Very high cost: Shopify provides a reasonable price which is only $14 per year to host your domain.
Information leaked: Few registrars leak the contact information even while having domain protection. With Shopify, you can rest assured of your information security.
Poor support system: When you choose to transfer domain to Shopify and pay for domain registration, you will benefit full support from the professional Shopify Support Team.
So, what do you need to keep in mind when transferring your domain to Shopify?
Shopify will host your domain with the price of $14 per year.
When you transfer a domain, the server name for the domain will not be changed.
Your current domain name registrar's policy allows you to support domain transfer.
Your domain must have been registered more than 60 days ago.
You need to pay to register your domain on Shopify for the next 12 months.
Besides, you will need to track, respond to important confirmation emails and wait up to 20 days from the time of initiation to the complete transfer process.
Let's dive deeper into the detailed steps on how to transfer domain to Shopify!
How can you transfer domain to Shopify?
Basically, there are only 3 simple steps to transfer domain to Shopify effortlessly:
Step 1: Check your domain provider's transfer policy
Before starting the domain transfer process, you need to check your domain provider's transfer policy. Searching the keyword 'transfer domain' in the domain provider's help center is the most basic way to find the policy. In case you need it, here are the transfer domain policies of some popular domain providers in the eCommerce world: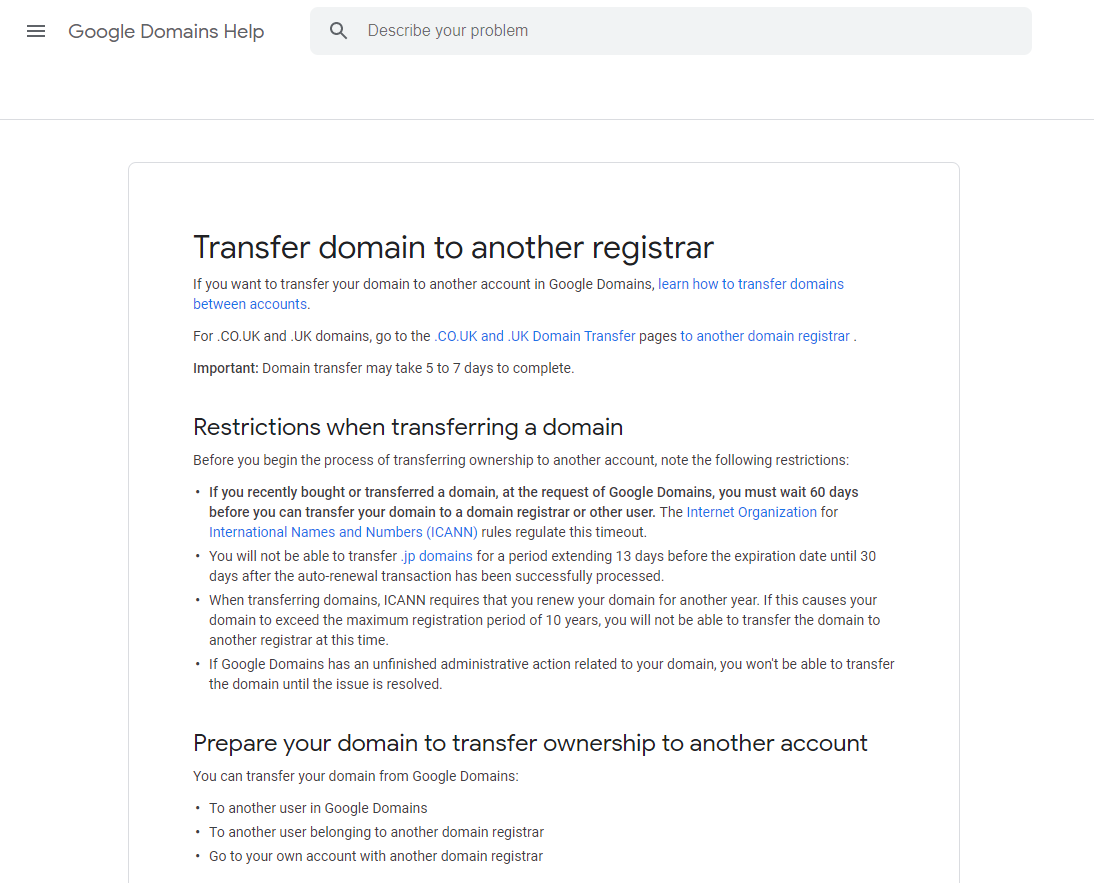 Step 2: Prepare your domain for transfer
After being sure about the policy, you have to prepare your current domain to be moved to Shopify by taking 4 below steps:
Login to your domain provider account
Make sure that the email associated with your account is alive because you will receive emails to confirm during the transfer process
Unlock the domain that you want to transfer in the settings
Get a transfer authorization code from your provider by clicking Transfer this domain in the settings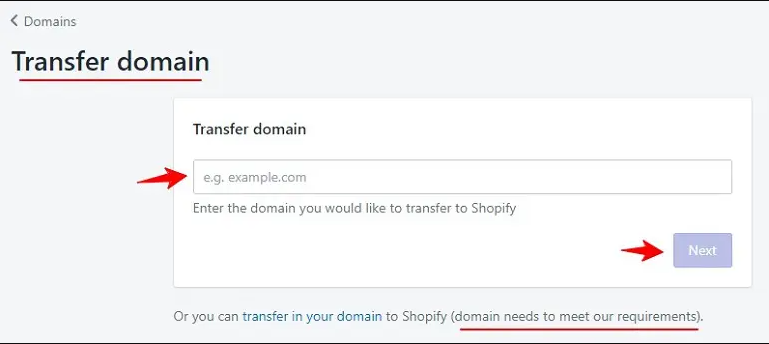 If you have problems when preparing your domain for transfer, you should contact your domain provider or Shopify development company for assistance.
Step 3: Transfer domain to Shopify
Now, it's time to move to the most essential steps:
From your Shopify admin, click Online Store, then click Domain.
If you are connecting your domain to your Shopify store for the first time, click Connect existing domain > transfer in your domain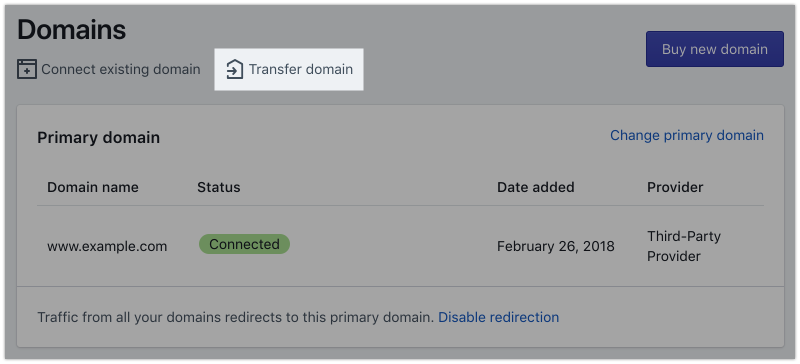 In case you already have a domain connected to your Shopify store, please click Transfer domain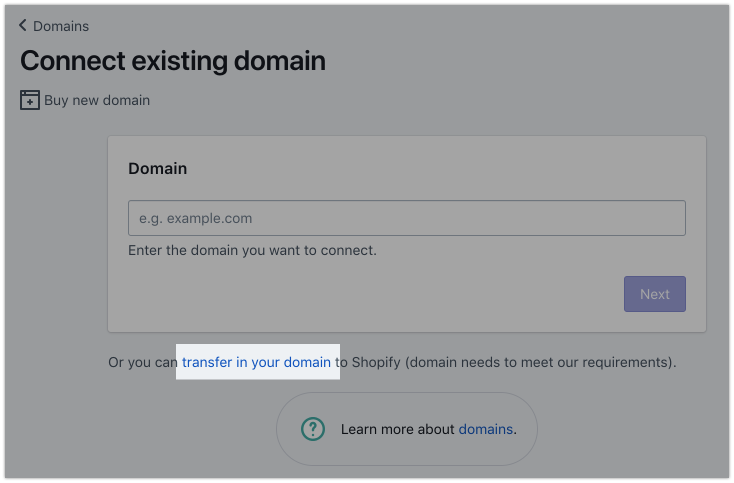 Enter the domain name that you want to switch to Shopify, not including www. at the beginning of the domain.
Hit Next and then click Verify domain.
If the domain is ready to be transferred, you will see Domain Unlocked, click Next. In reverse, you see Domain Locked, you need to go back to step 2 and make sure you have prepared completely your domain for transfer.
In the Verification code box, you must enter the authorization code, or EPP code, that your domain provider gave you.
Click Next, then click Buy and transfer.
Next, Check the email account associated with your domain because you might have an email asking you to confirm these changes.
After you have approved the transfer process, it takes you up to 20 days for the domain transfer to be finished and after that, you will receive an email from Shopify confirming that your domain is successfully transferred.
Note: When you transfer a domain to Shopify, its "A record" and "CNAME record" are set to Shopify's default domain records. If additional records were presented on your domain before the transfer, then you need to add those in the Domains section of your Shopify admin.
How can you connect domain to Shopify?
In case you still want to use the third-party domain provider to manage and review your domain settings, here is another way to point your domain name in your Shopify store – Connect domain to Shopify.
Step 1: Add an existing domain to your Shopify store
First of all, you need to add your custom domain to your Shopify store. This step identifies you to Shopify as the owner of your custom domain.
From the Shopify admin, go to Online Store > Domains
Click Connect existing domain.
After that, enter the domain you want to connect and hit Next.
After you've added your domain in Shopify, don't forget to choose your primary domain (the domain name that customers will see in the address bar while they browse your online store).
Step 2: Set up your domain to connect to Shopify
Log in to your account on the third-party domain provider.
Find your DNS setting and find your domain management area, DNS configuration.
Edit your A record to point to Shopify's IP address: 23.227.38.65.
The domain settings panel might feature drop-downs or editable fields, or you might have to check boxes or edit a table. You need to:
Enter or choose the @ symbol, or A record
Enter Shopify's IP address 23.227.38.65 as the destination for the A record.

Then click Save the A record.
Find the CNAME record in your DNS settings. Change your www CNAME record to point to shops.myshopify.com, in fact, CNAME records must always point to a domain name not to an IP address.
Click Save the CNAME record.
Click Verify connection to confirm that your custom domain has been connected to your Shopify store.
It might need up to 48 hours for your custom domain to point to the Shopify store. If you still need a complete guide to connect your existing domain to your Shopify store, please take a look at the help document of Shopify or watch this tutorial video for details.
Conclusion
If you have made it to this part, hopefully, you have had a clear understanding of the domain transferring process to Shopify. If you have further questions, you should contact your domain provider or Shopify support team.
In case you want to move your store to Shopify, LitExtension is here for you! With a few simple clicks, all your data including products, customers, orders and other related entities will be automatically transferred to Shopify without any issues. Don't hesitate to run free demo migration to Shopify now!
Thank you for reading and we hope to see you in the next post! Let's join our community to get more eCommerce knowledge and news.