Among hundreds of eCommerce platforms in the market, Shopify vs WordPress comparison comes as a rescue for many e-merchants.
If you're confused about which one is better, don't look further because you're in the right place. In this article, we would love to provide an insightful comparison between Shopify vs WordPress for your consideration:
Without further ado, let's check it out!
Want to Migrate Your eCommerce Platform?
If you are intending to migrate from one eCommerce platform to another, LitExtension offers a great migration service that helps you transfer all your data accurately and seamlessly with utmost security.
---
Shopify vs WordPress – Overview
#1. What Is Shopify?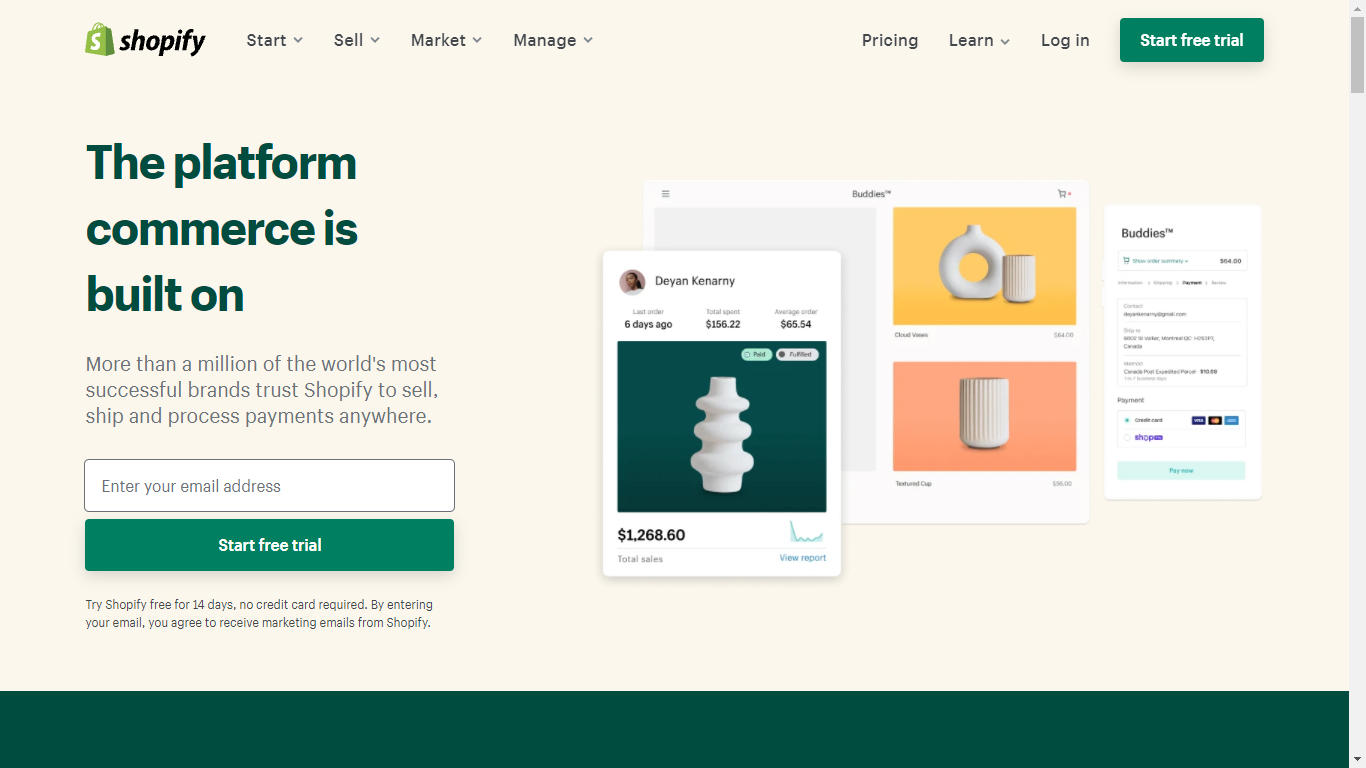 Regarded as a safe and efficient platform, Shopify is home to more than 5.4 million live websites worldwide and is trusted by many big brands including Tesla, NetFlix, BBC, to name but a few. It is one of the leading hosted eCommerce software platforms where everyone can build an online store and start selling their products online.
In particular, Shopify can directly create an e-shop without requiring you to have any website construction background. In addition, you can take advantage of Shopify Plus plan for scalability plan. You can take a look at our Shopify vs Shopify Plus comparison here for more details.
Please don't forget to check out our in-depth Shopify review below to see what's more can Shopify can offer.
#2. What Is WordPress?
On the contrary, WordPress is an open-source CMS (Content Management System), that was originally designed to create blogs. It is a remarkable CMS platform based on PHP and MySQL. Founded in 2003, WordPress is now home to over 30,400,000 live websites, including some prominent names, such as The New York Times, Bloomberg, Spotify.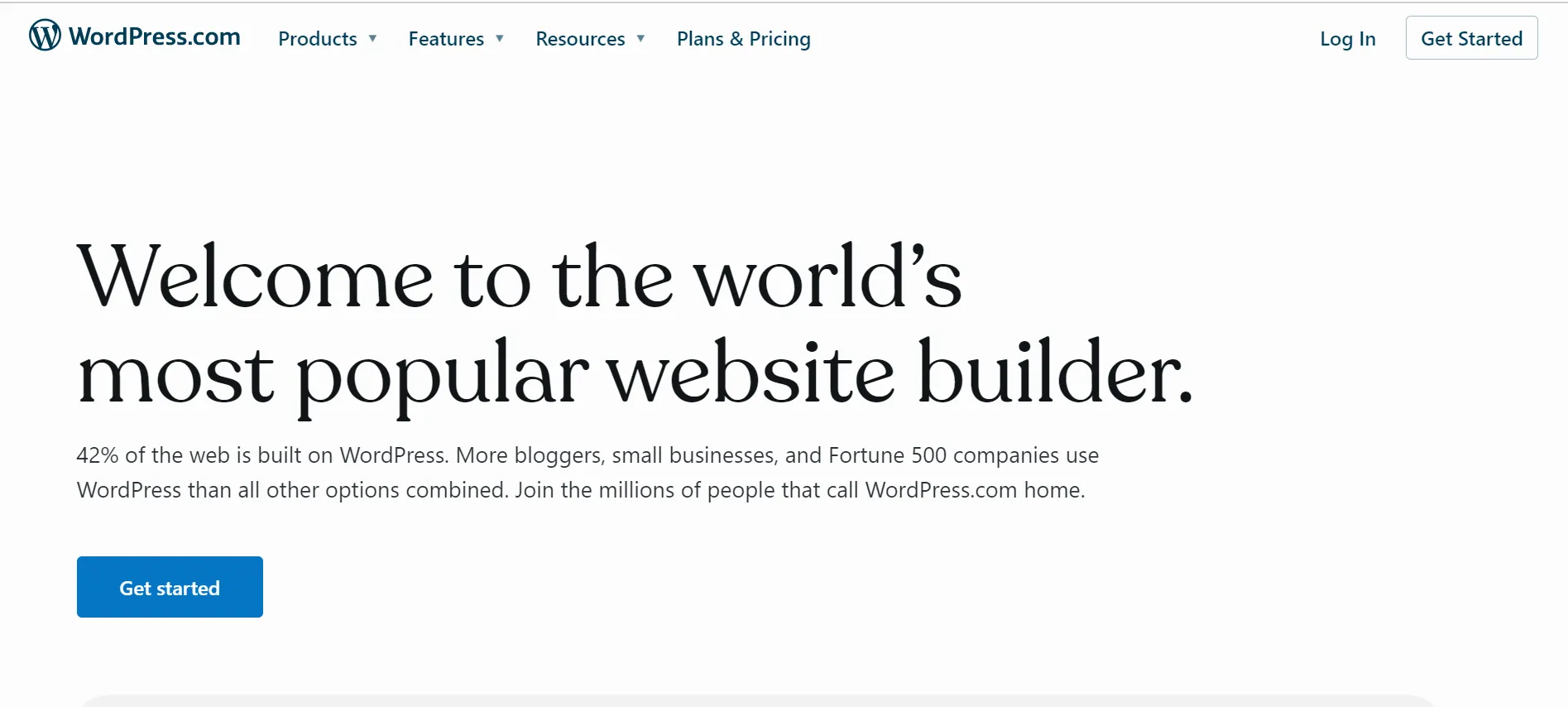 Presently, thanks to changes to the core code, as well as WordPress's massive ecosystem of plugins and themes, you can create any kind of site with WordPress, from a real estate marketplace to online magazines. WordPress is separated into WordPress.com (hosting service) and WordPress.org (self-hosted) (more on that later).
In this article, we have a more in-depth look at the differences between Shopify vs WordPress, especially eCommerce features and website builders to help you pick the best one for your needs.

---
Shopify vs WordPress: What Are The Differences?
Whenever you choose to create an online store on Shopify or WordPress, it's still a smart choice to start selling on multiple channels. You will drive more sales revenues as well as reach huge potential customers if you sell on the top global marketplaces like Amazon, eBay, or Etsy. Choosing a suitable multi-channel selling tool will help you manage and sync data effortlessly within a single dashboard. Why not give it a try?
With the rapid development of technology leading to more people online shopping, I have also been urged to have my own store. So in love with the idea, read through all the reviews, I chose to start my first business with Shopify and WordPress six months ago. This means that I have directly experienced all of their basic features and explains the reason why we have this article today.
Before getting to the nitty-gritty, let's take a look at all the differences between Shopify vs WordPress.
| | | |
| --- | --- | --- |
| | | |
| | | |
| | 3 pricing plans: $39 - $399/month | Free to download and install |
| | Provides an all-in-one package with no technical skill required | Is rather easy to use but might require a bit of technology knowledge to set up |
| | Offers 100+ free and paid themes | Provides over 4,000 templates to download |
| | Is packed with 8,000+ plugins, both free and paid | Comes with over 58,000 free and paid plugins |
| | Offers numerous built-in features for online businesses | Requires other eCommerce plugins to start selling online |
| | 24/7 customer support via phone call, live chat, and email | No live chat, phone call, email available |
Now, let's dive into the detailed comparison between Shopify vs WordPress to find out which one is suitable for you!
#1 Pricing
How much does it cost to use Shopify and WordPress?
Shopify Pricing
The first aspect I'd love to mention in our Shopify vs WordPress comparison is pricing.
Besides themes, add-ons, or extensions, the Shopify plan is the most important factor when we calculate Shopify fees.
More importantly, Shopify offers a 3-day free trial for you to discover the Shopify dashboard and experience it yourself. After trying out the platform, you only need to pay Shopify $1/month to use their Basic Shopify in the first 3 months.
| | | | |
| --- | --- | --- | --- |
| | | | |
| *if not using Shopify Payments | | | |
| *assign & manage staff's activities | | | |
| | | | |
| *automatically manage & operate stores | | | |
| *shipping subsidies with leading carriers | | | |
| | | | |
| Third-party calculated shipping rates | | | |
Besides Shopify pricing plans, I also have to pay for a domain (which begins at $14/year) and an additional fee for each transaction. In case you use Shopify Payments, you are supposed to pay 30 cents and a credit card rate from 2.4% to 2.9% per transaction.
On the other hand, the additional transaction fees applied for other payment methods is ranging from 0.5% to 2% depending on the plan you choose. You can read more on our analysis of Shopify pricing here for more information.

WordPress Pricing
Before going to further comparison, let's cover how WordPress.com varies from WordPress.org (fully comparison WordPress.com vs WordPress.org). As I have done research, the biggest difference between the two programs is who's actually hosting your website.
WordPress.org: You have full control of your website, which means that you and your hosting provider are responsible for your WordPress installation.
WordPress.com: They will take care of all of that for you. It depends on price and functionality, and you have to figure out if WordPress.com offers what you need.
Because WordPress.org is open-source and 100% free for anyone to use. All I needed is a domain name and web hosting. It also means that I have to do backups, security updates, and any upgrades that I feel are necessary.
From there, the cost of a WordPress site when using WordPress.org:
Domain name: $12/year.
Hosting: from $3.95/month.
Plugins: $0 – $1,000 (ongoing or one-off charge).
Security: from $50 (ongoing or one-off charge).
Developer fees: $0 – $1,000 (one-off cost).
Depending on your needs, your cost to start a WordPress website can range from $100 to $500 to $3000, to even as high as $30,000 or more, but you have full control over the hosting expenses.
Like other hosted solutions, WordPress.com offers various plans that users can sign up for and those plans usually dictate what sort of domain name is available. Its hosting service has 5 plans as follows: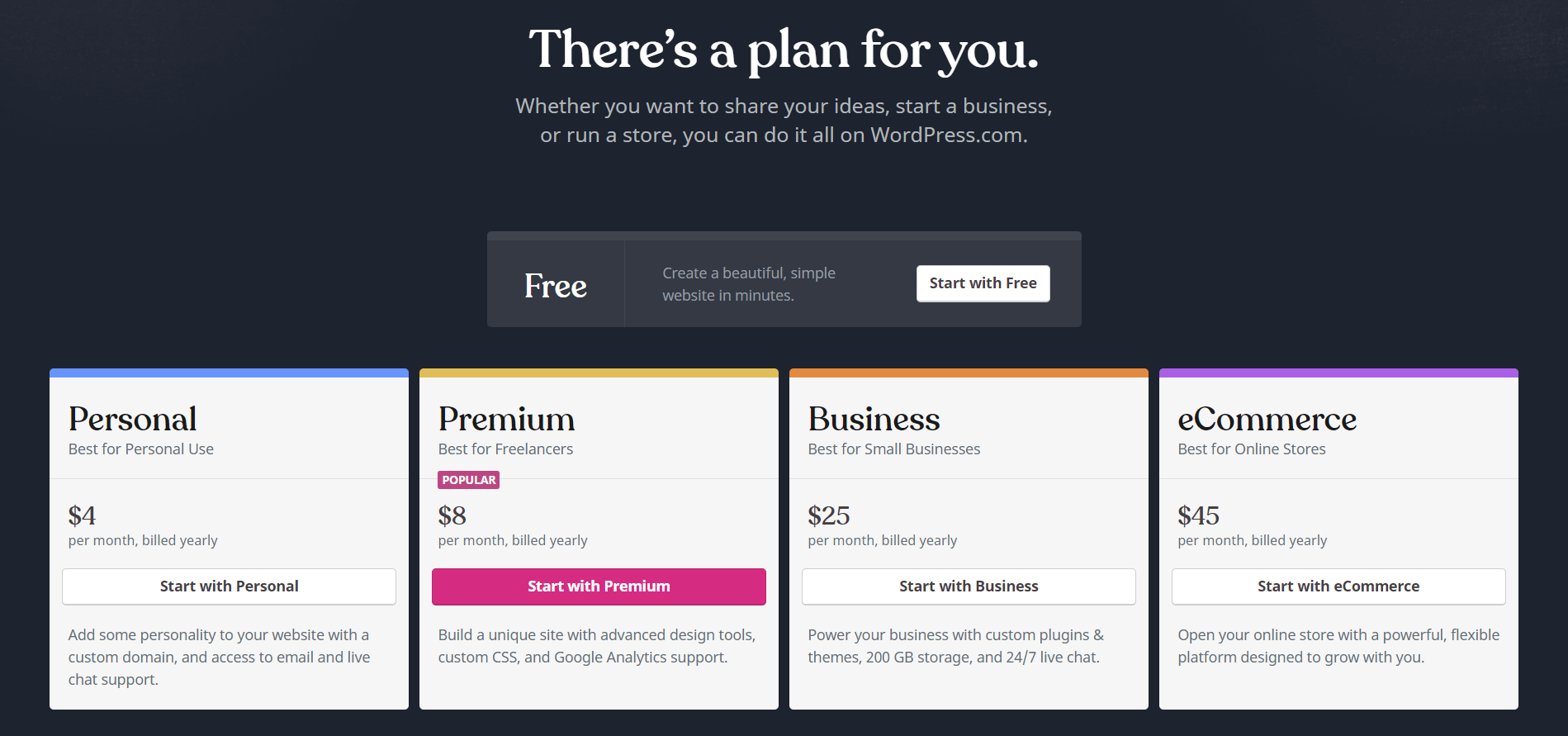 For users that don't want to pay for anything, their site will reside on a subdomain of WordPress. For example, a free domain will be something like litextension.WordPress.com.
And for those who do pay, you can get a custom domain name to use on your site. Every plan, even the free one includes an SSL certificate pre-installed, free themes (about a dozen or so). Besides, all paid plans include Email and Live chat support, plus a free domain for a year.
In closing, which one on WordPress is better with your budget?
When you own a small-scale business or just want to share your ideas with the world but don't want to worry about paying for hosting or handling the more technical side of a website, I personally recommend  WordPress.com.
On the opposite, you should do it on WordPress.org software as long as you want to launch a more serious website – a robust business site, a project site, a pro-blogging project. This is also your choice if you want to get an unlimited number of possible customizations with a technical support team behind or hire a WordPress development agency.
The verdict
From my own point of view, if you are a small to medium business, you can consider a hosted platform such as Shopify or WordPress.com with accessible pricing plans. But if you are a large business that wants to customize your site and has more control and flexibility, you can use WordPress.com with various features at various price ranges.
#2 Ease of Use
Shopify Ease of Use
Another important aspect when comparing WordPress vs Shopify is ease of use.
Getting started with Shopify is not a dire job. This eCommerce platform is extremely easy to install, set up, and begin selling. Here's our quick tutorial on how to set up Shopify within a few minutes.
If you used WordPress before, you would feel instantly familiar with Shopify's interface and have no problem accomplishing the most common tasks. With Shopify, you don't have to be an expert at store building and you can start an online retail store in just a few minutes.
With Shopify's dashboard, I can easily view all the components of the front and back end of my store in one place. From here, I can configure your store's settings, view order, and customer information, add/delete/modify products, and design your site.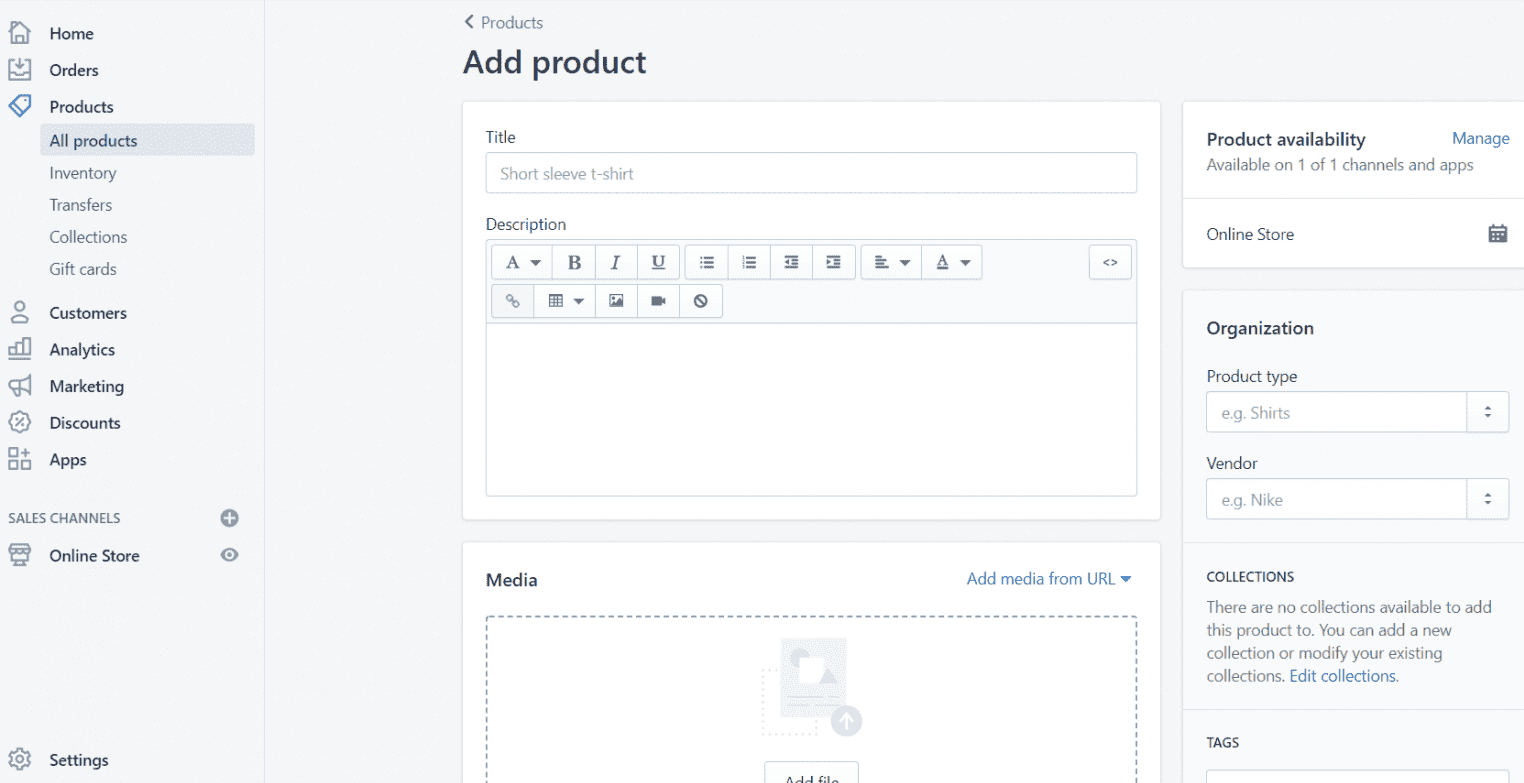 Besides, Shopify free trial is available for any of the available plans. It is a good chance to test how the system works and whether it is suitable for newbies. Thanks to Shopify's policy, you even could reactivate your store after canceling Shopify free trial. Your store name (domain) and all your data will be saved in 30 days.
So why don't you consider creating a Shopify store to understand more about this platform if you're still in confusion about finding a proper one?
Want to Migrate Your Store and Grow on Shopify?
Having decided that WordPress is not the perfect fit for your online business? Switch to Shopify now and rocket your sales with powerful eCommerce functionalities and good support and maintenance with this platform.
WordPress Ease of Use
Since both WordPress.com and WordPress.org operate in WordPress software, they run in a kindred way. I can use it to launch blogs, company websites, landing pages, online stores, and portals that imply the need for user registration.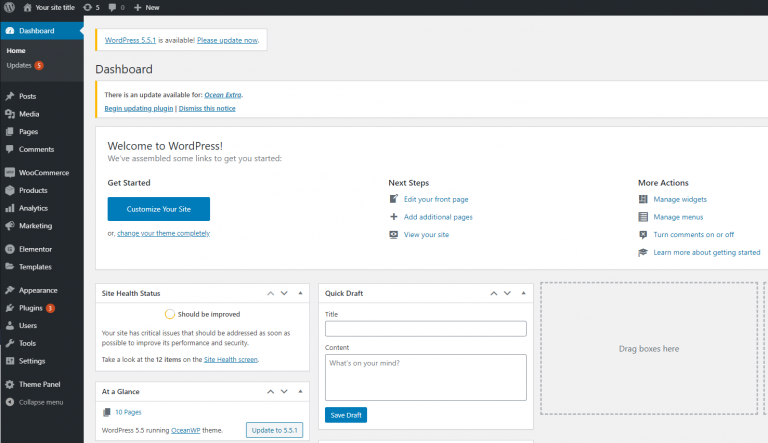 The back-end is simple and clean, and everything within the dashboard is easy to use. Along the left side of the page are the various content areas of the site as well as the settings that can be manipulated. There's absolutely no question as to where you can go to customize your design, set up social sharing, or add a new blog post.
The verdict
In my opinion, both Shopify and two versions of WordPress are user-friendly with clear instructions in the back-end dashboard. Hence, you do not have to worry have to start building your site with these two platforms.
#3 eCommerce Features
Shopify comes with many inbuilt eCommerce tools for store owners to use. In contrast, WordPress depends on intermediary plugins (for example rextheme.com) to be able to open an eCommerce store.
WooCommerce is the most popular and arguably the king of WordPress eCommerce plugins. This plugin includes most of the essential features you'll need to set up an eCommerce site.
Because of its reputation, I'll put them on scale to distinguish their eCommerce functions:
SHOPIFY 
WOOCOMMERCE

Integrates with apps like Ordoro, Inventory Source and eCommHub

Automatic carrier shipping rates
Offer free shipping
Flexible shipping rates

Flat-rate shipping
Free shipping
Local pickup

Automated tax calculations

Integrates with over 100 external payment gateways from around the world

Built-in payments for some of the top gateways, credits cards and more

Coupon codes
Abandoned cart recovery

Allows you to sell anything on your website, whether that's physical or digital
500+ extensions & thousands of plugins
Shopify vs WooCommerce eCommerce features

#4 Theme Design & Customizability
Shopify Themes
Moving to the next part of Shopify vs WordPress comparison, let's take a look at store design and customizability.
If you wish to make your online store look better than the rest, check out the Shopify Theme Store. Shopify offers 120+ professionally designed themes, all of which are mobile-ready. All Shopify themes come with a holistic list of customizations you can make without having to touch a line of code (e.g. colors, fonts, or social media buttons). So my only worry is that there are too many awesome themes to pick just only one for my website!

Besides, Shopify allows users to access and edit the source code using Liquid coding language. With Liquid, I can possibly change the existing Shopify template or layout as well as add the new one. Unlike the ordinary HTML/CSS languages, Liquid is a bit different. It will take your time to accommodate or hire a Shopify technical expert to do it for you.
WordPress Templates
There are tons of themes on WordPress.com. Some are free and others are premium (they cost money), I could only choose from the collection of themes that they allow. However, the Business Plan provides access to all of the most popular WordPress themes.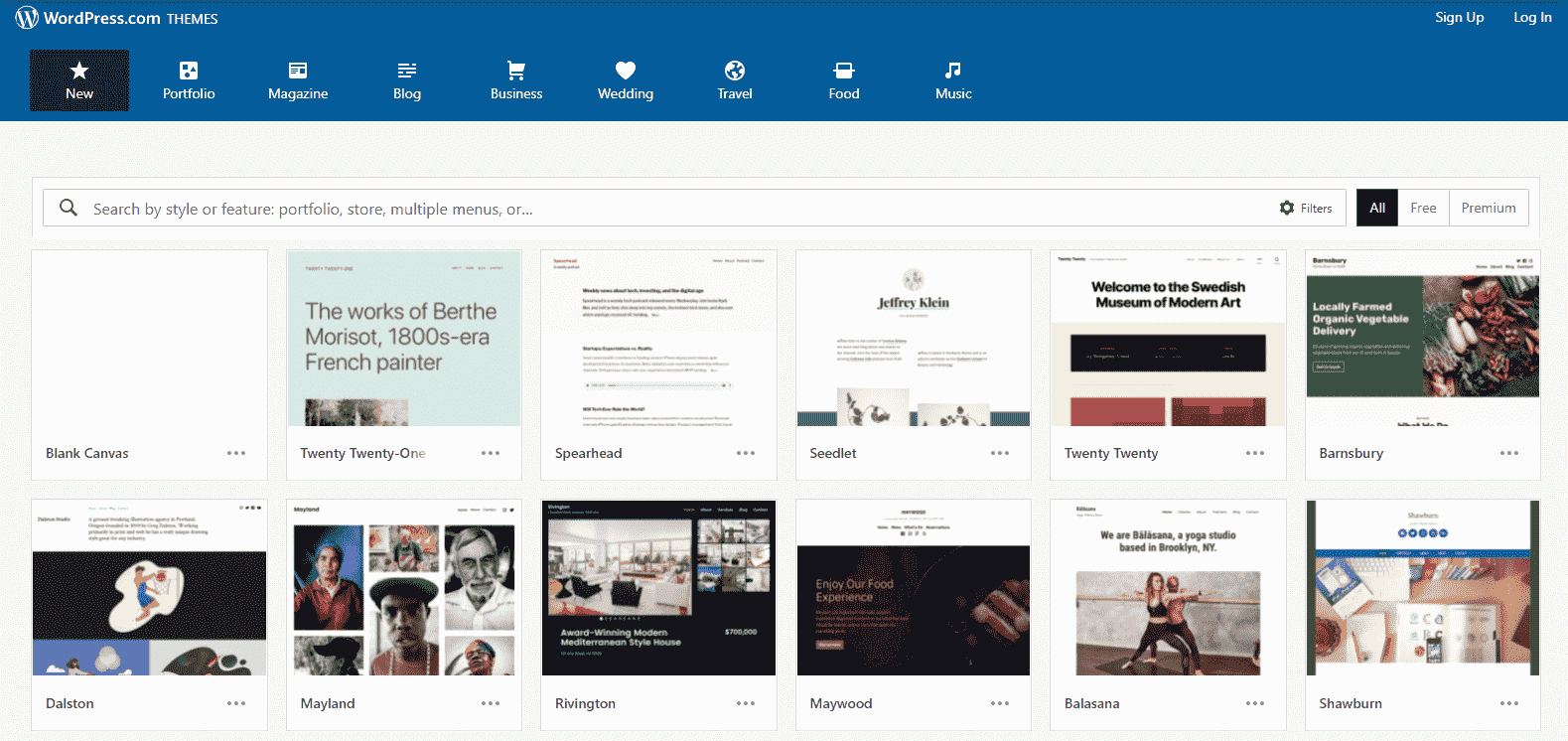 With WordPress.com, I can change the body page (the center part) such as changing colors, uploading the logo, changing the background, or creating beautiful sliders. Contrariwise, I don't have direct access to the HTML source and sections of your page unless I add Custom CSS to the site with the Premium Plan or higher.
WordPress.org has a huge truckload of templates. It has much better customization options. From what I know, you are able to edit the source code as you please. Plus, you can even use plugins that let you build a theme yourself through drag and drop tools. You can also hire WordPress experts to provide a fully customized website design for you.
The verdict
If you ask me, Shopify provides many beautiful designed themes in their theme store. You can choose from various themes based on your website type, such as blog, business, fashion, etc. It is the same thing with WordPress. However, WordPress.org has more customization options than WordPress.com.
#5 Apps & Plugins
Shopify Apps
An essential aspect we need to pay great attention to when analyzing key differences between Shopify vs WordPress is Apps/Extensions/Plugins.
As a Shopify user, you'll avail of numerous APIs for any merchant to scale up their stores by employing an API to integrate with several apps. You can integrate third-party plugins or even create and integrate your own extension.
There are over 6000 apps available, from a variety of paid and free apps. The costs for paid apps vary and some of them even have a recurring subscription. The premium ones fall in the range of $15 to $50 per month.
WordPress Plugins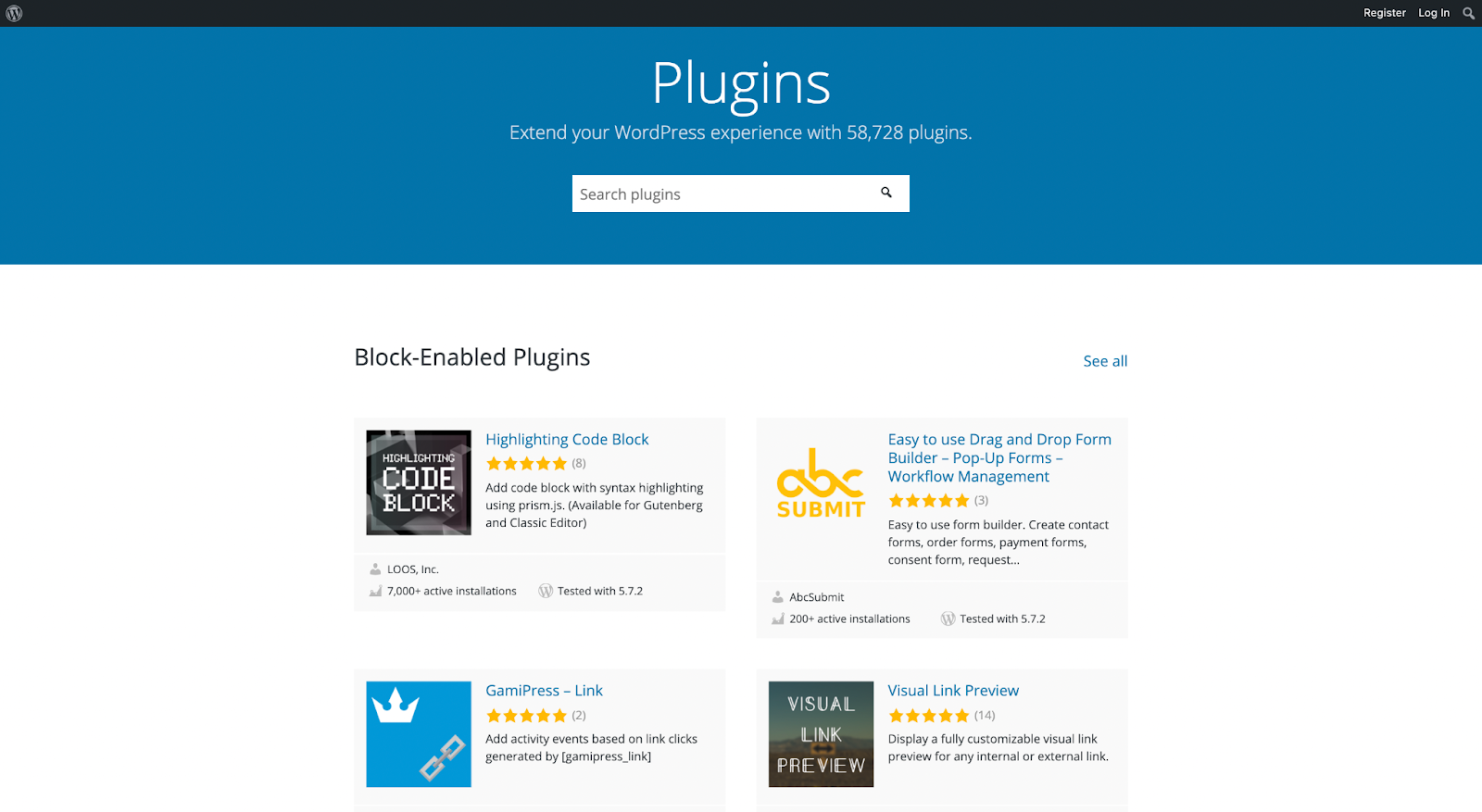 By default, you get access to 50,000+ plugins. With a self-hosted WordPress.org site, you can add and custom any WordPress plugins/apps to your website. Otherwise, if you use WordPress.com, it allows you to install plugins only if you're on the Business or eCommerce plan, which goes for $25 and $45 a month, respectively.
The verdict
According to the number of plugins, WordPress outranges Shopify as you can approach more than 50,000 plugins. Moreover, you can have more flexibility to add custom plugins/apps with WordPress.org.
#6 SEO Features
Shopify SEO
The platform has a favorable SEO functionality to create content that search engines would love. As someone who has little knowledge in the coding field, I can easily edit the meta titles and descriptions, add 301 redirects, and change page URLs to boost my website's SEO results. Not to mention Shopify has already prompted your products with SEO best practices.
Besides, Shopify comes with a wide range of apps and add-ons that I can use for store optimization as well as ensure its ranking on search engines like Google or Bing. If picking up a suitable app is too difficult, why don't you take a look at our recommendations about the best Shopify SEO apps for your consideration?
One of the main drawbacks of using the Shopify platform is that they have a predetermined ordered structure that your website and URLs have to follow. Therefore, if you want your site to be fully optimized, having control of your site structure and being able to create custom URLs is essential.
Also, you are unable to create a subcategory of the root blogs. Instead, you'll have to create a new category altogether. This creates multiple URLs for the same page, leading to further problems.
However, you can overcome this difficulty by discovering and applying suitable SEO tips and tricks for your store. Let's take a look at 8 effective eCommerce SEO strategies that we've compiled as your reference.
WordPress SEO
SEO is one of the most important sides that WordPress focuses on, as it's mainly a blogging platform.
That's probably why you get the Jetpack Essentials features with any pricing plan (even free ones) with WordPress.com
Jetpack Essentials (a series of features to help optimize your site and protect it from spam comments) provides some SEO and social-sharing tools as well as performance tools which have become an important ranking factor. You won't have much more control over your SEO unless you have the Business plan and can start installing other SEO plugins such as Yoast SEO.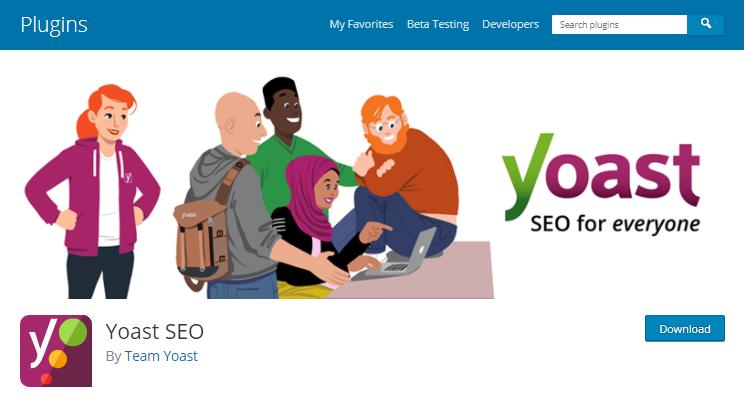 Unlike WordPress.org, WordPress.com purports to do 80-90% of your optimization for you, which includes things like automatically generating and submitting sitemaps, etc.
The good news is that WordPress is one of the best platforms to use for SEO options.
The verdict
Since WordPress is mainly a blogging platform, I suppose its SEO options are more optimized than Shopify. Despite that, Shopify is an SEO-friendly platform where you can enhance your SEO with many apps and add-ons besides primary functions.
#7 Blogging Features
Shopify CMS
For most eCommerce blogs, Shopify's embedded capabilities will be plenty to meet your needs. The key benefit that I have found is that settings are very easy to manage and configure. It's simple to insert images and videos, a nice visual editor, automatic SEO for the title and description, the ability to schedule posts in the future, comments, and tags. It's not as powerful as dedicated blog systems like WordPress, but you may not need all that functionality.
WordPress CMS
With WordPress, you can bet everything is in there to make it as easy as possible for you to post, preview and publish content. From my own experience, I can:
Add media from your media library
Embed images, links, text, videos, audio etc…
And much more…
Besides, WordPress allows you to add custom fonts to make your site looks even brighter. To see why typography is important in attracting customers' attention and how to add custom fonts to WordPress, you can check out this article.
In fact, I will go as far as saying that WordPress is the most powerful blogging platform in the world, whether you install it yourself or run it on WordPress. Hence, WordPress is an ideal landscape for content freelancers and if you're interested in creating a blog on this platform, please read more about 5 ways to create content curation for more information.
The verdict
Alike to SEO features, WordPress win the battle with its blogging foundation. It creates an ideal place for you to create and develop your content and blog.
#8 Maintenance
Shopify Maintenance
As a fully-hosted solution, Shopify ensures the highest level of server maintenance. This platform pushes out technical upgrades and bug fixes regularly. Hence, you'll benefit from the latest features and security fixes at all times. I only need to devote a few days per year to maintenance issues when working with Shopify.
WordPress Maintenance
WordPress itself is a fast-moving platform, and new features are added and regularly improved. A WordPress website has many different parts and if these become too outdated it can affect the functionality of your website. In essence, when your website is using the latest WordPress update you are ensuring that your website is as healthy as it can be.
With WordPress.com, they do everything for you. No need to update, worry about plugin compatibility or check release notes. It's one of the great benefits of having someone manage the hosting for you.
With WordPress.org, it's your job to keep the software and plugins updated. But it's not as hard as it sounds. You usually get notifications in your dashboard, so it's simply a matter of clicking the update button roughly once every two weeks. Here we provide comprehensive instruction on how to update WordPress. Check it out!
The verdict
In my estimation, Shopify gains the upper hand in this area as Shopify does the maintenance work automatically and regularly while you need to update everything by yourself with WordPress.org.
#9 Help & Support
Shopify Customer Support
The next part of our Shopify vs WordPress comparison is the customer service of these two giants.
Shopify offers outstanding customer service. I can get help with 24-hours support via phone call, support ticket, or chat live with a customer care representative.
In case you don't want to contact support for each tiny question you have, there is also self-service that offers the knowledge base, video tutorials, and webinars.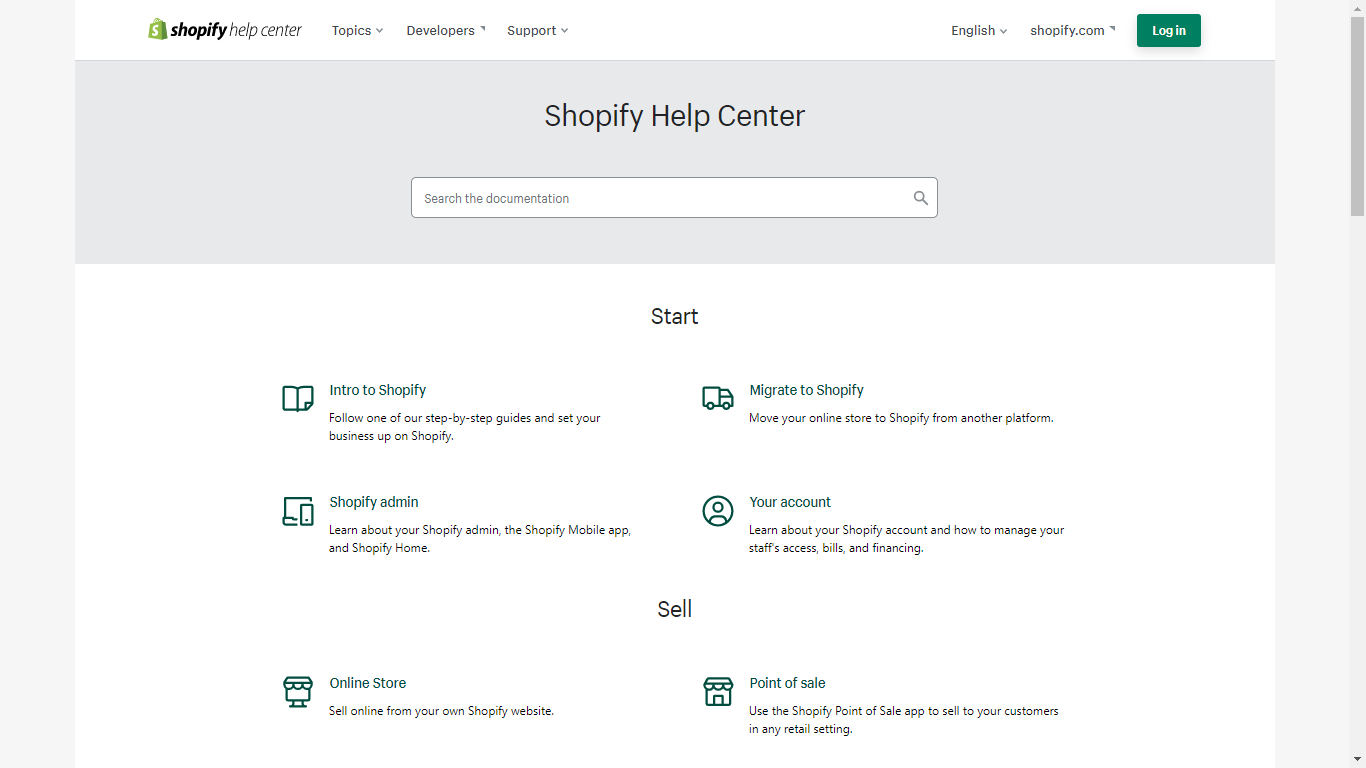 It has plenty of articles and video tutorials that help beginners to make the most out of this digital eCommerce tool. Alternatively, I can browse Shopify discussion forums for more insights on common topics.
Make Your Migration Project A Breeze with LitExtension
Don't have time to manually migrate to Shopify? Let LitExtension lift the burden off your shoulder with our top-of-the-class migration service. Enjoy a streamlined and secure data transfer process with no technical skill required!
WordPress Support
It is important to understand that the support offered for the free version of WordPress.com is self-guided. Only the paid plans with WordPress.com come with good support, which can be a strong incentive for merchants to choose their plans. When you pay a monthly subscription fee, you get email support, and live chat, depending on how high your tier is.
Unfortunately, there's no support from the official WordPress.org channel itself. That's what I personally also don't favor about this platform.
Apart from the official support channels, you'll find a wealth of advice and tutorials on WordPress-related topics throughout the web. In the same way, you can also come across multiple texts and video manuals, guidelines and tutorials compiled by other system users.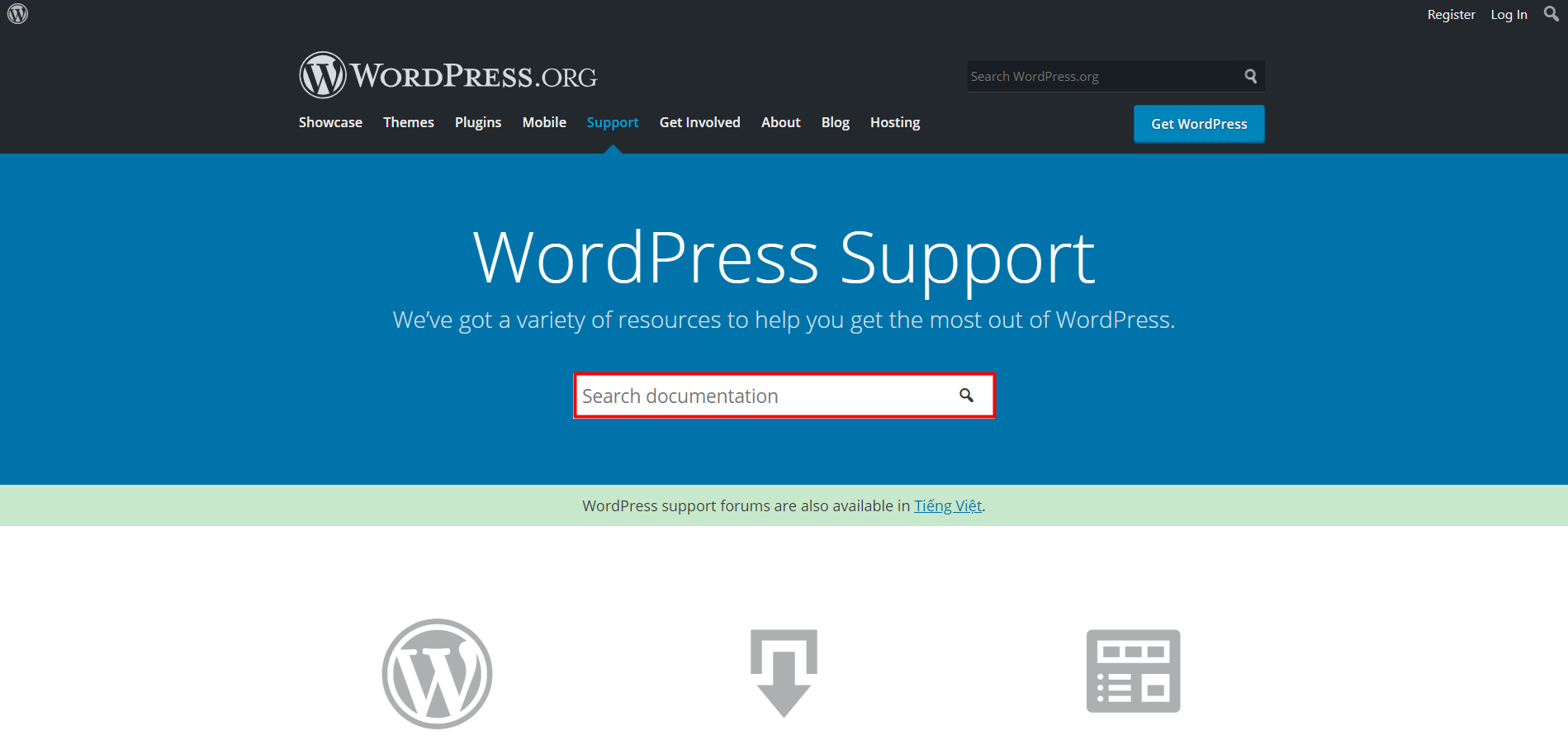 ---
Shopify vs WordPress – FAQs
---
Shopify vs WordPress – Conclusion
When it comes to choosing between Shopify vs WordPress, you might be confused with a stack of questions:
Shopify vs WordPress: Which is cheaper?
Can I use WordPress and Shopify for free?
Can Shopify be used with WordPress?
Why is WordPress not good for eCommerce?
Is WordPress good for big eCommerce?
We hope that this Shopify vs WordPress comparison has helped you grasp a better understanding of key differences between these two giants.
In conclusion, if you're building a full-on online store or a large eCommerce business, WordPress.com simply doesn't measure up to hosted eCommerce platforms like Shopify or WordPress.org (need to install eCommerce plugins like WooCommerce).
On the other hand, if you just want to launch a personal project, either for testing, sharing your thoughts, hobby site, etc., do it on WordPress.com. You can get started for free, the setup is easy, and you don't have to worry about any maintenance at all.
Hopefully, you've already identified either some key differences that will determine whether WordPress or Shopify is the right website builder for you. Our team at LitExtension – #1 Shopping Cart Migration Expert offers an optimal solution to help you switch to another platform speedily and entirely your data. In case you need any assistance with migrating, please contact us. We are always here for help.
You can also check out our LitExtension blog and join our community for more and more eCommerce news.