Thanks to its simplicity, flexibility and powerful attributes, WordPress is the most popular website builder currently. However, when first learning about WordPress, you probably get confused about the difference between WordPress.com vs WordPress.org.
In fact, WordPress.com vs WordPress.org are two entirely different website solutions and formed by two distinct organizations although they have very similar names. Thus, it is of great importance to distinguish them in order to choose the right solution for your online business.
In this article, LitExtension – the World #1 Shopping Cart Migration Expert will provide you with an in-depth comparison of WordPress.com vs WordPress.org and help you pick the best one for your needs.
Pros & Cons of WordPress.com vs WordPress.org
Detailed comparison between WordPress.com vs WordPress.org
WordPress.com vs WordPress.org, which one suits you better?
Want To Migrate To WordPress?
If you are intending to migrate to WordPress, LitExtension offers a great migration service that helps you transfer your data from the current eCommerce platform to a new one accurately, painlessly with utmost security.
---
WordPress.com vs WordPress.org: Pros & Cons
1. What is WordPress.org vs WordPress.com?
WordPress.com is a hosted blogging service that helps you build a website using the WordPress software, while WordPress.org is the self-hosted version, which you can use to build and maintain a website on your own.
WordPress.com is a for-profit hosted blogging service, which was launched in 2005. The service is built upon the open-source WordPress platform, with some additional plugins and modifications layered on. Thus, the inner workings of both platforms are very similar. However, WordPress.com is a fully-featured hosted solution, which takes care of all hosting-related matters for its users.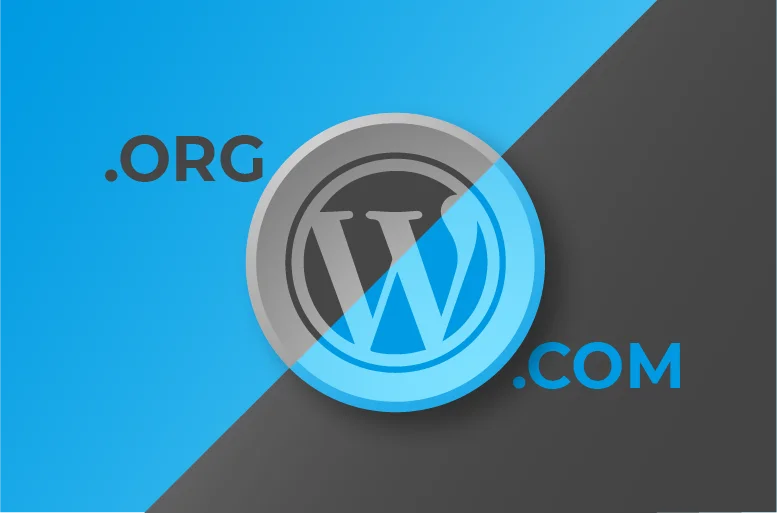 What I like most about WordPress.com is, being honest, everything! The platform is straightforward to use and personalize. It also offers a series of tools and plugins that allow us to adapt the format to our particular needs.

Aileen Z
Meanwhile, WordPress.org is a self-hosted content management system (CMS), which means you'll have to download and install the software onto your computer and find your own hosting provider. It's also considered as the more advanced version between the two, providing you with endless customization possibilities.
The versatility. You can do anything with WordPress.org. You want to make an eCommerce website? Want to create an excellent blog? Any website you can think of, you can start with WordPress.

I also love the community around WordPress. So many people support small businesses like mine and my husbands by developing free themes and plugins for us to use!

Nicolette D
In terms of the number of people using hosted WordPress.com vs WordPress.com, it's pretty difficult to get a breakdown on that. But Builtwith.com statistics indicate that around 28 million sites in total are powered by WordPress and that 36% of all sites use it as a CMS.
2. What are the Pros & Cons of WordPress.com vs WordPress.org?
Before we discuss the differences between WordPress.com vs WordPress.org, take a quick glance at the below chart showing the pros and cons of WordPress.com vs WordPress.org: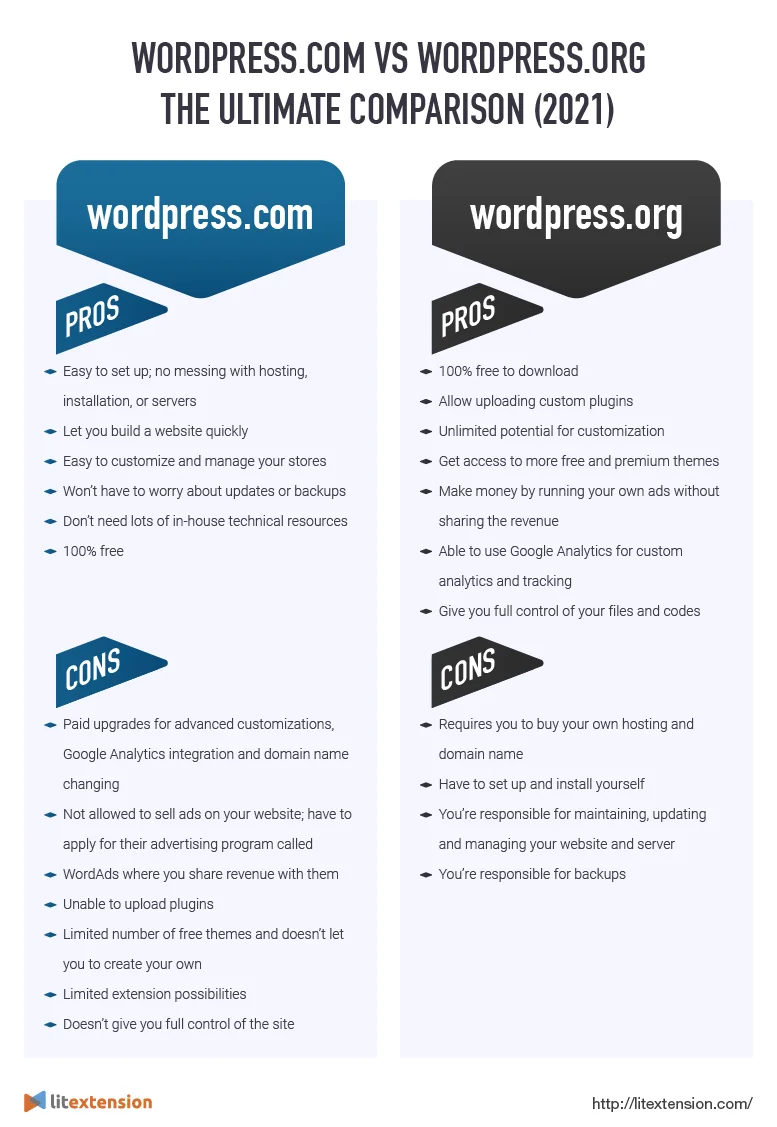 ---
What are The Differences between WordPress.com vs WordPress.org?
#1 Pricing
WordPress.org Pricing: Is WordPress.org Free?
WordPress.org is an open-source platform as discussed, and this means downloading and installing it is completely free of charge. You're also able to upgrade your WordPress.org website without worrying about any monthly or annual fees.
While the platform is free, do keep in mind that you'll have to incur hosting, domain name, and SSL certificate costs. Normally, the cost of a domain name is $14.99/ year, hosting solution $8/month, and SSL certificate $70/year.
WordPress.com Pricing
Meanwhile, WordPress.com offers a subscription-based model for its users. It has different pricing tiers with additional features depending on which plan you are on, which ranges from $0 to $59 per month (pay monthly).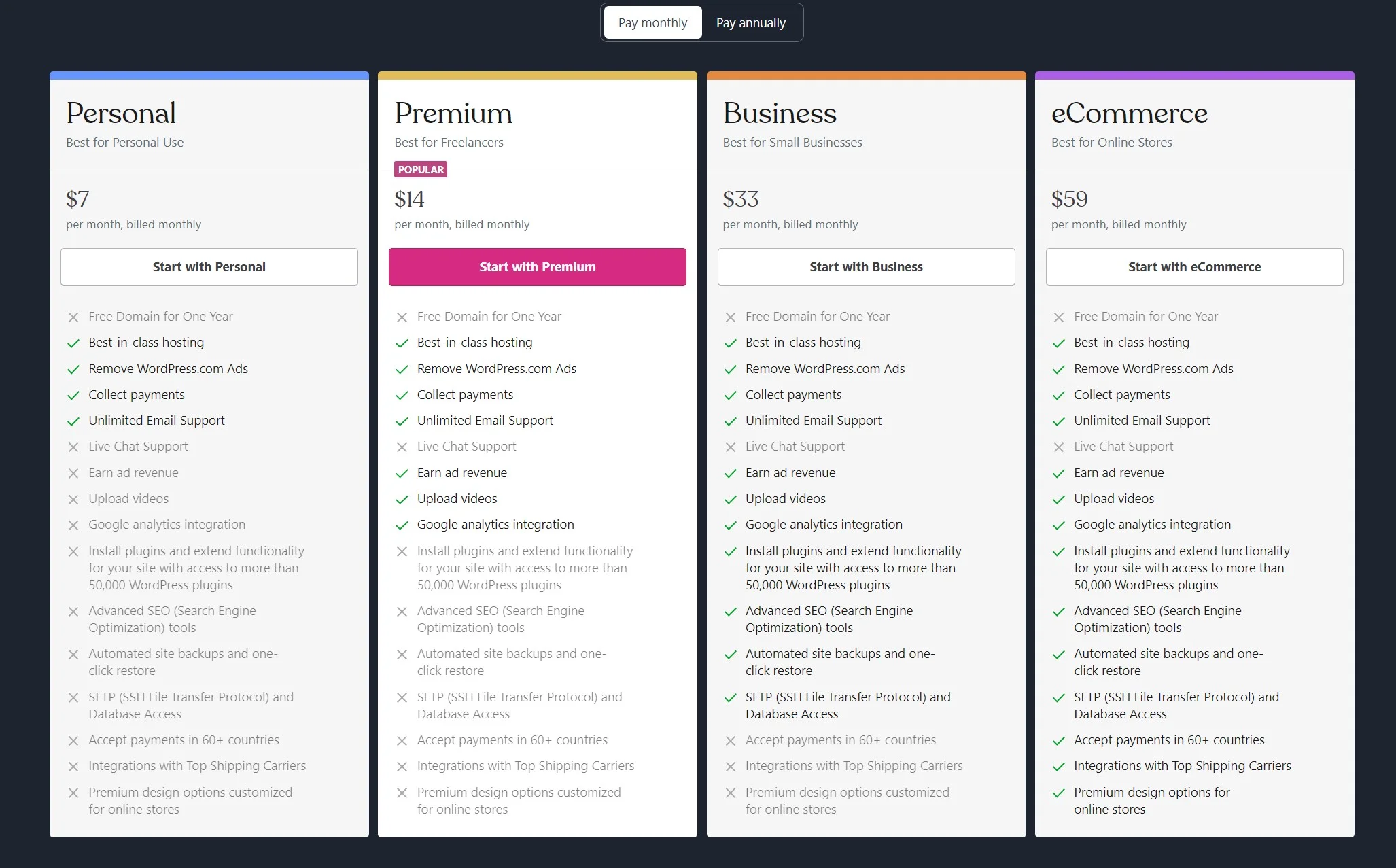 And if you pay annually, you can get some discounts. For instance, the annual eCommerce plan will cost you $45 per month instead of $59 per month (pay monthly).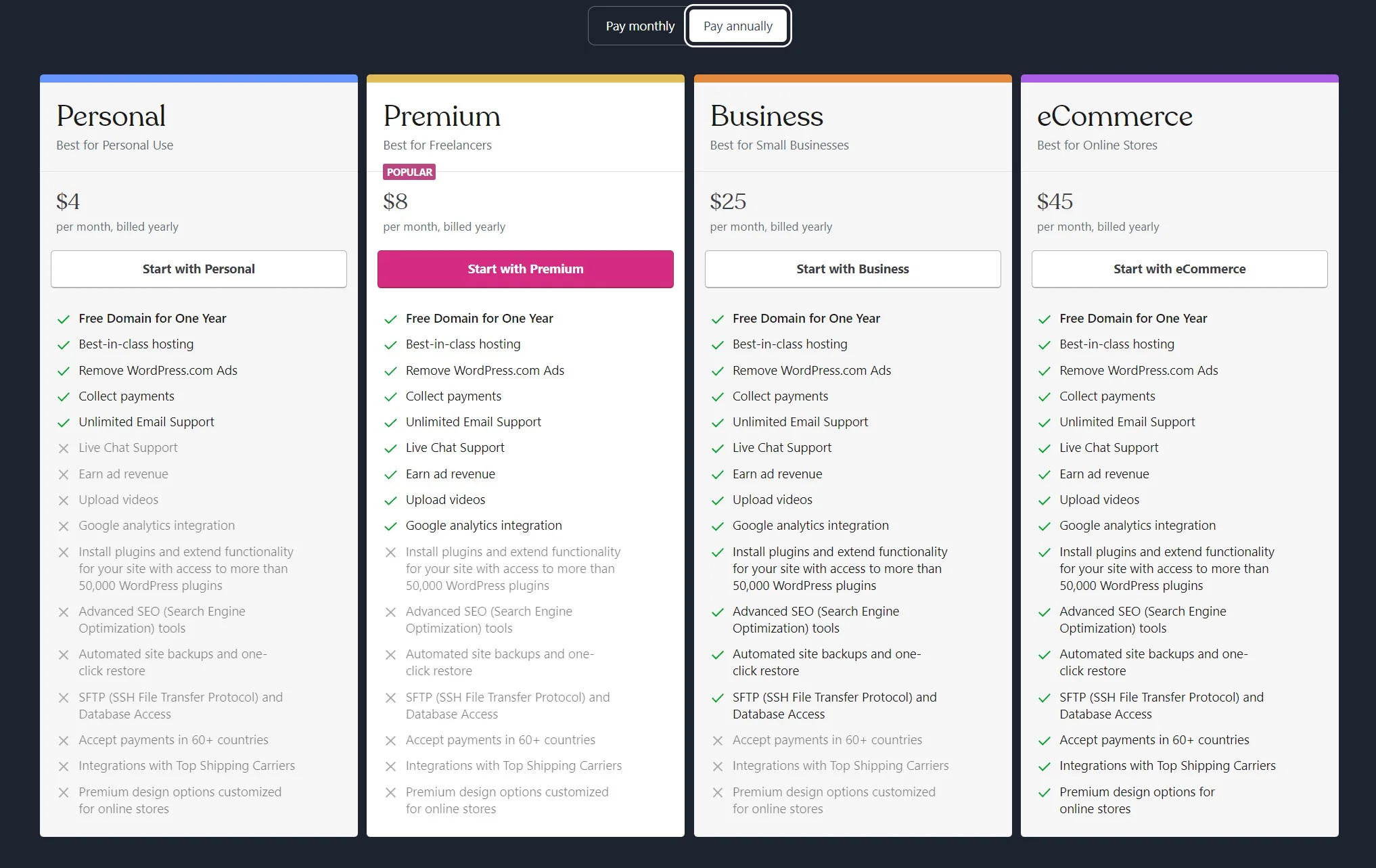 Unlike the open-source version, each of these plans already includes an SSL certificate, web hosting, and domain name (excluded from the free plan).
Notably, while WordPress.com does provide a free plan, users are limited to access some advanced features. For instance, you have to pay for the upgraded plans in order to use premium WordPress WooCommerce themes, integrate with Google Analytics, or place ads on your website.
#2 Help & Support
WordPress.org Support
The WordPress.org version is a free and open-source website solution, which you're expected to install and develop your site on your own using available guides. That can help you keep the cost low, but it also means there's not necessarily dedicated support for customers when using the product.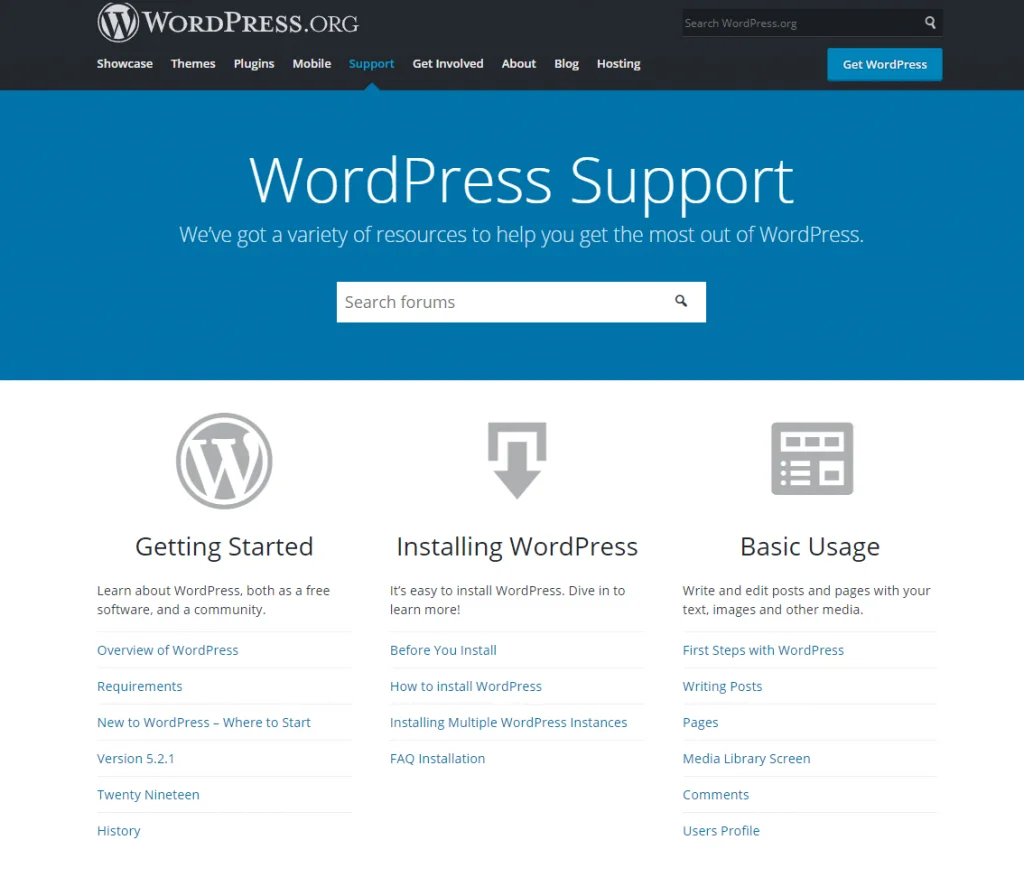 However, WordPress.org has a large community to support users if they run into any problems. Here, you will receive advice and tips from developers and other experienced users. Apart from that, WordPress.org maintains extensive online documentation for its customers.
WordPress.com Support
WordPress.com does not offer any specialist support on its free plan. You have to find the information yourself on the community forums, FAQs created by other users, or online documentation.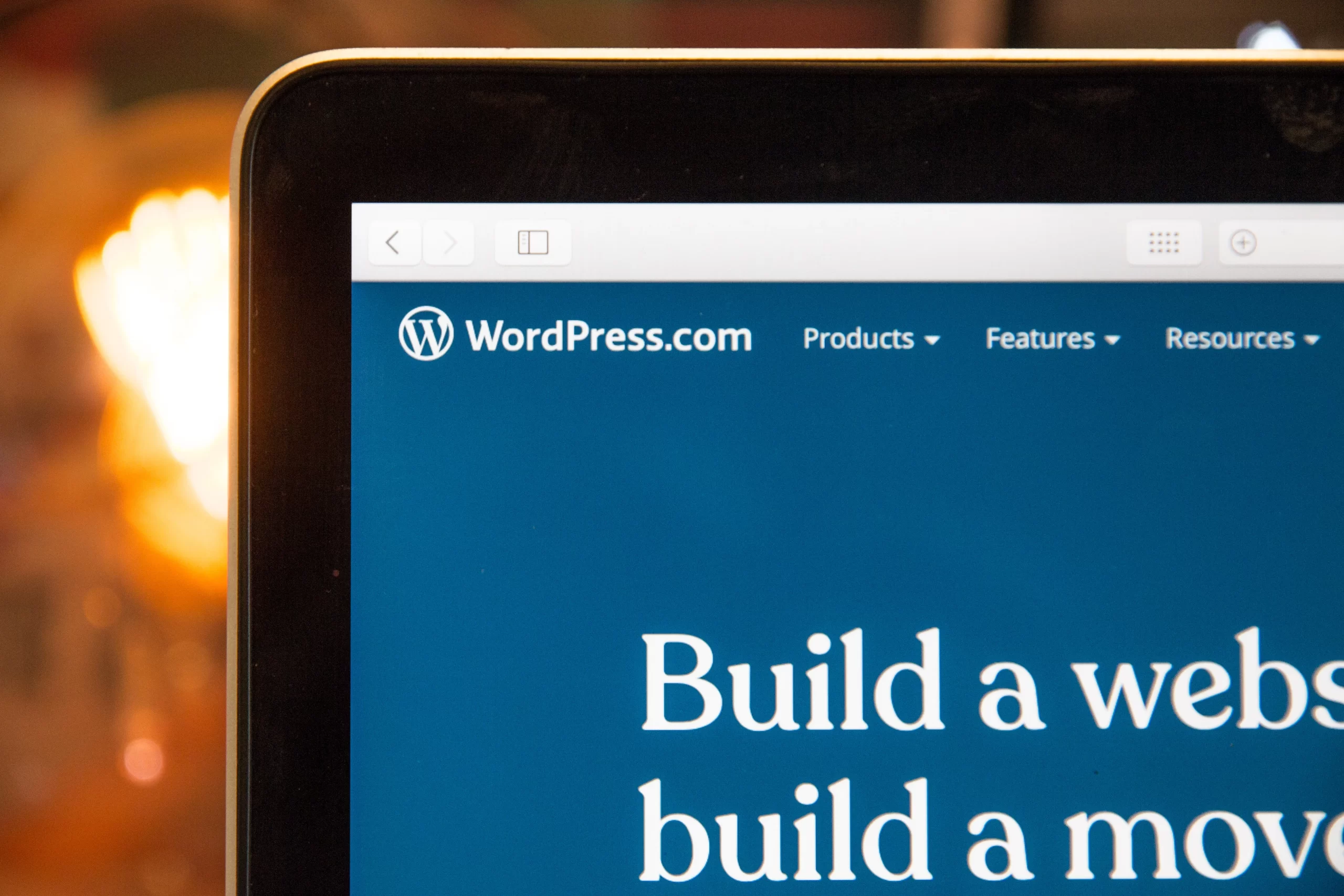 If you need more help, you can upgrade to the Personal plan or Premium plan to receive email and live chat support. From the Business plan and above, you will have access to 24/7 priority live chat support.
Notably, only the eCommerce plan users will get full-fledged support from WordPress.com, including personalized one-on-one expert support sessions.
Need Help To Migrate Your Store?
If you are intending to migrate to WordPress, LitExtension offers a great migration service that helps you transfer your data from the current eCommerce platform to a new one accurately, painlessly with utmost security.
#3 Ease of Use
Both WordPress.org and WordPress.com require a certain level of technical knowledge to use. This is especially true with the former, as this platform allows users to get deeper into the underlying code to customize their website. With coding skills or with the help of a developer, you're totally able to create a whole new website from scratch to suit your principal business objectives.
In comparison with the open-source version, the process of setting up a website with WordPress.com is much more streamlined. It's a full-featured hosting solution that is designed to provide for users everything needed to start going online. You can easily set up and create a website in just a few minutes.
#4 WordPress Themes
We're living in a world where first impressions are becoming more important than ever. That's why you should take your time to beautify your online presence. And one of the very first things you could do is to determine the proper theme for your WordPress site.
WordPress.org Themes
This WordPress version offers a pretty impressive array of premium and free themes with full responsiveness and cross-platform compatibility. Currently, WordPress.org's marketplace is filled with more than 9,000 themes, providing users with an extensive list of options.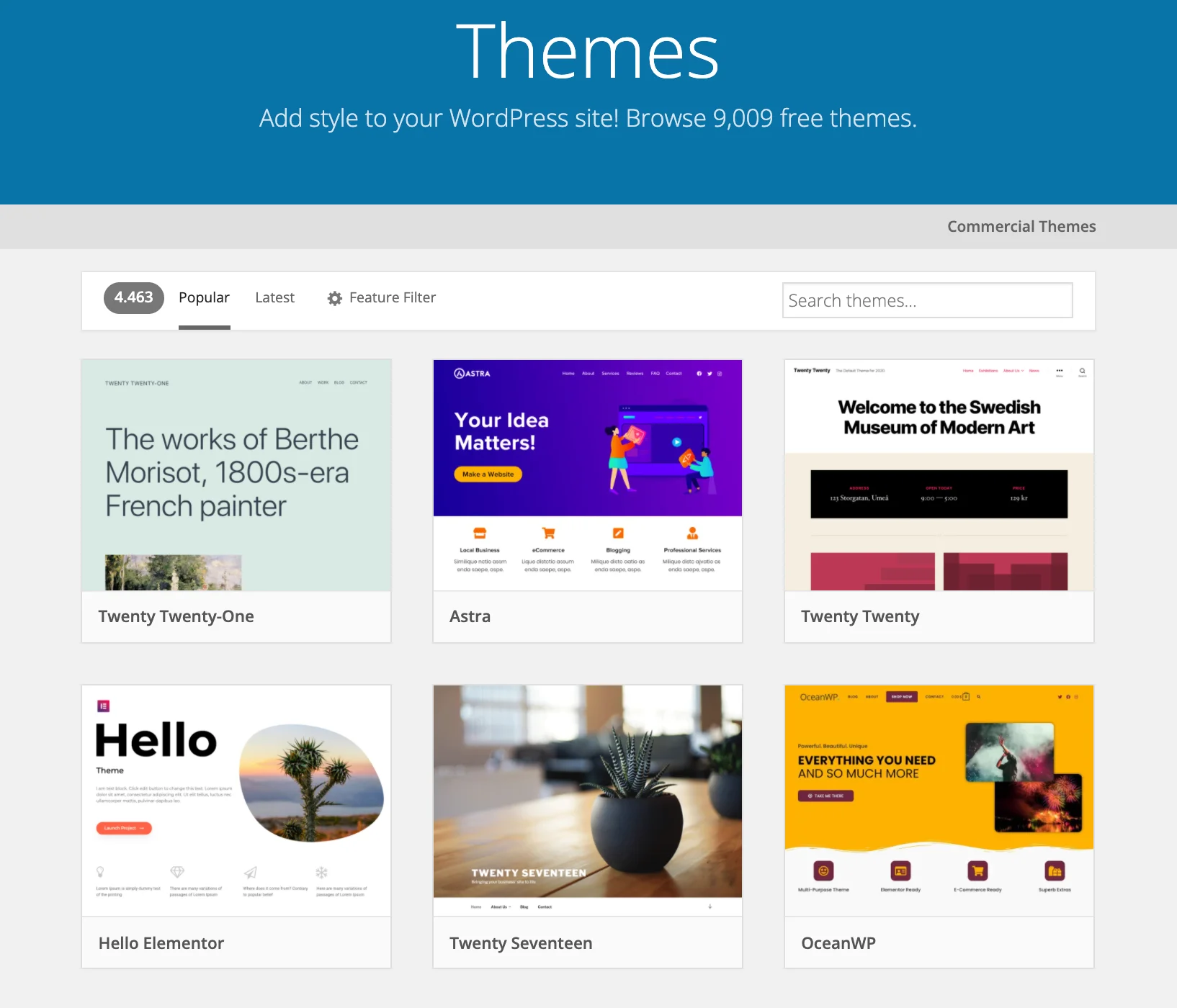 WordPress.com Themes
With WordPress.org, you are choosing from a thousand of designs while WordPress.com themes number in the hundreds.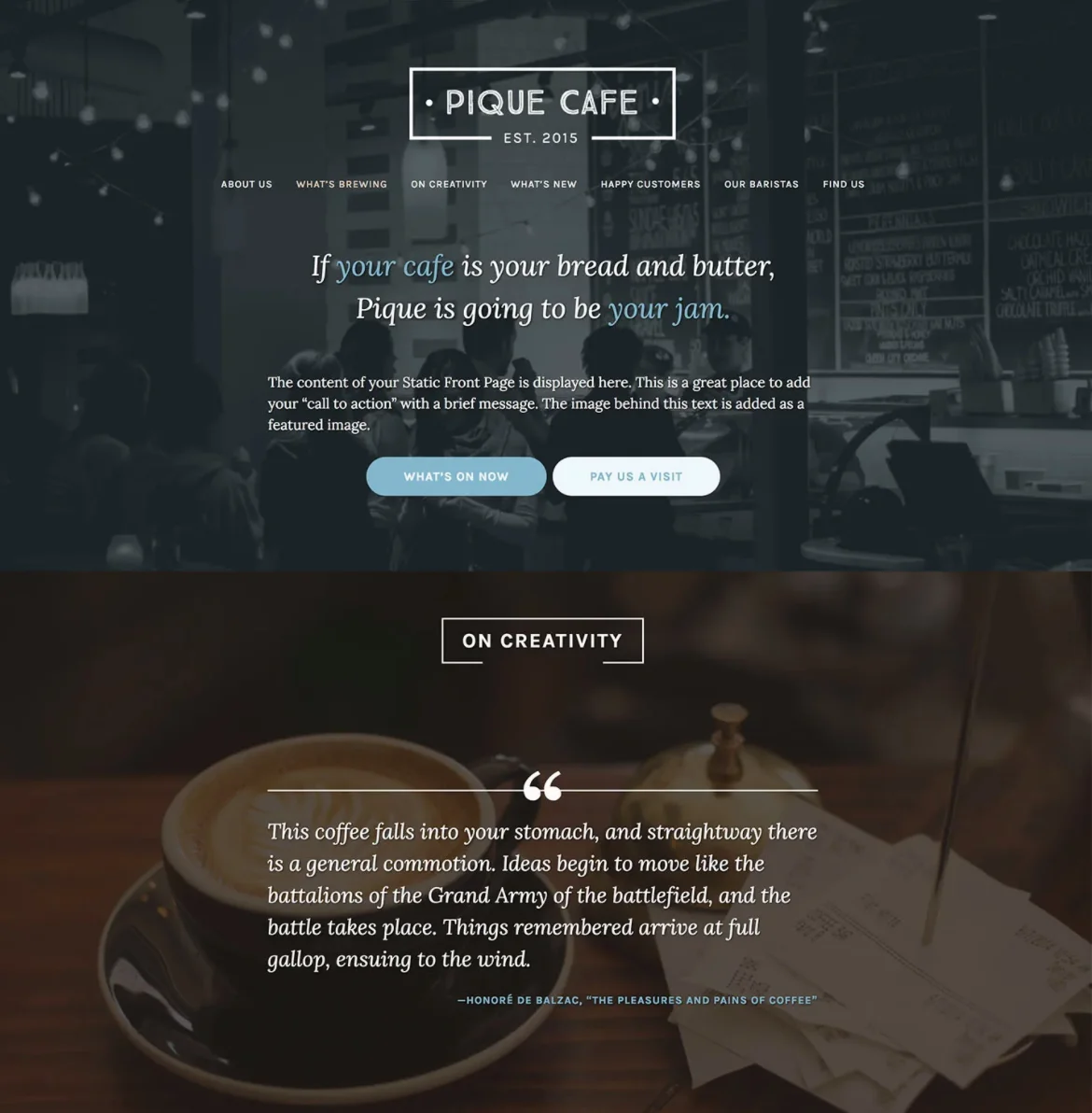 Also, on WordPress.com, the plan you choose will determine how many theme options you'll have direct access to. If you go with the Free or Personal plan, you'll have a selection of over 150 free themes. But if you upgrade to the Premium, Business or eCommerce plan, you'll have access to the same free themes as well as over 200 premium themes.
Also, you can customize your selected theme with extended color schemes, background designs, and CSS. However, there are many different WordPress web design services which can serve your custom made templates.


#5 WordPress Plugins
All right. Now your WordPress site has the online presence that both you and your site visitors would love. But it's still a bit bare-bones at the moment, so it's highly recommended that you add some bells and whistles via the WordPress marketplace.
WordPress.org Plugins
When it comes to plugins, it would be no exaggeration to say that WordPress.org has the most robust marketplace among website solutions. Its marketplace has a broad range of more than 59,500 free and paid plugins, which allows you to enhance and expand your website's functionality.
WordPress.com Plugins
Similar to themes, on WordPress.com, the range of plugin options is entirely dependent on which pricing plan you are on.
For Free, Personal or Premium users, you will only have default built-in features. If you want to install plugins and extend your store functionality, you need to upgrade to Business or eCommerce plan which gives you access to more than 50,000 WordPress plugins.
#6 WordPress Customizability
WordPress.org Customizability
Notably, WordPress.org provides unlimited customization possibilities for its users, which is one of the greatest benefits when using this platform to scale into the digital world.
All plugins, extensions, and themes could be adjusted and coded to tailor the look and functionality of your website. This gives you greater control of your website appearance and the ability to add specific features to suit your business needs.
In addition, please note that keep your plugins and themes updated in order to boost your WordPress site.
WordPress.com Customizability
As you're running a WordPress.com site, you'll only be able to do what the platform gives you access to. They limit the software based upon your subscription level.
Hence, you cannot freely edit your store as with WordPress.org.
#7 eCommerce Features
WordPress.org
Originally built as a blogging platform, WordPress.org doesn't come with any built-in eCommerce features.
However, you can still start your online business by installing third-party plugins such as WooCommerce, Easy Digital Downloads, WP eCommerce, Ecwid, etc. These WordPress plugins for eCommerce serve as a bridge that turns your WordPress site into an eCommerce store.
Here is our quick WooCommerce tutorial video to help you quickly start selling online:
It is also totally possible to integrate your WordPress website with other eCommerce platforms such as Shopify or BigCommerce.
For more information, check out this detailed How to Integrate Shopify With WordPress.
Want To Migrate To WooCommerce?
If you are intending to migrate to WooCommerce, LitExtension offers a great migration service that helps you transfer your data from the current eCommerce platform to a new one accurately, painlessly with utmost security.
WordPress.com
To sell on WordPress.com, you'll need to be signed up to its eCommerce plan which will cost you $59/month if pay monthly or $45/month if pay annually.
This option lets you sell unlimited products, arms you with advanced SEO tools and automated site backup, accepts payments in 60+ countries, and even integrates with top shipping carriers.
Further Reading:
Some eCommerce platforms are inherently better when it comes to Search Engine Optimization (SEO), and WordPress is not excluded.
Both WordPress.com and WordPress.org provide robust SEO tools, and the most popular one that you might know is Yoast SEO. You can highly optimize your store by using this plugin's outstanding SEO functionalities.
Please note that you can only install the Yoast SEO plugin on WordPress.com if you're in the Business or the Ecommerce plan. Aside from that, WordPress.com is still an SEO-friendly platform, even without integrating third-party plugins. The free version gives users great control over SEO metadata and files, alt tags, headers, and 301 redirects.
WordPress.com works really well with Google for a great SEO ranking. I can also embed YouTube videos, Google Maps, and other content easily without any coding ability.

 Quitin Lake – theperimeter.uk
However, if you're in a competitive niche, WordPress.org would be the better option. Thanks to its open-source nature, users can get complete control over SEO, allowing you to make some manual changes to improve SEO performance that you can't on the hosted solution.
#9 WordPress Blogging
In fact, the WordPress software was originally built to create blogs. Users can easily start a blog website with many important blogging features. They include creating and scheduling posts, blog management dashboard, comment management system, embed images, videos, and links, etc.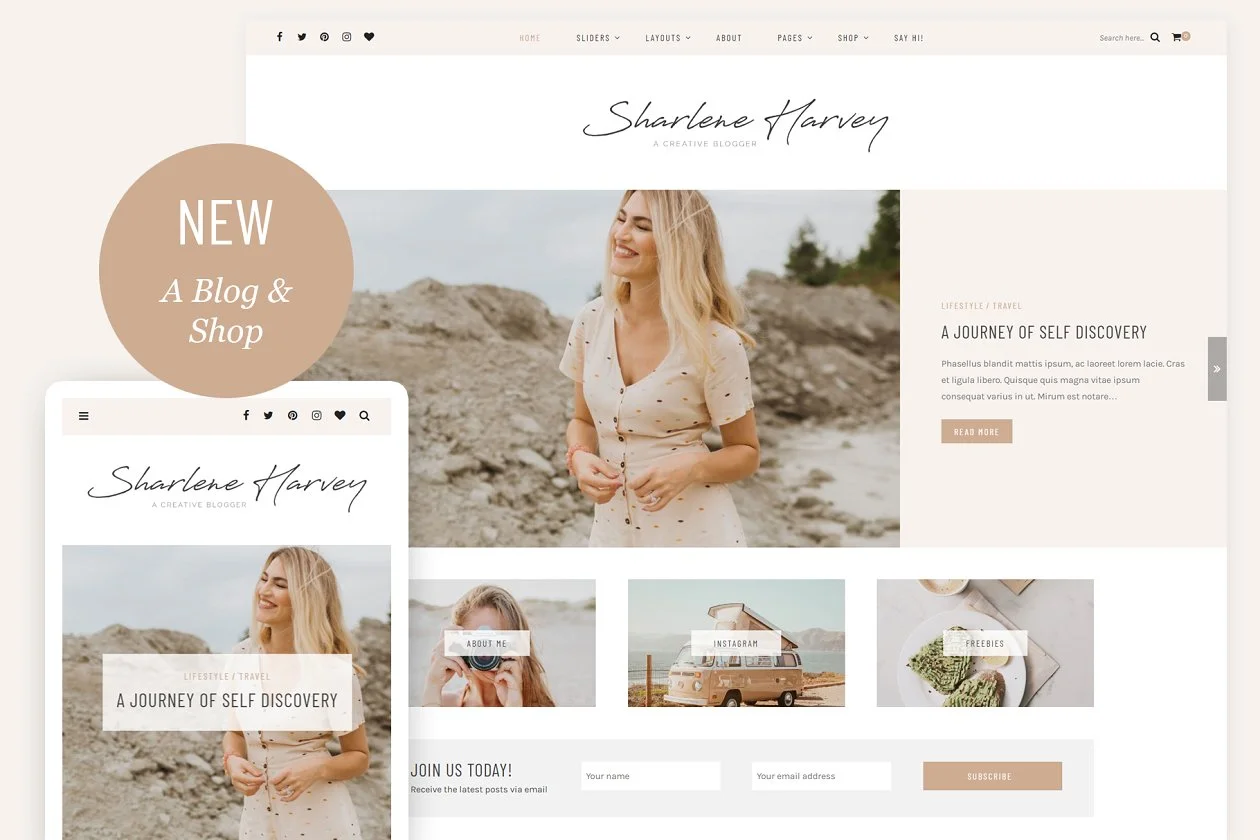 This is particularly the case for WordPress.com, as the hosted platform is specifically designed as a blogging service provider. It's also a cost-effective option for anyone who wants to build a blogging site, given you don't need to sort out hosting and security certificates individually.
If you need a website for other reasons than a blog, but would like to add one to your site as an additional feature, WordPress.org would be the suitable option. The open-source platform provides plenty of blogging plugins on its marketplace, allowing you to create a blog page on your current website.
#10 WordPress Security & Backup
WordPress.org
WordPress.org software is built to adhere to all modern standards and security requirements. In fact, cleanly installed WordPress is quite secure on its own. It's definitely not easy for a hacker to break into.
However, it's your job to handle website maintenance. You will need to make sure that your store's data is backed up correctly and keep on top of software updates.
This process can take you a great deal of time and effort, as you have to update your store manually. Additionally, there is also a chance that the update process might affect your site's loading time.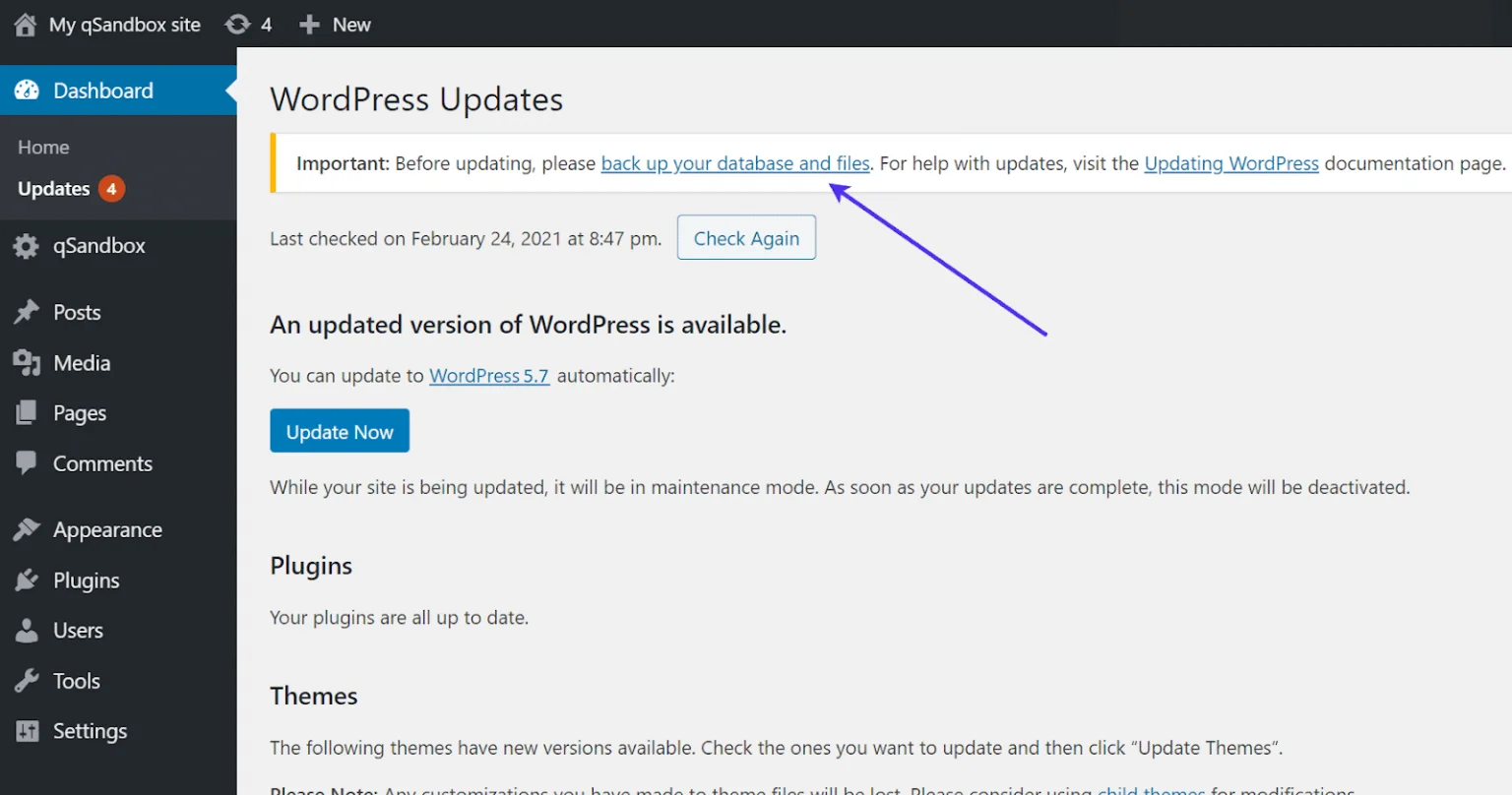 Sometimes, you'll also need to put your WordPress site into maintenance mode. It might be because you need to switch to another WordPress theme, test a newly-installed WordPress plugin or make some minor cosmetic tweaks. Hence, let's spend some time figuring out how to put a WordPress site into maintenance mode with us!
To start with, you need the help of a free plugin named Coming Soon Page, Maintenance Mode & Landing Pages by SeedProd.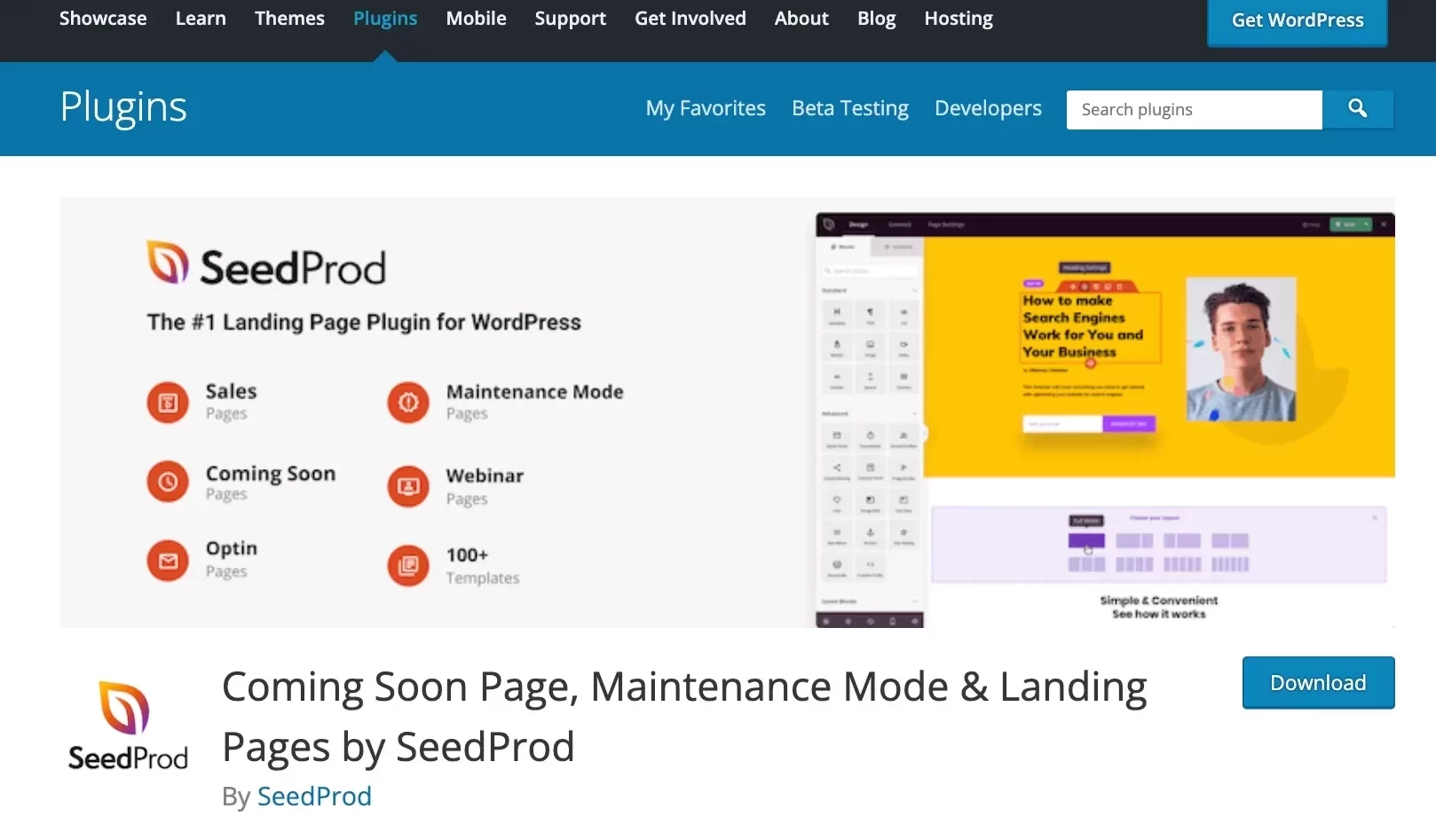 This WordPress plugin does what its name says! Just install it, then find it in your Plugins list.
There, click on Enable Maintenance Mode and then click Save All Changes to finish. Now, your WordPress site is under maintenance mode – you can freely make adjustments as your wish.

Of course, when you've finished applying your changes, don't forget to disable maintenance mode. Choose Disabled option and Save All Changes.
WordPress.com
Meanwhile, WordPress.com will take care of all the security-related tasks and maintenance issues for its users.
You don't have to worry about updates, plugin compatibility, or check release notes. The WordPress self hosted version will manage and upgrade all the security patches and the latest versions for your store, which will greatly reduce downtime and make sure your sites stay up to date.
As a result, WordPress.com demands much less maintenance than an open-source one.
Migration Made Easy With LitExtension!
Don't have time to switch to WordPress? Opt-in for our All-in-One Migration Service and have an Personal Assistant carry out the WordPress migration for you without having to lift a finger.
---
FAQs about WordPress.com vs WordPress.org
What is different between WordPress.com and WordPress.org?
The key difference between WordPress.com and WordPress.org is who's actually hosting your website. With WordPress.org, you host your own site. On the other hand, with WordPress.com, it's WordPress.com that takes care of all of this for you – easier to get started with but less freedom.
How to monetize a WordPress blog?
With WordPress.org, you'll need to install a WordPress plugin for eCommerce to start selling online. Meanwhile, with WordPress.com, only Business and eCommerce plan supports WordPress monetization.
Can I move from WordPress.com to WordPress.org?
Yes. You can take advantage of Export/Import feature to import just your site's content, including posts, pages, and media.
---
Should I Use WordPress.com or WordPress.org?
As you can see, both WordPress.org and WordPress.com have their own pros and cons. Thus, there is no clear better website builder. It's totally dependent on your business needs and budget.
Below are some points that might help you decide:
WordPress.com is a suitable platform if you're slightly less tech-savvy and want an all-in-one solution. It's totally perfect for personal blogging sites and even a great option for eCommerce sites that don't have lots of in-house technical resources.
If you want full control and flexibility over your website, then WordPress.org is the ideal choice. However, it requires you to know coding skills or have a team of WordPress experts in order to fully utilize the customizability of this platform. There's no denying that WordPress.org is the more powerful option.
---
Conclusion
The similarity of two domain names: WordPress.com vs WordPress.org might cause confusion for beginners. Hopefully, by now you can clearly understand the differences between these two aforementioned website builders. If you are selling elsewhere and would like to move to WordPress, take a glance at our shopping cart migration guide, or you can try LitExtension Free Demo migration.
For more helpful eCommerce tips and news, please check out our Facebook community.
Thank you for reading. And we wish you tons of luck on your eCommerce journey!