Introduction
It goes without saying that building an e-store has emerged as a leading option when it comes to an online business. A few years ago, that WordPress is the best platform for building a website seems undeniable. However, nowadays, the landscape has evolved and there are a number of new players on the field. One of them is Wix. Making a comparison between Wix vs WordPress is not an easy decision – especially if you're new to building websites.
Wix is a cloud-based platform founded in 2006 which is an affordable, easy and hassle-free way of creating your own website in a matter of minutes. Meanwhile, WordPress started in 2003 which is an open-source content management system (CMS). It is probably the easiest and most powerful platform in existence today in the light of its flexibility.
This article will be looking at the more suitable solution for your company when comparing Wix vs WordPress. Our thorough analysis will cover pricing, support, ease of use, security, themes, plugins and far more. By the end of this article, we hope that you could find your own answer!
Let's get started!
Wix vs WordPress: Overview
To begin with, Wix is an all-in-one, drag&drop, cloud-based web development platform that is perfect for beginners or non-coders. It allows users to create effective eCommerce websites through the use of online tools. With Wix, everything comes built-in and is ready for you to start building your own webpage. Currently, there are 413,358 paid Wix-based websites, of which one-fourth are based in the US.
Whereas, WordPress is a self-hosted open-source platform that allows you to create much larger websites but requires more technical knowledge. At first, it was known as a blogging platform. Then, because of its ease of use, now you can create any kind of site using WordPress's massive ecosystem of plugins and themes. The fact is, with almost 75 million users,  WordPress is powering a third of the websites live today.
NOTE: This article focuses on the open-source version WordPress.org. There is also WordPress.com. See the difference between WordPress.org vs WordPress.com with LitExtension.
At the end of the day, we'll have answered a key question:
Can the old WordPress still measure up to newcomer Wix?
Pricing Plans
The cost of building a website is a crucial factor when choosing your website builder platform. Let's compare the pricing plans of Wix vs WordPress to find out which one gives you more bang for your buck.
Wix
Wix adds up prices across tiered series of monthly plans including a domain name and varying levels of storage. There is also a totally free launch package too, but it has limited features and requires users to accept on-site ads. As a site grows and changes, users can scale up to a higher pricing plan that offers more useful features.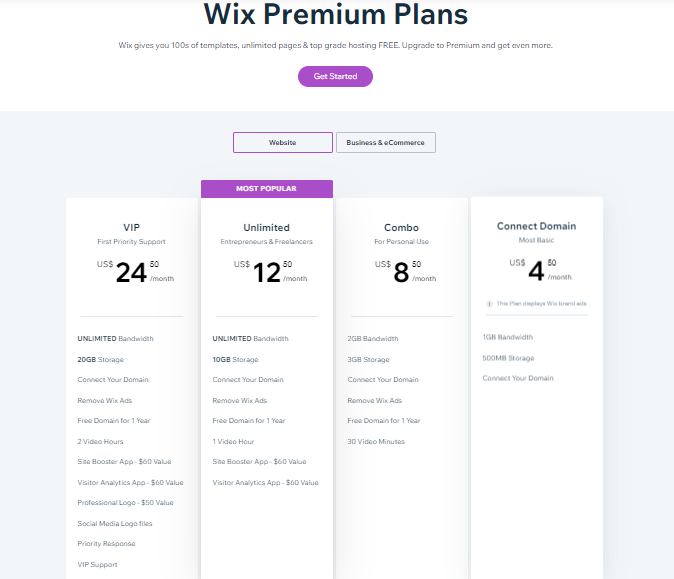 Each Wix premium plan has different storage and bandwidth limitations. You can choose to pay monthly or a yearly plan. You could save between 17%-23% annually when you register for an annual plan.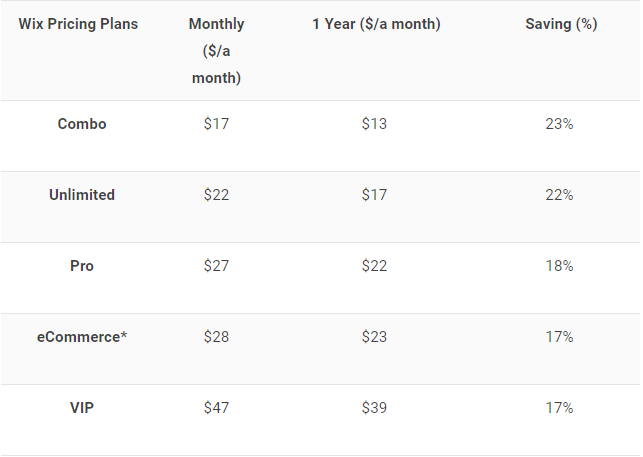 However, this cost doesn't include any apps from the Wix App Market that you later choose for your website.
Especially, this kind of one-stop shopping makes it attractive to new users who are looking for an economical way to set up a site. Even though it limits options for customization and specialized functions.
WordPress
Unlike Wix, downloading and installing WordPress is completely free. You're also able to upgrade your WordPress.org website without worrying about any monthly or annual fees. But you could end up paying for hosting, themes and plugins. Depending on the features and functions your site needs, the actual cost can be highly variable.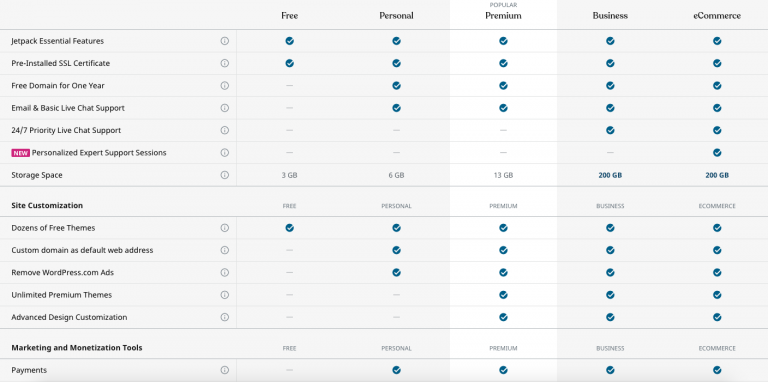 For example, the cost of a domain name is $14.99/ year, hosting solution $8/month and SSL certificate $70/year. Apart from free themes, a premium theme from ThemeForest could cost at least $39. Then there are premium WordPress plugins. Here is WooCommerce – an eCommerce plugin but it sells extensions that add specific features. It costs up to $299. Plus, WPForms is a drag & drop WordPress form builder that starts at $40/year.
In terms of pricing, WordPress has more flexible plans than Wix. WordPress's users can choose low-priced or costly web hosting depending on your needs. While Wix is the hosted platform, it includes everything in one package: hosting, eCommerce, themes, apps, customer support.
Support
Wix
Wix offers phone, email support and community forums. You can also find tons of blogs and video tutorials that are particularly helpful for beginners. For the very technical issues, you might expect a bit of back and forth, but they will get to the right answer eventually.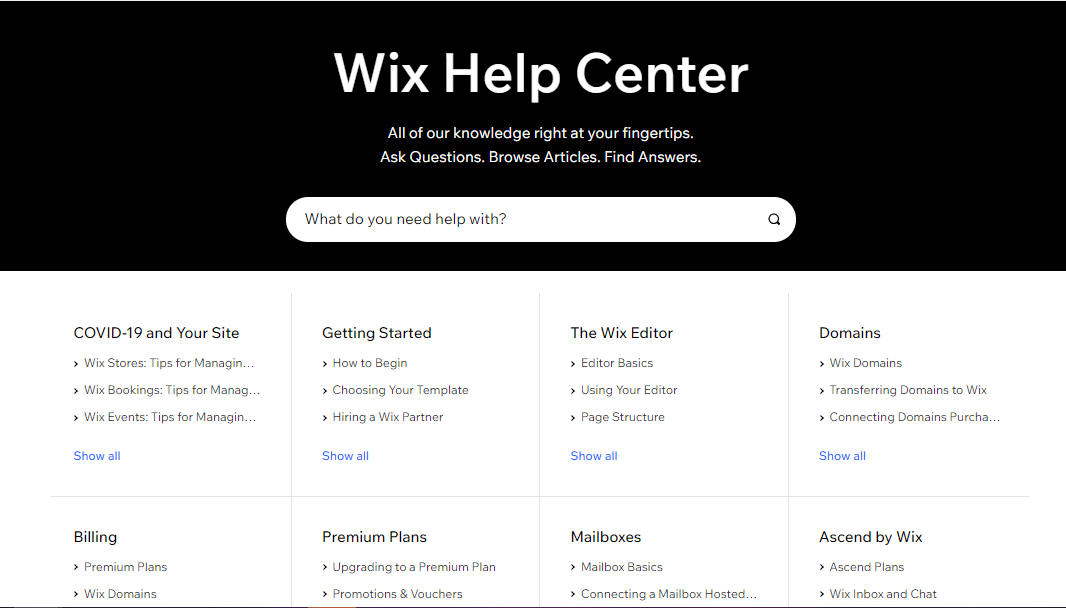 WordPress
Notwithstanding, official support is not available on WordPress. However,  it owns a huge user community and a massive number of tutorials for you. Due to its plenty of information, you need to separate good from the bad.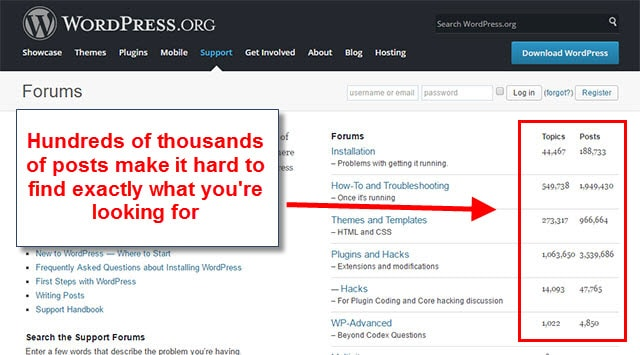 Online guides from WordPress will take you through common matters if you are good at self-educating. The full instructions are divided into topics from "Getting Started" to "Security" which makes finding the right paper a bit simpler.
It is obvious that Wix provides much more assistance and support than WordPress. With Wix, the devoted support staff will always guide you in the best way possible.
Ease of use
Wix
Wix builds up itself to be a full-service site builder that anyone can use, especially beginners. This platform offers users drag-and-drop features to build a website in minutes without coding skills. Moreover, Wix offers you an artificial intelligence technology called Wix ADI which helps you to create an online store from the beginning. If you want to boost functionalities, you also have their App Market that lets you add features in one click.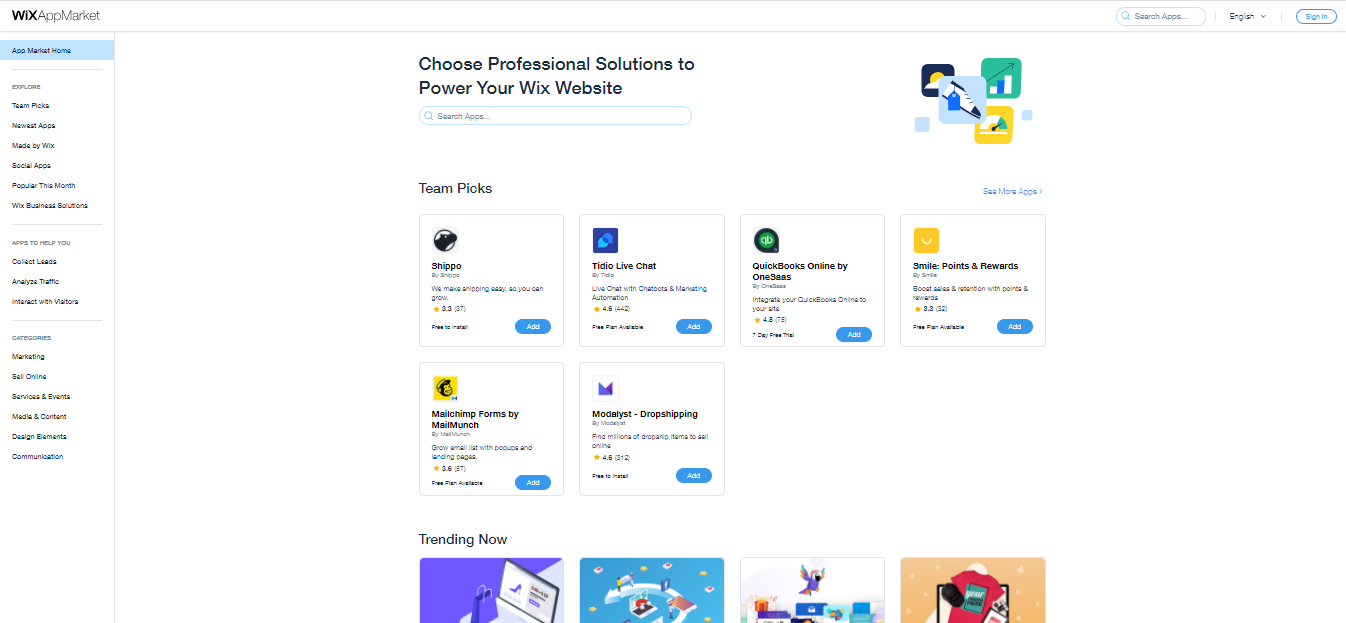 WordPress
In terms of WordPress's ease of use, it requires a little technical knowledge. This platform supports store owners to check out the underlying code to customize their website. If you are confident in your coding skills, you will be able to create your own website from scratch to suit your business needs.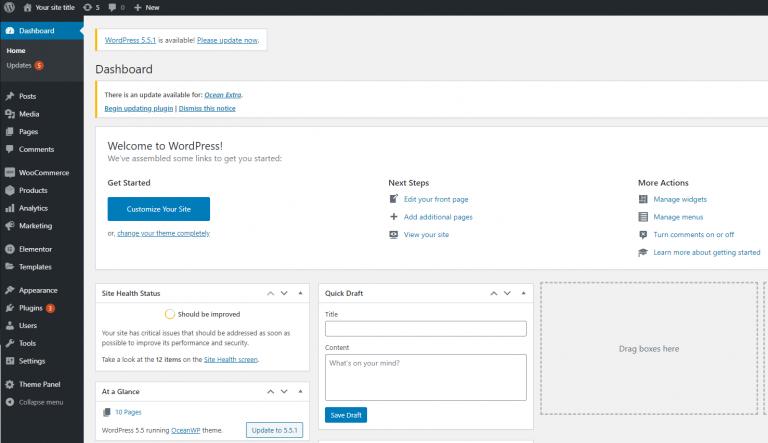 Or else, with its clear control panel, you can easily pick up the basics in no time at all even for beginners or non-coders. On the left side, there are a variety of content areas and adjusted settings for you to manually customize your storefront.
In short, both Wix vs WordPress is user-friendly to build up a shopping website like a flash. Those can provide users with everything they need to start going online.
Themes and Design Flexibility
Your sales performance somehow depends on your site's look. Store owners need a template that is not only eye-catching but also easy to use that can make your brand stand-out.
Wix
Currently, Wix offers 500+ pre-made website templates which is a large number for a website builder. All Wix designs are ready to use and written in HTML5. Using Wix built-in tools, you can make a certain change to your site, layout and items. In particular, templates are sorted into various categories such as business, eCommerce, photography, video, music, etc.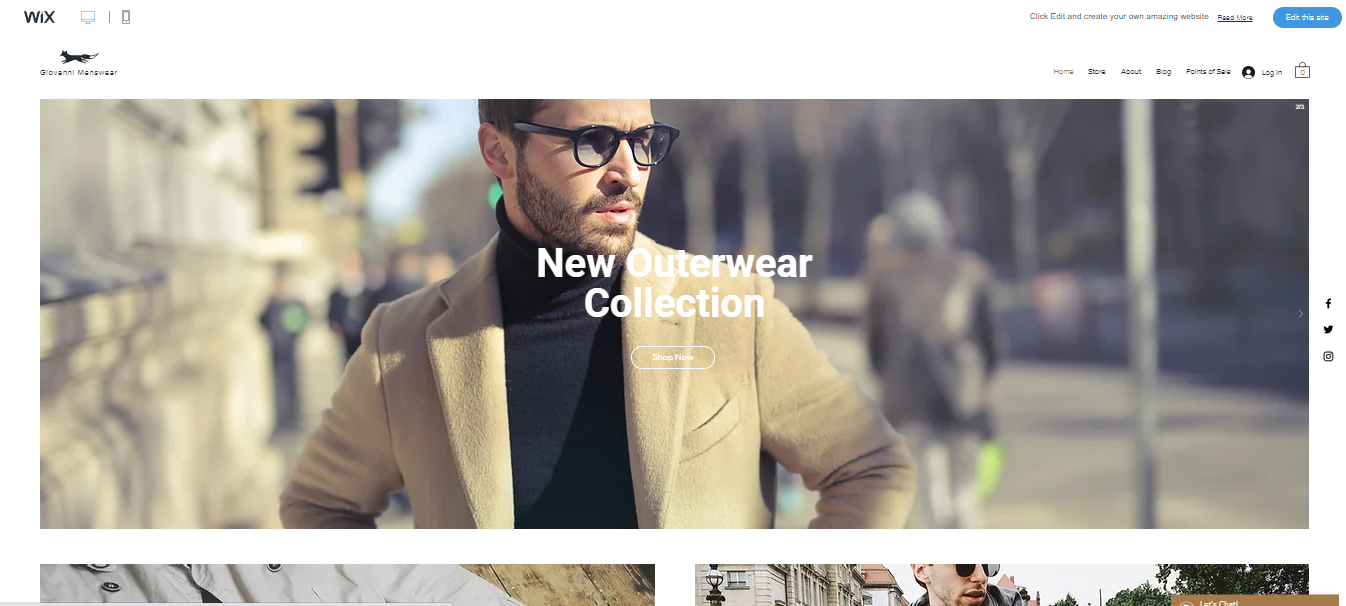 Nonetheless, Wix also limits users to customize the size even though they have access to hundreds of well-crafted templates. Since it is a hosted platform, Wix's developers keep control over all the tools and applications on tap. Therefore, users cannot import outside third-party themes from other sources. Once the users choose a template, they cannot switch to another template.
WordPress
On the other hand, WordPress comes with over 11,000+ themes including outside sources. Like plugins, it has a wider selection but will require coding know-how if there are any incompatibility issues arisen. You can use the "Customizer" tool to make theme customization in WordPress. It is a tool that lets you click elements to take up style options or browse along.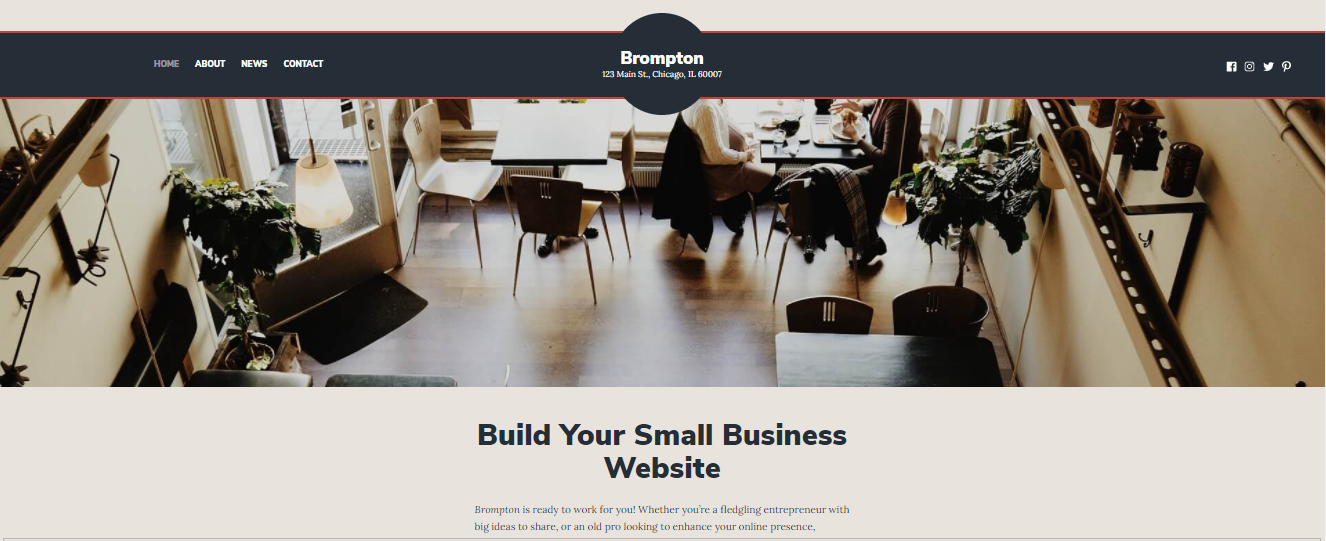 There are free and paid themes for users to choose from. Free themes will come with limited support but they did go through a strict review process. Therefore, you don't need to worry too much.
Besides, paid themes generally offer more features and come with premium support options. For paid themes, there are several WordPress theme shops like Themify, CSSIgniter, StudioPress, and so on. Or else, check out the 7 best WooCommerce themes to easily make your choice.
Speaking of themes and design flexibility between Wix vs WordPress, WordPress has many more themes and design layouts than Wix. It is also easy to switch themes or any customization any time you want.
SEO features
In the field of SEO, Wix vs WordPress has something in common because both of them rely on apps and plugins as well.
Wix
Firstly, Wix has built-in SEO management functionality, social-media poster, email-marketing tools that are available for users to market their website.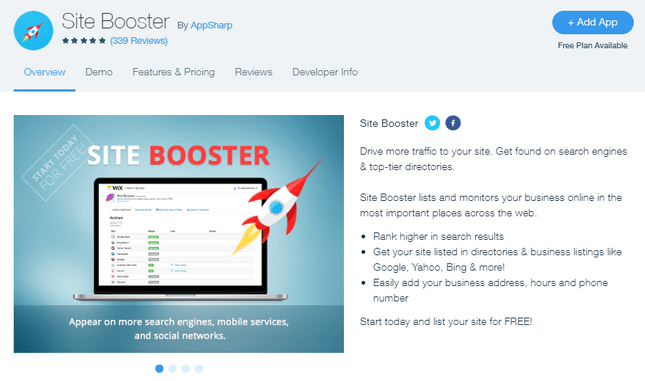 This platform also has a bunch of dedicated SEO apps and the most popular one is Site Booster. Site Booster is free if you sign up to Wix's Unlimited plan or higher. Moreover, with a Free or Combo plan, it will cost $3.44/month. With this app, you can drive more traffic to your website, get found on search engines with a higher rank.
WordPress
For WordPress, you have some options out-of-the-box, but we strongly recommend you for using full SEO capability plugins. Many themes contain SEO features like schema markup, breadcrumb navigation, open graph data, and so on. Let's take Yoast SEO as an outstanding example, it is free and a very powerful tool. This plugin has 5+ million active installations and gets 4.9/5 stars overall. It is obvious that Yoast SEO is one of the best plugins in WordPress.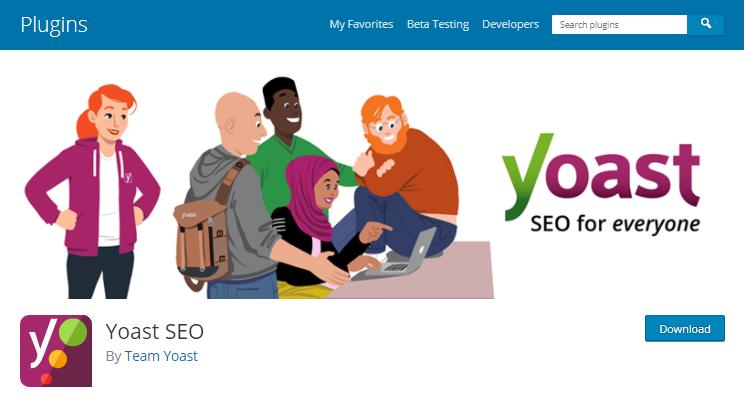 It can add XML sitemaps, canonical URLs, meta description,s and more. The plugin especially guides you to improve your content score and rates your post's readability so that you can optimize your site as much as possible. Plus, Google Analyticator will help you with your Google Analytics integration.
To summarize, WordPress takes this point home as this is really a solution for everything. While Wix's features are much easier to meet your business demands.
Blogging features
In order to start blogging, many store owners are searching for a suitable platform to use. It is easy and effortless to create blogs with both Wix and WordPress. Let's see which one is better in this round!
Wix
Wix allows you to easily add a blog section to your website. It has all the basic blogging features you'll commonly use. For instance, categories and tags, photos and videos, archives, etc. As you can see below, the interface is clean and easy to understand in no time.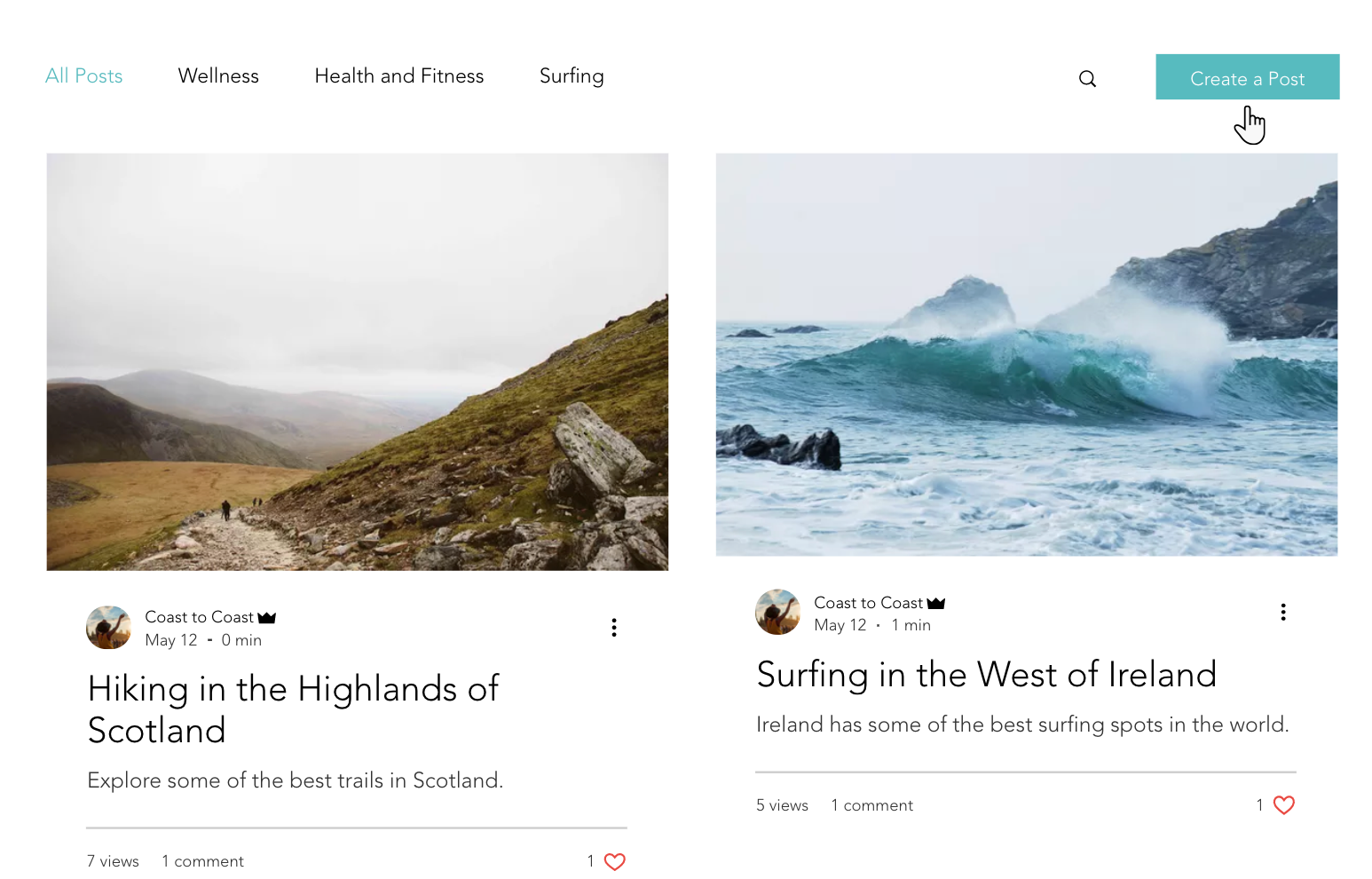 Keep in mind that Wix uses a plain text editor which is very limited in terms of formatting options. Furthermore, it also lacks several features like featured images, backdating posts, creating private posts and more.
WordPress
On the contrary, WordPress can be the most powerful blogging option compared to other platforms. It first started as a blogging platform and gradually evolved into a full-blown website builder. Up to now, this platform powers nearly 38% of all websites worldwide.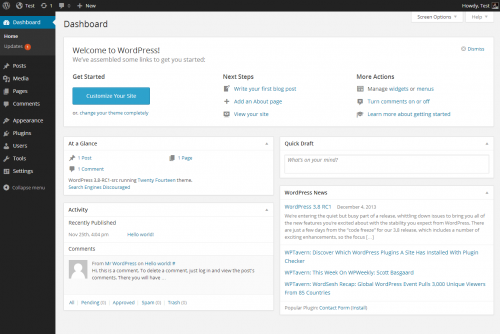 WordPress has all the blogging features you need such as tags, categories, a native commenting system, and all other advanced features. Most importantly, you can extend your blog using plugins and add any feature that you can think of. Here again, a bit of technical expertise can go a long way that will help you to power your blog.
To conclude, WordPress completely outshines Wix in terms of blogging features. Due to its basics and lacks several features, Wix does not even come close to WordPress.
Apps and Plugins
Plugins and Apps are third-party extensions that you can use to add and expand your website's function. Wix calls them apps, and in WordPress, on the other hand, they are called plugins.
Wix
First and foremost, The Wix App Market offers 250+ powerful web apps to integrate your Wix site with leading marketing or financial tools, sell online, affiliate apps and more. Most apps are free or have a lite version. Others require monthly payments and vary in prices. Despite a limited collection of apps, they cover the most commonly inquired features.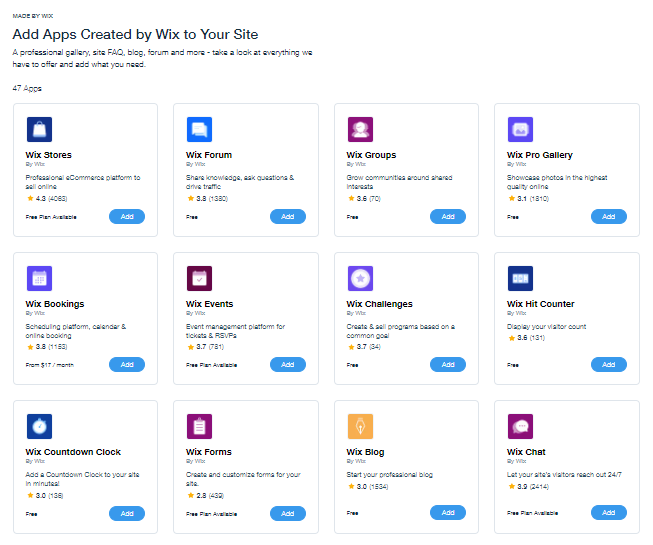 Notably, Wix has checked all apps for compatibility, so you can be confident they will be well integrated.
Nonetheless, Wix doesn't provide a good solution for everything. Let's take a look at WebsiteToolTester, it is a multilingual website in 7 languages. While Wix offers a feature for a multilingual webpage, it's not SEO-friendly and bulky to use.
WordPress
One advantage is that WordPress has a huge amount of apps and plugins that were created by the open-source community. Up to now, WordPress has more than 57,000+ plugins, that's way more than any website builder has.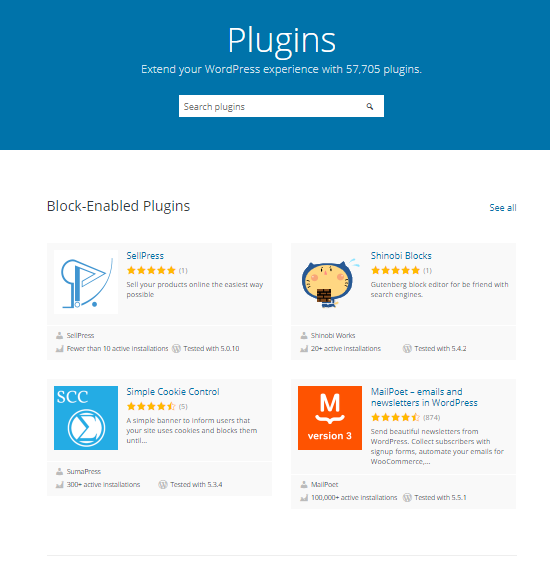 Whether you want to create a contact form, install Google Analytics, build a membership website or sell online products, there's a plugin for that. Long story short, if you can think of a feature, there's probably a WordPress plugin that can build the website of your dream.
The fact is every plugin operates on a different principle, so each plugin has its own learning curve. At the end of the day, building an eye-catching and fully functional website is about finding a good theme and plugin solutions. However, with a huge amount of plugins, you will face some issues. One of them is incompatibility which often arises during time. Plus, fixing it will require code involvement.
Therefore, to avoid this situation, you should browse WordPress's apps and plugins reviews to get your best decision. It's a good idea to look into the list of "featured and popular" plugins because it has a heap of interesting and useful features.
In short, WordPress easily beats Wix in this round. Though Wix's apps are growing, it is still limited compared to the huge WordPress's available options.
Security
Wix
When it comes to security, Wix offers shop owners chances to protect their checkout process by HTTPS/TLS encryption.
TLS (Transport Layer Security) is the standard security technology for setting up an encrypted link between a web server and a browser. This link makes sure that all data is private and protected. TLS is the industry standard that is used by millions of web developers in the insurance against hackers.
In addition, Wix Stores only works with payment gateways that offer the highest level of security certification (PCI DSS Level 1)
WordPress
Due to its huge number of themes and plugins in WordPress's marketplace, there is always a chance that your website will get hacked. However, there's also good news. WordPress Security team has worked out a set of security plugins to help users protect their websites at all costs. Now, the store owners can install SSL certificates to look after your site's preservation. All you need to do is to make a purchase of that license from third-party companies before installing a plugin. Almost all advanced extensions rely on plugins, and you have to switch over from its core files to enable an SSL connection.
Furthermore, you should follow these practices in protecting your webpage:
Keep your core WordPress software, plugins, and themes updated.
Use strong passwords for WordPress, hosting, and SFTP accounts as well as don't use "admin" for your username.
Wisely choose plugins and themes from reliable developers/sources.
Set up a firewall in front of your site.
Then your WordPress is totally secured and hack-free both now and in the future.
To conclude, in terms of security, both platforms are doing their great job to take under your wings.
eCommerce features
Because of its ease of use, both Wix vs WordPress are able to create websites to sell things online. Let's compare 2 platforms in terms of basic functionalities, payment gateways as well.
Basic functionalities
Wix
Wix offers users an all-in-one package with paid plans that you don't need to use other eCommerce apps to enhance your website. This means that if you are using the free plan, you can't effectively function your store on Wix.
Fortunately, with a free plan, you still can use a few third-party apps that can help you sell things online. But, those apps would cost you a pretty penny even more money with their monthly fees. Not to mention, you will have limited functionality and payment options such as PayPal or Authorize.net only.
WordPress
WordPress now can show off its strength with WooCommerce. It isn't surprising that this module powers more than 42% of all eCommerce websites in the world because setting a site now is just as easy as pie with WooCommerce.
We all know that WooCommerce is an open-source platform, you can add any plugins you want to build your website as you need. For example, query monitor, searchWP, WP Featherlight, and so on. WooCommerce is great for people who tend to use WordPress, but also want to add eCommerce features to their site as well.
Check out the head-to-head comparison between Wix vs WooCommerce to get more information.
Payment Gateways
Wix
Whenever possible, Wix automatically connects you to the most proper payment providers available in your region, based on your preferences and location. Currently, it offers store owners 14 payment options to choose from. If you have a different payment provider that is available at your place, you are welcome to use it. Or else, there's even Wix's own payment gateway called Wix Payments.
Normally, there are three payment options for the customers: credit card, PayPal and offline payments like cash or money transfer. Wix doesn't charge any additional transaction fees like other online store builders sometimes do.
In terms of shipping, it is set per country and can be defined for each region. If you are in the US, you can even have real-time shipping based on the USPS calculation. This will make the estimate of the shipping fee much easier. Integrates with fulfillment providers like Shipstation, ShipBob, and MultiOrders.
WordPress
Basically, WordPress's payment options are bank transfer, cheque, cash on delivery, and PayPal. You can easily add other payment methods like credit cards via add-ons, but this can result in extra costs. WooCommerce also has over 100 payment gateways to help you process and sync your payment easily including some well-known ones: Paypal, Amazon pay, Stripe, eWay, and so on.
There is a wide range of built-in shipping options available. You can add via add-ons the shipping carriers such as UPS, FedEx, etc. Suitable plugins make it easy to sell things via dropshipping. To illustrate, Dropshipping and Fulfillment for AliExpress and WooCommerce plugin allow you to import products from AliExpress to your store with just a click.
Dropshipping
Wix
To build a thriving dropshipping business, Print on demand for Wix is the top-notch choice. This app helps you to sell goods in your store without dealing with the actual delivery and shipping. With 90+ print provider locations, you can easily create custom products for your eCommerce store such as T-shirts, socks, mugs, and so on. Furthermore, Printify simplifies and automates the process of sourcing and creating print on demand products at the best prices on the market.
Besides Printify, there are a number of dropshipping apps that are only available on Business Unlimited or higher plans.
WordPress
We can directly use WooCommerce Dropshipping to make dropshipping easy and hassle-free. This definitely lets you sell more but work less!
WooCommerce Dropshipping is powerful store management for:
Managing a dropshipping store;
Notifying automatically when their products are purchased through your store;
Importing inventory per supplier quickly;
Assigning inventory to specific suppliers.
To sum up, WordPress + WooCommerce would be an ideal solution for your online store. Compared to Wix, they offer much more flexibility, freedom, and choices.
Wix vs WordPress: Who has got the upper hand?
WordPress is far superior as an open-source platform for any kind of website in the long run. On the other hand, Wix helps customers to easily create websites. Actually, it all depends on what you need the site for and how tech-savvy you are when it comes to site-building.
If you have no experience in creating a website or only have a small business store, Wix is definitely the better solution. It's much easier to use straight from the box, and you can build your site in minutes. Wix will walk you through the process from start to finish.
For someone who wants to be in control and wants to learn how a website works, WordPress is there for you. It gives you full control over your website. You can add or remove any plugins or even modify underlying code by hand in any way you want.
Or all you need is a very simple eCommerce store to sell online, either Wix or Shopify is your best bet.
Conclusion
Lastly, we hope this article helped you to make a comparison between Wix vs WordPress and know their pros and cons. These differences are just fundamental to the nature of the website builder and CMS's. That is why you should think long and hard about what your website needs and apply that to make up your mind. There is no universally right or wrong decision.
Should you have any concerns about Wix or WordPress, please don't hesitate to Contact Us. We are eager to help you!