The battle between Wix vs Shopify, two website builders that are popular with eCommerce users, has always been fierce.
Generally known, Wix is great with small companies, while in comparison, Shopify can deal with much bigger sales. Is this still right at the moment?
We will break down our detailed research on individual platforms Shopify vs Wix in this thorough overview that includes price, ease of use, eCommerce features, and far more. Those include what Wix and Shopify can do and which is truly suitable for your business.
Keep reading to get:
Want to Migrate Your eCommerce Platform?
If you are intending to migrate from one eCommerce platform to another, LitExtension offers a great migration service that helps you transfer all your data accurately and seamlessly with utmost security.
---
Wix vs Shopify – At A Closer Look
#1. What is Shopify?
Shopify, as a SaaS (software-as-a-service) eCommerce solution, is made specifically to help people establish online shops easily. Shopify currently has over 4.7 million live stores, is one of the most popular shopping cart solutions in the world (source: BuiltWith).
No matter how big your business is, Shopify is always an option worth considering. Its built-in features and scalability are the factors that help build trust and reputation among users.
We've tested out this eCommerce platform since 2022 and give out this in-depth Shopify review right below!
To enable users to experience Shopify first-hand to the fullest, don't miss the chance as Shopify offers a 3-day free trial, and after that, you will get an exclusive time-limited offer "$1/month for 3 months".
Hey! Don't miss our ultimate Shopify review article for thorough insights about this eCommerce platform.
#2. What is Wix?
Wix is a drag-and-drop website builder with more than 2.9 million live websites, according to BuiltWith. Wix eCommerce brings in many brand new and exciting features, from optimized shopping and payment experiences for customers to business and finance management tools and so on.
Don't forget that we have a thorough Wix eCommerce review for you to get all information about Wix.
Building an online store from scratch might be a daunting task, let's create a Wix website by following our guide on how to set up a Wix website in less than 10 minutes.
---
Wix vs Shopify – 9+ Key Differences Need Considering
#1. Pricing
Without looking at the price, Wix pricing vs Shopify comparison would be so incomplete. Let's see which one gives you a better price.
Quick verdict: When it comes to Wix vs Shopify pricing comparison, Wix seems to be more affordable for a new eCommerce website. However, Shopify will come with robust eCommerce features to better fit eCommerce businesses of all sizes, including larger-scale businesses.
Shopify Pricing
In comparison to some other platforms, Shopify's pricing plans seem rather costly.
Shopify Starter – $5/month: With this plan, you can sell your products by sharing links on different channels like social media, SMS, and email. Especially you don't have to spend time building a full store and can manage your business performance via the Shopify dashboard. The Starter plan makes it easy for you to earn more sales by utilizing a wide range of marketing channels.
Basic Shopify – $39/month: With Basic Shopify, you get all the fundamental eCommerce functions. This plan is suitable for merchants who want to build a simple store or have just started a business.
Shopify – $105/month: This plan has everything you need to grow your business. You can get all the features in the Basic plan plus professional sales report features, global selling support, etc.
Advanced Shopify – $399/month: Choosing this plan means that you will get all the advanced features. A medium-to-large business can grow fast, and this Advanced Shopify makes the process even more possible.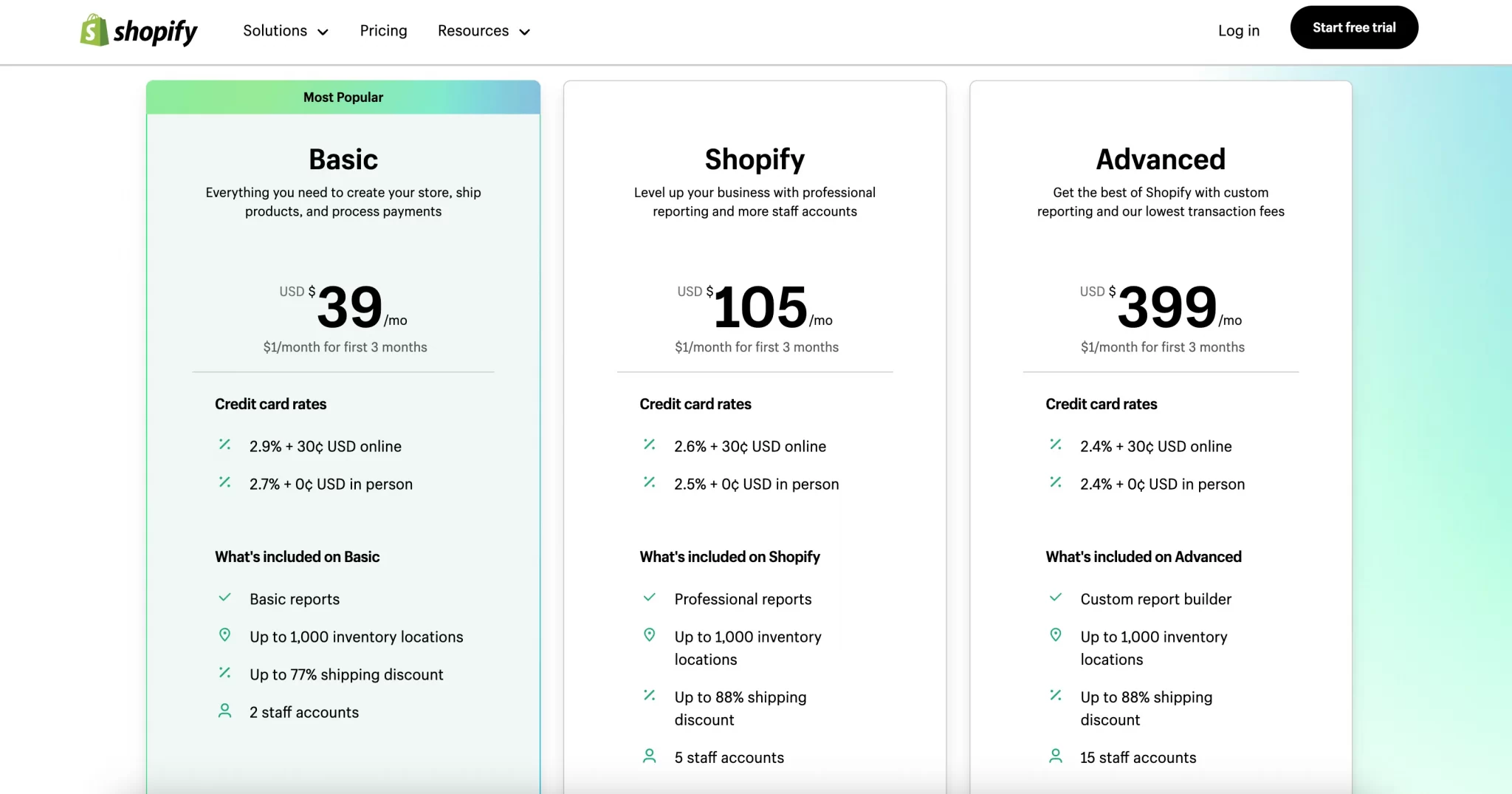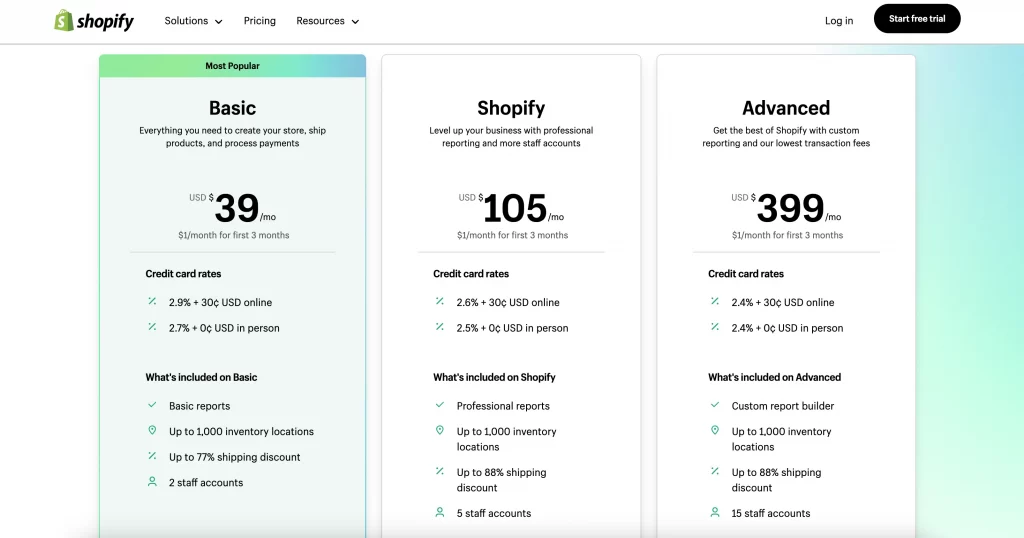 Besides the 3-day free trial, Shopify is now running an exclusive time-limited offer which is "1$ for 3 months" for all plans. That's why you can take advantage of this to fully experience exclusive Shopify features at a low cost.
Wix pricing
On the other side of Wix vs Shopify pricing, Wix reveals 4 paid pricing plans that range between $16 and $159.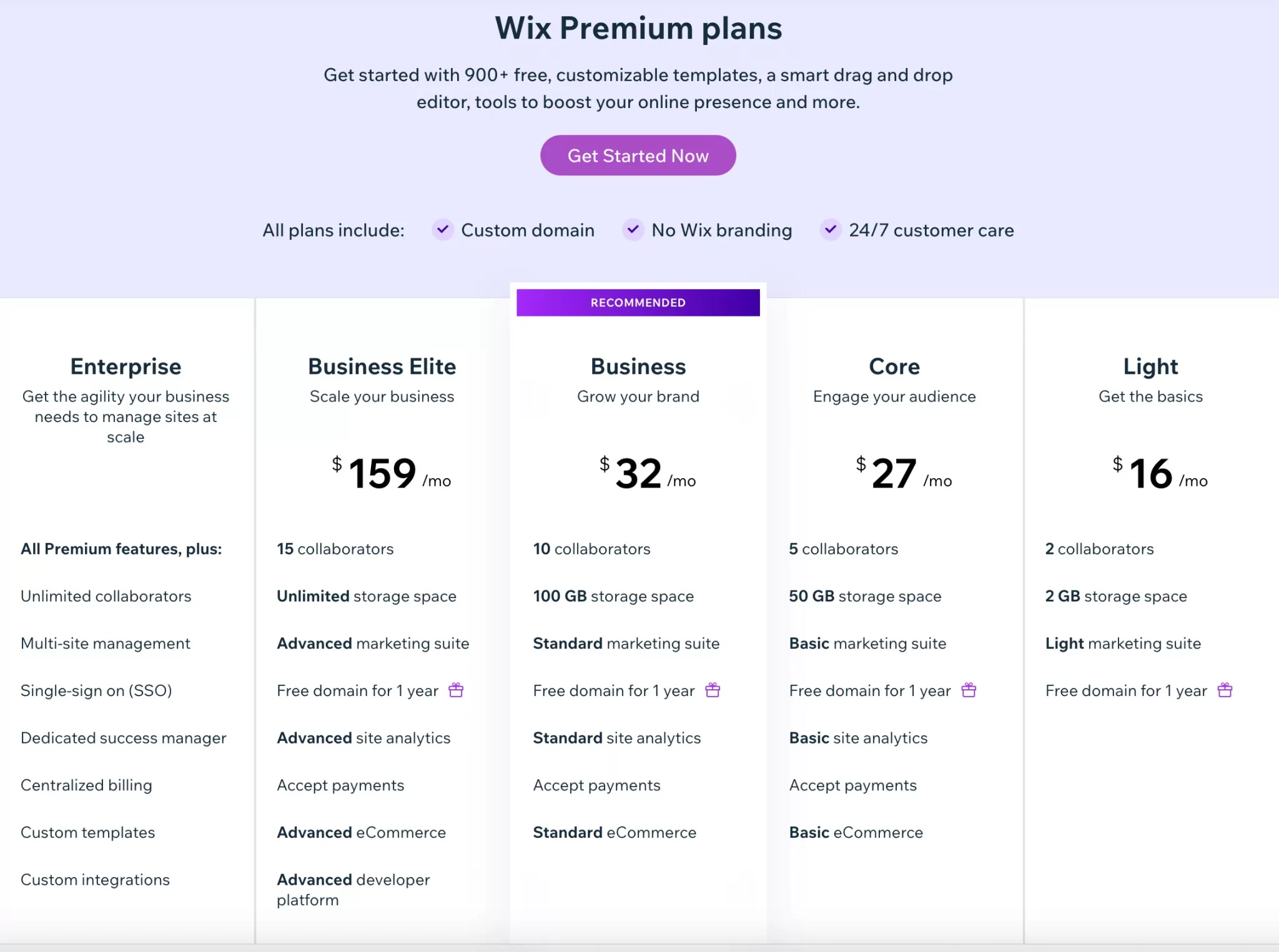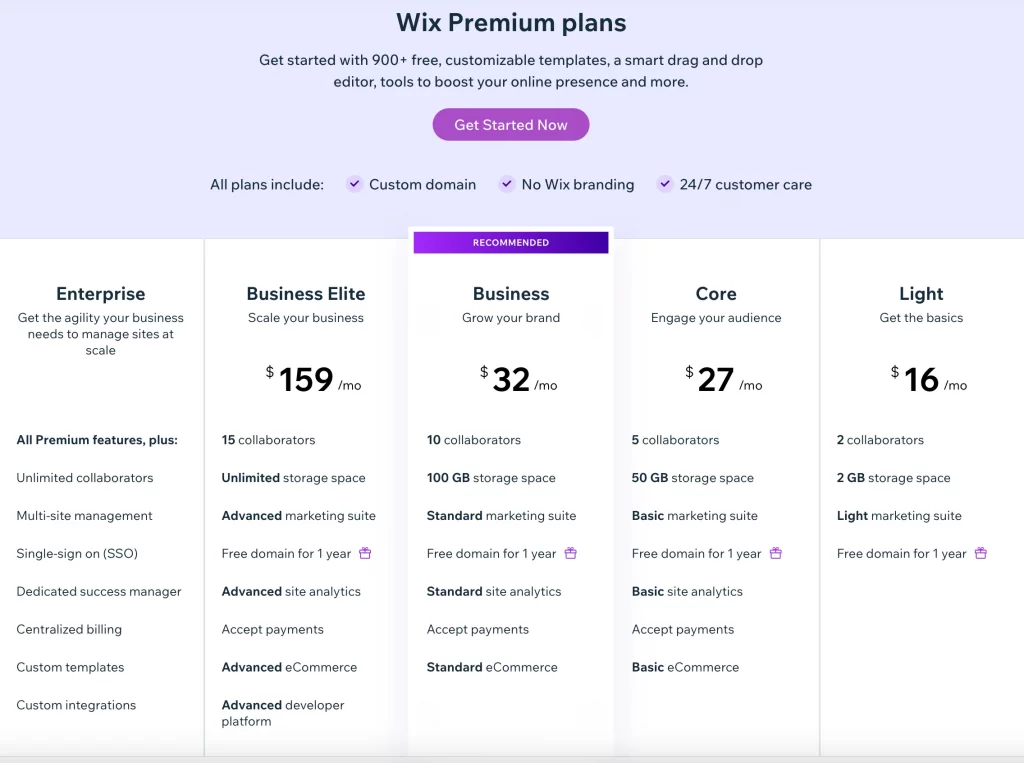 Wix pricing plans
Light – $16/month: This plan provides a basic suite for marketing with no eCommerce functions.
Core – $27/month: If you have just started, you will get a set of features to sell online. For example, unlimited bandwidth along with a year of free domain, sales analytics, professional logo, etc.
Business – $32/month: This plan has every feature of the Core plan yet with more storage and more robust eCommerce features. You also will get more deals such as tax calculators, dropshipping, multiple currencies, and far more.
Business Elite – $159/month: Store owners will have all the features of the Business plan along with priority support. All your questions on Wix's answer page will appear at the front of the line, and all your phone calls will be answered as fast as possible. Another outstanding feature of this plan is the reports which will help you get valuable insights and make data-driven decisions for your business via advanced site analytics.
This provider also has a free plan with a Wix domain and an Enterprise solution for scaling your business agility.
#2. Ease of customization
User-friendliness is doubtlessly an integral factor that you should never overlook since you have to work with the system on a daily basis. Hence, an eCommerce platform that is easy to use will surely take the biscuit. Let's find out Wix vs Shopify comparison – which is easier to use?
Quick verdict: Based on our testing, Shopify vs Wix eCommerce, for user-friendliness, we find that Wix is slightly easier to use than Shopify. However, you cannot change the Wix template so that somehow may restrict your storefront visual. So in the long run, we still recommend Shopify for your business.
Shopify ease of use
I would say that Shopify keeps the dashboard and editing system separate. Therefore, you will move back and forth between the preview and back-end to check the result and the front-end interface.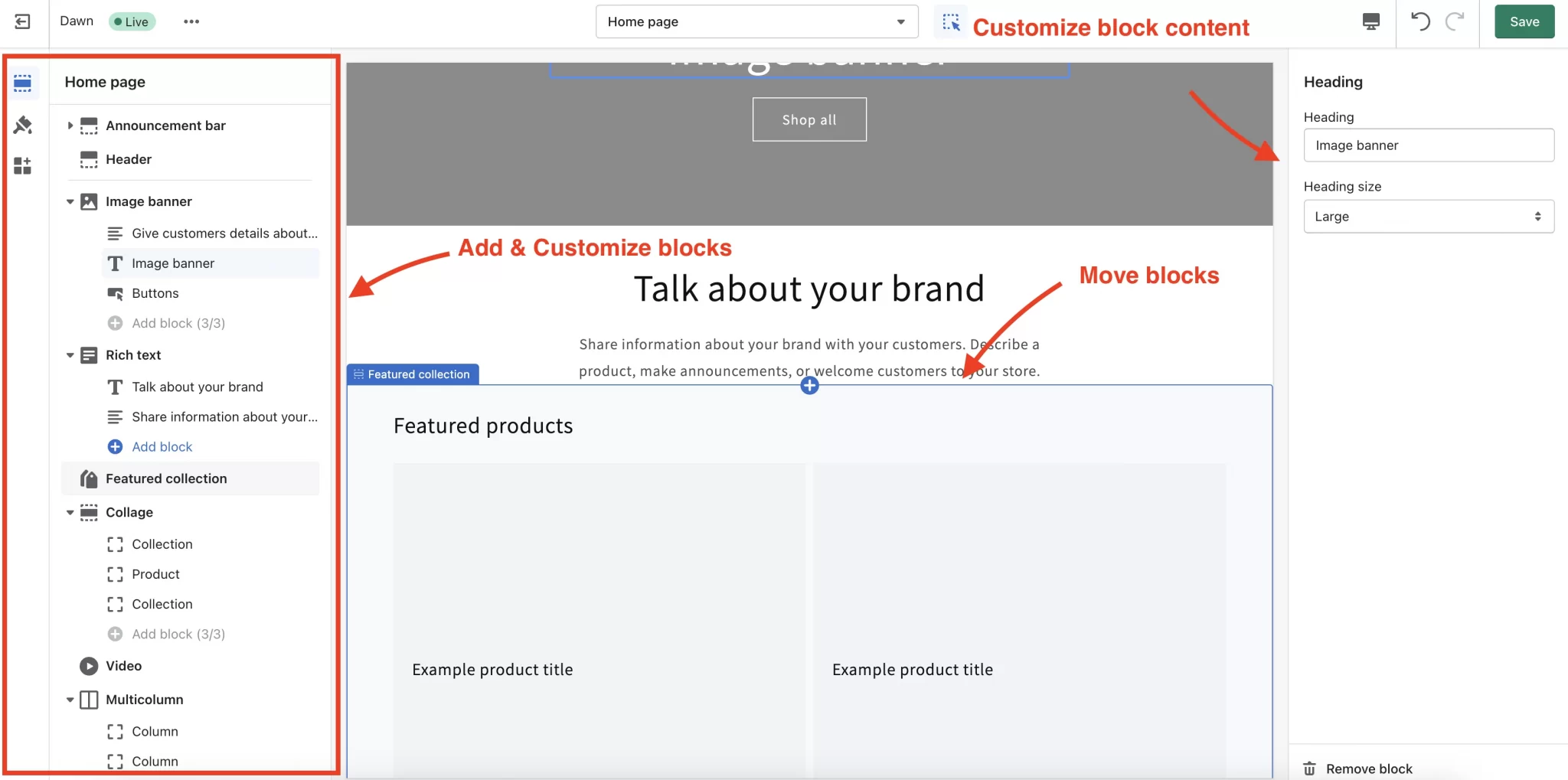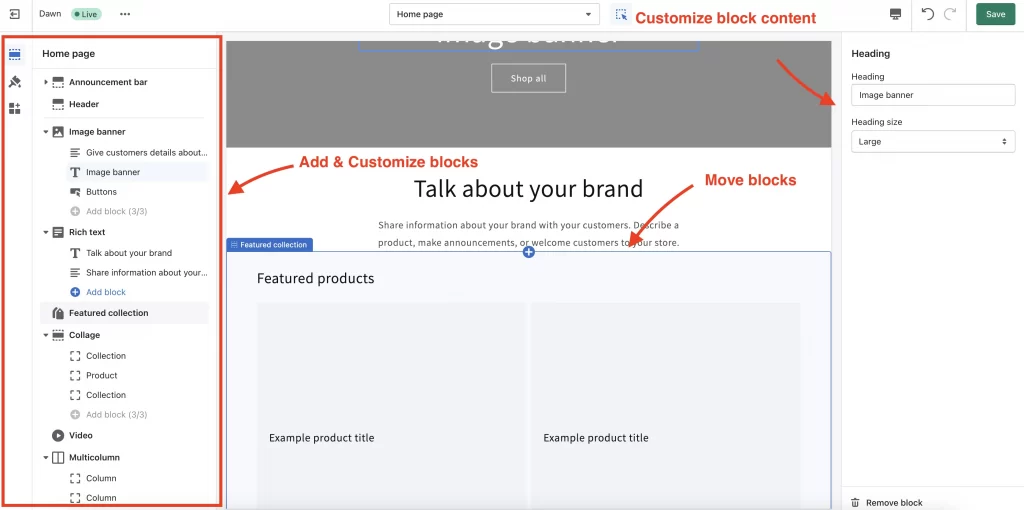 The division may take you longer to arrange the site as perfectly as you wish. However, Shopify offers hundreds of beautiful themes for you to create and optimize the eye-catching storefront easily and professionally. Later on, you can easily add products and start selling. In the long run, and for medium-to-large businesses, these templates truly make the difference.
Especially, with Shopify, it's possible to change a theme without losing content. You only have to go through simple steps to change your Shopify theme style:
Browse a theme on the Theme store
Click Customize. Click Theme Settings> Styles.
Just note that Shopify only has a few free options (which are still great!), so if you choose a premium theme, you may need to pay more here.
Wix ease of use
Let's dive into this: the ease of use of Wix's business model is important. Once you have finished setting up your store, now, it's time to build a thriving Wix store without a hitch.
Based on my experience, Wix's drag-and-drop creator allows merchants to manage every content on the front-end interface by clicking on the feature (such as an image, title, logo, etc.) and dragging it anywhere they like. Apparently, it is extremely convenient and painless for users with no technical knowledge.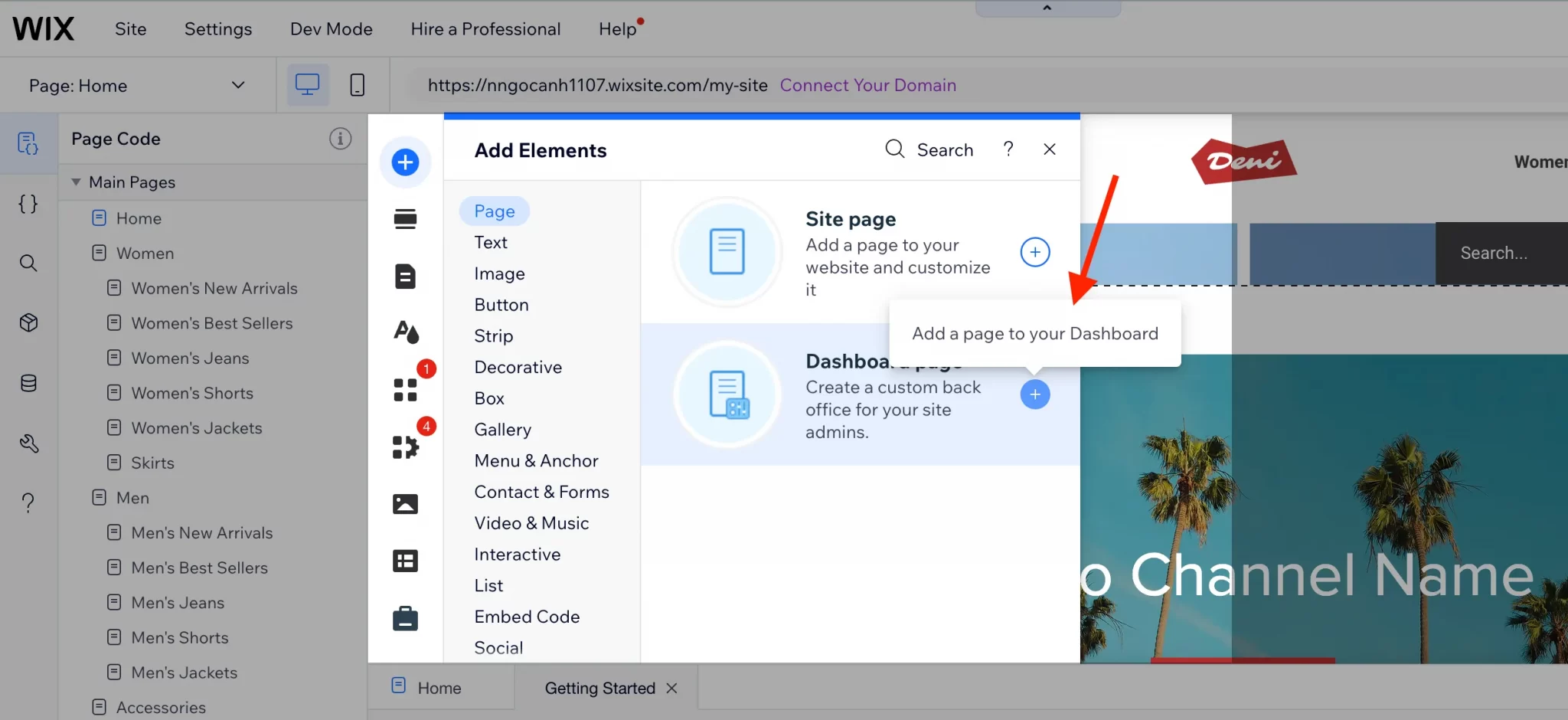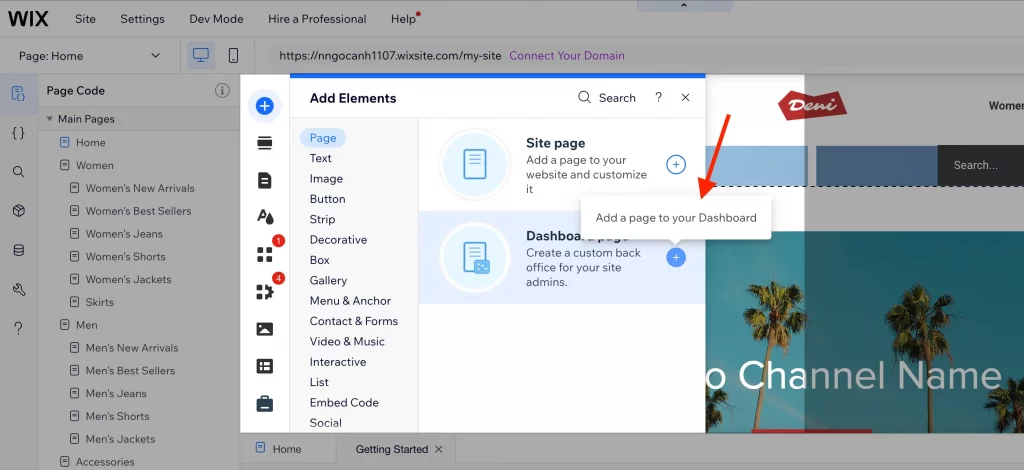 More than that, Wix also offers you technologies of artificial intelligence, which are called Wix ADI and Wix Editor, to help you with the very first steps of creating your online store.
However, Wix has one downside. You cannot switch to another Wix template while still maintaining your store data and design. If you wish to change to another template, you may need to:
Pick a new Wix template
Copy & import all data from the old template to the new one
Transfer other additional features
Most importantly, since Wix template features will be based on your plan, you need to transfer your Premium plan and domain to the new template
The process somehow makes your experience on Wix seem more complicated and daunting than using Shopify.
#3. Themes & Templates
It's clear that a dazzling storefront will capture attention and implicitly boost sales. Fortunately, either Shopify or Wix provides users with a myriad of beautifully designed responsive templates and themes to satisfy any store owner's requirements.
In addition, both Shopify and Wix grant you the privilege to make custom edits, which means that you can still customize your website with the provided coding languages. Next, let's have a thorough comparison between these 2 platforms in templates & templates.
Quick verdict: Wix definitely outweighs Shopify in the number of website templates. However, Wix templates are not changeable, and it would be annoying when you want to rebrand your store. On the other side, Shopify themes are more tailored to eCommerce shopping experience which makes your store building easier.
Shopify themes
Shopify designs 160+ themes specialized for online stores. The price ranges from $150 to $390.
Expensive as it may seem, every paid theme is artistically and functionally cost-effective. Take a look at our list of some best Shopify themes and best free Shopify themes.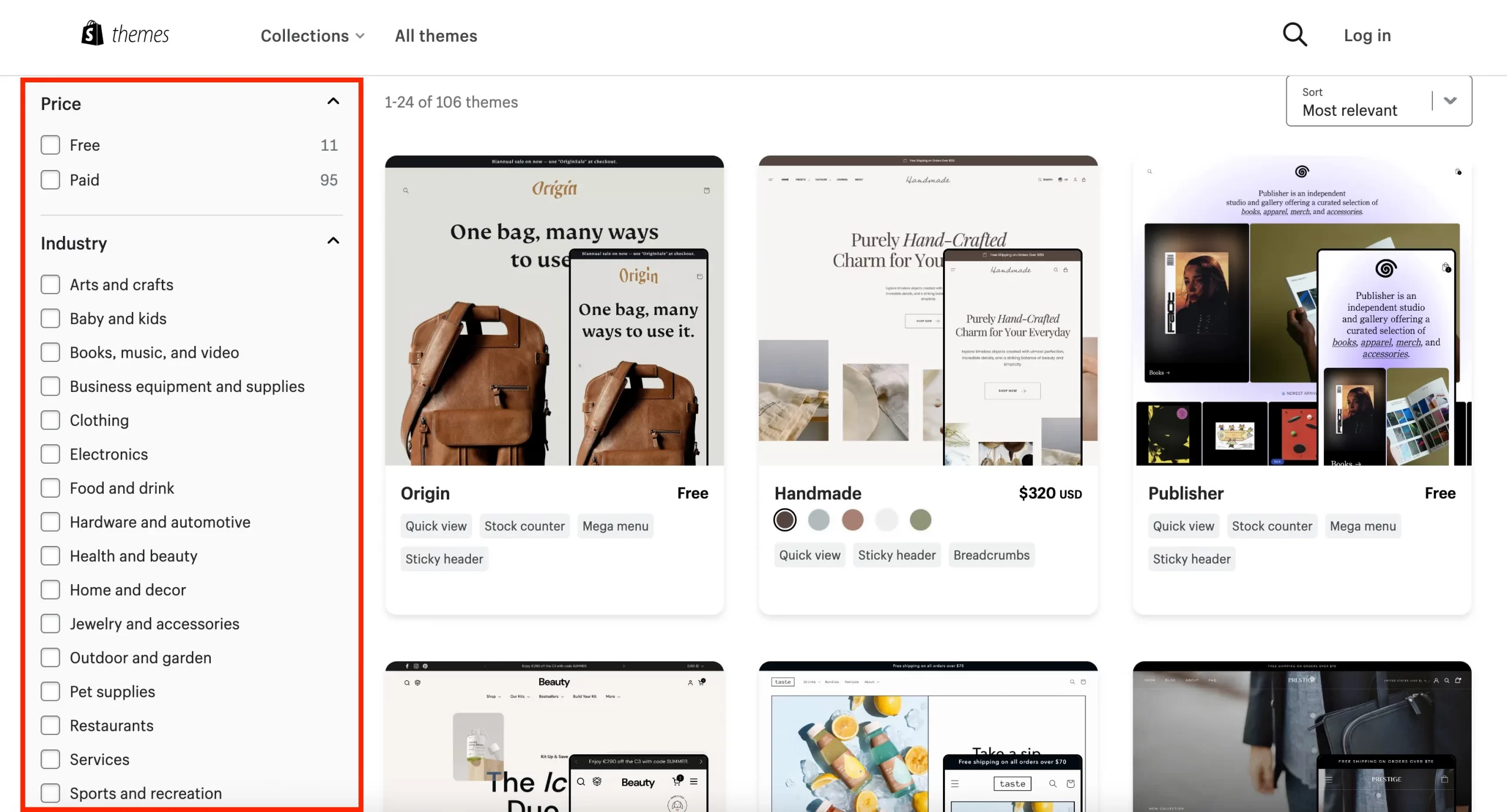 In case you want to add some elements, or maybe you have an idea for a new feature that you think would make your website look more stunning, Shopify Liquid is an effective way to modify the underlying code. Hence, you can have various designs which can be edited flexibly to suit your demands.
Wix templates
There are more than 800 free appealing templates are available for you to choose from on Wix. Those eye-catching templates cover different aspects and are easily modified for selling purposes.
Also, you can totally lift up your storefront to a higher level with Wix's own coding language: Wix Velo.
With this huge number of templates, you may find it hard to choose a dazzling one for your website; therefore, we have done research to list out some best Wix templates for your incredible eStore.
While Wix offers all of the templates at no cost, exclusive and premium features may go along with your website plan. What's more, you cannot change the Wix template which somehow restricts your store visual. And, we find that this is a big drawback of Wix in this battle with Shopify.
Don't have much time to create? No worries, Wix offers three built-in design tools to help store owners quickly design their storefronts, Wix Editor X, Wix ADI, and Editor (you may find out more about the differences by reading our Wix Editor X review and Wix ADI vs Wix Editor).
Make Your Migration Project A Breeze with LitExtension
Don't have time to manually migrate to Wix? Let LitExtension lift the burden off your shoulders with our top-of-the-class migration service. Enjoy a streamlined and secure data transfer process now!
#4. eCommerce features
One thing that can never be missed here is Wix vs Shopify eCommerce features. Below are features we're gonna analyze:
Inventory Management
Report and Analytics
Payment Methods
Shipping Options
Mobile App
Quick verdict: I can confidently say that Shopify eCommerce feature is far beyond Wix! But why? Let's review with us below!
Inventory management
Shopify inventory management
When using Shopify, you will be able to track stock and get access to benefits like stock alerts, automated purchase orders, year-end inventory reporting, and user permissions and accounts.
Shopify's inventory tracking system gives you complete control and insight into your business. Moreover, you can experience how inventory moves from supplier to customer and everywhere in between.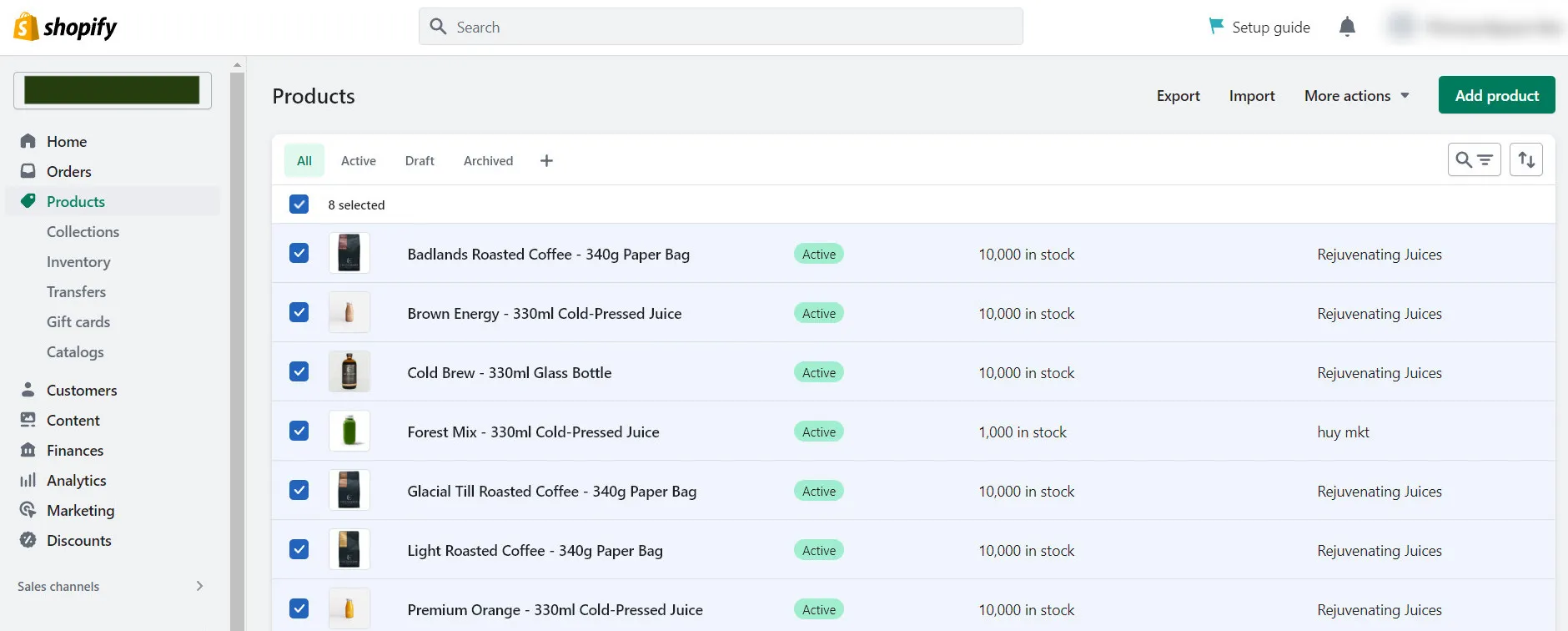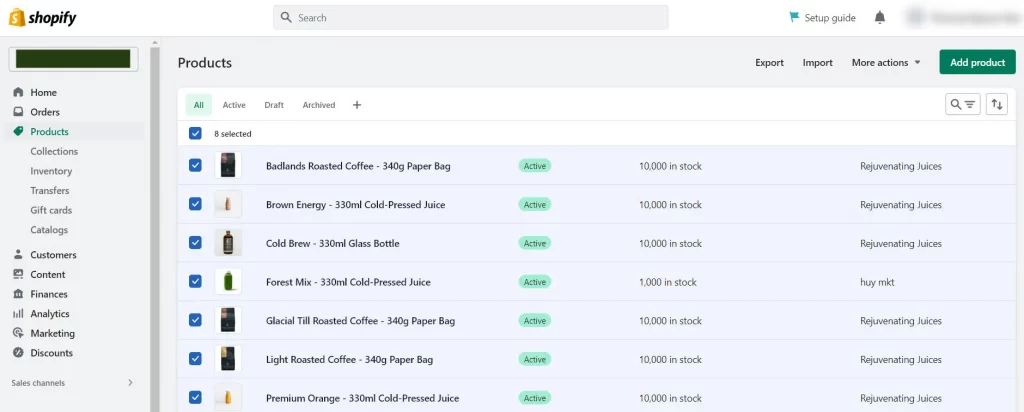 Notably, Shopify does have a variety of inventory apps and also the setup guidance for merchants to handle the task more easily.
Wix inventory management
With Wix, you can connect your preferred inventory methods with the open APIs to your Wix store. Then everything will be synced constantly and smoothly. Hence, you can both automatically track the number of certain products in stock and manually set the inventory status for each.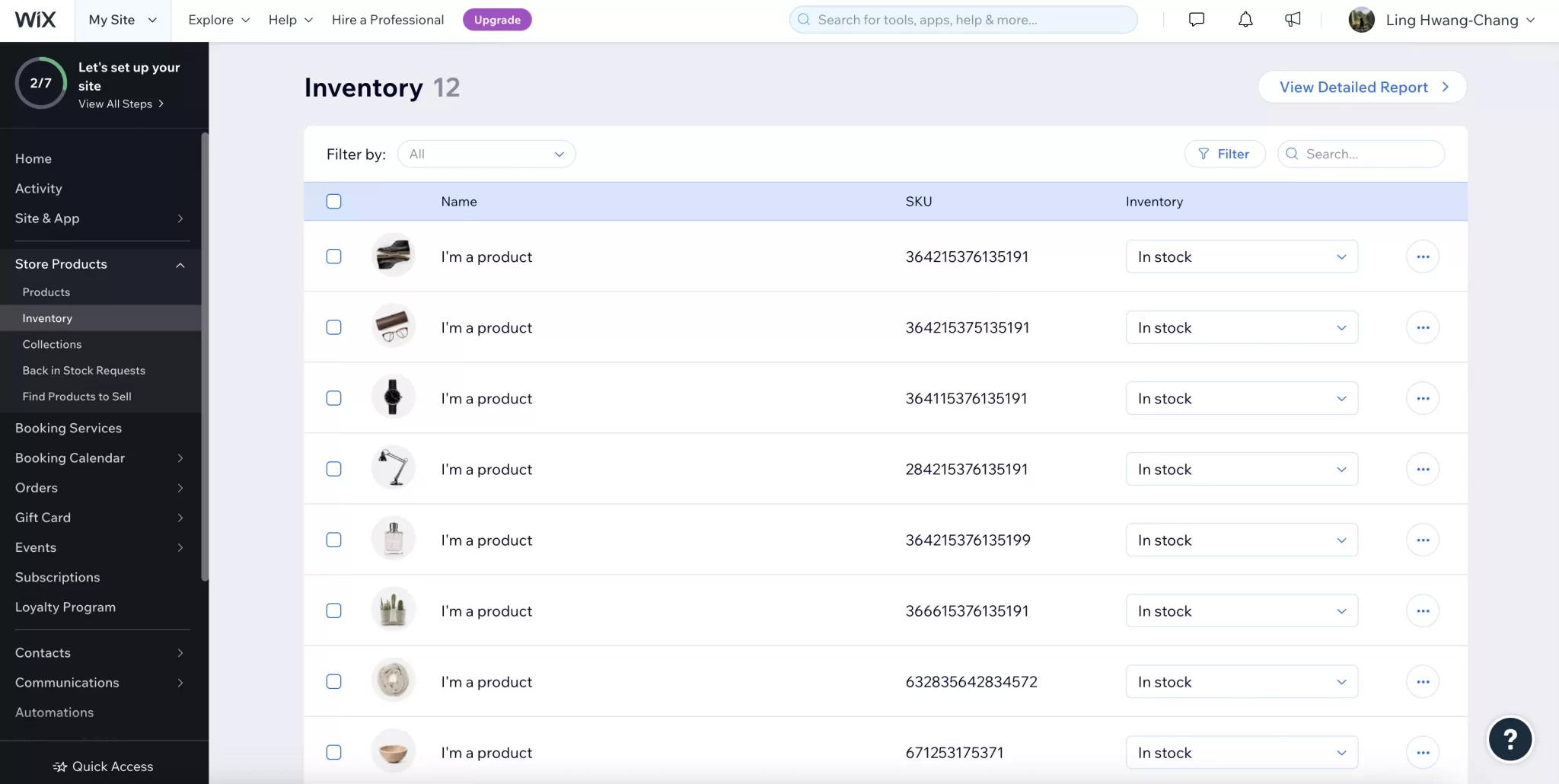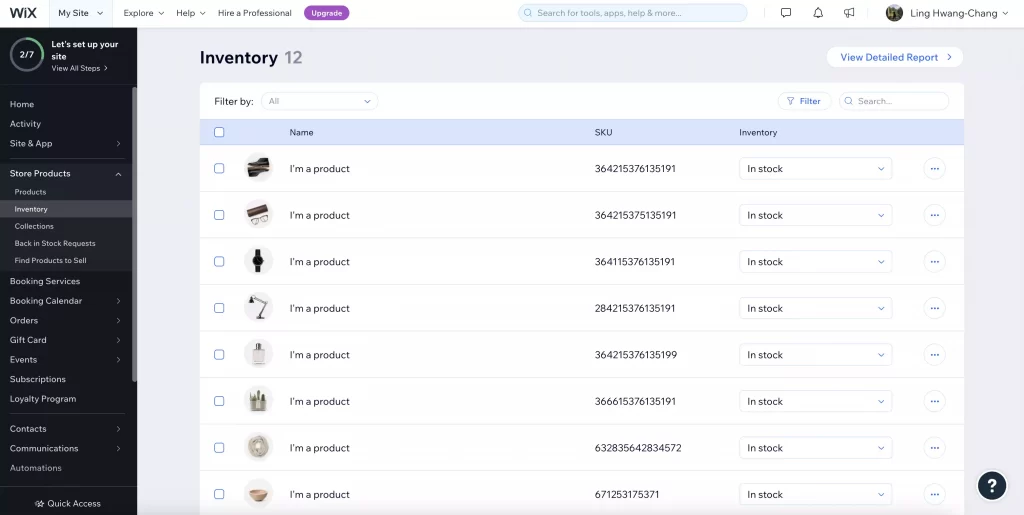 Wix Stores currently offers two inventory management methods:
Tracking inventory: Track how many of a specific product or product variant you have in stock. When you make a sale, the inventory amount is automatically updated.
In Stock / Out of Stock: Manually assign products or variants an "In Stock" or "Out of Stock" status.
More importantly, if you create product options (e.g. color, size), you can keep track of inventory separately by adding a different SKU number to each one of its variants.
In short, Wix is able to optimize your inventory management by offering lots of apps or setup Wix tutorials that can help you control your stock easily and accurately.
Report & Analytics
Multiple decisions are commonly made with the figures on reports and analytics tools. Therefore, it is a must to investigate and make comparisons on how your shopping cart deals with numbers and display them before you choose the right eCommerce platform.
Shopify analytics
Shopify offers quite a lot of reporting features that can be upgraded with higher plans. Further upgrades for Advanced Shopify or Shopify Plus can provide deep analysis with the help of filters apart from the basic analysis from Basic Shopify.
Overall, Shopify's analytics and reports give merchants the means to review a store's recent activity, get insight into their visitors, analyze store speed, or even analyze a store's transactions.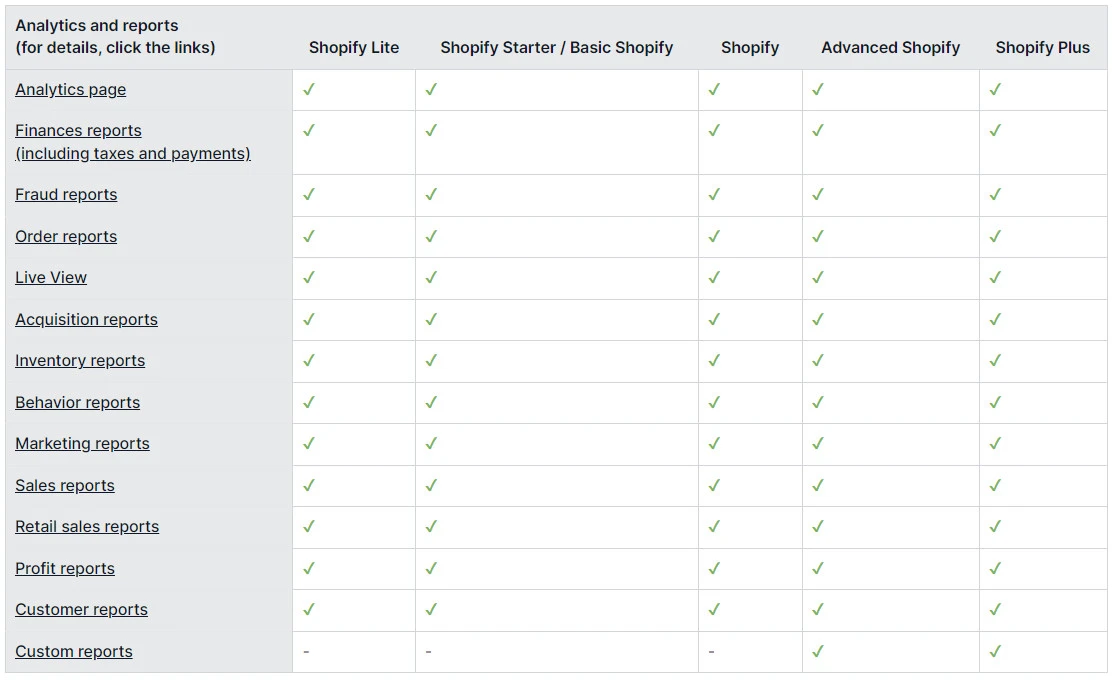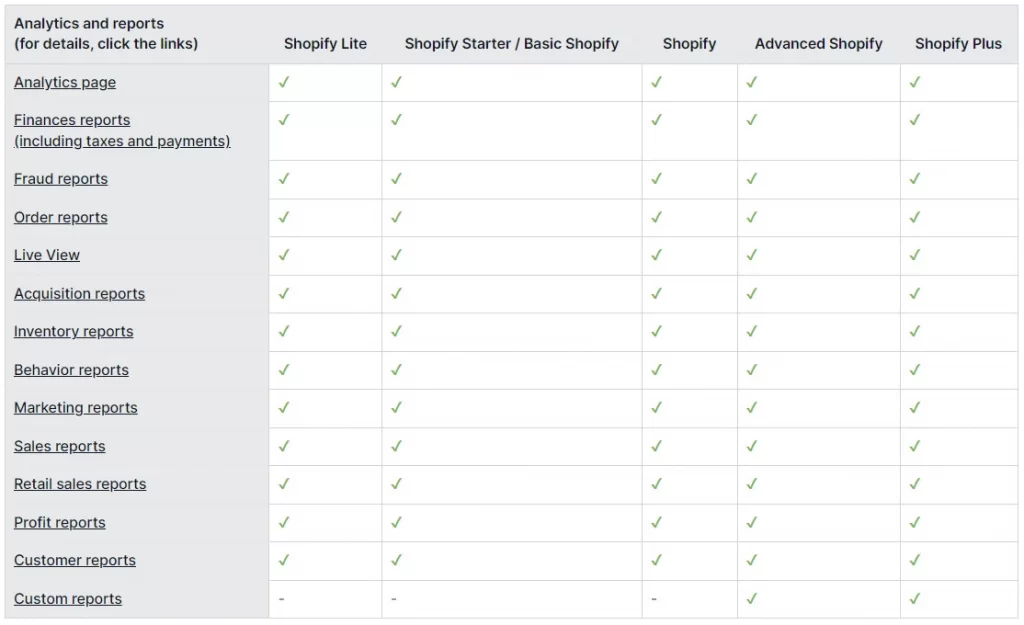 Additionally, if your store is on the Basic Shopify plan or higher, then you can filter your reports to show the specific information you need. You can also add or remove columns in your reports.
If your store is on the Advanced Shopify plan or higher, then you can save your filtered and edited reports or create custom reports from scratch. If your store is on the Shopify plan, then any filters or edits that you apply are temporary.
* Note: You can only filter and edit all the reports except for the Finance reports. Also, in case you want to filter a custom report based on tags, Shopify App Store will help you with reporting apps.
Shopify has always been updating the report and analytics functions. Most recently, the cross-device data was added to marketing reports which effectively serves to optimize your budget.
Wix analytics
Wix, on the other hand, allows you to adjust your business reports in terms of website traffic, revenue breakdowns, customer shopping behaviors, or conversion rate. You can choose how to view your data, customize your reports to focus on data that interests you, and create new reports from scratch.
The exposure of your most important data can help you to specify your best seller and flop products and draw up a more strategic plan to boost your sales.
Impressively, your Wix store reports are divided into categories to help you find out what kinds of data you want to see. For example:
Sales reports present reports for your site revenues and sales. You can find all types of useful information like monthly or weekly sales, invoice info, and so on.
Traffic reports are where you find out how people navigate to and around your site. This report displays your traffic over time, by device, by country and city, and by landing page.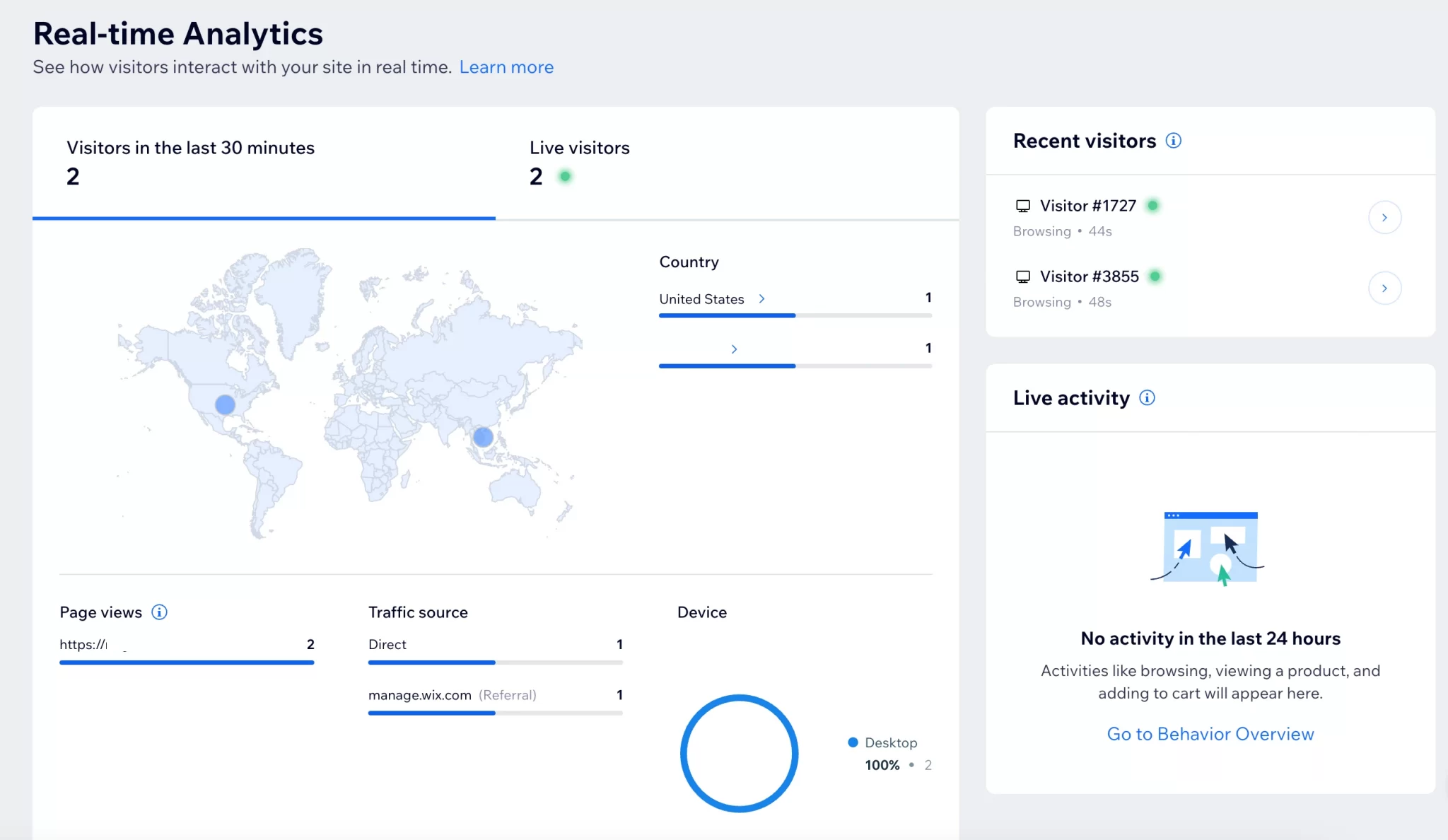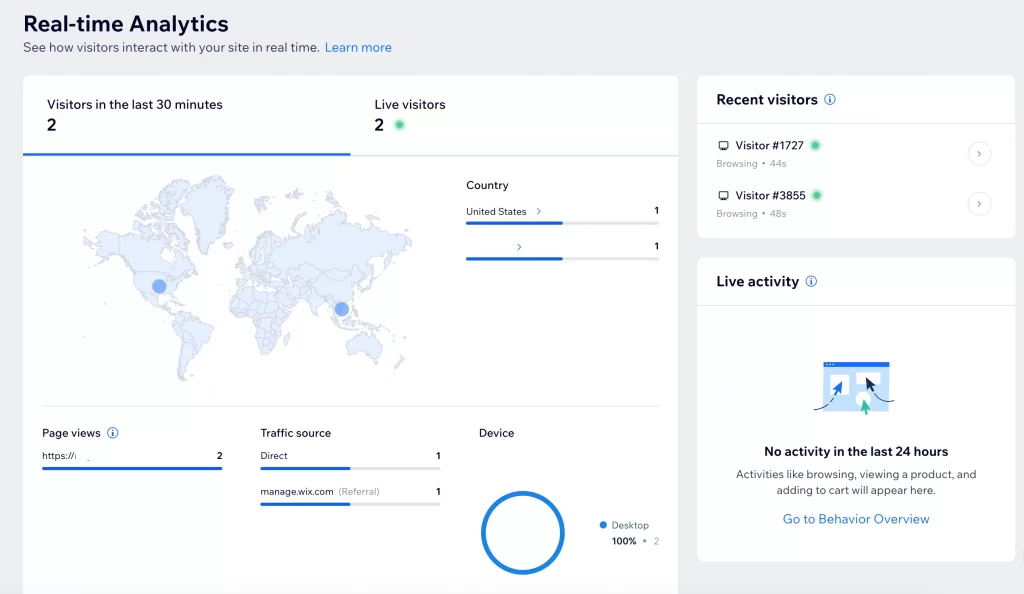 Behavior reports explore how visitors are interacting with your site: what page they visited first, what pages are most viewed, and how your visitors navigate within your site.
You can visit Wix App Store to find suitable third-party apps to fulfill your tasks.
Payment methods
Both Wix Payments and Shopify Payments are highly praised by thousands of e-merchants. Which platform handles customer purchases better? Check it out.
Shopify payment
At the same time, Shopify offers its very own payment solution – Shopify Payments (you can read the full Shopify Payments review here). This solution helps merchants forget about transaction fees.
Shopify still charges different credit card rates for each plan when using Shopify Payments. If you go for Shopify Basic, the platform charges $2.9 + 30 cents per transaction. The fee is reduced to $2.6 + 30 cents with the Shopify plan and $2.4 + 30 cents with Advanced Shopify.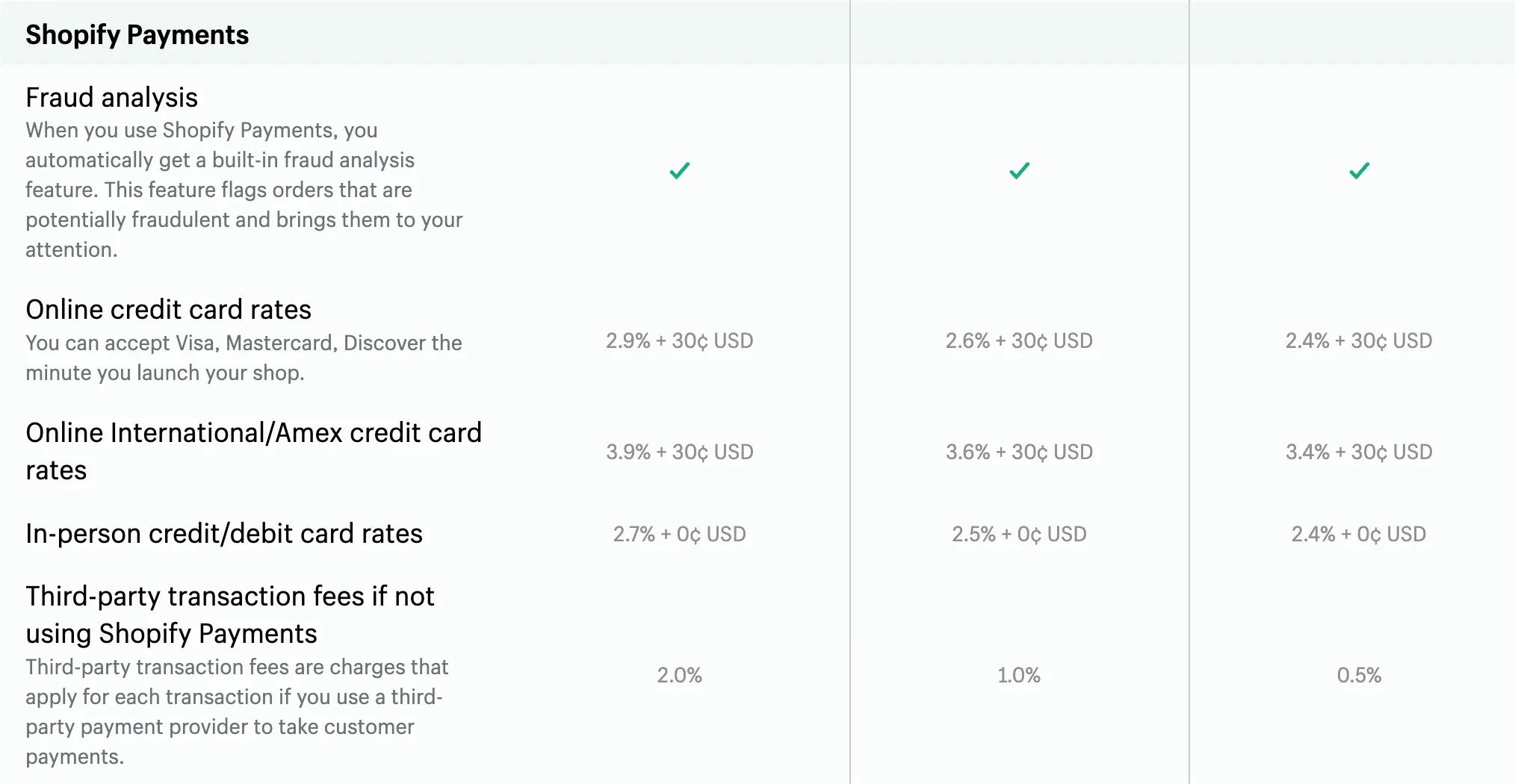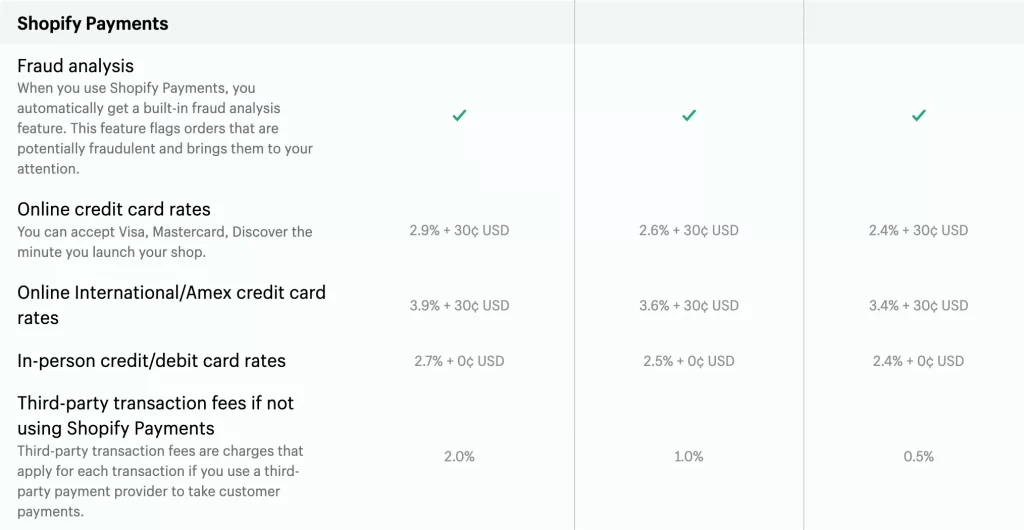 If you decide to use any payment provider other than Shopify Payments itself, the additional fee per transaction will be 2.0%, 1.0%, and 0.5% for Shopify Basic, Shopify, and Advanced Shopify, respectively.
If you use other payment processors, including Stripe, 2Checkout, PayPal or Authorize, etc., Shopify will charge you an additional transaction fee (2.5% to 0.5% depending on your plan).
Wix payments
Wix supports all the traditional payment processors, including PayPal, Stripe, and Square, with advanced online encryption and the strictest standard.
Additionally, Wix does have the "Buy now pay later" solutions to give customers financial freedom. Using Wix, businesses can offer pay-later options to their customers with no additional integration costs.
The platform itself offers its native Wix Payments solution for processing payments. This can be used locally and internationally depending on availability.
In other words, with Wix Payments, you get:
Free and easy set-up
International payments for cross-border eCommerce
Secure online payments
No transaction fees
Accept credit/debit cards, iDeal, and buy now, pay later solutions like Affirm, Afterpay, and Sezzle
Unified dashboard for payouts, refunds, and chargebacks
No need for a third-party payment gateway
Shipping options
Shipping is one of the vital parts of the fulfillment process in which items are delivered to your customers. If you are new to this, before looking at Wix vs Shopify Shipping options comparison, read our quick guide to eCommerce shipping.
Shopify shipping options
Shopify is by your side with all steps in the complicated shipping cycle, from free shipping to coordination with alternative shipping providers. You can configure your shipping rates (free shipping, flat rate, depending on region, etc).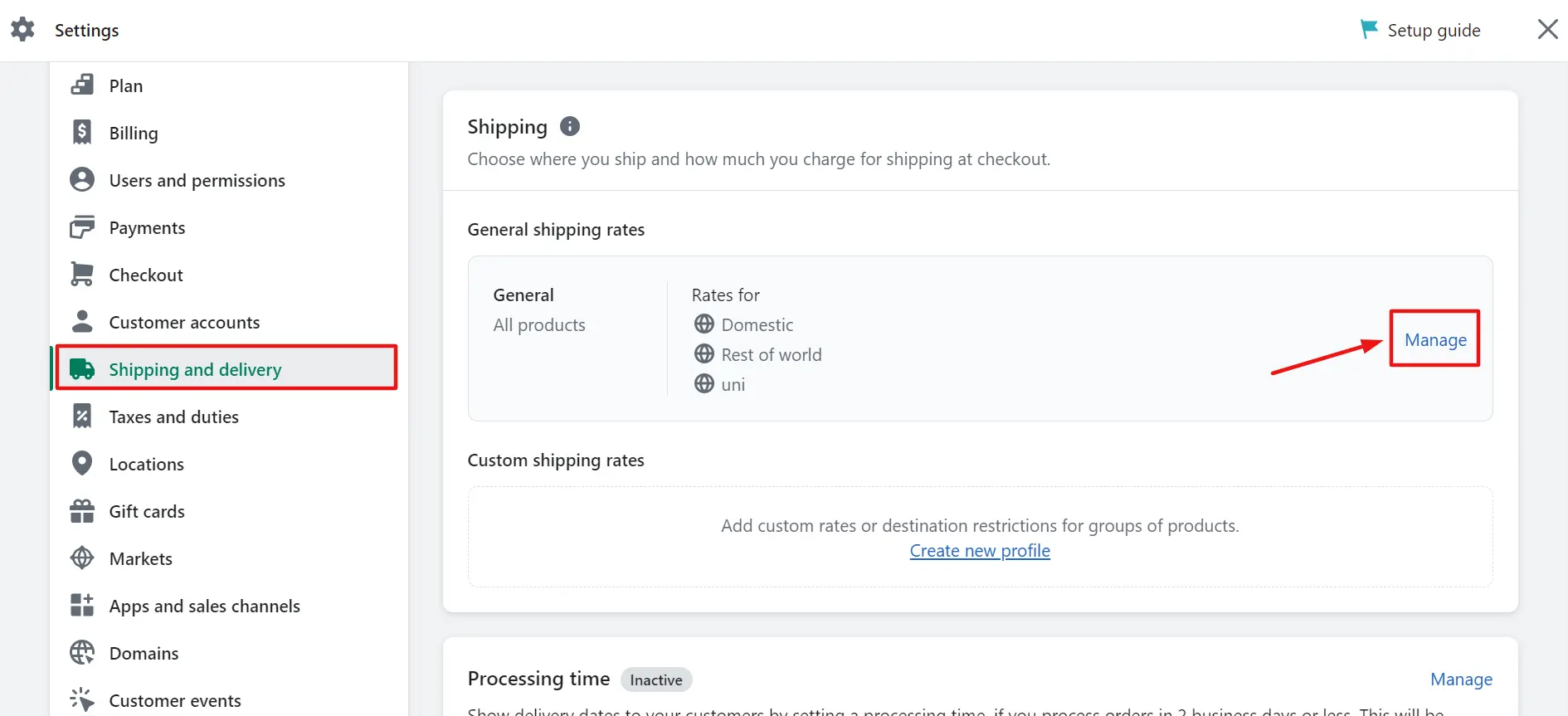 With the Advanced Shopify plan, you can also unlock the third-party calculated shipping rates so that you can show customers the current courier prices at checkout. In short, when you organize shipping with Shopify, you're never left stranded.
Wix shipping options
On the contrary, Wix shipping features allow merchants to deliver products both locally and globally.
With domestic shipments, you can apply standard local shipping rates and carrier integrations. You can also offer standard or priority international shipping options on the cart pages.
Wix allows adding multiple shipping regions and customizing rules like by weight, price or offering free shipping.
However, for international orders, you need to assess actual shipping costs like cross-border fees, tariffs, and taxes before setting prices. Luckily, Wix eCommerce will provide you with a detailed guide to setting up shipping, delivery, and pickup.
In addition, Wix does not offer printable shipping labels when you track orders and set tax rules for each product unless your business is based in Canada, France, Germany, Spain, the UK, or the US.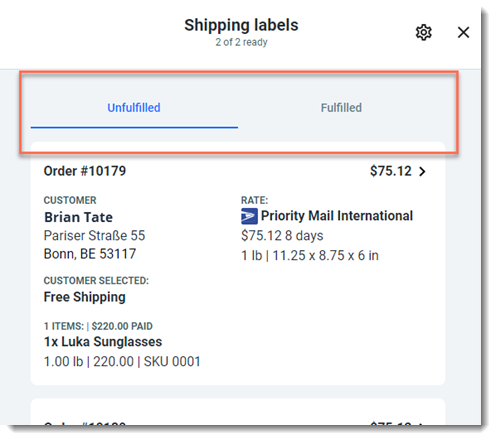 Mobile apps
Monitoring eStore, editing pages, processing orders, tracking business analytics etc., anywhere, anytime is the feature that any merchants dream about. That's why Wix and Shopify mobile apps are available. Both allow you to do almost everything the same as on the website version.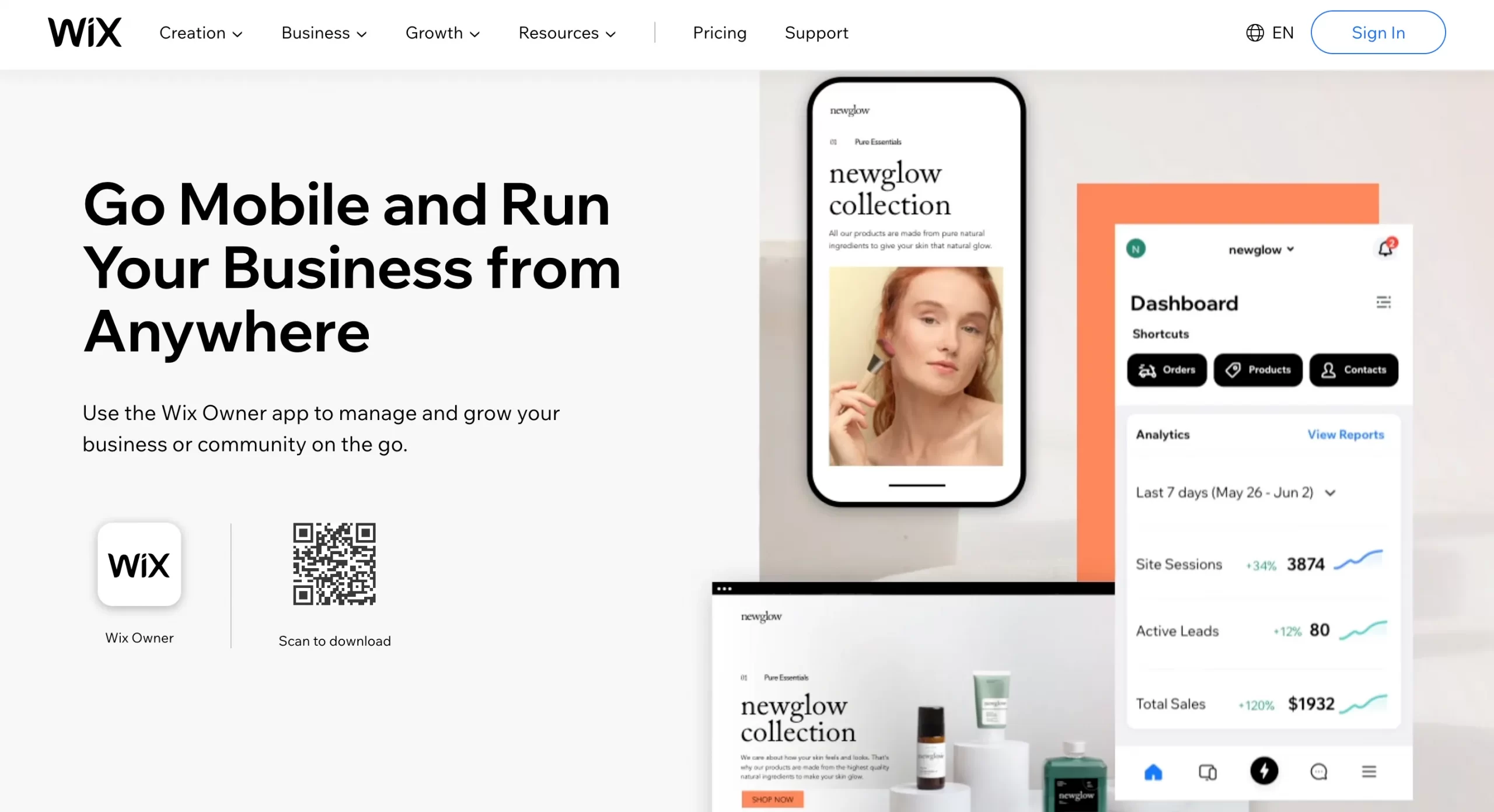 You can simply find Wix or Shopify app on Google Play on Android or App Store on iOS and download it.
Amazingly, you can access to Wix mobile app easier with a QR code. If you're wondering how to create a QR code, here is the best dynamic QR Code Generator.
#5. Dropshipping support
In recent years, dropshipping has become an increasing trend. Thousands of e-merchants chose this sort of business in light of its remarkable benefits of warehouses, capital, and fulfillment.
Both Shopify and Wix give store owners a hand to kickstart a dropshipping store. But let's find out the answer for: "Is Wix or Shopify better for dropshipping?"
Quick verdict: Between Wix vs Shopify for dropshipping, Shopify seems to have a more robust overall solution for dropshipping due to its wider supplier network, better inventory insights, and larger customer support resources.
Shopify dropshipping
With Shopify, you are furnished with dropshipping capabilities in any plan. Shopify has an advantage here by having its own Shopify Dropshipping app that provides access to over 800 pre-approved dropshipping suppliers.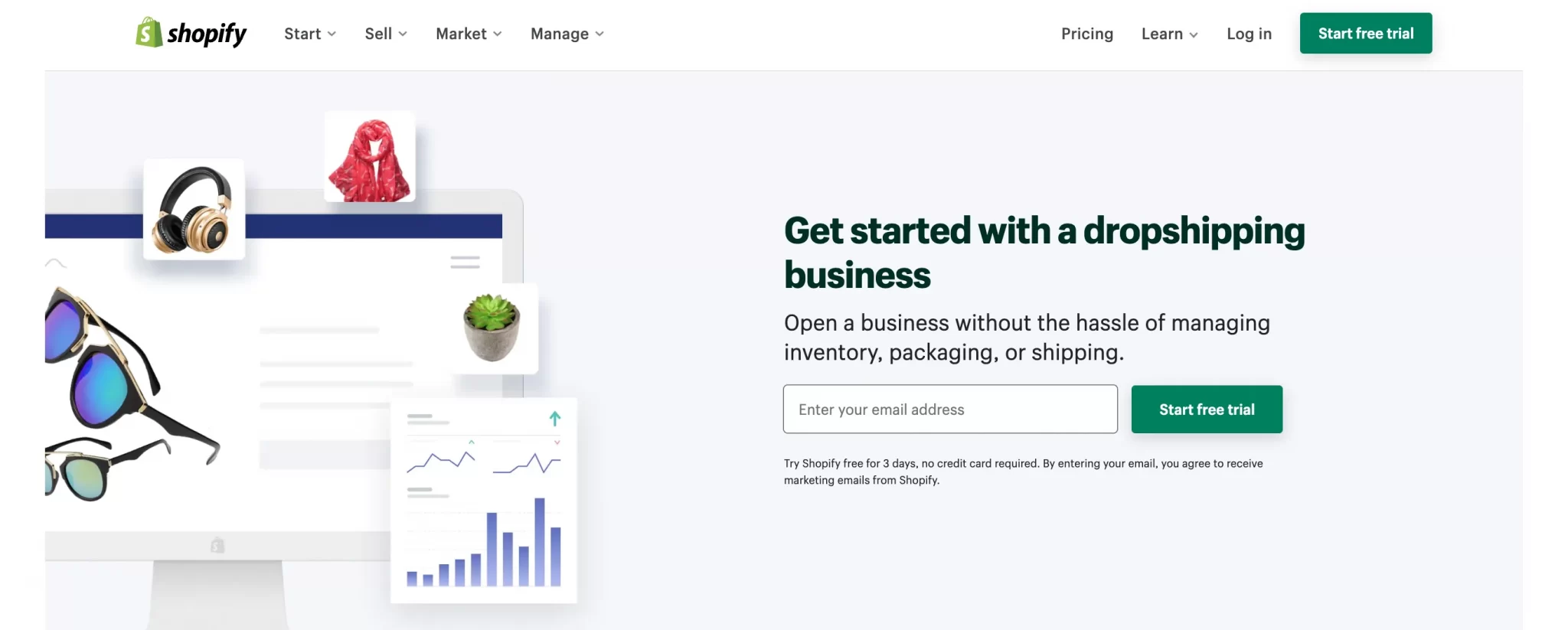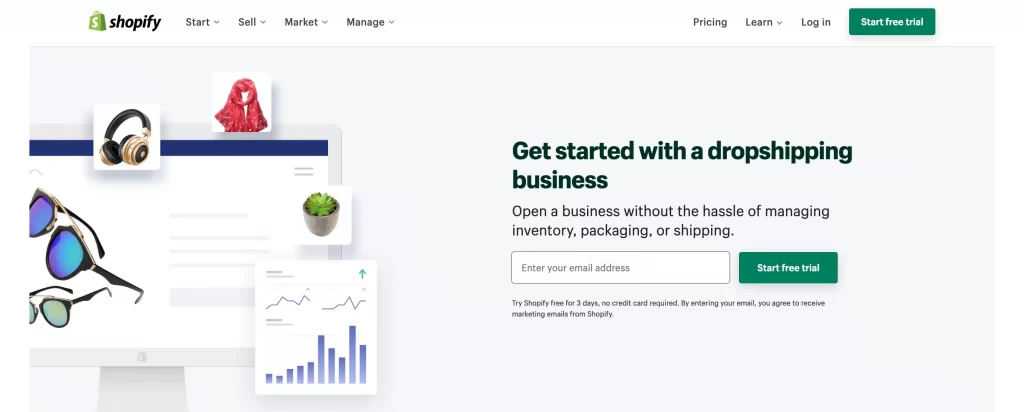 This platform automates order routing and tracking between stores and suppliers. Shopify offers more in-depth reports on profits, costs, shipping and customer behavior.
Particularly, you can source and sell products from marketplaces by using third-party dropshipping apps like Dsers, Spocket, and Dropified. Most importantly, there's no limitation to adding dropshipping products to your Shopify store. 
Wix dropshipping
Let's continue to compare Wix vs Shopify dropshipping.
Before getting further with functionality and apps, you have to be in the Core plan or higher to employ any third-party apps, which greases the wheels of Wix dropshipping.
Wix only relies on its partner Modalyst for dropshipping product selection. Yet, Modalyst on Wix has millions of high-quality products to source and sell without inventory risk.
However, you may face product listing limitations if you're in a low Wix plan. For example, you can only list 25 dropshipping products if you're now on the Core plan.


That's why in our opinion, to answer Wix or Shopify for dropshipping, Wix is not really cost-effective to start a dropshipping business.
#6. In-person selling (POS)
In order to maximize sales by running both cyber-based and brick-and-mortar stores, you should take Poin-of-sales (POS) solutions more seriously. Scroll down to discover the comparison of Wix vs Shopify POS support.
Quick verdict: While both Shopify POS and Wix POS provide good solutions for retailers, I believe Shopify POS comes out ahead as the winner for delivering omnichannel selling experience across all channels out of the box!
Shopify POS
Shopify has an unrivaled reputation for POS. You can have the POS solution on any pricing plan except Shopify Starter.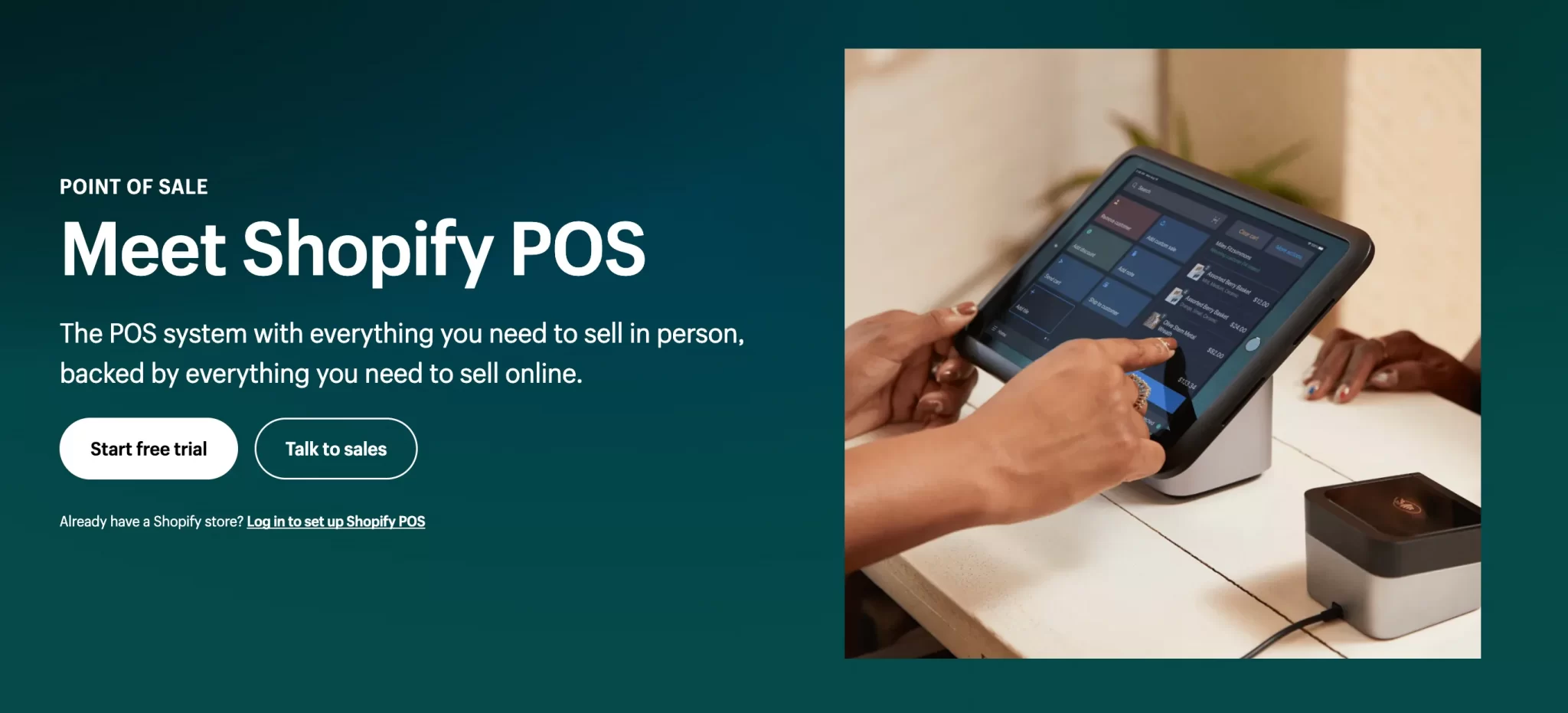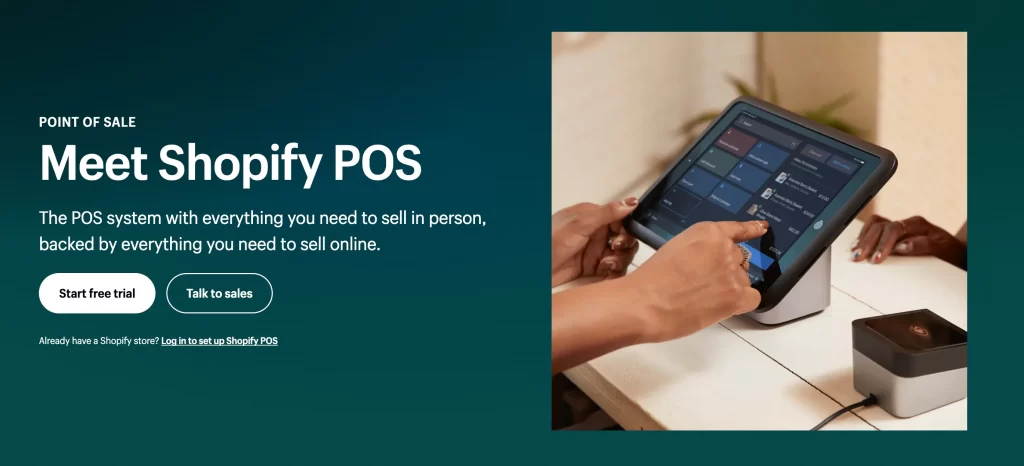 Shopify truly facilitates in-person transactions with Shopify POS Starter ($1/month) and Shopify POS Retail Plan ($89/month). It provides an endless list of benefits and comprehensive reporting and analytics.
Here are some advantages you may get with Shopify POS
Available worldwide
Countertop, mobile, and multi-store POS systems available
Accepts major credit cards, PayPal, etc. through Shopify Payments
Includes POS hardware, software, reporting, inventory management, etc.
Discover the features and pricing for Shopify POS system now.
Wix POS
Meanwhile, Wix also offers its own Wix POS system. However, it appears that POS is not Wix's strong suit. Here are some basic POS features of Wix:
Mobile and POS systems
Integrates with Wix Payments
Accepts major credit cards through Wix Payments
Includes POS software and optional hardware purchase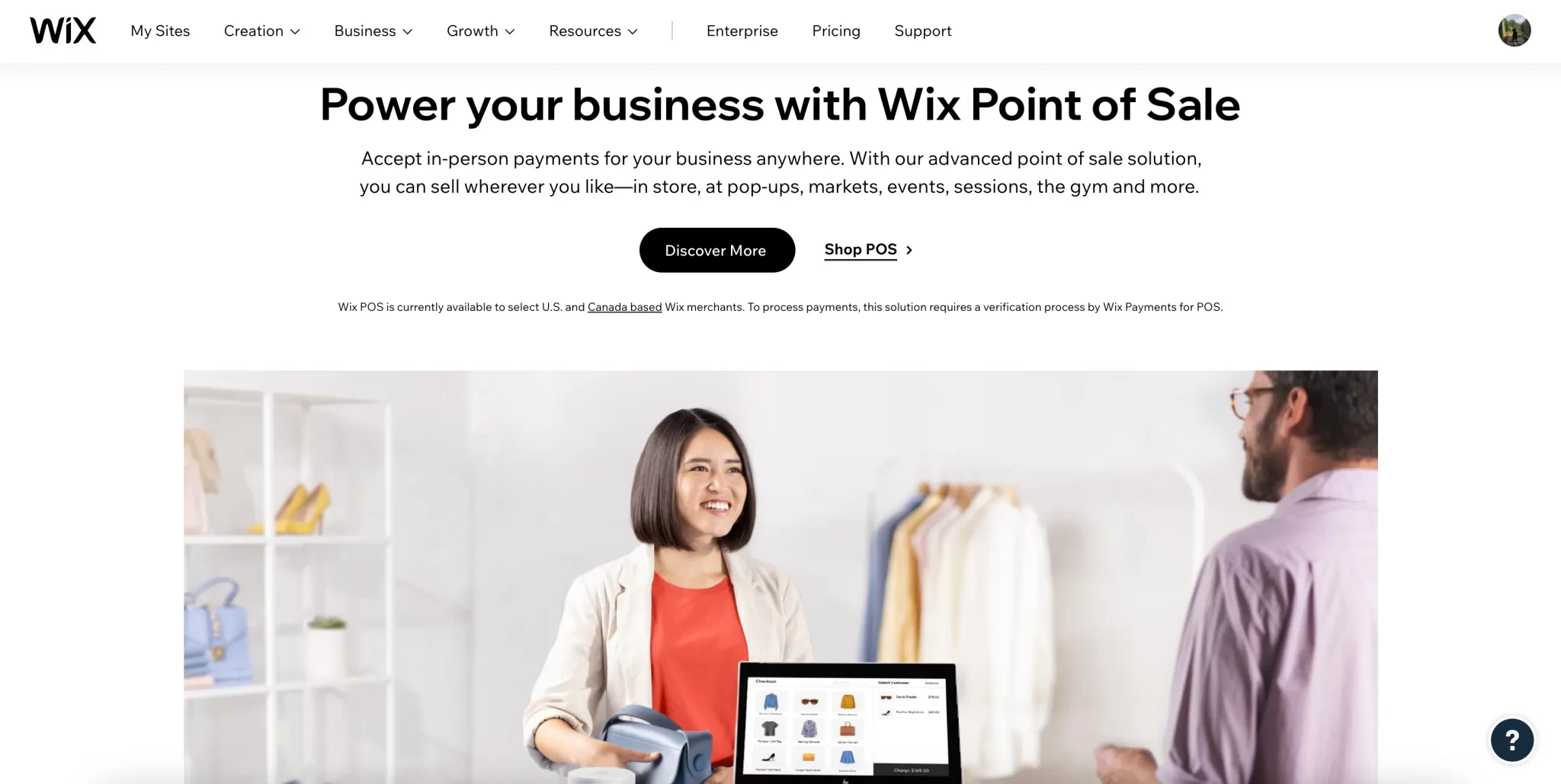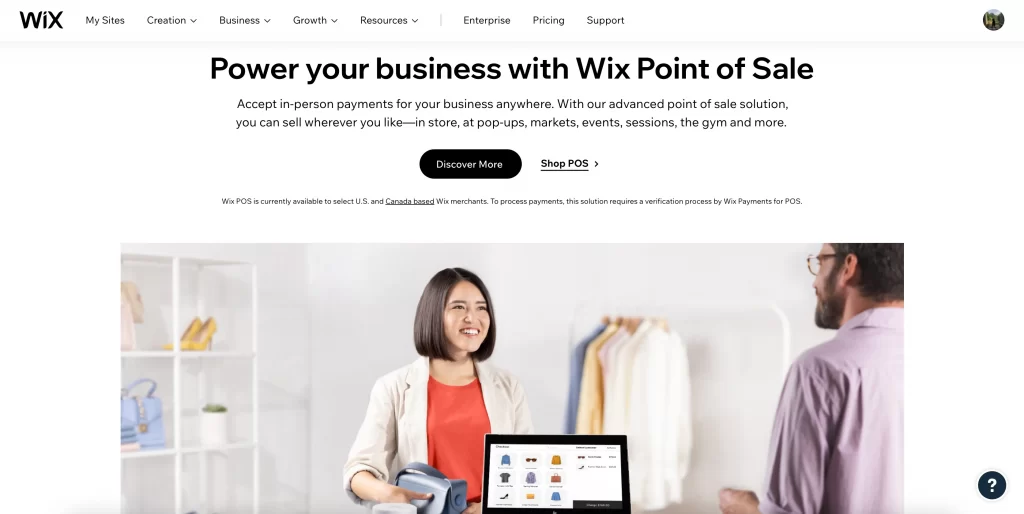 However, Wix POS is available for Canada or US-based merchants. As a result, most Wix users have to set up POS integration instead of leveraging Wix POS.
However, if your store is based in the US or Canada and in Bookings/Events field, we think that Wix POS can truly satisfy your in-person selling needs. The reason for this is that the platform itself supports a strong suite for booking and appointments.
#7. Apps store
Integrating apps will strengthen your online store by providing you with more resources and features to help improve the performance of your store. Wix and Shopify both have app stores providing many free and paid apps to support eCommerce in all regions. Below, let's have a comparison of these 2 eCommerce platforms.
Quick verdict: The Shopify app store really surpasses the Wix app market with more than 8000 Shopify apps. This means you can utilize even more features when using Shopify!
Shopify apps
App Store of Shopify, with its diversity in function, allows you to grow your store to a bigger scope. With a total of 8000+ apps (including third-party applications), merchants can find almost everything for selling online, like no-code file uploading apps and those for sending customized push notifications.
With a great variety of choices, Shopify divides these apps into 12 categories and 9 collections to help users find their suitable apps more easily.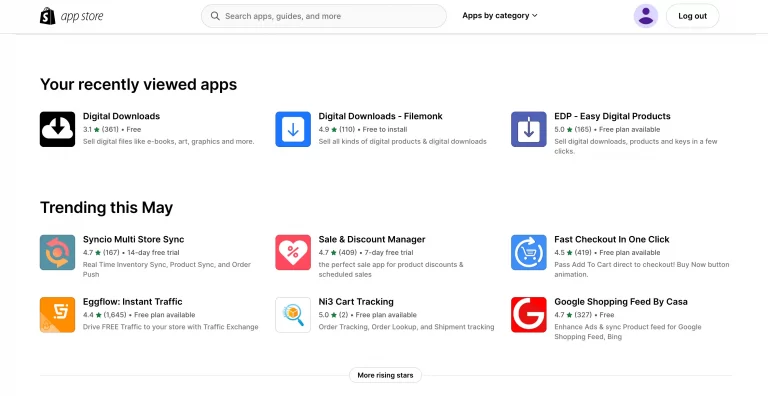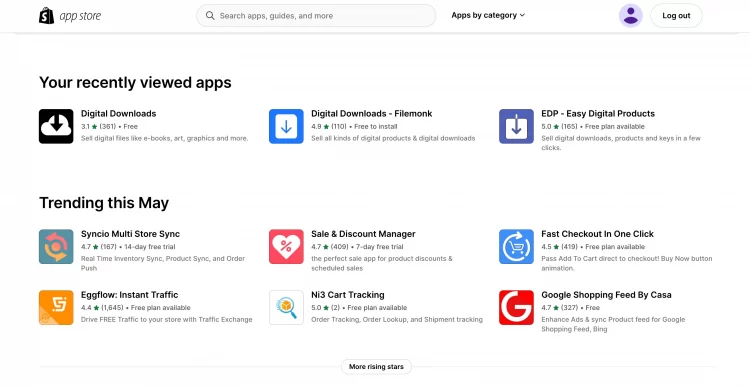 My personal take is that you can import customers and orders to Shopify with EZ Importer, start dropshipping with Dsers, and add product reviews with Loox – and that's just the beginning of many great apps you haven't discovered yet!
Here is a list of free Shopify apps for a brand-new website you can't miss.
Wix apps
Making a comparison with Shopify, Wix slightly falls behind with over 300 apps and add-ons, which include 6 main categories. Those are marketing, sell online, services & events, media & content, design elements, and communication.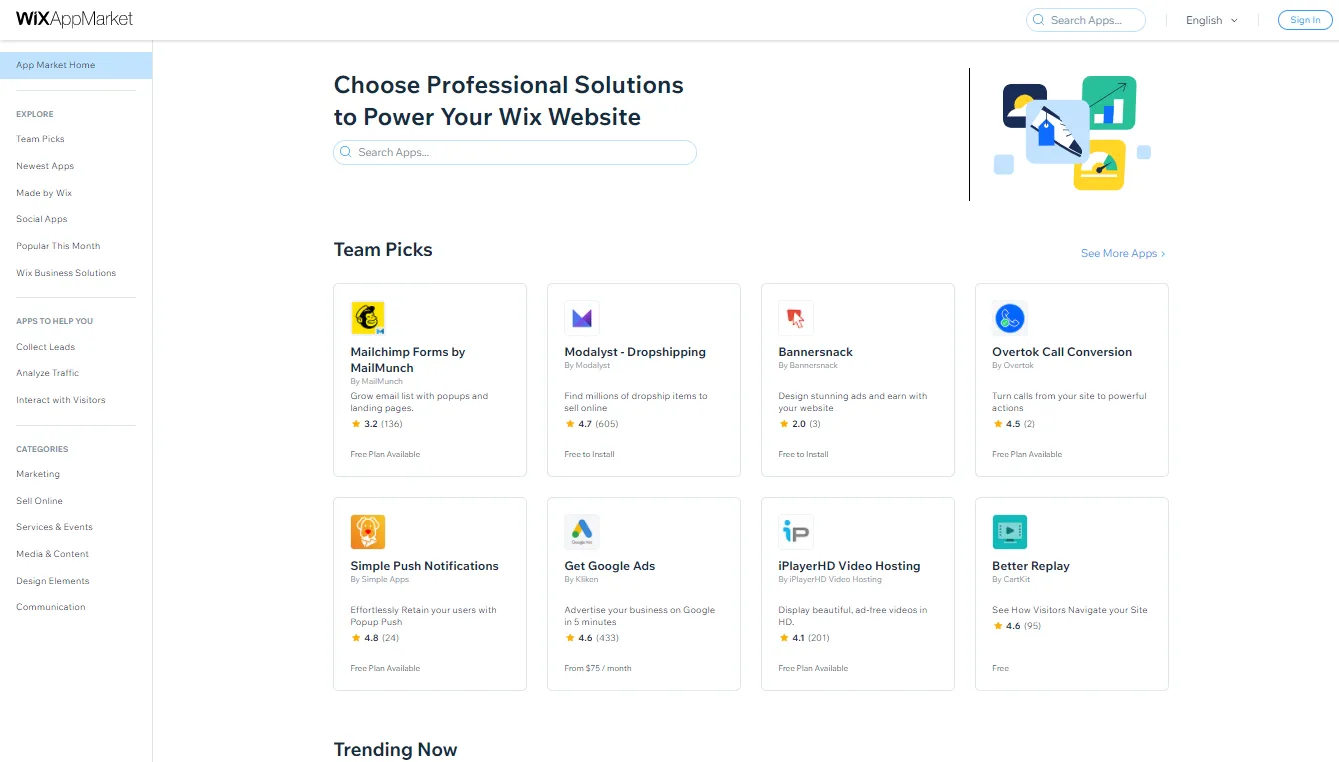 The top Wix business solutions like Wix Stores, Bookings, Events etc. have free basic features but charge additional monthly fees for premium upgrades and functionality.
Among the Wix Apps, there are several free apps to choose from. Plus, the paid ones are pretty affordable and range from $5 – $50.
#8. SEO & Marketing
Wix has an edge here. As an all-in-one marketing solution, it is available as a separate subscription that allows you to easily manage marketing campaigns in one place.
Meanwhile, Shopify somehow relies on marketing software from third parties. While this gives you plenty of versatility, it's difficult to put the two platforms in a fair comparison with so many apps floating around.
That's why we will break it down into 3 main categories and give an honest Wix vs Shopify to you:
Email Marketing
SEO Features
CMS Features
Quick verdict: When it comes to Wix eCommerce vs Shopify marketing comparison, Wix is slightly edge over Shopify.
Email Marketing
Shopify email marketing
There's a built-in email tool to promote your products and share updates which you can choose from different email templates in Shopify. Emails are definitely editable so that you can add a personal touch of your own.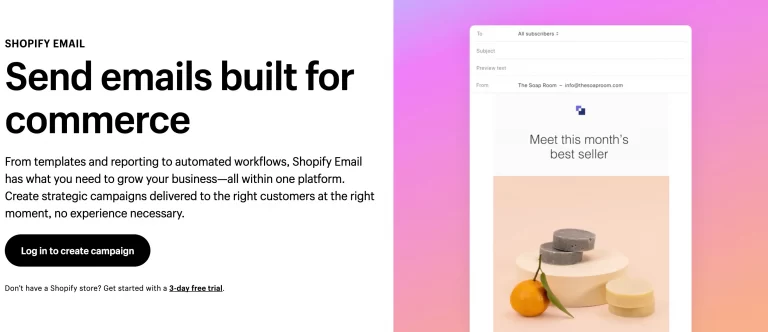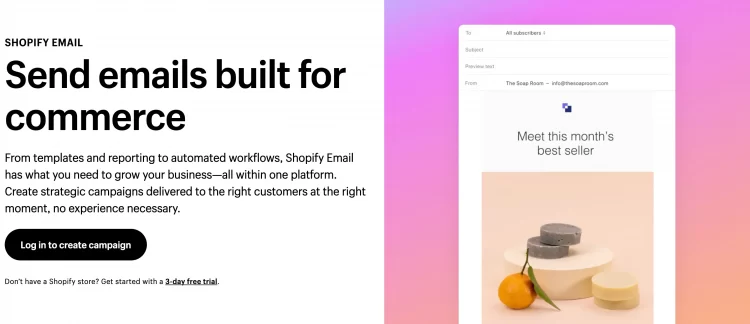 Within your admin panel, you can process every step, including reports of a campaign, to see how effective your plan is.
Wix email marketing
In this comparison, Wix brings you high-quality email marketing.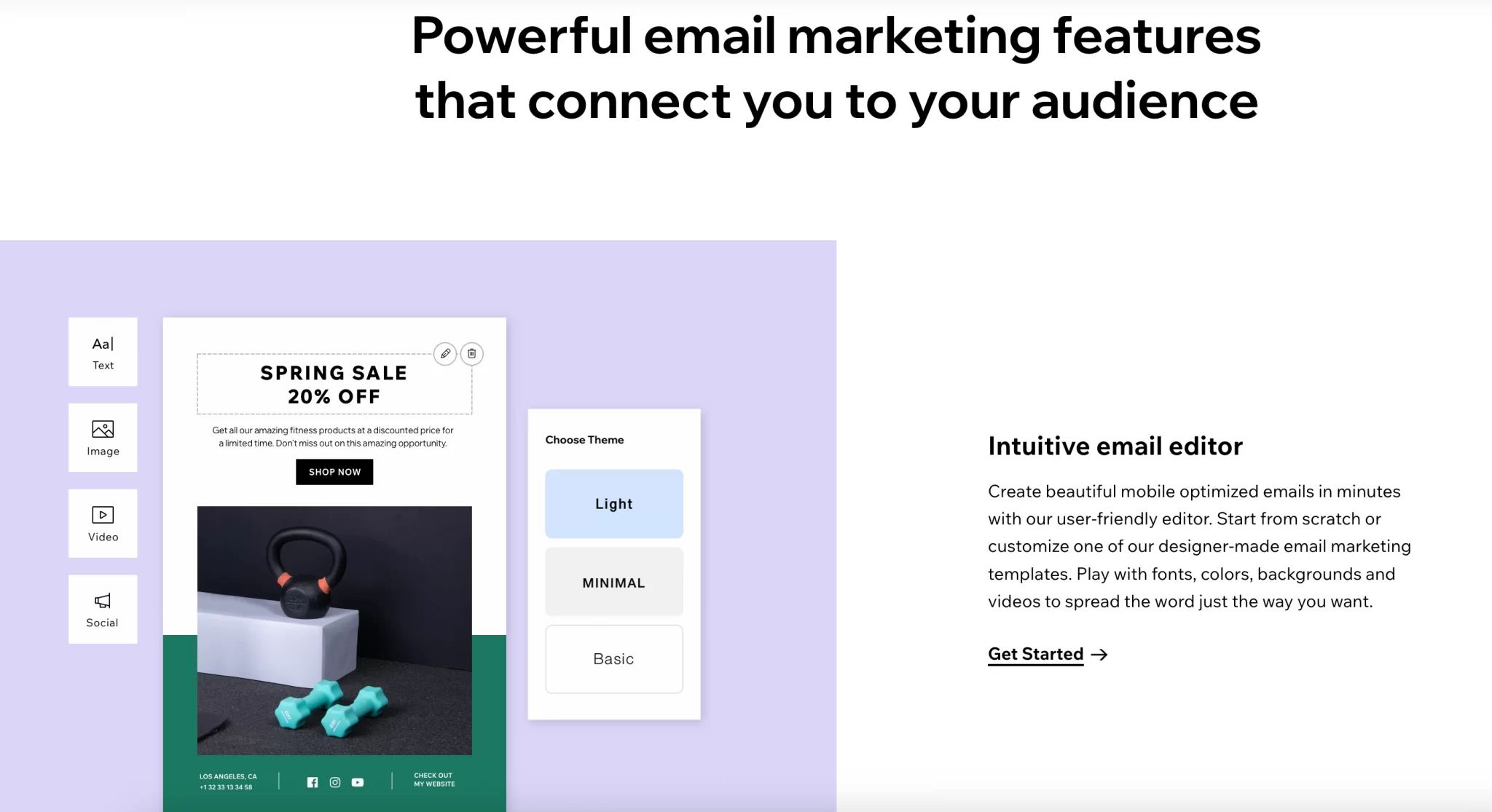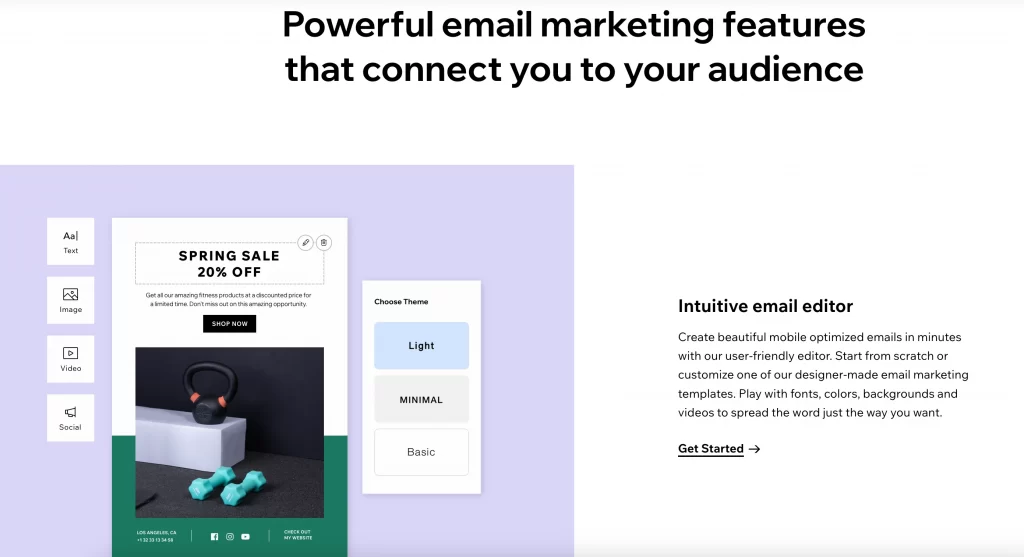 You can choose from a bunch of email templates. In addition, you can even create your own template from scratch to send to your customers.
SEO features
Shopify SEO
When it comes to SEO comparison, we find that Shopify is quite effective and adequate and can help you rank well when utilized properly. Some SEO is taken care of automatically: auto-generated canonical tags are added to the landing page to prevent duplicate content from appearing in search results.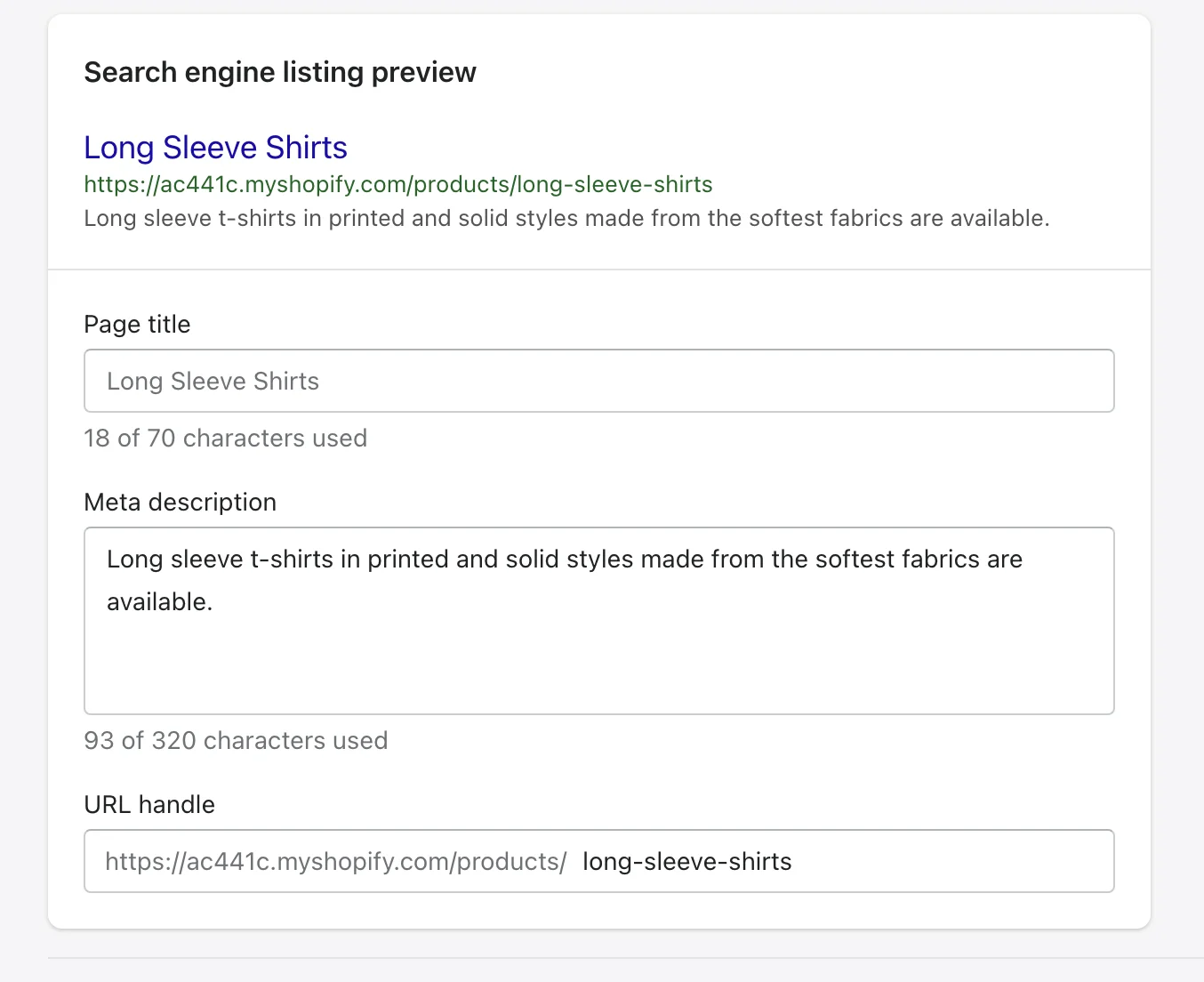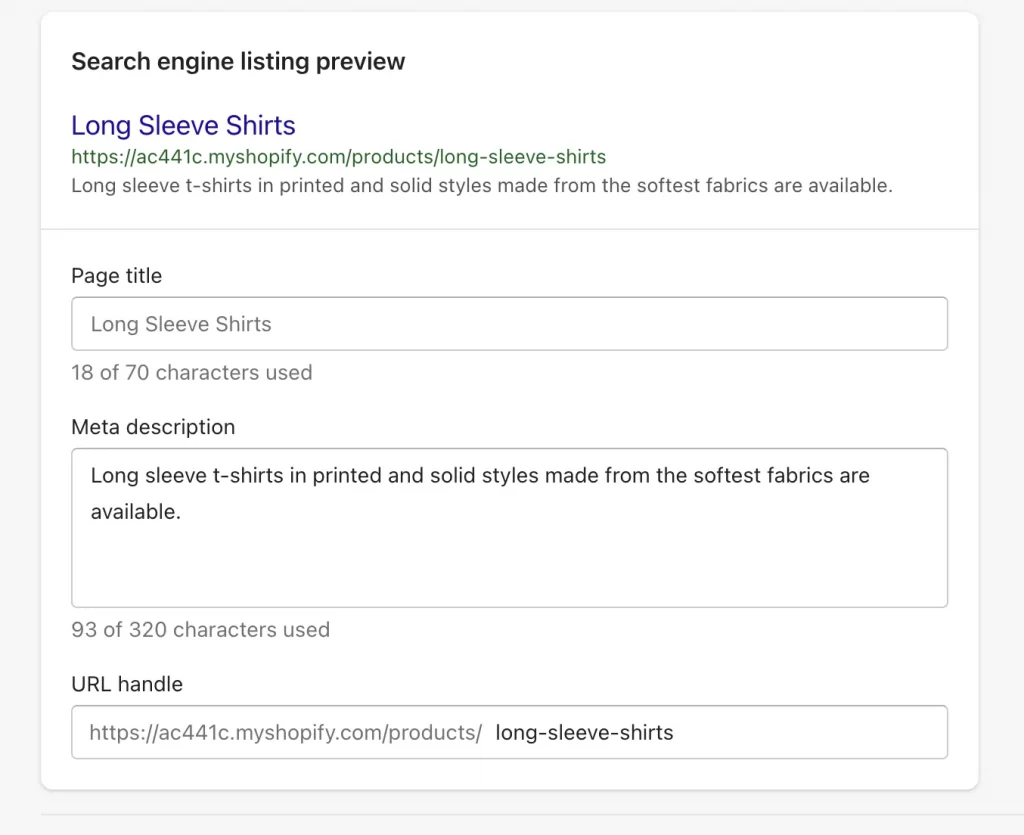 Plus, the theme you are using for your online website will have social media linking and sharing options to make it easier to market your site.
Having said that, there is still room for improvement. Certain URLs bear a mandatory string, which isn't SEO-friendly. For example, product pages have '/products/', and posts will be stuck with '/posts/' right after your domain name. Additionally, the Robots.txt file and Sitemap aren't available for modification, making Shopify SEO a bit frustrating.
Don't forget that Shopify also offers many Shopify SEO apps to help you gain more traffic.
Wix SEO
In comparison, Wix is proud to have a great set of SEO built into every Wix Site. After adjusting SEO features from time to time, this platform can now effectively optimize your SEO workflow. All Wix sites are backed by a solid infrastructure that meets the needs of search engines, giving you a strong SEO foundation to compete in organic search.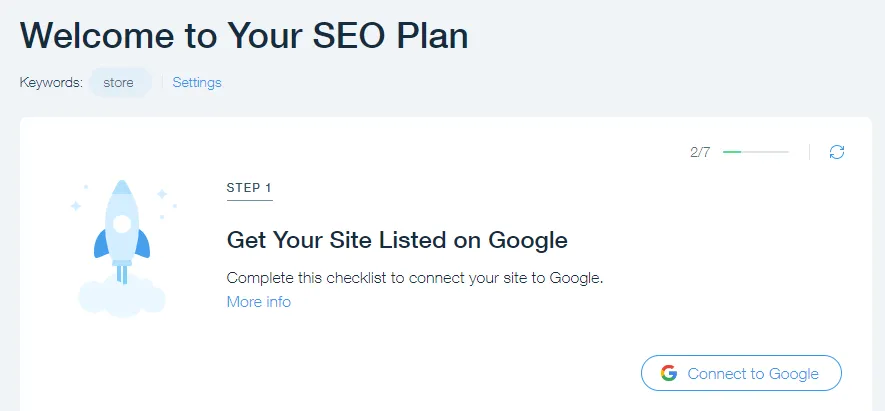 Additionally, merchants will have more freedom and flexibility in customizing their meta tags, URL slugs, canonical tags, structured data, and more.
CMS features
Content marketing is undoubtedly to be an effective approach for long-term results. With this cost-effective strategy, merchants should focus on producing ebooks, webinars, tutorial videos,… and, of course, blog posts.
Let's take a closer look at the comparison of how Wix vs Shopify handles blogging and CMS.
Shopify CMS
Although Shopify has blogging features, it only gives you some essential functionality to write posts. Therefore, the features you may miss the most include blogging analytics, social bookmarking, and searching features. Basically, its blogging features are quite bleak if you are used to CMS, such as WordPress.
Wix CMS
Wix allows you to build gorgeous blogs with ease. In reality, the only hindrance it stumbles over is archive functionality, which saves old posts for users to read. If you really want to experience this unique function, you're better off using a blogging-specific tool like WordPress.
#9. Multilingual capabilities
To get more orders and visitors and drive more sales, you surely desire to reach more customers, even overseas ones. Therefore, the comparison of Wix vs Shopify's multilingual capabilities is of significance.
Languages
MultiCurrencies
Tax Calculation
Quick verdict: Shopify slightly surpasses Wix in this round.
Languages
Shopify languages
Shopify offers the same multilingual capabilities. Every Shopify standard plan, except for Shopify Starter, comes with the option of multilanguage selling.
You can display your site in up to 5 different languages on separate URLs with Basic Shopify, Shopify, and Advanced Shopify, while Shopify Plus supports up to 20 languages.
You can seamlessly add the translation to Shopify by importing CSV files or deploying a third-party app to translate the site.
Wix multilingual
In comparison, with Wix, adding additional languages becomes easier than ever. Besides, this website builder supports over 100 languages, which makes your localization journey the most pleasant experience.
All you need is to:
Add Wix Multilingual – an advanced app to translate your site.
Switch the site to the secondary language.
Translate the content on site.
Translate all the apps.
Turn the translation to visible mode.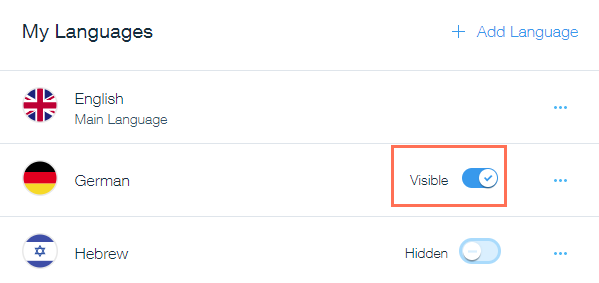 Note: You can add more secondary languages whenever you like.
Multicurrency
Shopify multicurrency
First of all, you have to set up Shopify Payment to enable multicurrency functions. After that, the currency collector must be added to your current theme.
Please bear in mind that the number of helpful functionalities used to customize the international pricing model depends on your Shopify pricing plan.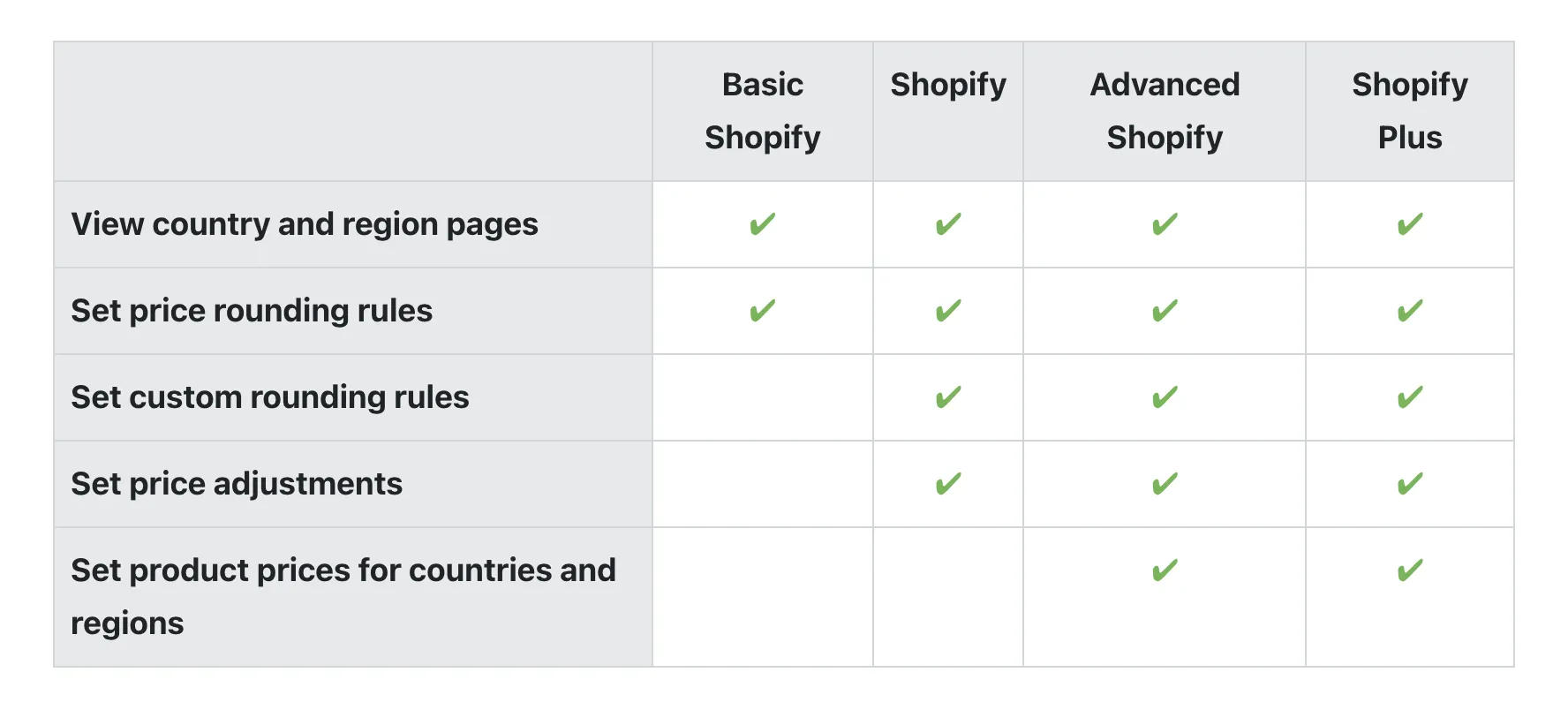 Shopify proves to be the winner with the list of 133 supported currencies throughout the globe.
Wix multicurrency
In comparison, it's a bit of a pity that you now cannot offer your items with multiple currencies on a Wix website. Yet, you can still display prices in multiple currencies on your Wix store.
Tax calculation
You surely want an eCommerce platform that takes all the headaches of tax calculation away. Scroll down to see a thorough comparison:
Shopify tax calculation
As you expect, Shopify gives you tons of control over your settings. Shopify uses many default sales tax rates, which are updated regularly. You can set up Shopify to automatically deal with common tax calculations to free up lots of time.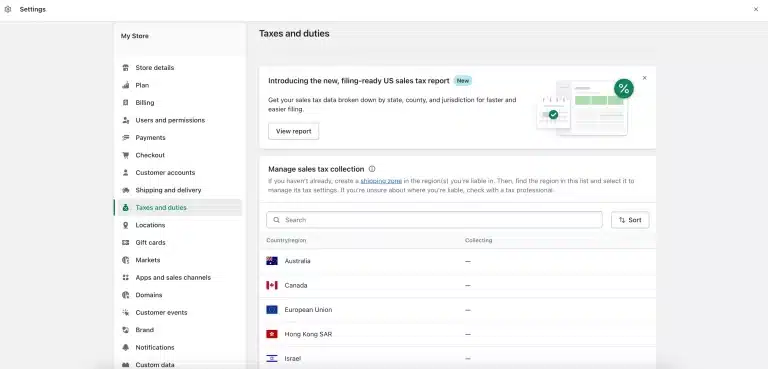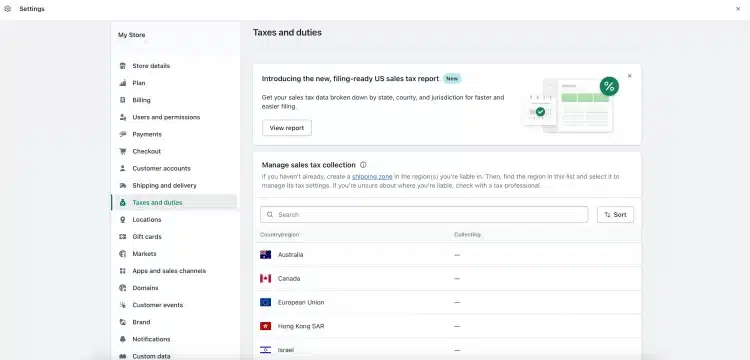 Nevertheless, Shopify doesn't file or remit your sales taxes for you. You might need to register your business with your local or federal tax authority to handle your sales tax. Luckily, Shopify has quite a lot of tax documents to help you set up tax, such as:
General set-up steps and tax reports
Location-based tax setting
Registration-based tax settings
Setting up tax rates for Shopify POS
Wix tax calculation
Wix helps you to enable and disable taxes, including commodity rates, taxes, and more. It would be great if you use Avalara – an integrated software program that can help measure tax rates in real time.
#10. Platform capacity & limitation
While evaluating Wix vs Shopify, I know you want to understand any limitations before committing. Let me share what I've found about page, product, and API limits from each.
Quick verdict: I'm sure robust scaling without arbitrary handcuffs will be a top criterion as you choose the platform powering your vision so that Shopify wins this round! 
Shopify capacity
Shopify embraces the elasticity you likely demand. Standard stores get unlimited scaling from the start. Your inventory grows as your business does, without arbitrary caps. The lone limit is 1,000 new variants daily once reaching 50,000 total variants. But few stores will achieve that massive scale anytime soon.
Even better, Shopify Plus subscribers enjoy something exceptional – complete freedom without any boundaries.
Wix capacity
In contrast, the biggest constraint is the strict 100-page limit for a Wix site. This could cramp your style if you deal in vast catalogs or elaborate hubs. However, their dynamic page feature lets you dynamically generate unlimited content as needed. Still, it may not compare to true CMS flexibility.
Wix Stores enforces defined ceilings across products, variants, and options. While 50,000 products seem sizable, these hard caps could eventually constrain your vision as businesses expand. Exceeding thresholds also brings undesirable errors. So, I highly recommend you be aware of your projected growth when you go for Wix.
#11. Loading speed
It is data proven that the ideal loading speed for a site should be under 3 seconds to avoid website abandonment (source: Google). Let's take a closer look at the Wix vs Shopify loading speed comparison to decide which one has better performance.
Quick verdict: In this comparison, Shopify is slightly over Wix with a faster loading speed!
Shopify page speed
In my estimation, in terms of performance, Shopify is one of the best Wix alternatives. It's the second-fastest platform that is usually tested.
Load speeds are fast on mobile, which goes a long way toward keeping customers' attention where you want it: on your website.
According to the Darren performance test, the result shows that Shopify loads in an average of 1.3 seconds! In this battle, Shopify is obviously over Wix when it comes to loading time, which is crucial to success with any website, especially eCommerce.
Wix page speed
However, there's always a way out for Wix. To improve your site's structure and performance, Wix also has specific guidelines to optimize the homepage and elements such as text, animation, and images.
If you follow Wix's suggestions for site loading time, your website will be able to maintain 85% to 90% speed. In addition, you can check out Wix's best practices to improve your site's performance.
Therefore, in case you want to transfer your data to Shopify, check out how easy it is to migrate from Wix to Shopify with LitExtension.
Want to Migrate Your Store and Grow on Shopify?
Having decided that your current platform is no longer the perfect fit? Switch to Shopify now and rocket your online business with powerful eCommerce functionalities, extensive apps, and improved loading speed with this platform.
#12. Customer support
Speaking of the support provided comparison, help centers of both Shopify and Wix are always kept up-to-date for you to search for information. You can get assistance from users and experts all over the world by joining their huge forums.
Quick verdict: Both Wix vs Shopify offer excellent support for their users.
Shopify support
The Shopify support team is always there for you 24/7 through email and phone. One thing that is superior is Shopify offers live chat. Once your waiting time is down to the least and the issue is resolved quickly, certainly, your website will soon become a cash cow.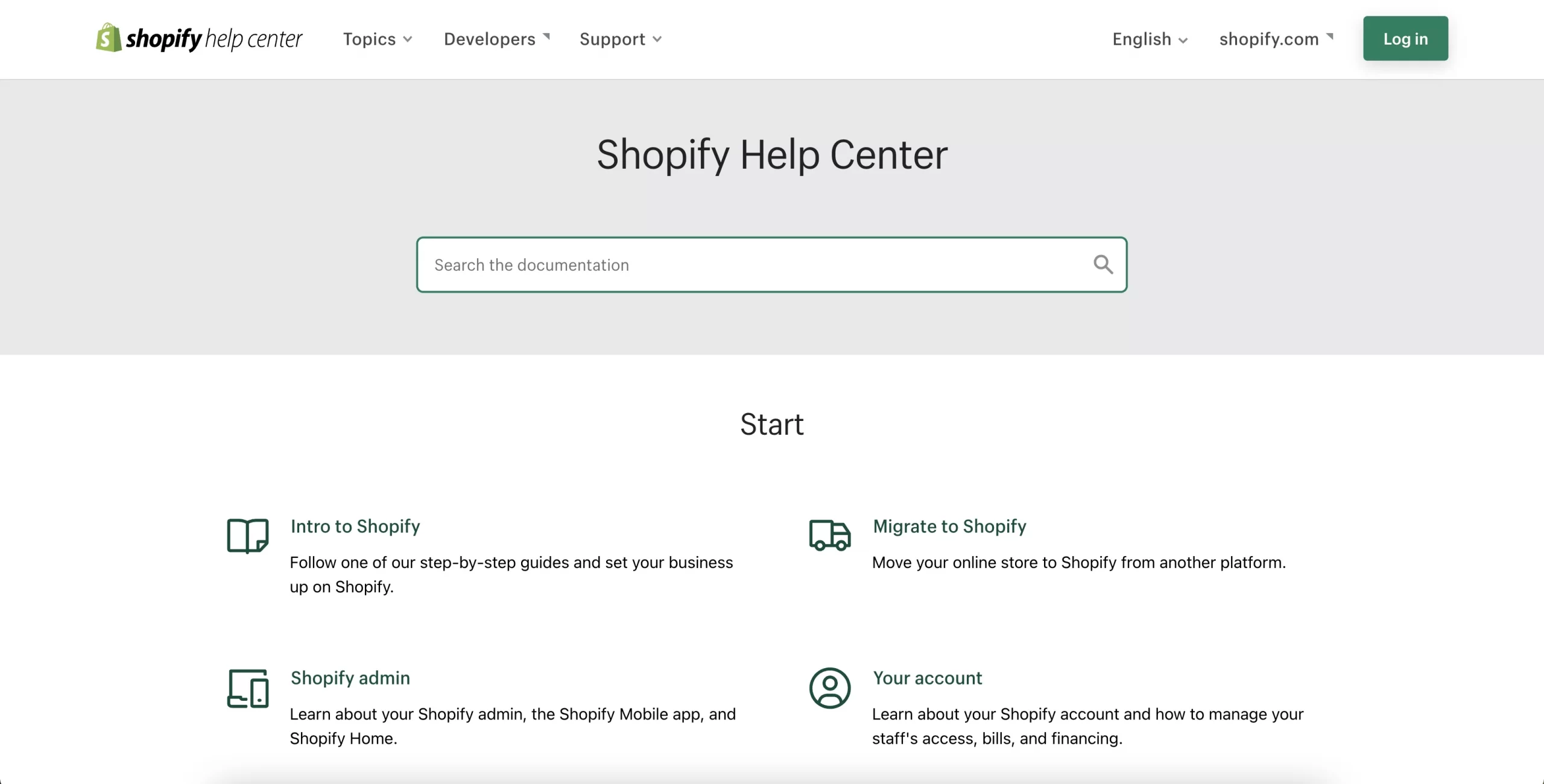 Users can either get assistance from experts or exchange experiences with other worldwide merchants via Shopify Forum.
Wix support
Wix is famous for multiple lively instruction videos. Just hover your mouse over the editor's question marks and wait for the small bubbles to appear. They can rapidly give answers to your common questions.
About live support, you can submit tickets and request a callback on Wix. English support line is always available, but with other languages, such as French, German, Italian, Japanese, Portuguese, Russian, and Spanish, the line is available during business hours only.
#13. Security
Both Wix vs Shopify are SaaS platforms, which means they will help you do all the security work. Below is a comparison and analysis support of these two platforms.
Quick verdict: It's a draw since we hardly find any difference between Wix and Shopify in security functions.
Shopify Security
Thanks to the hosted platform nature, Shopify completely takes care of updates and security issues in the background. Shopify system also runs on Level 1 PCI compliant server – mandatory to accept credit card or debit card info. SSL encryption (at 156-bit) is available for every Shopify site too, which can keep your visitors' data safe.
Moreover, Shopify also provides merchants with SOC (Service Organization Control) reports and Transparency reports which are an assessment of a company's information systems by third-party auditors.
Therefore, Shopify merchants meet an independent set of standards, including criteria related to the security and availability of their services.
Wix Security
While using Wix, users have assured of the high quality of security built into every Wix website. Merchants can gain the customers' trust by having SSL web security to keep connections secure and private over an HTTPS connection.
Plus, running on Level 1 PCI Compliant and TLS 1.2 (Transport Layer Security) means that your website reaches the highest level of payment standards, keeping your visitor transactions totally safe.
Besides, Wix experts have gone through extensive hacker testing to ensure your website is always up and running with DDoS Protection – a reliable web hosting. Plus, since Wix is a centralized SaaS solution, all the security updates are automatically applied to your website.
Read more here to get to know more about Wix's multi-layered website security.
---
Wix vs Shopify – All Pros and Cons Revealed & Is Wix Better than Shopify?
The comparison between Wix vs Shopify is obviously hard to end up with a winner in every aspect.
To summarize my thoughts, Wix is more suitable for those who wish to build a "general-purpose" website because of its price, ease of use, SEO features, and wide range of templates. Or if you have business in booking or appointments, Wix is definitely a good choice.
Affordable pricing compared Shopify;

Easy-to-use drag-and-drop builder;

Lots of eye-catching templates with elegant designs;

Good built-in features with an extensive app store;

Ability to edit SEO elements;

Besides eCommerce, Wix works great for booking, blogging, music, or any other website.

Your Wix site can be laggy if you edit multiple pages at the same time;

Unlike Shopify, you can't switch to a new template for your current site;

Wix doesn't auto-adapt your site to mobile devices. So you have to edit a separate mobile version in the backend manually;

Limit multilingual capabilities.
However, in terms of eCommerce functions, Shopify is much stronger. This is because Shopify has fully responsive designs, support for AMP (Accelerated Mobile Pages) product pages, multi-currency selling functionality, and tons of integrations with other key apps. For any merchant who wants to build an online store, Shopify can make it more appropriate and professional.
Shopify themes are stylish and mobile-friendly;

Shopify allows you to sell in multiple currencies and languages;

A free email marketing tool allows you to host a list of up to 2,500 subscribers;

POS functions are comprehensive;

The large number of third-party apps.


Additional transaction fees for alternative payment methods;


Monthly costs add up with apps;


Limited SEO optimization;


Limited product options and variants.
Don't forget that Shopify and Wix are both on the list of the best eCommerce platforms in 2023, so based on your business's needs, you can always count on each platform without any concern!
♦ Methodology
With over a decade in eCommerce, the LitExtension team aims to be your "Trusted Partner in Business Growth." Our objective evaluation of eCommerce Wix vs Shopify ensures unbiased insights. Explore LitExtension's methodology to grasp our testing process better.
---
Wix vs Shopify – FAQs
---
Final Words
Thank you for keeping up with this Wix vs Shopify for eCommerce comparison at this length.
LitExtension – #1 Shopping Cart Migration Expert hopes that this Wix vs Shopify comparison has helped you to get to know both platforms and at some point, you could make up your mind about which platform you'll be settling with in the future. You can always find out more interesting insights about eCommerce via LitExtension Blog.
Should you have any concerns, don't hesitate to leave us a message or join our Facebook community. We're happy to help.