Without a doubt, Shopify is one of the most popular choices when it comes to choosing an eCommerce platform. Its market share hit 20% last year and it is carrying on growing. While building an online store on Shopify is so easy, driving traffic to that store is not that much. The statement "If you build it, they will come" is not true anymore.
One of the most important strategies to increase organic traffic is SEO. As a Shopify store owner, you may want to take interest in third-party-apps to help you solve all the SEO issues. In this article, we would recommend you the best Shopify SEO apps for your online store.
4 reasons why you should invest in SEO for your website
The target audience that is finding your website
Until April 2020, there are currently 4.57 billion people that are using the Internet. When it comes to searching for information about products or services, search engines like Google, Bing, or Yandex always come to people's minds first. This means that if you want your business to come to users' minds in their online research process, your website has to rank as high as possible in search results for keywords related to the products or services you offer.
Build your brand
In fact, appearing on the first page with your specific keywords not only allows people to associate your brand with such keywords but also instills trust, since businesses on the first page are usually considered to be more trustworthy. The higher places your pages and ads rank in the search engines, the greater the chance your brand is positively instilled into your potential customers' minds.
Cost-effectiveness
Compared to paid advertising, it is also reasonable to say that SEO is cheaper in the long term. SEO helps you to target the exact potential customers who are actively looking for your products and services online to solve their problems. Its inbound nature helps businesses save more money in comparison with outbound strategies like cold emailing, cold-calling, trade shows, and content syndication.
A good SEO means a better user experience
Now, Google (and the other search engines) literally take hundreds of factors into account when determining which pages rank high in search engine results pages. es (SERPs). Various metrics among which relates to user engagement such as site speed, time on site, time on page, bounce rate, exit rate,… Once you optimize your Shopify website for those metrics, you are essentially trying to improve the user experience.
What are the best Shopify SEO apps?
1. SEO Suite ‑ SEO Image Optimize
SEO Suite ‑ SEO Image Optimize app by Avada helps you to build parts of on-page SEO effortlessly. It optimizes website images and structure to be most matching to the Google Search algorithm.
Top features
Optimize Image ALT tag: This app will auto-insert alt tags to all of your images. That includes images on the product page, collection page, and blog post based on the variables you selected, such as product name and store name.
Image size and quality optimization: in order to reduce your website loading time, SEO Suite will optimize your images in one of the following 2 ways:

Automatic optimization: Compress images size but still keep its quality unchanged
Custom optimization: Reduce both size and quality of your images but still keep their size and quality to a certain level.

HTML sitemap: HTML Sitemap for almost of your website elements:

Products
Collections
Blog list
Blog posts
Pages

Auto-add Google structured data: there are 4 types of structured data added:

Important page structured data: Product page, Collection page, Blog listing page, Single Blog
Business structured data
Review structured data
Item list structured data

SEO Analysis for product page: the SEO Suite app gives out all SEO problems, improvements, and good results per product. Merchants can easily follow the suggestions to adjust in time.
Meta tags preview: Store admin can preview how meta title, URL, meta description look like on Google search result page.
SEO checklist: The app will check and list out all SEO issues on your website in real-time.
Prevent duplicate content: You can add canonical tags to stop duplicate content on your website.
Site verification: Verify your store ownership with Google Search Console, Bing Webmaster Tools, Pinterest, and more.
404 pages: when store visitors access a broken link, the app will auto-redirect them to certain pages.
Instant page loading: improve page loading speed considerably by preloading function.
Price and plans
This is the best part about SEO Suite because this app is absolutely free. You can get access to all of its amazing features with unlimited usages without being charged, which makes it one of the best Shopify SEO apps. There are no setup fees or any other hidden costs.
Who is it for?
SEO Suite is the best option for store owners looking for an on-page SEO solution, especially image optimization. As SEO Suite is free and very easy to use, any store owner can use this app. Whether your store is big or small, its on-page SEO features are still valuable and applicable.
2. SEO Doctor
SEO Doctor is a Shopify app with tons of advanced features to automate your SEO audit. With this app, you can "set and forget", which means you only have to set it up once and it will solve almost every SEO issue automatically since then.
Top features
Meta Titles Fixing: This app has an autopilot meta title feature, which allows you to automatically generate a meta title for your page based on the rule you set up (which is called a title template). Title template is built from template variables, such as title, product name, product color, product type, vendor,… The default condition is "Do not optimize any meta titles". The best option is "Pages without meta title" because you do not want the app to overwrite the meta titles of pages you have set up before. You can set up rules for products, collections, pages, and blog posts as well. In case you are not familiar with using templates, you can choose "Let SEO Doctor Decide".
Price and Plans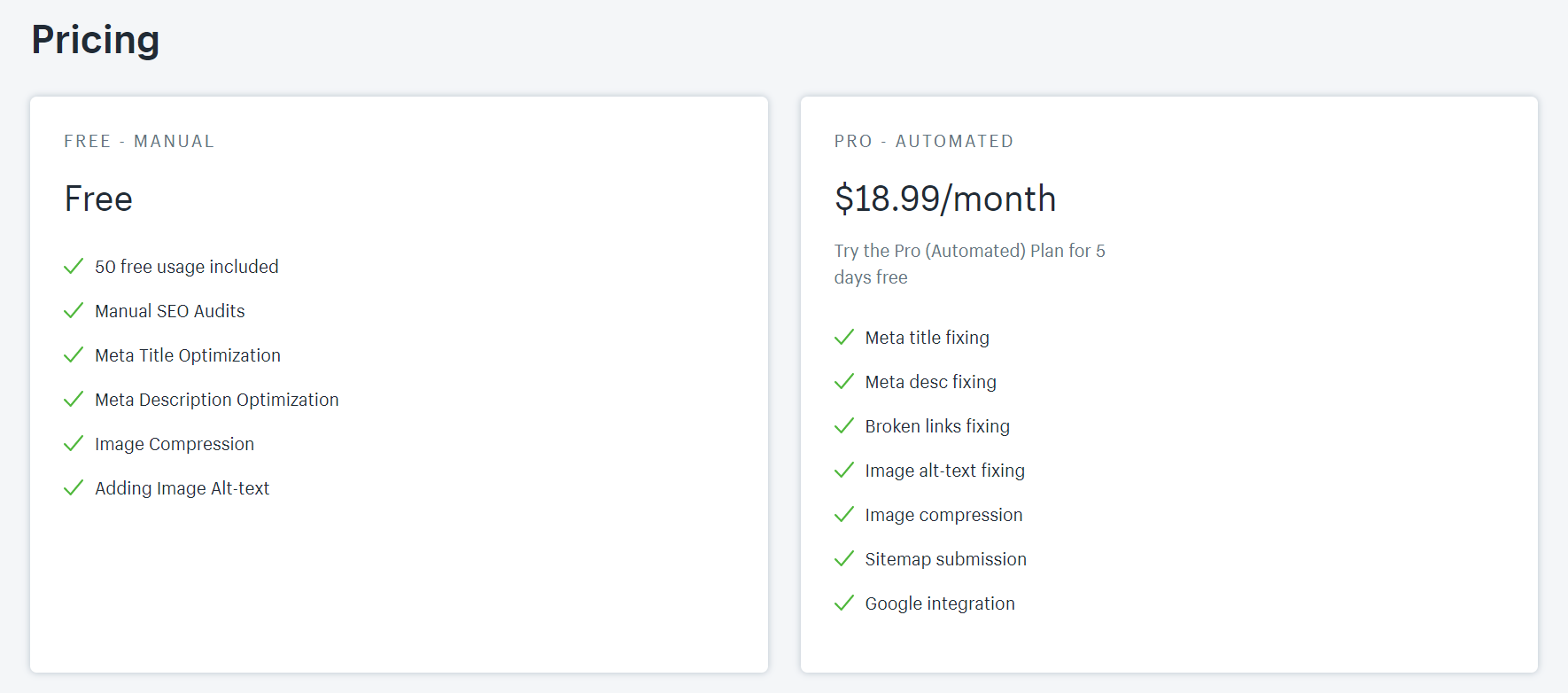 SEO Doctor has both free and paid plans for merchants to choose. The key difference here is automation. With the free plan, you have to run your site SEO audit on your website manually, but it still recommends what you need to do to improve it. For the paid plan, you can set up the app to automatically fix all current SEO issues and future SEO issues that might come up when you add new products to your store.
Who is it for?
SEO doctors can scan your website and automatically fix all the problems with your SEO. Therefore, the app is super beginner-friendly and saves you a lot of time. If you are a newbie in SEO or you cannot spend too much time running your site SEO audit, you should take this app into your best Shopify SEO apps list.
3. SEO Booster
SEO Booster – SEO Marketing is a one-size-fits-all SEO solution made by Seocomapp, a company that concentrates on developing Shopify apps for increasing sales. The app is one of the most high-rated apps of the company with 1494 reviews on the Shopify App Store. With a 1235 five-star-review, it is undoubtedly one of the best Shopify SEO apps.
Top features
Auto SEO issues scan and suggestions: After scanning your website, the SEO Booster app will provide you a detailed SEO fix instructions. The app helps you to point out how you can correct the problems. In many SEO cases, it helps you fix the issues in one click.
Full JSON-LD: This app can structure your data in a more friendly way to Search Engines by adding full JSON-LD just in a blink of an eye. It would be much easier to follow and integrate Google Analytics/Google Search Console to your website.
Image Alt text Update: SEO Booster can update our product image alt texts daily as well as automatically to make all your photos more SEO-friendly.
Redirect invalid links: Similar to SEO Doctor app, this app also automatically detects broken links and redirects them to live ones.
Keyword Management: Besides the keyword, you have chosen before, you can also update trending keywords from certain geographical areas with SEO Booster, which is really helpful to drive additional traffic to your store.
Competitor's website diagnosis: With SEO Booster, you can find out the SEO score, SEO checklist, and page rank of competitor's websites to develop suitable SEO strategies.
Price and plans

SEO Booster does not have a free plan for users, but it also provides a 7-day-free-trial. You can get access to and experience some basic features of the app in that 7 days. If you want to make full use of the app, you have to pay $18,99/month for its Growth Plan.
Who is it for?
SEO Booster really focuses on SEO for your products. If you are having thousands of products in your store and you are looking for an automated SEO solution, this Shopify app is absolutely suitable for you.
4. Smart SEO
Smart SEO is built by Sherpas Design, an agency creating seamless eCommerce experiences on Shopify. They are currently having 3 apps on Shopify App Store which are Translation Lab ‑ AI Translate, Smart SEO, and WhatShare. Smart SEO is the one with the highest rating and reviews of the company.
Top features
On-Site SEO: By entering a rule, Smart SEO can automatically generate product meta tags (meta title and meta description) and alt tags for every product in your store. You will not have to enter them product-by-product anymore. With other Shopify apps, you might need to wait for hours or even days to generate your meta tags. Smart SEO is able to generate your meta tags in a matter of seconds, which is a big plus.
Structured Data: In order to add the JSON-LD data to the pages of your Shopify store by yourself, you should be familiar with Liquid and Javascript. By using Smart SEO, you can provide structured data to Google and other search engines automatically.
Sitemap Support: Natively, Shopify does not allow you to manage your store sitemap. However, with Smart SEO, you can easily do this and choose which pages to include or exclude from your sitemap.
Broken backlinks Management: Smart SEO will scan your website to identify all broken backlinks. Once the scan is complete, you can quickly fix the dead links by redirecting them to live ones.
Multi-language SEO: Rarely any SEO app can support multi-language. However, this is such an important feature to merchants who are running a store in multiple languages. With Smart SEO, store owners can create meta tags for each language in their store. That feature empowers merchants to increase the ranking for each language.
Price and plans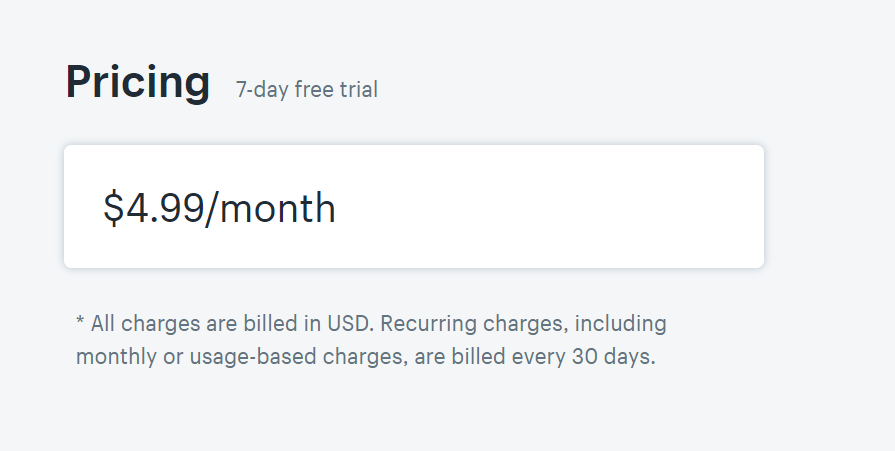 Smart SEO still offers a 7-day free trial for you to get access to all of its features. After the trial period ends, you have to pay $4,99 per month to use the app
Who is it for?
Smart SEO pricing is much lower than SEO Doctor or SEO Booster because it offers fewer features. Thus, this app would be a great choice if you just need basic SEO features or your budget for SEO is small. Moreover, if you are running a store in multiple languages, you definitely should choose this app.
5. Plugin in SEO
Plug-In SEO by SureSwift Capital is one of the most widely used SEO apps on Shopify. Over 30,000 store owners have installed the app to optimize SEO and drive traffic. Without a doubt, it is one of the best Shopify SEO apps.
Top features
JSON-LD Structured Data: The app provides the most comprehensive and up-to-date schema markup for rich snippets
SEO Bulk Editor: you can bulk edit SEO data including meta titles, meta descriptions of thousands of products, collections, pages, blogs lists, and blog posts just in a few minutes.
Check and Fix SEO Issues: By integrating Plugin SEO with Google Search Console, you can check SEO issues. You can see all the problems with H1 headings, H2/H3 subheadings, image ALT tags, filenames, duplicate page titles, and page descriptions.
Monitor Organic Traffic: Track rankings, organic traffic analytics with built-in Google Search Console
404 Broken Link Redirects: Set up 301 permanent redirects for broken links.
Automatic SEO Audits: you will receive a report of your On-page SEO audit via email or you can check all the SEO issues in the app.
Target Focus Keywords: With the keyword research feature, you can create and optimize both blog posts and product descriptions for organic search terms.
Price and plans

Fortunately, the Plug-In SEO app still has a free plan for you to check SEO issues on your website with instruction, email alerts, and support from the team. If you pay for their premium plan which is $20 per month, you can fully access its features.
Who is it for?
If you are looking for a comprehensive solution for SEO, Plug-In SEO is suitable for you. It also provides good and detailed documentation on SEO for beginners. Therefore, you do not have to worry about your inexperience in this field.
Conclusion
In order to choose the most suitable from the list of best Shopify SEO apps, you should consider your current problem with your Shopify store. Besides, you also need to take your current knowledge of SEO into account to make the best decision. Although each app has its own selling point, all of them are useful to solve your current SEO issues.
Besides SEO, Shopify provides thousands of apps on its app store so that you can handle all problems with your online business. If you are running your eCommerce site on another platform and now you want to re-platform to Shopify, LitExtension could help you with our automated data migration tool. You can easily create a Shopify store within minutes and then use LitExtension to transfer all your eCommerce data from more than 100 other platforms to Shopify.
Join our Facebook Community to get more eCommerce tips and news.