Wix vs Shopify – Overview
The battle between Wix vs Shopify, two website builders that are popular with eCommerce users, has always been fierce.
Wix is a drag and drop website creator, with online sales capability equipped. On the other hand, Shopify is made specifically to help people establish themselves online shops that enabled 600,000 businesses to gain over $55 billion in total revenues. Both are friendly start-to-be, but Wix is simpler to use because it isn't as powerful as Shopify. To small companies, Wix is great, while Shopify can deal with much bigger sales.
We will break down our detailed research on individual platforms in this thorough overview that includes price, SEO, customer support, ease of use, and far more. How Wix and Shopify can do exactly, and who each is better suited for you, LitExension is here to answer them all.
Ease of Use
Let's dive into this: the ease of use of Wix's business model is important. It's a drag-and-drop creator, you can click on the feature (such as an image, title, logo, etc.) and drag it to anywhere you like. Merchants are able to manage every content on the front-end interface. Apparently, it is extremely convenient and painless for users with little to no technical experience. More than that, Wix also offers you a technology of artificial intelligence, which is called Wix ADI to help you with the very first steps for creating your online store.


Meanwhile, Shopify keeps the dashboard and editing system separately. Therefore, you will move back and forth between the preview and back-end to check the result and the front-end interface. The division may take you longer to arrange the site as perfect as you wish. However, Shopify offers several premade templates for you to create and optimize the eye-catching storefront easily and professionally. In the long run, and for medium to large-sized businesses, these templates truly make the difference.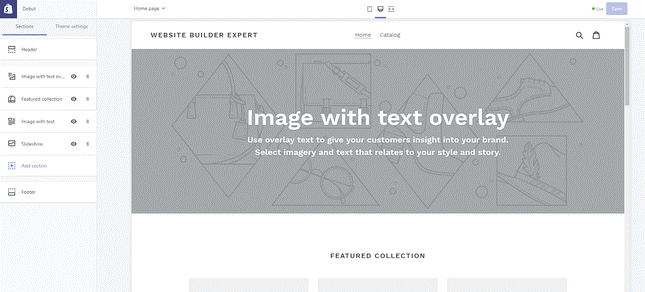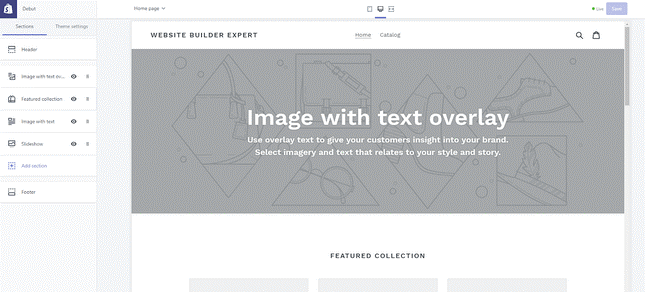 According to recent research, there was a broad consensus that editing the templates of Wix is incredibly simple. Here are some of their thoughts:
"Wix was good because it provided more creative freedom, but was slightly more confusing when adding products and creating categories in comparison to Shopify.

I had no real issue with Shopify as a platform – it was super easy and effective to add products. I can't imagine it being as simple as Wix's drag-and-drop interface, but sometimes you just need more structure – and this is where Shopify works better."
The Verdict: In the competition between Wix vs Shopify regarding user-friendliness, both platforms are quite easy to start. Wix is super straightforward and gives store owners more room for creativity. Meanwhile, Shopify hands you more backend control which will be of great help when you sell a huge number of products.
Template Design and Customizability
It's clear that a dazzling storefront will capture attention and implicitly boost the sales. Fortunately, both website builders provide users with a myriad of beautifully-designed responsive templates and themes to satisfy any store owners' requirements. The industry-specific features of their templates and themes ensure that you can build your online store faster and more effectively.
In addition, both platforms grant you the privilege to make custom edits which means that with particular technical skills, you can fully control your website by coding. Nevertheless, there's a minor difference between these two.
More than 700 free appealing templates are available for you to choose from on Wix. Those eye-catching templates cover different aspects and are easily modified for selling purposes. However, Wix's design flexibility has a limitation you should consider is that Wix templates cannot be switched after you've picked one. It would be annoying when you want to rebrand your store.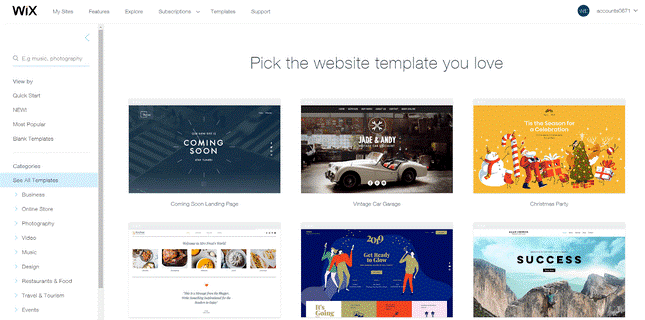 While Wix offers all of the templates at no cost, Shopify designs 9 free and 64 paid themes specialized for online stores. The price ranges from $100 to $180. Expensive as it may seem, every paid theme is artistically and functionally cost-effective. Take a look at our best choice for the Shopify theme!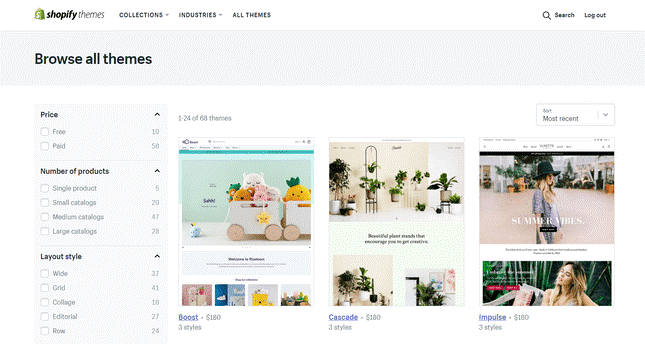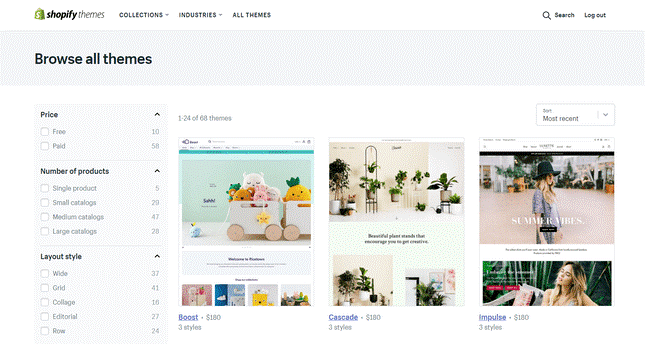 Sales Features
This is where Shopify shows off its muscles. Wix isn't as strong as Shopify, but you still have an amazing variety of choices.
Product Types
You can sell physical, digital, and service products on Wix vs Shopify. However, you need an app with Wix to sell your service products, while Shopify needs integration with third parties apps to sell digital products. The ability to sell the other two product types is built into each platform.
Product Presentation
Wix makes your products shine bright. It provides an integrated product video feature to improve the experience of your customers and you can easily add a product zoom function.
Shopify gives you a lot of flexibility in terms of the design of your products. With multiple variants, you can add unlimited products, which is a huge plus. However, to allow product zooming and product videos, you need to install third-party apps.
Payment Options
Wix supports all the traditional payment solutions, including PayPal, Stripe and Square, but digital payments including Apple Pay and Amazon Pay are unavailable.
Shopify covers almost every area. It allows more than 100 payment types, but it currently does not support Square. In addition, transaction fees must be paid-unless you use your own built-in gateway – Shopify Payments.
Shipping Options
With Wix, it's a bit inconvenient that you may need apps to assist you with global payments for shipping. In addition, Wix does not offer printable shipping labels when you track orders and set tax rules for each product
Shopify helps you at all steps in the complicated shipping cycle, from free shipping to coordination with alternative shipping providers. In short, when you organize shipping with Shopify, you're never left stranded.
Inventory Management
In terms of inventory management, Wix is made for small online stores since apps are required for the sales reports completion and visitor's review collection.
Shopify has the whole inventory package. You can upload individual or multiple items, use stock management tools, receive income reports, and quickly navigate your way around easily.
Abandoned Cart Recovery
Analysis reports will increase your income by 25 percent by recovering lost sales! However, at present, an abandoned cart recovery can only be accessed via a third-party app with Wix.
Shopify knows what it can do for traders like you to sell online. Abandoned cart recovery allows you to send emails to customers who left your site before checking out with products in their cart.
Tax Settings
Wix helps you to enable and disable taxes, including commodity rates taxes and more. It would be great if you use Avalara – an integrated software program that can help measure tax rates in real-time.
As you expect, Shopify gives you tons of control over your settings. You can set up Shopify to automatically deal with common tax calculations to free up yourself with lots of time.
The Verdict: With these considered aspects above, Shopify is the obvious winner for sales.
Marketing Features
Wix has an edge here.  As an all-in-one marketing solution, it is available as a separate subscription, that allows you to easily manage marketing campaigns in one place.
Meanwhile, Shopify relies heavily on marketing software from third parties. While this gives you plenty of versatility, it's difficult to put the two platforms in a fair comparison with so many apps floating around.
Social and Media Integration
Nowadays, 48% of people are looking for products on the market. Currently, Wix does not support sell on various channels.
Shopify's multi-channel integration is one deal-breaker between Wix vs Shopify. You can connect your Shopify online store to social media accounts such as Twitter, Instagram, and market places such as Amazon and eBay.
Email Campaigns
As already stated, Wix Ascend allows you to monitor all marketing activities in one place. While you can still send three email campaigns a month without an Ascend subscription, you get premium features and a much higher campaign quota if you do subscribe.
With Shopify, you can build email campaigns on the manager page. However, you can install apps such as Omnisend Email Marketing and Privy for more versatility.
Blogging
Wix allows you to build gorgeous blogs with ease. In reality, the only hindrance it stumbles over is about archive functionality, which saves old posts for users to read. If you really wanted to experience this unique function, you're better off using a blogging specific tool like WordPress.
In the area of blogging, Shopify does not do well. There are no analytics, social bookmarking, and searching features built-in. Basically, its blogging features are quite bleak.
SEO
Search Engine Optimization guarantees that your store is ranked in a strong position in the search engine.
Both Wix and Shopify facilitate:
Adjust titles/descriptions – the headline and text that appears in Google
Customize URL slugs
Attach alt text to images – text that Google reads to understand what your images actually describe.
Get better guidance with 'SEO best practice' prompts
However, Wix has the upper hand here. It provides keyword support, suggesting common words or phrases that are worth using – something which Shopify does not support.
The Verdict: Wix clearly wins in the round of marketing. It's very close, but Wix offers more than Shopify if you take into account the superb blogging features as well as Wix Ascend's strength and simplicity.
App Stores
Integrating apps will support your online store by providing you with more resources and features to help improve the performance of your store. Wix and Shopify both have apps stores providing many free and paid apps to support e-commerce in all regions.
Wix, however, can not match Shopify in the sphere of eCommerce-specific apps. This is because the number of apps is distributed into content-based and eCommerce-based apps. The fact that Wix is originally a website builder kind of explains why this platform favors many development apps. Therefore, in many cases, Wix users have to turn to other 3rd-party apps to powerfully boost their stores.
The App Store of Shopify, with the diversity in function, allows you to grow your store to a bigger scope. You can add a wishlist, make a dropshipping, add product reviews, and change currency – and that's just the beginning of many great apps you haven't discovered yet!
The Verdict: In terms of eCommerce integrations, Shopify has a superior app store than Wix, because it has more options to choose from.
Customer Support
Speaking of the Support provided, help centers of both are always kept up-to-date for you to search for information. You can get assistance from users and experts all over the world by joining in their huge forums.
Shopify Help Center
Wix is famous for multiple detailed and lively instruction videos. Just hover your mouse over the editor's question marks and wait for the small bubbles appear. They can rapidly give answers to your common questions.
Wix's handy in-editor help
About live support, you can submit tickets and request a callback on Wix. English support line is always available, but with other languages, such as French, German, Italian, Japanese, Portuguese, Russian and Spanish, the line is available during business hours only.
Meanwhile, Shopify support team is always there for you 24/7 through email and phone. One thing that is superior is Shopify offers live chat. Once your waiting time is minimized and the issue is resolved quickly, certainly, your store will soon become a cash cow.
The Verdict: Wix's customer support is generally better than Shopify. It's great to have Shopify support around the clock, but a more comprehensive help center and direct support in the editor make Wix surpass Shopify here.
Value for Money
Without looking at the price, Wix vs Shopify comparison would be so incomplete. Let's see which one gives you a better price.
Wix Pricing
Wix pricing varies slightly between its 2 options: Website and Business & eCommerce. Today, we will be focusing on the eCommerce side of Wix. The three Business & eCommerce Wix plans are:
Basic Plan– $20/month
Unlimited Plan– $25/month
VIP Plan– $35/month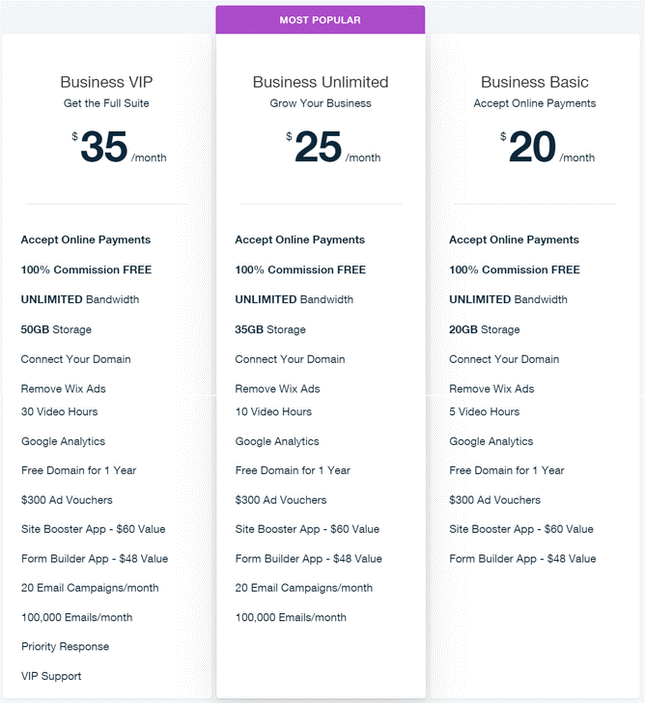 All plans include unrestricted bandwidth, 20GB-50 GB of storage, and $300 in business vouchers.  Moreover, the Wix Business VIP package upgrade provides you with priority responses and VIP assistance.
Shopify Pricing
Shopify's three main pricing plans are:
Basic Shopify – $29/month
Shopify – $79/month
Advanced Shopify – $299/month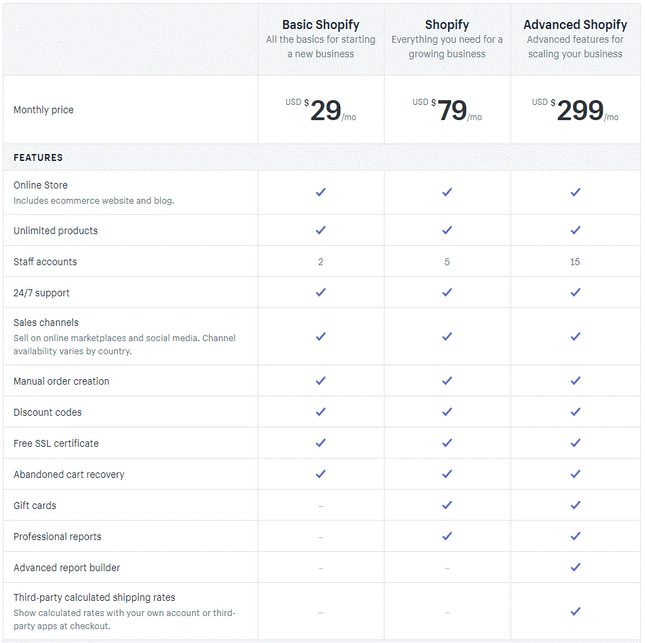 Shopify Basic can satisfy your needs unless you run a large shop. You will receive discount codes, unrestricted storage products, and multi-channel integration. Upgrading to Shopify or Advanced Shopify provides better analysis and reporting.
The Verdict: Shopify provides a better value for money than Wix. Thanks to the tools included as standard, Shopify is a better investment if you intend to build a fully-fledged online store. The more advanced your store is, the more you will enjoy being on a Shopify plan.
Wix vs Shopify – What is the overall winner?
The battle between Wix vs Shopify is obviously hard to end up with a winner in every aspect.
Shopify collaborates with some of the largest companies in the world, including Budweiser and Tesla Motors. For full-time enterprises, it is a more optimal choice.
Wix is better for people who want a limited amount of products, while Shopify can support from small businesses to large enterprises. Shopify is only suitable for an online store, while Wix is also ideal if the main focus is not completely on online stores.
In that respect, what should you choose? Let's take a quick look at the recap of comparison before giving you some final suggestions about selecting the best business-specific purpose website builder for you.
| | | |
| --- | --- | --- |
| Wix vs Shopify | Wix | Shopify |
| Ease of Use | Wix couldn't be easier to edit the front end of your site, but you lose creative control in the backend. | Shopify is easy to use in all areas, particularly in inventory management. |
| Design | Wonderful templates, easy to edit; optimal for smaller online shops. | Offers great themes exclusively for online sales. |
| Sales features | Allowing you to sell products, digital or service, lets your products shine, and the overall sales tools are quite simple. | The best sales capabilities on the market, including well-integrated analytics and stock management tools. |
| Marketing features | Wonderful marketing attributes, particularly blogs. | The integration of social media is a great deal, alongside powerful SEO. |
| App Stores | A massive app store, but less e-commerce specific integrations than Shopify. | Another huge app store with countless e-commerce integrations to drive sales forward. |
| Help & Support | Emails, social media, and telephone assistance, plus a forum that's extremely helpful. | Dedicated support for 24/7 telephones and live chat. |
| Value for money | May build a shop free of charge, but users must upgrade them for three economic e-commerce plans to sell. | Excellent value for money if you want your company to develop. It also provides a free 14-day trial. |
Why Choose Wix instead of Shopify?
Suitable for websites that sell a few products
A wide range of creative control
More themes available
More decent blogging features
Set up a store free of charge
Why Choose Shopify instead of Wix?
Suitable for larger businesses
Facebook sales across multi-channels and much more
The most optimal sales tool in the market
Integrated tools for analytics
Supports more gateways for payment
Wanna get a taste of Wix or Shopify?
After reading this analysis between these two platforms, I guess you might have made up your mind about the platform that is suitable for your online business. If you are ready to go for it, then here comes our migration service that'll help you transfer all your data to your desired platform.
Especially, if you are a Wix store owner and now are leaning towards Shopify after reading our comparison, do you wanna give it a try? Our Wix to Shopify migration is now totally FREE by using LitExtension Wix Import App!
What if your store is running on another platform and still want to experience Shopify? Don't worry! We have also made a migration app helping you transfer 100 entities from any eCommerce platforms to Shopify for FREE.
Migrate as many times as you want with limited entities to see how your store is gonna look like on Shopify.
If you want to proceed to a full migration with LitExtension, simply walk your way through the steps below:
Step 1: Register an account or Sign In on LitExtension with your Facebook or Google account
Step 2: Click on "Create New Migration" at the top right button of the screen
Step 3: Choose your Source Store and Target Store. Then provide the source store's URL into the blank bar.
Step 4: Choose entities you want to migrate and other additional migration features.
Step 5: Start a Free Demo or perform migration immediately.
Conclusion
Thank you for keeping up with this article this length. We hope that this Wix vs Shopify comparison has helped you to get to know both platforms and at some point, you could make up your mind about which platform you'll be settling with in the future.
Should you have any concerns, don't hesitate to leave us a message via live chat on website or an email via contact@litextension.com