Shopify vs Weebly are two of the biggest names in the eCommerce world. Weebly gains its fame for the great ease of use, smooth user experience, as well as intuitive and friendly tools. Talking about Shopify, it is the feature-rich hosted solution that is designed to provide you with everything you need to start selling online.
If you are considering these two hosted carts, keep scrolling down. This article is going to show you a comprehensive comparison between Shopify vs Weebly based on their pricing plans, support, eCommerce features, and far more.
Let's get cracking!
Shopify vs Weebly Overview
If you are searching for a beginner-friendly eCommerce platform, both Shopify vs Weebly got you covered.
What is Weebly?
Weebly is a freemium website builder, which means you can start with Weebly for free and need to pay money for additional features or services. Founded in 2007 and acquired by Square in 2018, Weebly now is powering millions of businesses on over 50 million websites all over the world.
Weebly does not only deliver eye-catching website interface, personal blog but also online store to users. In addition, the platform offers drag and drop builder style and various responsive themes to help merchants build a professional website with no technical skills required.
What is Shopify?
Shopify is one of the most well-known names in the eCommerce platforms landscape. Started in 2004, this powerful shopping cart earns its reputation for the incredible usability and a horde of useful features you need to create an amazing online store. Shopify offers a high level of security, inventory management, unlimited storage, and so on.
Early 2017, Shopify integrated with Amazon to allow merchants to sell their products and services on this world's largest online retailer while using Shopify. Currently, this platform supports more than 1 million businesses in 175 countries worldwide.
Shopify also has an enterprise edition namely Shopify Plus. It gives access to much more new features, integrations, store's underlying code, dedicated support option than Shopify. You can visit this detailed Shopify vs Shopify Plus comparison to have more information about this mind-blowing edition.
Shopify vs Weebly Comparison
Pricing plans
Compared to other hosted carts in the market including Shopify, the price Weebly offers is much cheaper.
Weebly
Weebly provides merchants 3 pricing options including a free one and three affordable premium plans.
It's worth noting that even though a free plan is available, it has restrictions on features that you can access. For instance, the storage capacity per site is limited to under 500MB. Moreover, your domain has an unchangeable Weebly branding name (example.weebly.com). Besides, this option equips you with basic features to launch a website but you cannot sell products with the free plan.
In case you find the free option not suitable for your objective, let's consider the paid ones.
Pro Plan: $12 per month
Business Plan: $25 per month
Business Plus Plan: $38 per month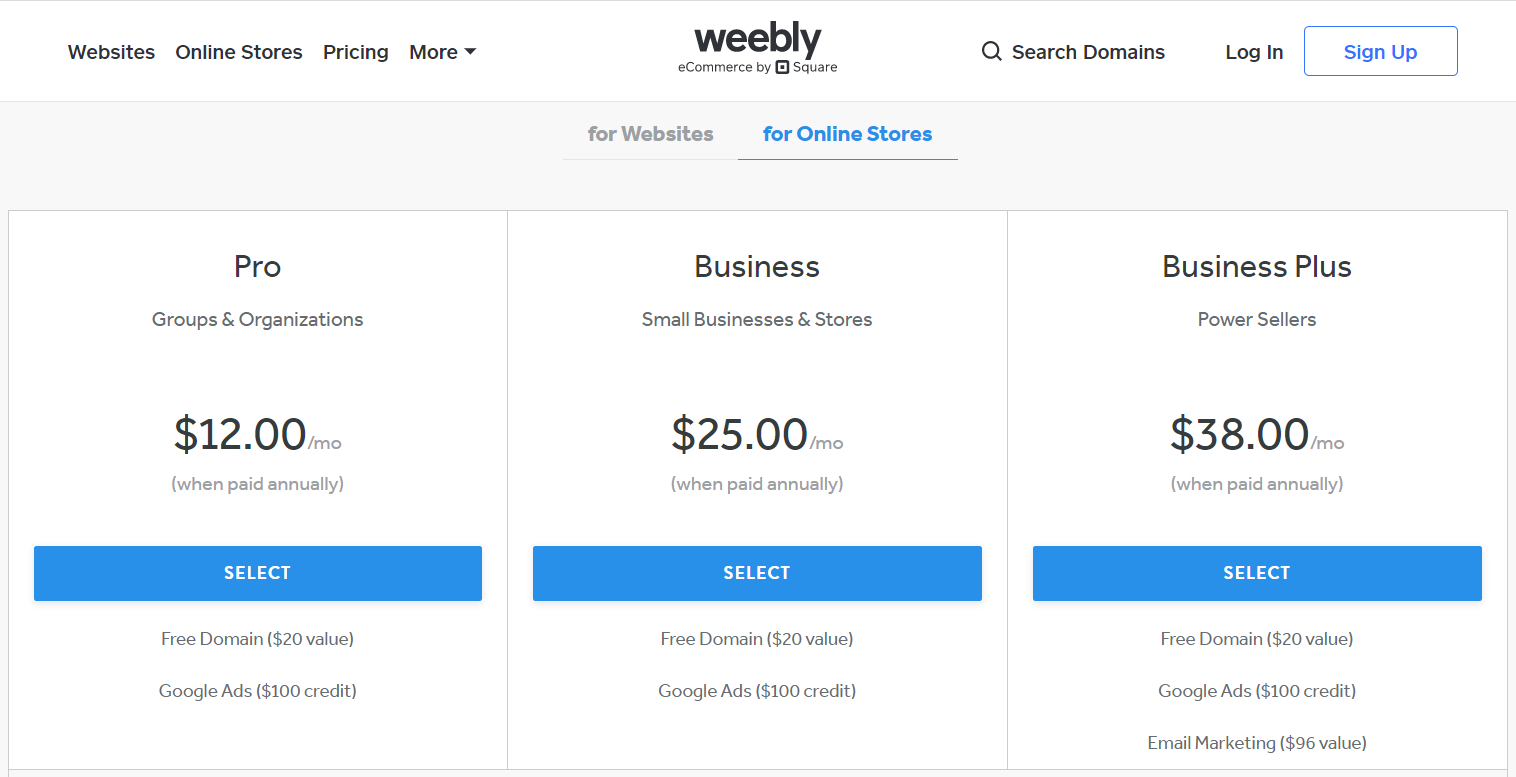 This platform has three paid plans with the prices vary from $12/month to $38/month. It's worth noting that the above prices are billed annually. It means the price will be more expensive if you choose to pay monthly instead of yearly.
Shopify
When it comes to Shopify, this cart offers a 14-day free trial and three premium pricing plans.
Shopify grants its users 14 days trial without charge to decide should they use this platform to run their business. During this time, users have the right to access all the Shopify features and cancel anytime they want.
For paid options, you can choose from three plans:
Basic Shopify plan: $29 per month
Shopify plan: $79 per month
Advanced Shopify plan: $299 per month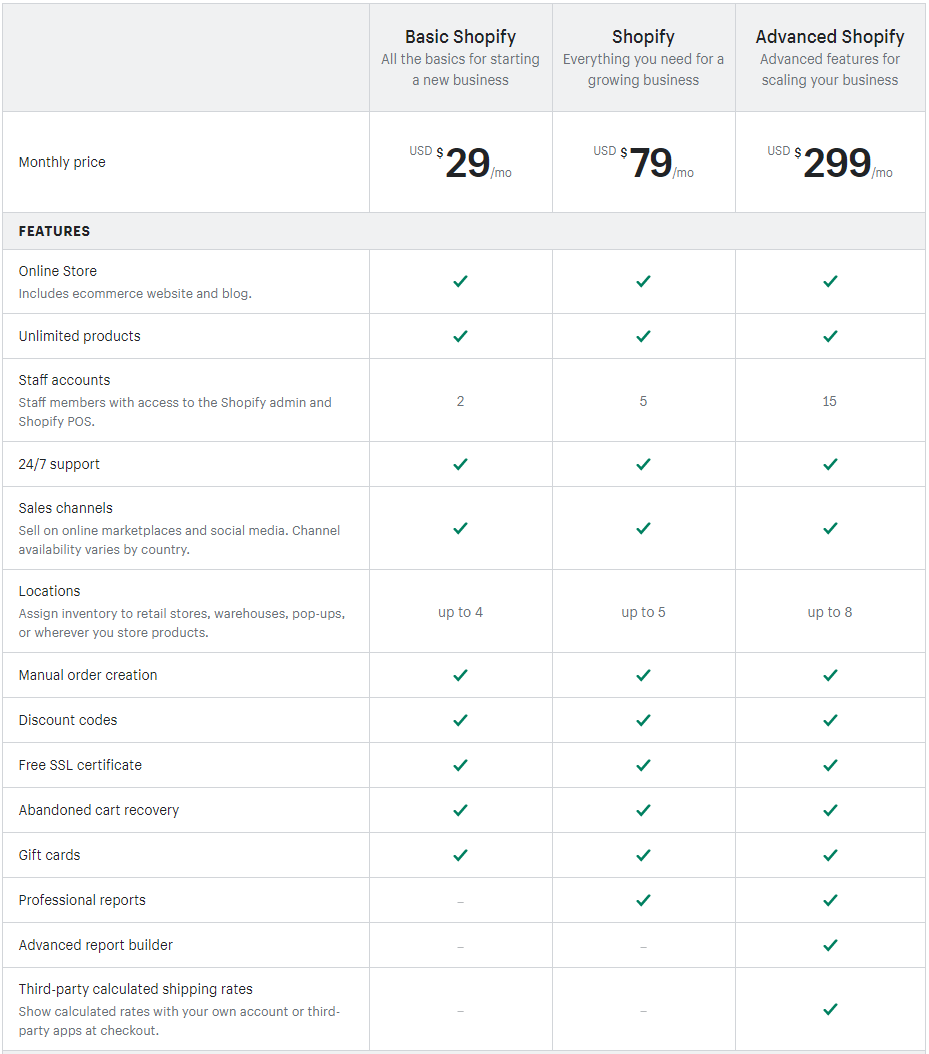 All of the plans above are monthly payments. You can upgrade or downgrade your plan anytime. The more expensive the plan is, the more features it has. If the Basic Shopify plan is suitable for beginners, the rest is more suited to medium and large businesses. Shopify also offers a 10% discount for annual payment and a 20% discount for biennial payment if you pay upfront.
You might see the plans that Shopify provides are much pricey when compared to Weebly. That's right! However, each option grants you powerful built-in features for your business growth. For example, you can get 24/7 fast and support via phone, email, and live chat. Meanwhile, the Weebly 24/7 support is available for email. What's more, merchants can only get access to Abandoned Cart Recovery when buying Weebly Business Plus package, but it is available in all 3 Shopify plans.
Beside the monthly plans, this platform charges credit card rates when merchants use Shopify Payment. It's an online payment gateway of Shopify and other third-party payment gateways. The higher plan you purchase, the lower the transaction fee is.
Let's take the Basic Shopify plan as an example. If you use Shopify Payment, the rate, in this case, is 2.9% + 30 cents per transaction. It means Shopify will charge 2.9% of the cost of your transaction and 30 cents additionally. If you use another payment gateway such as PayPal, you will be charged Paypal's credit card plus 2.0% of your transaction.
Support
Shopify has an edge over Weebly in terms of support.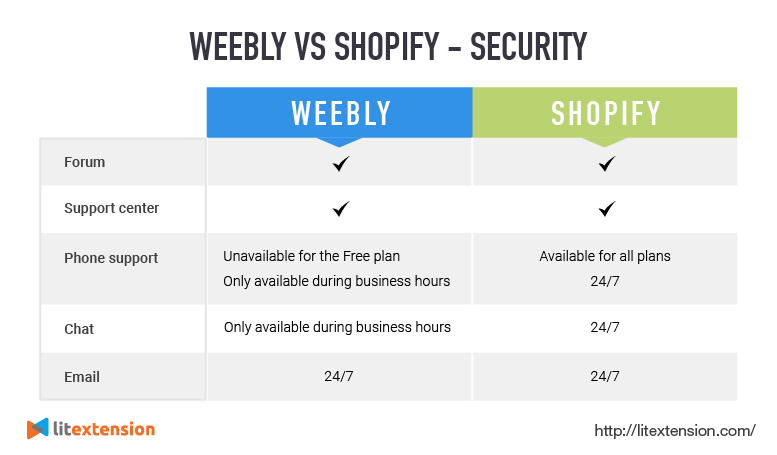 Each of the Weebly plans is suitable for certain business types and has its own features. However, all of them offer merchants with devoted help from Weebly Community Forum and Support Center.
At Community Forum, you can get useful information relating to growing your business and using Weebly for themes, SEO, domains, etc.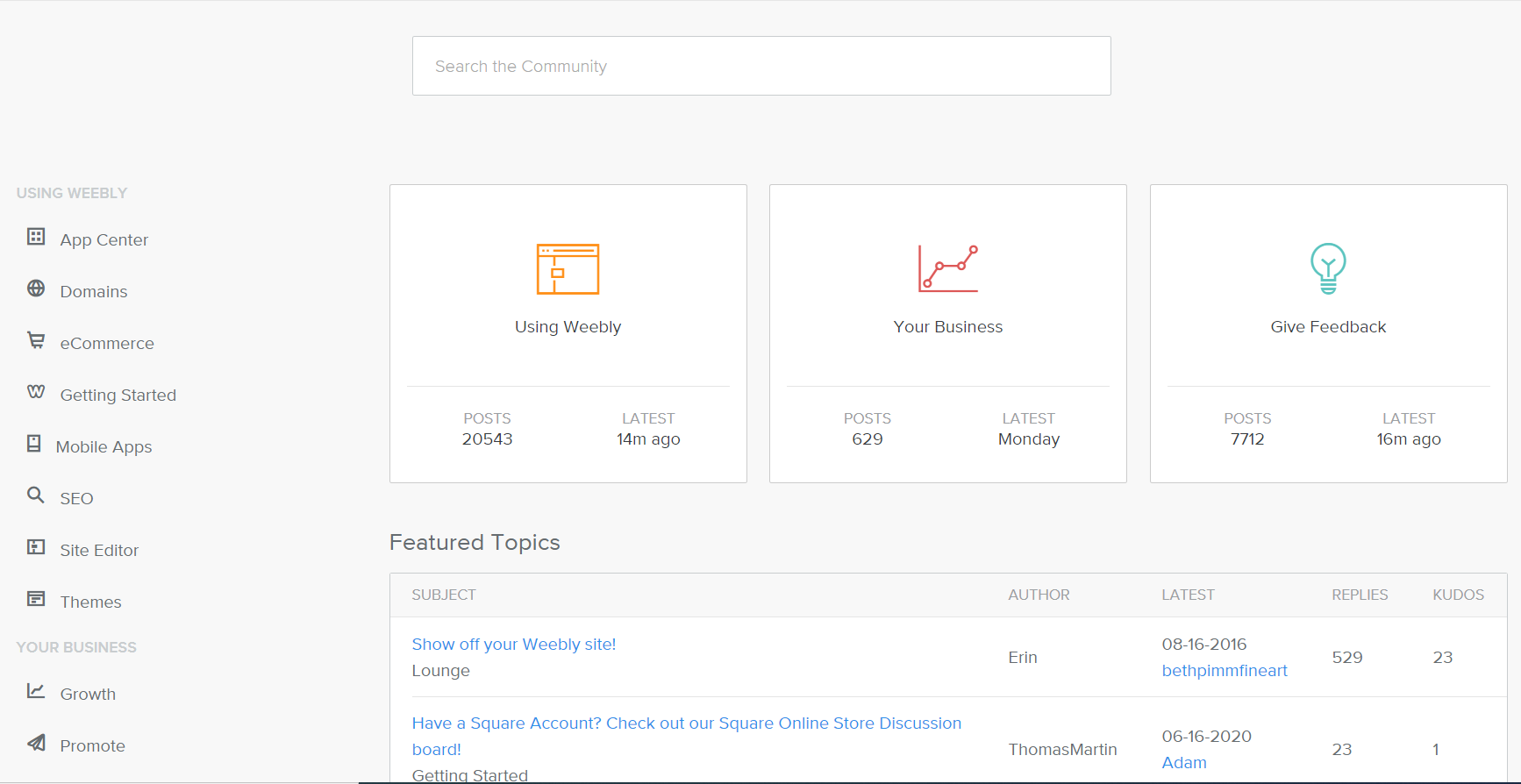 When you access the Support Center, you can see there are informative articles arranged in different sections. If you still need more help, you can access phone, chat, or 24/7 email support. One downside of the Weebly support is that phone support is unavailable for the free plan. Moreover, you just can chat or make a phone call during standard business hours.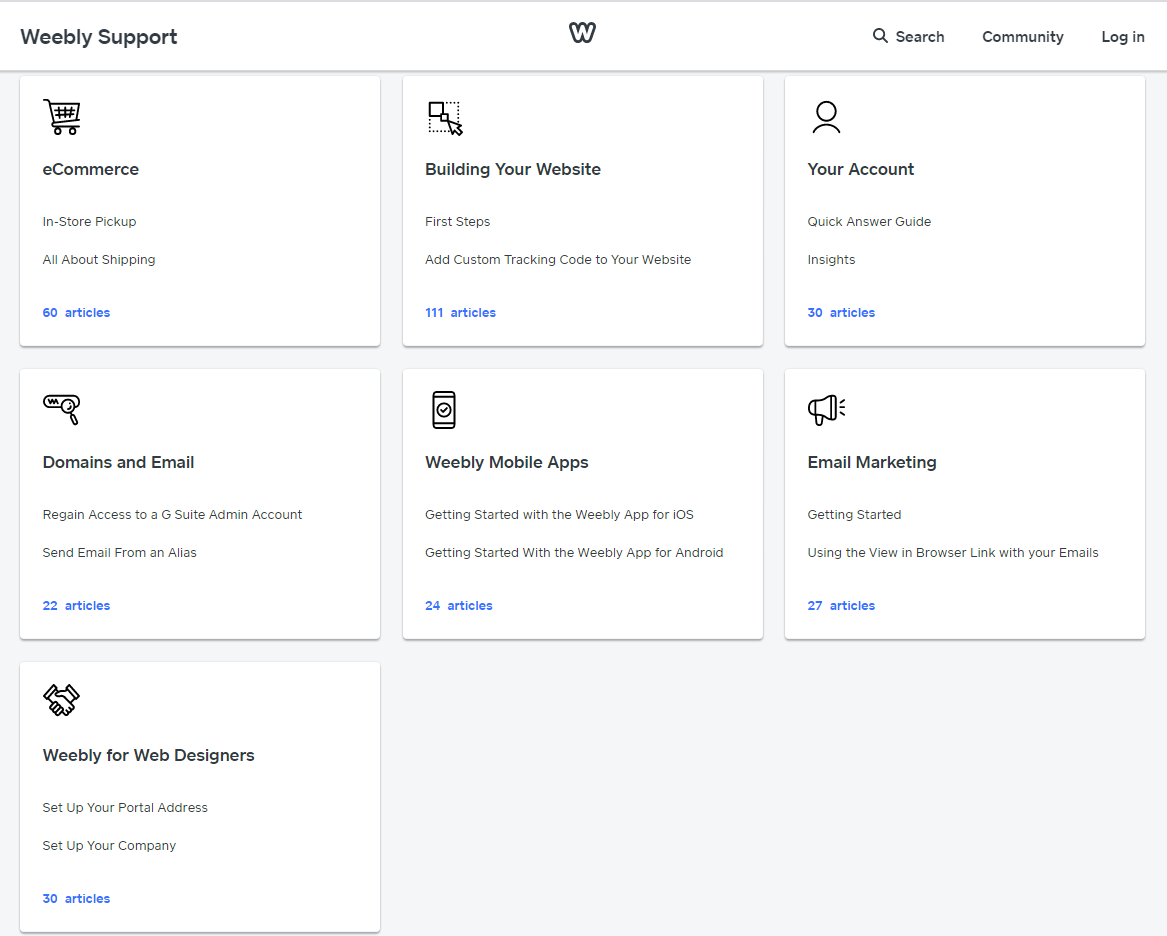 For Shopify, this powerful platform satisfies any merchant with great customer service.  Users can get assistance from experts and experienced users all over the world from its forum. Besides, Shopify Help Center also arms store owners 24/7 live support via email, live chat and phone. The support team will respond to you within a few minutes and help you deal with your issues as soon as possible.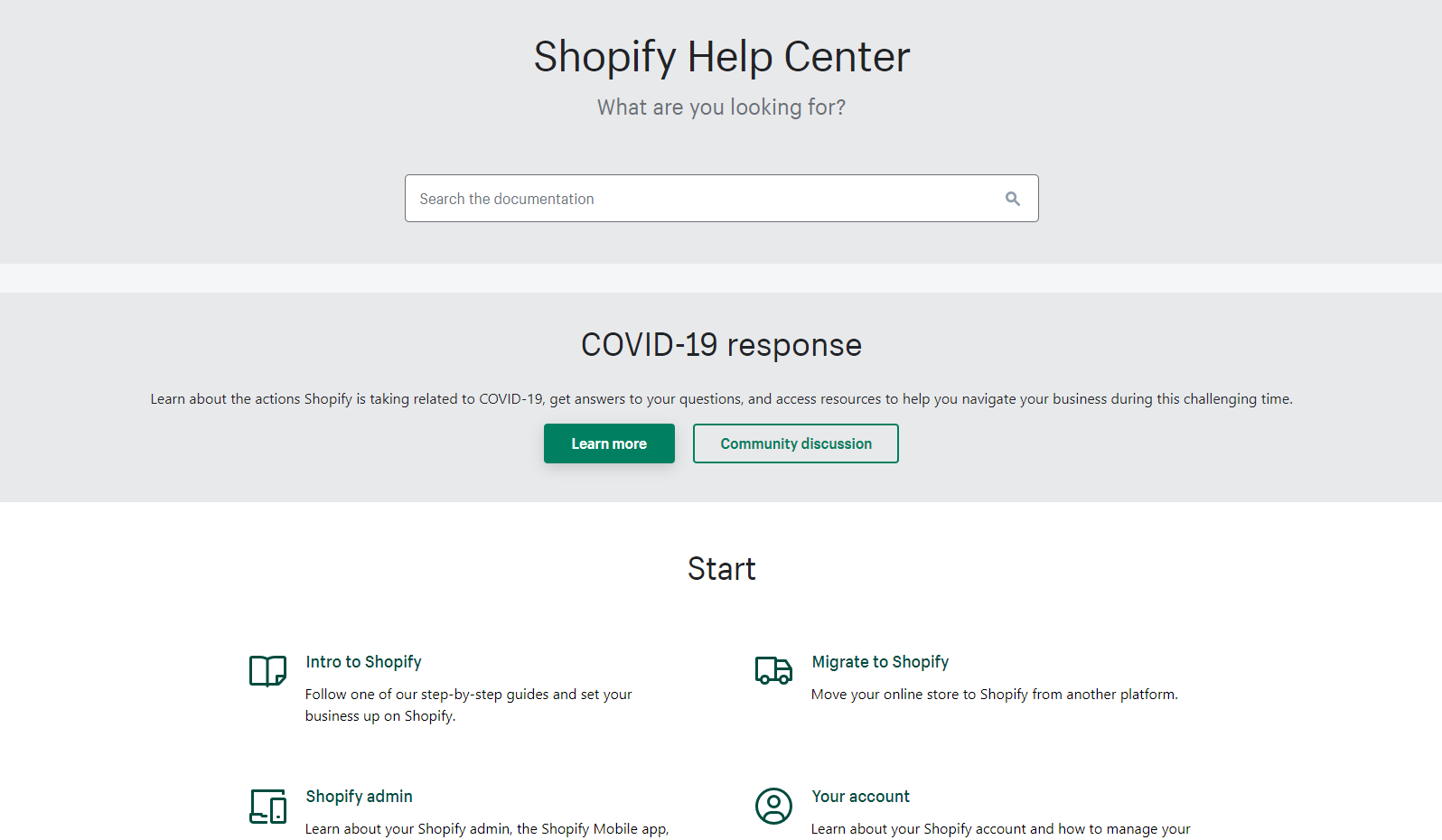 Besides, Shopify store owners can access valuable information sources through available documents, webinars, and video tutorials. Shopify Changelog is another source for them to get the latest updates.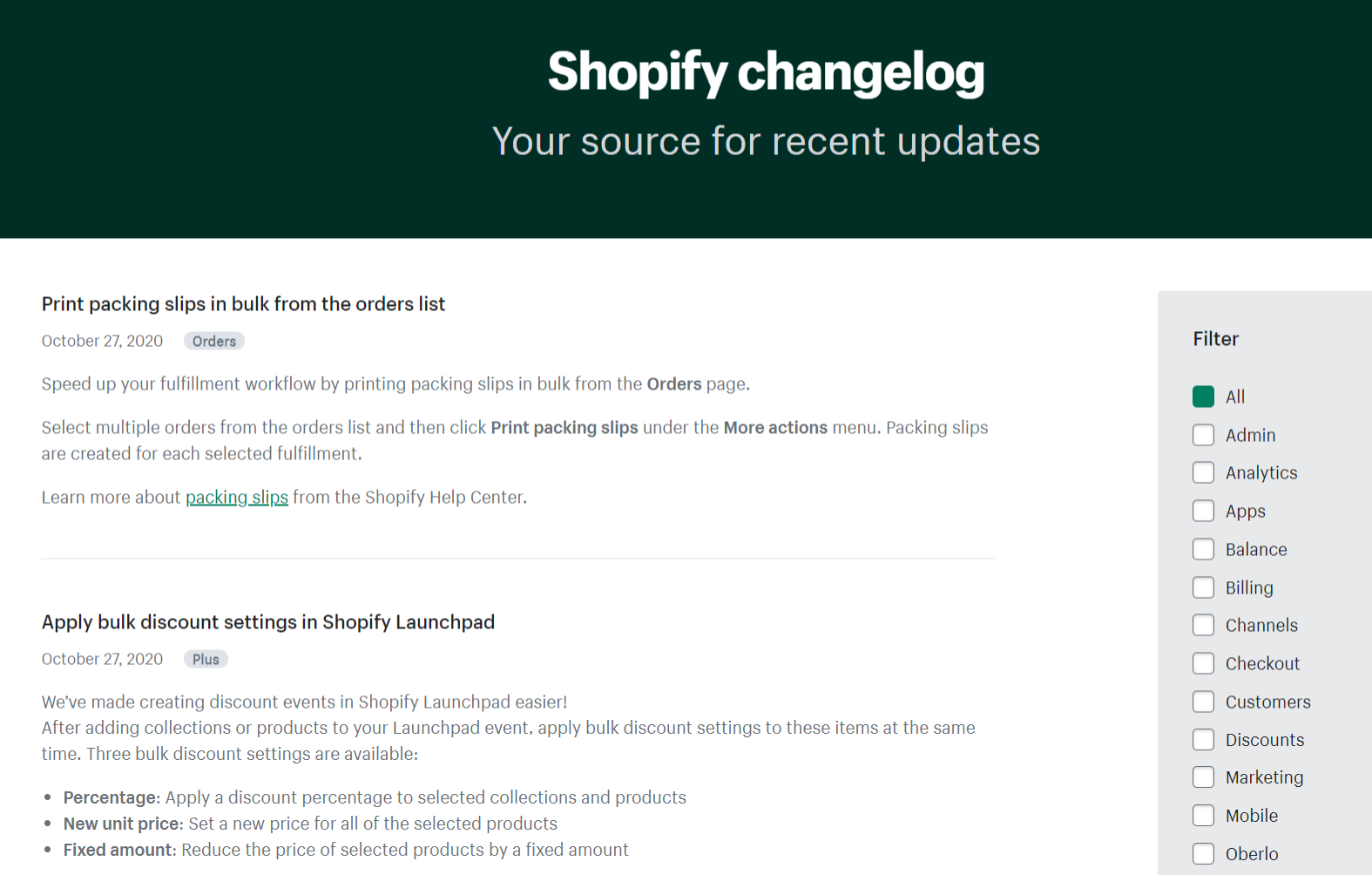 Ease of Use
Both Shopify vs Weebly is really easy to use. Their users won't need to spend a lot of time and effort to set up and manage the store.
It is not exaggerated to say that user-friendliness is the highlight in helping Weebly earn a good reputation. The most important feature that contributes to its usability is the Drag-and-drop website builder. You can easily use your mouse, point to a photo or video, click and move it to where you want.
In addition, the setup process is simple with several steps. These steps include filling in your basic information, choosing the kind of website you want to create, putting the site's name, then your site is ready to be customized. Also, the interface and navigation bar is straightforward that makes you find it painless to manage your store.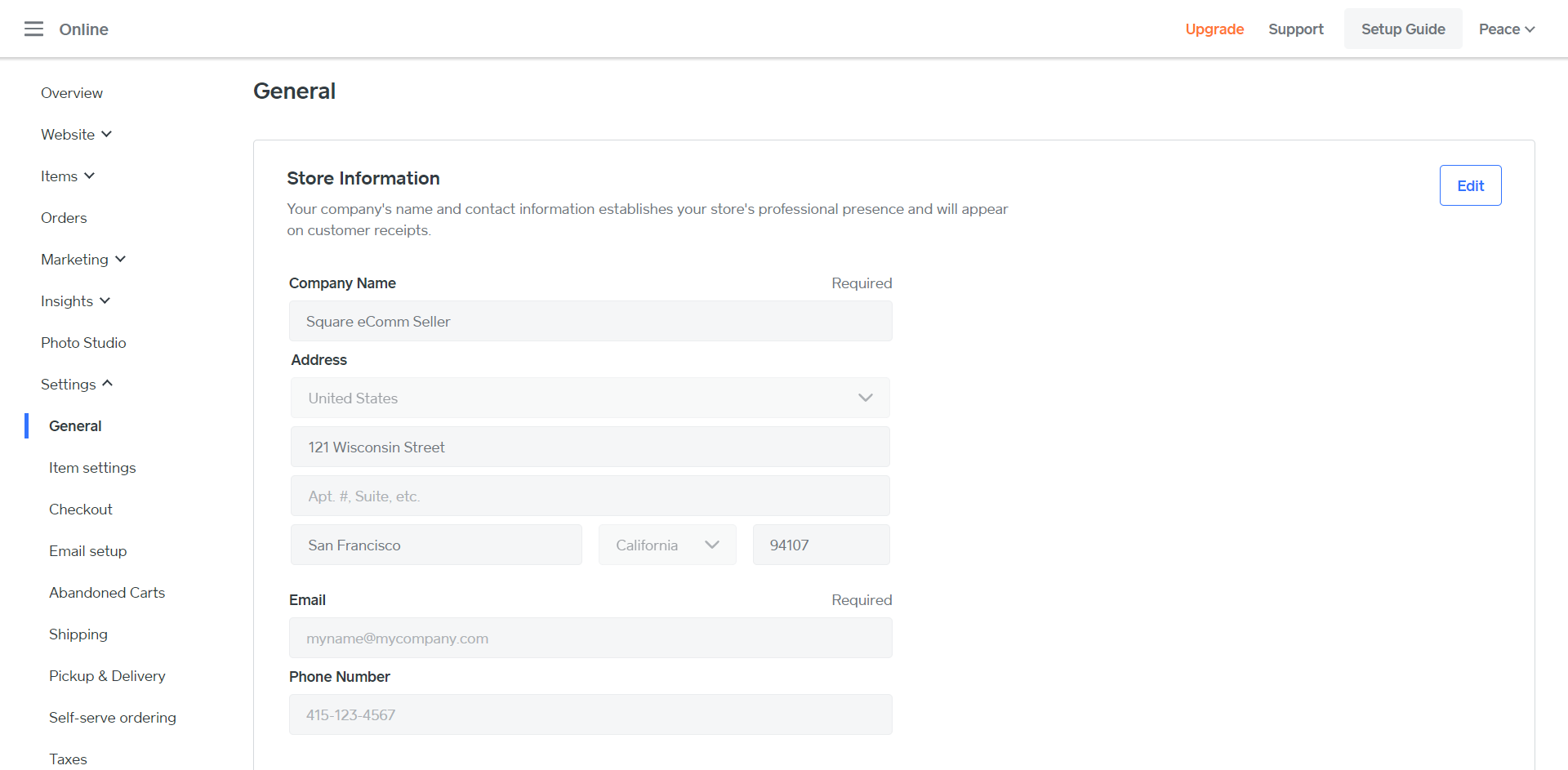 Come to Shopify, it is designed for everyone from eCommerce beginners to professionals. Even if you're non-technical, it's very possible to master Shopify.
Here is the video that shows you how easy it is to create and configure your own Shopify store:
Along with the simple setup process, easy-to-use dashboard, the rich available documents helps the management of a Shopify store isn't difficult anymore. You can search and find a way to administrate your online store from Shopify Developer.
Template Design and Customizability
From these aspects, Shopify has an advantage over Weebly. Shopify provides more themes in its store. All of them are previewable and attractive. Though Shopify vs Weebly allows merchants to customize their sites, Weebly's customizability isn't very strong and inferior to Shopify's.
Weebly
Weebly currently offers users 61 themes that are divided into 7 categories, 15 themes of this collection are designed for online stores. Those themes are eye-catching, clean, mobile responsive. Store owners also can switch them anytime they like. However, there isn't a demo version so you cannot know how your site is like with a certain theme.
Along with attractive themes, this platform also provides a lot of professionally designed templates and over 100 Drag and Drop elements for you to design your website as your expectation.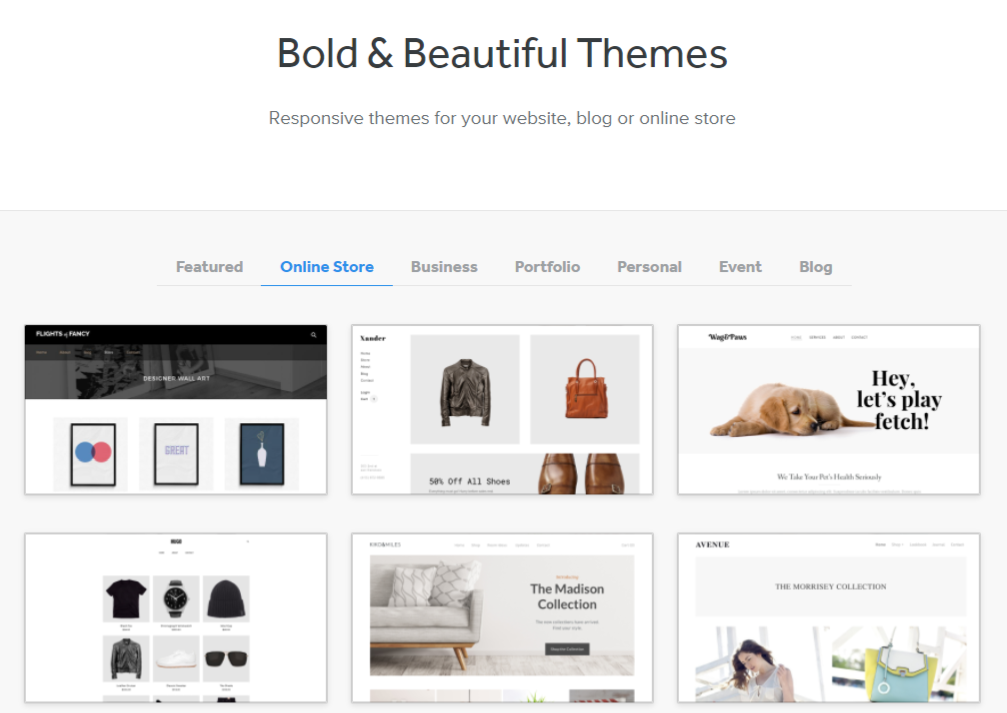 One notable thing is that Weebly customizability is definite. If you have coding knowledge and you want to make some changes to your templates, you can use Code Editor then edit the HTML and CSS of your theme. Or else, it seems to be difficult to adjust your site as well as you expect.
Weebly only provides basic customizability such as editing text, adding new elements, and changing images. Plus, the Weebly themes are pretty structured so that you can't simply drag and drop anything to anywhere you like. Instead, you just can put it in one of the preselected areas.
Shopify
Come to Shopify, it provides users 73 clean, elegant, eye-catching, and responsive eCommerce themes. There are 9 free themes and 64 premium ones that vary from $100 to $180. They are all the best Shopify themes arranged into different industries to help you search for the one suited to your kind of business.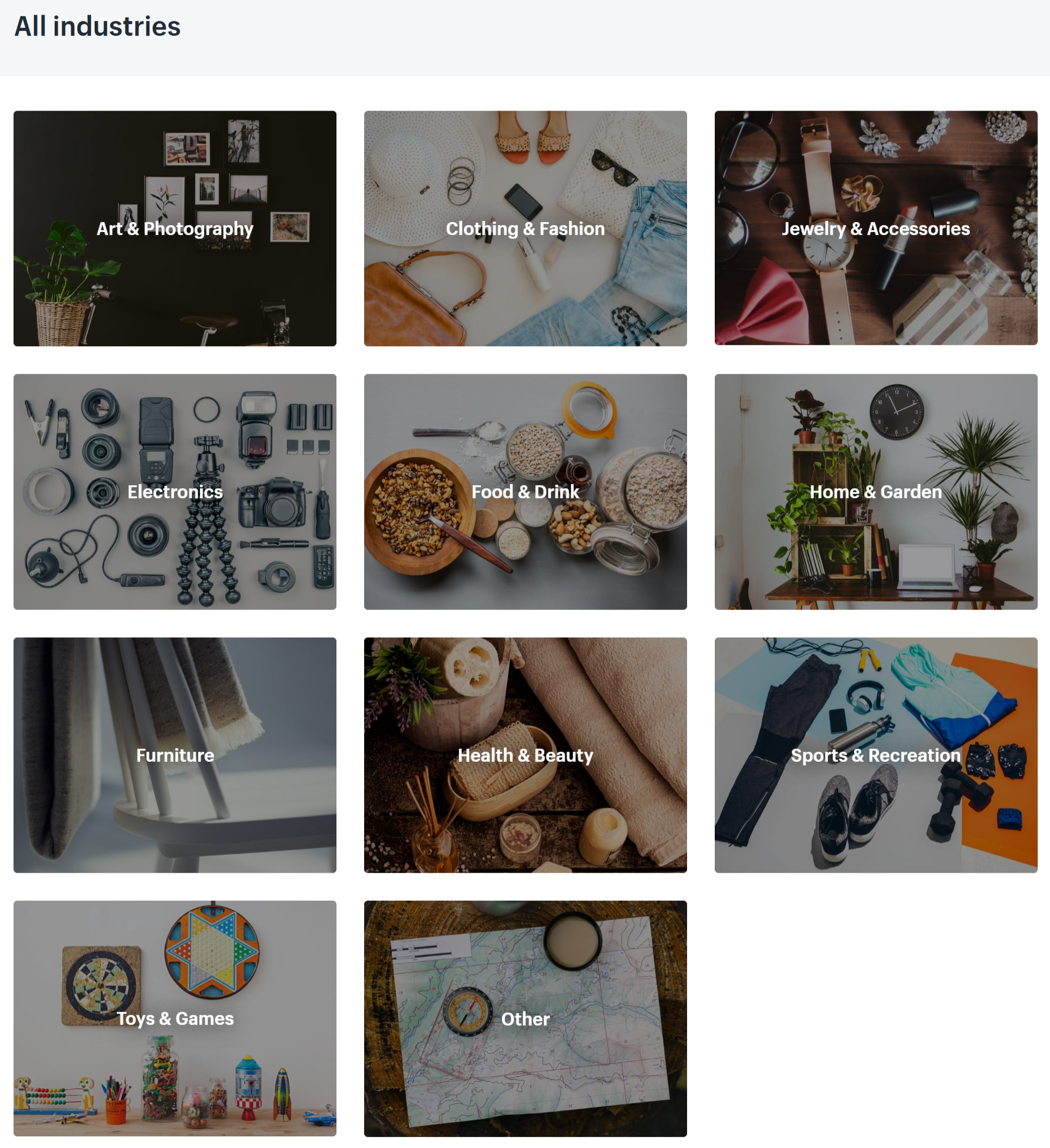 Besides individual features, each theme in the Shopify Theme Store also includes:
Customizable content sections on home page
Mobile-friendly design
Search engine optimization
Social media icons
Drop-down navigation support
Built-in styles and color palettes
Free theme updates
Free stock photos by Burst
Shopify allows you to customize your store to create a unique brand. By using the theme editor, you are able to make changes to your content and available settings from your Shopify admins. For example, you can edit theme code, password protection, enable order notes, etc.
In case your theme doesn't allow setting changes that you want to make, feel free to edit the theme code with HTML, CSS and Liquid. This platform gives you a lot of detailed documentation and video tutorials to guide you as well as possible.
eCommerce Features
Without a doubt, Shopify offers much more necessary powerful eCommerce features for an online store than its opponent, Weebly.
1. Products management
With Weebly, you can track your inventory to control your supply as well as show your customers the number of remaining items in your store. This feature allows you to manage hundreds of products and encourage your shoppers to make a purchase when they realize the items they like are not many.
With Shopify, you can easily manage your products right from the main dashboard. Shopify allows you to import and export thousands of entities (products, customers, inventory)  by using CSV files or a Shopify app namely Importer Store.
2. Abandoned Cart Emails
Abandoned Cart Emails feature is an advanced Weebly's feature that helps you send automated reminder emails to customers who drop out of the payment after a certain period of time. However, this feature is only available for Business Plus, the top premium plan of Weebly. If you chose other plans, you need to upgrade to take full advantage of this feature.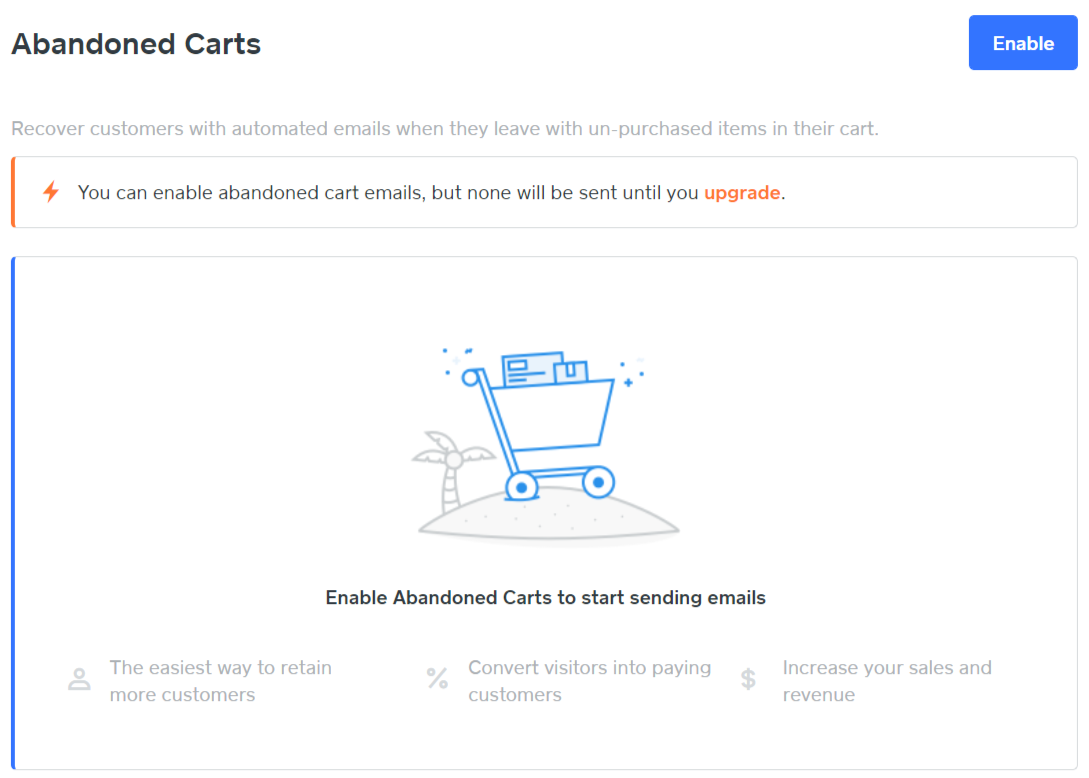 Meanwhile, Abandoned Cart Recovery is Shopify's useful eCommerce feature that is integrated by default for all pricing plans. It helps you find out the reason why carts are left without checkout based on the Shopify payment history.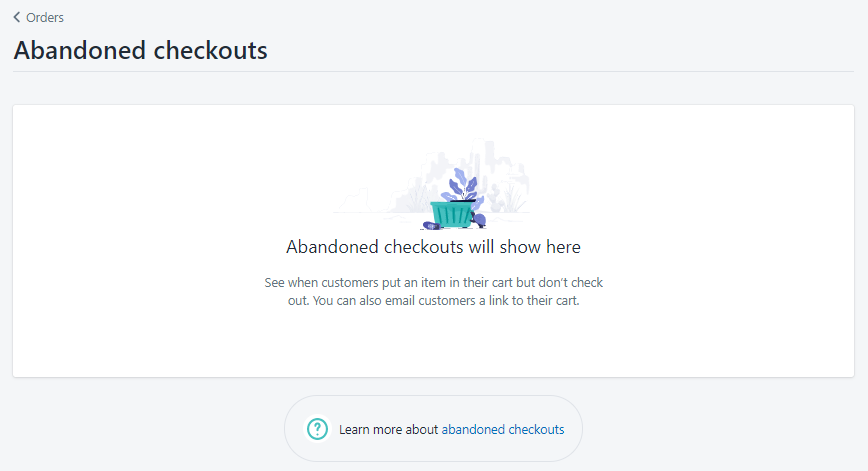 3. Payment Options
In terms of Payment Options, Shopify definitely beats Weebly when offering more than 100 payment processors including Stripe, PayPal, 2 Checkout, etc. Along with these external payment gateways, merchants can use Shopify Payment to accept all major payment methods.
For Weebly, it offers only 3 popular payment options including Stripe, Paypal, and Square. However, the shipping options are flexible. You can adjust different shipping rates for geographic locations, price, weight, carriers, and delivery speed.
4. Statistics
About reporting and analysis, Weebly store owners can access the Insights section from the dashboard. Next, you can get visitor statistics such as the number of website visitors, the products they viewed, etc. The platform also integrates with Google Analytics to help you manage your store more easily.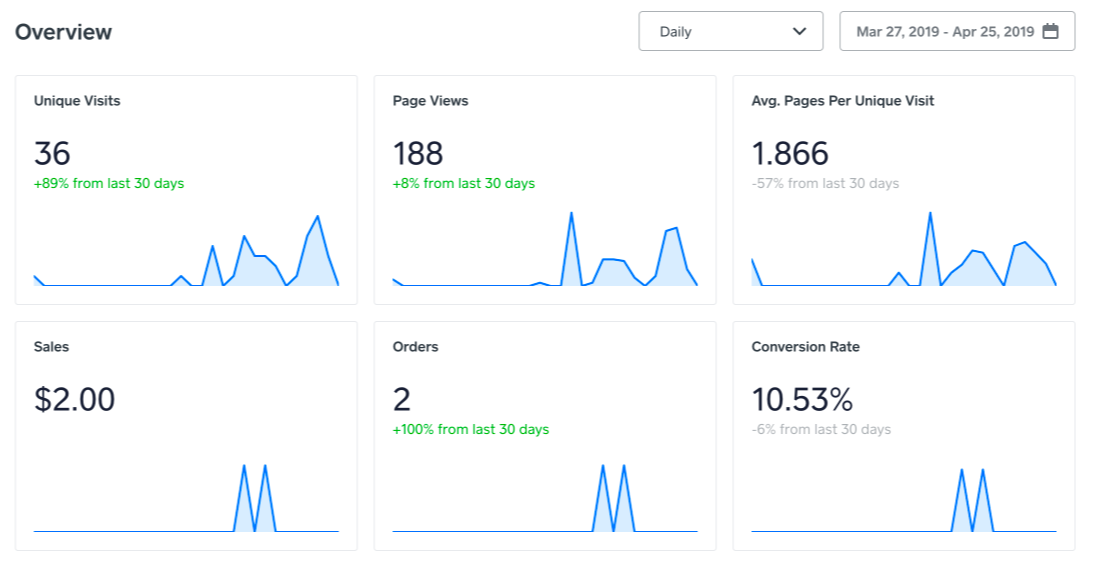 When it comes to Shopify, this platform offers you reporting tools by default and you can upgrade these tools in higher plans. You will get a comprehensive look at key factors such as revenue, sales, customer reports, etc. However, the analysis capabilities will vary depending on the Shopify plan that you choose. By the way, users can take advantage of Google Analytics integration to manage your sales better.
Marketing Features
Another concern when you choose an eCommerce platform for your store is Marketing. Luckily, both Shopify vs Weebly comes with Marketing tools to grow your business. However, Weebly is performing better than Shopify in this field.
Weebly Marketing Features
Weebly focuses on email marketing as an effective way for merchants to prompt a purchase. This platform designed Weebly Promote, a complete email marketing service that lets you make email marketing simple with templates and customization features.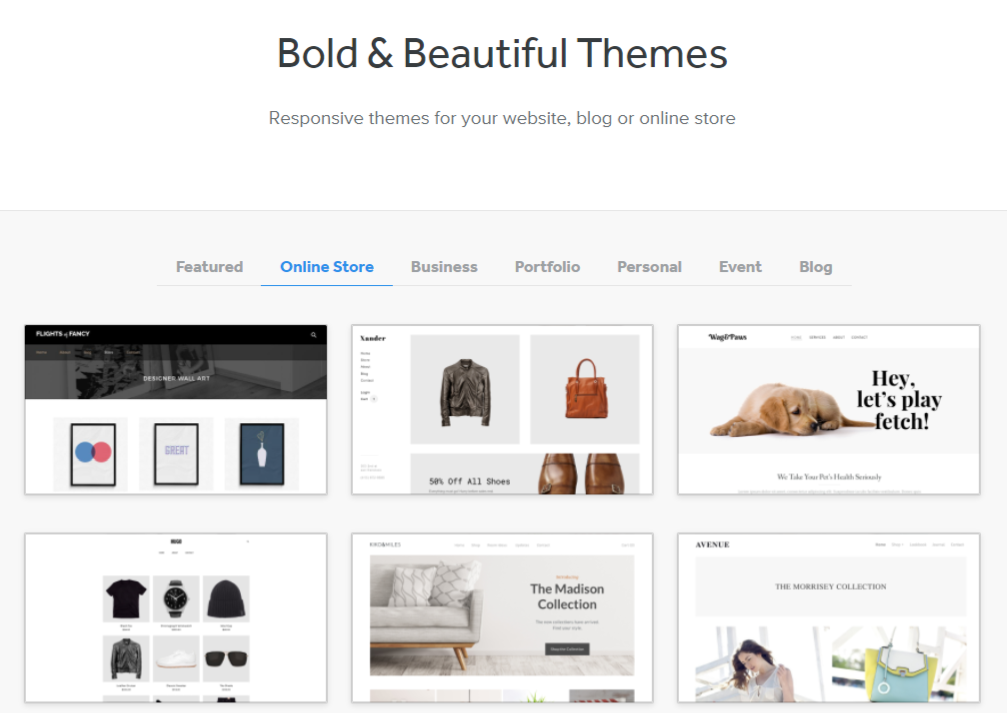 Along with integrated email marketing, Weebly provides SEO built-in features. The product pages and content pages are optimized to rank for the keywords relating to your products. Moreover, there are engagement tools such as gift cards and coupons that help store owners boost their sales substantially.
Shopify Marketing Features
For Shopify, it provides a built-in Email Marketing tool to help you connect to your customers, promote products and share updates. You can manage and analyze your campaign right from your dashboard. Besides, all the email templates are ready-made. You can focus on the email content instead of struggling with their formats.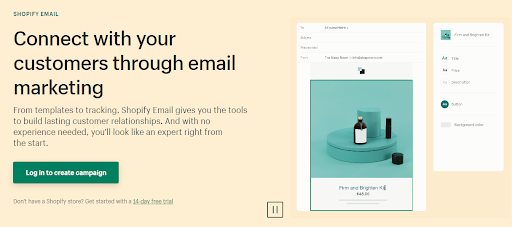 Another Marketing feature of Shopify is blogging. Although this cart offers blogging features, it isn't much professional and inferior to what Weebly offers. The Shopify blog only has basic functionalities for users to write posts.
Along with these above features, SEO is a notable factor in terms of Marketing features. Shopify URL structure isn't 100% customizable. Besides, it will be difficult to create sub-categories with Shopify, which can be an SEO pain for some.
Having said that, Shopify's SEO is quite good when viewing images, adding title, meta description is so easy. You can create 301 redirects when changing the URL to avoid 404 errors. Especially, fast loading site speed is the strength helping improve your Shopify store's SEO ranking.
App Store
When it comes to app stores, Shopify absolutely wins the battle when offering much more powerful apps for merchants than Weebly.
Currently, Weebly is offering more than 380 free and paid apps on the Weebly App Center. After visiting App Center, you can use Categories to search for what you are finding – eCommerce, Communication, Marketing, Social or Site Tools and Features. Or else, you can find your app based on your targets – Getting Social, Boosting traffic, or even Spiking sales.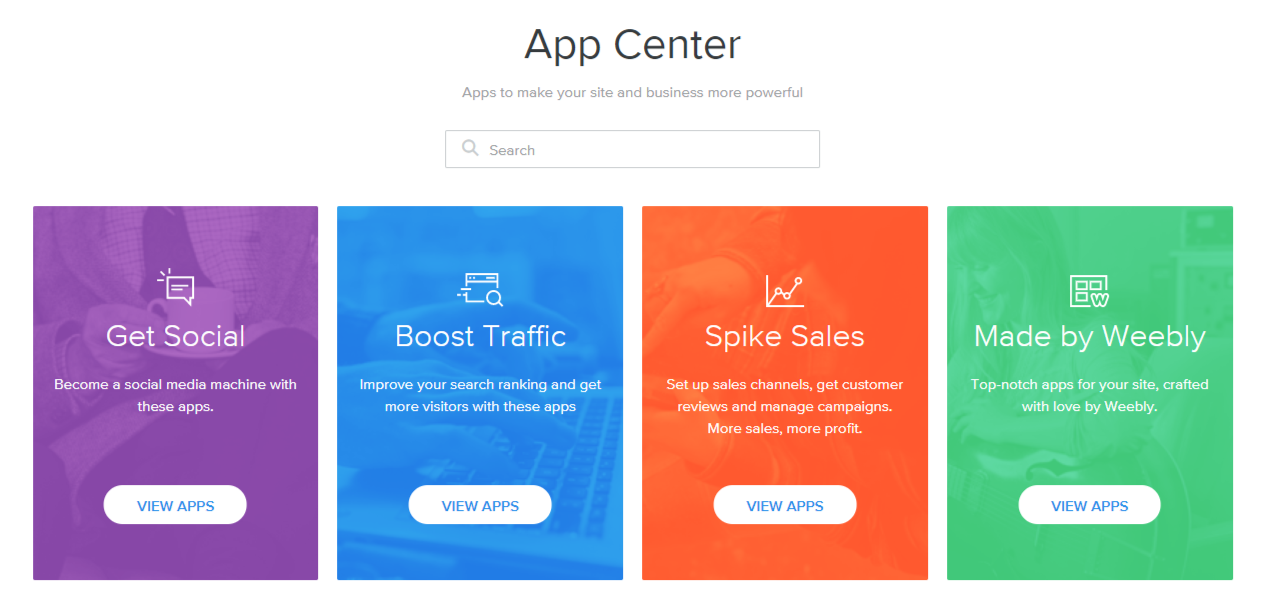 Tools in the app are integrated directly with your online store. You can easily install these apps with just a couple of clicks then see your apps in the Weebly Editor automatically.
It's not an exaggeration to say that Shopify is by far the platform with the biggest app store for eCommerce merchants. Till now, store owners can choose from more than 3.200 apps on Shopify App Store.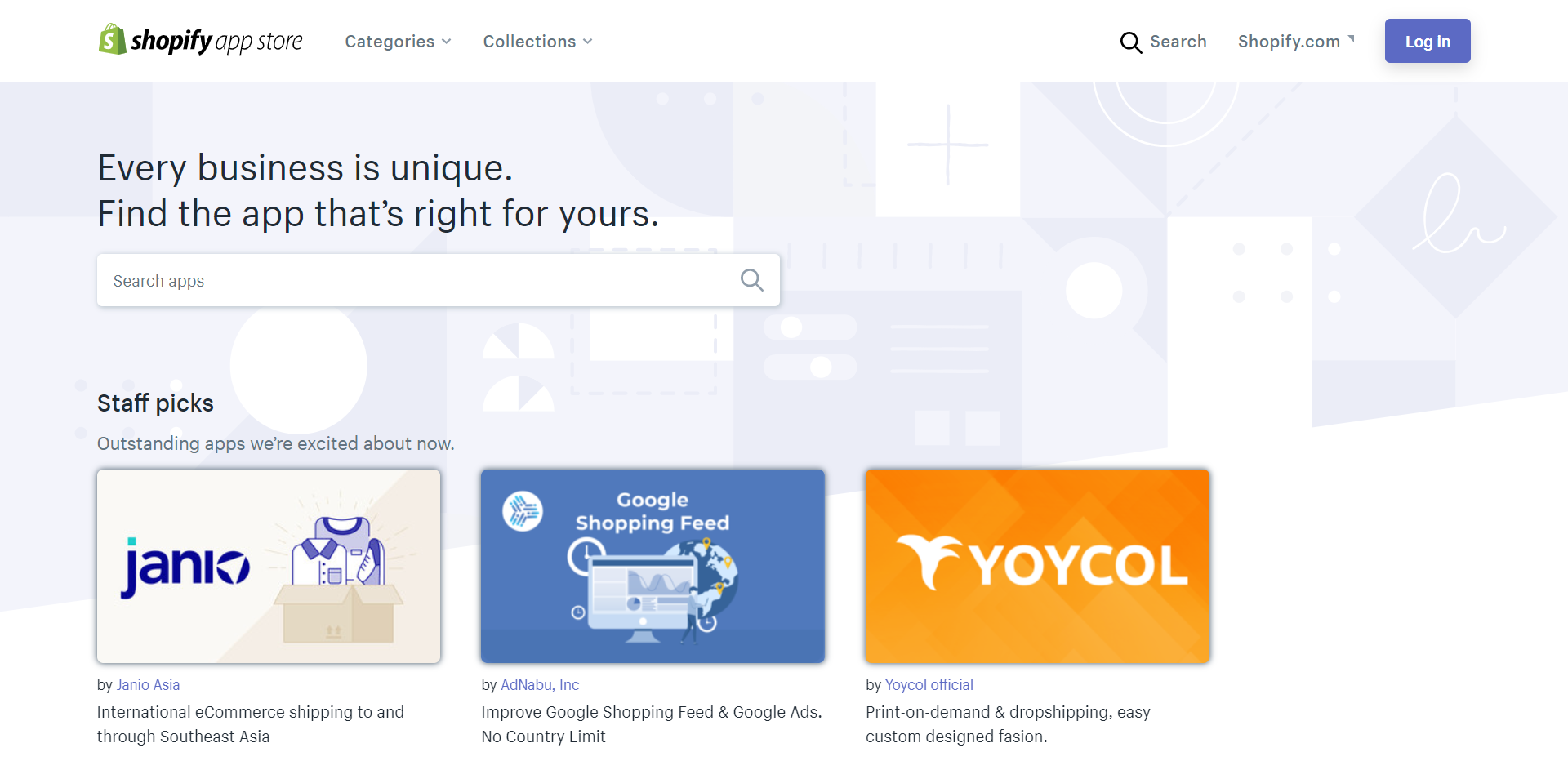 With a great variety of choices, Shopify divides these apps into 12 categories and 9 collections to help users find their suitable apps more easily.
Security
In fact, security is at the top of one online business' agenda. Both Shopify vs Weebly ensure a safe and secure space for your data with essential security measures.
Weebly keeps your store safe by providing SSL certificates and DDoS Mitigation for all plans by default. SSL certificates encrypt any data such as passwords and payment details passing between you and your customers. DDoS Mitigation protects your website from cyber-attacks.
This platform also allows you to enable password protection against unauthorized visitors from accessing your site. Furthermore, you can require a password for individual pages or the whole site.
Shopify, needless to say, has a high level of security. You don't even need to do anything, this platform takes care of all security tasks in the background.
SSL certificates are available on every Shopify site. In addition, Shopify is level 1 PCI DSS compliant. PCI DSS (Payment Card Industry Data Security Standard) protects the security of credit card data and cardholder data in eCommerce transactions.
Shopify has been issued SOC 2 Type II and SOC 3 reports for the service they provide to customers. SOC (Service Organization Control) reports are an assessment of a company's information systems certifying that the company meets standards including security.
Shopify vs Weebly – Conclusion
Overall, both solutions are the easiest eCommerce platforms for online merchants, especially the beginners, to base their businesses. Shopify vs Weebly provides necessary security measures for store owners to keep their data and customer information secure.
Shopify provides superior support service, template design, eCommerce features, and App store to Weebly. However, Weebly offers more attractive pricing plans and a bit better Marketing features.
If you are a beginner and looking for a good platform with adequate features, Weebly will be better suitable. In case you have a small, medium or large business, and you desire a comprehensive platform, Shopify can be an ideal solution for your business.
Are you planning to migrate your store?
After comparing Shopify vs Weebly, you may have already made your own choice for your business. If you plan to migrate from Weebly to Shopify and vice versa, let LitExtension give you a hand.
LitExtension is the No.1 shopping cart migration expert in the market. We offer an automatic migration tool to transfer all your important data including products, orders, customers, and far more.
Let's try a FREE demo to see how your transfer is implemented with our tool!
If you have any questions, please feel free to contact our support team. We are here to give a hand!