Introduction
Finding a good eCommerce platform will greatly affect the development of the stores as well as businesses. For users looking for a groundbreaking along with a sustainable platform to expand, they are always inclining to a powerful one like Shopify.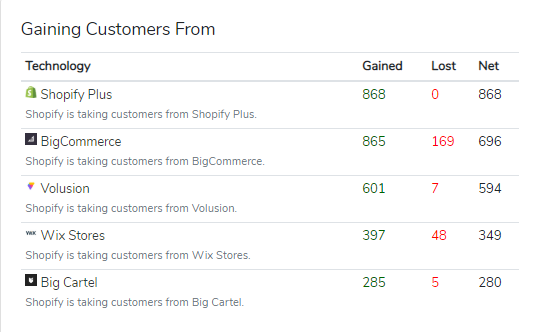 It can be seen that Shopify gets a lot of customers from other eCommerce platforms, partly because this platform has a strong community of users who are always ready to share and help. The rest is because of the breakthrough features that Shopify brings. For more details, please visit our Shopify review.
So the question is, how can you transfer all your important data if you're planning to move? To solve this, we'll show you the simplest way to import customers and orders to Shopify, which is two of the cornerstones of a revenue-generating store.
How to import customers to Shopify
When you want to import data into Shopify, first, you need to export data from the source store and then use the Shopify app to import data or you can import manually. We will guide you to do these 2 steps in the easiest ways.
1. Export Customers CSV file from source store
Each platform has different ways to export data via CSV files, so you may need to pay attention to how those platforms export data. Please refer to How to migrate to Shopify using the Import Store app.
Most importantly, when exporting the data, be mindful of the CSV file format regulations that Shopify requires. Incorrect formatting will result in file import failure.
The first line in the client CSV which located in the following CSV form must include all headers listed below.
| | |
| --- | --- |
| First Name | The first name of the customer. |
| Last Name | The last name of the customer. |
| Email | The email address of the customer. |
| Company | The name of the company that customer uses (if applicable) |
| Address1 | The first line of the customer's address. |
| Address2 | The second line of the customer's address(if necessary) |
| City | The city where the customer lives. |
| Province | The province or state where the customer lives. You must also enter the Province Code |
| Province Code | The province or state ISO code. Shopify uses ISO alpha 2 codes. |
| Country | The country where the customer lives. |
| Country Code | The country ISO code. Shopify uses ISO alpha 2 codes. |
| Zip | The postal or zip code for the customer's address. |
| Phone | The customer's phone number. |
| Accepts Marketing | Indicating whether the customer agrees to subscribe to email marketing, such as a newsletter. Valid entries are yes or no. |
| Total Spent | The customer's total amount spent. Valid entries must not include a currency symbol. This field will not be imported with customer details. |
| Total Orders | The customer's total number of orders. This field will not be imported with customer details. |
| Tags | A comma-separated list of tags used to tag the customer (for example, tag1,tag2,tag3). |
| Note | Additional information about the customer. |
| Tax-Exempt | Indicates if the customer is tax-exempt. |
If customer information is imported, your CSV file must be in UTF-8 format. Most spreadsheet applications are capable of saving CSV files in UTF-8 format using the Save As or Export command, according to the program.
2. Import customers into Shopify
There are two ways to import customers data into Shopify.
The first way is to import through the dashboard as follows:
 Navigate to the "Customers" tab on the left side of your dashboard upon login.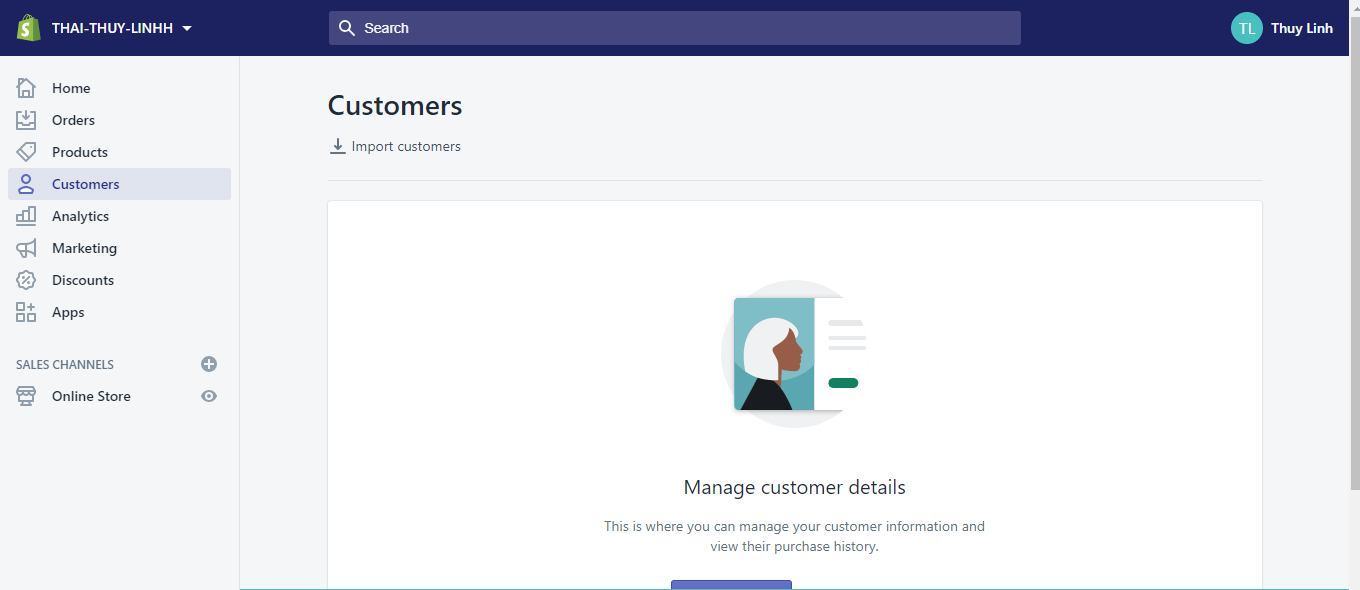 Choose the "Import Customers" button at the top of the page.
 Click on the "Choose File" button to import your CSV file from your computer.
 Finally, press the "Import customers" button.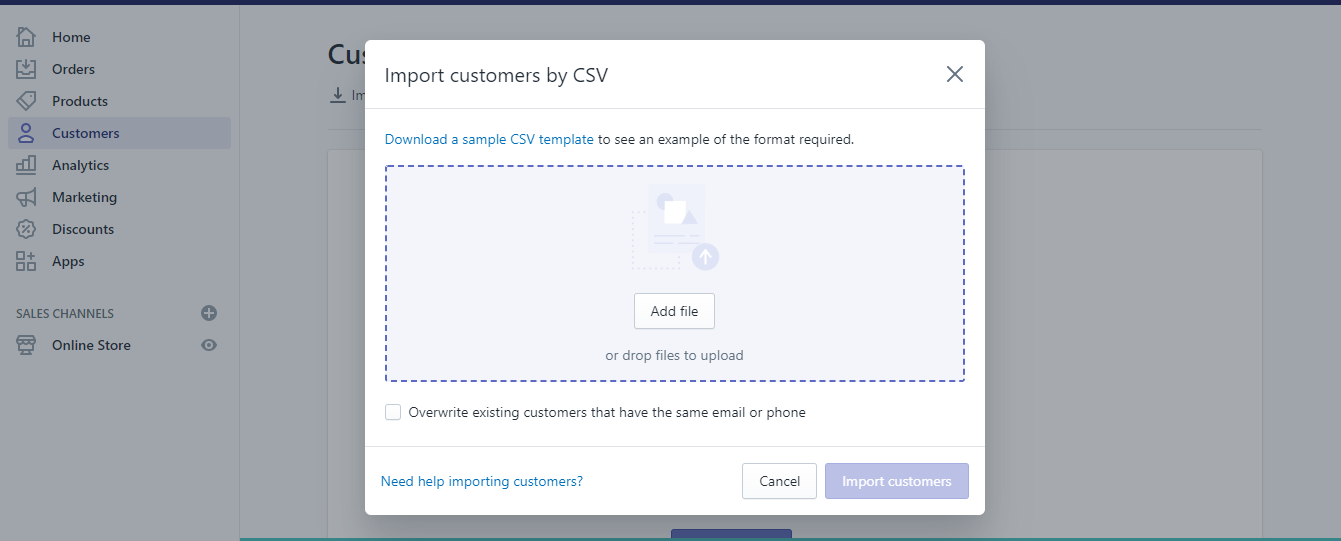 You can only import 1MB or less of customer CSV files. To get around this limit, you can import your customer records using several CSV files.
The second way is to use the tool on Shopify App as follows:
(You can choose from Shopify's apps to import data like Excelify, LitExtension's app,… etc)
On the Import your data into Shopify page, select Shopify from the drop-down menu.
Under Upload files, click Add file and select your exported files. You can select any number of CSV files.
Click Continue import > Import.
If the platform listed on the Import Store page is not the platform from which you are importing, then scroll down to the bottom of the page and press Choose Another Platform. From the drop-down menu, you can then choose Shopify.
How to import orders to Shopify
In Shopify, importing orders manually will be impossible so users may need to find another way to do this. You can use the app that Shopify has exclusively provided if you use Shopify Plus or use third-party apps. Each method has its pros and cons, we will give you specific information so that you can make a choice that suits your needs.
1. Using Transporter app (Only available for Shopify Plus)
Transporter app is an application used to import orders into Shopify store from other platforms using the CSV file (comma-separated values) including 2 main tools:
Transporter command-line tool: Used to export and convert data from a supported platform into a CSV file. Developers can edit source files with this tool and convert data from other platforms into CSV files. The command-line tool is an open-source Ruby gem that can be downloaded and installed from github.com/Shopify/shopify_transporter.
Transporter app: Used to enter orders data into Shopify. This app uploads CSV files and is available from the Shopify App Store
When using the Transporter app tool, you won't have to worry about modifying the form of the CSV file that Shopify requires. This works can save a lot of your time as there is no need to manually edit these files.
However, when using this App, your CSV file has complied with the following rules:
The CSV file name must include the object type name (product, customer, order)  in the file. For example, the file contains a customer record that needs to have the word customers in it. (for example, mycustomer.csv).
The CSV file must use UTF-8 encoding to avoid generating unwanted special characters in the file. If you save your file without using UTF-8 encoding, then your data will be corrupted when you upload it as a new spreadsheet. Shopify cannot recover corrupted files for you.
2. Using a third-party app
Shopify offers a wide variety of apps, so choosing a dedicated app to import orders is quite difficult for beginners as well as those who lack knowledge. So, we have a suggestion for you. It is EZ importer.
The outstanding features of EZ importer:
Bulk Orders Import: Migrate your Order History while migrating to Shopify. One time setup makes bulk import orders from ANY CSV file easy.
Time-Saving Migrations: Save time bulk importing orders from ANY source using the built-in Shopify data mapper. Easily select the fields you want to import.
Line Items, Transactions, etc Import: Bulk Import Multiple line items, transactions and discounts all from a single CSV file.
EZ Importer enables you to import your orders easily via CSV into Shopify. You won't have to waste your time adding fields to Shopify by hand, this app provides customer data mapper to map the field headers in your CSV with Shopify's order fields.
Moreover, you can seamlessly bulk import your external orders, from multiple sources. And finally, you don't have to worry about your CSV files and "upload data not found" in your file by using Shopify defaults feature.
Functions of Ez Importer:
Link your Orders to Your Products
Manage Inventory on Import.
Import From Another Shopify Store
Easily Migrate your orders from other platforms
Import Orders Risk-Free
Conclusion
Importing data to a new store is extremely important for the shop owners who want to move from the original platform to a more robust one, as here is Shopify. We have shown you how to import customers and orders to Shopify by manually importing and using Shopify's App.
But for store owners who use Shopify Plus, there will always be a team to assist in importing and exporting data from the old store to the new one.
Each method has its advantages, but most users won't have to manually export and import data, Shopify also offers applications so you can minimize the time and resources you need to invest.
But if you find these things too difficult and time-consuming while you need to set up a new store in Shopify without a hitch, please contact us to receive Migrate Data at LitExtension service. We provide data transfer from one platform to a more powerful one service. Moreover, with just a few clicks you can migrate orders, customers and products to your target store in no time. 24/7 support team is always ready to help. Let's join our community to get more eCommerce knowledge.