Introduction
With the booming of online selling, opening a live shop would be a promising decision to stabilize your finances. However, it is a real challenge for merchants to select a suitable eCommerce platform, especially when it comes to choosing from hundreds of providers out there! OpenCart vs PrestaShop – both are excellent eStore builders that give you the flexibility to create a made-to-measure storefront. Each of them possesses features that possibly empower your store, along with certain limitations which may hinder your path.
If you are considering between OpenCart vs PrestaShop, keep reading because this article is notably what you need. In the next paragraphs, we will be providing you with the pros and cons of these two platforms to figure out which best suits your preferences.
Overview
PrestaShop Review
To begin with, PrestaShop is a prominent content management system (CMS) published under the General Public License that operates as an eCommerce platform. It is well-known for a fairly easy-to-use back office as well as a nicely designed interface. Therefore, PrestaShop is preferable for newbies and those who aren't tech-savvy.
Currently, PrestaShop is attempting to gain a firm foothold in the market by enriching 316,199 online merchants with over 600 powerful built-in features. In addition, the growth of the PrestaShop community once again proves the popularity of this open-source cart.

Besides that, PrestaShop allows its users to make changes to the underlying code. Therefore, you can totally create a stunning storefront that meets your business demand.
However, you should keep in mind that this platform uses the PHP language and runs on the Smarty Template Engine. Hence, only Unix, Linux, and Windows operating systems are compatible with PrestaShop.
OpenCart Review
OpenCart, similarly, enables free access to its source code so that store owners can easily adjust and modify the web pages to their own taste. The software is published under the Open Source License and written in the PHP language with MySQL database and HTML components.
Being a newbie-supportive eCommerce platform, OpenCart has been a reliable home for 421,853 live websites all over the world as of December 2020. The reason lies in the simplicity and user-friendliness to manage your online business flawlessly.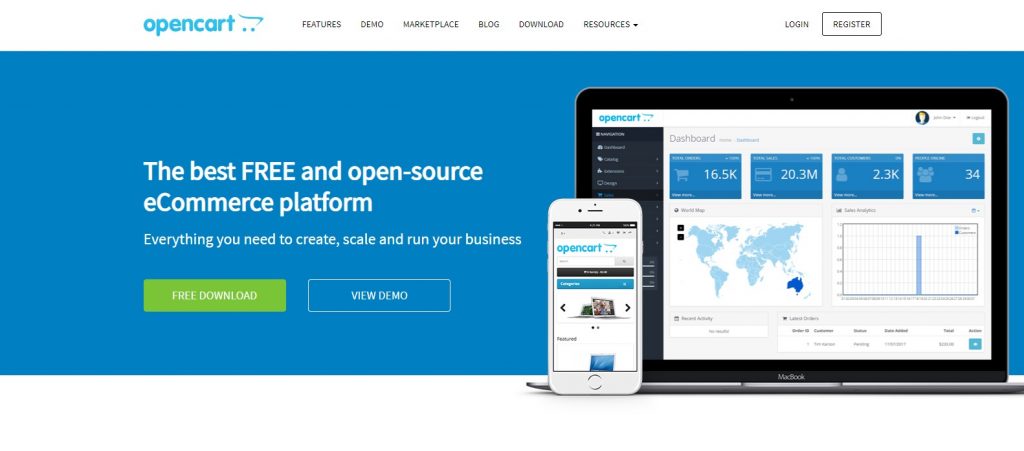 In the most general sense, both OpenCart vs PrestaShop gets their names on the score sheet by offering an easy-to-use administrator dashboard. As a result, users can effectively manage store entities even though you don't have a firm technical base.
In spite of the fact that OpenCart vs PrestaShop is two prevailing self-hosted solutions, there are some differences that you need to take into consideration. Let's scroll till the end to let the answer be revealed.
Stay tuned!
OpenCart vs PrestaShop – Pricing
PrestaShop Pricing
Regardless of the fact that you can enjoy the free downloadable version, PrestaShop requires you to pay for an SSL certificate, a hosting service as well as modules at steep prices (up to 999.99€ per module) to complete your store. Therefore, you may need to hire a professional developer to help you with CSS, HTML, PHP, and other technical issues.
Otherwise, you can search for official web hosting partners to ease the complexity of setting up a PrestaShop store. However, some of them are only available in several countries. This means that the price of web hosting packages will depend on your location. In turn, you can make use of great deals from these partners.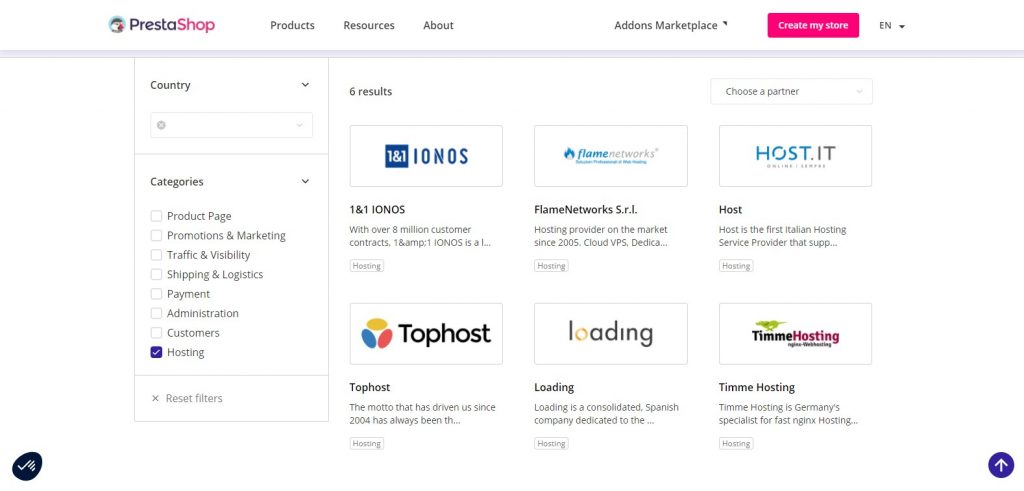 Another option for you to save the cost is to wait for the advent of PrestaShop Ready. This SaaS edition only charges you around $20 per month. Plus, this version is especially friendly for those who don't have technical skills.
OpenCart Pricing
Likewise, OpenCart is a free-to-download open-source platform. Nonetheless, hosting, a domain name, and an SSL certificate are compulsory factors to make your store valid for normal operation.
Because OpenCart is a lightweight platform, it is not too expensive to get suitable web hosting for your store. However, another optimal choice for you is to use the OpenCart Cloud version hosted on the Amazon web service servers. Then, you can choose from 3 different packages as the image below: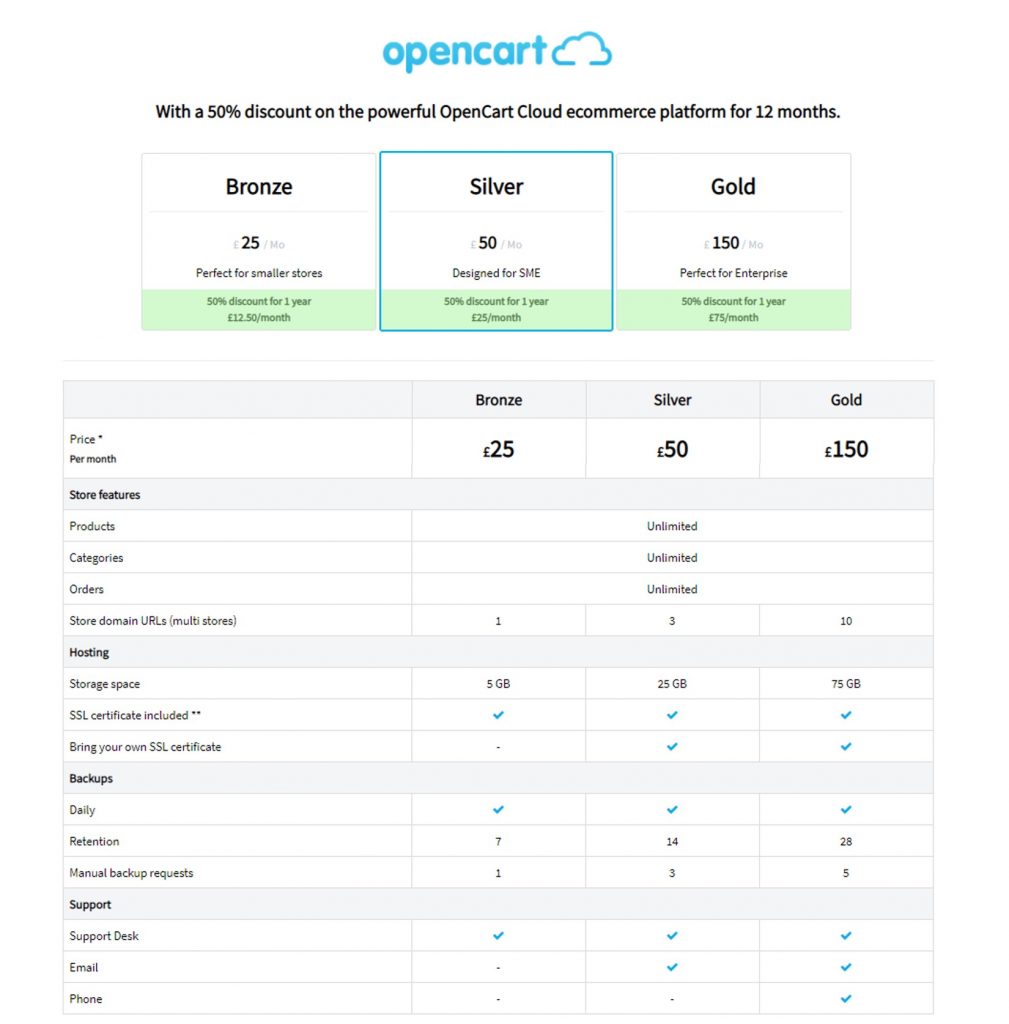 Plus, you may need to equip some extensions. Some of them are free. The rest may cost you up to $99,999.90 to install.
The verdict
Thanks to the nature of open-source carts, both OpenCart vs PrestaShop are free to download and install. However, store owners need to take into account all of the required expenses before opening the store, namely, web hosting, domain, SSL certificate, and modules/extensions.
However, OpenCart edges PrestaShop out thanks to its transparent, affordable hosting price.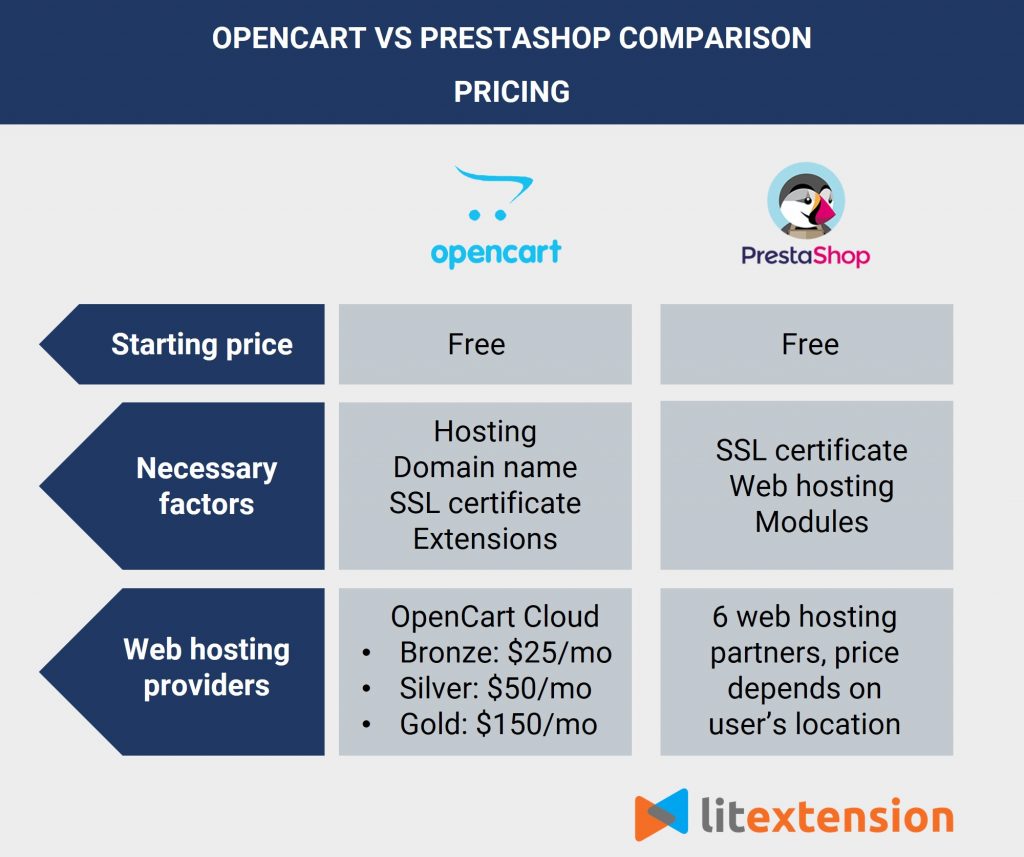 OpenCart vs PrestaShop – Ease of use
Both OpenCart and PrestaShop gain popularity by continuously optimizing their management system to be user-friendly.
First of all, PrestaShop users get access to a sleek dashboard with layered navigation that enables them to see their store performance at a glance. Apart from that, you can equip your shop page with powerful add-on modules that improve its internal functions.
Its rival, OpenCart, attracts online merchants by providing an intuitive interface and a simple installation process. On top of that, this platform has a modern admin panel that is fairly similar to that of other eCommerce builders. Therefore, you literally don't have to spend much time learning how to use and customize your OpenCart store.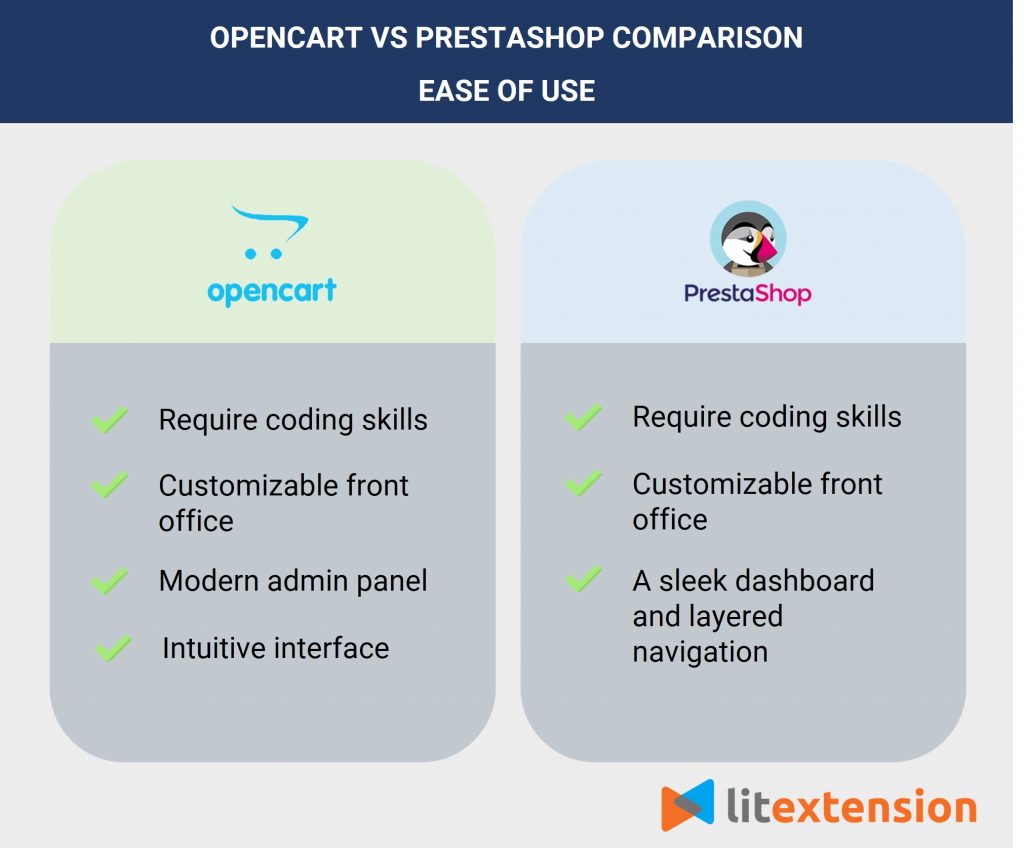 Themes & Customizability
Undoubtedly, a dazzling website design will essentially boost your store's visibility and checkouts. Therefore, many store owners may prioritize themes and customizability when considering a platform to settle in. Now, let's dive deeper into OpenCart vs PrestaShop's display.
PrestaShop Themes
PrestaShop is truly a huge supply of high-quality, mobile-responsive templates with more than 2000 themes in total. Besides PrestaShop, partners and professional designers also contribute to the massive amount of options. Therefore, you can purchase a premium template to enhance your store's look for spectacular selling purposes rather than using the basic default theme.
Don't forget to check the best PrestaShop themes that you shouldn't miss in 2021.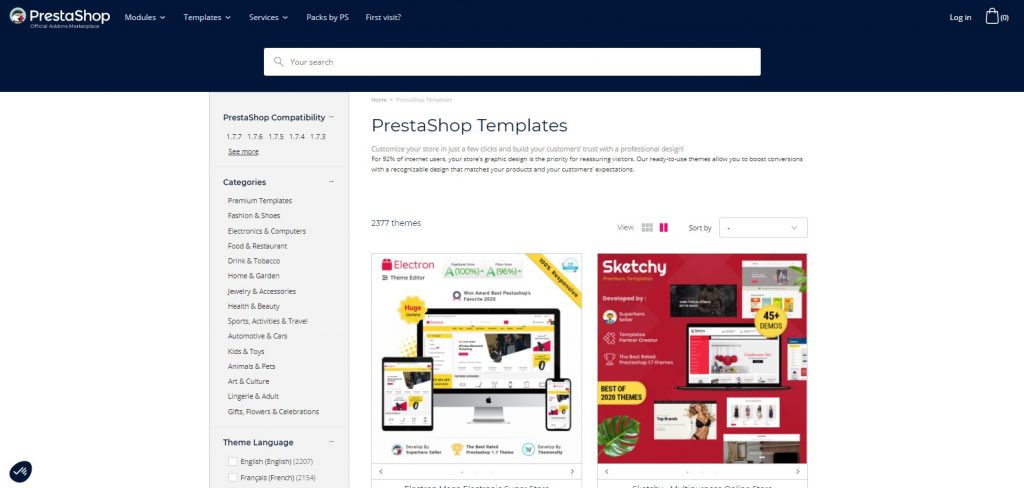 As an open-source website builder, PrestaShop allows its users to edit the underlying code. However, specific knowledge about HTML, CSS, and design is a must if you want to customize existing themes or create a new one from scratch.
One thing you should take notice of is that some mobile-responsive themes are not compatible with desktop screens. Hence, think carefully before picking your favorite one.
OpenCart Themes
On the other hand, OpenCart only offers more than 1700 themes (both free and paid ones), which are fewer than PrestaShop. Nevertheless, the exposure to slick, eye-catching themes would definitely blow your mind at once!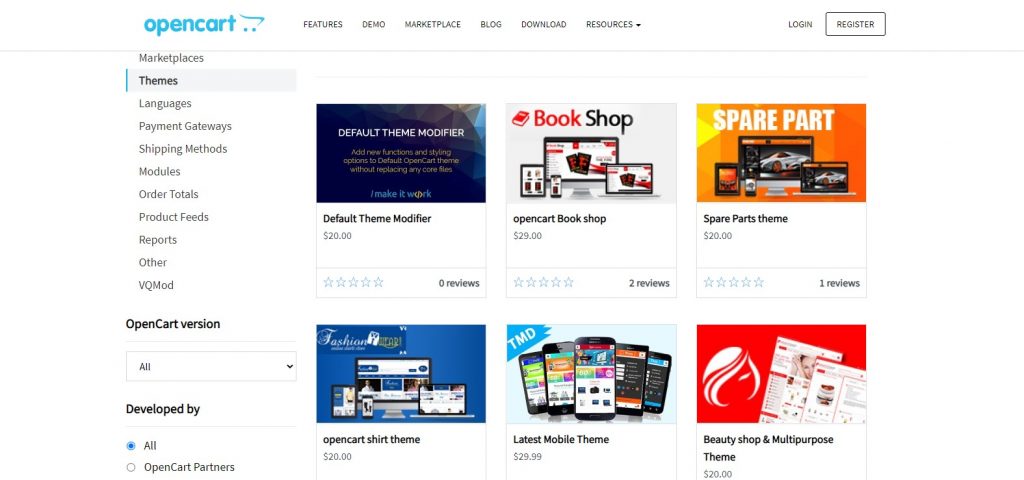 Apart from free themes, you can search for a wider selection from third-party vendors like Themeforest or Template Monster. Most importantly, OpenCart's advanced theme system allows you to preview how your website will look by conducting pre-modifications before opting for it.
Aiming at fostering its customizability, those with development skills can access the backend code and extend their store functionality that aligns with their business objectives.
The verdict
OpenCart wins in this round regardless of fewer themes. In turn, it allows store owners to customize their storefront on their own as long as they are technically skillful enough to modify the code.
In spite of the fact that OpenCart charges you up to $6000 for a website template, you can choose another one that fits your business at a relatively lower price.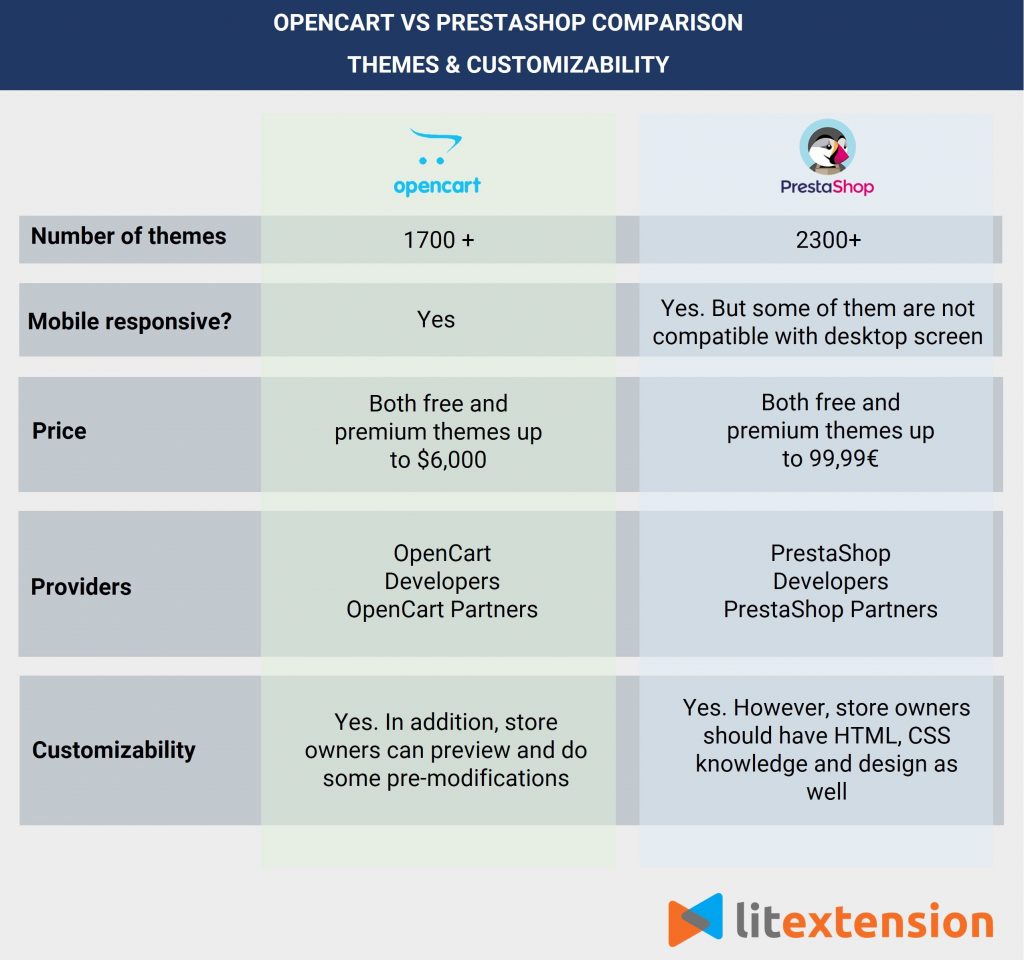 OpenCart vs PrestaShop – Internationalization
In this round, we would focus on three main aspects of OpenCart vs PrestaShop: Languages, Taxes, and Currencies.
PrestaShop
OpenCart
Languages
PrestaShop offers 75 language translations for your international plans
The default language for OpenCart's storefront is English. For multiple languages, you will need to install the language pack Extension Directory.
Taxes
PrestaShop users will apply the default sales taxes to all countries and locations. Due to some limited tax configuration settings, you cannot apply a specific tax to your store item.

To automatically apply precise tax rates, store owners should add the tax rules in the International section.

Contrary to PrestaShop, those who own an OpenCart store can set a specific tax rate for specific products. To make changes to your store tax rate, you need to navigate to Tax -> Localisation and follow OpenCart's instructions.
Currencies
You will use the default currency to set the item price. Especially, your PrestaShop store only displays one currency at one time.

To change the currency, you need to import a localization pack after navigating to the Localization section from the dashboard.

Similar to PrestaShop, the default currency will display all the product prices of your store.

No matter what type of default currency is, your store visitors can easily change it to their preference in the header section of any page in the front office.
PrestaShop Modules vs OpenCart Plugins
PrestaShop
Surprisingly, PrestaShop decorates itself with more than 3700 modules. Most of them are from a collaboration with third parties.
The Prestashop's modules support a wide range of features such as design & navigation, shipping & logistics, administration, promotion & marketing, payment, etc.
Besides modules, PrestaShop also offers access to a collection of 56 plugins on its marketplace. Some modules and plugins are free to download and install while others charge a fluctuating fee.
Furthermore, in some special events such as Black Friday or Christmas, you may get discounts on premium add-ons, which save you a lot of money.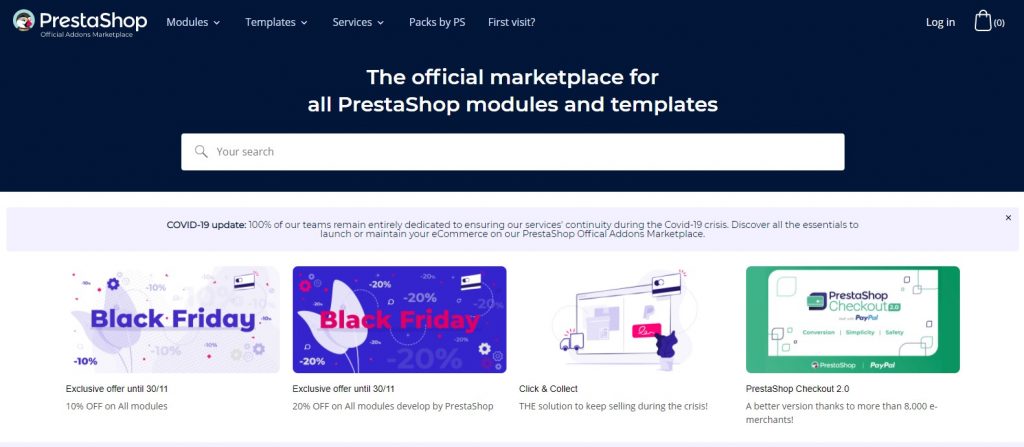 Noticeably, it is worth noting that these add-ons are made by different developers. Therefore, it is hard to verify whether they work well together. The worst case is that the integration of these modules could possibly lead to unexpected glitches in your store, affecting the overall business operation.
OpenCart
Similar to PrestaShop, OpenCart allows business owners to integrate their store with over 13,000 out-of-the-box extensions and plugins. All add-ons are provided by developers and OpenCart partners. Most of them are free of charge, or you can purchase the paid ones starting at $20 per extension.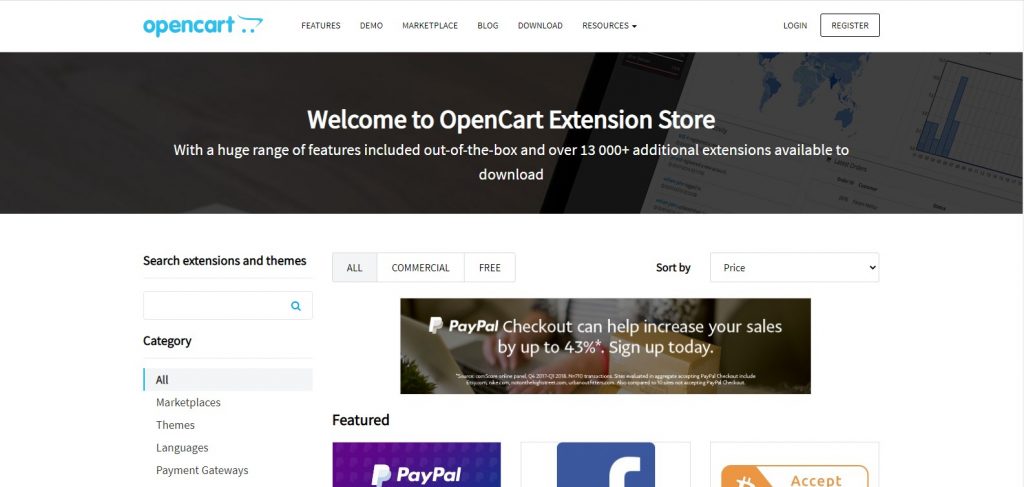 OpenCart vs PrestaShop – SEO & Marketing
SEO or Search Engine Optimization comes as a must-have weapon for eCommerce stores to boost product visibility. Let's dig into our analysis on OpenCart vs PrestaShop's SEO features.
PrestaShop SEO & Marketing
Using PrestaShop, merchants can make use of a good internal SEO mechanism. In detail, PrestaShop authorizes its users to generate friendly URLs automatically, edit pages and meta tags, adjust XML sitemap and robot.txt file, utilize canonical tags, and etc.
In case these basic functions cannot meet your demand, you can purchase some additional modules from the PrestaShop gallery. Considering the superior functions of these add-ons compared to the fundamental ones, you may need to pay a high price. Therefore, you should think thoroughly before making the payments.
OpenCart SEO & Marketing
In contrast, OpenCart receives a lot of negative feedback about its SEO limitations. First of all, you need to have the PHP coding skills to optimize your store rankings on search result pages, for example, editing meta tags, adding 301 referrals and rel canonical, and so on.
Apart from that, OpenCart doesn't support individual URLs. This probably makes newcomers struggle with those processes.
Fortunately, you are capable of accessing a bunch of extensions that will help you leverage your store's SEO performance. The price of these packages depends greatly on the extent of functionalities they can offer.
The verdict
In this round, PrestaShop leaves OpenCart miles behind because OpenCart's SEO features are not fully optimized by default. In other words, OpenCart won't be performing automatically on search engines in the most friendly way as other eCommerce platforms without technical skills or extensions.
OpenCart vs PrestaShop – Security
The fact that OpenCart and PrestaShop are two open-source carts makes them really vulnerable for hackers to detect and exploit security issues. Despite the risk, these platforms do not pay attention to releasing frequent security patches.
Instead, they recommend online merchants install third-party add-ons to ensure a security level. Besides that, OpenCart creates an official document giving basic security practices for its customers to follow.
However, adding a security module and extension cannot ensure the utmost safety of your business data. Due to some unintentional mistakes, hackers may seize the chance to steal your store information by making changes to the add-ons right before you install them. Therefore, you must find reliable technology partners to avoid using software of ambiguous origin.
OpenCart vs PrestaShop – Help & Support
PrestaShop
Aiming at bringing the top-in-class service for the increasing demand of running an online business, PrestaShop offers a powerful and diverse customer support service.
Store owners can benefit from two support systems which are PrestaShop Online Assistance and PrestaShop Technical Assistance. The first source includes official documents, guides, webinars, tutorials, blogs, FAQs, training courses (for both store owners and developers), and a forum.

Remarkably, PrestaShop currently has the largest community in comparison with other shopping carts, with more than 1,200,000 members in total.
One important thing that makes PrestaShop stand out from other open-source solutions is that it provides dedicated support for those who run the eBusiness on this platform. Its Technical Assistance service allows you to arrange a meeting up to 15 minutes with PrestaShop experts, or direct phone calls to the support team.

In addition, PrestaShop provides 4 support plans that require you to pay from 50€ to 1,400€ including:
Or else, you can hire PrestaShop agencies to solve your store-related issues.
OpenCart
OpenCart users can choose from several support service types including online documentation, video tutorials, blogs, and a forum. However, its community forum is not as large as other platforms. There are only more than 120,000 users, over 10 times smaller than that of PrestaShop.
The good news is that its public forum is incredibly active. Hence, you can easily find the answer to solve your store's problems.
What is commendable about OpenCart compared to other self-hosted solutions is its dedicated support with a monthly fee of $99. Another option for you to choose is a One-time fix offering one-time technical help starting from $99 as the image below: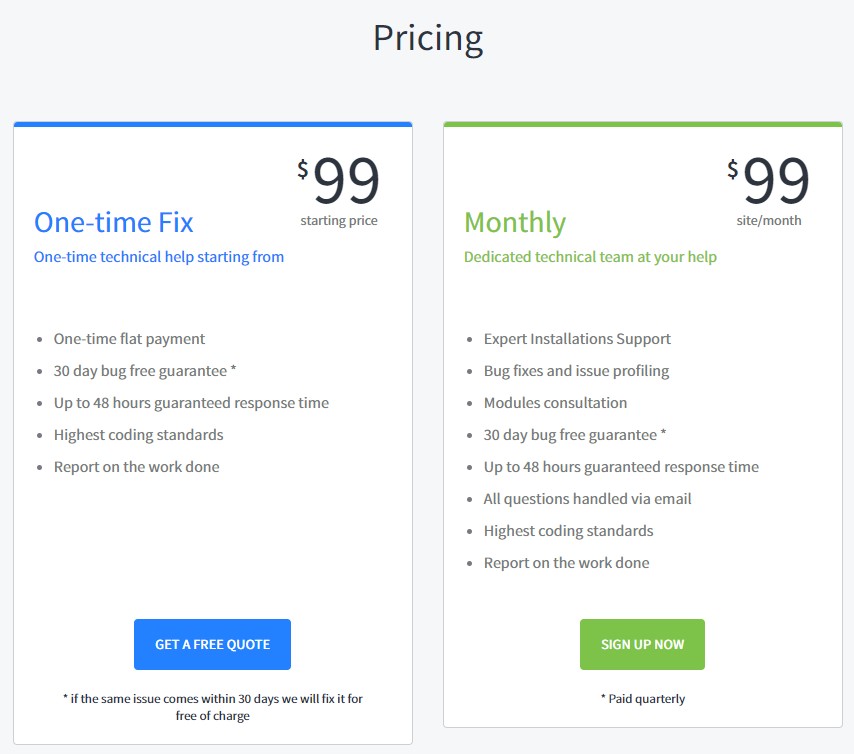 Additionally, OpenCart provides a web ticket module in case you have specific requests.
The verdict
In this aspect, PrestaShop is better than OpenCart thanks to various ways of offering customer support.
Conclusion
Both OpenCart and PrestaShop are outstanding eCommerce platforms that satisfy the increasing demand for online selling with little effort.
Each of these platforms equips itself with fascinating features that make your online business thrive with sales. Therefore, defining which one is the cream of the crop is not an easy job. Therefore, we hope that this article helps make the choice easier by comparing several aspects of OpenCart vs PrestaShop.
After all the factors discussed above, OpenCart seems to be a good option for those who have a thirst for store customization. On top of that, OpenCart is relatively user-friendly in case you are new to the eCommerce industry.
Meanwhile, PrestaShop is likely to encourage users to install modules to create a feature-rich store. Although these extensions have the power to deal with PrestaShop's shortcomings, the obvious result is that you need to pay extra to strengthen your business.
If you are planning on migrating to OpenCart, PrestaShop, or to any website builder from your existing one, LitExtension is eager to help! As the world-leading shopping cart migration with impressive rankings on Trustpilot, Financeonline, and Youtube, LitExtension can transfer all your store entities automatically, securely, and quickly with no technical knowledge required!
Should you have any questions about your store migration, don't hesitate to contact our support team. We are here to solve all of your problems immediately! Join our Facebook Community to get more eCommerce tips and news.