In order to run an online business profitably, choosing a suitable shopping cart solution is extremely essential. Among the most well-known shopping cart solutions, PrestaShop vs Magento are two of the most prominent names. It could be challenging to determine the better platform between these two.
Generally, Prestashop is easier to use, offers more pre-made themes, and is suitable for small to medium web stores. On the other hand, Magento performs better when it comes to massive-scale stores with a large number of visits at a time. This article will provide you:
An overview of Prestashop vs Magento
A comprehensive and detailed comparison between PrestaShop vs Magento
Advice on what eCommerce platforms are the best suit for your business
Overview of Prestashop vs Magento  
Prestashop
Prestashop is a feature-rich open-source eCommerce solution. Despite being an open-source platform, Prestashop is fairly easy and convenient to use. There are currently over 251,000 websites which are running on Prestashop.
Advantages of Prestashop:
User-friendly: Store owners with hardly any technical knowledge can easily handle and maintain their websites on Prestashop platform. Indeed, Prestashop is easy to install, and the platform also has a simple design and back-end interface.
Budget-friendly: As long as the store on Prestashop is not complex, users can use shared-hosting web services and cloud hosting, which are fairly low-budget hosting solutions in comparison with self-hosting. Therefore, generally, Prestashop requires low investment.
Disadvantage of Prestashop:
Limited scalability: Prestashop is suitable for small to medium stores. Once a store on Prestashop grows into massive scale, it might experience lags in various aspects like page loading time or back-end performance. Consequently, Prestashop would not be the best choice for eCommerce giants.
Magento
Magento is also an open-source platform with over 180,000 website users. This platform is outstanding in customizability. Moreover, it also has a wide range of apps and extensions.
Advantages of Magento:
Is exclusive for large-scale eCommerce businesses: Magento provides powerful built-in features such as high volume selling, loyalty program management, plenty of built-in functions and seamless payment and check-out.
Strong scalability: Magento offers the Enterprise version for large-scale eCommerce websites. It is well-known for being capable of comfortably coping with up to 50,000 visits per hour. Furthermore, Magento also has a huge community of developers and a collection of extensions. In short, Magento ensures smooth and precise work of a website no matter how huge it becomes.
Disadvantages of Magento:
Complication: Things might get tough if you are not technically experienced as Magento installation, modification and administration require advanced technical skills.
Could be expensive: Beside regular fees like ongoing maintenance costs, updates, changes to functionalities, plug-in softwares, there are two types of cost that would make Magento a little pricey. Firstly, since it is a resource-incentive and heavy solution, Magento requires dedicated servers. Secondly, since Magento requires high level of coding expertise, store owners might need to hire developers, which adds to the cost of running their businesses. Thus, it might not be a problem for large-scale corporations, but for small to medium stores, this cost would be remarkable.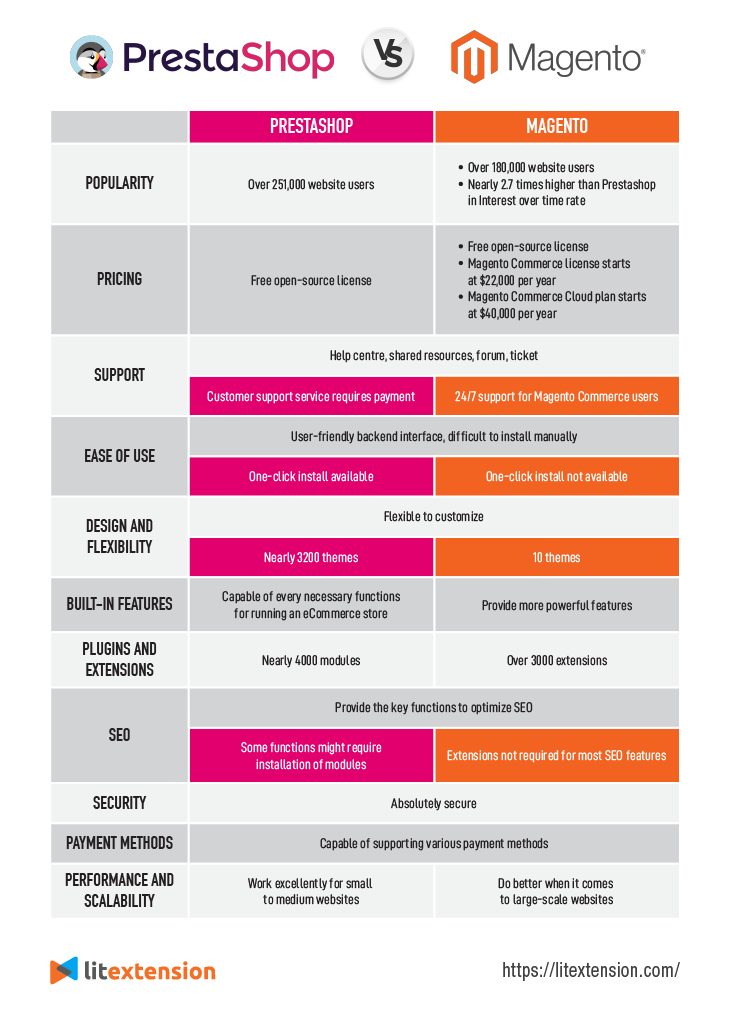 Prestashop vs Magento – Detailed Comparison
1. Popularity
As mentioned above, Prestashop is exceeding Magento in terms of user quantity. However, it does not necessarily mean that Prestashop is more popular than Magento. And we have to keep in mind that Magento had put an end to Magento 1 on the 30th of June this year, which compelled Magento 1 merchants to migrate to either Magento 2 or other eCommerce platforms.
In fact, real-time data shows that Magento is losing umpteen customers to other platforms. There is the possibility that this could be one of the causes of Magento currently having a lower number of users than Prestashop.
Moreover, Magento is superior to Prestashop in terms of the scale of customer's brands. In fact, some heavyweights that are operating their website on Magento platforms are Ford, Liverpool FC, Jaguar, Christian Louboutin, and Ahmad Tea.
Furthermore, it can be seen that on average, from July 2019 to July 2020, the popularity of the 'Magento' search term scores 86 in interest over time (IOT), which is nearly 2.7 times higher than the IOT of Prestashop.
Based on the aspects discussed above, it can be acceptable to conclude that Magento is surpassing in terms of popularity.
2. Pricing
Magento
Magento editions:
Magento Open-source (Magento Community) is freely available. This edition is suitable for small businesses. Magento Commerce (Magento Enterprise) price varies from $22,000 to $125,000 annually, depending on gross sales revenue. The more gross revenue a merchant generates, the more the Magento Commerce license costs. This edition is for store owners who aim at rapid growth and scalability. Magento Commerce Cloud which bundles together licensing and AWS-based managed hosting starts at $40,000 per year. Similar to the cost of an enterprise license, the cost of this hosting solution depends on the revenue of firms. The table below summarizes the pricing tiers of Magento Enterprise solution edition and Enterprise Commerce Cloud edition. Nevertheless, it is notable that this price is negotiable, therefore, the cost of Magento solutions for a firm might not strictly follow the table below.

| | | |
| --- | --- | --- |
| Gross Sales Revenue | Solution cost | Cloud cost |
| $0 – $1 million | $22,000.00 | $40,000.00 |
| $1 – $5 million | $32,000.00 | $55,000.00 |
| $5 – $10 million | $49,000.00 | $80,000.00 |
| $10 – $25 million | $75,000.00 | $120,000.00 |
| $25 – $50 million | $125,000.00 | $190,000.00 |

Magento hosting:
Even when you use Magento Open-source solution which is free, you would still have to pay for hosting which costs about $20 per month on average. The table below summarizes the price of some Magento hosting service providers.

Provider
Company size
Load speed
PCI Compliance
Price from (month)
SiteGround

SMB

Shared options

Yes

$3.95

SimpleServers

Medium/Large

Shared, Dedicated, Cloud.

Magento support

Yes

$18.40

Bluehost

SMB

Shared, VPS, Dedicated

Yes/No

$2.77

Nexcess

SMB

Shared and Dedicated

Yes

$19.95

HostGator

SMB

Shared, VPS, Dedicated

Yes/No

$3.95

A2 Hosting

SMB

Shared, VPS, Dedicated

No

$6.27

Magento themes: Lots of Magento ready-made themes are freely available on Magento open-source ecosystem. The paid themes cost from $30 to $499. In addition, firms could also hire designers or developers to customize their website themes, which costs additional fees.
Magento extensions: There are many Magento extensions that are available for free thanks to the open-source community. Clearly, there are some extensions that still require payment which ranges from $25 to $28,700.
Magento website development: As discussed above, Magento requires advanced development skills to fully optimize. Store owners who lack this knowledge or large-scale businesses would have to hire labor to develop their website either in-house or outsource. The cost of it varies vastly depending on the scale of their online stores and the degree of customization needed.
Prestashop
Prestashop edition: As an open-source platform, Prestashop is free to set up.
Prestashop hosting: There is no hosted edition available for Prestashop. Therefore, customers can use hosting plans as listed above such as SiteGround, Bluehost or HostPapa. Customers can also get even cheaper deals from Prestashop official hosting partners 1and1 hosting and A2 hosting.
Prestashop themes: Prestashop themes pricing starts from 60€ (about $70) to 300€ (about $348).
Prestashop add-ons: Equivalent to Magento extensions, there are many freely available Prestashop add-ons. The paid-for add-ons price starts at 30€ (about $35) to 5000€ (about $5806).
Thus, for small to medium stores, the cost of operating on Magento and Prestashop is not significantly different. However, the major distinction between the two platforms regarding price appears when it comes to large-scale businesses. In this case, Magento provides more pricey solutions.
3. Support
Since both Prestashop vs Magento are open-source platforms, users must seek the answers to their queries on the help center, knowledge base, shared documentation, and resources of the platforms. Users of the two platforms can also support each other's concerns on forums as well as seek the help of staff in these communities.
Currently, there are over 445,000 members on the Magento forum while the number of members on the Prestashop forum is over 1,292,000, which is nearly three times higher than its competitor.
In addition, customers could also submit their queries via ticket to the platforms. A noteworthy thing is that the Prestashop ticket function is only available in paid add-ons, while Magento offers free support via ticket.
Especially, customers of Magento Commerce license receive much more active customer support than the Open-source plan. To be more specific, while Open-source plan users have to look for solutions themselves, customers of the Commerce edition can reach Magento Enterprise Edition Customer Support via online portals and telephone. Technical support with a real person is available 24/7. Moreover, Customers can also pay an extra fee to be supported by Magento Expert Consulting Group.
On the other hand, Prestashop provides customer support services that require payment. One example is the "Prestashop Support Plan" which includes speedy customer support and expert consultancy. This service would cost from 249€ to 1399€ depending on the support level.
According to customer opinion, both Magento and Prestashop are doing excellently in terms of customer support as they both score 4/5 on Capterra.
4. Ease of use
The back-end interfaces of Prestashop vs Magento are both intuitive. However, the tricky part is installing and setting up your store manually. The set-up process of Magento for new users can be complicated. You might find steps like transferring files via FPT and running several commands challenging.
It would be equally complicated to install Prestashop manually. Nevertheless, there is a more simple and time-saving alternative to do it. Some web-hosting providers include a one-click installation script that allows you to install Prestashop with just one click. After that, when your site is up and running, daily operations are fairly simple.
If you still unsure about how to get Prestashop for your store, check out this Prestashop tutorial for more helpful guides
Regarding the backend interface, despite being hard to use for non-technical users in the previous version, Magento has made significant improvements in the overall UI and UX offering since Magento 2.0. Now, the backend admin of this platform is much more user-friendly.
You can find more exclusive features of Magento Commerce here
To sum up, Magento Open-source offers more powerful features than Prestashop, but Magento Commerce edition would provide even more diverse and advanced features.
7. Plugins and extensions
There are over 3,000 extensions available on Magento marketplace. Over a third of them falls into the Content & Customizations category, and the rest serve other purposes of Sales, Payment & Security, Shipment & Fulfillment, Site Optimization etc.
Prestashop exceeds Magento in respect of extension quantity as it provides nearly 4,000 add-on modules. These modules are sorted not only by categories but also purposes such as traffic, conversion rate or customer relation.
8. SEO
Both platforms provide the key functions to optimize the SEO of your website such as URL modification, adding canonical tags or adding 301 redirects. However, some SEO practices require Prestashop users to install modules while on the Magento platform, they are built-in. Adding to the list of built-in features, Magento Commerce edition also provides other advanced marketing tools such as customer segmentation and targeting as discussed above, or analytics and report generator.
This table sums up the most necessary SEO practices available on the two platforms:
| | | |
| --- | --- | --- |
| SEO features | Magento | Prestashop |
| Page titles | Available | Available |
| Meta descriptions | Available | Available |
| Personalized URLs | Available | Available |
| 301 Redirects | Can manually adjust in Magento internal URL Rewrite Management system or use extensions | Can manually adjust in the root folder |
| Sitemap | Available | Require Google Sitemap module |
| Canonical tags | Available | Available |
| Google tools | Available | Require modules |
9. Security
For Prestashop, its downloadable set-up file is PCI compliant. Payment Card Industry Data Security Standard (CPI DSS) is a data security standard with which every company that accepts card payment needs to comply.
In addition, there are numerous Prestashop security modules that store owners can install, for example, the Official GDPR Compliance ensures your store compliance to the General Data Protection Regulation law, which is a regulation in EU law on data protection and privacy.
Another example is the Security Lite module which reduces the risk of unauthorized access by adding another layer of security to your Prestashop website. The features of this module include:
Brute force protection
Analyze HTTP headers
Block custom list of IP addresses
Block custom list of user agents
Ban IP's
Automatic backup database
Generate strong passwords
Fix insecure permissions
Remove malicious files
Disable right-click
Disable right-click for images only
Check your shop for all known vulnerabilities
In the case of Magento, the platform fixes its security vulnerability every 10 to 15 days using Magento security patches. The Open-source edition of Magento offers Content Security Policy which is a structured collection of guidelines that can set bounds for the content of browsers such that only whitelisted services appear. This lets the browser decide which web tools should be blocked and can be trusted. Similar to Prestashop, you can also utilize third-party security tools to ensure the secure state of your store.
Besides, Magento Commerce edition makes PCI compliance easier by offering integrated payment gateways where credit card data is passed directly from the consumer's browser to the payment gateway.
There are also many security extensions available for users. One example is the Security Suite extension provided by Amasty of which highlighted features including:
Protect your store from spam and bots
Get the full picture of all admin actions
Receive notifications about all suspicious login activities
Double your store security with two-step authentication
Effectively manage user permissions
In addition, any merchants using Magento Commerce (Cloud) can use Magento's PCI Attestation of Compliance to aid their own PCI certification process. Furthermore, Magento Commerce Cloud is a virtual private cloud that only allows secure connection. In addition, cloud-based Web Application Firewall protects customers from key application-layer attacks. Magento also updates security patches according to new vulnerabilities detected. For Magento Commerce edition, a Security Scan Tool that regularly scans websites for security risks is freely available.
All in all, Magento and Prestashop are absolutely secure platforms to work with.
10. Payment methods
By default, Prestashop allows many payment methods such as checks, cash on delivery, bank wire, PayPal. Nevertheless, users can install other payment gateways using Prestashop modules such as PrestaShop Checkout solution.
Similarly, Magento default payment methods include:
Check/money order
Bank Transfer
Cash on delivery
Purchase Order
Zero Subtotal Checkout
In terms of third-party service providers, Magento is currently supporting Paypal, Klarna, and Amazon Pay. Users can add other payment gateways via payment extensions.
Accordingly, Magento and Prestashop are both capable of supporting various payment methods.
11. Performance and scalability
One of the most significant problems that hinder your store growth is slow loading times, lags and errors happening when your websites have remarkably large amounts of traffic which exceed the regular amount of traffic for that site. To be able to scale up, your eCommerce platform needs the capability of smoothly coping with this sudden rise in the number of visitors.
Magento has been one of the best eCommerce platforms for large and growing merchants and enterprises. As discussed above, Magento is a powerful platform that is capable of comfortably coping with up to 50,000 visits per hour. Indeed, Magento has made both client-side, server-side and database improvements in order to meet the stability and scalability needs of large enterprises. For example, Magento provides a number of optimizations that reduce the amount of data that must be passed to the browser in order to render the webpage which reduces page weight and improves response time. The platform also improves server response time by integrating with Varnish page caching.
On the other hand, the ability to handle large websites of Prestashop is also exceptional, but it still could not surpass Magento. One of the largest websites on Prestashop is botland.com.pl which is the biggest Polish online store for robotics and electronics specialists. The comparison between botland.com.pl and christianlouboutin.com – a globally famous website operating on Magento – shows that the total visits of christianlouboutin.com (on Magento) is nearly 1.5 times as much as that of botland.com.pl (on Prestashop).
Thus, Magento is doing better in terms of scalability when it comes to huge sites like international brands websites, but SMEs would not face any problems regarding performance and scalability on both platforms because Prestashop would also work excellently for their websites.
Prestashop vs Magento – Which one is ideal for your business?
This article has discussed and compared eleven aspects of Prestashop vs Magento.
For Prestashop, despite being an open-source cart, this platform is easy to install and manage. It provides all of the important features that an online store would require, plus thousands of add-on modules. Moreover, this platform is outstanding in terms of the number of ready-made themes. On the other hand, the open-source nature of Prestashop allows flexibility to customize. Prestashop would be an excellent choice for beginners or businesses of small to medium scale that aim at cost-efficiency.
In contrast, customers might not equally favour Magento in terms of ease of use. It can also be pricey. However, Magento is very eCommerce-focused and performs marvellously when it comes to large-scale units. In fact, many globally popular brands are putting their trust on Magento platform to cope with their web stores. Therefore, while Magento Open-source would be an excellent choice for small firms, Magento Commerce would outright be a great choice if you identify yourself as a large-scale business.
It can be seen that there is no absolute answer of whether Prestashop or Magento is better than the other. Each platform has its advantages and disadvantages. The decision of which platform between the two to choose depends on the scale of your business and what your priorities are.
Prestashop vs Magento – Conclusion
Hopefully, this article has the information that you are seeking and has somehow contributed to your decision.
If you are planning on migrating from a platform to Prestashop or Magento, between these two platforms or any other platforms, LitExtension team is willing to help! As the world-leading shopping cart migration tool with 140,000+ successful migrations for 40,000+ worldwide customers in the last 6 years, LitExtension can transfer all your data including products, customers orders automatically, quickly, and accurately, especially, with no technical skills required. LitExtension also supports migrating from CSV files, database dump, and database direct.
You can find the list of LitExtension supported carts here. If your platform is not on the list, contact our team via live chat to make a request. For any further information about LitExtension, please feel free to contact us!
You can also join our Facebook Community to get more eCommerce tips and news.