No longer fit with Wix? Looking to migrate your online store to WooCommerce? Look no further! LitExtension Wix to WooCommerce migration service will seamlessly transfer your Wix store to the WooCommerce platform, ensuring that all your data is preserved and your store is up and running in no time.
The Wix to WooCommerce migration process involving these below steps:
Step 1: Set up Source and Target Cart
Step 2: Select entities to migrate
Step 3: Perform full migration from Wix to WooCommerce
In case you want to dig deep into a complete guide on switching from Wix to WooCommerce, please look at our comprehensive Wix to WooCommerce migration guide here! Now, let's head straight to 3 critical steps of the Wix to WooCommerce migration with LitExtension.
Step 1: Set up Source Cart & Target Cart
The first step to do is to define the Source Cart and the Target Cart for the migration.
On the first half of the screen, select Wix from the Source Cart Type drop-down list. Then, fill in your Source Cart URL, your Admin Email, and Admin Password to allow us access to your store.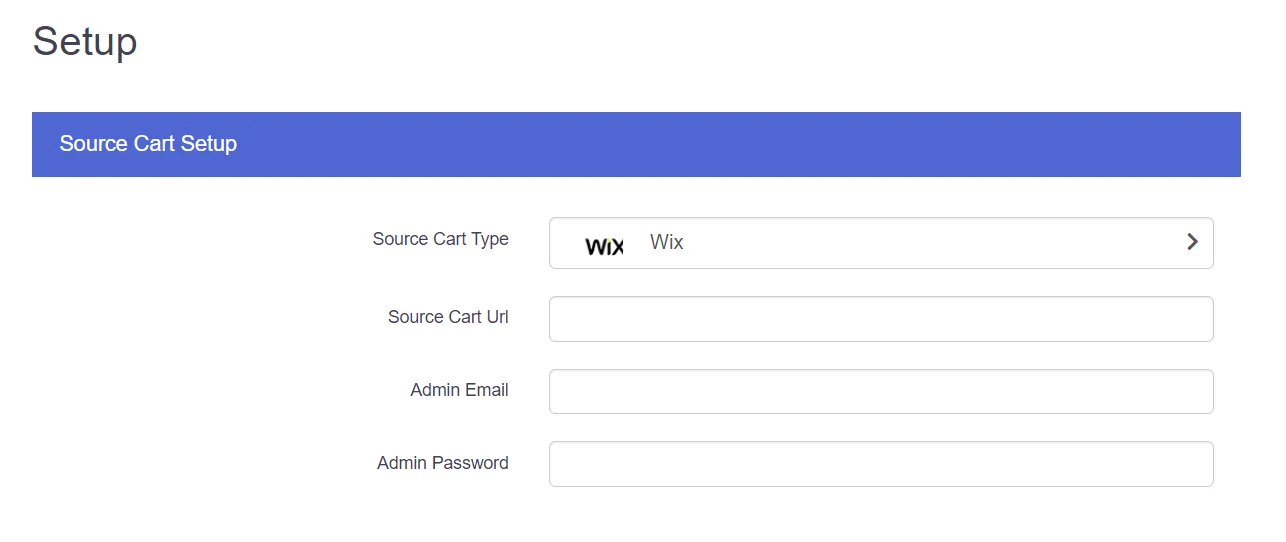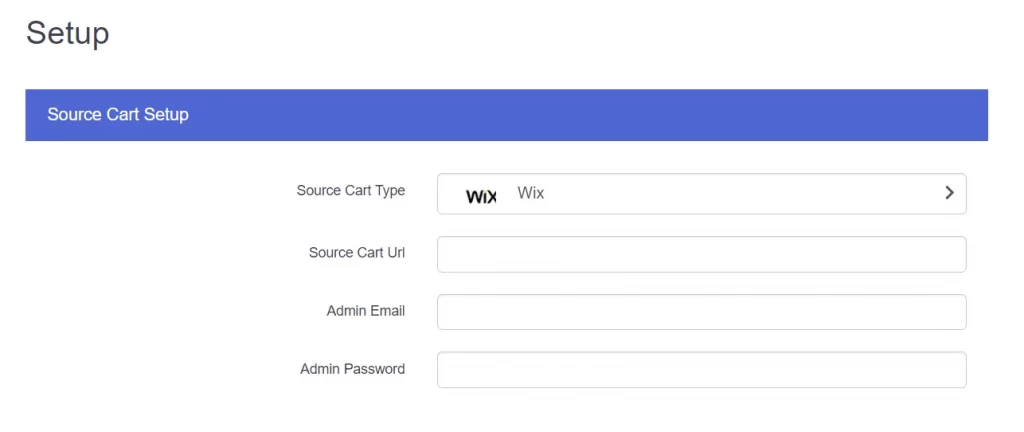 Follow the same steps to set up your WooCommerce store as the target cart. Then you need to download the connector file by clicking LitExtension Connector.

If you meet any problems while installing the connector, don't hesitate to contact our support team.
Then, click Next: Configure your migration to select entities to migrate and additional options.
Step 2: Select Entities to Migrate Wix to WooCommerce
In this step, you can choose any data that you want to migrate or all of them.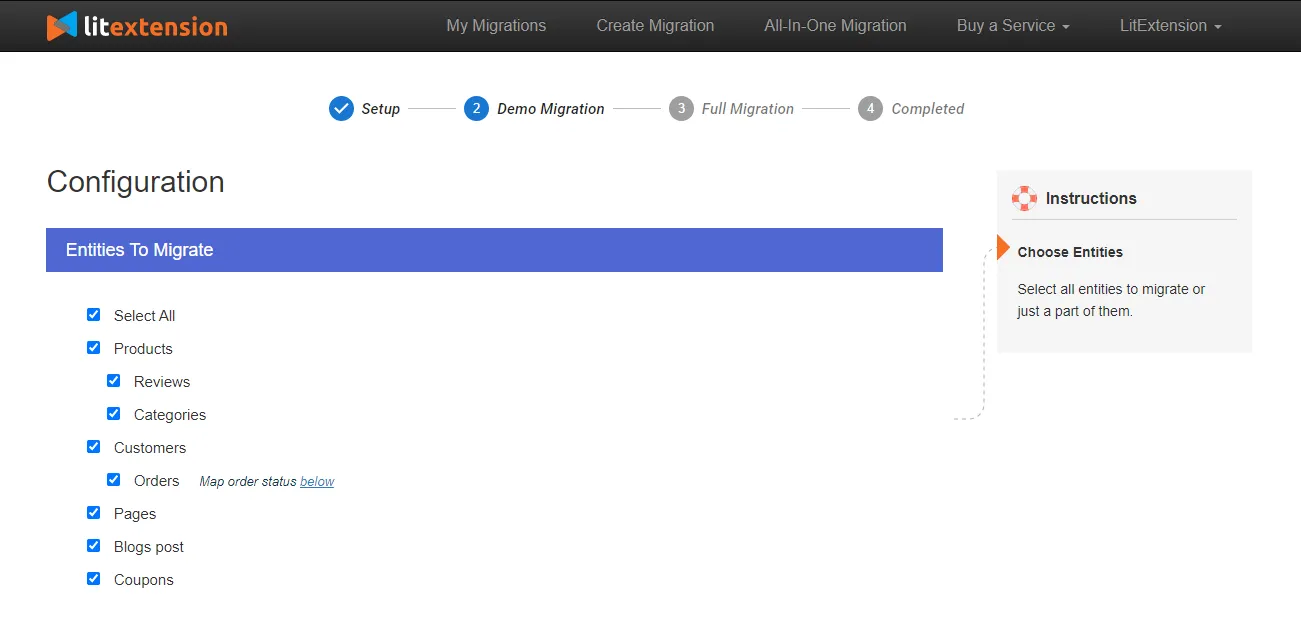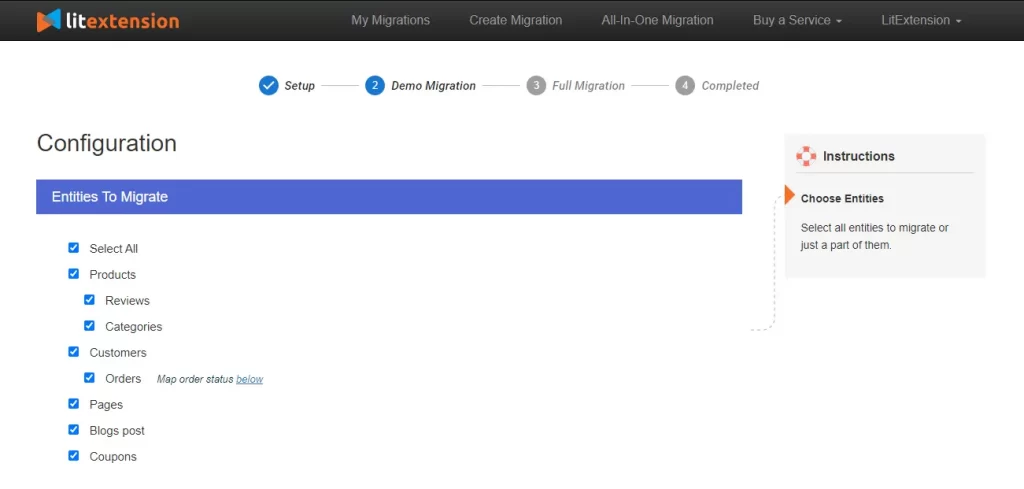 Then, scroll down to select additional options to expand your migration possibilities.


With SEO URLs Migration & 301 Redirect, you can migrate Products and Categories URLs to the new store or create 301 redirects to the new URL. Therefore, this will help maintain the  SEO rankings you have built up for years.
Step 3: Perform Wix to WooCommerce Migration
Right now, everything is ready for the full cart to cart migration. However, I suggest you choose Start Demo Migration free option to know how your migration process operates and visualize your new store.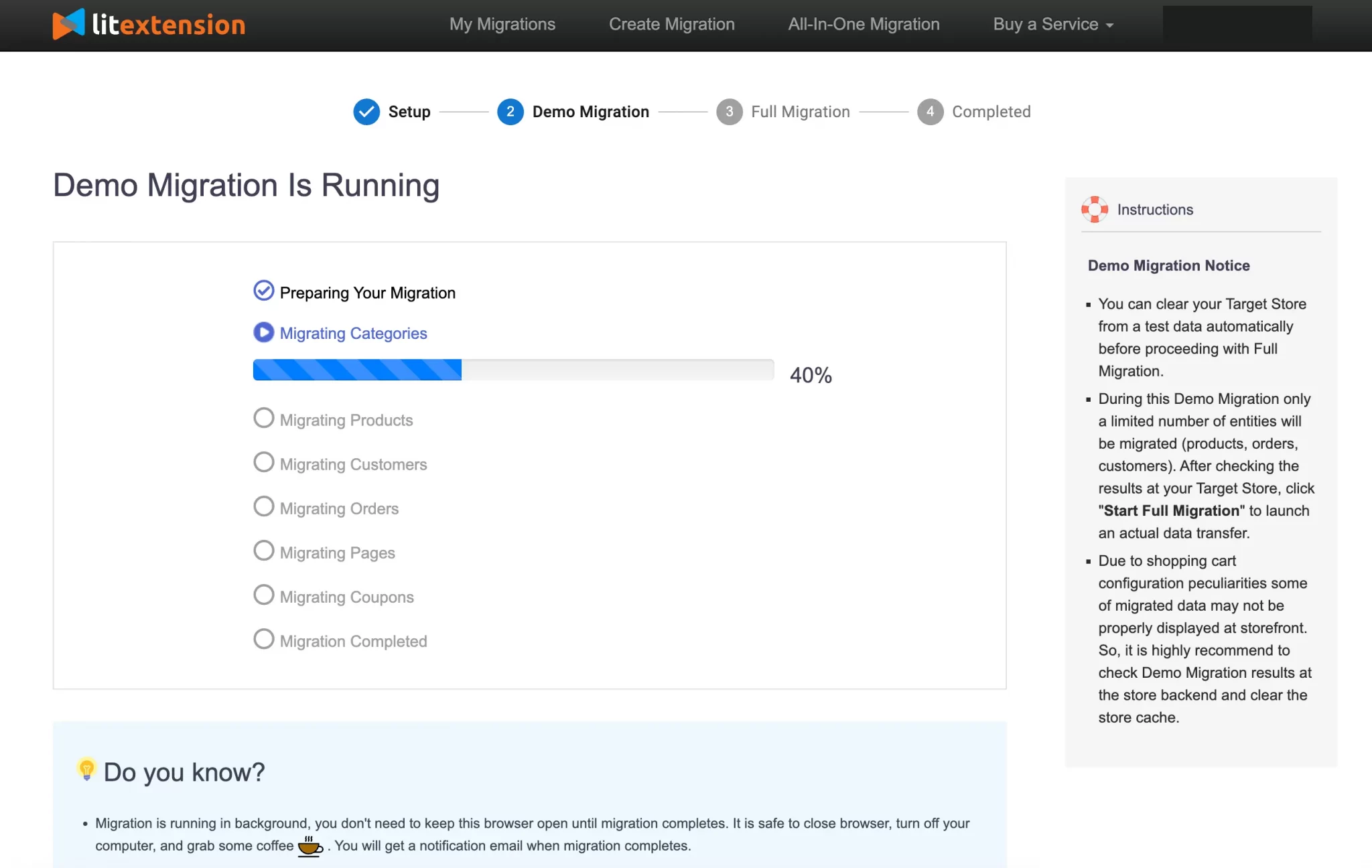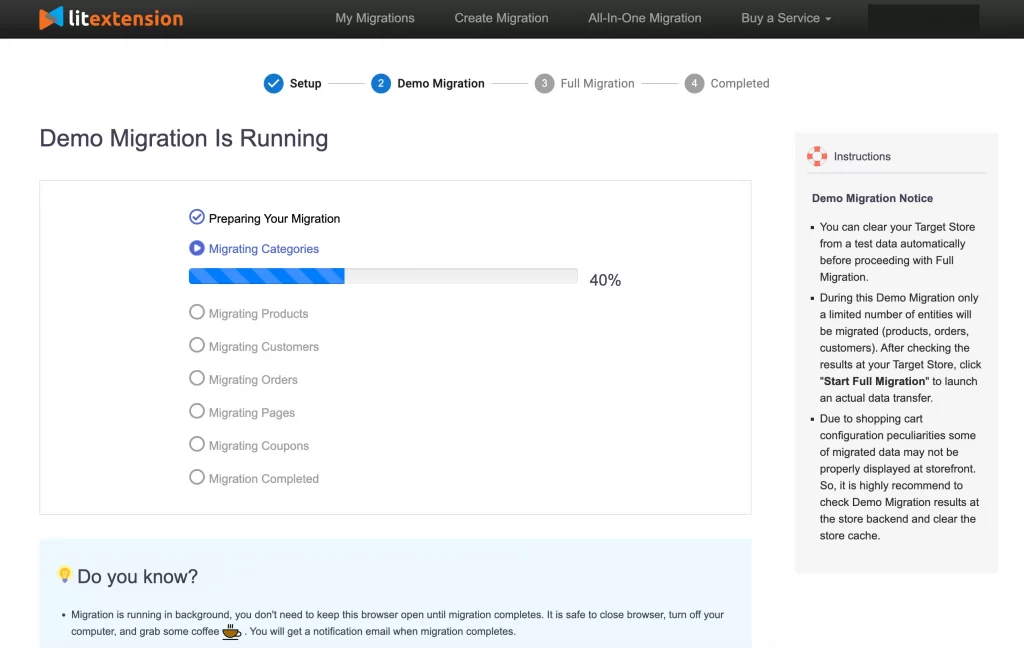 By doing free demos with different target carts, you can visualize your new store in various cart types. Thereby, you could choose the one you prefer most. In addition, you also know how your migration process operates before you decide to take the full migration.
After that, you can perform the Full Migration.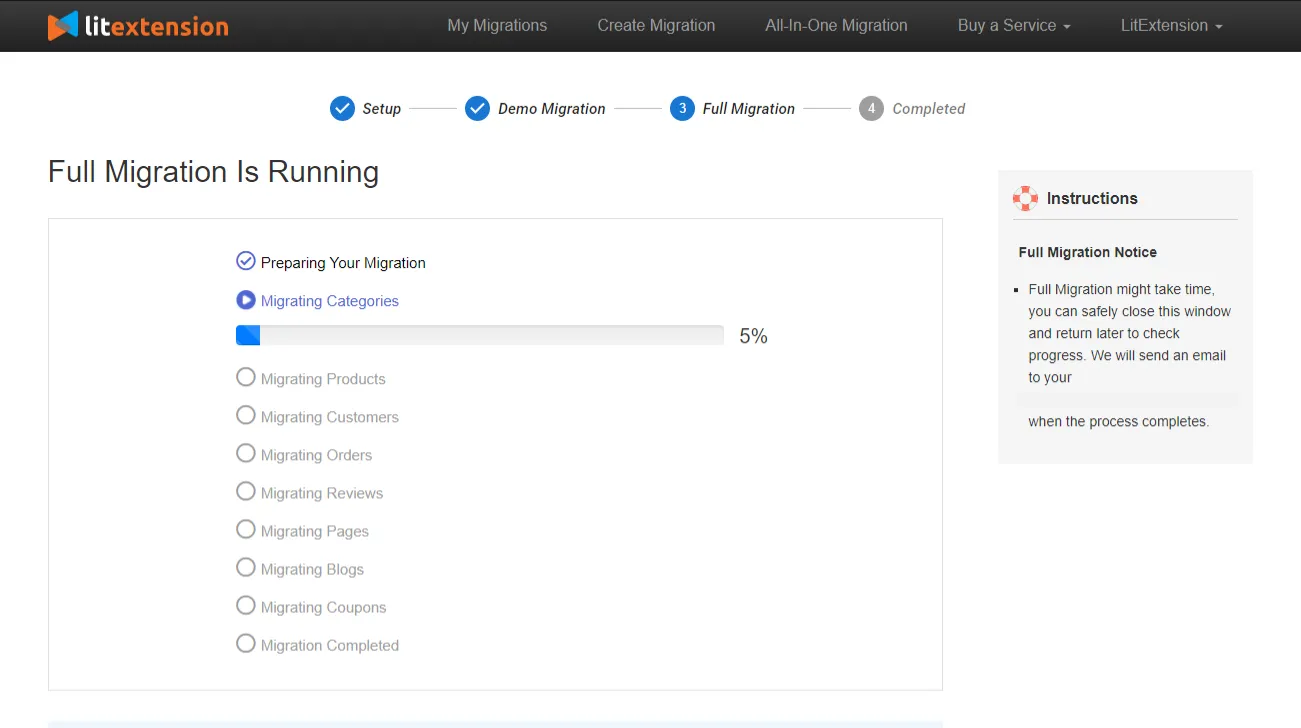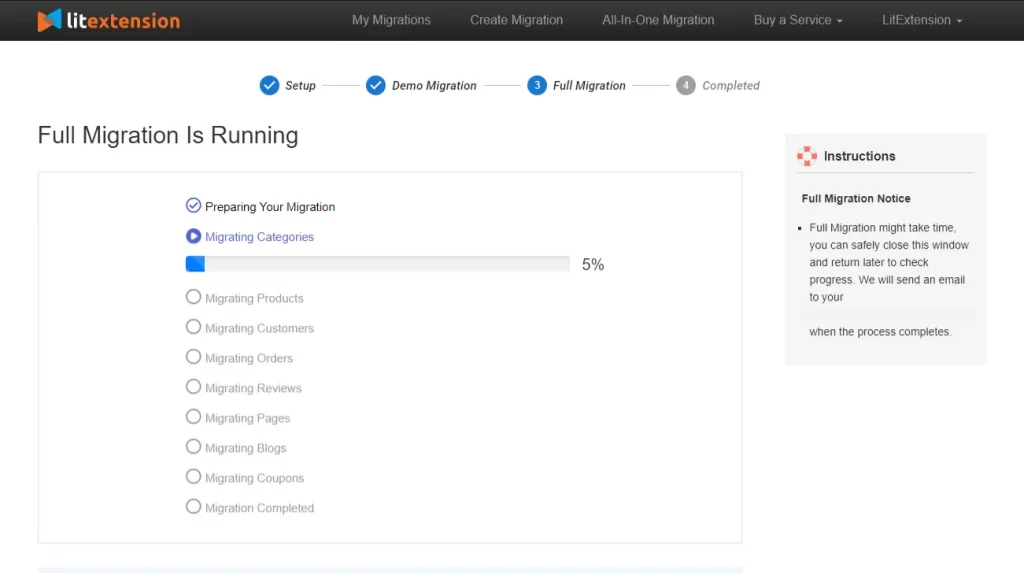 Once the migration is started, you can shut down your PC or disconnect the internet. Your data will be transferred seamlessly to your target store on the server and you will be informed via email when the migration completes.
So, don't hesitate to move to WooCommerce with LitExtension since the process is easy peasy! If you aren't tech-savvy, leave your Wix to WooCommerce migration in good hands with our All-in-One Migration Package. Our WooCommerce migration experts will lift the weight of manual tasks off your shoulders and handle the migration at a committed response time, with a personal assistant and free additional options.
---
Checklist for WooCommerce Store After Migration from Wix 
#1 – Check migration's final result
You will receive an email that notifies you the migration is complete. To view the final result of the transfer process, click Check Result.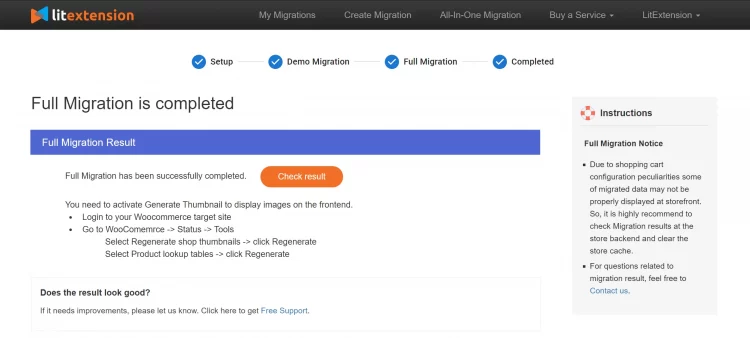 To efficiently review your product list using lookup tables, please follow these steps:
Begin by logging into your WooCommerce store.
On the left sidebar menu, locate and click on WooCommerce.
Progress through the menu by going from Status to Tools, and then click on Regenerate.
Lastly, choose Product lookup tables and click the Regenerate button.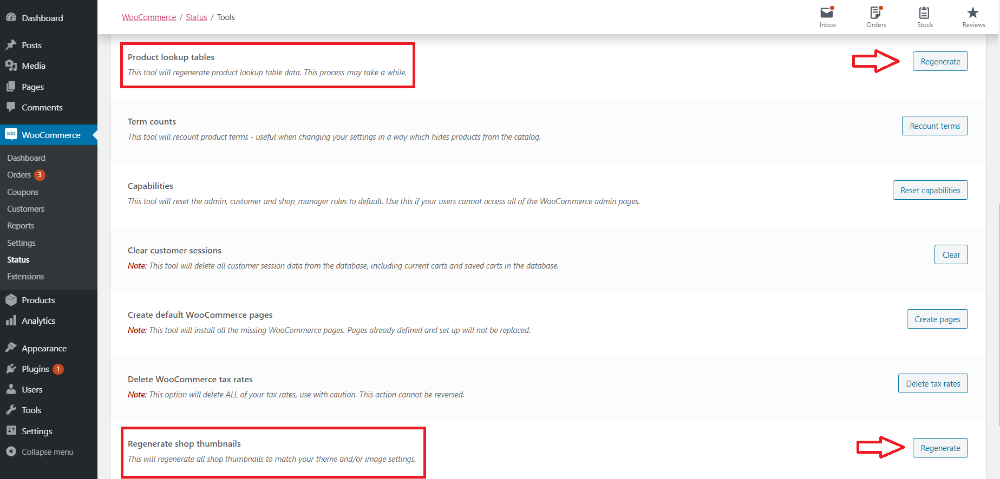 Additionally, to display product images on your storefront, you need to activate Generate Thumbnail.
#2 – Personalize Your Freshly Migrated Store
With all your data seamlessly transferred to your new WooCommerce store, there are several vital configurations awaiting your attention. We strongly advise you to proceed with the customization of your store by:
Altering your store themes.
Organizing your listings.
Handling your inventory.
Establishing payment methods.
Fine-tuning shipping options.
Downloading and installing plugins.
Transitioning to a new domain name.
#3 – Execute a Recent Data Migration or Smart Update
As previously mentioned, the Wix to WooCommerce migration operates on a cloud server, ensuring it doesn't disrupt your ongoing operations. During the migration process, new orders may still be placed on your old Wix site.
To streamline inventory management, it's advisable to update these new entities to your new store. For a convenient solution, we suggest utilizing Recent Data Migration or Smart Update service.
#4 – Update DNS Settings and Change Your Domain
Once you've successfully transitioned to WooCommerce, your existing Wix domain may cease to function, and any other connections to your website could become obsolete. In such a scenario, you have the option to either select a different domain or modify your DNS (Domain Name System) settings.
DNS plays a critical role in converting domain names into IP addresses, making them understandable for computers. These settings are associated with both your personal domain name and the IP address of your hosting server.
Consequently, it becomes imperative to redirect the DNS to your new domain, replacing the previous one. For a comprehensive guide on how to manually update your DNS configuration, please refer to our detailed tutorial.
---
Key Reasons to Move Wix to WooCommerce
Although Wix offers convenience and speed, certain issues may prompt you to contemplate a switch to WooCommerce. WooCommerce stands out as a widely-used eCommerce plugin designed for WordPress, enabling users to transform their WordPress sites into complete online stores.
It offers a strong basis for constructing and overseeing online shops, offering abundant opportunities for customization and a robust assortment of extensions. Presently, more than 6 million websites are opting for WordPress WooCommerce for their online presence.
If you still have reservations, here's the comprehensive WooCommerce migration checklist for your reference!
#1 – If you're encountering limitations in customization
Wix restricts your ability to fully tailor your online store to your specific requirements. In contrast, WooCommerce offers a high degree of customization, giving you complete control over your website's design and functionality.
#2 – If you have restricted access to your data
Wix may limit your access to and ability to export your store's data, making it challenging to analyze and integrate with other systems. WooCommerce, on the other hand, provides full access to your store's data, enabling you to use it for in-depth analytics, integrate with third-party tools, and generate custom reports to gain valuable business insights.
#3 – If you're entirely reliant on Wix uptime
When you rely on a hosted platform, your store's availability is dependent on the platform's servers. Any downtime or technical issues with the platform can negatively impact your store. With WooCommerce, a self-hosted solution, you have more control over your website's uptime because it depends on your chosen hosting provider.
#4 – If you're facing limitations in scalability and flexibility
As your business expands, you may require additional features, integrations, or unique functionalities. Wix may impose restrictions on scalability, charge extra for advanced features, or demand high costs for further customization.
WooCommerce boasts an extensive ecosystem of plugins and extensions, enabling you to add new functionalities and scale your store to meet your evolving business needs. While setting up and managing WooCommerce may demand more technical expertise, it offers greater control, flexibility, and the potential for cost savings.
So, why not consider initiating the migration process for your WooCommerce store now?
---
What to Consider Before Migrating to WooCommerce?
Before making the transition from an open-source platform to WooCommerce, it's crucial to consider several key factors:
#1 – Evaluate Feature Parity
Assess whether WooCommerce offers the same or equivalent features that you currently rely on with your hosted platform. Ensure that WooCommerce supports essential functionalities such as product variations, inventory management, shipping options, tax calculations, discount codes, and other features specific to your business. This comparison can be complex due to the differences between platforms, so it's advisable to seek the assistance of a WooCommerce migration agency for a smooth data migration process.
#2 – Design and Theme Adaptation
If you have a custom design or theme on your hosted platform, determine whether you can migrate it to WooCommerce, invest in a new theme, or hire a designer/developer to create a customized WooCommerce theme. Consider the impact on your branding, user experience, and any specific design requirements during this process.
#3 – Payment Gateways
Check if WooCommerce supports the payment gateways you currently use or those with similar functionality. Ensure that you can seamlessly integrate your preferred payment providers or explore alternative solutions within WooCommerce. Pay attention to transaction fees, payment processing options, and configuration requirements for setting up payments on WooCommerce.
#4 – SEO and URL Structure
Moving to a new platform may affect your website's search engine rankings. Use techniques like 301 redirects to redirect old URLs to their new equivalents on WooCommerce. Additionally, optimize your WooCommerce site for search engines by using SEO plugins, generating XML sitemaps, and optimizing page load times.
#5 – Ongoing Maintenance
Understand that as an open-source solution, WooCommerce requires you to take responsibility for ongoing maintenance and updates of your website, including WooCommerce core, themes, plugins, and security measures. Evaluate whether you have the technical expertise or resources to handle these tasks or if you need to engage a WooCommerce developer for assistance.
#6 – Migration Methods
Consider the various ways to migrate your website to WooCommerce, such as manual migration by importing CSV files, hiring a WooCommerce expert or developer for assistance, or using an automated WooCommerce migration service like LitExtension for a seamless data transfer without the involvement of third parties.
In summary, a successful migration to WooCommerce requires careful planning, assessment of your business needs, and consideration of the technical aspects involved in the transition. Depending on your specific requirements and expertise, you may choose to handle certain aspects in-house or seek professional assistance to ensure a smooth and efficient migration process.