In our constantly developing world of eCommerce, WooCommerce has created a resounding reputation and never seems to cease its heat towards technology advancement. After years of progressively pouring effort into research and development, WooCommerce team has recently given birth to the WooCommerce 4.0 update with cutting-edge improvements, which will definitely benefit your online business.
If you want to make use of this chance to grow your business, take into account that choosing the most optimal upgrading method is no less important than choosing which version to upgrade to. Although manual upgrade always comes as the first attempt, there is an undeniable fact that it is still a potentially risky task. The same job, however, can be nailed without intensive technical hands-on experience in a fully automated manner.
In this article, LitExtension will carry you through an A to Z WooCommerce upgrade process, telling you everything you need to know, including the preparation, data migration procedure, and some necessary post-upgrade activities.
Let's start!
WooCommerce Upgrade: Overview
Being a WooCommerce user for a while, you know that most of WooCommerce upgrades are hassle-free and processed only within a few simple clicks. However, despite the fact that it's very simple to upgrade your store, there is still a possibility that you could end up with a few errors. The most common ones detected are broken compatibility with legacy plugins/themes, requiring you time and effort to fix. If you are not careful, you're likely to mess up your database.
If I have one tip to share with you, I'd like to recommend an automated shopping cart migration tool. Basically, you will only need to provide the URLs of the Source Store & Target Store, select the entities you want to migrate and then let the tool automatically move them all to the new store.
Why WooCommerce upgrade with LitExtension is the optimal choice?
First and foremost, performing WooCommerce upgrade with LitExtension doesn't require any particular technical knowledge and just takes you a few simple steps. Secondly, your current store still operates normally, so you can rest in your peace of mind knowing that no sale activity will be affected. Thirdly, LitExtension provides a flexible pricing policy. The migration cost (starting from $19) solely depends on the entities and additional options you choose. Last but not least, one of our key edges over other upgrading methods is that our Free Demo allows you to see how efficiently the tool works before making your decision.
To help readers grab an overall picture of the whole process, we have compiled all the key steps in this infographic.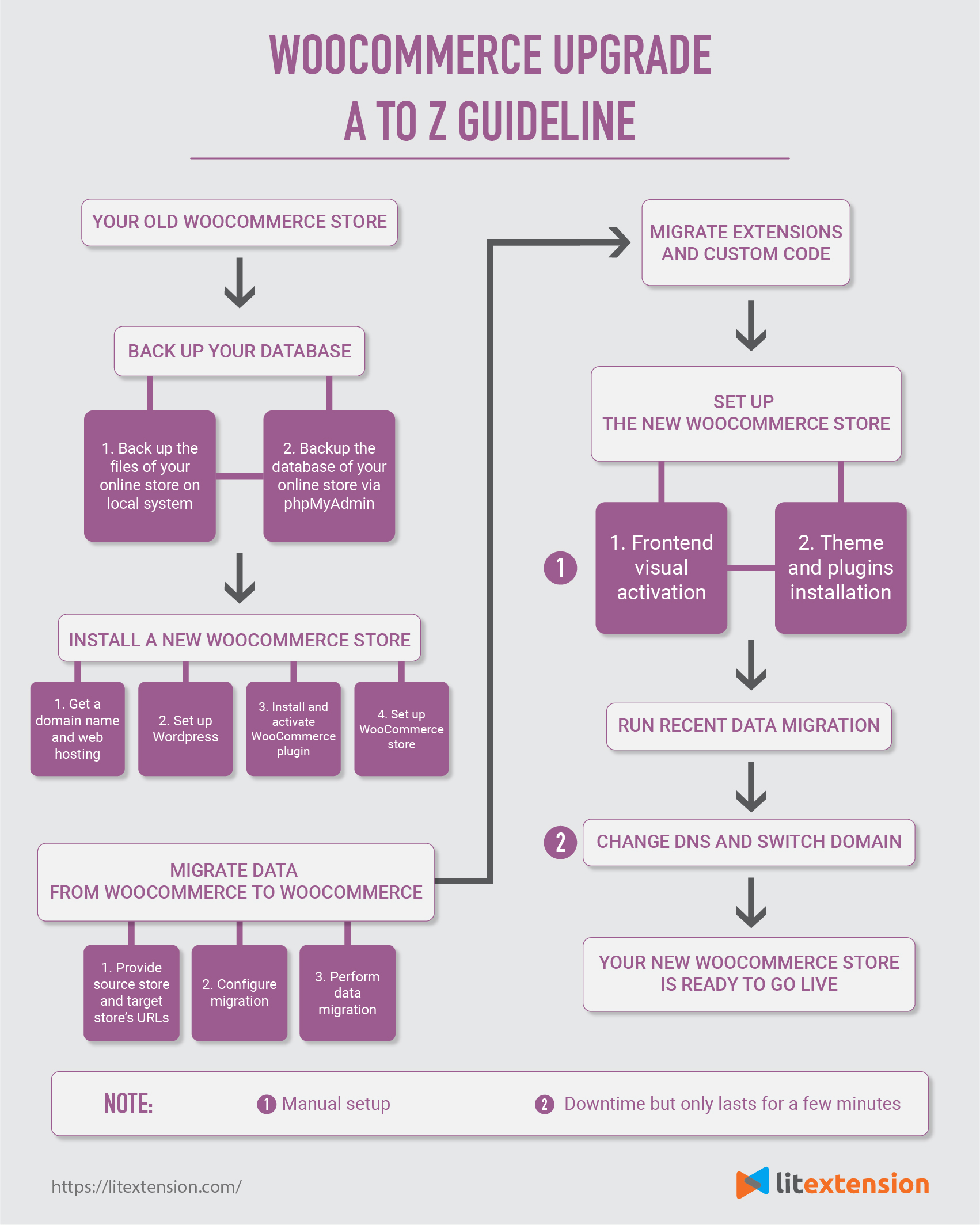 Now, we will keep you waiting no more. Let's follow our detailed instruction on WooCommerce upgrade with ease!
Step 1: Backup database
As you probably know, before making any minor or significant change of your website, creating a backup is of paramount importance. As the core of the future database is nothing but your store entities, so you'd want to make sure that any possible data loss must be excluded.  Am I right, or am I right?
However, we will tell you one good decent thing that's gonna put your mind at ease right at this moment. You don't have to worry about database backup once you let LitExtension team carry out the migration for you. We will not, by any means, edit anything on your old store. Therefore, it will be operating normally during the data transfer and your source store's data will be safe.
But if you absolutely want to backup your store's database for the sake of security, then here's how:
1. Backup the files of your online store
First of all, you need to backup the files of your website. This can be done without getting too complex via the FTP.
Open FileZilla or other FTP softwares and login to your managed server.
Choose Protocol, enter "Host", "User" and "Password" then hit "Connect".

Login to your managed server
Once you have successfully connected to your managed server, navigate to the folder where the WordPress application is installed and you will get a list of all the files your WordPress application is using.
In order to download these files, select them all by clicking on a single file and then pressing the key combination of CTRL + A. Now you need to right-click on the selected files and select the "Download".

Download the files of your website
The files will be downloaded in a couple of minutes depending on the size of your website. When the process has finished, you could close FileZilla and with that, you have successfully backed up the files of your WordPress site.
2. Backup the database of your online store via phpMyAdmin
Once you have backed up the files of your website, now you'll need to finalize the backup procedure by backing up the database via phpMyAdmin.
In order to backup the database of your WooCommerce site, you need to know the database name. The database name is located in the file "wp-config.php" which can be found in the list of all the files of your WooCommerce site. Once you find the file, right-click on it and choose the "View/Edit" option as it will open for you the code of the file.

View the code of the file containing database name
Now you'll need to login to phpMyAdmin.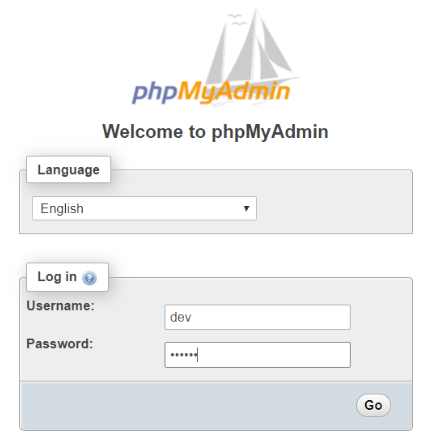 Find the database by searching for its name.

Find the database
Once you find the database, click on it and you'll be moved to the table view of the database and simply click on the Export tab from the top navigation menu.

Export the database of your online store
Click on the "Go" button to download the files.

Download the database file
With that, you now have done the manual database backup of your website!
Step 2: Create a brand new WooCommerce store
1. Get a domain name and web hosting
In order to build an online store or any kind of website, you will basically need three things:
Domain name: your store's address on the web, such as mystore.com
Web Hosting: basically a remote computer where all of your website's files will be stored.
A SSL Certificate: this is to make secure online payment.
We recommend you to use Bluehost, which is one of the biggest hosting companies and officially recommended by WooCommerce. It has made an agreement on offering WooCommerce beginners an exclusive discount on web hosting with free domain name and SSL.
To begin with, go to Bluehost.com, and click the "Choose Plan" button.
Next, you'll select a plan for your hosting account. You can get started with the cheapest option, labeled "Starter".

Choose hosting plan
Later, you will be requested to create a new domain name or provide an existing domain name that you have already had before. You might need to do some brainstorming about how to make your domain name unique, easy to remember, and catchy. To get yourself some ideas, you can refer to the  article "How to Choose the Best Domain Name (14 Tips and Tools)".
Once you have made your domain choice, you will be requested to enter account/package information, package extras, and payment informations.
Finally, hit the submit button to get the purchase done.
2. Set up WordPress
Bluehost automatically installs WordPress for you once you have signed up for a hosting account. Simply login to your hosting dashboard then hit the "Log in to WordPress" button.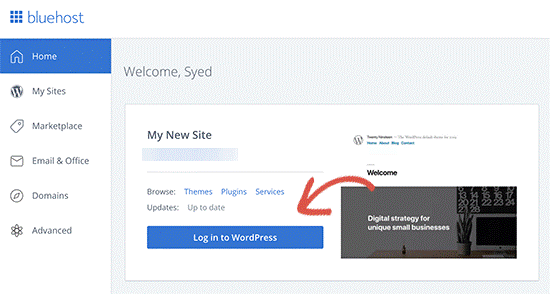 Before installing WooCommerce, let's do some basic WordPress settings.
Head to the Settings page from the WordPress admin dashboard. Change your site title and enter a tagline.

Do some basic settings on your new WordPress site
Bluehost automatically sets up an SSL certificate for your website's domain. Next, let's review the website admin email address. This email address is where you will receive WooCommerce notifications and password reset requests so make sure that it is correct.
Click on the "Save changes" button to save them.
You're now ready to install WooCommerce.
3. Install and activate WooCommerce
Once you have your WordPress site available, it's time to install WooCommerce! Follow these simple steps to get a WooCommerce store:
Go to Plugins. Click "Add New"
Search for "WooCommerce"
Click "Install Now"
Click "Activate Now" and you'll be then led to the WooCommerce Setup Wizard
I recommend you follow this document's instructions and go through 5 stages as below to set up your new WooCommerce store.
Store setup
Payment
Shipping
Recommended
Activate
With that, you have successfully created your new WooCommerce store. Now let's transfer the data to the brand new store.
Step 3: Data Migration
1. Migration cost estimation
LitExtension provides you with an opportunity to get the estimated cost and time for the WooCommerce upgrade by using our Pricing Tool. Choose WooCommerce as both Source Cart and Target Cart then provide the number of products, customers, and orders and get price and time estimation immediately.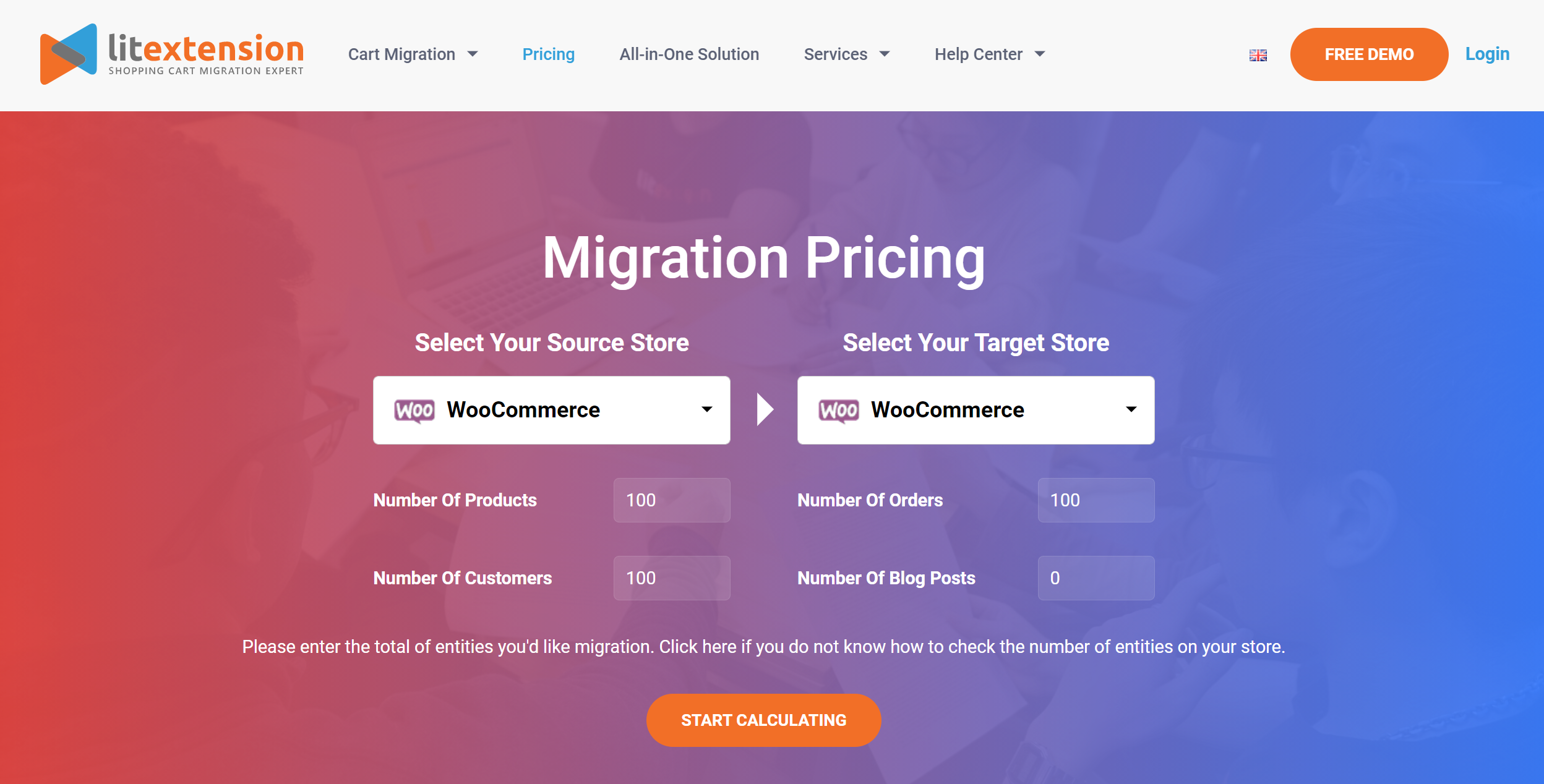 In general, our migration estimator is only able to show the average time/cost needed to migrate the entities that you have specified. There are also other factors that affect the migration time and cost, such as your server/shopping cart peculiarities or other related entities.
2. Perform data migration
2.1. Provide Source Cart and Target Cart's URLs
On the Migration Page, click Create New Migration at the top right button on the screen. Choose WooCommerce as your source cart and fill in its URL in the corresponding field. Then, click LitExtension Connector to download the connector. This connector will set up a connection to your old store. Unzip it and upload to WooCommerce source store's root folder.

Right here, the Connector Installation will be automatically checked and informed on the screen without manual checking.
Repeat the same setting procedure of the WooCommerce target store. Download LitExtension Connector, extract the zip file and upload the connector to WooCommerce target store's root folder.

At this step, you may encounter some connector setup issues regarding permission but that's alright, we've summed them up and provided solutions in this document. Don't worry! A helpful support team is already awaiting there.
2.2. Configure migration
At this step, you can either choose all your data or only choose the necessary ones to migrate. If desired, you can select additional options that will help to extend the data import functionality. LitExtension has developed the features to help you solve important problems following migration. For instance, to minimize the SEO effect after switching, you can create 301 redirects to your target store.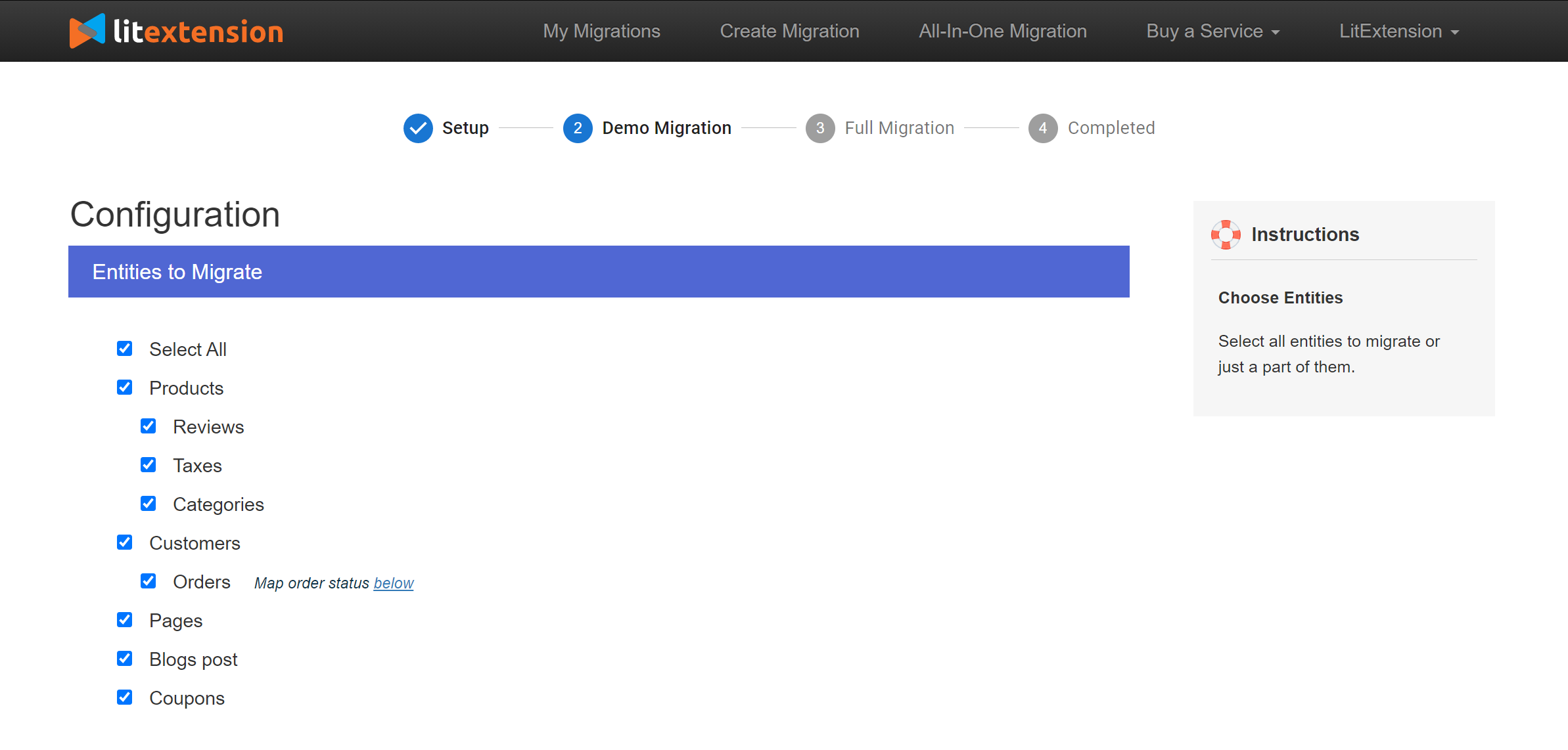 In addition, you are able to map order statuses and customer groups in this phase. Choose necessary descriptions and every data will be migrated respectively.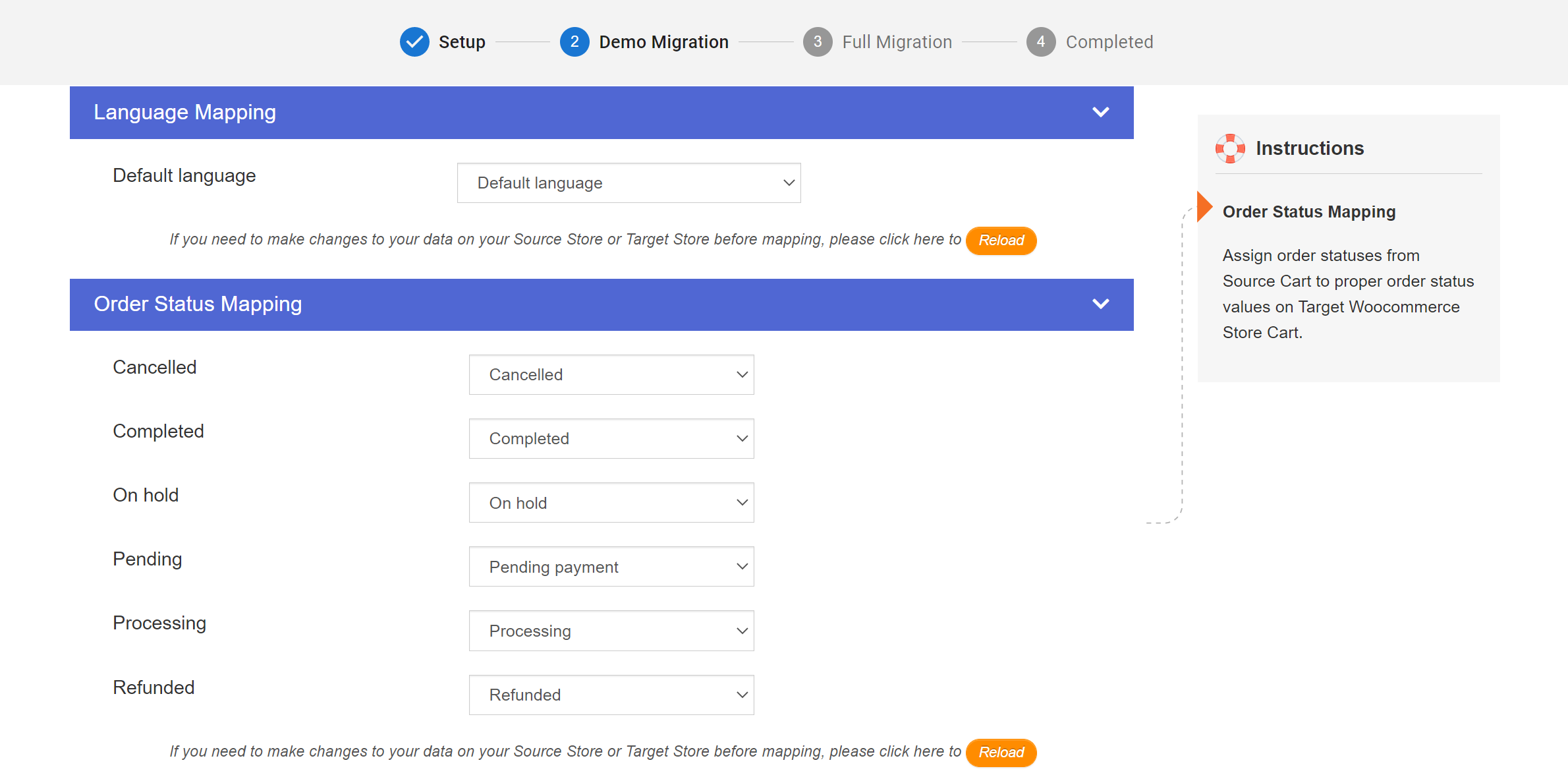 2.3. Perform data migration from WooCommerce to WooCommerce
You can try demo first or run full WooCommerce to WooCommerce migration immediately.
Try Demo: Before proceeding with full migration, it is strongly advised to launch our free demo migration with limited entities to see how the tool performs in action. Once you're satisfied with the outcome, you'll have confidence in proceeding with full migration.
Perform Full Migration: Please click the "Skip Demo Migration" button to perform full migration immediately. Once the migration is started, it will run seamlessly on the server. Therefore, there's no need to keep your PC on while the data is being transferred. It is completely safe to turn it off! Take a break, have a cup of coffee and you'll be notified via email when the process is completed.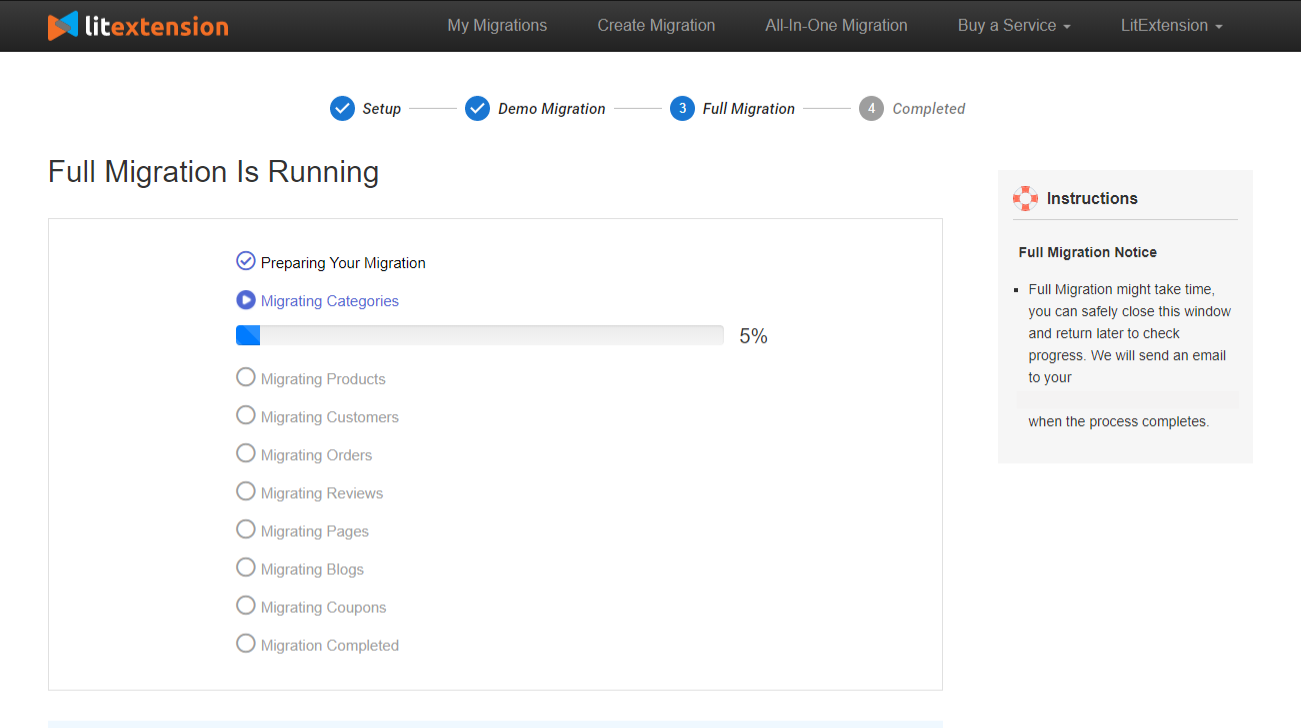 Step 4: Migrate custom code and extensions
There are powerful extensions on WooCommerce that help to extend your store's functionality. Your current WooCommerce store may already contain some of them; although they can not be simply transferred automatically, LitExtension is able to move the data of your extensions by customizing our tool.
However, bear in mind that there are extensions that only work in some particular WooCommerce versions, so the extensions that are currently working in your source store may be incompatible with the version that your new store is based on. If you are unsure about it, please check if the extensions are supported to work in your new store. If you find they aren't, just look for the equivalent ones with the same functionality. We will dive into the system and move all the corresponding data of extensions from your source store to the target store. Besides, we will also rewrite the custom code to make it compatible with your new store's database structure.
Step 5: Post-upgrade activities
Your WooCommerce store has just been elevated to a more advanced version. However, there are some tasks that need to be done to fully complete your new store.
1. Check result after migration
Now you have walked through every necessary step to perform a full WooCommerce upgrade. Then go to your new store and check if all entities, custom code, and extensions have been migrated accurately.
Follow this article's guideline to check the result after WooCommerce upgrade.
2. Theme and plugins installation
Your new store won't be completed without getting clothed with a new look and extended its functionality with plugins. There are a lot of beautiful templates and powerful plugins that may be well-suited to your business, functionality, and style needs. You can look for them on WooCommerce Theme Store and WordPress plugins.
3. Migrate incremental and update data
Your data transfer with LitExtension has just been completed and you're going to set up the new store for some time. You'll be dealing with design customization, discovering the new admin panel or digging into new SEO features. In the meantime, your old store still stays active and keeps receiving new entities or you can make updates on your old store. Therefore, it's certainly important to transfer all the new entities and updates to the target store in order to keep it up-to-date.
LitExtension offers you 3 options that can address this concern
Recent Data Migration: This function enables you to automatically transfer all the new data that appear in your source store after the complete platform switch.
Re-Migration: This option helps you to transfer everything all over again including data that has been transferred before, data that newly appears in your source store and data that has been updated.
Smart Update: It updates data which has been modified in your Source Store after the migration. At the same time, any new data in your old store will be migrated to your new one. This option can solve the problem better and quicker than a re-migration.
All these 3 options are free and you can use them for unlimited times under these conditions:
You have performed full migration with LitExtension within 3 months before.
The total additional entities is less than 10% the total number of entities in initial migration.
Note: Having updated data, now you need to regenerate images on the frontend just like what you did after the full migration.
4. Change DNS and switch domain
As you might understand, it's not as easy as a piece of cake to put your domain name on the map. Lots of time, effort and money must have been spent. What about after a platform switch? Now you just move to a site, and definitely you're afraid of losing all the popularity of the domain promotion of your source store.
Conclusion
Overall, a successful WooCommerce upgrade can bring the advantages to your business growth in the future.  Therefore, thanks to the help of the automated shopping cart migration tool, the upgrade procedure no longer appears to be such a tedious and complicated process. Following the above-mentioned steps provided by LitExtension, you'll definitely ease the WooCommerce upgrade process.
Come take your online business a step ahead towards success with LitExtension! Let's join our community to get more eCommerce knowledge.