You want to import to WooCommerce and start enjoying the power of that fantastic platform but are afraid of the complex WooCommerce data migration process? Worry not, LitExtension makes the WooCommerce migration seamless and stress-free with only six simple steps:
Backup database of the Source store
Set up a new WooCommerce store
Set up Source and Target Cart
Select entities to migrate
Perform full migration to WooCommerce
Follow a go-live checklist for WooCommerce stores after data migration 
Now, let's head straight to 3 critical steps of the WooCommerce migration with LitExtension automated shopping cart migration solution below!
Step 1. Set up Source and Target Cart
Once you have logged in, click "Create new migration". Then, you will see a page where you can enter the information of your Source and Target Cart.
First of all, choose your Source Cart and Target Cart from the drop-down menu. Then enter your store's URL.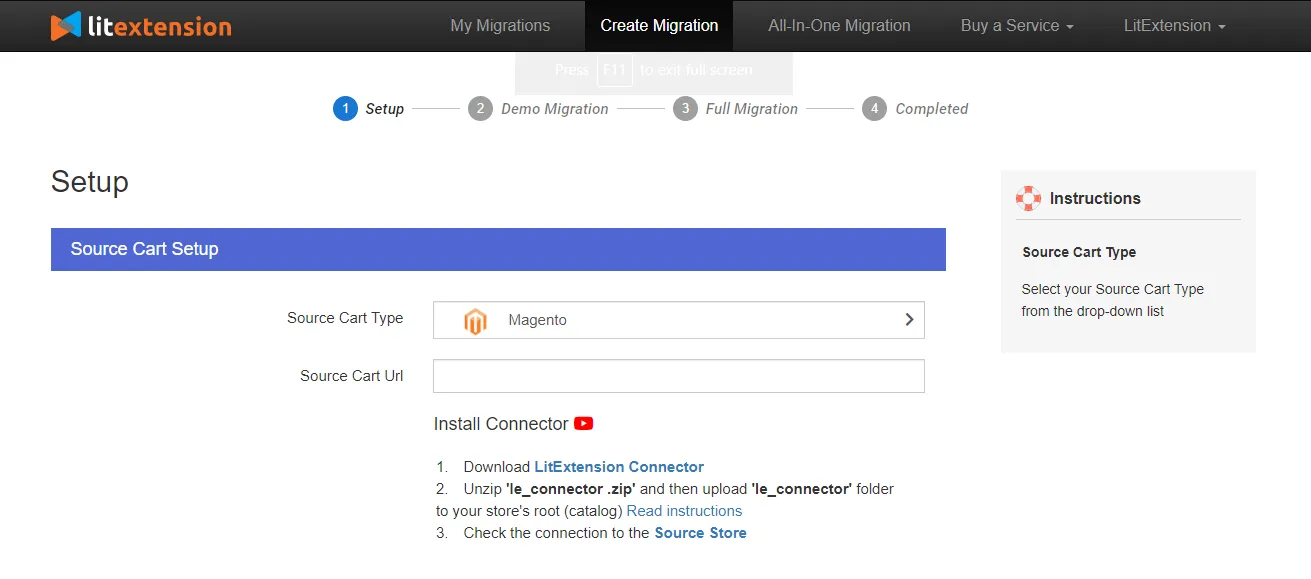 If your Cart is open-sourced like WooCommerce, please follow the instructions to download the "le_connector" file. This connector has only one function, which is to create a bridge between your Source Cart database with the LitExtension App. Extract the zip file and upload the Connector folder to Source Cart root folder on your server. Once you are done, a notification will appear on your screen "Connection was successfully installed". 
If your Cart is a hosted one, like Wix or BigCommerce, please follow the instructions on the screen to get the right information.
Now you are ready to click "Next" and proceed to the next stage of the migration process.
Step 2. Configure WooCommerce Migration
This is where you choose the entities that you want to migrate to WooCommerce. LitExtension supports migrating products, customers, pages, blog posts, and coupons in this case. You can choose to migrate only a few or click "Select all" to migrate all of them.
To help you extend your migration possibilities, LitExtension also offers some additional options such as Clear current data on Target Store before Migration or Create the 301 redirects on your Target Store after migration. The former option allows you to delete all the existing data that you have chosen above on your Target Store (if you have any). The data duplication risk can therefore be avoided. 301 redirect is a procedure of pointing URLs from one site to another. In other words, when your customers click on the links of your old Source Cart website, they will be redirected immediately to the corresponding page on your new WooCommerce store.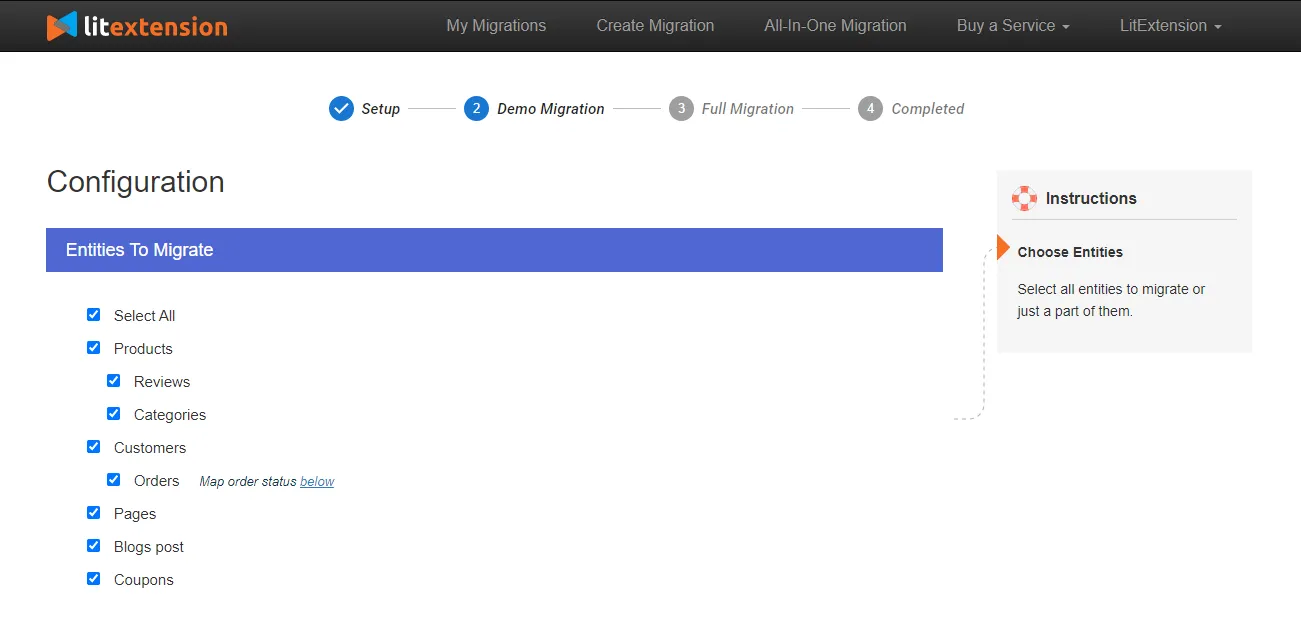 Don't forget to map your order status and language so that they will be displayed correspondingly on the WooCommerce site.
Step 3. Perform WooCommerce Migration
Now you are ready to run the migration. We highly recommend you run the FREE DEMO migration first to see how the migration process will be carried out by LitExtension. After that, you will receive $5 and later you can use it as a discount when running Full Migration.
Once the migration starts, it will run seamlessly on the server. Therefore, there's no need to keep your PC on while the data is being transferred. It is completely safe to turn it off! Take a break, have a cup of coffee and your email will receive a notification when the process is completed.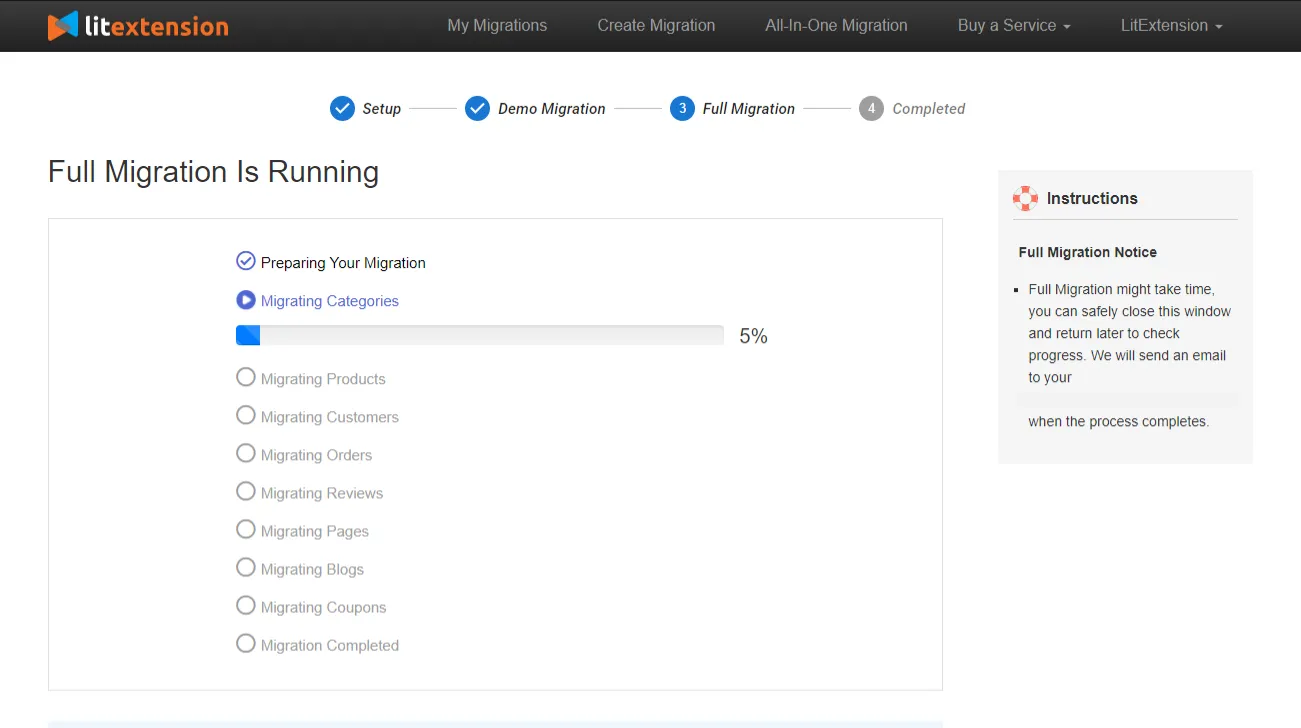 You may have a number of extensions that you installed on your Source Cart to support your business and you don't want to lose these extended functionalities. In order to achieve that, you need to find and install the WooCommerce apps which have similar purposes as those in your Source Cart store. After that, LitExtension will help you migrate data from the Source Cart extensions/apps/plugins into the corresponding in WooCommerce.
During the whole migration process, LitExtension still keeps your old Source Cart store running normally. Accordingly, you will still receive new orders and customers as usual while being busy decorating your new home. This is when our recent data migration, smart update and remigration services come in handy.
Recent data migration allows you to transfer all the newly appearing entities to your new store.
Smart update updates changes that you have made to data in old store along with all the newly appearing entities.
Remigration service enables you to migrate your data all over again.
All these three options are FREE under the condition that you have performed full migration with LitExtension within 3 months before and the total additional entities is less than 10% the total number of entities in the first migration.
So, don't hesitate to move to WooCommerce with LitExtension since the process is easy peasy! If you aren't ready to perform the migration all by yourself, leave your WooCommerce migration in good hands with our All-in-One Migration Package. Our WooCommerce migration experts will lift the weight of manual tasks off your shoulder and handle the migration at a committed response time, with a personal assistant and free additional options. We are happy to help, so reach out to one of our agents if you run into any hiccups during your stay!