Overview
Shopify is a hosted eCommerce platform founded in 2004. Basically, Shopify is the most favorable option for beginners who know nothing about programming, coding, and web development to start and manage their own online store. Now Shopify is used by 1,233,255 live websites in the world.
Squarespace is a hosted CMS solution to create and manage websites, blogs, portfolios, and online stores. It lets businesses of all types create professional websites with the drag-and-drop interface. Currently, Squarespace hosts 2,143,632 live websites worldwide.
Squarespace and Shopify are both feature-rich website builders on the market. However, you can easily create and manage websites with them without any technical skills.
Shopify and Squarespace are born for different purposes. While Shopify is created mainly to drive sales for online merchants, Squarespace was initially created to support content-based websites. This resulted in a lot of dissimilarities between these two giants. In this article, let's dive deeper into the differences between Squarespace vs Shopify in multiple aspects:
Detailed comparison (features, price, usability..)
Pros and Cons of Squarespace vs Shopify
Suggestion on how to choose the best suit for your store
Detailed comparison
1. Pricing
On the one hand, Squarespace offers 4 monthly pricing options: Personal, Business, Basic Commerce and Advanced Commerce with the price ranges from $16 to $46 per month.

If you pay upfront for a year's service you can save 13% for the Advanced and Basic plan, 30% and 25% for the business and personal plans respectively.

You can also make use of a two-week free trial to try out Squarespace yourself before deciding whether this is your next destination or not.
Please note that the personal plan does not include eCommerce features. Therefore, if you want to open a store using Squarespace, you have to purchase one out of the other three options. However, keep in mind that the business plan charges you 3% additional transaction fee while the other two don't. Therefore, the cost can go up very high.
On the other hand, Shopify has only 3 pricing plans: Basic Shopify, Shopify, and Advanced Shopify with a monthly fee as shown below.

Just like Squarespace, you can also try using Shopify for 2 weeks free just by registering with your email address.
Besides, Shopify has a Shopify Plus plan to serve larger enterprises with the cost starting from $2000 per month.
In terms of the transaction fee, you are supposed to pay 30 cents and a credit card rate from 2.4% to 2.9% per transaction if you use Shopify Payment. Otherwise, you have to pay an additional transaction fee ranging from 0.5% to 2% depending on the plan you choose.
The verdict: As you can see, Squarespace is a much more affordable option. With only $46/ month you already have the most advanced features on Squarespace. Meanwhile, you have to pay at least $299 to get the best functionalities out of the box with Shopify, let alone installing other apps and add-ons while scaling your business.
2. Ease of use
Due to the hosted nature, Shopify has a very user-friendly dashboard. Shopify uses a drag-and-drop design, which means you can simply click, move, and drop media elements anywhere on the page. It also has a clear interface with visual cues, so you never feel lost when designing your online store.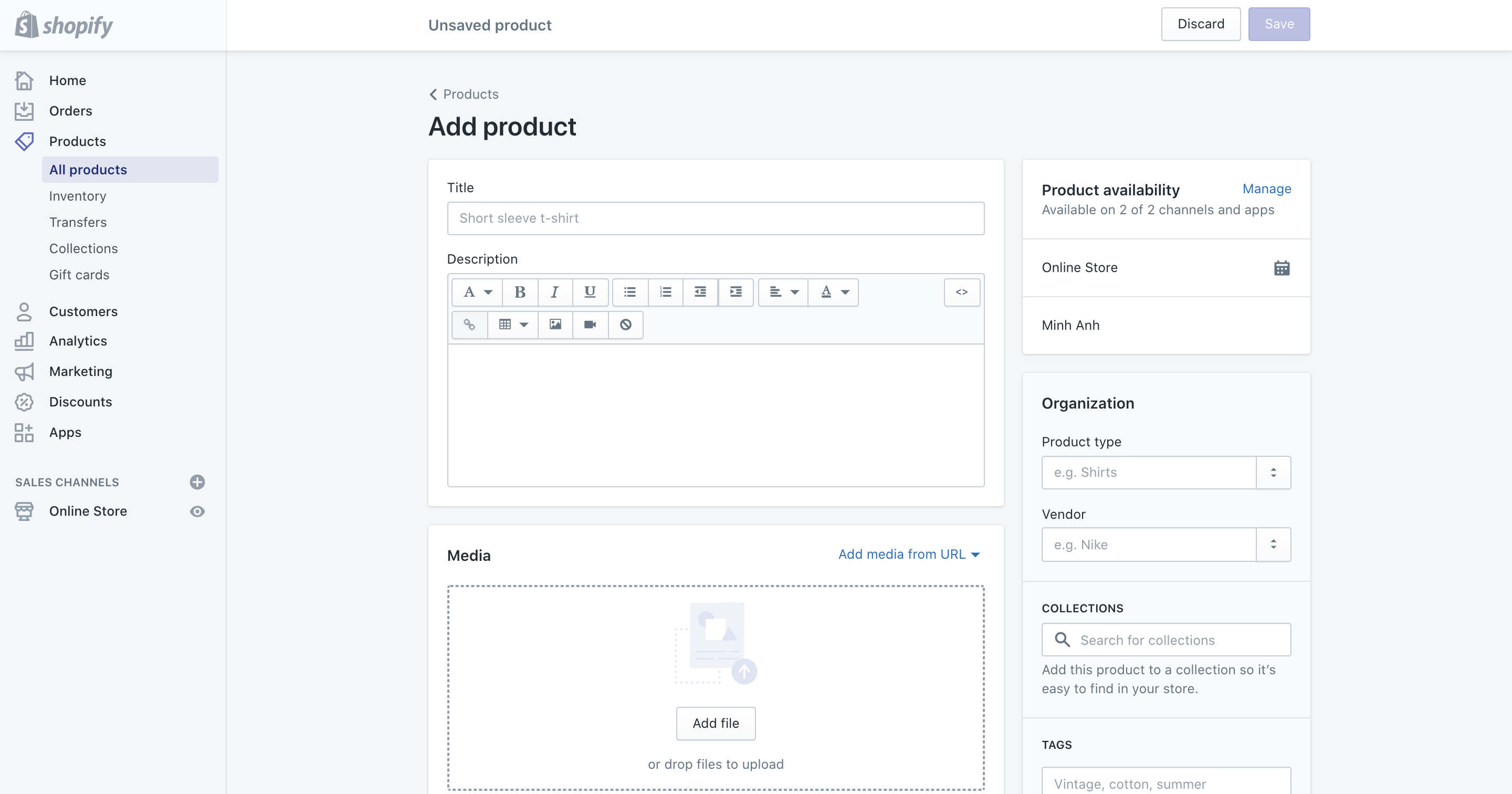 With Shopify, you can start selling in just a few minutes and don't have to be an expert at building stores. If you have no idea how to set up a Shopify store, check out this tutorial video to kick start your business now.
Although Squarespace is also a hosted cart, it is a bit more tricky to get to grips with compared to its competitor. Squarespace applies the drag-and-drop sections with some content blocks which makes it easy for beginners. However, the editor's homepage is just a bit hard to navigate and there are no visual cues.
For individuals who are brand new to building eCommerce websites, it will take them some extra time to comprehend the system of Squarespace.
The Verdict: Overall, Both Squarespace and Shopify are user-friendly but the latter is a bit easier to use than the former. It offers a nice balance between simple design features and complex business tools. On the other hand, Squarespace's editor homepage is just a bit harder to navigate as there are no visual cues to help you out.
3. Design and customizability
Shopify has a decent choice of themes. You can choose from 9 free templates and 64 premium ones costing around $140-180. Shopify themes cover plenty of industries including electrical gadgets, clothing, sports, and cosmetics, etc.
All of Shopify's themes are modern, professional, and mobile responsive. They will automatically fit in with the size of any mobile device.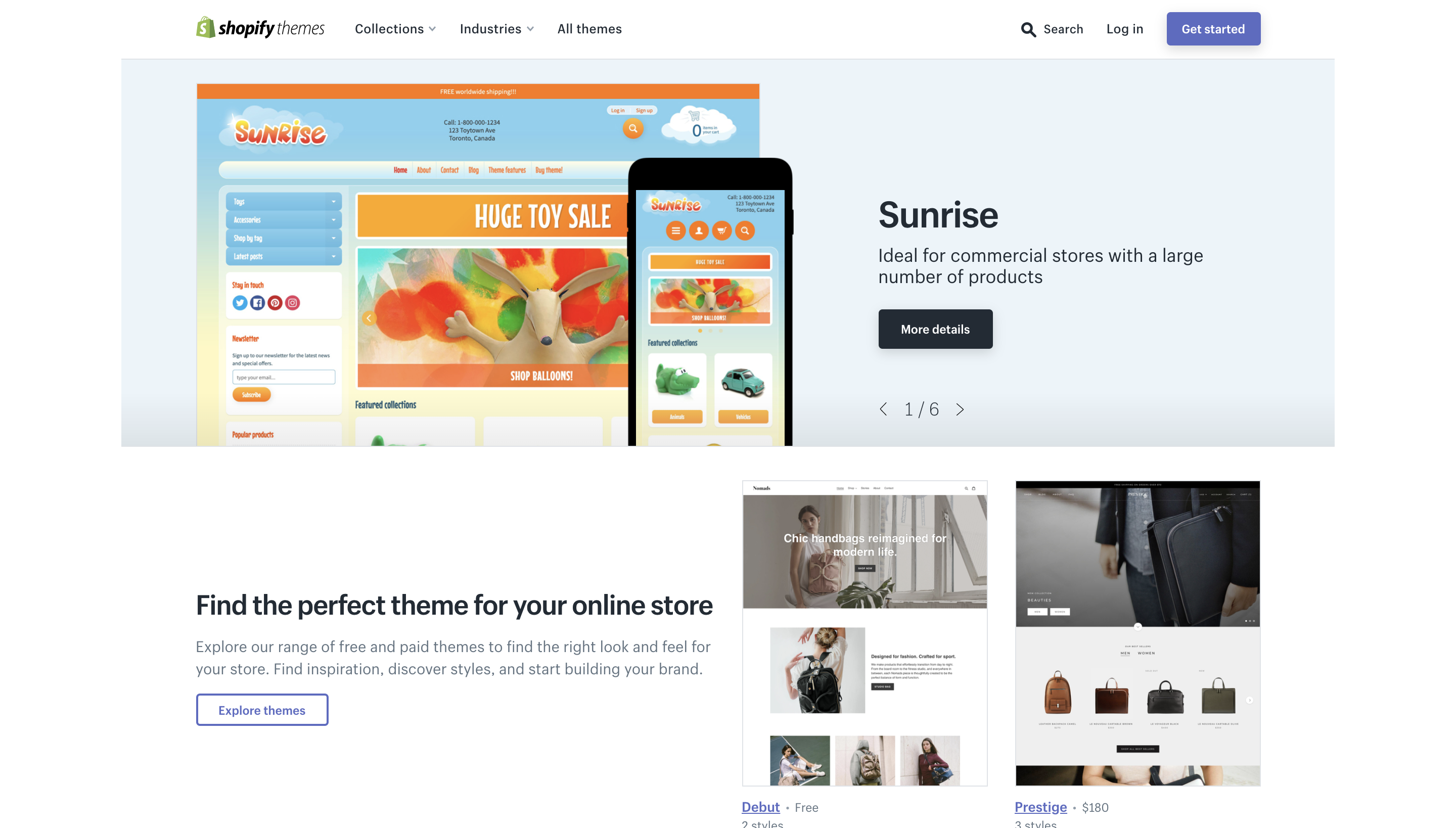 In the other corner, every Squarespace template is sleek, stylish, and modern. All of them are created to meet the standard of great design, usability, performance, and mobile responsiveness. In addition, they are free to preview and edit as this is included in your monthly subscription fee.
However, a lot of the Squarespace templates are designed specifically for users who want to blog or showcase an art, photography, or music portfolio. Thus, they might not always be fully optimized for e-commerce like Shopify.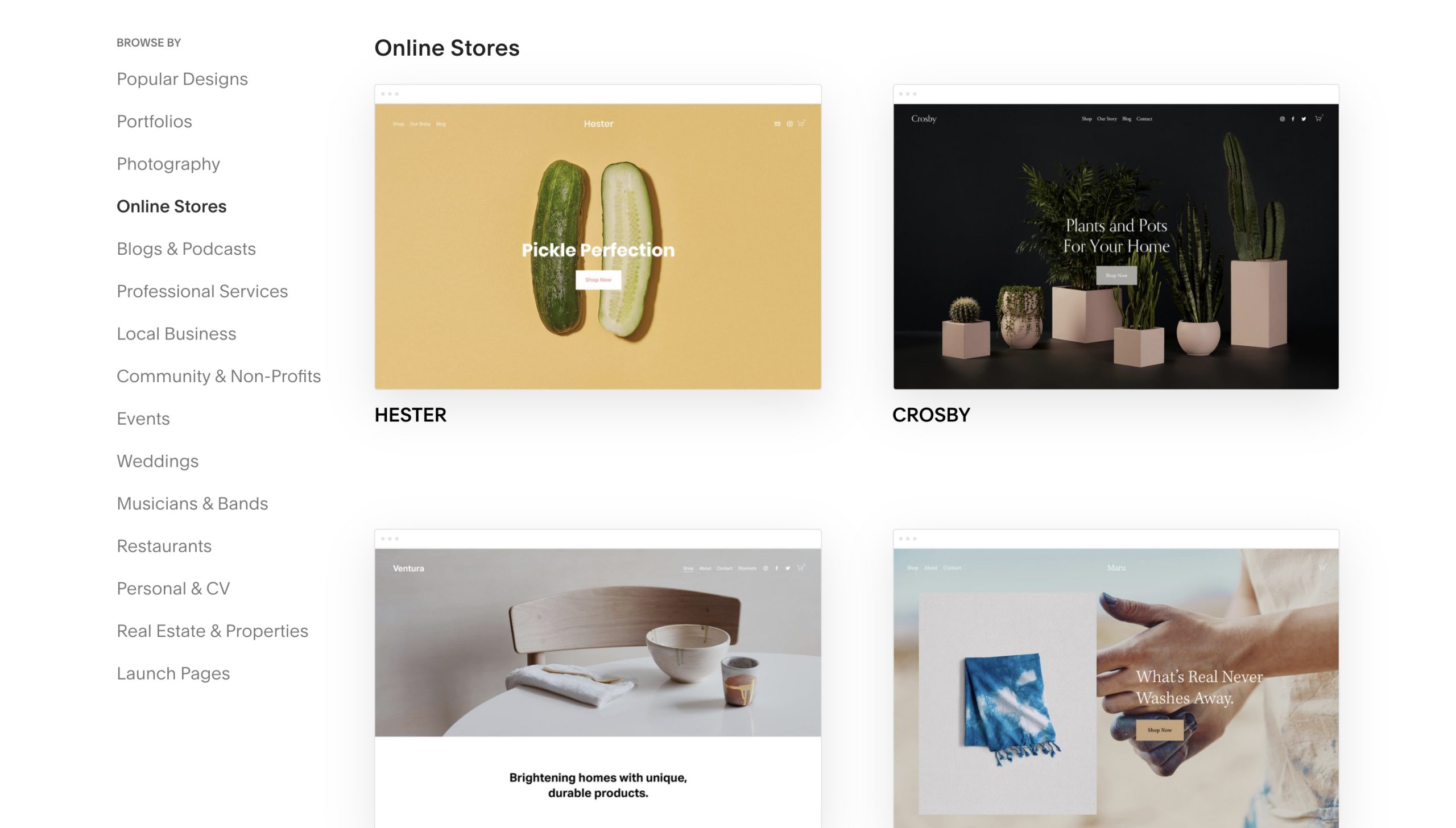 If you want to personalize your online store, even more, you can use code to make custom edits. With Shopify, you can edit HTML (Hypertext Markup Language) and CSS (Cascading Style Sheets) on the Shopify Admin panel. With Squarespace, you can add HTML using a Code Block, and CSS using their CSS Editor.
The Verdict: This round is a draw. Both Squarespace and Shopify provide a wide range of attractive template options. The former is a more obvious choice for those wishing to open an online store. The latter is a better fit for content-driven websites.
4. Sales features
Product Types
Both Squarespace and Shopify let you sell physical and digital products. Nonetheless, you will need to install an app to sell digital products on Shopify such as Digital downloads while you can sell any type of product on Squarespace.
Payment Options
Shopify supports all the major payment gateways like Amazon Pay, Square or even cryptocurrency as well as more than 100 other options. Users of Shopify Payment won't be charged with any additional transaction fees, which fall in the range of 0.5% to 2% per transaction for all the other payment methods. Unfortunately, Shopify payment is only available in a few countries such as the US, UK, Canada, etc. If you are living in those nations, make sure to take advantage of Shopify payment to avoid this extra cost.
By contrast, Squarespace limits the options it supports to only PayPal and Stripe. Moreover, Paypal is left as the sole payment processing option for a lot of Squarespace users as you can only sell goods using Stripe from certain countries.
If you are living in the US and you buy either the Commerce Basic or Advanced plan, you can also use Square to process in-person and card payments that integrate your online store with Squarespace Point of Sale. You can set this up in the Squarespace Commerce app.
Shipping Options
Everything you need from printable shipping labels to built-in integration with shipping services like NHL or UPS and dropshipping are available in Shopify. They ensure the shipping experience is as smooth as possible.
Squarespace really can't compete with Shopify on this one. So far, they have been working with USP to calculate carrier shipping rates. UPS also allows you to amend shipping costs depending on the country you're shipping to, or by weight.
Inventory Management
They both offer unlimited products, the ability to add single or bulk items, in-house revenue reports, and direct email alerts for low stock.
Selling Offline
Shopify designed its own POS system, which is available in every Shopify plan and will sync seamlessly with your online stores. You'll need to download the Shopify app, and buy some form of hardware (the basic tap and chip card reader costs $49). Additionally, you need to pay a transaction fee: 2,7% for the Basic plan, 2,5% for the Shopify plan and 2,4% for the Advanced plan for every offline sale.
On the other hand, Squarespace partnered with Square to develop Point of Sale. You first need the Squarespace Commerce app and a Square card reader which costs around $49. The transaction fees are a bit higher: 2.6-3.5% and you also have to pay for a processing fee of $0.10 – $0.15.
The Verdict: Shopify wins this round easily as this platform mainly serves eCommerce store owners.
5. Marketing features
Email campaigns
Squarespace offers email campaigns out of the box. This feature allows you to manage both your website and mailing list in one place. However, you have to pay extra to use it. There are 4 plans available:
Starter: $7 per month to send up to 3 e-newsletters to a maximum of 500 subscribers per month
Core:  $14 per month for 5 e-newsletters and 5,000 subscribers
Pro:  $34 per month for 20 e-newsletters and 50,000 subscribers
Max: $68 per month for an unlimited number of newsletters and 250,000 subscribers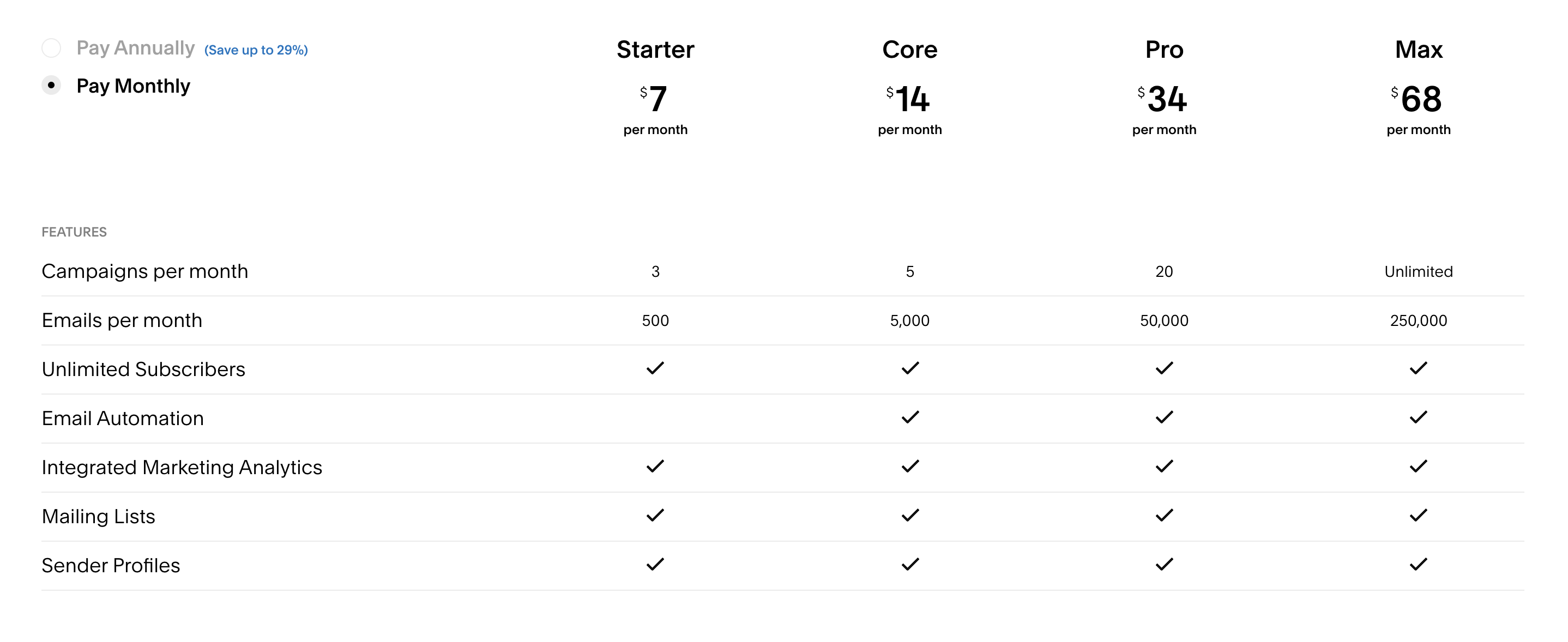 On top of that, the e-newsletter in Squarespace has a drag-and-drop interface that makes it very easy to edit. Besides, you can also drop your blog post or product information into your newsletters effortlessly.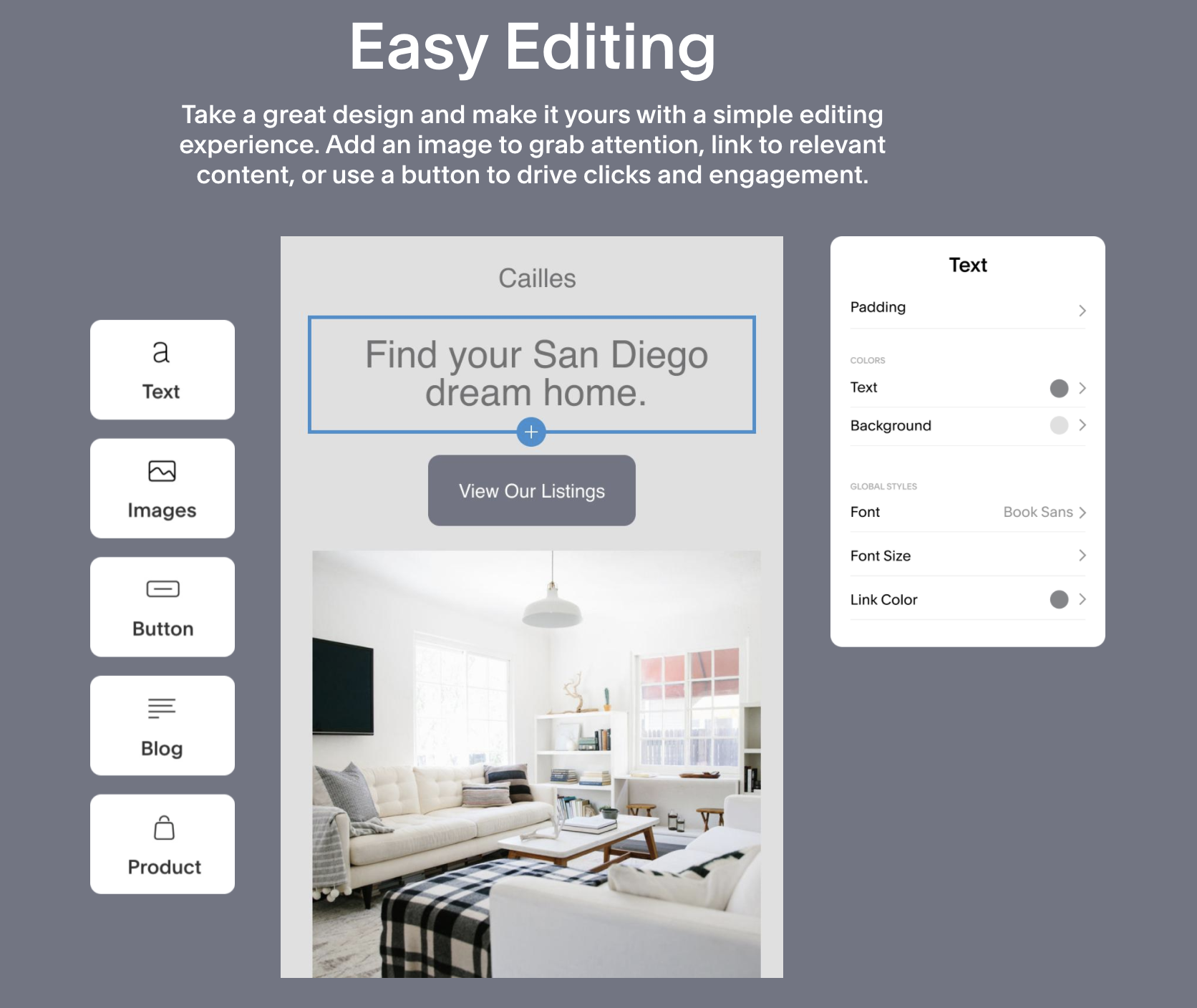 As with Shopify, they have also recently introduced an email marketing tool: Shopify Email. Unfortunately, Shopify Email is currently very basic, only allowing you to send simple e-newsletters. The only plus point of Shopify email is the price: it is 100% free until October 2020. After that, you can email 2500 subscribers/ month without paying. An additional 1000 subscribers will cost you a $1 fee per month.
Social Media Integration
Shopify allows you to sell on up to 10 social media platforms. You can easily add a wide range of marketing, accounting, and shipping apps to make your business more streamlined.
On the contrary, Squarespace only allows you to sell on Instagram. This causes many obstacles if you want to scale your business and get closer to your customers.
SEO
SEO stands for Search Engine Optimization, which is the practice of increasing the quantity and quality of traffic to your website through organic search engine results. After all, the ultimate goal of online merchants is to drive traffic and sales to their stores and the best way to achieve this is by optimizing your SEO.
Let's take a look at what SEO features Squarespace and Shopify has to offer: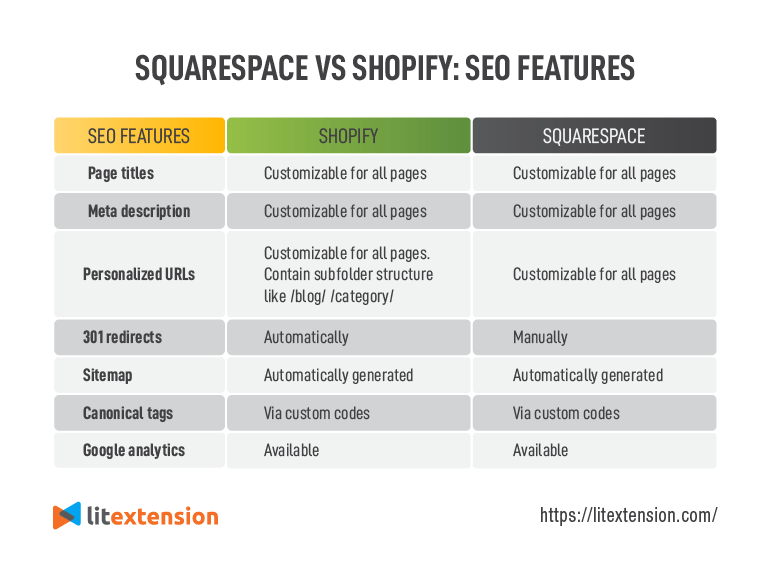 The verdict: In terms of marketing feature, it's a draw.
6. App store
Squarespace launched their extensions marketplace in December 2019. The selection is still very narrow, they mainly focus on eCommerce integrations (shipping and accounting apps, for example). You can take a look at the top 32 Squarespace plugins.
Shopify, on the other hand, has one of the best eCommerce app stores around with more than 2400 apps available. It's like a features buffet, where you can pick and choose whatever you want from a variety of paid and free apps. The premium ones fall in the range of $15 to $50 per month.
The verdict: Shopify wins as its app store is one of the best among all website builders.
7. Customer support
Due to the hosted nature, both Squarespace and Shopify offer outstanding customer service. Whenever trouble arises, you can reach out to them for help via email, phone, live chat or their community forum. You can also refer to their documents for help. Furthermore, with Shopify, you get a special support agent if you buy the Shopify Plus plan.
While Squarespace users can only reach out for help via live chat or email, Shopify has gone a step further to include 24/7 phone support.
The verdict: Shopify has a slight edge over Squarespace in terms of support channels.
Squarespace vs Shopify: Pros and Cons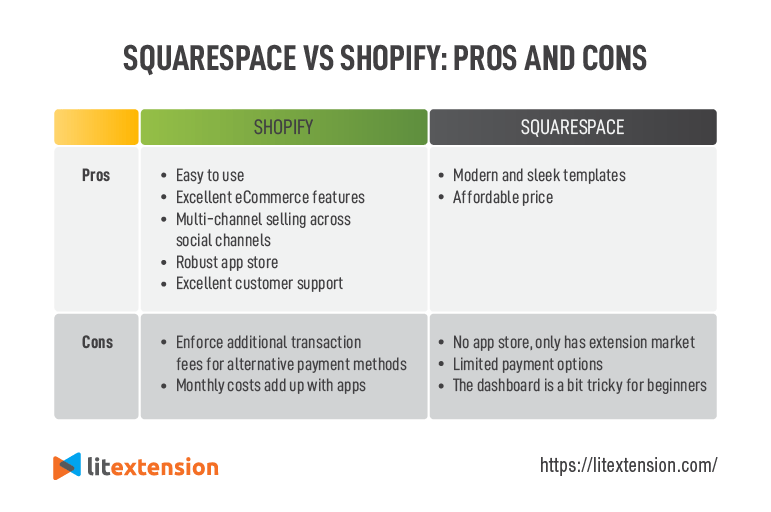 Which one is ideal for your business?
Well, it depends on many factors.
Squarespace would be the perfect option for those who are aiming to build a website with beautiful images and photography to showcase their creativity. Or if you are planning to build a content-focused website or a blog and at the same time sell a few products on your site, Squarespace is probably your best fit.
On the other hand, Shopify is hands-down the perfect match for merchants who are looking to run a store with advanced eCommerce functionality, professional reporting and a big inventory of products.
Conclusion
In Summary, both Squarespace and Shopify are great eCommerce website builders. While Shopify has the best sales features, Squarespace is more suitable for blogging and displaying stunning images. Therefore, the question "Squarespace vs Shopify: Which one is better?" all comes down to your demands and preferences.
If you already have a website of your own and are considering moving to either Squarespace or Shopify, LitExtension can be your perfect partner.
We are the leading company in the shopping cart migration industry with almost 10 years of experience. Our job is to ensure merchants can make a smooth transition from one eCommerce platform to another.
To see the migration process in action, we provide free DEMO migrations with limited entities transferred. Should you have any questions, please contact LitExtension for help. All questions and recommendations from you will be responded to and answered promptly by our dedicated support team.
You can also join our Facebook Community to get more eCommerce tips and news.