Shopify vs Squarespace are among the best website builders in the market. Spectacularly, you can easily create and manage websites with them without any technical skills. If you are looking for a comprehensive Shopify vs Squarespace comparison, don't look any further because you're in the right place.
In this article, we will be providing you with the difference between Squarespace and Shopify in multiple aspects:
Let's get the show on the road!
Migration Made Easy With LitExtension!
Don't have time to switch to another platform? Opt-in for our All-in-One Migration Service and have a Personal Assistant carry out the migration for you without having to lift a finger.
---
Shopify vs Squarespace: Detailed Comparison  
If you don't have enough time to run through the walls of text, or you want to compare Shopify vs Squarespace in a more intuitive way, look at the table below. We will shed light on these aspects:
• Shopify Plus: from $2000/month

• 02 options available: Shopify POS Lite & Shopify POS Pro

• Top-notch report & analytics tool

• Shopify POS Lite is included on every paid plan

• 04 software options: Retail, Restaurants, Appointments, Point of Sale

• Flat and transparent pricing

Drag-and-drop design & visual clues

Extra time required to comprehend system

• Up to 10 platforms integration

• Robust SEO built-in features

• Wide ranges of analytics features

• Lack of blogging analytics

• Facebook or Instagram integration

• Basic analytics features

• 100+ payment processors

• Shopify Payments wipe all transaction charges

• Accept e-wallets (GooglePay, ApplePay)

• Square Pay is the main payment method

• Accept e-wallets (GooglePay, ApplePay)

• Transaction fees applied

• 100+ premium themes costing around $170-$350

110 templates (pricing depending on subscription plan)

• Great selection of sales tools & payments

• Various shipping options

• Flat shipping, depend-on-weight, carrier calculated

Various dropshipping apps

Third-party fulfillment services

• Flexible sales tax support

• No multi-currency support

• Automatic tax calculation feature

• Takes care of all upgrades and security concerns

• Takes care of all upgrades and security concerns
1. Squarespace vs Shopify: Pricing
Shopify pricing
There are 5 pricing plans: Shopify Starter, Basic Shopify, Shopify, Advanced Shopify, and Shopify Plus.
Here's a quick comparison of the 3 main pricing tiers:
| | | | |
| --- | --- | --- | --- |
| | | | |
| *if not using Shopify Payments | | | |
| *assign & manage staff's activities | | | |
| | | | |
| *automatically manage & operate stores | | | |
| *shipping subsidies with leading carriers | | | |
| | | | |
| Third-party calculated shipping rates | | | |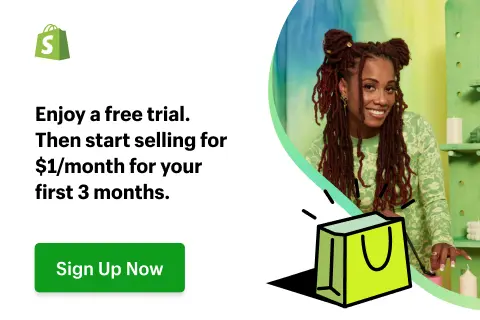 As far as we know, you can get a 25% discount after purchasing the annual option of all Shopify plans. And, in addition to the Shopify 3-day free trial, you can try out this platform for $1 for the first 3 months. This could be a valuable chance to test out the water while minimizing the financial investment.
Without a doubt, Shopify helps you start your eCommerce journey in the most cost-saving way, which Squarespace doesn't do now.
In addition to these three plans, Shopify also offers the Shopify Starter plan for only $5/month. It allows you to sell products/services to your customers through social media platforms or messaging apps without maintaining an online store.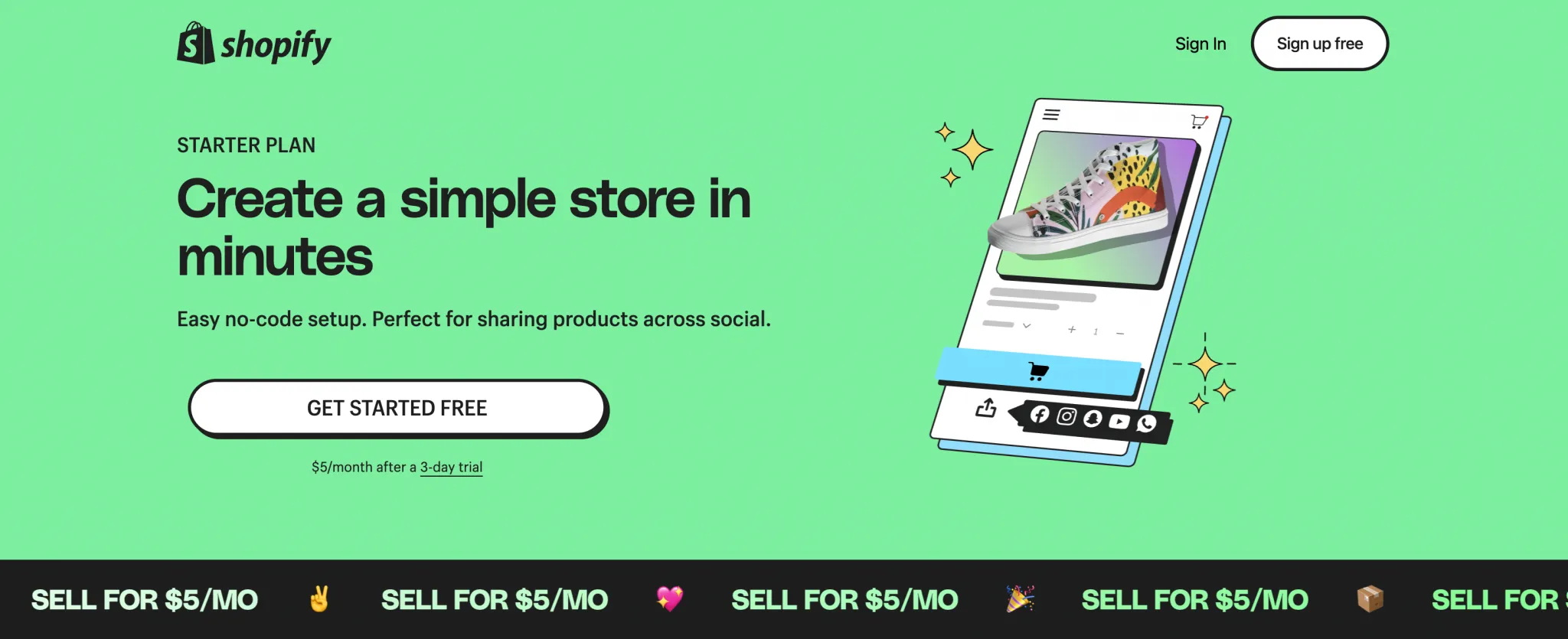 What's more, this platform also offers the Shopify Plus plan. As one of the best B2B eCommerce platforms, this pricing tier is specifically built for high-volume online stores. It offers extensive features to support your online business including good scalability, incredible speed optimization, enhanced customization level, and so much more.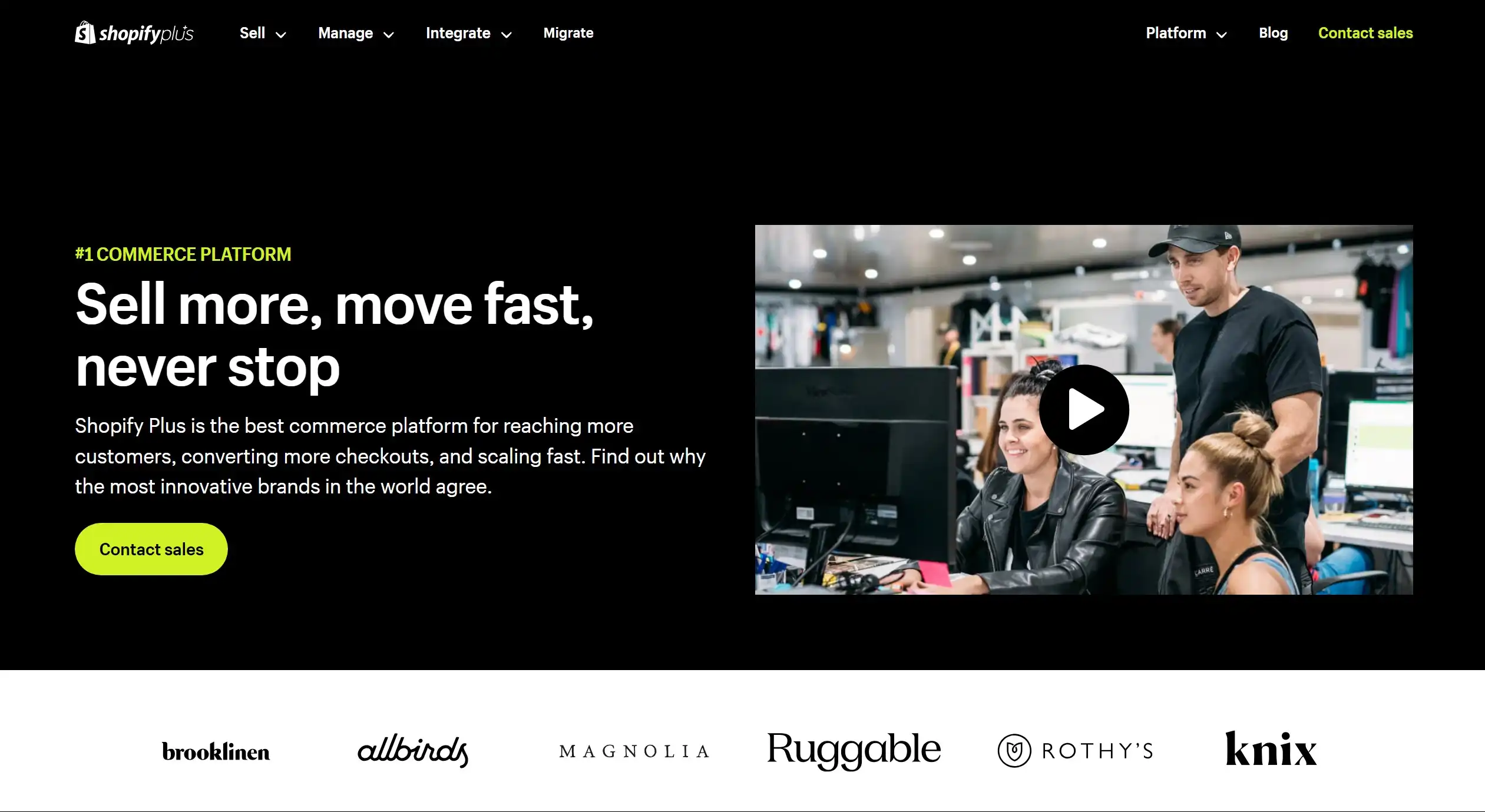 Additional resources about Shopify Plus that you should not miss:
Shopify payments
When it comes to Shopify vs Squarespace pricing comparison, we should mention Shopify Payments apart from other third-party payment processors – the separate payment gateway of Shopify. Regarding the transaction fee, you are supposed to pay online credit card rates and/or in-person credit card rates. However, you don't have to pay an additional transaction fee ranging from 0.5% to 2%, depending on the plan you choose if you are a user of Shopify Payments.
Besides, you may need to spend on other factors to complete your Shopify store, such as domain name, theme design, add-ons, and integrations, etc. as well. Therefore, we suggest you take a closer look at the Shopify fees comparison before opening a site on this platform.


Squarespace pricing
Next, when coming to Squarespace pricing vs Shopify comparison, you can choose from one of 4 pricing options of Squarespace: Personal, Business, Basic Commerce, and Advanced Commerce. The price ranges from $16 to $49 annually, the higher you play, the more function-rich your website will be.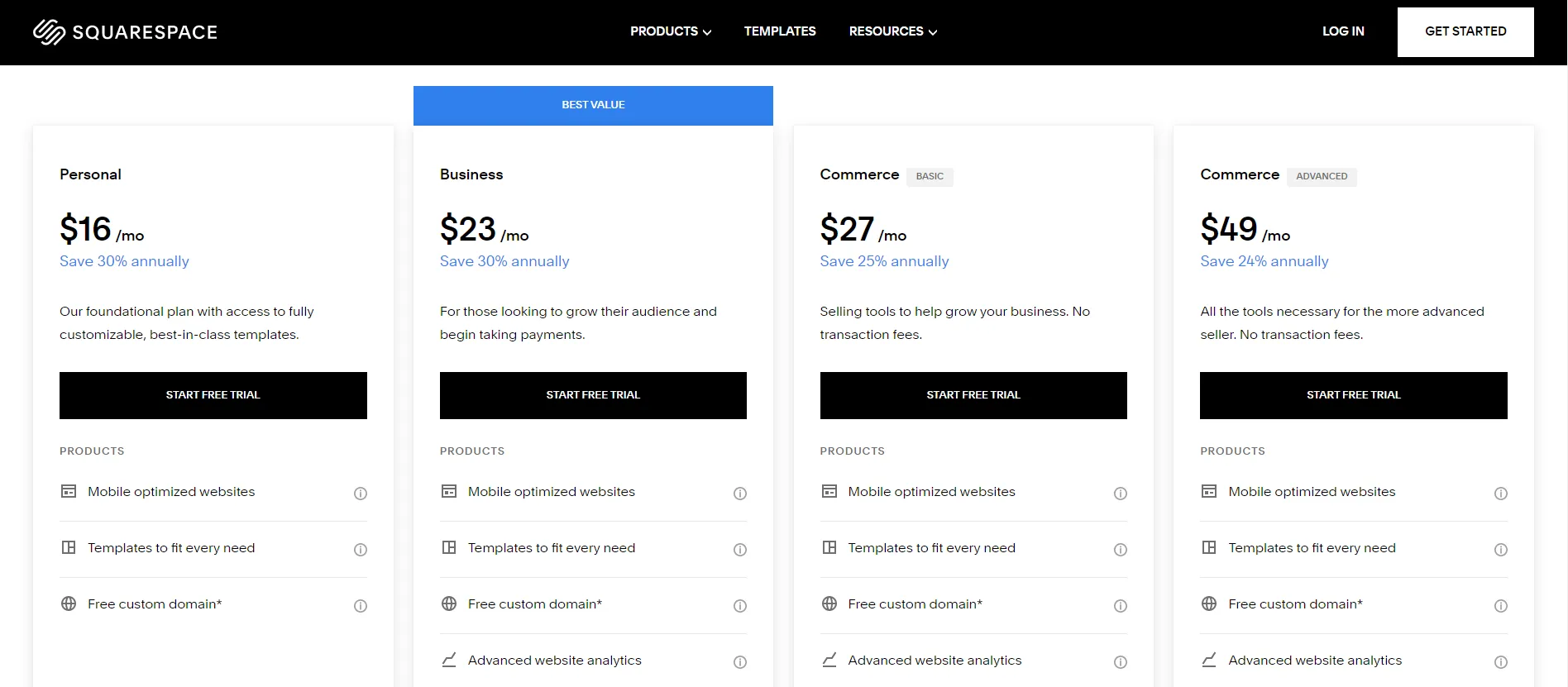 You can also make use of a free trial to try out Squarespace yourself before deciding whether this satisfies your business demands or not. If you want more information on the difference between each pricing plan and which one you should go for, our article on Squarespace pricing might be helpful. 
Please note that the Personal plan does not include eCommerce or Marketing features. Therefore, if you want to open a website using Squarespace, you have to purchase one out of the other three options. However, remember that the Business plan charges you a 3% additional transaction fee, while the other two don't. Therefore, the cost can go up very high.
The Verdict: 
As you can see, when it comes to pricing comparison, Squarespace is a much more affordable option. With only $49/month, you already have the most advanced features on Squarespace. Meanwhile, you have to pay at least $299 to get the best functionalities out of the box with Shopify, plus other apps and add-ons for scaling your business. Despite the pricing, we highly recommend you choose Squarespace or Shopify for small businesses. 
2. Shopify vs Squarespace: Ease of use
Shopify ease of use
Due to hosted nature of Shopify, I find that this platform has a very user-friendly dashboard. Shopify uses a drag-and-drop design, meaning you can simply add, remove or move sections by yourself with just a few clicks. It also has a clear interface with visual cues and shortcuts to add products, customize themes and add a domain on the main page. Therefore, you never feel lost when designing your online site.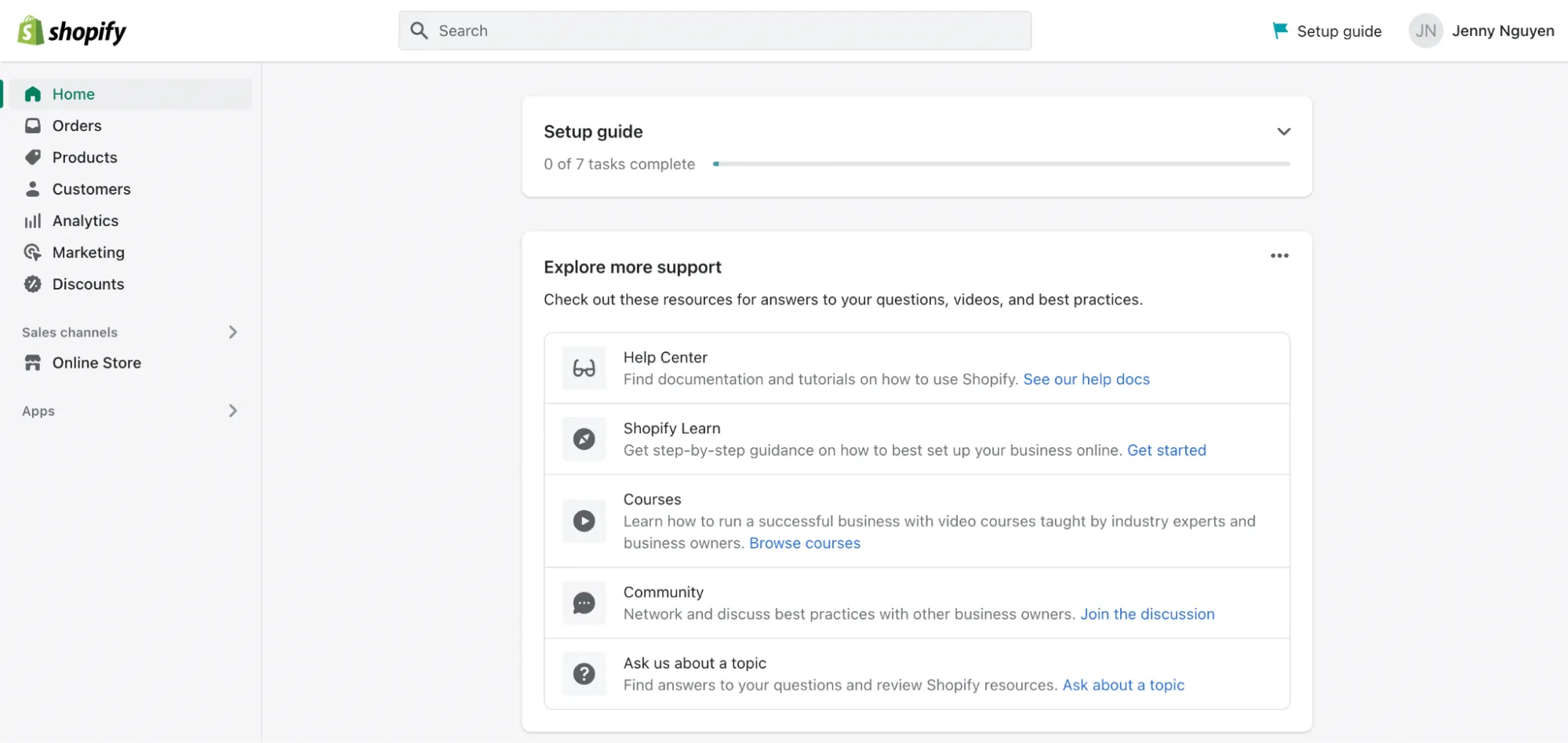 Since its inception, Shopify has gained a well-deserved reputation for its simplicity in setting up and operating on a day-by-day basis. Here is the review of Charlie Clarke, a Shopify user:
We use Shopify for our online store and it is fantastic. If we have any issues the gurus are more than happy to help. The platform is easy to use and self-explanatory. Highly recommend!
With Shopify, you can start selling in just a few minutes and don't have to be an expert at building stores. If you have no idea how to start a Shopify store, we have this tutorial video to kick-start your business now.
Squarespace ease of use
Although Squarespace is also a hosted cart, I find it a bit more tricky to get to grips with in comparison with other platforms. Squarespace applies the drag-and-drop sections with some content blocks, which makes it easy for beginners. However, the editor's homepage is just a bit hard to navigate, and there are no visual cues.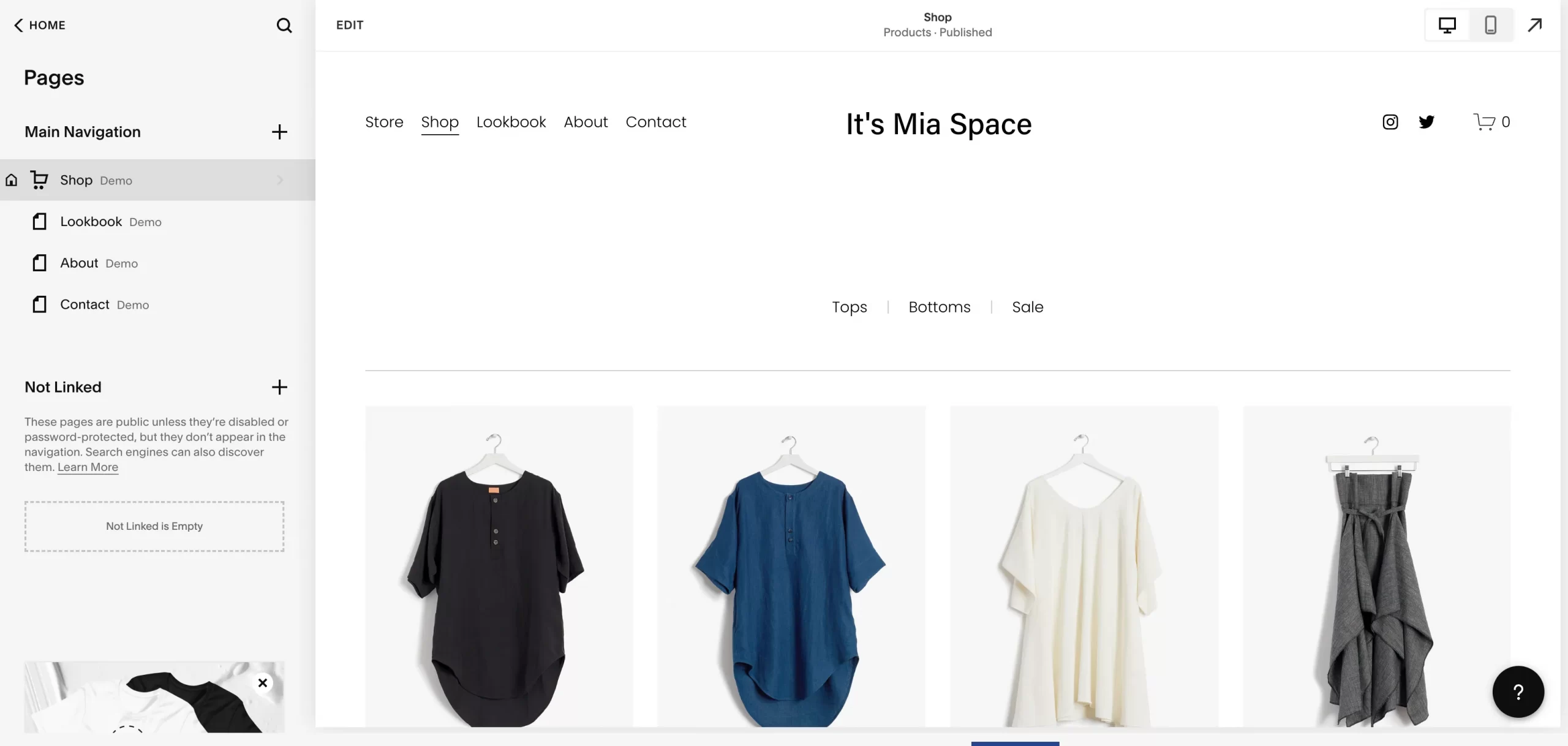 For individuals who are brand-new to building eCommerce websites, it will take them some extra time to comprehend the system of Squarespace.
The Verdict:
Overall, in this comparison, both Shopify vs Squarespace are user-friendly, but Shopify is a bit easier to use than Squarespace. It offers a nice balance between simple design features and complex business tools.
3. Shopify vs Squarespace: Themes
Shopify themes
As you might know, Shopify has a decent choice of themes. You can choose from 110+ website templates (both free Shopify themes and paid options) on the Theme Store. These web designs cover plenty of industries, including electrical gadgets, clothing, sports, cosmetics, etc.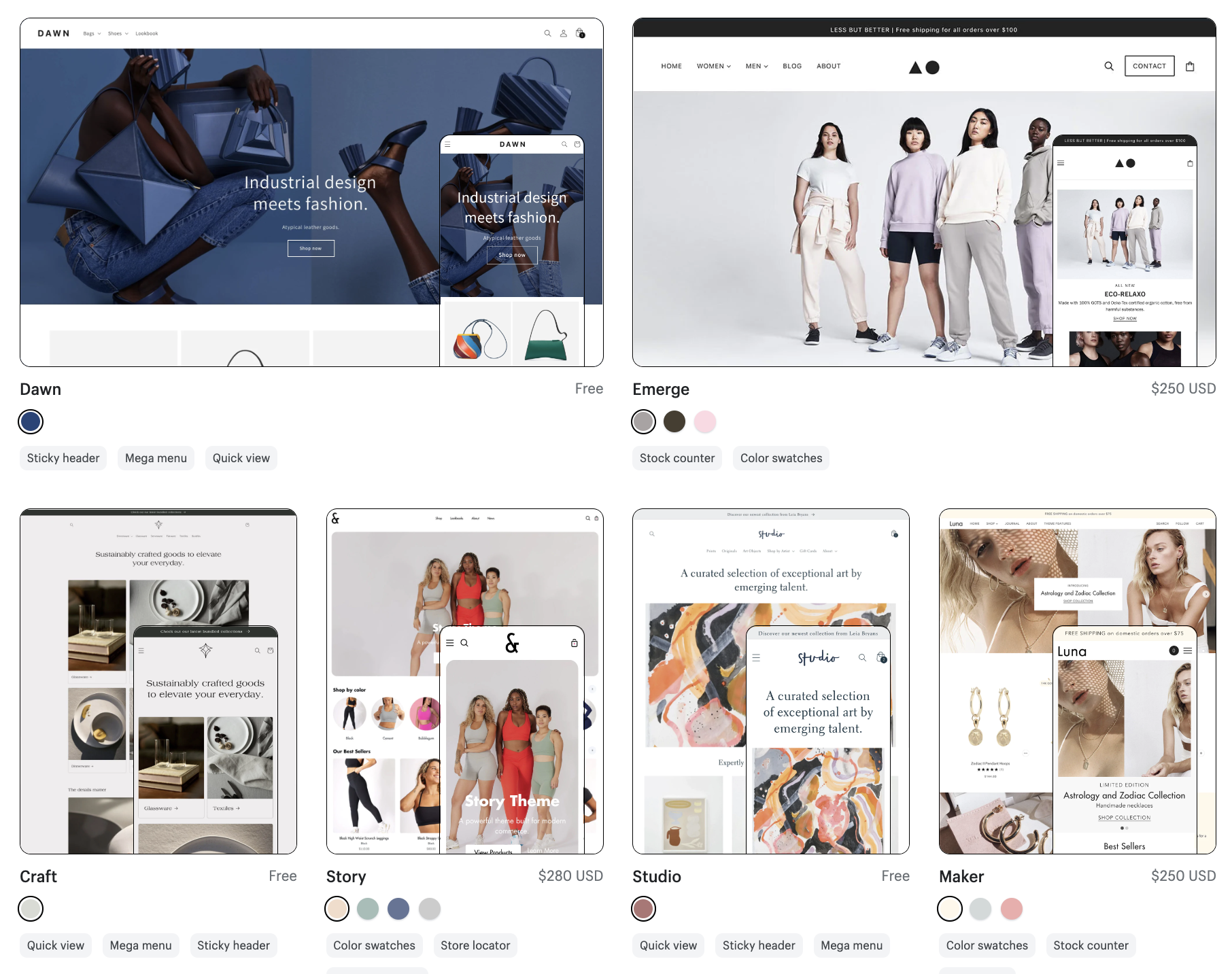 All of Shopify's themes are elegant, attractive, and mobile responsive. Especially you can try out all Shopify themes (even premium ones) at no cost on 3-day free trial (and that's really generous!). In addition, Shopify ensures the performance of any theme you may choose because they are all created by UI-UX professionals. You can choose a template for your storefront and switch to a more suitable one later.
If you want to personalize your online website, even more, you can use code to make custom edits. With Shopify, you can edit HTML (Hypertext Markup Language) and CSS (Cascading Style Sheets) on the Shopify Admin panel.
Inspired by feedback from merchants, the developers have shown us several improvements in the themes since October 2020. You may notice changes such as updated colors, simplified illustrations, and a clear appearance. Upgrading to the Shopify theme editor is another attempt of this platform to enhance theme loading times.
Outstanding Shopify themes to get you inspired:
Squarespace templates
In comparison, every Squarespace template is sleek, stylish, and modern. Most importantly, all of them are professionally created to meet the standard of great design, usability, performance, and mobile responsiveness.
As a matter of fact, Squarespace is inherently a blog-hosting service. Many Squarespace themes are designed specifically for users who want to blog or showcase an art, photography, or music portfolio.
Although Squarespace might not always be fully optimized for eCommerce in comparison with Shopify, it is easier for e-merchants to customize their Squarespace online stores in an artistic way. If mentioning Shopify vs Squarespace for artists, Squarespace may be a more optimal choice.
In addition, they are free to preview and edit depending on your selling purpose, as this is included in your monthly subscription fee.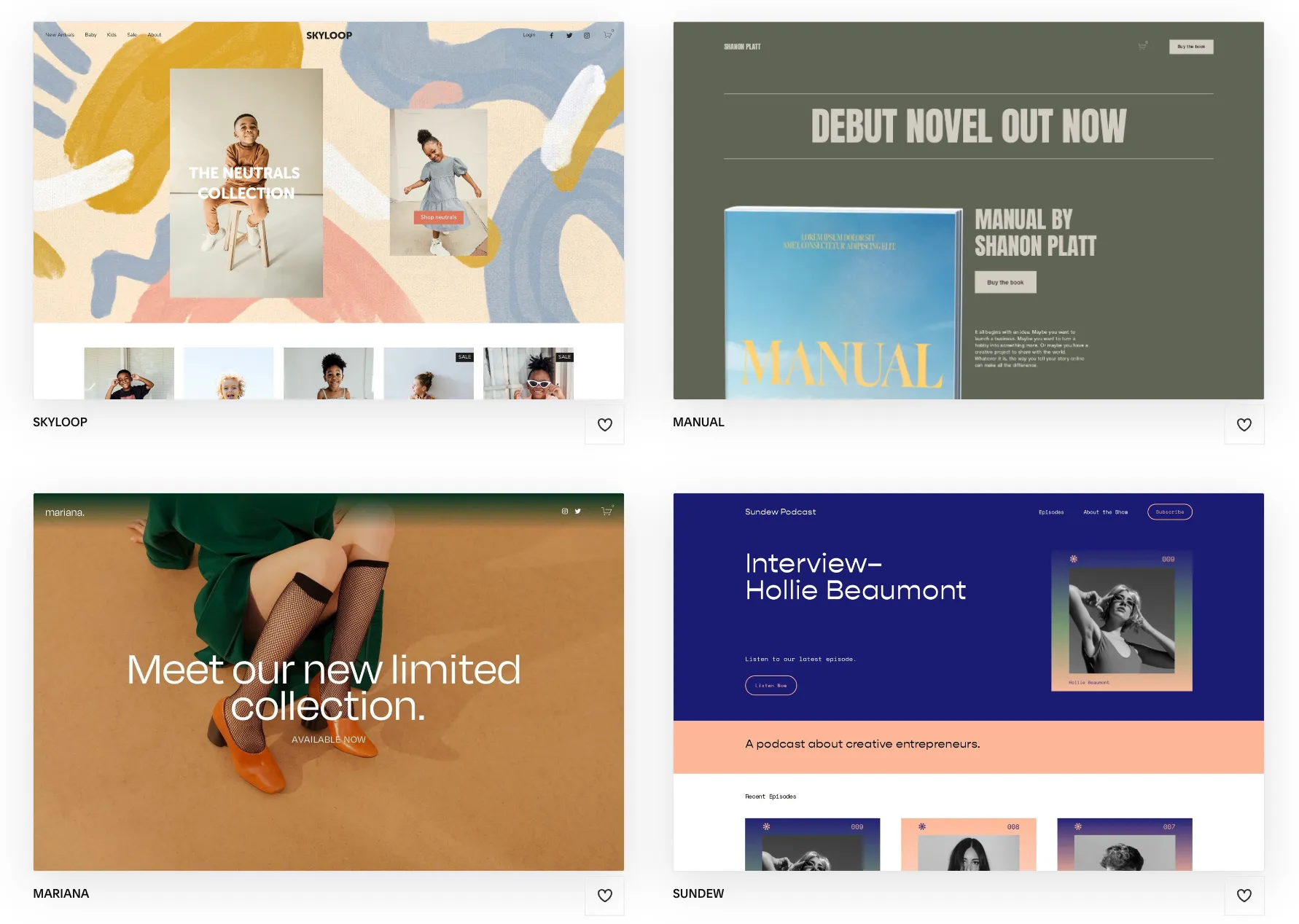 With Squarespace, you can add HTML using a Code Block, and CSS using their CSS Editor.
The Verdict:
This round is a draw. When it comes to Squarespace templates and Shopify themes comparison, we find that Shopify is a more obvious choice for those wishing to open an online store. 
4. Shopify vs Squarespace: Apps & Extensions
Shopify apps
Shopify has one of the best eCommerce app stores around, with a total of 8,000+ apps available on the Shopify App Store. It's like a features buffet, where you can pick and choose whatever you want from a variety of free plugins and premium apps, which starts from $15 per month. Although some paid apps are costly, they do bring significant benefits to the table.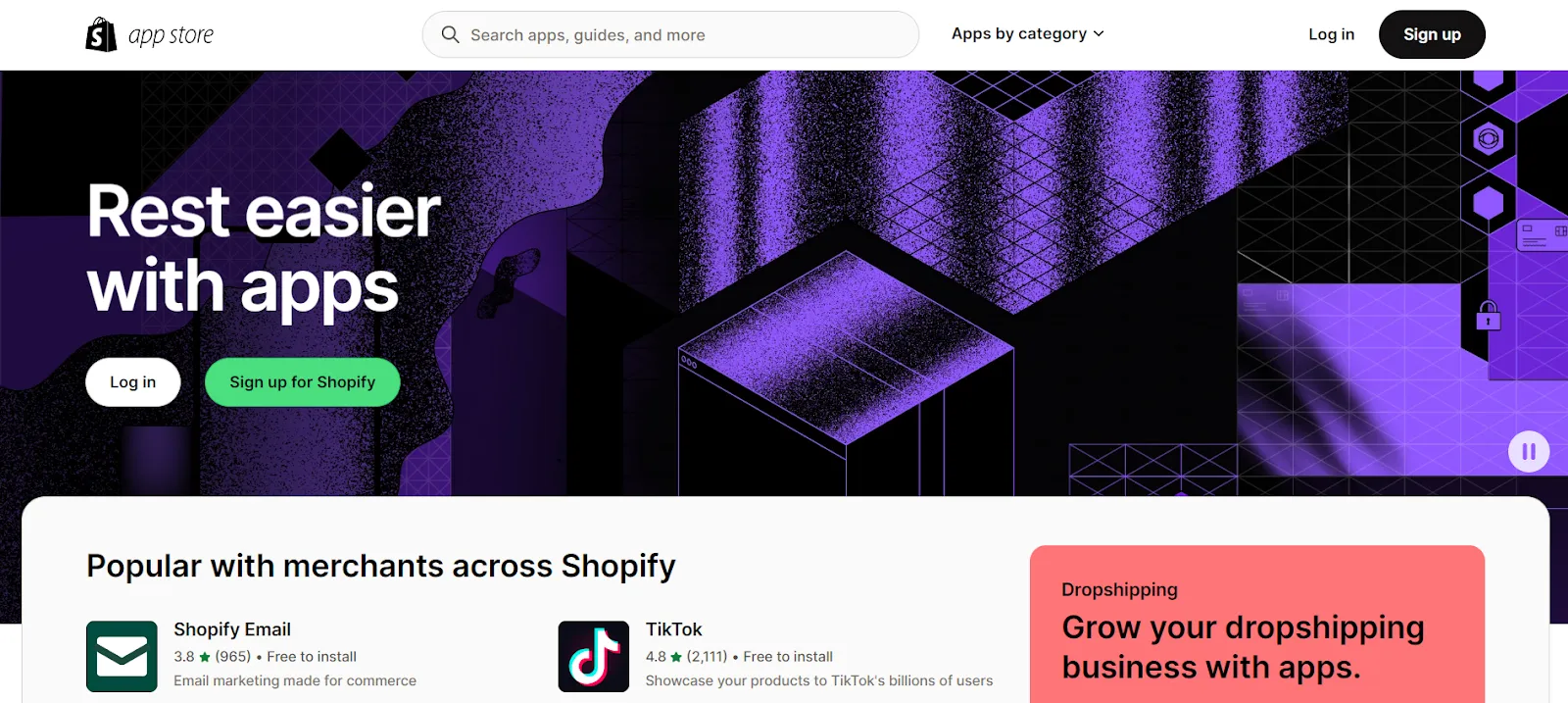 Essential Shopify apps to boost your business:
Squarespace extensions
Squarespace launched its extensions marketplace in December 2019. Currently, there are only 32 extensions totally provided by third parties. However, some of them are only available in several countries, so you need to review the extension's page before connecting it to your site.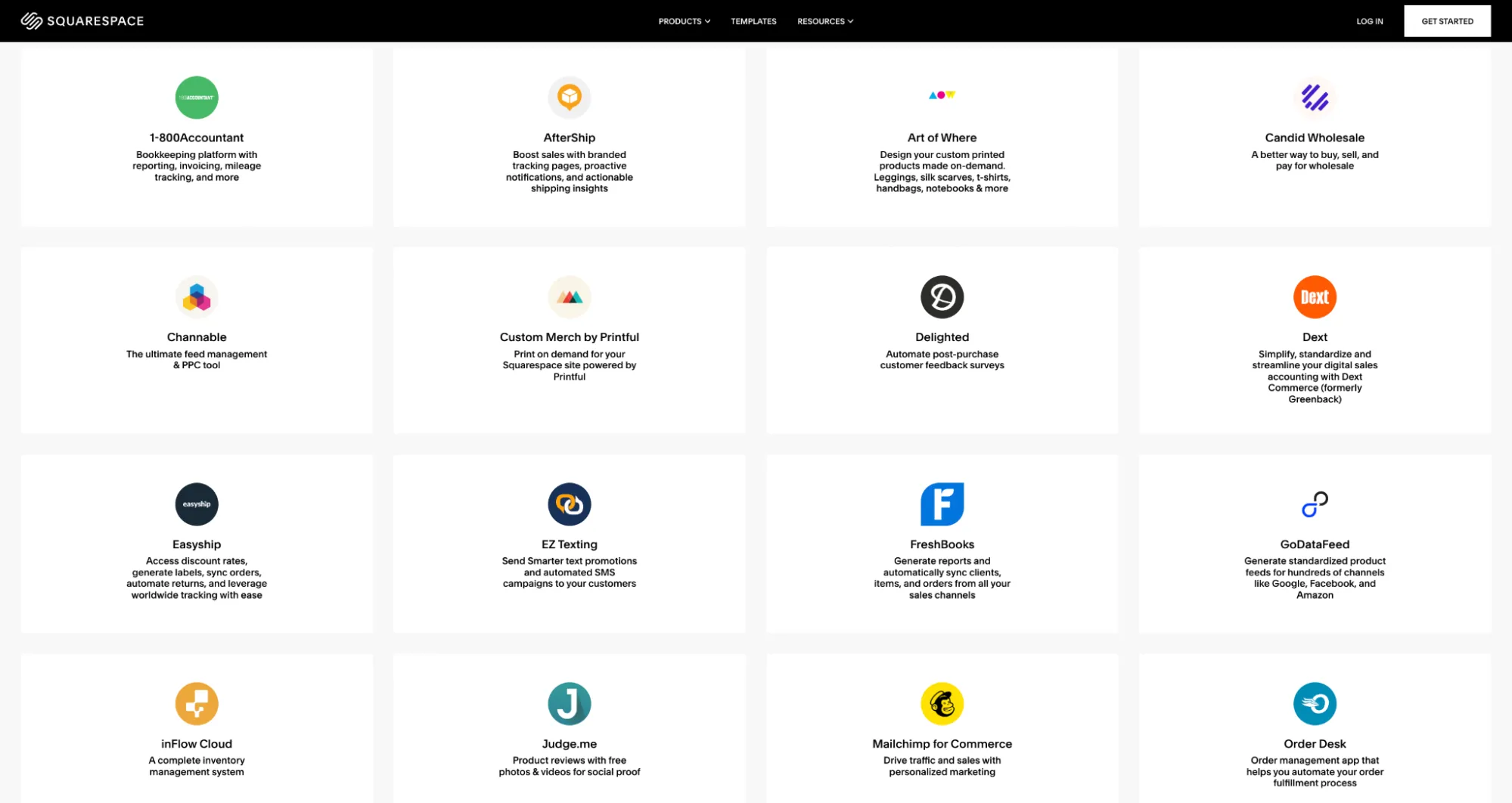 Regardless of the limited selection, all the extensions are designed to help you manage, optimize and expand your site. You can filter by categories and choose from 4 divisions, including Shipping and Fulfillment, Finance, Inventory and Products, Sales, and Marketing.
The verdict:
In this comparison of Shopify vs Squarespace, Shopify wins as its app store is one of the best among all website builders.
5. Shopify vs Squarespace: eCommerce features
To help online merchants to deliver the best shopping experience, both Squarespace and Shopify are packed with plenty of eCommerce features. Here are the features which we will dive into:
Let's get right into it!
5.1 Content import & export
When we compare Shopify and Squarespace, the first one offers more flexibility for product import and export. There are no restrictions to the product types, and you can perform both tasks via the CSV file in no time. 
At the same time, if you are using the Business or Commerce plan on Squarespace, you may import items through CSV files or utilize an import tool from Shopify, Etsy, or Big Cartel. With the export, Squarespace will transfer all of your content into the WordPress format, giving you more space when migrating among platforms. 
However, there are several restrictions to be aware of while exporting items from Squarespace:
Exports are limited to physical products and services.
Each product is limited to 3 variants only (colors, sizes, materials, etc.)
No export of customer feedback
You're limited to exporting no more than 10,000 items.
5.2 Inventory management
Those who utilize Shopify have access to cutting-edge tools for managing their stock. Products may be transferred between storage facilities and retail outlets with ease, with a robust tracking system for incoming and committed stocks. By using the Dashboard, you can effortlessly check on an order's progress and make changes before shipping. 
Similar to Shopify, Squarespace also offers unlimited products, the ability to add single or bulk items, in-house revenue reports, and direct email alerts for low stock. However, if you want more advanced features on this platform, you may have to ask for help from third-party plugins. 
5.3 Product types
Both Squarespace vs Shopify eCommerce let you sell physical and digital products. Nonetheless, you will need to install an app to sell digital products on Shopify, while you can have any type of product selling on Squarespace.
When it comes to selling digital items, Shopify has an advantage over Squarespace due to its significantly larger file upload limit (up to 5 GB, compared to 300 MB). 
5.4 Product images
This is where I give a higher score for Squarespace than Shopify. If your images don't all have the same aspect ratio, Shopify may randomly resize them to fit the grid, leading to an unappealing visual experience for your customers. To deal with this, you have to install another app once again.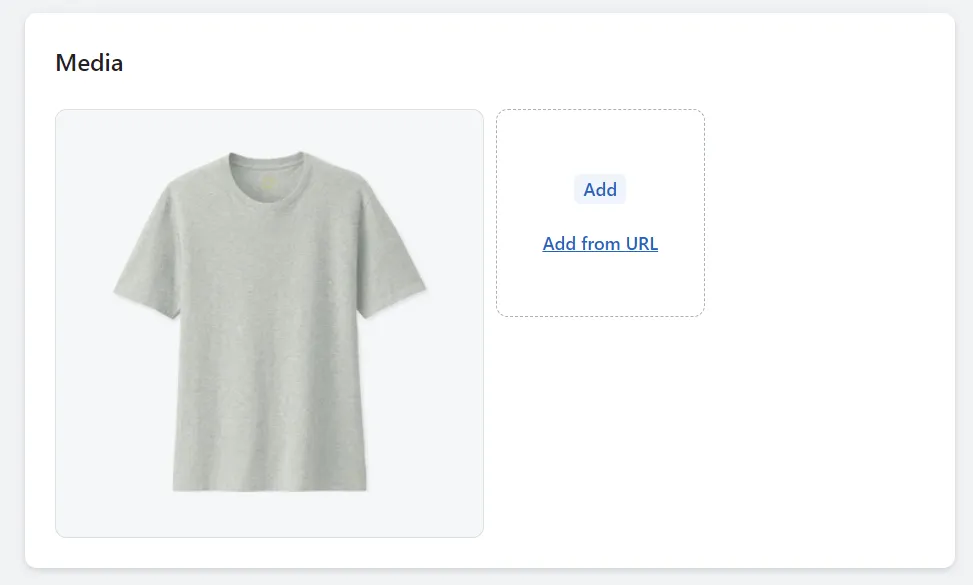 On the other hand, Squarespace offers a much superior solution. After deciding on an appropriate ratio, all of your product photos will be automatically cropped to fit them. Furthermore, a "focus point" may be designated for each product image in Squarespace, giving a smooth and professional storefront. 
5.5 Payment options
Next, let's have a comparison of payment options between Shopify vs Squarespace for eCommerce!
Shopify payment options
Shopify supports all the major payment gateways like PayPal, Amazon Pay, Square, Shop Pay, or even cryptocurrency, as well as more than 100 other options. To help store owners maximize the conversion rate, Shopify offers more payment methods, especially for local providers.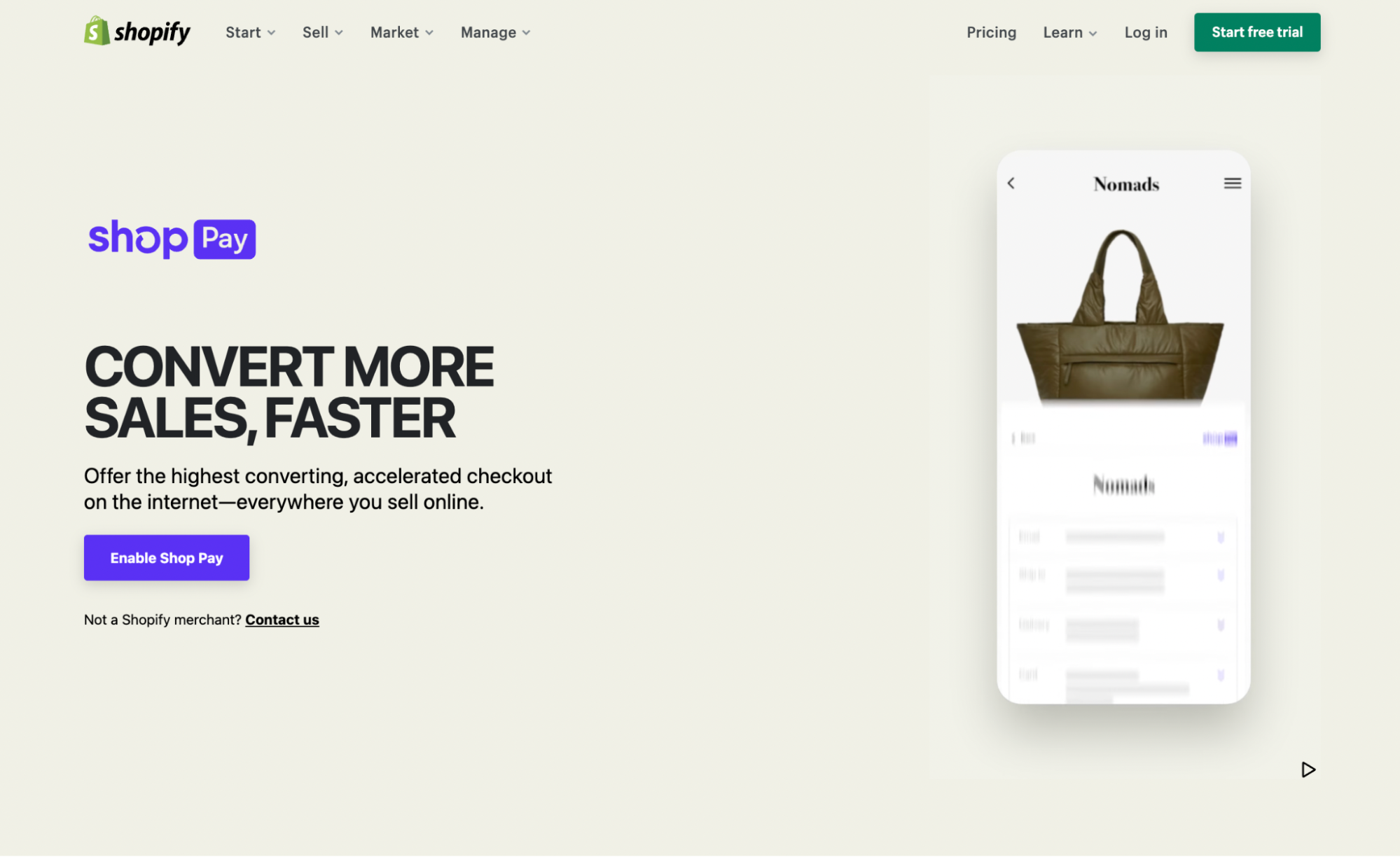 Users of Shopify Payments won't be charged any additional transaction fees, which fall in the range of 0.5% to 2% per transaction for all the other payment methods.
Currently, Shopify Payments is only available in 22 countries, including Austra, Belgium, etc. If you are living in those nations, make sure to take advantage of Shopify payment to avoid this extra cost. 
Squarespace payment options
Squarespace eCommerce limits the options in comparison with Shopify when it supports only PayPal, Square, and Stripe. Let's have a glance at the infographic below that summarizes the features of each payment processor: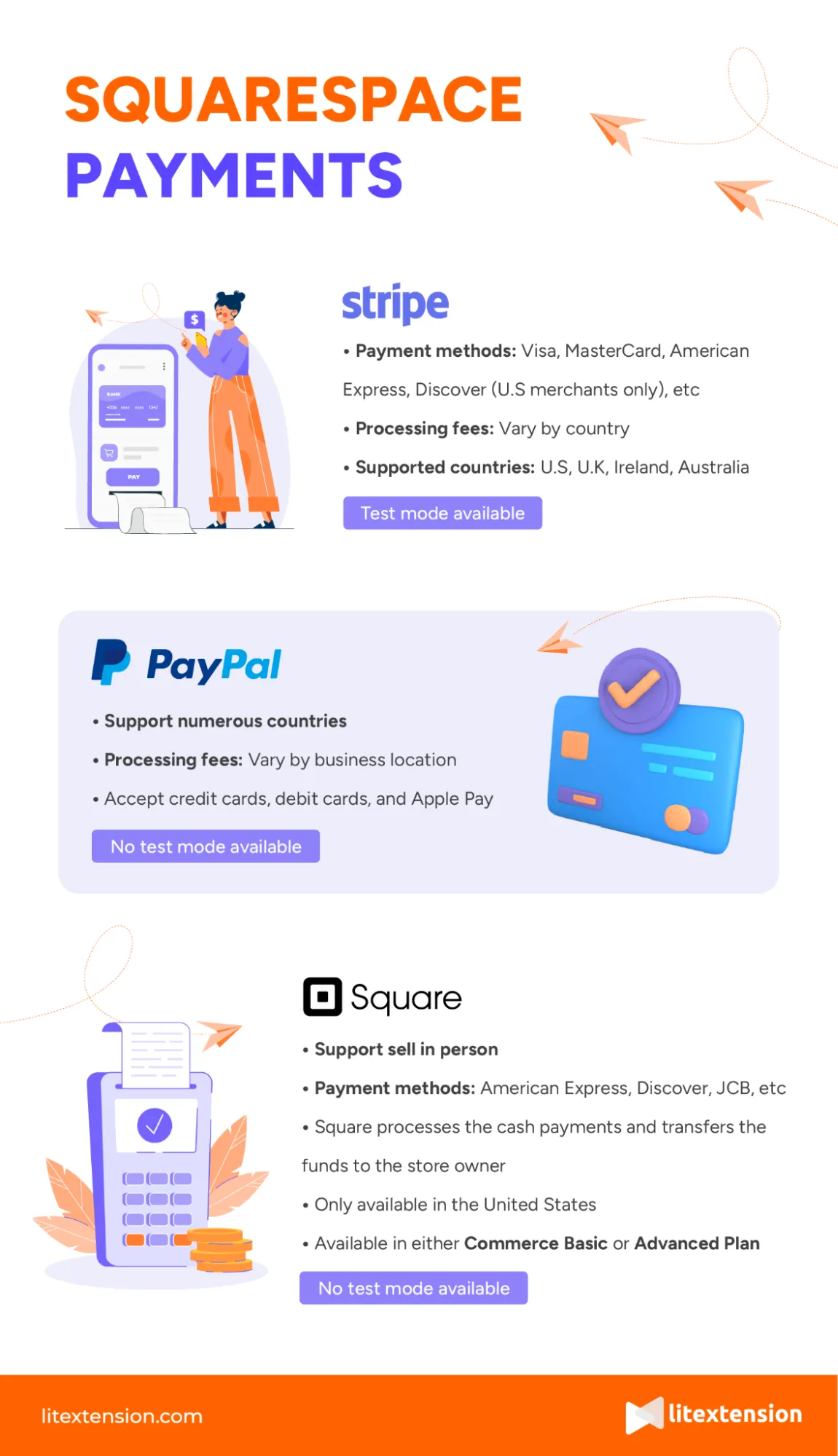 Besides, Squarespace processes the cash payments and transfers the funds to the site owner's bank account linked to Squarespace. 
5.6 Shipping system
Everything you need, from printable shipping labels to built-in integration with shipping services like NHL or UPS, is available in Shopify Shipping. They ensure the shipping experience is as smooth as possible.
Shipping Squarespace really can't compete with Shopify. So far, they have been working with USP to calculate carrier shipping rates. UPS also allows you to amend shipping costs depending on the country you're shipping to or by weight. 
5.7 Selling offline – POS
Shopify designed its own POS system for on-the-go sales (Shopify POS Lite) and brick-and-mortar sales (Shopify POS Pro). Shopify POS Lite is available in every Shopify plan and will sync seamlessly with your online stores. 
You'll need to download the Shopify app and buy some hardware (Shopify Chip & Swipe Reader or Tap & Chip Card Reader). In the battle of Shopify vs Squarespace transaction fees, you will be charged 2,7% for the Basic plan, 2,5% for the Shopify plan, and 2,4% for the Advanced plan for every offline sale.
In the meantime, Squarespace partnered with Square to develop Point of Sale. You first need the Squarespace Commerce app and a Square card reader, which costs around $49. Remember that POS is only available with a Commerce Basic or Commerce Advanced plan. However, Squarespace doesn't charge you any additional transaction fee.
The Verdict:
When it comes to Squarespace vs Shopify for eCommerce comparison, Shopify wins easily as this platform mainly serves eCommerce site owners. Nonetheless, it is relatively expensive for Shopify site owners to integrate POS features, which is unsuitable for those with a limited budget.
Want To Migrate Squarespace To Shopify?
If you are intending to migrate from Squarespace to Shopify, LitExtension offers a great migration service that helps you transfer your data from the current eCommerce platform to a new one accurately, painlessly with utmost security.
6. Shopify vs Squarespace: Marketing features
Apart from eCommerce features, marketing is an indispensable part to increase your brand awareness and expand the customer base. To help you make the best decision while choosing between Shopify vs Squarespace, we will analyze the following features:
6.1 SEO
SEO stands for Search Engine Optimization, which is the practice of increasing the quantity and quality of traffic to your website through organic search engine results. After all, the ultimate goal of online merchants is to drive traffic and sales to their stores, and optimizing your SEO is the best way to achieve this.
Shopify SEO
With Shopify, you can effectively optimize your eCommerce website with its SEO built-in features. First of all, based on the content on your site, Shopify will automatically generate a title and description for all products and pages, as well as canonical tags and your sitemap. 
Moreover, Shopify uses the proper name when referring to the score SEO elements which are specifically page titles, meta descriptions, and images alt text. Notably, Shopify will save you a lot of time as it will automatically generate 301 Redirects when you change your site's URLs. 
In case you are looking for an insightful solution for SEO, let's dig into our recommendation of the best Shopify SEO apps to increase the organic traffic of your store.
Squarespace SEO
In comparison, Squarespace also provides users with useful SEO tools to optimize your website well for search engines. This platform also facilitates the SEO optimization process by automatically generating title tags, meta tags, and sitemap. 
Unlike Shopify, in Squarespace, you will deal with things like "captions" and "descriptions"… Besides, when you change your page' URL, you will have to create the 301 redirects manually, which is quite inconvenient and time-consuming.
Let's take a look at what SEO features Shopify Squarespace comparison: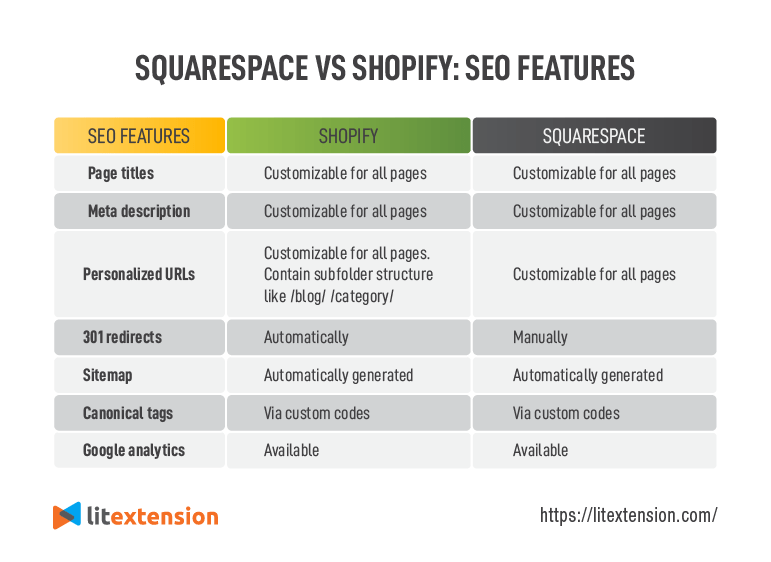 Both Shopify vs Squarespace offer basic SEO features to help your online site get a higher rank in SERPs. However, in this comparison, Shopify seems to have superior SEO features thanks to decent site speed and stability. In addition, this platform provides a wide range of apps in terms of SEO improvement. 
6.2 Social media integration
Shopify social media integration
Shopify allows you to sell on 10 social media platforms such as Facebook, Instagram, Messenger, etc. By doing this way, Shopify offers its merchants an effective tool to approach more potential customers.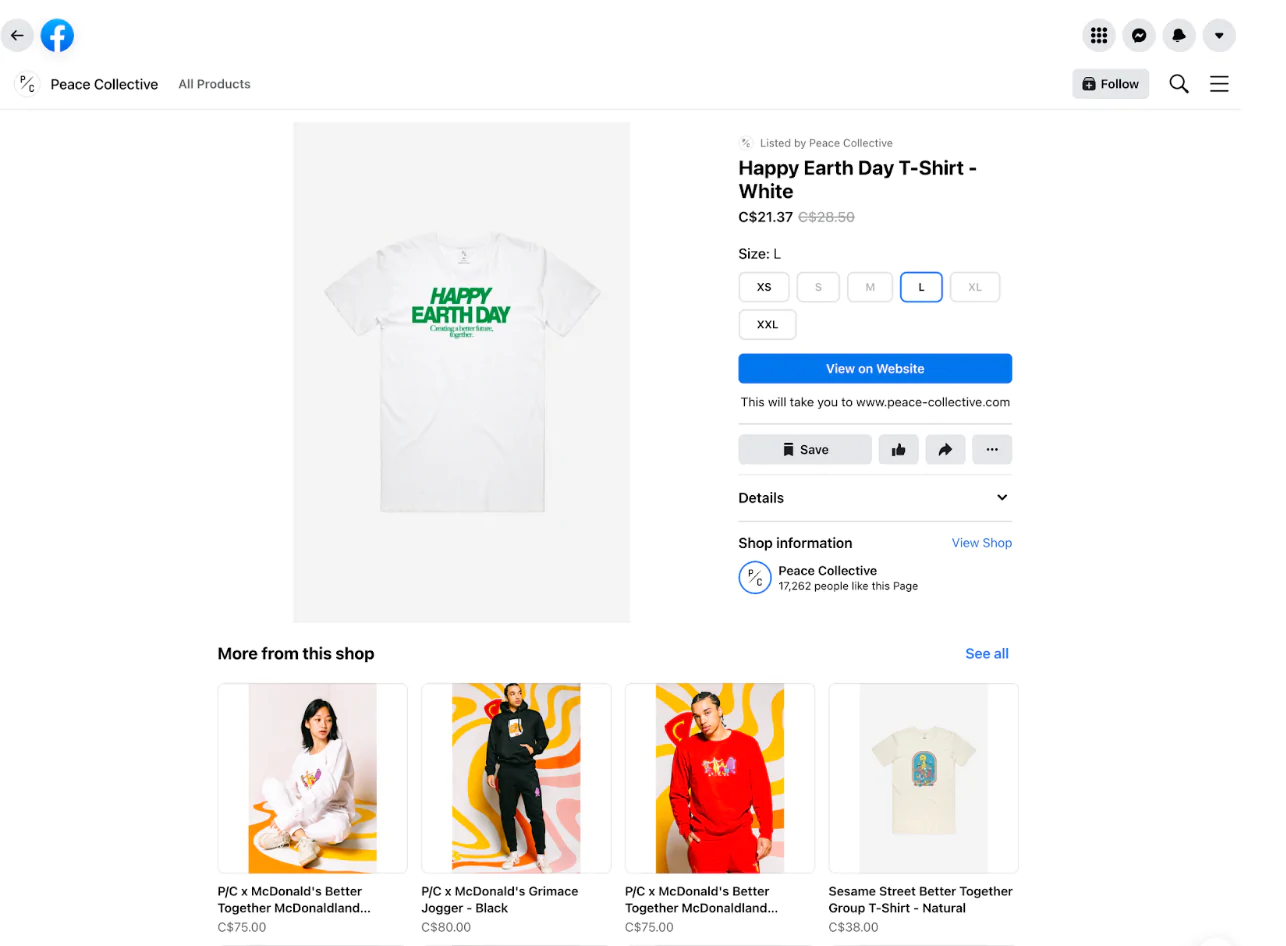 Let's take a look at the table below to see how you can find your Shopify niche from the integration of Shopify with some prominent sales channels:
✓ Connect your products on Shopify to a catalog on Facebook


✓ Create marketing activities on Facebook right from the Shopify dashboard (e.g. audience building ads, retargeting ads, Facebook Page posts, etc.)

✓ Sync your product listing on Shopify and Amazon


✓ Create an offer to sell an existing product on Amazon

✓ Keep track of orders and refund status

✓ Allow your customers to shop directly from the conversions in Messenger


✓ Automatically update customers' order status via Messenger

Activate the Instagram Shopping feature in the Facebook channel and start selling products on Instagram. Then, there is a shop on your Instagram profile allowing you to tag your products in posts and stories.

Squarespace social media integration
On the contrary, Squarespace store owners can only sell on Instagram and push content to Facebook, LinkedIn, Pinterest, Tumblr, and Twitter. This causes many obstacles if you want to scale your business and get closer to your customers.
6.3 Email campaigns
Shopify email campaigns
Shopify recently introduced an email marketing tool: Shopify Email, which is available on all Shopify plans without monthly commitments. You can create email marketing campaigns and send them from Shopify. You can design your emails to match your brand and link directly to products to share them with your customers.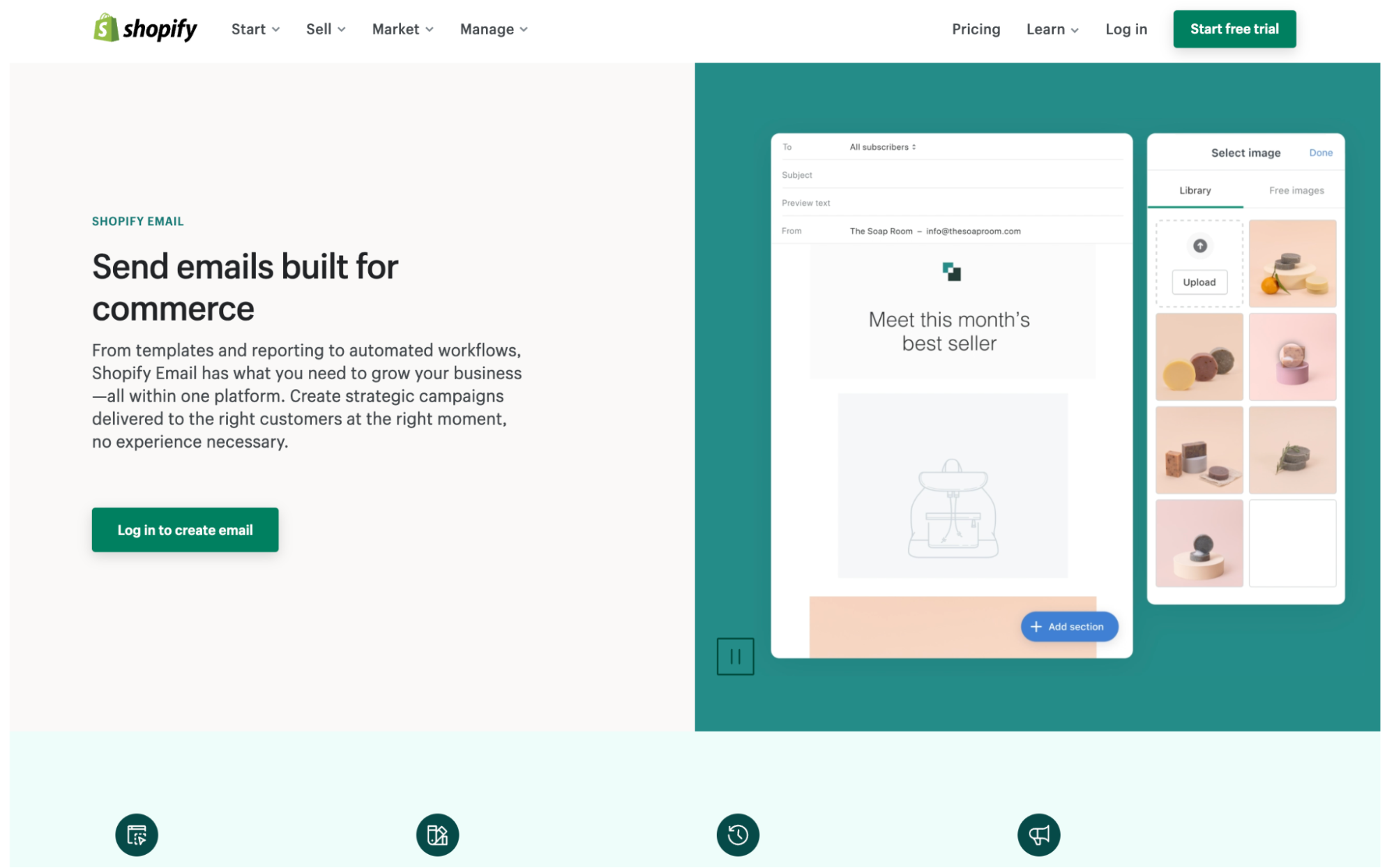 Every merchant with a paid Shopify subscription plan receives 10,000 free emails at the start of each month. Emails are counted for each unique email address to which an email is delivered. Sending one promotional email to 800 subscribers, for example, counts as sending 800 emails. 
You can send more than 10,000 free emails at a cost of $0.001 USD for every additional email. Sending 1000 additional emails, for example, would cost you $1 USD. You won't be charged for the extra emails until the cost surpasses $0.05 USD. Shopify Email has no additional membership plans and simply charges for what you send.
Squarespace email campaigns
In comparison, Squarespace offers email campaigns out of the box. This feature allows you to manage your website and mailing list in one place. However, you have to pay extra to use it. There are 4 plans available:
Starter: $5 per month for 3 campaigns with 500 emails 
Core: $10 per month for 5 campaigns and 5,000 emails
Pro: $24 per month for 20 campaigns and 50,000 emails 
Max: $48 per month for an unlimited number of campaigns and 250,000 emails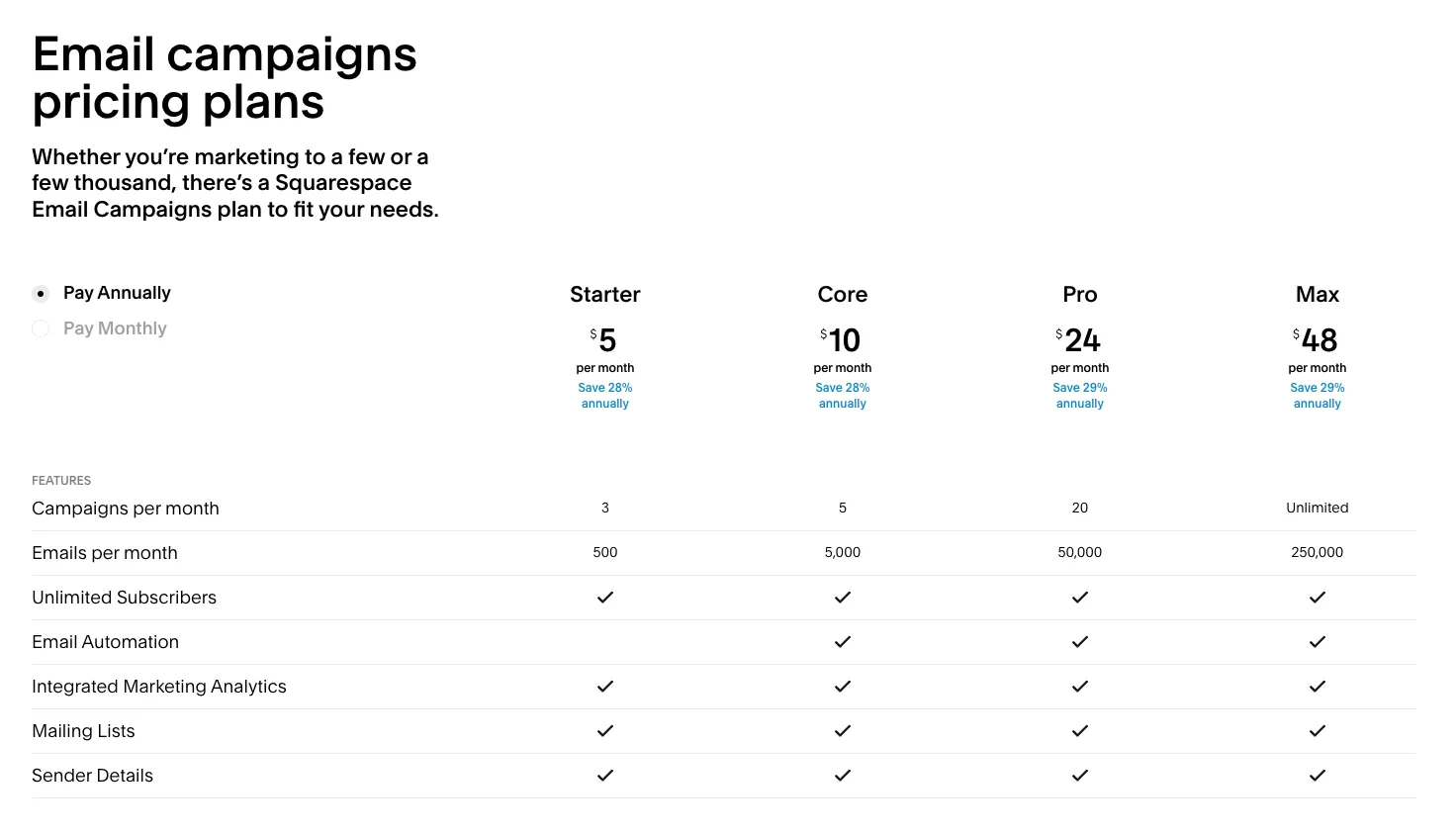 On top of that, the e-newsletter in Squarespace has a drag-and-drop interface that makes it very easy to edit. Besides, you can also drop your blog post or product information into your newsletters effortlessly.
6.4 Blogging
Shopify site owners can benefit from the blogging feature without installing any apps. The bad news is this website builder only gives you some basic functionalities to write posts as it is not the main focus of Shopify.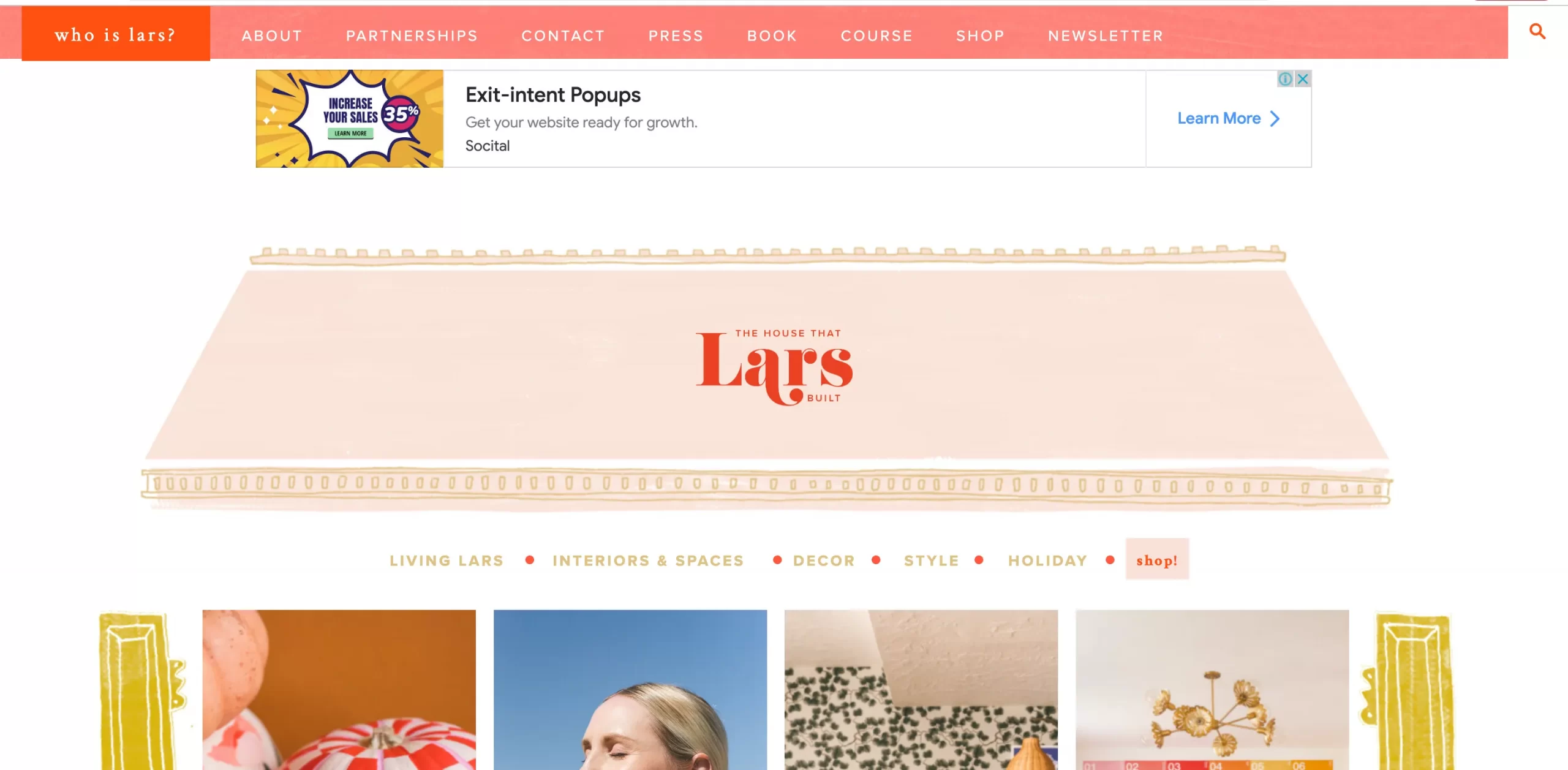 There is a lack of blogging analytics, social bookmarking, categories (you have to stick to tags), and some advanced blogging features. Therefore, Shopify is not a decent choice for those who pay more attention to content.
Is Squarespace better than Shopify in terms of blogging features? Undoubtedly, Squarespace possesses outstanding ones. With its built-in blog Page, you can create blog posts and excerpts, tag and categorizes posts, enable comments, push the content to prominent social media platforms, and more.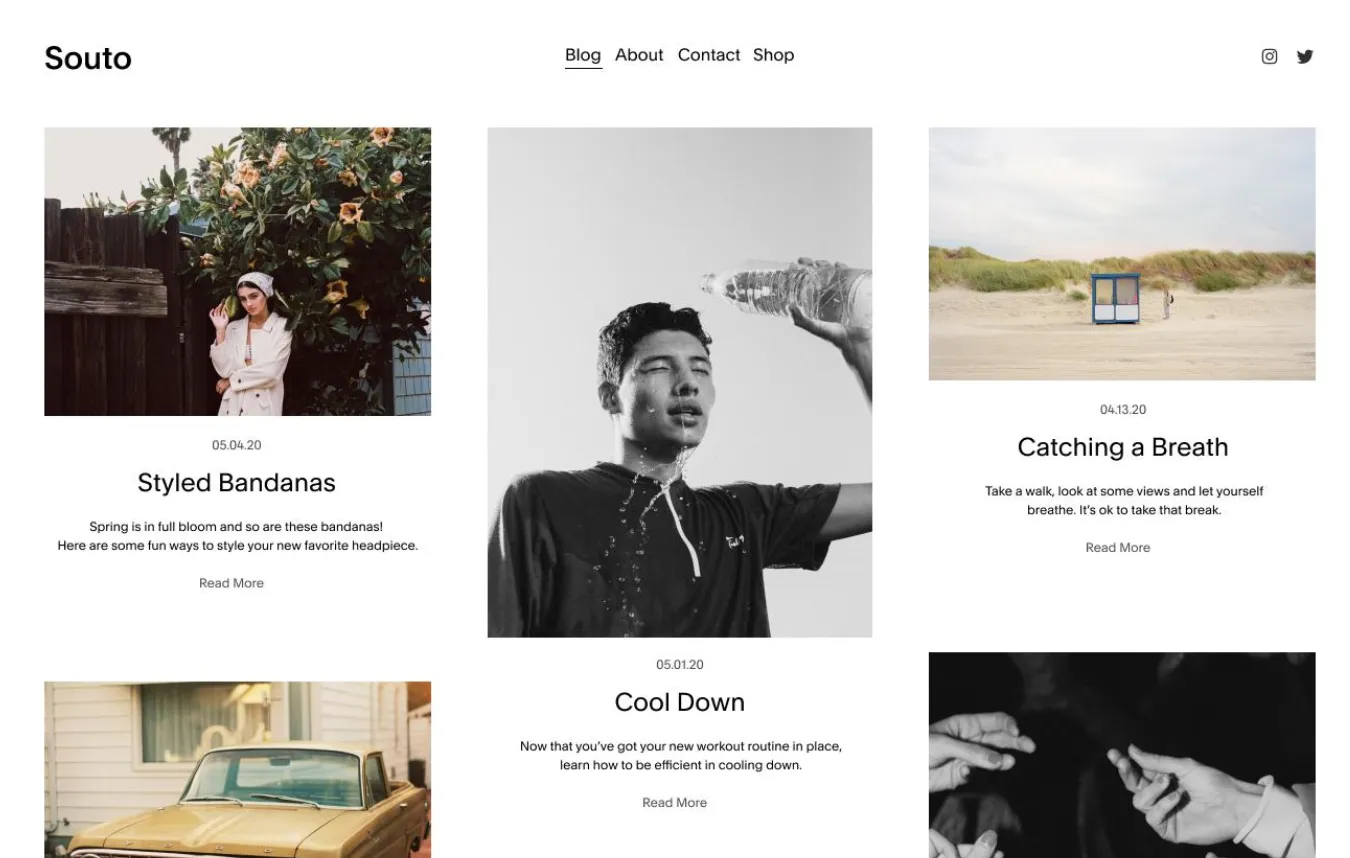 In addition, you can download the Squarespace App to update your blog instead of using a computer. However, please note that you are unable to update your blog via an XML-RPC client.
Our audience is concerned about WooCommerce vs Shopify vs Squarespace comparison, so if you're the same, let's discover:
6.5 Analytics
Analytics is an essential part of a successful online business as it brings you great statistics to better assess your business's performance. Based on in-depth insights about your customers and business, you can create an optimal development strategy. 
If you want to have Shopify and Squarespace analytics comparison, both Shopify vs Squarespace offer robust analytics features. However, Shopify deserves a win. This platform offers users a wide range of reports (about 14 types), divided into different categories, such as financial reports, product analytics, sales report, or customer report.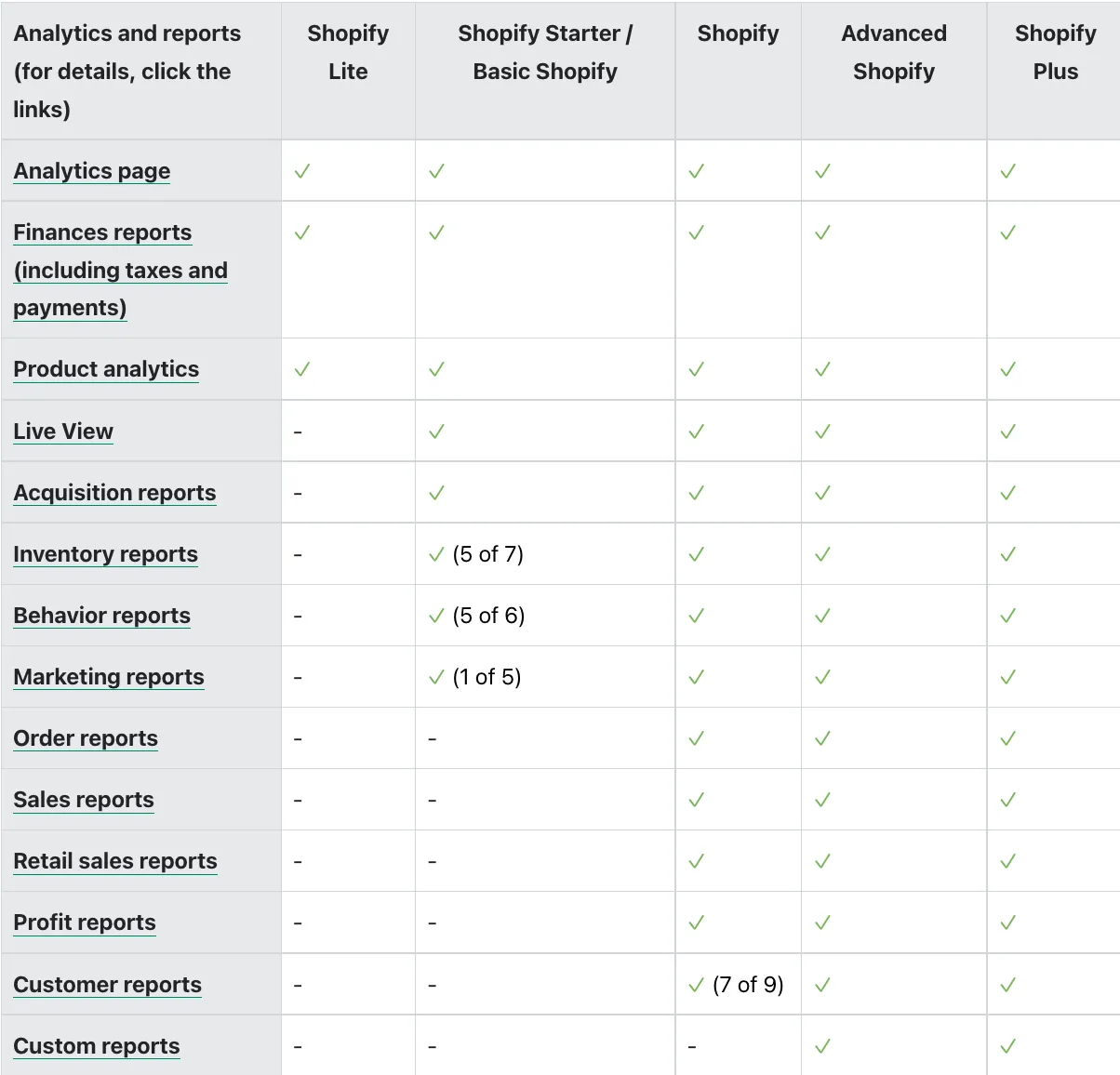 Shopify Analytics features are based on subscription pricing plans. That means the higher your subscription plan is, the more advanced reports Shopify will offer you. Besides, you can also make use of report services from third-party providers, such as Google Analytics.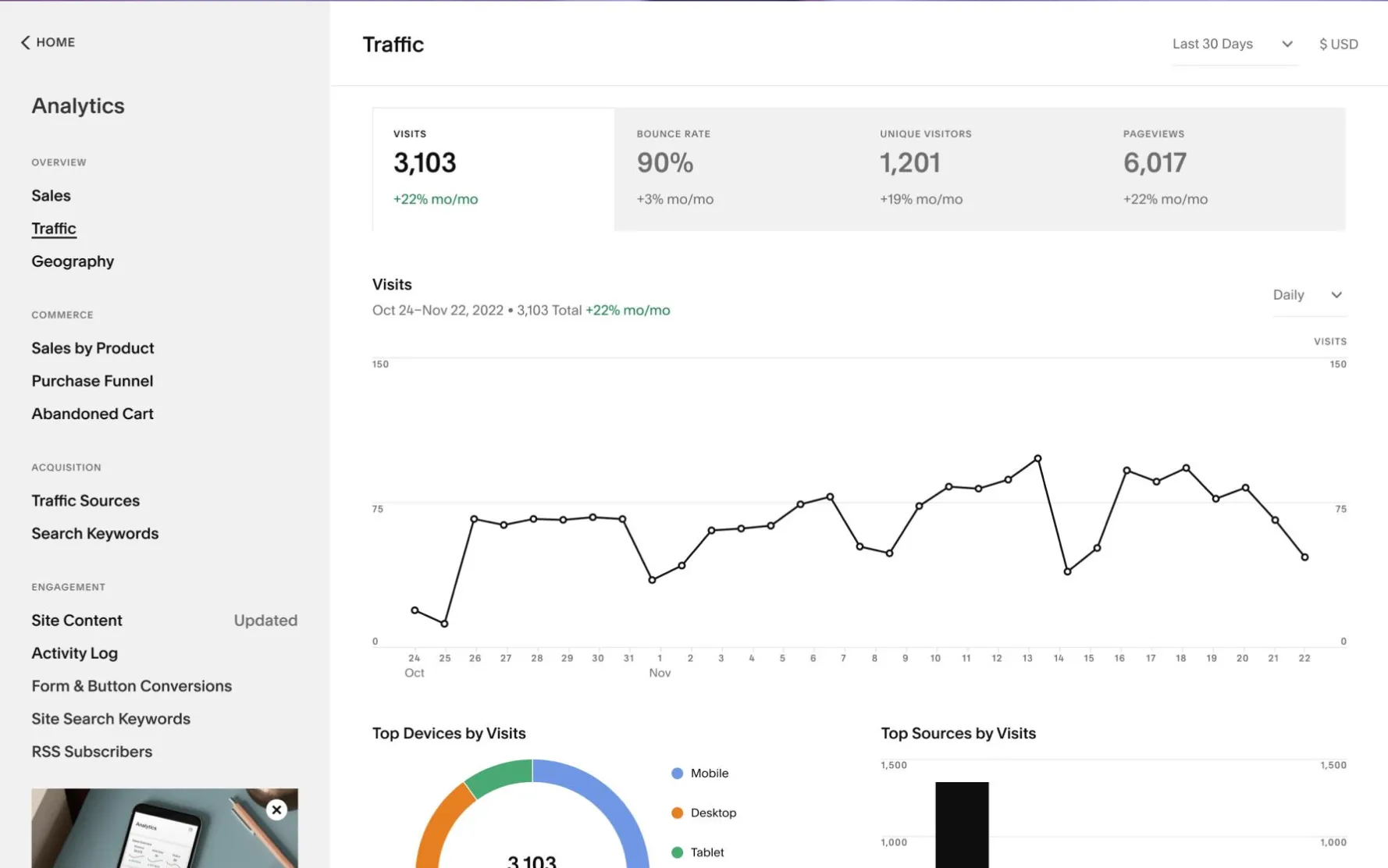 Compared to Shopify, Squarespace Analytics only give you basic statistics and information about your store and customers. Some notable reports include Commerce Analytics, Traffic and trends…
6.6 Abandoned Cart Recovery
When comparing Shopify and Squarespace, one of the most notable price differences is their "Abandoned Cart Recovery" feature. This is a tool that allows you to automatically contact customers via email to remind them about the forgotten items left in their cart previously. It is a great way to boost your conversion rate and generate higher revenues in the long run. 
With Shopify, you can already gain access to this powerful feature from their cheapest plan at $5/month. While Squarespace only provides it in the "Commerced Advanced" plan – their most expensive option at $65 per month. 

Plus, Shopify's abandoned cart recovery tool is much more flexible than Squarespace's since it allows you to set up fully customizable email flows. It can determine under what circumstances a customer should be prompted to get a reminder about their abandoned cart. Not to mention you may also adjust the frequency with which reminders are issued.
The Verdict:
Shopify clearly wins this comparison of Shopify vs Squarespace in terms of marketing features. This platform provides robust features to drive more traffic and sales to your store.
7. Shopify vs Squarespace: Dropshipping
Shopify dropshipping
Remarkably, Shopify has a huge marketplace where you can find various dropshipping apps to boost your business performance. They can be found in the Shopify App Store and here are three popular choices:
Spocket: include items from dropshipping suppliers in the United States, Canada, Europe, Australia, Brazil, etc.
DSers: allow to search, import, and edit product data from AliExpress suppliers.
Modalyst: also integrate with AliExpress.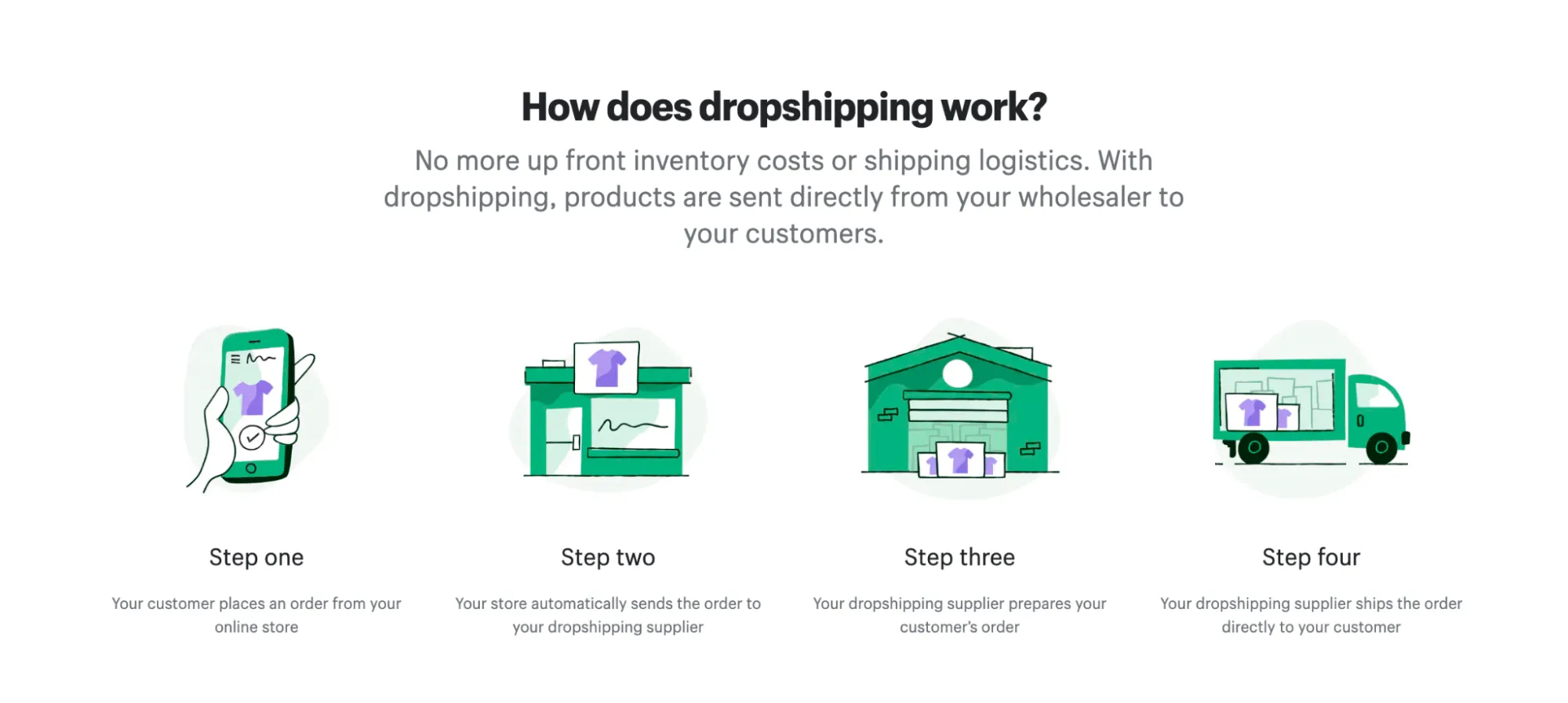 Three major obstacles that dropshippers frequently face and how to deal with them have been clearly presented in our blog post: Is Dropshipping Worth It? – Check it out now!
Squarespace dropshipping
With Squarespace, to use third-party fulfillment services, first, connect the extension to your site. Visit the extension provider's site for help setting up the fulfillment service. Keep in mind if you connect fulfillment extensions to your site, you still need to set up shipping rates when dropshipping with Squarespace.
Art of Where: Dropshipping and design service that lets you design packaging and branded products, like t-shirts, handbags, and notebooks. 
Printful: Drop shipping service that prints and ships custom designs. Your customers can buy custom prints through your Squarespace site, while Printful takes care of the printing, packing, and shipping the orders to your customers. 
Spocket: Drop shipping platform with global pre-vetted suppliers from the United States, Europe, and Asia. You'll build a competitive advantage through a wide range of quality products with fast shipping and higher profit margins.
Syncee: Drop shipping platform designed to help retailers pick quality products one-by-one or in bulk. Syncee has high-quality products from reliable suppliers in the US, EU, AUS, and worldwide.
The verdict:
It is undeniable that plugins, extensions, or apps offer you tons of useful functionality that definitely facilitate your dropshipping process. Fortunately, both Shopify vs Squarespace provide you with a myriad of feature-rich solutions for dropshipping. Basically, the apps/plugins send orders from customers directly to compatible suppliers that you have set before and inform you of the details.
Don't know how to get the ball rolling? Check out detailed guides to kick off a successful dropshipping store:
8. Shopify vs Squarespace: Internalization
8.1 Tax
When it comes to tax, Shopify automatically applies a tax registration to some specific regions, including the US, UK, EU, Canada, Australia… If you are not based in one of those regions, then you should set up default taxes or you can override them depending on suitable tax laws and regulations. 
Get the full-fledged review of how Shopify calculates your tax here: Shopify Sales Tax Guide
Meanwhile, with Squarespace tax, only US merchants can use its automatic tax calculation feature. As a result, many store owners will have to set up their sales taxes manually, which is quite inconvenient and time-consuming. 
8.2 Currency
Because Squarespace doesn't support multi-currency selling, Shopify obviously deserves a win in this round. However, to make use of this feature, you have to use Shopify Payments as your payment processor. Or else, you can use another third-party app, such as Bold MultiCurrency, to start selling in multiple currencies with Shopify. 
8.3 Language
If you use Basic Shopify or Advanced Shopify, you are able to create 5 different versions of your site in 5 languages. Especially, if you subscribe to a Shopify Plus plan, you can create up to 20 different language versions of your eCommerce website. 
Meanwhile, although Squarespace also enables you to do multi-language selling on this platform, this feature is quite clunky with auto-translate tools such as Weglot. Therefore, if you want to sell in different countries, you'd better go with Shopify. 
The verdict:
Between Shopify vs Squarespace in the comparison of internalization, Shopify is obviously the winner. This platform allows you to sell in different countries with multi-language, multi-currency, as well as flexible supported sales tax.
9. Shopify vs Squarespace: Support
Due to the hosted nature, both Shopify vs Squarespace offer outstanding customer service. Whenever trouble arises, you can reach out to them for help via email, phone, live chat, or their community forum. You can also refer to their documents for help.
Furthermore, with Shopify, you get a special support agent if you buy the Shopify Plus plan.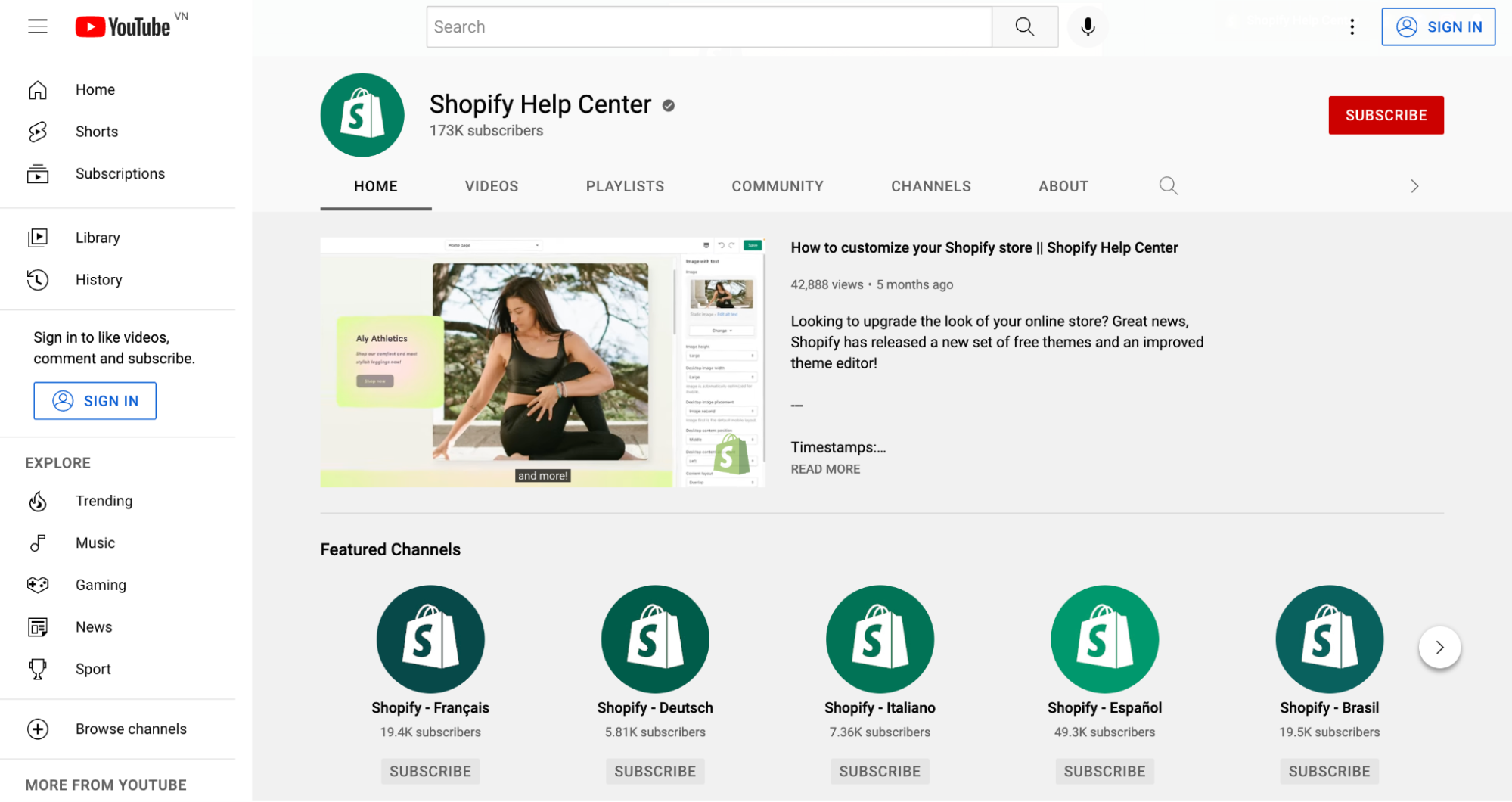 While Squarespace users can only reach out for help via live chat or email, Shopify has gone a step further to include 24/7 phone support.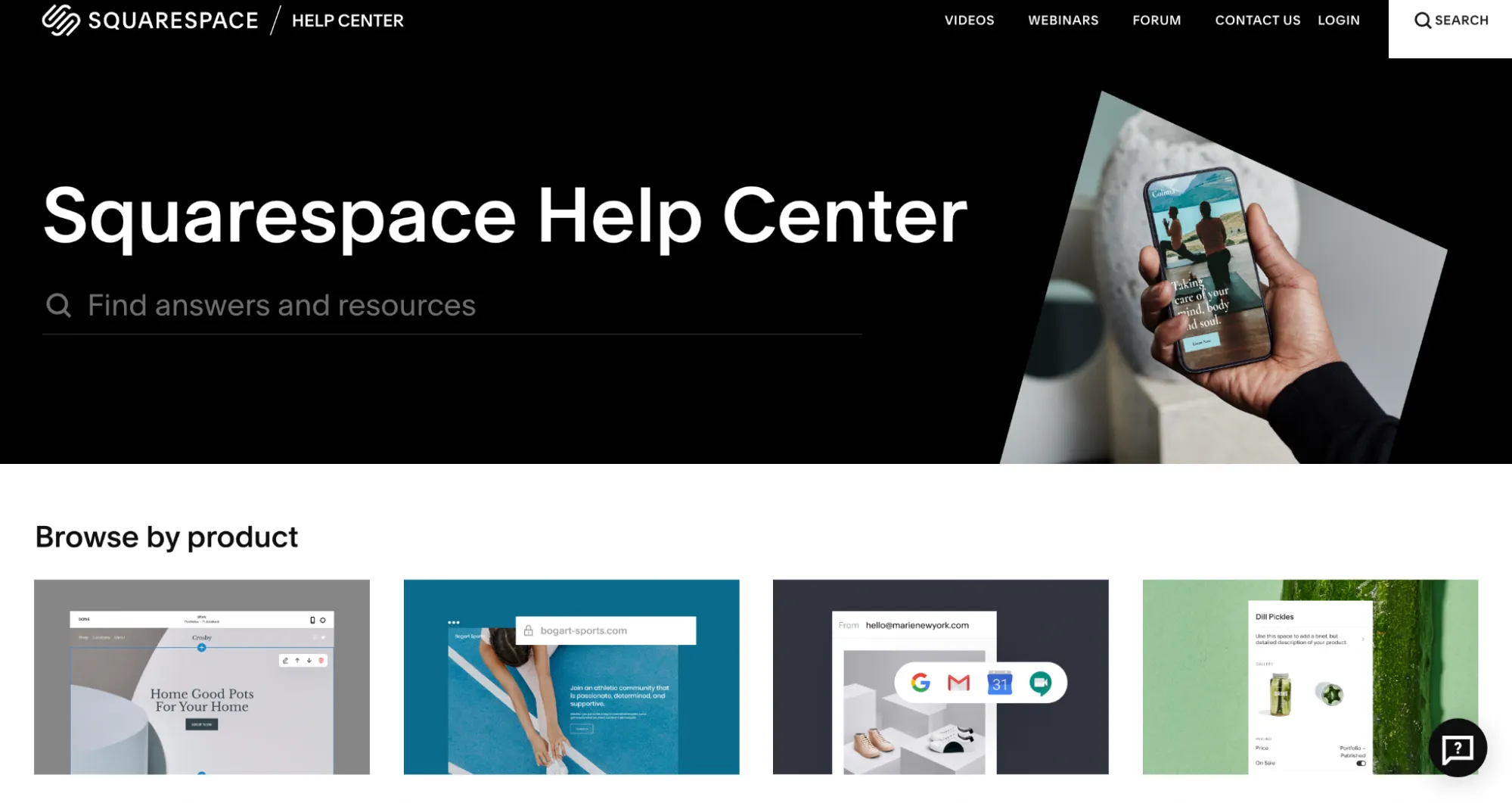 The verdict:
In the comparison between Squarespace eCommerce vs Shopify, Shopify has a slight edge over Squarespace in terms of support channels.
10. Shopify vs Squarespace: Security
A high level of security is one common reason that online merchants opt for like Squarespace or Shopify rather than building a store from scratch with self-hosted solutions.
With SSL Certificates, all data transferred between the store owners of these platforms with their clients is encrypted. This greatly helps increase the trustworthiness of your online business by ensuring the protection of sensitive information such as credit details. In addition, both Shopify vs Squarespace are PCI compliant, which means they commit to security standards for processing payment details.
The verdict:
In this comparison, both Shopify vs Squarespace meet a standard level of security that can adequately protect your online business data from leaking or data loss risk.
---
Which Is Better: Squarespace or Shopify?
Shopify vs Squarespace is born for different purposes. While Shopify is created mainly to drive sales for online merchants, Squarespace was initially created to support content-based websites. This resulted in a lot of dissimilarities between these two giants Squarespace and Shopify.
1. Shopify vs Squarespace comparison: Pros & Cons
The analysis above has run you through the key similarities and differences of Shopify vs Squarespace. For a better overview of their strengths and weaknesses, we've compiled table below:
+

Easy to use editor

+

Excellent eCommerce features

+

Multi-channel selling across social channels

+

Robust app store

+

Excellent customer support

-

Enforce additional transaction fees for alternative payment methods

-

Monthly costs add up with apps

+

Modern and sleek templates

+

Affordable price

-

No app store, only has extension market

-

Limited payment options

-

The dashboard is a bit tricky for beginners
Need Help Migrating Store to Shopify?
If you are intending to migrate from Squarespace to Shopify, LitExtension offers a great migration service that helps you transfer your data from the current eCommerce platform to a new one accurately, painlessly with utmost security.
2. What do customers think about Shopify vs Squarespace?
Shopify reviews
What do you like best about Shopify?
"Shopify provides an all-inclusive product, meaning you can get the website and payment processing in one place. The apps that you can add to increase your store's functionality are great (you do have to keep them to a minimum to avoid a speed issue). Their blog and help system are top-notch so you can find things when you need them. I also like the theme environment. They have plenty of "free" themes to get you up and running, and you can also select from a huge list of developer-based themes if you need more." – Scott B.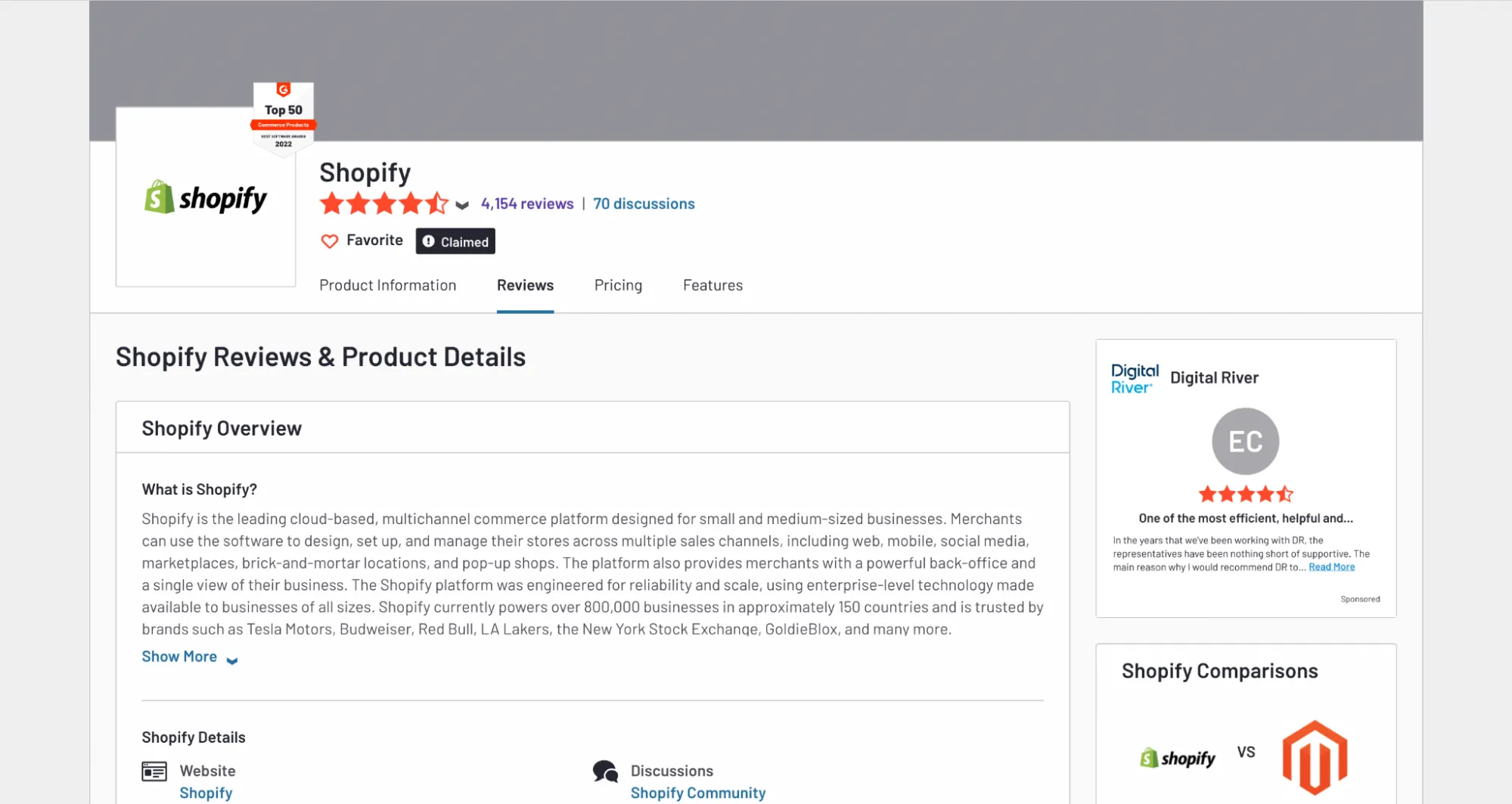 What problems is Shopify solving and how is that benefiting you?
"The most significant advantage of Shopify is that; you are the only owner of the store, you can design your store with a theme uploading, you can add the products manually or import the products through the Oberlo app or any other apps. You can easily adjust the content of your store by your choice at any time without a developer." – Owais M
Recommendations to others considering Shopify:
I would highly recommend Shopify if you are in a dilemma of creating an online store. It's a simple and scalable solution for your business and adds so much value and a positive ROI. – Supriti H.
Squarespace reviews
What do you like best about Squarespace?
Squarespace allows users to build (truly) beautiful websites while experiencing a (truly) code-free experience. The learning curve is shallow. The product works well. Squarespace is what a template-based website system is supposed to feel like. – Jesse G.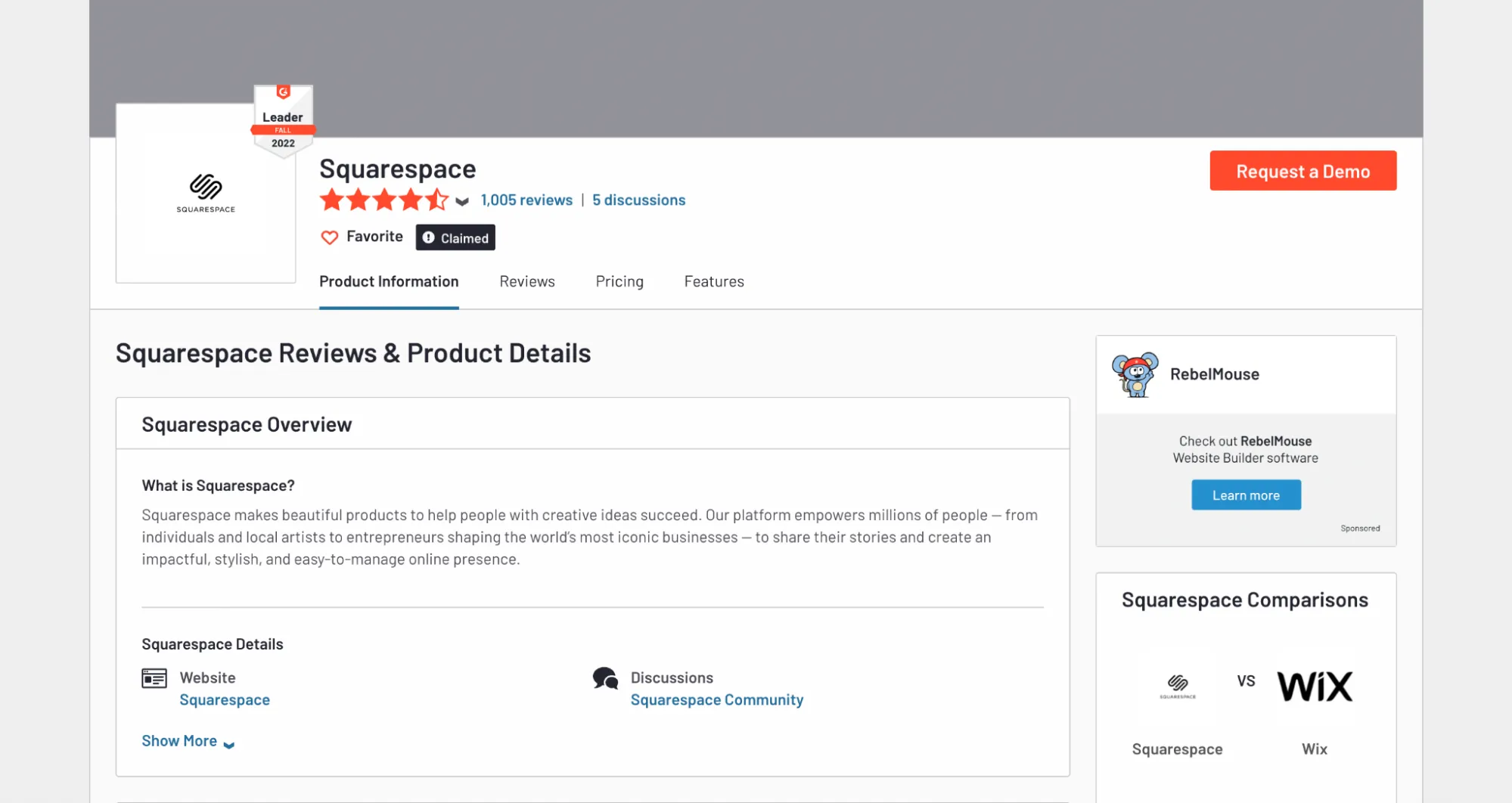 What problems is Squarespace solving and how is that benefiting you?
Squarespace offers us a way for all staff to go in and utilize the options to customize our website to our needs. It allows for quick and easy changes based on our campaigns and doesn't overwhelm the system when changing. – Rachel H.
Recommendations to others considering Squarespace:
If you need a basic company or eCommerce site or your needs meet their exact feature set, it is excellent; if you need to do any customization, it can be limiting. – Lise B.
Shopify vs Squarespace: Overview
1. What is Shopify?
Shopify is a hosted eCommerce platform founded in 2004. Basically, Shopify is the most favorable option for beginners who know nothing about programming, coding, and web development to start and manage their own online site. Shopify is currently used by more than 4.5 million live websites worldwide.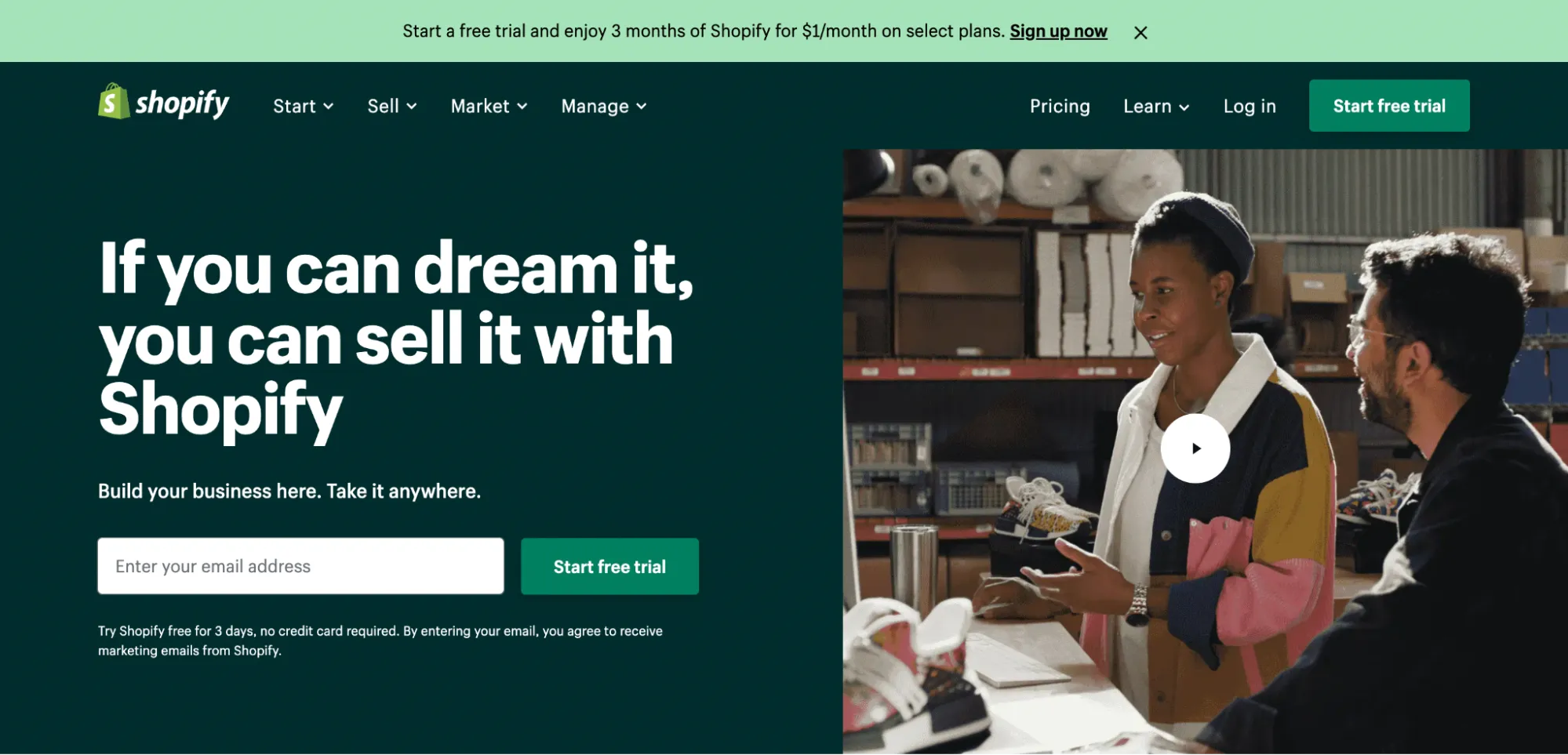 To help you learn more about Shopify and how it can benefit your business, we've tested out Shopify since early 2022 to give out this detailed Shopify review video below. 
You can also try using Shopify 3-day free trial just by registering with your email address. Besides, Shopify is currently running an exclusive, time-limited offer during which you pay only $1/month for 3 months trial.
Wanna get a picture of Shopify and how to launch a Shopify site from scratch? We've covered from A to Z for you:
2. What is Squarespace?
Squarespace is a hosted CMS solution to create and manage websites, blogs, portfolios, and online stores. It lets businesses of all types create professional websites with a drag-and-drop interface. Currently, Squarespace hosts more than 3 million live websites worldwide.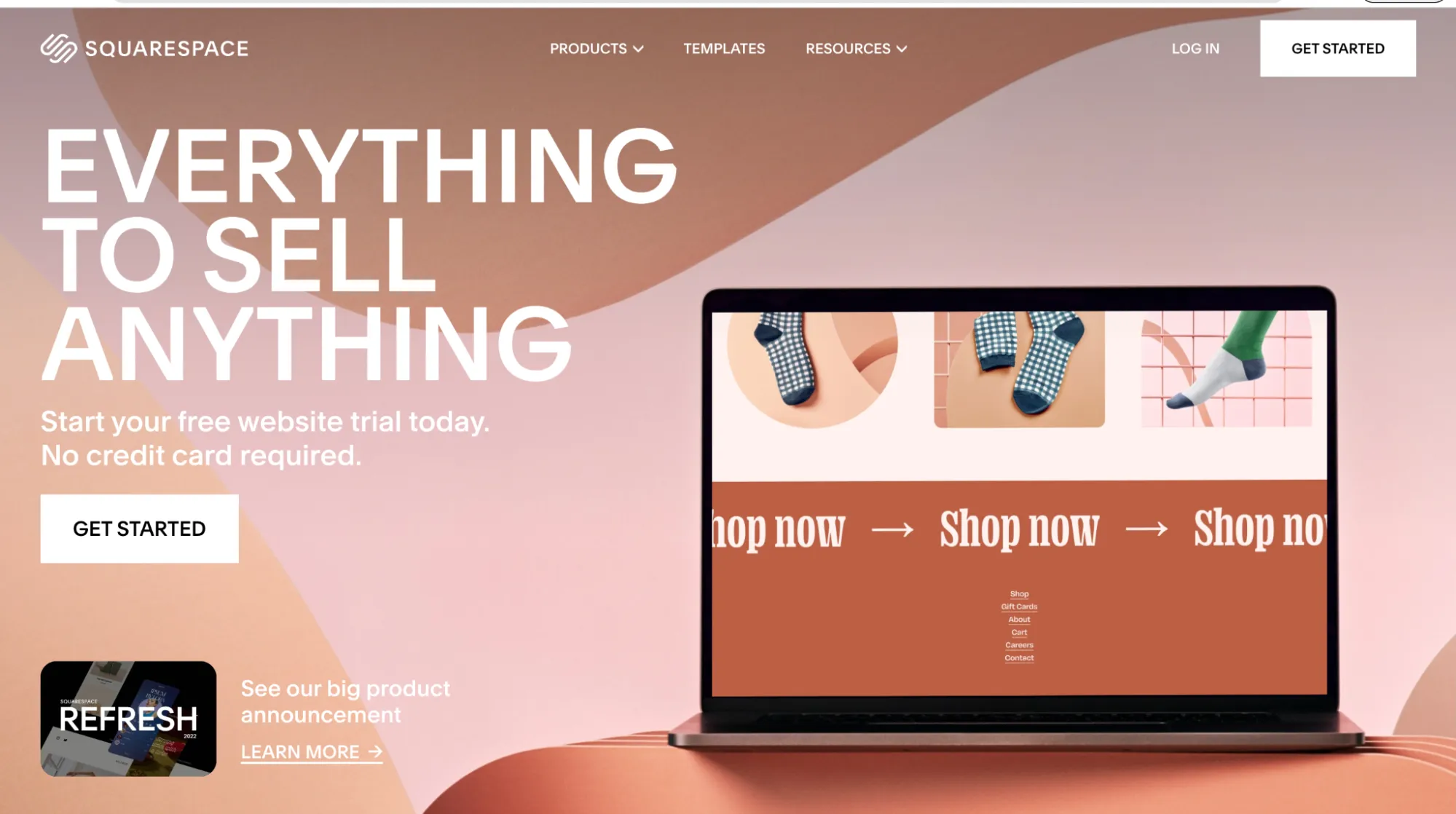 To get started, all you need to do is create an account, choose a template for your website, and edit it to meet your requirements. The beautiful design options available through Squarespace make this website builder one of the most popular platforms in eCommerce.
Interested in Squarespace? Check out the following articles for more details:
---
Alternatives to Shopify and Squarespace
Besides Shopify and Squarespace, there are a vast number of platforms for you to put into consideration. Based on our experience with them while testing out the features, apps, themes, etc, we have picked out the top 3 alternatives naming Wix, WooCommerce, and BigCommerce. Take a look at each one if you want to!
1. Wix
Wix is worth looking into if you're on a tight budget but still want to create a basic website. Particularly impressive to us is the growth in Wix's sales features since we last examined it. At first, it started off as an intuitive drag-and-drop website creator that also included web hosting and domain name registration.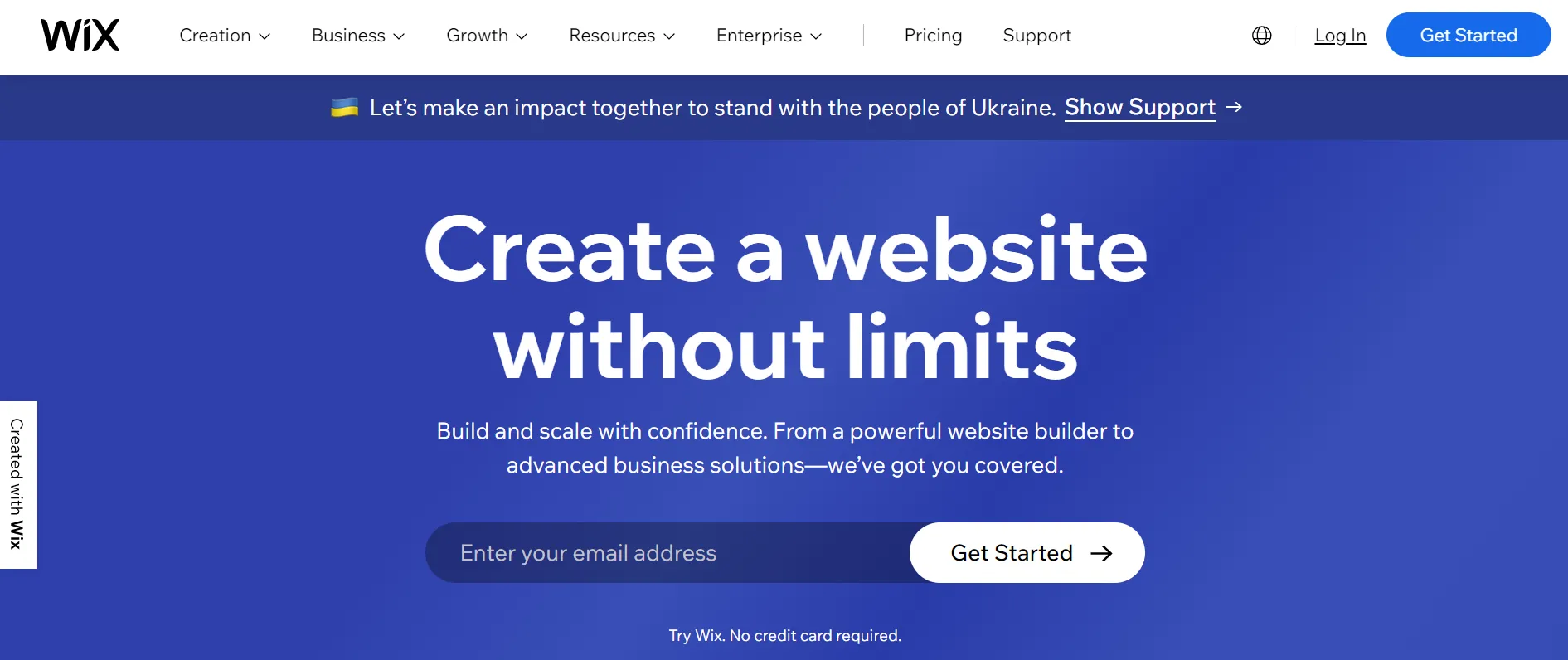 Over time, Wix's selling tools have only become better. What was once a small eCommerce option now stands up against the industry's leading platforms with ease. Merchants may use the system to monitor shipments, process payments, expand their reach across numerous sales channels, and launch abandoned cart marketing initiatives.
2. WooCommerce
WordPress users will find WooCommerce to be very familiar. It is WordPress's solution for individuals who expand their possibilities by selling online without the need to switch to another platform.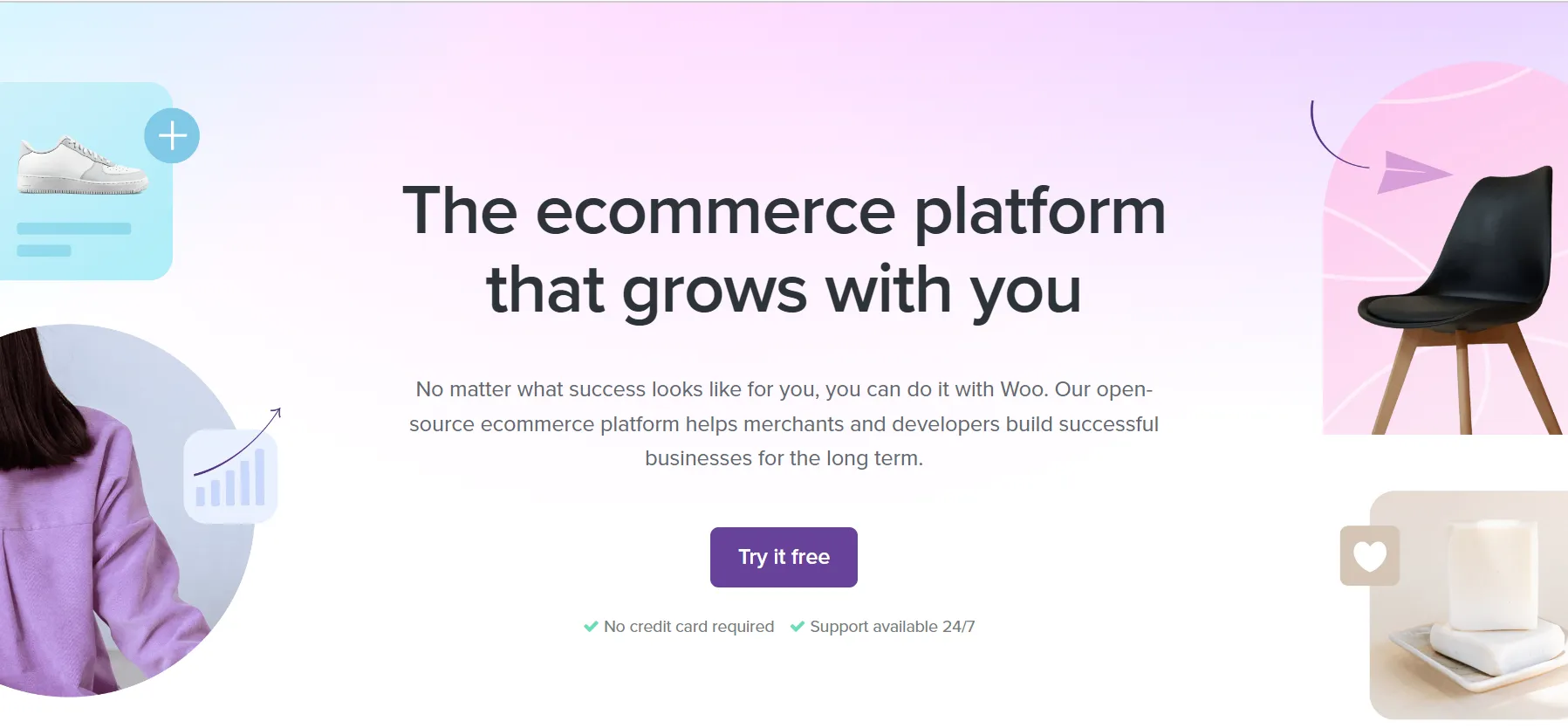 WooCommerce integrates smoothly into your current administrative framework. The WordPress administration area is where you'll be able to handle orders, provide discounts, and examine sales data. Since WooCommerce uses the same interface as WordPress, you won't have to spend time learning a new platform in order to add new items to your store.
However, since WordPress is a content-driven platform, you have to install extensions to deliver the best shopping experience while using WooCommerce. Even while there are many useful add-ons for you to choose from, remember that the more your reliance on them, the greater the risk of anything going wrong. And with few safety nets available, this isn't necessarily a good idea.
3. BigCommerce
BigCommerce is an excellent eCommerce platform with a large range of useful features. Its powerful product search engine makes it a good fit for more established retail names.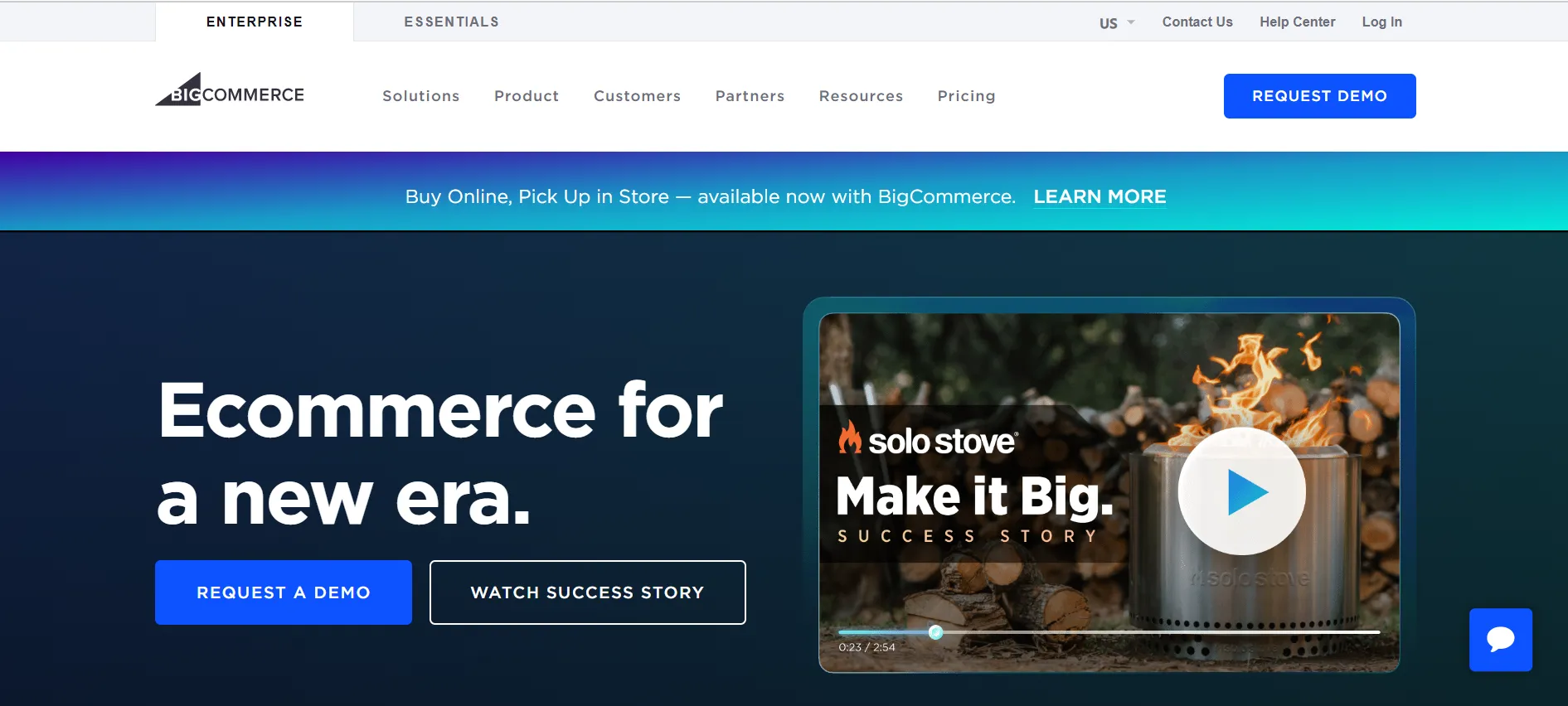 You may build an online store, sell and advertise your wares using flexible templates, even if you don't know how to code. BigCommerce is designed for both newbies and experienced developers, where they can alter the HTML and CSS for advanced features. The headless nature of its eCommerce design makes extensive customization possible, even for huge enterprises.
Further eCommerce platforms comparison with our extensive collection of articles:
---
Shopify or Squarespace: Recap
Based on our in-depth analysis and comparison of Shopify vs Squarespace, we'd like to state that it depends on many factors. Let's take a look at our quick recap:
Pricing: Squarespace offers more affordable pricing plans compared to Shopify.
Ease of use: Shopify is a bit easier to use since there are no visual cues on Squarespace.  
Themes: Both Shopify and Squarespace are packed with plenty of well-designed themes for your online store. 
Apps & Extensions: Shopify wins this round with its numerous yet powerful apps collection.
eCommerce features: Shopify stood out thanks to handy eCommerce features to help you deliver the best shopping experience.
Marketing features: Squarespace falls behind in terms of marketing features.
Dropshipping: Shopify and Squarespace both provide a wide variety of tools for dropshipping.
Internalization: Shopify triumphs since it supports multilanguage, multicurrency, and adjustable sales tax for international stores.
Support: Shopify's support options are somewhat more convenient with 24/7 phone support.
Security: Shopify and Squarespace provide baseline security to keep your data safe.
Shopify is hands-down the perfect match for merchants who are looking to run a store with advanced eCommerce functionality. With Shopify, you can even drive more sales when integrating your Shopify site with top-notch online marketplaces such as Amazon, eBay, Etsy, or far more. 
On the other hand, Squarespace would be the perfect option for those aiming to build a website with beautiful images and photography to showcase their creativity. Or, if you are planning to build a content-focused website or a blog and at the same time sell a few products on your site, Squarespace is probably your best fit.
Or, if you want to use Squarespace with Shopify, Shopify with Squarespace, Squarespace Shopify integration may be a great option!
Migration Made Easy With LitExtension!
If you intend to switch to another eCommerce platform, LitExtension offers an All-In-One migration service with a Personal Assistant (PA) that helps you transfer your data without lifting a finger.
Shopify vs Squarespace: FAQs
---
Conclusion
In summary, Shopify or Squarespace for eCommerce are both great eCommerce website builders. While Shopify has the best sales features, Squarespace is more suitable for blogging and displaying stunning images. Therefore, the question "Shopify versus Squarespace: Which one is better?" comes down to your demands and preferences. 
If you already have a website of your own and are considering moving to either Squarespace or Shopify, LitExtension – #1 Shopping Cart Migration Expert can be your perfect partner. 
To see the migration process in action, we provide free DEMO migrations with limited entities transferred. If you have any questions, don't hesitate to contact LitExtension for help. Your questions and recommendations will be responded to and answered promptly by our dedicated support team.
You can also check out our LitExtension blog for more comparison among eCommerce platforms and join our Facebook Community to get more eCommerce tips and news.