Introduction
In parallel with the booming of eCommerce, more and more online selling solutions have been launched to fulfill the needs of merchants all around the world. These eCommerce platforms provide store owners with intensive support to grow their businesses vigorously. Apparently, choosing a suitable platform sets up a solid foundation for your business to thrive. If you're in need of something complex yet powerful, an Open-source CMS eCommerce platform like Magento 2 will definitely satisfy you.
Magento brings you endless customize and scalability possibilities for your business. In this article, we'll give you an intensive Magento 2 review. Keep reading to get:
An overview of Magento and its updated versions in 2021
Detailed analysis of Magento features
Real feedbacks from customers
Advises on how to use it effectively
What is Magento?
Variant, the former owner of Magento released the first Magento public beta version on August 31, 2007. Since then, it has grown continually and has become one of the most popular eCommerce platforms. In February 2011, eBay bought 49% ownership share of the company and later sold it to private equity investors which turned this eCommerce platform into $700 million in total value. In May 2018 it was announced that Magento would be acquired by Adobe for $1.68 billion to integrate it into Adobe Experience Cloud.
Currently, Magento ranks 8th among all websites using Open Source technologies on the Entire Internet with over 196,000 live websites. Magento is a worldwide trusted brand with huge customers including multinational companies such as Coca-Cola, Ford, Fox Connection, and more.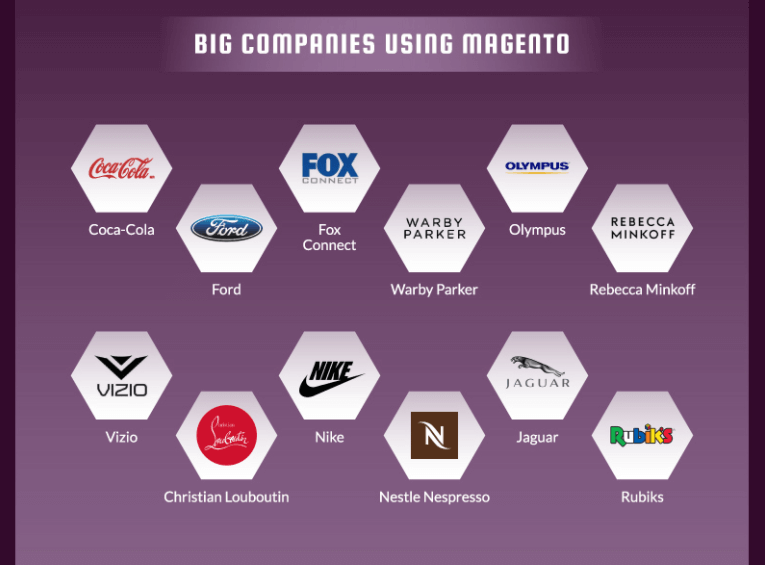 Magento is an open-source e-commerce platform written in PHP. It uses multiple other PHP frameworks such as Laminas and Symfony.
The introduction of Magento 2.0 in 2015 has brought this open-source eCommerce platform countless improvements. Since then, we've been continuously witnessing multiple updates from the developer team. As of November 2020, the latest version we have is Magento 2.4 with some notable changes such as 2FA (Two Factor Authentication) enabled by default, PHP 7.4 support (tested), new Elasticsearch 7X, MySQL 8.0, deprecation, and complete removal of the Web Set-Up Wizard.
However, it seems to be risky for your website if you decide to update to Magento 2.4 right away. Magento is well known for its bugs in the early releases of each version. A smart move for you could be to wait until the 2.4.1 or 2.4.2 version when the majority of bugs are fixed in order to utilize the full potential of the platform.
Pros and Cons of Magento
Here is a summary of the pros and cons of this platform. You can take a brief look at the infographic for a broad view of Magento. We will go into detail with each of the aspects in a minute.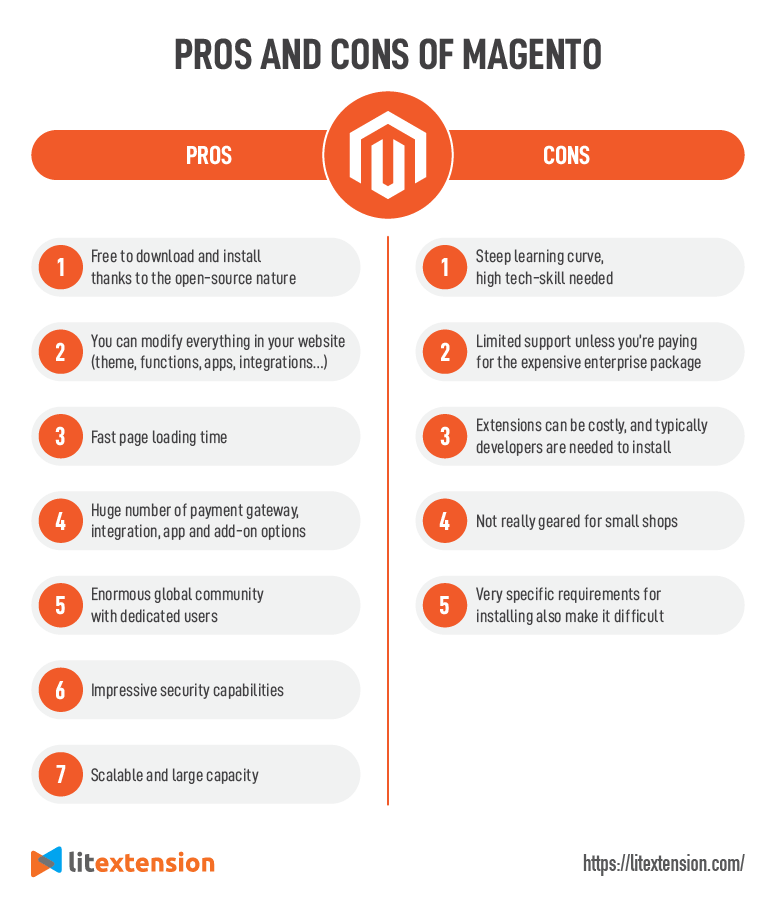 Pros of Magento:
Free to download and install thanks to the open-source nature
You can modify everything on your website (theme, functions, apps, integrations…)
Fast page loading time
A huge number of payment gateway, integration, app, and add-on options
An enormous global community with dedicated users
Impressive security capabilities
Scalable and large capacity
Cons of Magento:
The steep learning curve, high tech-skill needed
Limited support unless you're paying for the expensive enterprise package
Extensions can be costly, and typically developers are needed to install
Not really geared for small shops
Very specific requirements for installing also make it difficult.
Magento 2 Review – Pricing
Unlike Shopify, WooCommerce, or other eCommerce platforms choose to use competitive prices as one of the main ways to attract the customer, Magento goes in a different direction. Instead of focusing on impressing its users by the affordable price and many discount promotions, Magento usually concentrates on system improvements, extended functionality, and optimized UI/UX.
For that reason, Magento has the reputation of being one of the most expensive platforms for your online businesses. In this Magento 2 review, we'll show you a detailed analysis of "How much do you have to pay?" using this robust platform.
1. Magento Pricing & Plans
Currently, Magento is offering three plans for you: Magento Open Source, Magento Commerce, and Magento Commerce Cloud.
Magento Open Source is free to download and install. However, you still need to pay for your hosting, domain, and security, plus any web development help if you don't have the time or skill level required to customize your site the way you want. It's the most popular edition on the market which accounts for 83% of all Magento stores. A Magento store with standard functionality, a simple free theme, and no integration with any external systems and services starts from around $15,000.
Formerly known as Magento Enterprise, Magento Commerce is best suited for enterprise-sized businesses. Magento Commerce pricing is based on your average gross sales revenue per year.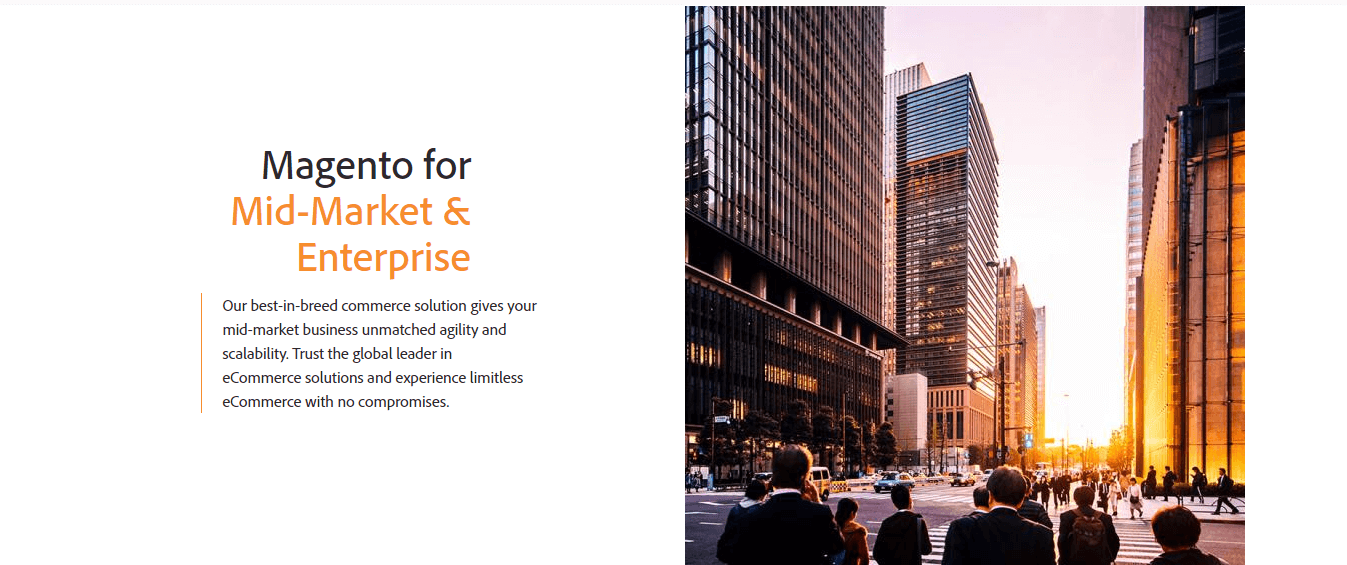 | | |
| --- | --- |
| Average Gross Sales Revenue | Magento Commerce Cost |
| < $1,000,000 | $22,000/year |
| $1,000,000 – $5,000,000 | $32,000/year |
| $5,000,000 – $10,000,000 | $49,000/year |
| $10,000,000 – $25,000,000 | $75,000/year |
| $25,000,000+ | $125,000/year |
Similar to Magento Commerce, Magento Commerce Cloud is only for large businesses handling huge amounts of sales. The biggest difference here is that all your data is backed up in the Cloud, rather than on a hard drive that can be lost or stolen. This plan is slightly more expensive than Magento Commerce.
| | |
| --- | --- |
| Average Gross Sales Revenue | Magento Commerce Cost |
| < $1,000,000 | $40,000/year |
| $1,000,000 – $5,000,000 | $55,000/year |
| $5,000,000 – $10,000,000 | $80,000/year |
| $10,000,000 – $25,000,000 | $120,000/year |
| $25,000,000+ | $190,000/year |
2. Additional Magento Cost
Magento Hosting, domain, and SSL certificate costs
This type of expense is unavoidable when it comes to using an Open-source eCommerce platform. However, if you intend to build a strong Magento store with a high loading time, a Virtual Private Server would be a good option instead of shared hosting services. VPS Magento hosting varies between $60 and $300 a month. If you need to find a trusted hosting provider, check out the Top 5 Best Magento Hosting Providers in 2021. Additionally, You also need to purchase a domain name and SSL certification for your store, which costs from $10 to $50 per year.
Third-Party Magento Extensions Costs
There are a lot of free third-party extensions on the market. However, you'll need to pay if you need something truly useful and convenient. With the average price of $100, installing an average of 10-15 extensions will cost you from $1,000-$1,500 just for extensions.
Frontend and Backend Costs
This is one of the biggest expenses of using Magento. There are various tasks that you'll need to pay for depending on your design complexity, the number of extensions, and other unique customizations that you couldn't find on Magento Marketplace.
It takes from 2-4 months to finish building the frontend and backend. The cost of hiring a developer starts from $65 and can be up to $150 per hour. The total cost ranges from $5,000-$67,000 depending on the workload.
Maintenance and development
There's always something to do in a busy Magento store. The tasks could be to optimize your site, troubleshoot problems, update new features, conduct new custom fields, and so on. They all require a certain level of tech experience. The best choice for you is to hire a full-time developer to solve new issues monthly. The costs will also vary from $1500 to $5,000 depending on the workload.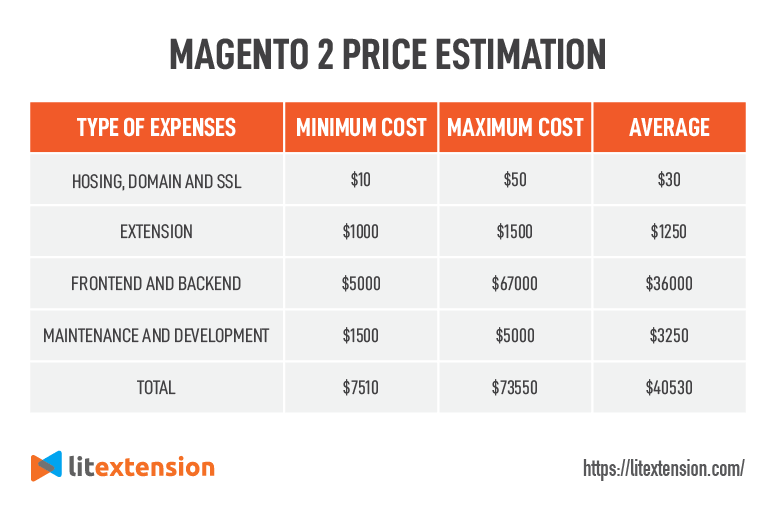 Magento 2 Review – Ease of use
As mentioned before, Magento is tailored for intermediate to advanced levels of web development. Hence, It's not a perfect option if you're looking for a user-friendly eCommerce solution.
" It was the first time my team used Magento and spent sleepless nights trying to understand how it works, and how to customize it. This was very stressful, and was the reason for which my team dumped it."
Emeka O, the cofounder of Wholesale said in his review.
The installation of Magento is local, so it requires setting up FTP and transferring Magento Archive to your hosted system. The installation process itself is quite complicated if you don't have enough technical knowledge. Check out the detailed guide in this video:
One of the main goals of Magento is to make this powerful tool more suitable for small businesses. In March 2019, Magento 2.3.1 was released. One of the biggest changes that came with this update is that the page builder content editing tool is now a standard feature. Since then, the drag and drop page builder remains one of the notable features of Magento and is also available in ver 2.4.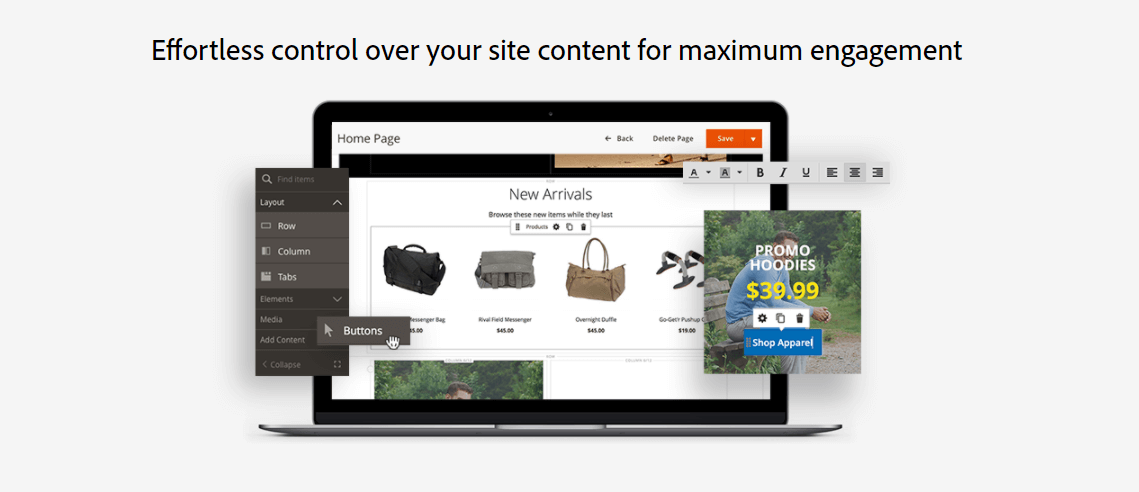 The page builder surely reduces a lot of hard work for users. It reduces all the coding required and makes things easier for you to manage your content.
"Instead of creating page mockups each time content is needed, your eCommerce web designer develops a design system for your site. A design system is a collection of reusable components guided by design standards – think brand guidelines, pattern libraries, and style guides. Creating a design system and establishing branding guidelines ensures that there is a consistent look, feel, and voice for your brand across the entire business."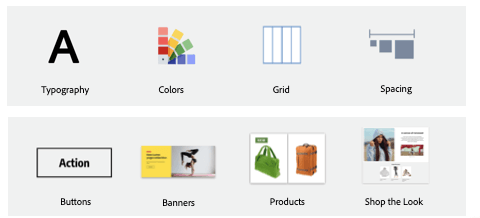 Moreover, Magento provides merchants with an excellent UI. Everything you need to manage from product, customer, marketing to content management is all listed on the sidebar for seamless navigation.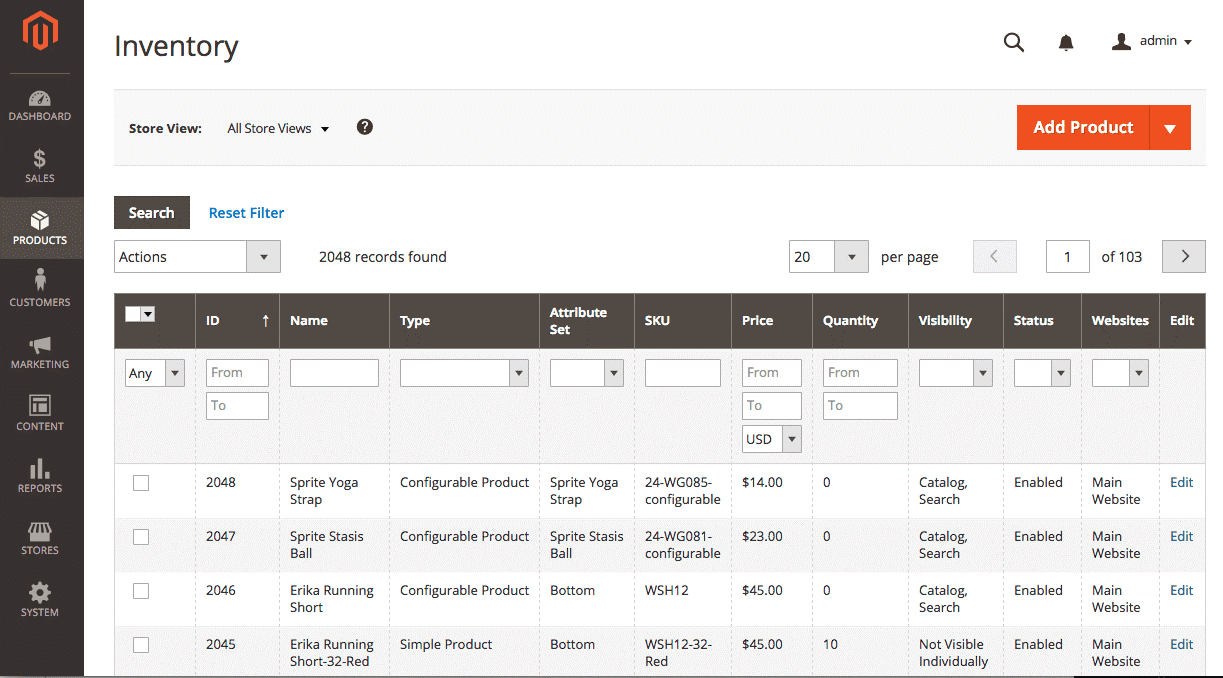 Magento's developers are putting more and more effort into bringing conveniences and ease of use for its users. However, Magento is still in the "Expert level" and not so user-friendly compared to other eCommerce platforms.
Magento 2 Review – Themes & Customization
Magento 2 Themes
Default Magento comes with two design themes: Luma, as a demonstration theme, and Blank as a basis for custom theme creation. The Luma theme is a great example of how powerful and flexible Magento is. It's elegant, clean, and easy on the eye with endless customization possibilities.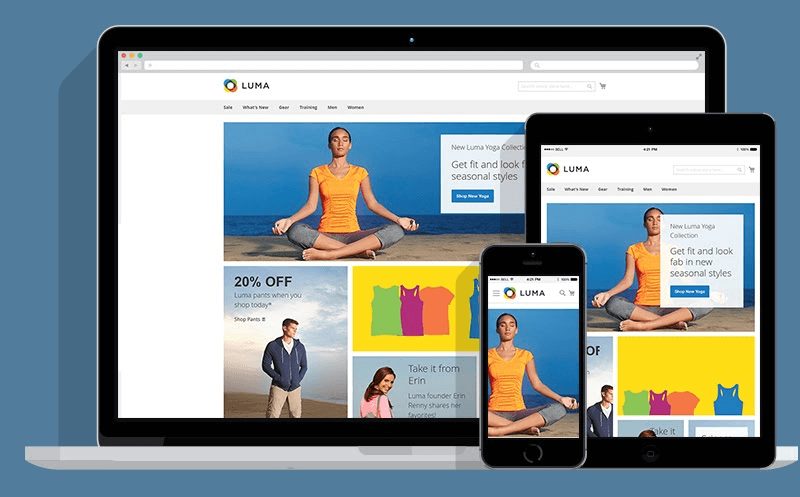 Magento also gives you more options including both free and paid themes in the marketplace. Store owners can use them as pre-built templates so that they can customize later on. If you need more, check out our Top 10 Best Magento Themes in 2021. For even more suggestions, you can visit Themeforest, where there are more than 500 Magento templates for you with the price of around $29 to $200.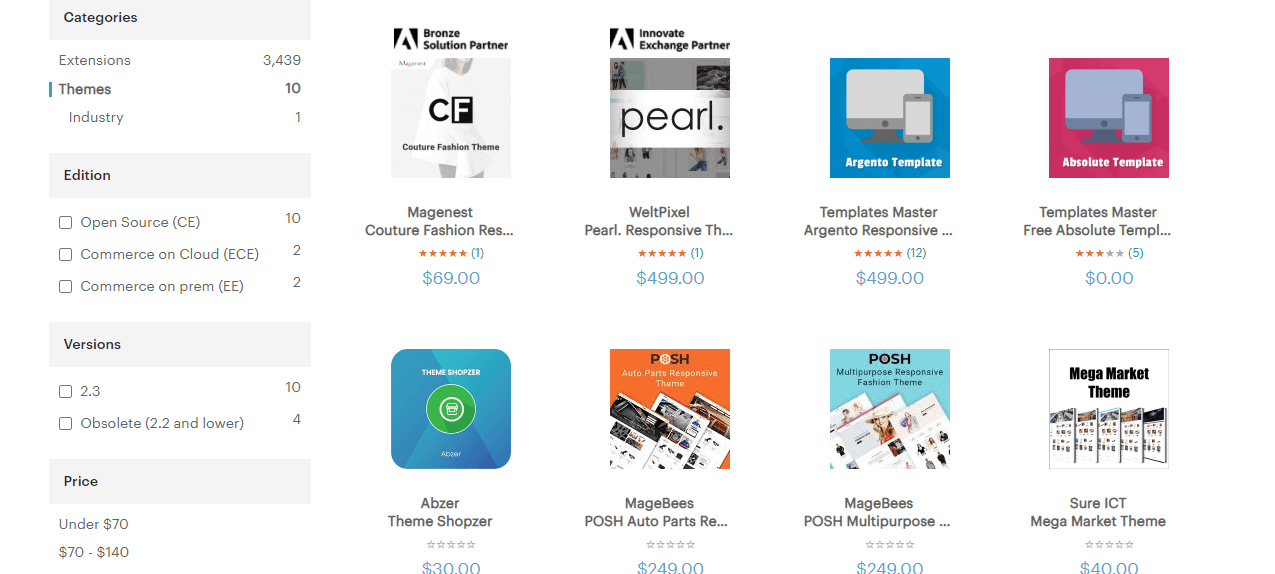 Magento 2 Customization
After you got your best theme, it's time to kick-start the installation process to make your store look just like what you want. This step requires experience with PHP and some other programming languages such as CSS, JavaScript. If you're not confident about your technical skills, you can always look for a developer to help.
You can customize everything with Magento and themes are not an exception. Basically, there are three ways you can do this:
Create a theme from scratch. This method is for store owners who wish to have everything in their own way. However, this can be expensive since you have to start from the beginning and the cost for a developer is not cheap at all.
Purchase a page builder tool or a third-party theme generator that offers access to the inbuilt dashboard of your theme. This can involve some coding.
Use the default page builder from Magento (Only for Magento Commerce and Magento Commerce Cloud). This tool reduces all the coding required by helping you adjust your content types on a page with drag and drop.
Magento 2 Review – E-Commerce Features
"There are a plethora of installed features: search term synonyms, built-in marketing tools, detailed shipping/packaging settings, separate catalog and cart price rules, etc. It's a monster of a platform, one that serves many companies very well"
From Samuel N – Web Designer
"It's a monster of a platform" – one of the reasons that make Magento a giant in the eCommerce platform solution market is its extensive features. With other simple platforms like WordPress, you need to install hundreds of extensions that cost tons of time worrying about the compatibility, support, and updates on plugins. On the other hand, Magento reduces an enormous amount of work for users by combining all the functions you need into the core system. This surely utilized its out-of-the-box features which is a strong point against competitions.
Magento's feature list is endless, but in this Magento 2 review, we'll split the feature lists according to segment so you can have an overview of what you can do with Magento
1. Magento Inventory management
Create simple, configurable (e.g., choose the size, color, etc.), bundled, grouped, virtual, downloadable (with samples) products
Create pre-defined product templates to quickly set up new products with a specific set of attributes.
Automatically assign products to specific categories based on their attributes. This means, you don't have to add a product to the category manually anymore, all you need to do is just set up attributes for your items.
Process long-running B2B features shared catalog updates in the background while working on other administrative tasks
2. Magento Sales Channels
Automatically sync catalog, inventory, and order information across Amazon and Magento.
Automatically sync catalog changes, no need for extra manually steps
Create Google Merchant Center and Google Ads accounts from Magento Admin
Reach more shoppers with Google Smart Shopping campaigns
Review performance and ROI reports within Magento
3. Magento Shipping & Tax
Integration with global shipping carriers.
Offer free shipping and percent, fixed amount, and buy X get Y free discounts.
Support fixed product taxes, such as WEEE/DEEE in the EU.
Automatically calculate tax for transactions in the EU with VAT-ID validation.
4. Magento Analysis
Access and analyze data anywhere; Automated & regularly updated reports.
Get started with up to 100 best practice commerce reports & dashboards included
Export your data and visualizations outside of the platform.
Execute advanced analyses with Magento's report builder
5. Magento 2 Check-out & Magento 2 Payment Gateways
Show tax and shipping estimates in the shopping cart; Display an order summary with product images in checkout
Boost conversion rates with an Instant Purchase option that uses saved payment and shipping information to speed checkout.
Integrate with multiple payment gateways, including PayPal, Braintree, Authorize.net, CyberSource, and WorldPay.
Qualify for the easiest level of PCI compliance (SAQ-A or SAQ A-EP), depending on the payment methods used.
Magento is on its way to becoming bigger and bigger. As a result, the features will continue to expand. Besides being feature-rich, the real power of Magento also lies in the potential to make your own features in order to solve most of the difficult problems for your business.
Magento 2 Review – Mobile Commerce
According to Statista, Mobile-Commerce reached 58.9% in total retail e-commerce sales in 2017, equivalent to $1.4 trillion. In 2021, mobile e-commerce could rake in $3.5 trillion and make up almost three quarters (72.9 %) of e-commerce sales. Currently, that number is already over 80% in some markets.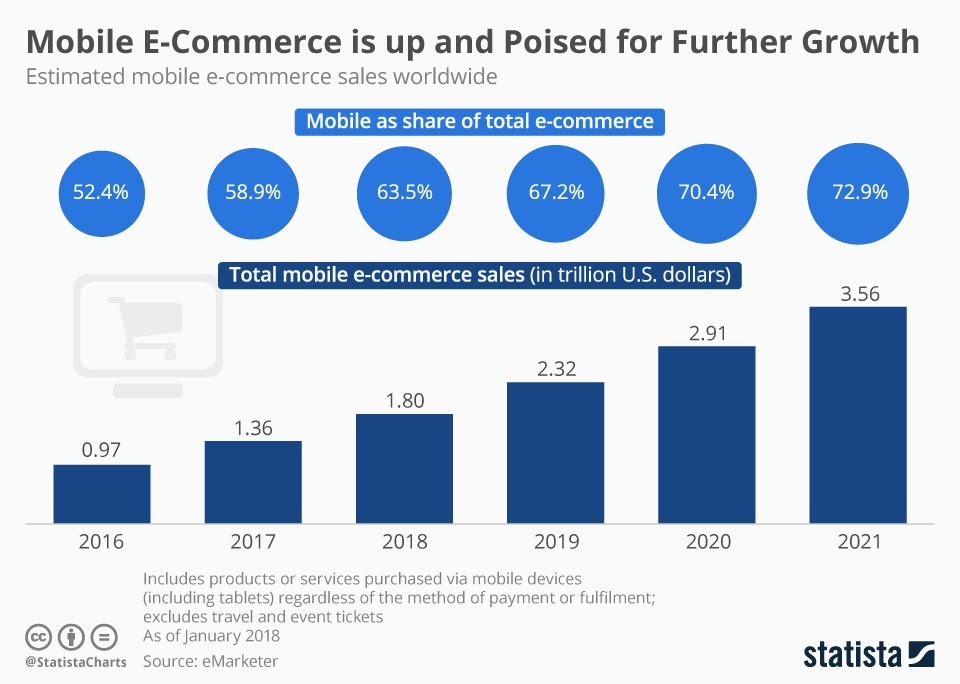 The Magento M-Commerce Platform was put in place in 2011 as the first Mobile Commerce Platform in the world. The mobile app integrates with all Magento versions. The apps let businesses take customer relationships to an entirely new and connected level and provide shoppers with an intuitive and easy-to-use, branded storefront.

The Magento mobile source code allows merchants to create extensions and develop mobile apps that integrate with the Magento platform to optimize the user experience.
After almost a decade of improvement, the Mobile version now becomes a super useful tool for merchants to attract customers all around the world. The notable features of Magento M-Commerce include:
Mobile-Friendly Checkout: Help to boost your conversion rate by applying instant purchase – Shoppers can use previous information from the last purchase (payment credentials, shipping info) to skip checkout steps.
Fully responsive theme:  The responsive themes adapt and adjust how menus, images, checkout, and other features are displayed to fit mobile device screens.
Progressive Web Applications (PWA): Uses modern web technologies and design patterns to provide a reliable, fast, and engaging user experience.
Magento 2 Review – SEO & Marketing
SEO and Marketing tools play a key role in getting more traffic, conversions, and sales as well as promoting your site.
Magento SEO
Mobile optimization and standard SEO tools are included in all versions of Magento 2. These include automatic Google sitemap generation, full control of URLs with URL rewrites, and more.
Other effective ways to boost the SEO performance of your site with Magento like meta keywords, meta description, or rich snippets are also being focused on. If you wish to know more about how to gain more SEO points with your business, check out SEO Tips For Optimizing Your Magento Store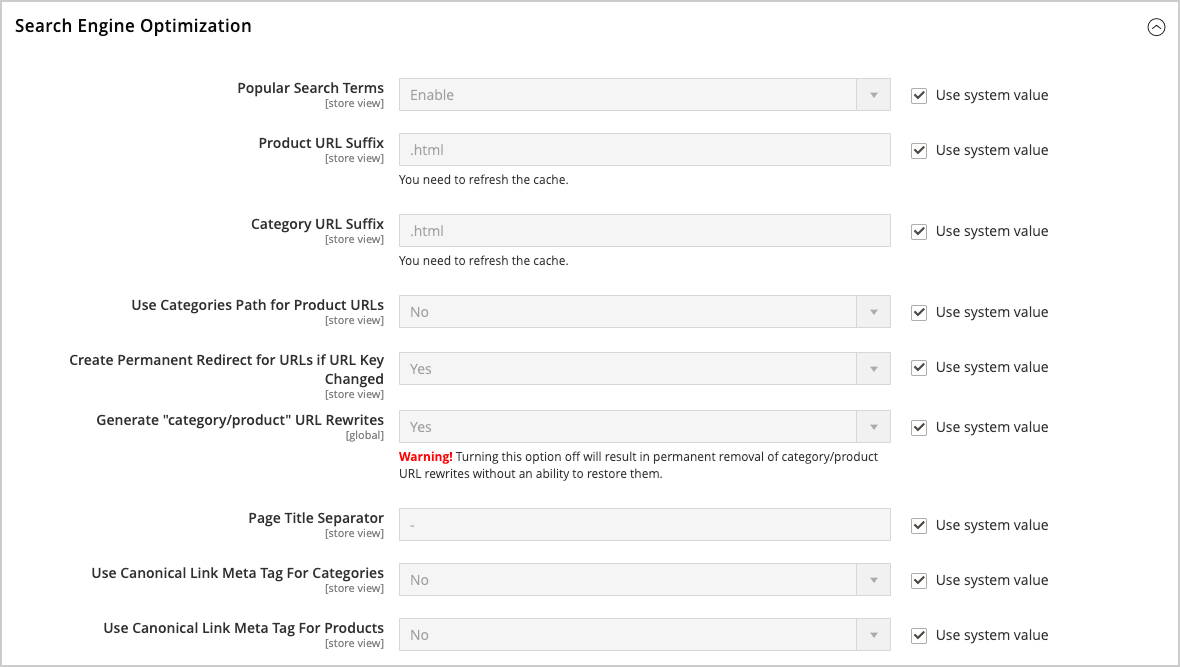 Magento Marketing Features
Magento gives you a rich set of diverse features that helps you to maintain relationships with your shoppers as well as attract more customers.
With Magento, you are able to create flexible coupons for specific stores and use them for multiple purposes. You can easily export coupon codes for offline distribution, email, and newsletters as well as track and report coupon usage to optimize your marketing campaign. Moreover, Magento also allows users to send automated reminders and coupons to customers with abandoned carts and wish lists.
One more notable marketing feature for merchants to get customers to come back to their store is reward points. The function is applied when a customer makes a purchase or registers, reviews your products, and so on.
Magento only offers these marketing features based on the plan you're using. If you are currently using Magento Open Source, you might need to update to Magento Commerce or Magento Commerce Cloud to get more marketing features. However, you can always make your own custom feature to suit your business demand.
Magento 2 Review – Support & Extensions
Magento Support
Just like most of the open-source eCommerce solutions out there, customer service is essentially nonexistent with Magento. There's no live chat, phone, or email support for merchants that use Magento Open Source. Unless you register for the Magento Commerce Cloud plan, whenever a problem appears, you're basically on your own.
Fortunately, Magento provides an informational blog, a knowledge base, and a forum for you to seek help from other merchants.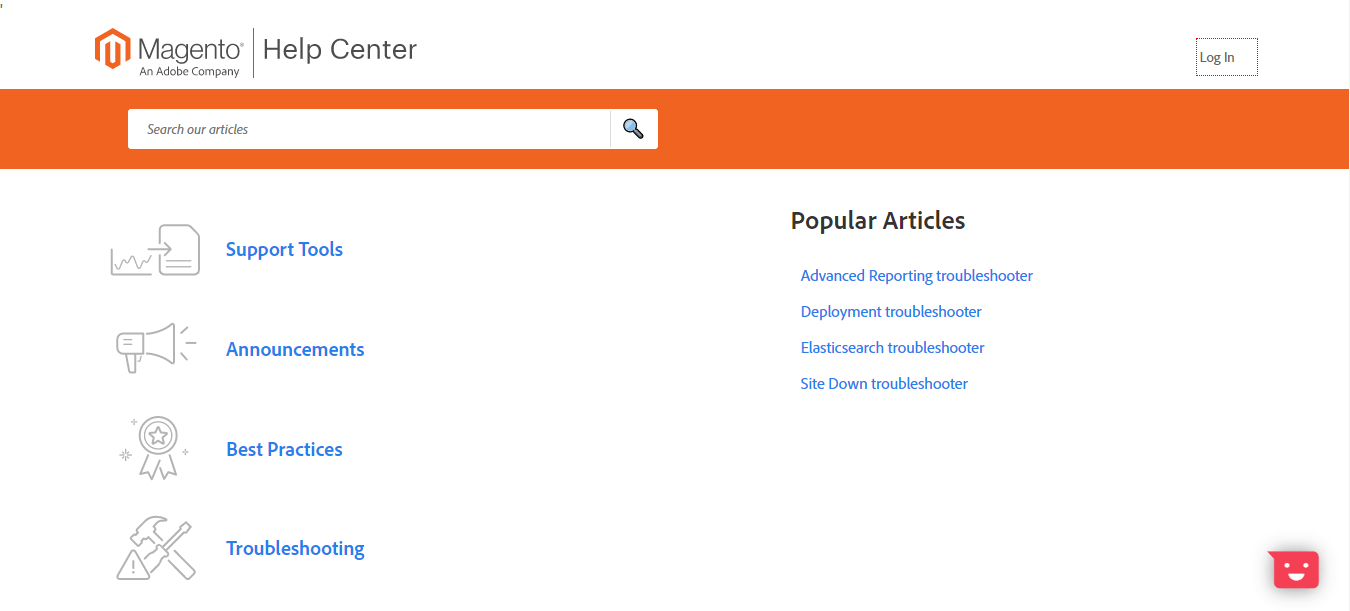 Magento Extensions
Magento provides users with an enormous amount of apps and add-ons. Totally, there're over 3400 extensions in various categories such as accounting and finance, promotion, shipping. All of them are designed according to the latest Magento standards.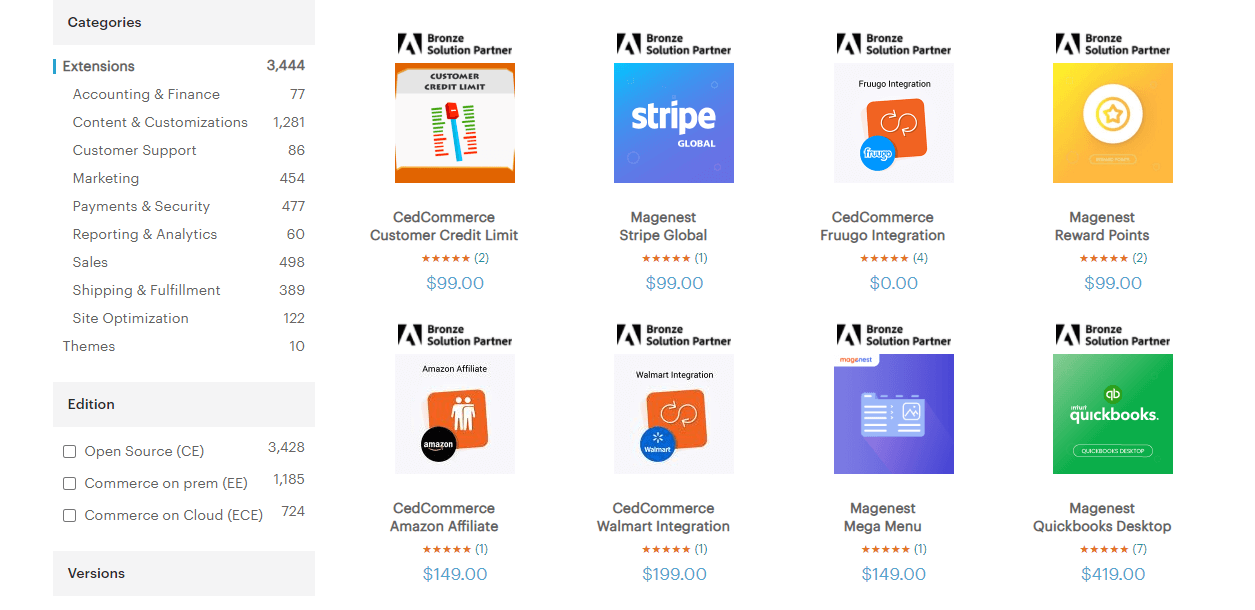 In the Magento extensions store, you can find both free and paid plugins for your business. However, the price is quite expensive. You need to pay from $40 to $10000 or even higher depending on the value of the extensions you need.
Magento 2 Review – Security Features
As mentioned above, Magento targets mostly medium to enterprise-sized businesses. Hence, the high level of security for their website surely is a serious demand. From the very beginning, Magento has taken security seriously. They have an entire Security Center dedicated to keeping your site safe. However, the expense is not cheap at all. It charges from $1,000 to $5,000 for SQL injection vulnerabilities and this type of service is not available for Magento Open Source.

Let's check out some of the best safety methods that Magento provides you:
1. Magento Payment Security
Securely pass credit card information directly from the client browser to the payment gateway, bypassing the Magento application. This helps your customer to ensure that their information doesn't leak out during the payment process.
PCI compliant: All sites qualify for the easiest level of PCI compliance (SAQ-A or SAQ A-EP), depending on the payment methods used. This aims to protect your shopper's info when  process, store, or transmit credit card information
Signifyd automated fraud detection tools: Remove the stress of eCommerce fraud prevention, abuse, and payment regulation
2. Magento Architecture Security
Advanced Encryption Standard: Data encryption based on AES-256 and hashing based on SHA-256. Magento applies a global standard of encryption (AES and SHA) and it is used to keep prying eyes away from our data
Secure your stores and prevent fake logins with Google ReCAPTCHA and Two Factor AuthenticationLimit password guessing with strong password requirements and a secure Admin login process.
Stay informed about security issues through the Magento Security Center and mailing list
Final words
Magento is holding a special position on the market. Over the years, this open-source eCommerce platform has earned a solid reputation as one of the best eCommerce solutions for medium and large businesses.
Despite the lack of ease of use and numerous expenses, Magento still brings online stores around the world a mighty system with endless customization possibilities. Its features are also a plus if you decide to go with this powerful platform. Thousands of extensive functions combined with a highly secure system will bring the best support to help your business grow.
I hope you find what you need to know about Magento in this article. If you intend to move to Magento, I strongly suggest using an automated migration tool such as LitExtension.
LitExtension is one of the most trusted migration solutions for merchants who are trying to find an effective and affordable way to transfer all your important data. You can contact the support team by email or chat with them directly for more detailed information.
You might also interested in reading: