Spending time and nerves choosing between BigCommerce vs WooCommerce for your online business? Congratulations! You've landed on the right blog post.
With this article, you'll get a better idea of all the pros and cons of BigCommerce vs WooCommerce. Keep scrolling as LitExtension – #1 Shopping Cart Migration Expert to find out more about:
Let's take a look!
---
Overview
Both BigCommerce and WooCommerce come along with full stacks of functionalities.
Being a hosted eCommerce platform, BigCommerce makes it easy for you to quickly create and operate your online store.
Whereas, WooCommerce is the best eCommerce plugin for WordPress, giving you the capability to create top eCommerce websites from scratch.
The competition is fierce, but both BigCommerce and WooCommerce have obvious ins and outs. Therefore, instead of trying to call out the winner between BigCommerce vs WooCommerce, the debate should instead focus on which solution is optimal for your online business.
What is BigCommerce?
BigCommerce is the leading hosted solution in the market that makes it simple to launch and run an online store. Unquestionably, this is the best start for owners, retailers, and even wholesalers who want to customize within a hosted environment. This process is even well-supported if you already have a physical store and need to move it online.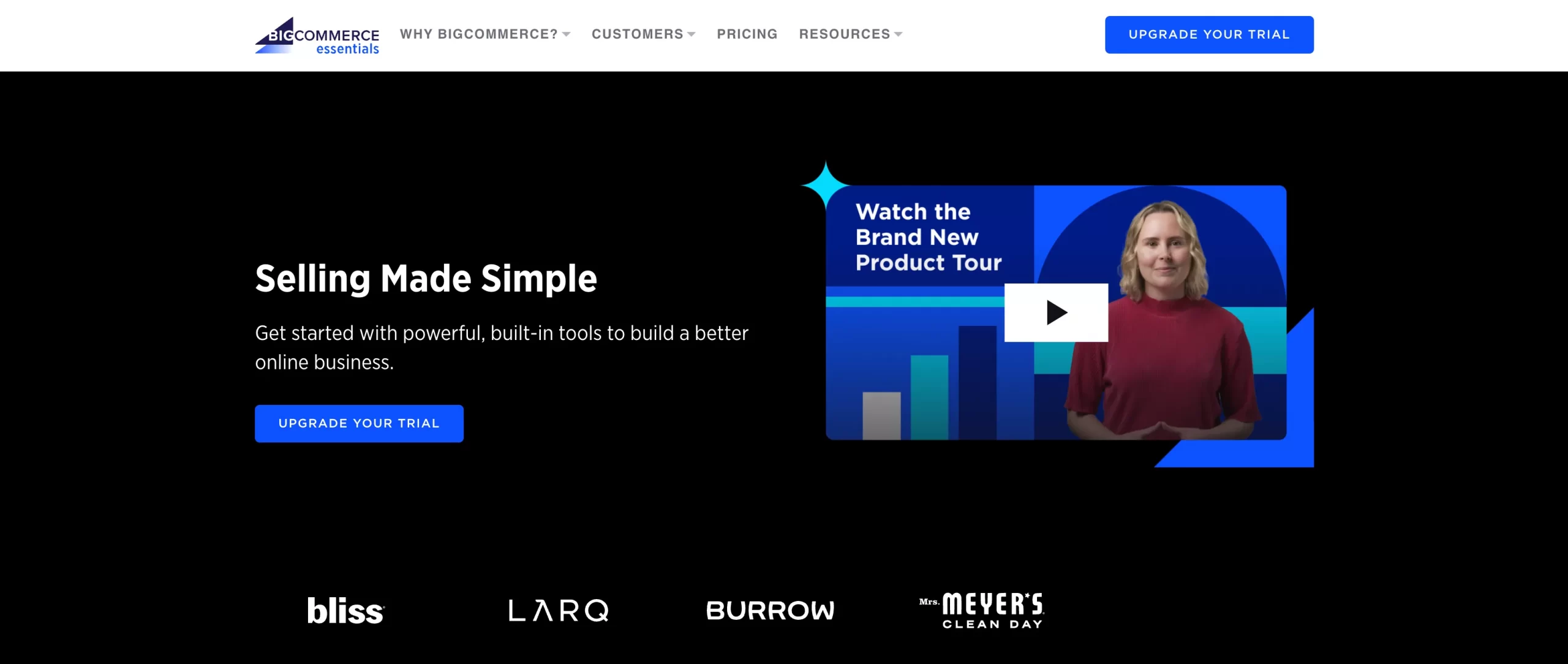 Moreover, BigCommerce has the best built-in features and powerful open APIs that you cannot find elsewhere, despite the fact that it is not an open-source cart. These features make it possible for you to easily set up, customize, and expand your business. You can read our complete BigCommerce review to find out all you need to know about this eCommerce website builder.
What are the Pros and Cons of BigCommerce?
Pros
Easy to set up your store while versatile enough to customize it: BigCommerce allows owners to access and change the underlying code in stores, unlike other hosted systems. Therefore, when using BigCommerce to grow your business, you can empower your store with out-of-the-box functions.
Rich built-in features & powerful open APIs: this cart helps with the customization and lets users add extra features in accordance with their needs. This feature and how it works can hardly be found among other carts.
High-performance checkout: You can customize every aspect of the checkout process with a server-to-server checkout API and SDK.
Limitless scalability: if a business is rapidly expanding, the owner is well supported in gaining access to various features that aid in its expansion. Unlimited product variants, automatic marketplace integration, multichannel selling features (multi-storefront, currency, payment, etc.), and so on.
Cons
More expensive: BigCommerce is more expensive since it provides a number of distinctive features besides the monthly subscription.
Few themes diversity: BigCommerce provides you with a fair number of free and paid themes, however, not many. It's undeniable that BigCommerce themes are, in many cases, similar to each other.
Ready to Grow on BigCommerce?
If you are intending to migrate to WooCommerce, LitExtension offers a great migration service that helps you transfer your data from the current eCommerce platform to a new one accurately and seamlessly with utmost security.
What is WooCommerce?
WooCommerce was brought to life in 2011 by WooThemes developers and works as an open-source plugin for WordPress. It can help you quickly turn an existing WordPress website into a fully functional web store. The platform is regarded as a perfect solution for businesses at all levels, from small-scale retailers to large enterprises.
What are the pros and cons carried out by WooCommerce?
Pros
High level of design flexibility: You can customize your WooCommerce themes to a very large extent. However, to make the most out of them, you need to equip some technical skills, such as the ability to use HTML/CSS editors.
Enormous collection of 3-rd party plugins: WooCommerce runs on the most powerful content management system WordPress. This means users can benefit from enormous plugin collections of both WordPress and WooCommerce stores and even from other plugin websites.
Access to WordPress SEO tools: if you're going to build a robust blogging or content-based system, WooCommerce delivers out-of-the-box SEO functions.
Cons
Limited support: WooCommerce has a large community of users and developers. However, it doesn't mean you'll instantly receive help any time you face an issue. You need to look around on documentation sites or similar topics from community sites all by yourself.
High technical knowledge required: With WooCommerce, it requires you steeper learning curve since you need technical knowledge to fully make use of the platform.
You can visit our all-inclusive WooCommerce review to grasp all insight about this WordPress eCommerce platform.
Ready to Grow on WooCommerce?
If you are intending to migrate to WooCommerce, LitExtension offers a great migration service that helps you transfer your data from the current eCommerce platform to a new one accurately and seamlessly with utmost security.
---
BigCommerce vs WooCommerce: What Makes The Difference?
Like facts and figures never tell lies, the popularity of BigCommerce vs WooCommerce is backed by several sets of statistics. As of January 2022, BigCommerce powers 45,000+ live websites. On the other hand, WooCommerce powers 6,000,000+ live websites.
However, it's not always about numbers that people should look up to and make decisions. That's when you need to refer to critical criteria to which you can refer to choose between BigCommerce vs WooCommerce.
So before jumping into the detailed comparison, let us present to you an infographic of what you will learn about BigCommerce vs WooCommerce in this article.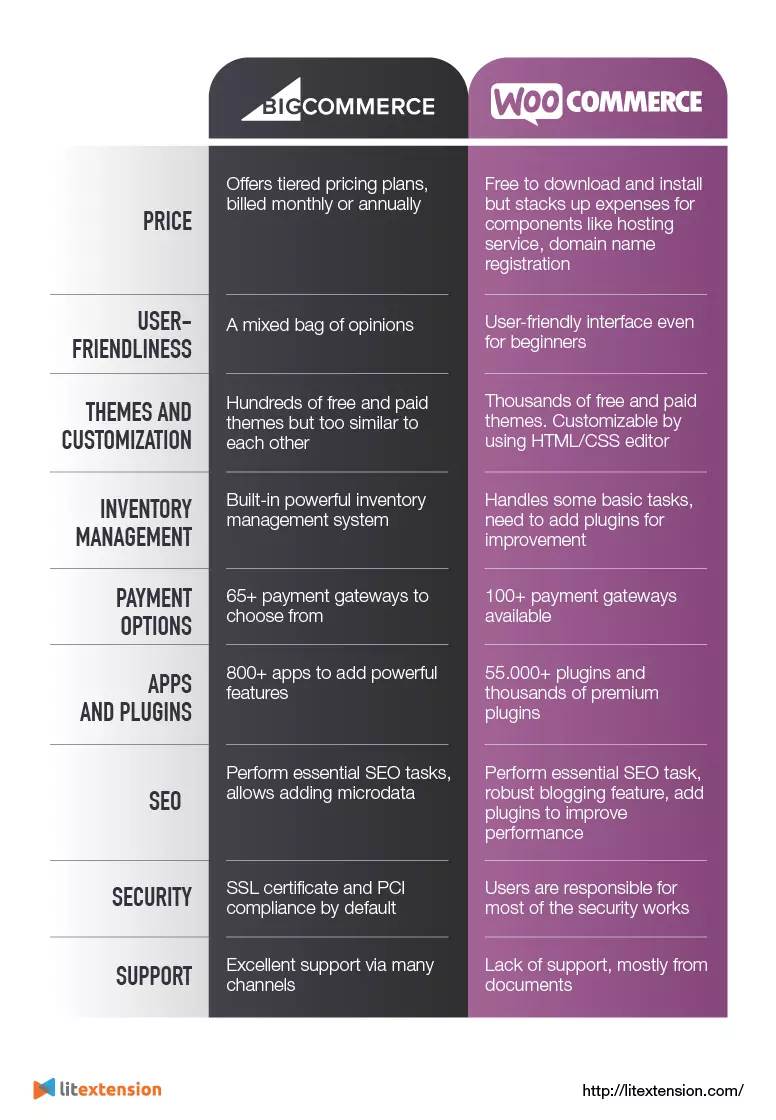 Pricing
BigCommerce vs WooCommerce have different mechanisms for setting prices. The former, as an all-in-one solution, offers tiered pricing plans, while the latter stacks up expenses for separate components.
BigCommerce Pricing
You can have hands-on experience by first opening your BigCommerce store with a 15-day free trial. After the trial period expires, BigCommerce will request you to choose among 4 pricing packages to continue the operation of your online store.
Out of the 3 BigCommerce pricing plans available, the Plus one is most favored by the public. The platform also provides an Enterprise plan, but you'll have to contact BigCommerce directly for a custom price. With each upper-tier plan you choose, you'll get access to many more advanced features.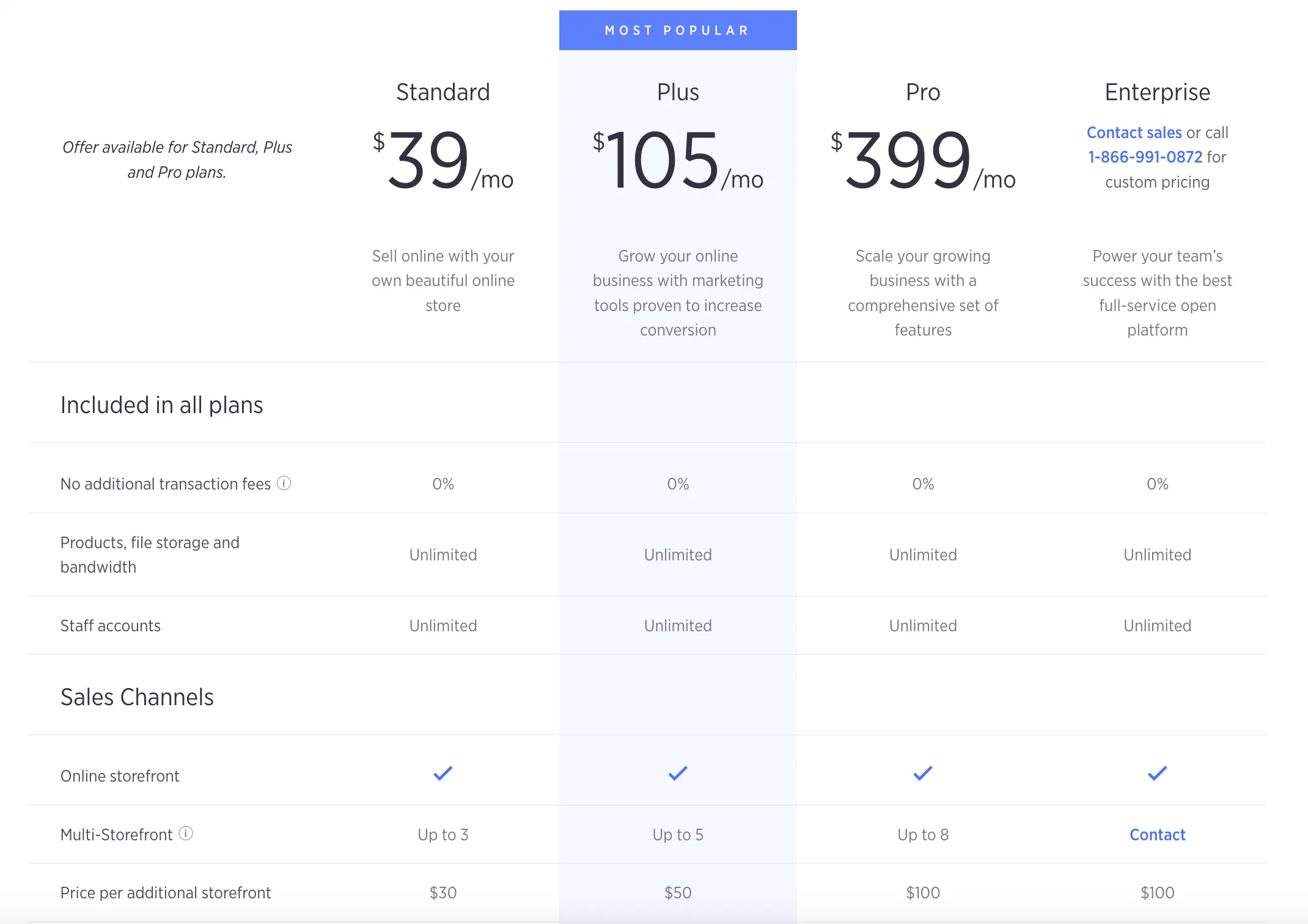 The great news is that all BigCommerce plans charge no transaction fees to use leading payment gateways (e.g PayPal, AmazonPay, Stripe, etc.). Your website will also have unlimited bandwidth, unlimited file storage, product variants, or staff accounts.
Regardless of the plan you choose, your store will include a fully responsive site, one-page checkout, digital wallets, basic SEO tools, and robust analytics. And if you opt for paying annually instead of monthly, you'll even get a 25% discount.
Please notice that BigCommerce sets a limit on total annual sales on their plans. However, it makes sense, given that this is the only hosted cart that allows you to expand to higher sales with a wealth of premium features.
Read on BigCommerce pricing to know how much you have to pay for a full-fledged eCommerce website!
WooCommerce Pricing
WooCommerce has been long regarded as one of the best WordPress plugins for eCommerce. Like any other in the list, you don't have to pay a buck to download and install WooCommerce. However, in order to operate a complete webstore, you need to pay separately for the domain name, web hosting service, and SSL certificate.
Domain name ($12/year)
WordPress hosting fee (from $3.95/month)
Security (from $50, on-going or on-off charge)
Developer fees (from $50/hr).
In addition, if you want to customize and add functionalities to your website, you may have to pay for themes and extensions.
Paid theme (from $30)
Plugins ($0 – $1000)
Therefore, total expense adding up may change your initial conception of WooCommerce as a cheap solution for eCommerce. WooCommerce can be a relatively cheap eCommerce solution at the beginning, but later in the future, managing a compilation of monthly bills is not an easy task to handle.
Here, we've compiled all the costs of a WooCommerce website for your to better understand about WooCommerce pricing.
Ease of Use
BigCommerce Ease of Use
With BigCommerce, it's easy to start and maintain your eCommerce store. Since BigCommerce is a fully hosted platform, you don't need to set up hosting or install any software to get started. However, it is versatile enough for knowledgeable users and programmers to change the code in stores. The same thing happens for security and version upgrades.
Here are some thoughts from BigCommerce users shared on Capterra.com:
Moving from an open source eCommerce platform that was self hosted, I also don't have to worry about version upgrades and monitoring the servers. This was a huge plus for me.
BigCommerce provides a straightforward interface with a vertical menu on the left-hand side of the screen. That interface is sometimes rated as hard to navigate, and here are some thoughts from users on Capterra:
Compared to other eCommerce platforms I've used, BigCommerce has a very confusing interface, things are really difficult to find.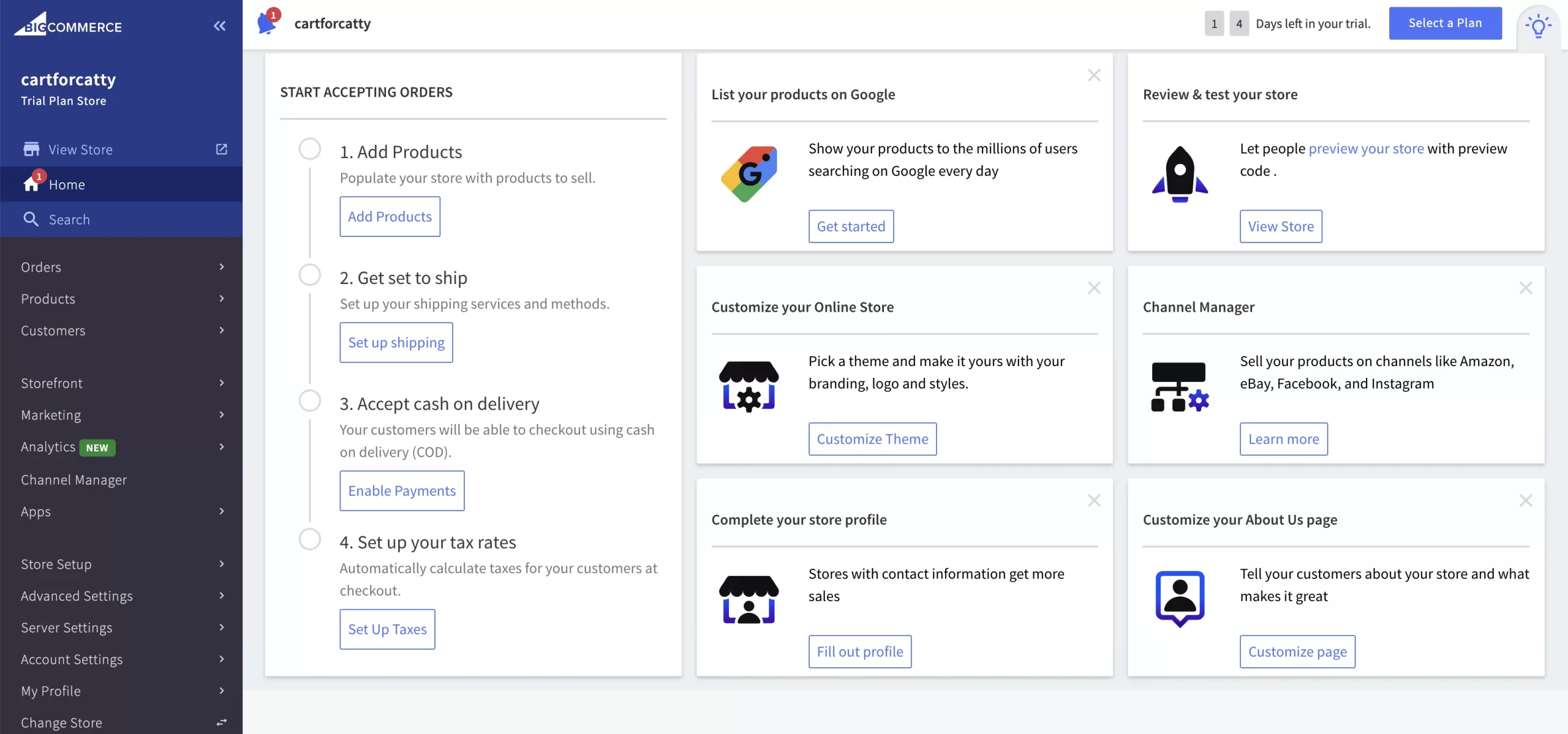 Some terminologies from BigCommerce may cause beginners a little hassle, i.e. every time performing basic tasks such as adding a product. After going through all these points, we believe BigCommerce user-friendliness is really a mixed bag of opinions.
Need help setting up your BigCommerce store? Take a look at this article: BigCommerce tutorials – Comprehensive guide for beginners.
Need Help To Migrate Your Store?
If you are intending to migrate WooCommerce to BigCommerce, LitExtension offers a great migration service that helps you transfer your data from the current eCommerce platform to a new one accurately, painlessly with utmost security.
WooCommerce Ease of Use
On the other hand, things can be a little more complex, setting your first steps with WooCommerce. The platform itself is preferable for users who have acquired a certain level of technical skills.
For tasks like domain registration, setting up web hosts, and security certificates, you'll have to carry them all on your own. Therefore, having some good IT skills would certainly help a lot to get your online store up and running.
There's finally good news is that WooCommerce has a user-friendly interface and did satisfy many of its users:
There are lots of reasons that I love WooCommerce. I really like the interface of WooCommerce, because it is very easy to understand and use.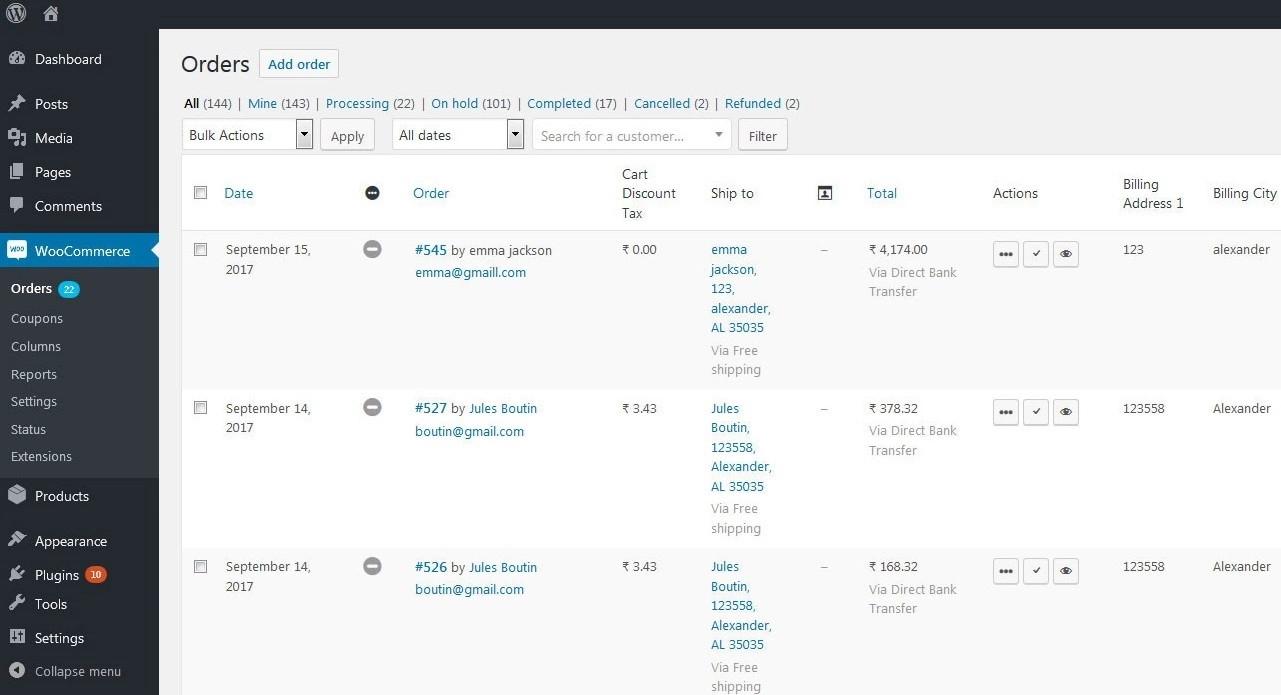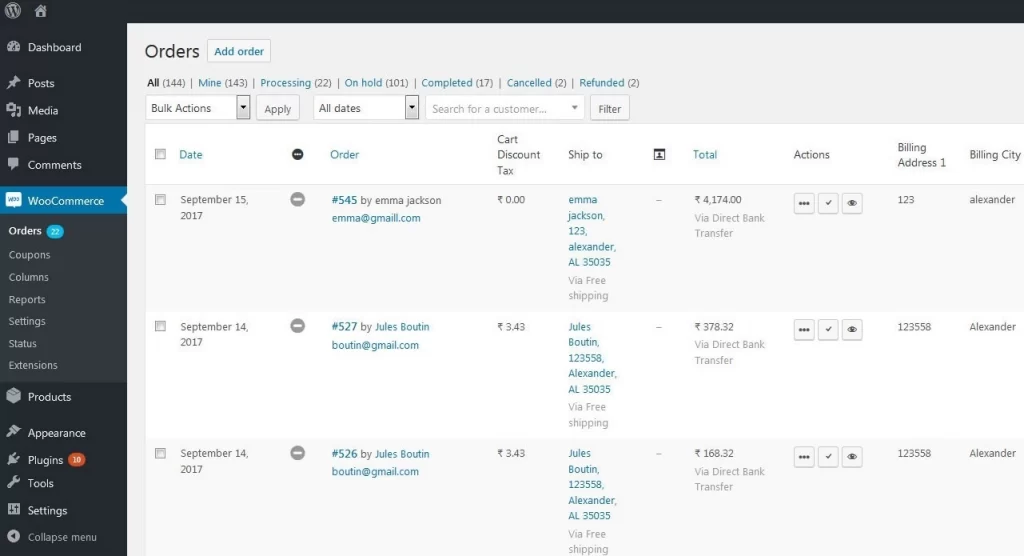 You can figure out how to set up WooCommerce in our below WooCommerce tutorial video:
Design
BigCommerce Themes
A good-looking and well-designed storefront would definitely leave a strong impression on visitors. At this point, this eCommerce platform offers 5 free themes and 100+ paid themes (with various theme variants) available on BigCommerce Theme Store.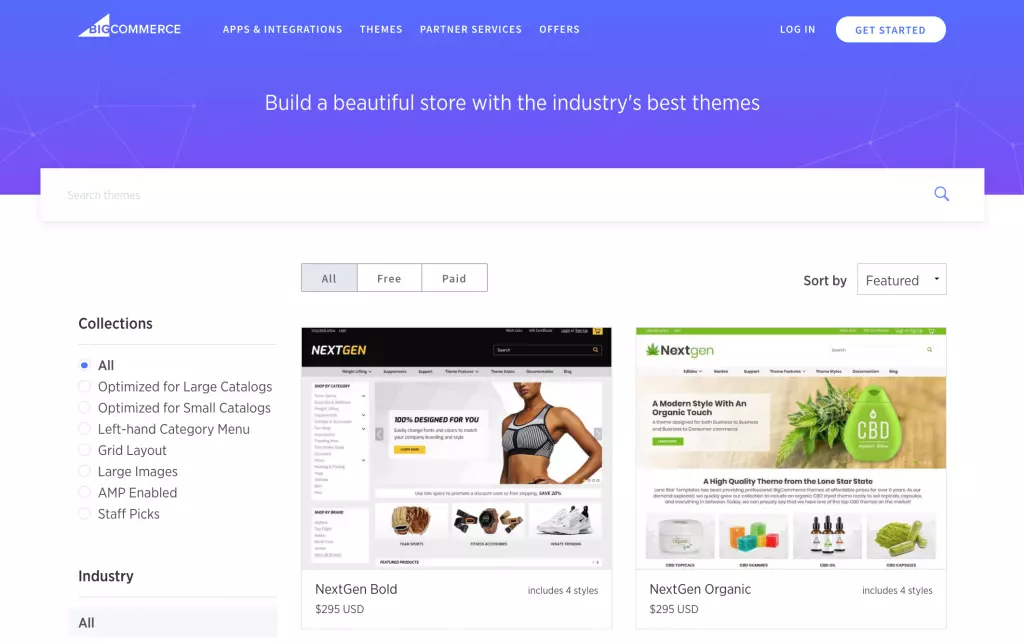 The price range for paid themes is from $140 to $399, which is pretty high in comparison with other hosted solutions. If you're concerned about the high price, we've compiled a list of under-$200 BigCommerce themes that fit your budget!
WooCommerce Themes
On the other hand, WooCommerce works as a plugin for WordPress and benefits from the CMS, so developers have put efforts into making WooCommerce compatible with WordPress themes. You can get thousands of WooCommerce free and paid themes from the WooCommerce themes store.
It's not an exaggeration to mention WooCommerce as the most customizable eCommerce platform with themes. WooCommerce themes are not only considerably cheaper than BigCommerce, but they're also more customizable. You can use the WooCommerce HTML/CSS editor to customize your themes.
Further reading: 10+ Best WooCommerce Themes for Your Online Store
Apps & Plugins
Adding apps and plugins can fill up what is missing from a limited set of features in every eCommerce platform. At this point, both BigCommerce vs WooCommerce can fully satisfy their users with enormous stocks of apps and plugins.
BigCommerce Apps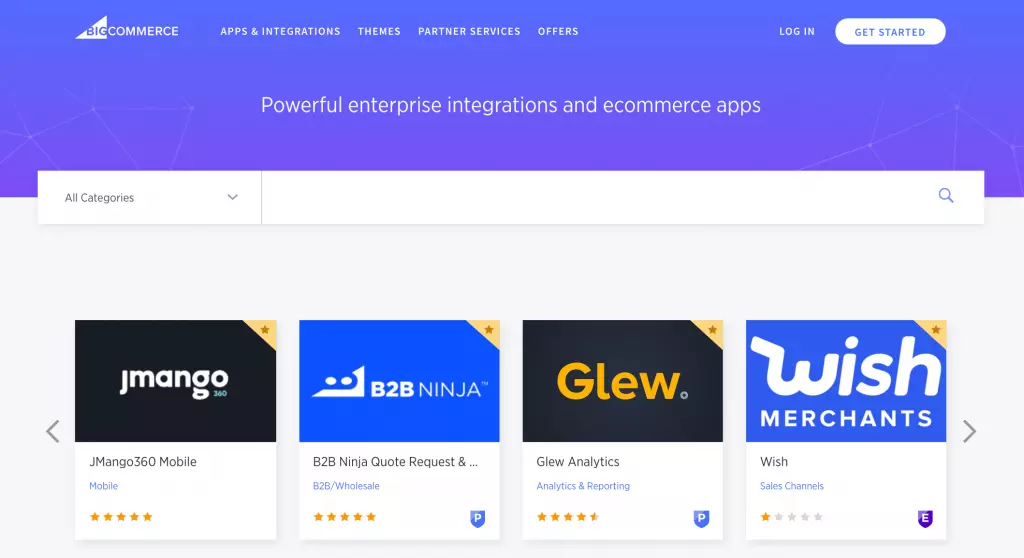 There are 1000+ BigCommerce apps to help you add powerful features to your store, categorized into multiple categories (i.e. Accounting & Tax, Checkout, Payment & Security, etc.). Some of which include Analytics, Marketing, and Payment as the most popular for purchases.
More importantly, managing third-party apps requires fewer time, thanks to BigCommerce's powerful built-in features. Although open APIs and 99.99% uptime are features included in all plans, the Enterprise Plan offers a headless solution and unlimited API calls. With this offer from BigCommerce, both developers and sellers can excel in the eCommerce market.
WooCommerce Plugins
Compared to BigCommerce, WooCommerce provides even more diverse plugin choices to add more functionalities. The open-source platform benefits greatly from WordPress so it gives you access to more than 55.000 free plugins and thousands of premium plugins.
These plugins can be found on WordPress.org plugin repository, official WooCommerce website, and other plugin websites. WooCommerce plugins are designed to serve in various categories, including Store management, Shipping, WooCommerce Payment, and more.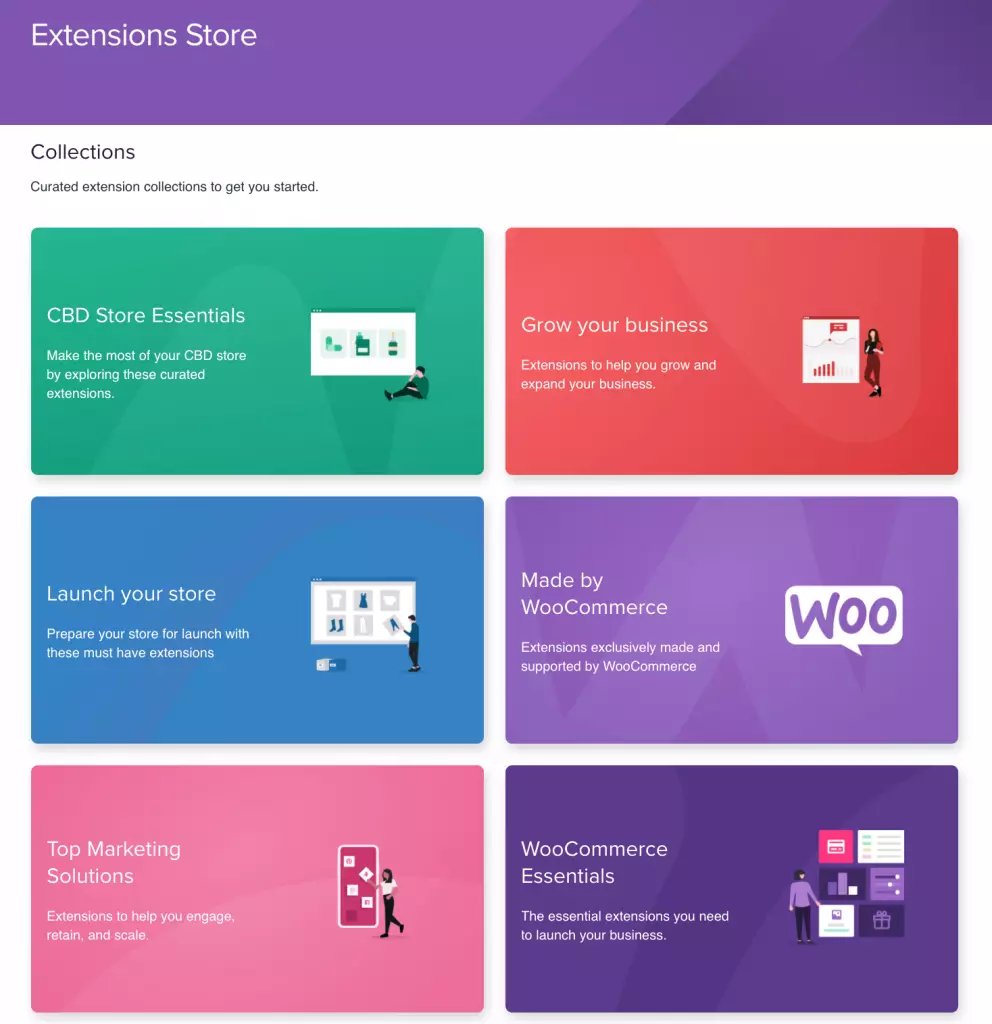 eCommerce Features
When it comes to eCommerce features, both BigCommerce vs WooCommerce are outfitted with brilliant attributes that you'll surely need for your online store. However, the features provided by each of these two platforms are different. Thus, BigCommerce might be a better bet for you but WooCommerce can also be others' cup of tea.
BigCommerce eCommerce Features
Here are a few key sales features that BigCommerce offers to its users:
Multi-channel Integration: You can sell your products directly on other channels like Facebook, Amazon, or eBay right from your site.
Cart abandonment alerts: Email reminders are automatically sent to customers when they leave items in their cart without checking out.
Analytical Tracking and Reporting Tools: You can monitor your site's performance through sessions, sales, and email campaigns.
Setting rates for shipping: You're free to decide the charges for sending items from one place to another.
Point-of-sale: enables you to connect with any POS service providers (i.e. ConnectPOS, Hike, Vend, etc.) and consistently sell both online and offline. Additionally, there are no additional costs.
WooCommerce eCommerce Features
Compared to BigCommerce, WooCommerce has a lot fewer on offer. Nevertheless, WooCommerce still comes packed with some innovative features:
Blogging functions: You can create a blog for WooCommerce by adding a post right from the WordPress Admin dashboard.
WooCommerce Analytics:  This feature allows you to keep track of your revenue, orders, products, categories, coupons, taxes, downloads, and stock.
One-click refunds: Customers can get money back for returns immediately.
Inventory Management
The inventory management system has become critical for every online business. It helps you keep track of your products, create reports and make data-driven decisions.
BigCommerce Inventory Management
Fortunately, BigCommerce comes with a powerful inventory management system with no need for third-party software.
In order to control stock levels and order trends, it provides a straightforward, native, and potent inventory management system. Inventory is managed with seamless integration between online and offline channels. Additionally, BigCommerce is the only platform that permits the sale of physical, digital, and service-based goods without the use of an app. You can also integrate BigCommerce with 3rd party inventory management apps to further extend functionalities.
WooCommere Inventory Management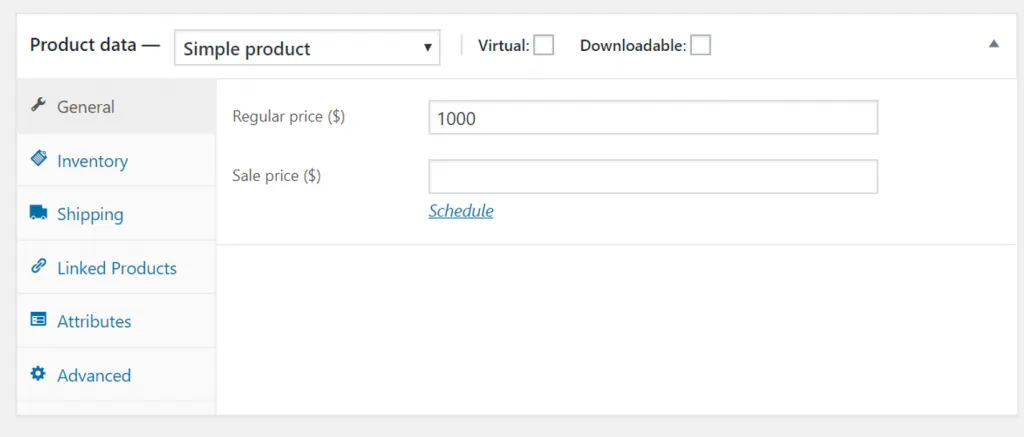 With WooCommerce, it can help you handle basic tasks like creating inventory reports and making changes to any part of your products.
However, managing WooCommerce inventory is not as easy as it seems especially in bulk stock management. It's because you have to visit various pages and toggle tons of settings individually just to make a simple change.
Another fact is that it's difficult for WooComerce to handle a large database if your inventory grows larger each day. To solve this problem, you can simply add plugins for managing inventory available on WooCommerce store.
Payment Gateways
Online stores that apply flexible and multiple payment gateways can take advantage in selling to a broad range of customers in various countries. Both BigCommerce vs WooCommerce can fulfill any of your requests regarding payment gateway.
BigCommerce Payment Gateways
With BigCommerce, you can choose from over 65 pre-integrated payment gateways. The list includes big names such as PayPal, Amazon Pay, Apple Pay, Square, Stripe, etc. It's even better to know that BigCommerce charges you no transaction fee, with PCI Compliance, and the function is fully mobile-optimized.
You can intentionally choose suitable payment gateways for your store. But if you forget to set up one, the smart BigCommerce will automatically apply payment gateways available to you upon detecting store country and currency.
WooCommerce Payment Gateways
If you choose to go with WooCommerce, you will get access to 100+ payment gateways available on WooCommerce store. It's great to know that WooCommerce integrates by default with major gateways like PayPal and Stripe.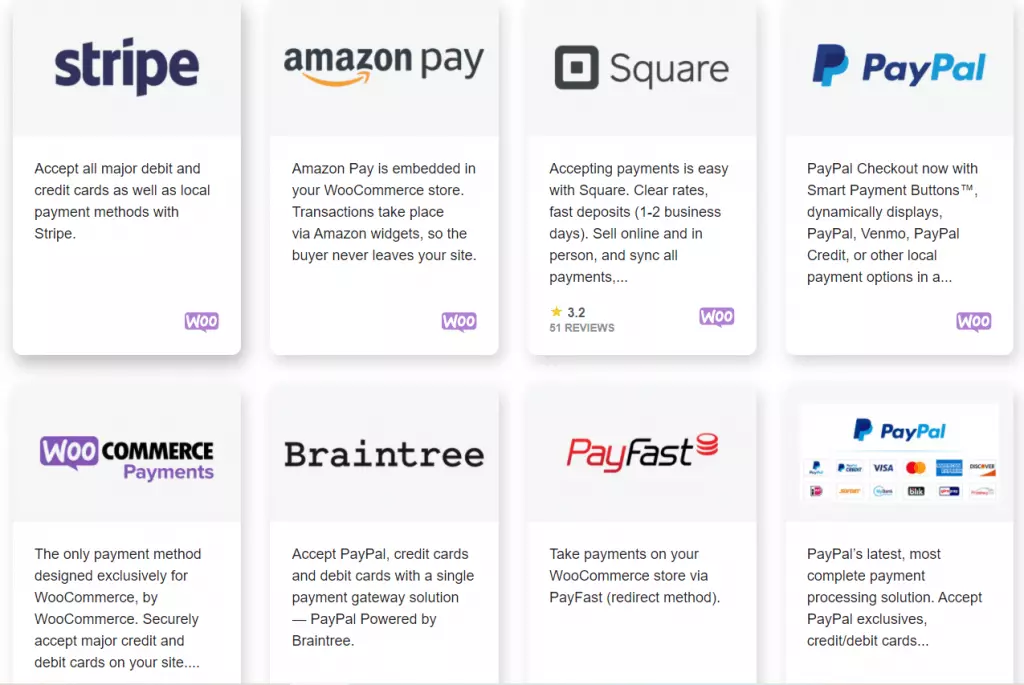 WooCommerce also provides its own payment gateway designed exclusively for WooCommerce stores. This payment plugin is free to download, with no setup fees or monthly fees. With WooCommerce Payments, you'll be able to securely accept major credit and debit cards. It can even help you to increase conversions by allowing customers to proceed to checkout without leaving your website.
SEO
Putting efforts into SEO and marketing is vital if you want to succeed in your online business. Imagine you could have the best products in the world but not know how to push them on SERPs, what would happen next? Luckily, whether you choose BigCommerce or WooCommerce, you'll have powerful SEO and marketing tools to boost your business performance.
BigCommerce SEO
BigCommerce is also known for its best built-in SEO practices among other hosted carts. With BigCommerce, you'll be able to perform essential SEO tasks like editing meta titles/description, customizing URL slugs, adding alt text, and getting keyword support. It's good to know that the SSL certificate, which helps search engines verify your website security is a default part of BigCommerce.
The best part is that merchants have complete control over metadata, header tags, title tags, and URLs. Furthermore, BigCommerce automatically creates 301 redirects whenever a product, category, or web page's name or URL is changed. Specifically, BigCommerce provides the Microdata feature to help you add more website information appearing on search results and can possibly increase the click-through rate.
FavSEO, ReloadSEO, and ProSEOTracker are some notable BigCommerce SEO apps that can help to improve your SEO performance.

WooCommerce SEO
Similar to BigCommerce, WooCommerce also lets you edit meta titles/descriptions, customize URL slugs and add image alt text. Knowing that search engines put lots of weight on the number and quality of links pointing to your site, creating blogs can be the perfect way to leverage your SEO efforts.
It's great to know that WooCommerce inherits from WordPress the quality blogging feature. You can easily create a blog by adding a post right from the WordPress Admin dashboard.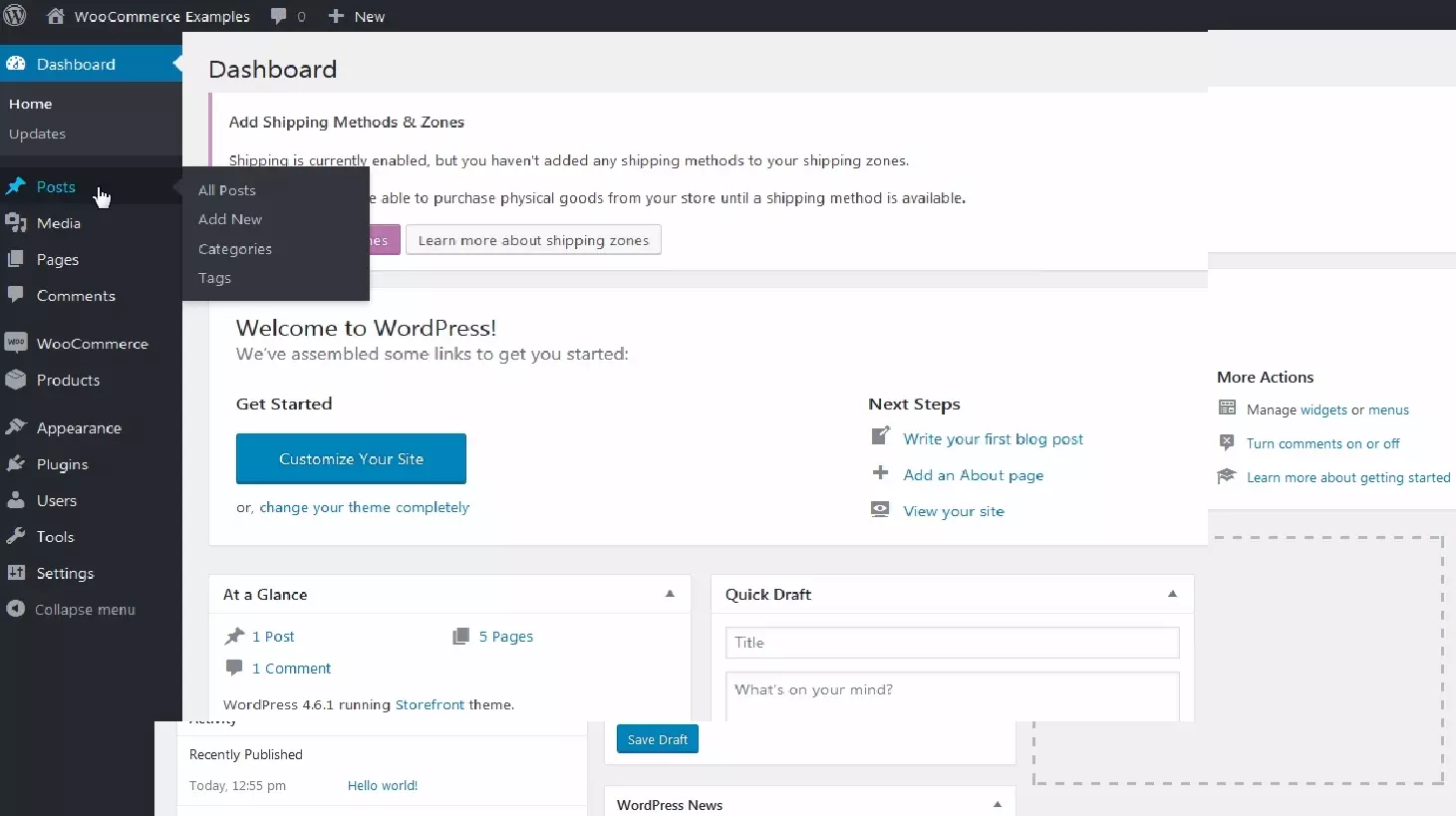 Unlike BigCommerce, on the SSL certificate, you will have to buy one to apply one for your store. But when it comes to SEO plugins, WooCommerce is again undoubtedly the champion. The most popular SEO plugin for WooCommerce must be Yoast SEO, with which you'll have to pay $89 a year for the premium version.
Security
No matter which eCommerce platform you choose between BigCommerce vs WooCommerce, security should be one of the top priorities to take into consideration.
BigCommerce Security
In terms of security, BigCommerce tends to be preferred by the public. BigCommerce, as a fully hosted platform, will take care of security as part of your monthly subscription. About the SSL certificate, it doesn't only offer the perks of SEO-friendliness but ensures the highest level of website security. In this regard, as I have mentioned, BigCommerce has the edge when providing SSL certificates within every plan.
To secure payment card transactions, BigCommerce servers are PCI DSS 3.2 certified at level 1, which protects against credit card data breaches. This will help you eliminate the massive cost and hassle of handling compliance yourself. In addition, BigCommerce offers apps to prevent fraudulent purchases and strengthen your security.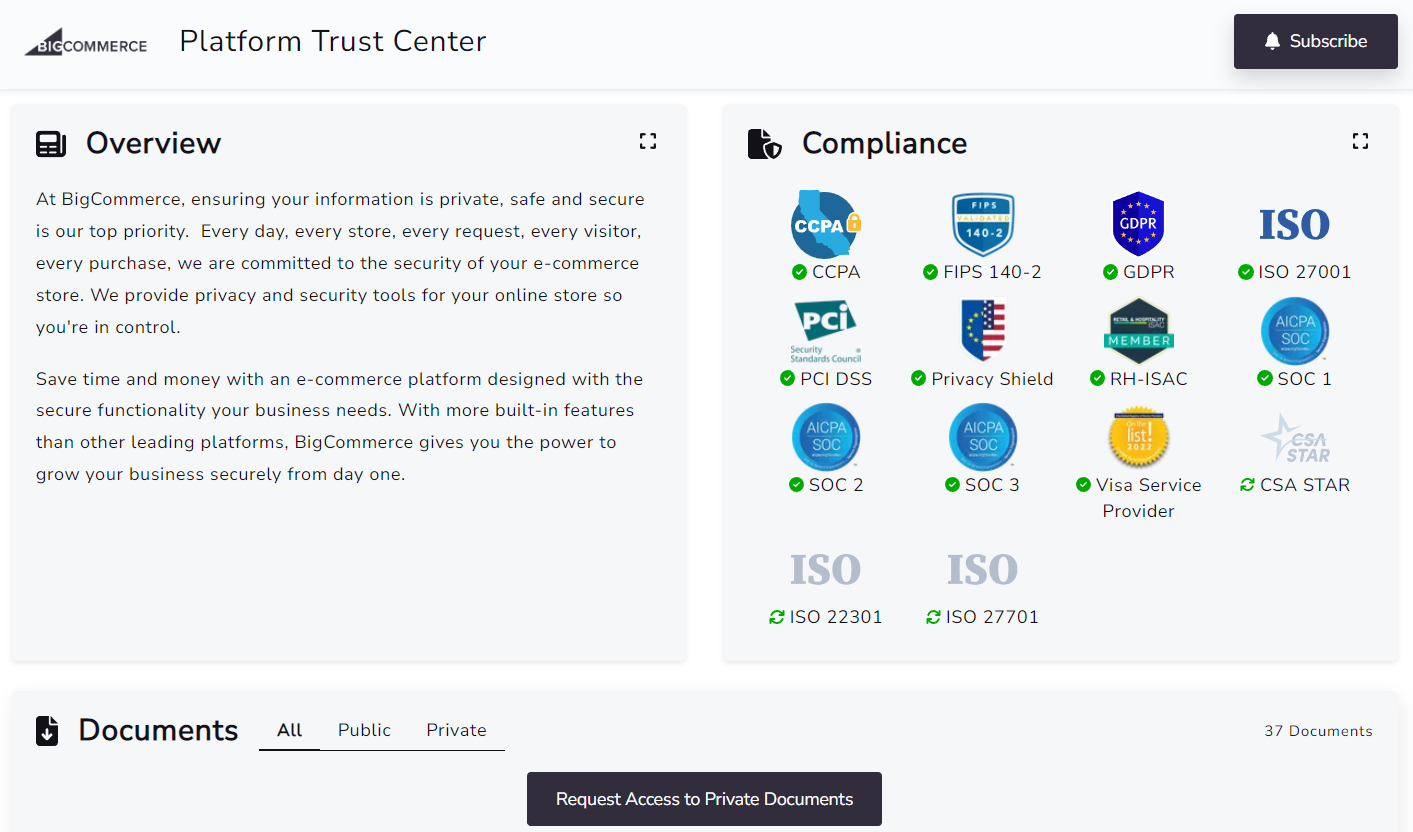 WooCommerce Security
On the other hand, you must take care on your own most of WooCommerce security works. First on the list, before starting your business with WooCommerce, you should deliberately choose the hosting provider. Notably, hosting for WooCommerce is the main security measure in case of attacks.
With WooCommerce, you'd better keep updating to the newest versions to get security patches and fix glitches. Do keep in mind that before upgrading, it's compulsory that you back up your WooCommerce store first. This way, should something go amiss, you can always go back to the previous WooCommerce version.
Also, you can check out this article for a complete guide on how to perform WooCommerce update.
There's good news from WooCommerce is that the platform allows you to create two-factor authentication. This feature helps reinforce access to your website and is extremely effective when your password accidentally falls into the hand of strangers. Unlike BigCommerce, it's usual for WooCommerce users to pay for SSL certificate providers to get one.
With WooCommerce, you will also be responsible for PCI compliance, however, you can receive advice on this. Follow the WooCommerce Docs so you can learn about the requirements to make your website PCI-compliant. WooCommerce also offers plugins for security works to reinforce every corner of your web store.
Support
Support is another crucial factor to check before choosing between BigCommerce vs WooCommerce.
BigCommerce Support
As a fully hosted platform, BigCommerce provides excellent support. After signing up for a BigCommerce free trial, you can simply contact for help right from the dashboard, including phone support, email support, and live chat support. They also offer support from their user community, where you can discuss any issue or interesting topics.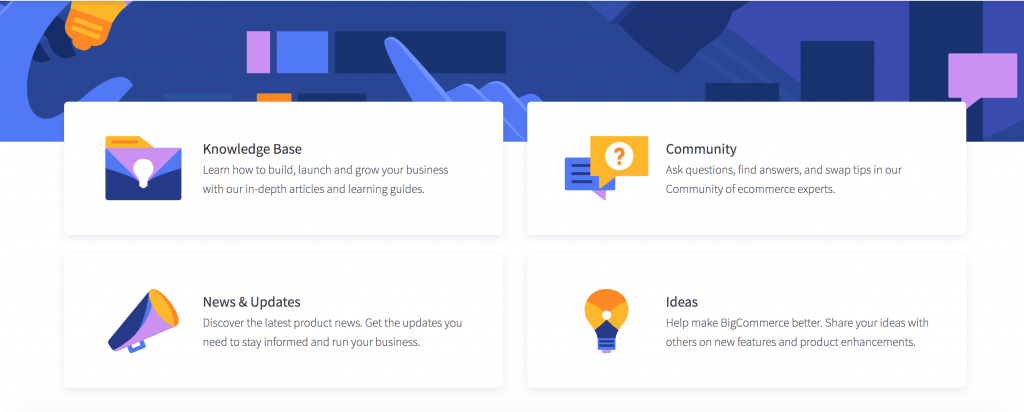 Remember that BigCommerce offers support 24/7, so you can just request your questions any time you want. What's even better is that BigCommerce created the Help Center archiving guideline documentation for users at any level, from newbies to seniors, non-tech persons to developers.
WooCommerce Support
On the other hand, WooCommerce provides help mostly in WooCommerce Docs and little-to-no personal support. You can request help from their developers via tickets. Especially, WooCommerce has a huge community of users and developers, therefore, you can seek help from them at any time.
---
BigCommerce vs WooCommerce: Which Is Ideal for Your Business?
There should be no permanent answer for which is better between BigCommerce vs WooCommerce since the two platforms are totally different solutions. Therefore, it would be wiser to consider a more suitable platform for your business.
And here's how we conduct the final recommendation:
Choose BigCommerce if you want a hosted solution with room to modify the codes to build your online store. Generally, BigCommerce is an easy-to-use platform, which can first come with little hassle. However, the process becomes simpler once you get familiar with its terminologies, you may even love the outstanding features of its Enterprise version. The platform is responsive and provides all features you need to grow and succeed. This is also ideal for those who want to focus on the eCommerce side instead of website customization.
Choose WooCommerce if you already have a WordPress website and want to transform it into an online store. WooCommerce comes with the advantage that you'll gain full control over your website. It would be a lot more preferable if you have already equipped a light set of technical knowledge. Also, WooCommerce is an ideal choice if you have a tight budget at the beginning. And that you only need to pay more if you want to further customize and add functionalities to your website.
Hey! Both WooCommerce and BigCommerce are chosen in our list of best eCommerce platforms on the market. Let's visit for more insight: Best eCommerce Platforms – Thorough Review & Comparison.
You may also be interested in reading: BigCommerce vs Shopify: Which One is Better?
---
FAQs about BigCommerce vs WooCommerce
---
Final Verdict
We have delivered everything you need to know about choosing between BigCommerce vs WooCommerce.
Hopefully, we have cleared your doubts about which one would better suit your business. BigCommerce can help you grow quickly with out-of-the-box eCommerce features. However, if you need 100% control of your website, you can rely on WooCommerce to customize your business.
If you're considering a move from BigCommerce to WooCommerce, LitExtension can outstandingly help you complete the task. Here at LitExtension, we provide top-quality migration services to all users, even without technical and programming skills. Our enthusiastic support team is available 24/7, so don't hesitate to request any of your questions, at any time!
You can also visit LitExension Blog and join our Facebook Community to get more eCommerce tips and news.