BigCommerce vs Shopify – a fierce battle of the two eCommerce giants. Currently, Shopify is powering more than 1,500,000 websites all around the world, while BigCommerce claims it's the SaaS platform leading a new era of eCommerce. But between BigCommerce and Shopify, which one could be the best solution for your business?
The decision is hard to make. That's why we've conducted this in-depth eCommerce platforms research with hours of intensively analyzing the top eCommerce solutions on the market to provide comparisons that are fair and balanced. Focusing on how to gain benefits for merchants, we'll dig deep into important aspects that make BigCommerce and Shopify a good fit for an online business.
In this article, we will be showing you:
A brief introduction of BigCommerce and Shopify
An evaluation of pricing, SEO, templates, marketing, and selling features
The key reasons for you to decide whether you should go with Shopify or BigCommerce
Let's get started by finding out what BigCommerce and Shopify are!
1. BigCommerce vs Shopify – Overview
Before getting into the details, here is a quick summary of Shopify and BigCommerce.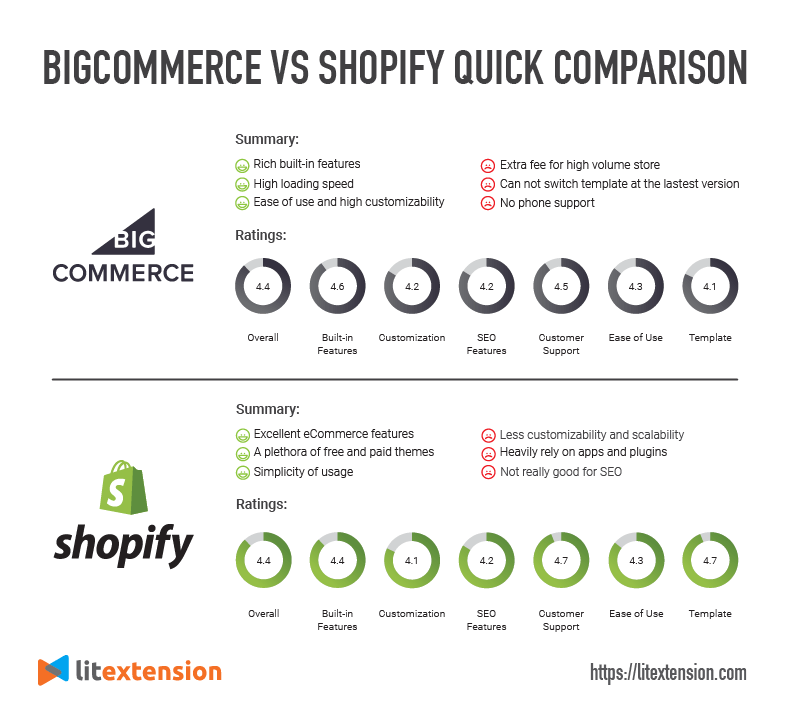 Both BigCommerce and Shopify are software as a service (Saas) solutions, meaning instead of installing the software on your PC to run and update, you'll pay a monthly or annual fee for using the software on the providers' server.
Since its establishment in 2009, BigCommerce has become one of the fastest-growing businesses in the eCommerce software market. According to Builtwith, the company is powering nearly 60,000 online stores in 120+ countries around the world. Their clients range from new online stores to high profile companies such as Toyota, Ford, Sony…
As for Shopify, the company was founded in 2006. It is an eCommerce platform with all the necessary elements for an online business of any scale to thrive. The hosted solution is known for an amazing set of eCommerce features, along with an enormous amount of Apps and Addon for expanding the core function of the business.
2. Bigcommerce vs Shopify – Pricing Comparison
One of the most important aspects to take into consideration when it comes to choosing an eCommerce solution for your E-store is the expense. Let's dig deeper into Shopify vs BigCommerce pricing plans
| | | | |
| --- | --- | --- | --- |
| eCommerce Platform | Basic plan | Medium plan | Advanced plan |
| Shopify | $29 | $79 | $299 |
| BigCommerce | $29.95 | $79.95 | $299.95 |
Both BigCommerce and Shopify offer users a 10% discount if they choose to pay annually. Shopify even gives you 20%  if you pay upfront for two years (on all plans).
What options do you have?
1. BigCommerce pricing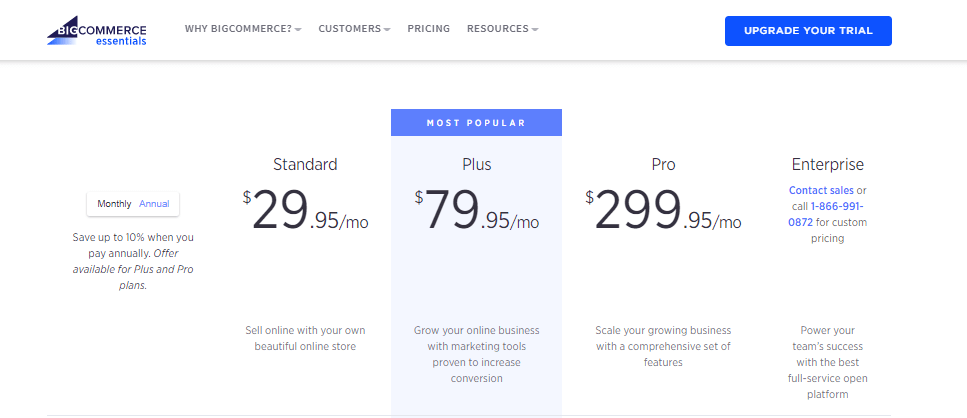 Standard – $29.95/month: This plan offers merchants a full set of features for a new or small size store such as single-page checkout, multi-currency, real-time shipping quotes, and so on.
Plus – $79.95/month: If your store is medium-size, this will be a good option. The BigCommerce Plus plan brings you all the features of the Standard plan plus customer groups and segmentation, abandoned cart saver, persistent cart, etc…
Pro – $299.95/month: Scale your growing business with a comprehensive set of features from the BigCommerce Pro plan. Some of the additional features you'll get on this plan are Google customer reviews, custom product filtering, and much more.
2. Shopify pricing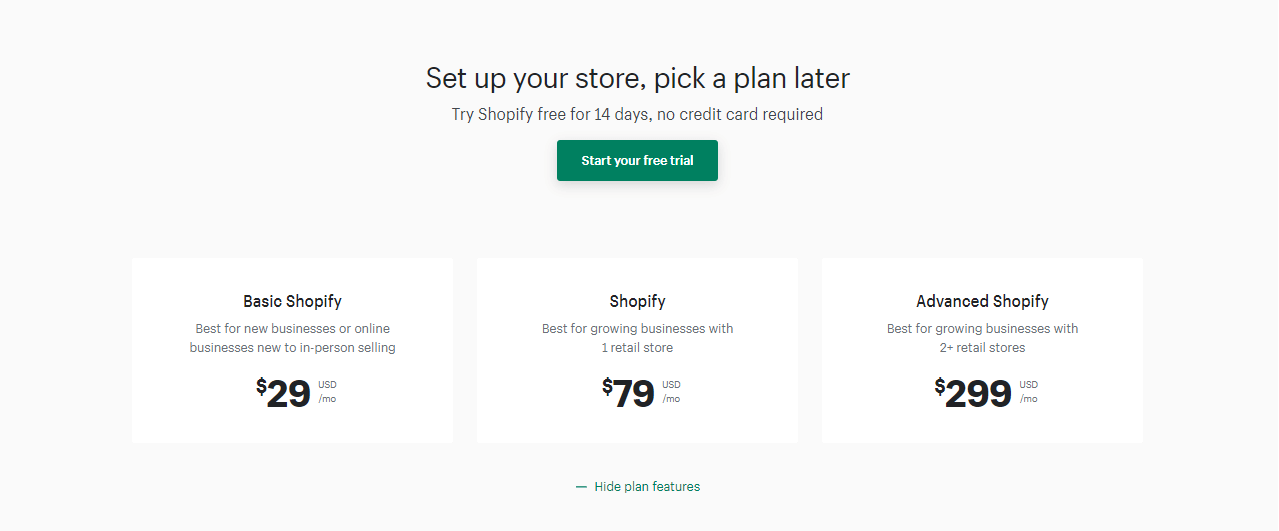 Basic Shopify – $29/month: Just like BigCommerce Standard, with Basic Shopify, you'll have all the fundamental eCommerce features. This plan is made for store owners who just started an online business.
Shopify – $79/month: This plan has everything you need and even more to grow your business to medium size. You can get all the features in the Basic plan plus professional sales reports, global selling support, international pricing, etc…
Advanced Shopify – $299/month: Choosing this plan means your store is ready for scaling up. With this option, Shopify gives you some of the best-advanced features such as Third-party calculated shipping rate, advanced report builder… A medium-to-large business can grow fast, and this Advanced Shopify makes the process even more possible.
Shopify Lite – $9/month: Besides the three options, Shopify also provides a "light" solution for you with just $9 for a month. Although it doesn't actually provide you with a fully functional online store, you can still sell products by adding a "Buy button" – an embeddable widget that enables you to add a shopping cart to an existing website.
3. BigCommerce Enterprise vs Shopify Plus
In addition to eCommerce packages for SMBs (small and medium-sized businesses), Shopify Plus and BigCommerce Enterprise are aimed at large corporations or store owners with an extremely high volume of sales. Being tailor-made to fit individual needs, Shopify and BigCommerce will gather your requirements then come up with a custom plan to develop a long-term strategy for your business.
Pricing: Shopify Plus's price starts at $2000 per month but when you reach $800.000 per month, the expense will become a revenue-based model. Since then, you'll need to pay 0.25% of your monthly revenue. On the other hand, BigCommerce offers merchants a much more reasonable cost, starting at $1,000 each month and can range up to $15,000 per month. Plus, the expense will be based on your revenue.
Feature:  In general, these two custom plans bring you a set of advanced functions including:
Guaranteed high website uptime
Great quality IP addresses and SSL certificates
Advanced API support
Excellent security features.
Overall, both BigCommerce Enterprise and Shopify Plus are quite alike in terms of native features. However, since each one has a different target market, Shopify Plus chooses to focus on large and scaling up eCommerce stores while BigCommerce Enterprise aims for B2C, B2B retailers, and corporations. As a result, Shopify Plus is more established and has a stronger Addons and integration system while BigCommerce Enterprise is a lot more focused on the out-of-box features.
Payment gateways and transaction fees
BigCommerce brings you three main ways to accept payment including Paypal powered by Braintree – BigCommerce default payment option, third-party payment processors, and Square POS (for brick and mortar business).
With BigCommerce, there's no additional fee for transactions. You only need to pay the expense according to your payment provider. The default payment option brings you more benefits than a third-party payment gateway. Those include one-page checkout, or preferential Paypal rates for credit card transactions which depend on your pricing plan:
Standard: 2.9% + 30c
Plus: 2.5% + 30c
Pro: 2.2% + 30c
Just like BigCommerce, Shopify also offers 3 options when it comes to payment methods: Shopify payment, integrated with available payment gateways, and Point-of-Sale. Shopify charges differently for each plan when using Shopify Payments. Plus, if you use other payment gateways than Shopify Payments, you will be charged an additional fee ranging from 0.5% to 2% for each transaction.
| | | | |
| --- | --- | --- | --- |
| | Basic Shopify | Shopify | Advanced Shopify |
| Shopify Payment | 2.9% + 30c | 2.6%+30c | 2.4%+30c |
| Payment provider integration | 2% | 1% | 0.5% |
Sales limit
Sales limit is the limitation based on your revenue that an eCommerce solution uses to regulate each pricing plan. If you reach one of these "Price Ceiling", a notification will be sent to inform you to upgrade your plans. Here are the sale thresholds of BigCommerce
| | |
| --- | --- |
| Plans | Threshold |
| Standard | $50,000/ 1 year |
| Plus | $180,000/ 1 year |
| Pro | $450,000/ 1 year |
For Shopify, there's no sales limit. It's up to you to decide when you should switch plans
Which has better value for money?
It's fair to say that BigCommerce and Shopify don't have major price differences. However, the tools and features included are the keys to deciding which one is the best for you. With Shopify, you'll have more opportunities to expand the power of your store by using third-party integrations, but this also means it'll cost you more in order to get your desired function. On the other hand, instead of depending on extensions and integrations, BigCommerce has rich built-in features which means they include more functions for the same price.
In terms of transaction fees for payment methods, BigCommerce is the winner. You don't need to pay a cent for BigCommerce if you're using 3rd-party payment gateways while Shopify charges from 0.5%-2% depending on your current plan.
The Verdict: BigCommerce is a better option in terms of pricing. Both platforms have similar pricing ranges. However, BigCommerce has a better selection of built-in tools plus no transaction fees which makes it the winner.
3. Ease Of Use
Ease of use is important not only to beginners but even to experienced eCommerce entrepreneurs. The tough part about being easy to use is that a truly user-friendly platform should be usable right from day one, and not once you invest hours of your time learning about it. A platform with a user-friendly interface saves you more time and effort. Therefore, this is an important key element to take into consideration when choosing your online platform.
For BigCommerce, it is less ideal for beginners due to its use of various technical terms. You may need to search for some of the specific terms to understand all the terminologies every time performing basic tasks such as adding a product. The technical load makes BigCommerce a heavier platform to deal with, however, this is because of its powerful in-built features, which brings you a finer level of customization.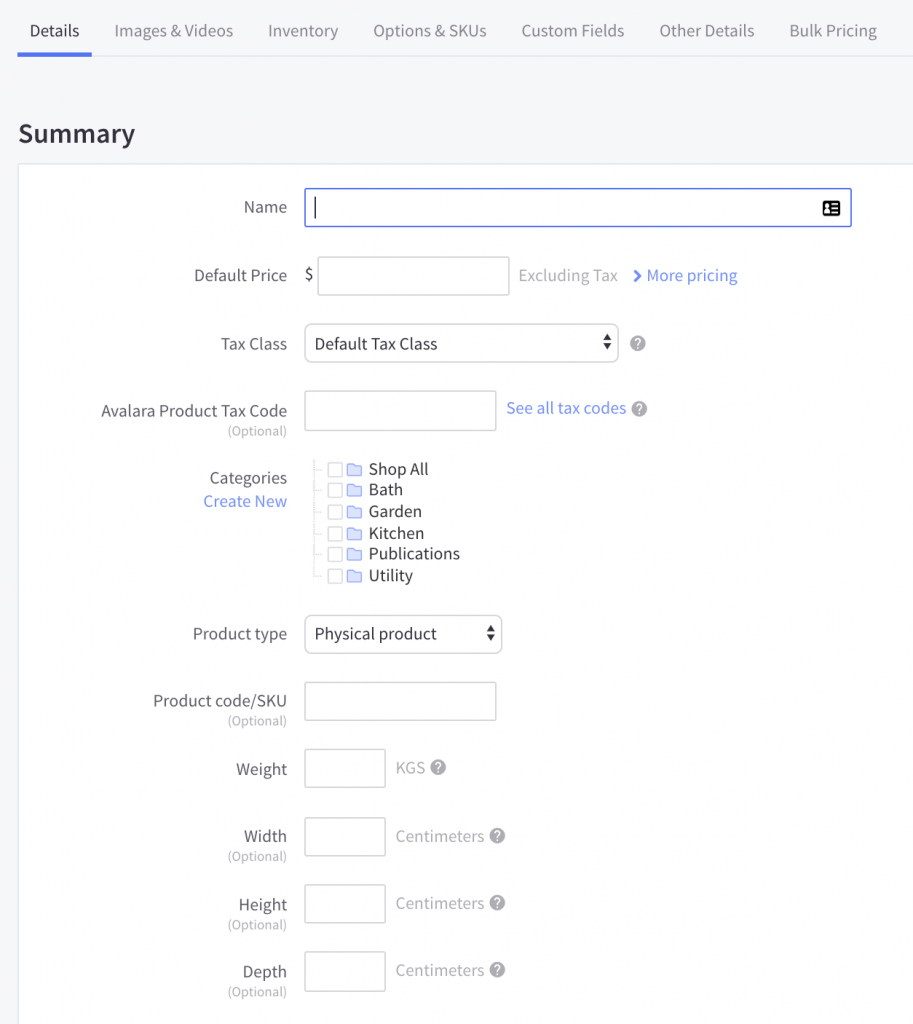 You don't need to be a Shopify expert to set up a shop and anyone can easily launch an online retail store within a matter of minutes.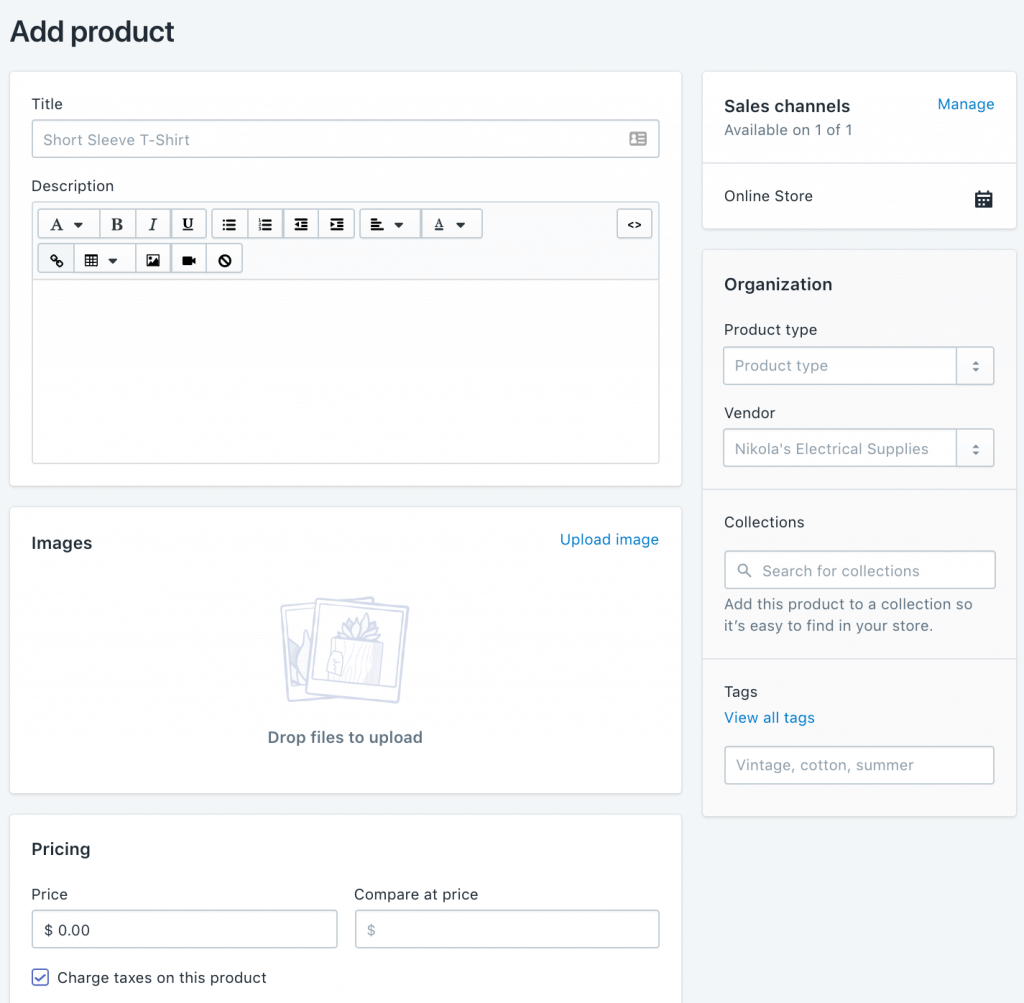 Overall, Shopify scores higher in terms of ease of use than BigCommerce. Shopify is praised by most users for its onboarding process and a user-friendly editor. You can access every option you need from the left-hand main menu and there is a nice wizard instructing you to set up your store step by step.
The verdict: Shopify is a better option than BigCommerce when it comes to user-friendliness. With the straightforward builder tool as well as a short learning curve, Shopify can help you build an amazing store in just a few minutes.
4. BigCommerce Templates vs Shopify Themes
As much as it's bracing to have your store work well, you also want it to look attractive enough on the front end so that your customers would have the urge to buy.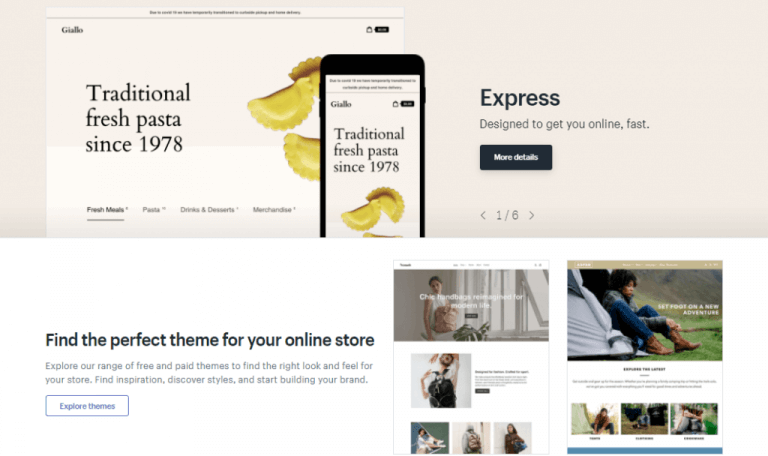 BigCommerce themes are sorted by industry, layout, and price. There is a wide range of industries to choose from, although not as many as you get with Shopify. However, BigCommerce's free themes can look a little outdated, which isn't ideal if you're looking at growing your business over the long term. This will likely require a rebrand somewhere down the line, and moving to a paid theme. These range in cost from $150 to $300.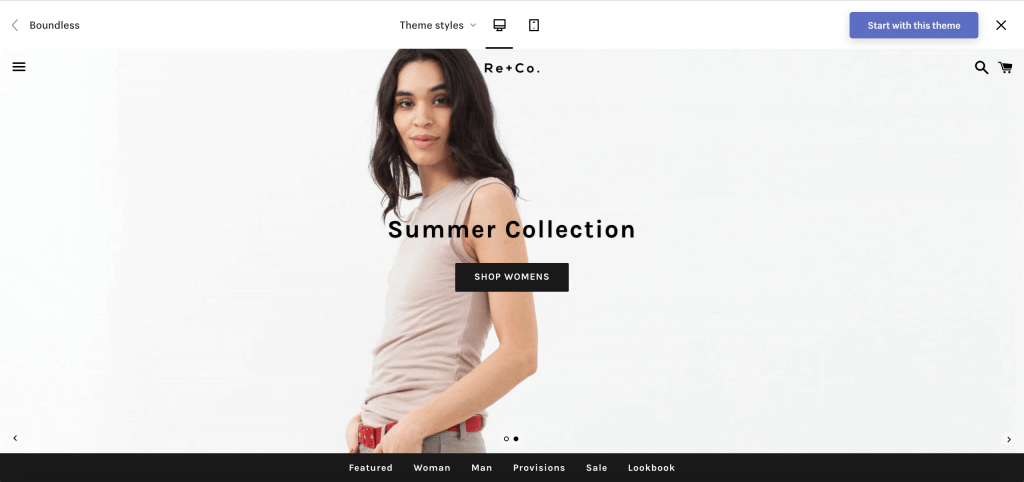 Shopify themes come in a range of industries and styles and vary in price from $100 to $180. It's easy to find your perfect theme by searching via layout, size of store, industry, navigation style, and more. Whether you're looking at the free or paid options, all of Shopify's themes are modern and professional. Shopify's themes allow superb levels of customization. They're easy to personalize and look professional.
Although, all of Shopify themes are mobile responsive, and will automatically reformat to fit the appropriate screen size. You can also edit both versions of your heart's content, so you can be sure your site looks great on all devices. Shopify even allows a mobile preview in the demo.
The verdict: It's clear that Shopify overwhelmed BigCommerce in this category. BigCommerce offers about the same number of templates as Shopify. However, Shopify brings you higher quality at more affordable prices.
5. SEO Features
SEO is not a piece of cake. In order for your site to have good performance in search results, you need to invest time and effort in link building, on/off-page SEO, etc. However, if your site has an SEO-friendly system, it'll be so much easier for your customer to find your business organically.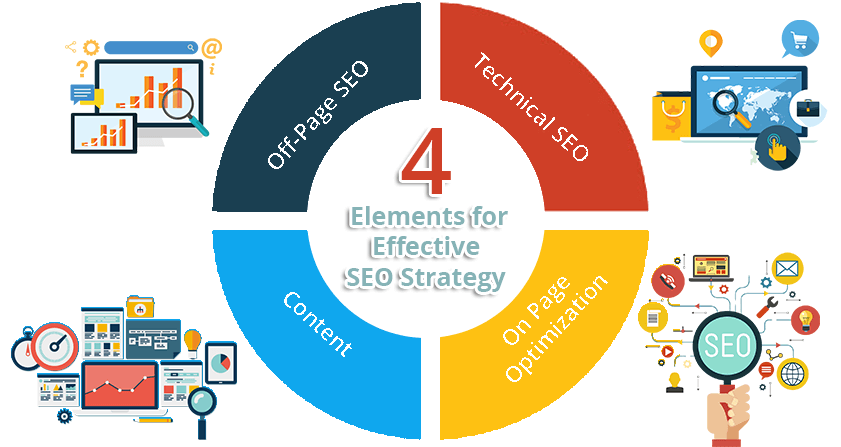 Both BigCommerce and Shopify are quite straightforward and easy to manage when it comes to creating your site map, meta title, description; heading, image alt text, and so on. Moreover, they both offer SSL encryption (HTTPS) to your site, which benefits your SEO a lot since search engines prefer highly secured websites.
Shopify SEO is adequate and effective, it lets you create custom URLs and 301 redirects every time you change the URL so as to avoid 404 errors. Additionally, you'll receive an automated notification when a page has moved or changed its URL. With Shopify, you'll be capable of customizing your URLs so that they contain keywords and are relatively short. However, you can't get rid of the mandatory string (e.g. /product/), which could be a problem if you want your URLs simple and clean.
BigCommerce allows you to make a shorter Google Friendly URL structure than Shopify, which is easier for search engines to crawl. It also enables you to apply the Google AMP (Accelerated Mobile Pages) which helps increase site speed on mobile devices – This will make search engines evaluate your site better on search results.
The verdict: The two eCommerce platforms both provide merchants amazing features to support your rank higher on search engines. However, BigCommerce lets you do a bit more with its SEO, which makes it the winner.
6. Sell Features
Abandoned cart recovery
Abandoned cart recovery (Shopify) or Abandoned cart saver (BigCommerce) are two of the most worth-paying-for features for merchants of Shopify and BigCommerce. It allows you to automatically email customers who add items to their cart but do not complete the purchase. This feature helps you figure out why carts are left unpaid by looking at the similarities. You can also choose to automatically or manually send emails containing check-out links to your customers to get them back to their abandoned carts.

For Shopify, this functionality is available for all pricing plans. You can schedule your email to send, there are four options: after 1 hour, 6 hours, 10 hours, and 24 hours (only 1 email at a given time). Moreover, Shopify keeps all payment events in the abandoned checkout history each time a customer fails to pay for a cart. You can get the information about their unsuccessful check out here in case your customers contact you for help with payment details.
On the other hand, BigCommerce lets its users have this feature if they're in the Plus, Pro, or Enterprise plan. Unlike Shopify, BigCommerce allows you to schedule up to three automated follow-up emails. Hence, you have a higher chance to get your customer to come back and purchase.
To conclude, BigCommerce's Abandoned Cart Saver is a little more useful than Shopify's Abandoned Cart Recovery because of the ability to send more emails to your customer.
Multiple currencies
With Shopify, if you're using the 'Debut' and 'Brooklyn' themes, there will be a currency selector which allows you to sell in multiple currencies. Otherwise, you will have to add some code in order to add the feature to the theme you're using. Another way to do this is to install a 3rd-party app from the Shopify App Store to start selling in multiple currencies right away.
This is an out-of-box function of BigCommerce and it's available for all pricing plans. You can facilitate automatic currency conversion based on the IP of your customer.
Apparently, BigCommerce has an edge over Shopify when it comes to selling in multiple currencies.
Multiple Languages
This is a must-have feature for merchants who sell internationally. Fortunately, you can use both Shopify and BigCommerce to set up multiple languages.
Shopify gives you a built-in function to do this with all plans. You can translate your site to up to 5 languages (or 20 you're using Shopify Plus). On the other hand, you need to install a plugin to add this feature to your BigCommerce website.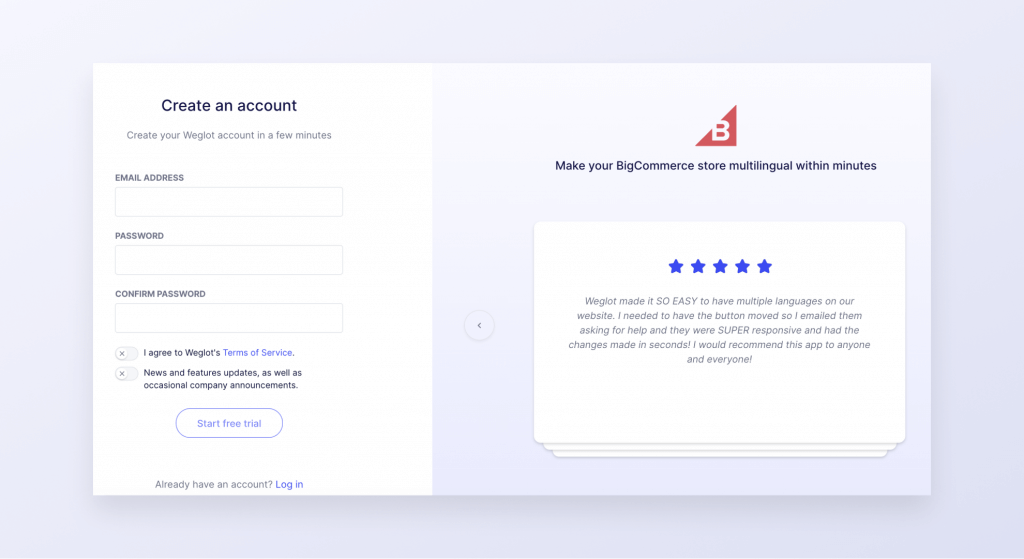 There's no doubt that Shopify is a better choice than BigCommerce for selling in multiple currencies
The verdict: Overall, BigCommerce has advantages over Shopify in terms of selling features. It offers an amazing abandoned cart saver as well as built-in tools for selling in multiple currencies.
7. Marketing Features
Marketing tools and functionalities come in handy when it comes to promoting your business. Let's explore what these platforms have to offer you
Every BigCommerce plan includes the following:
Automatic promotions: This is an effective way to encourage your customers to buy more. Your product discounts will be set up based on if the customer's shopping cart has met specific criteria, such as including certain products or brands, reaching a set order amount, or even whether the customer has purchased before. They're totally 6 types of promotions for you to choose from Shipping discounts, product discounts, brand discounts, category, order, and customer discount.
Single-page checkout: Optimized One-Page Checkout in BigCommerce default checkout and order confirmation page. If you choose to use this payment method, BigCommerce will give you a smooth and seamless process of checkout to increase sales conversions.
Product ratings and reviews: BigCommerce enables you to allow customers to vote and leave their comments on your page. Hence, this helps to increase your customer satisfaction
Every Shopify plan comes with:
Automated discount codes and gift cards: You can offer your customers discounts that apply automatically at checkout and on the cart. You can create a percentage, fixed amount, or "buy X get Y" automatic discounts.
Advanced report builder: If your store is on the Basic Shopify plan or higher, then you can filter your reports to show the specific information you need. Additionally, you can save your filtered and edited reports or create custom reports from scratch if you're on Shopify Advanced or higher.
Third-party calculated shipping rates: If you have your own account with a shipping carrier, then you can display your negotiated shipping rates from that carrier to customers at the checkout by contacting Shopify for adding a third-party calculated shipping rates feature for free.
Email marketing
Reach customers through email marketing in order to easily promote your products. BigCommerce allows you to sync your store data with leading email marketing platforms such as MailChimp, G Suite.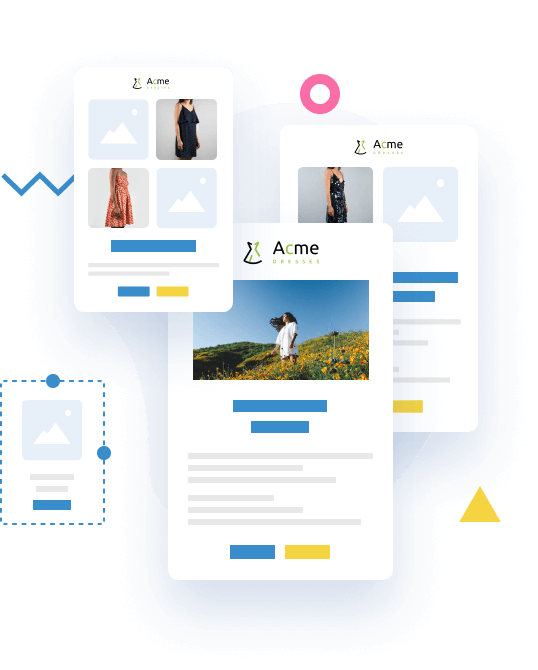 Shopify Email on the other hand provides you with built-in tools to build lasting customer relationships. Shopify provides ready-made templates for you to choose from and apply right away. You are even able to manage and analyze all marketing activities within your dashboard.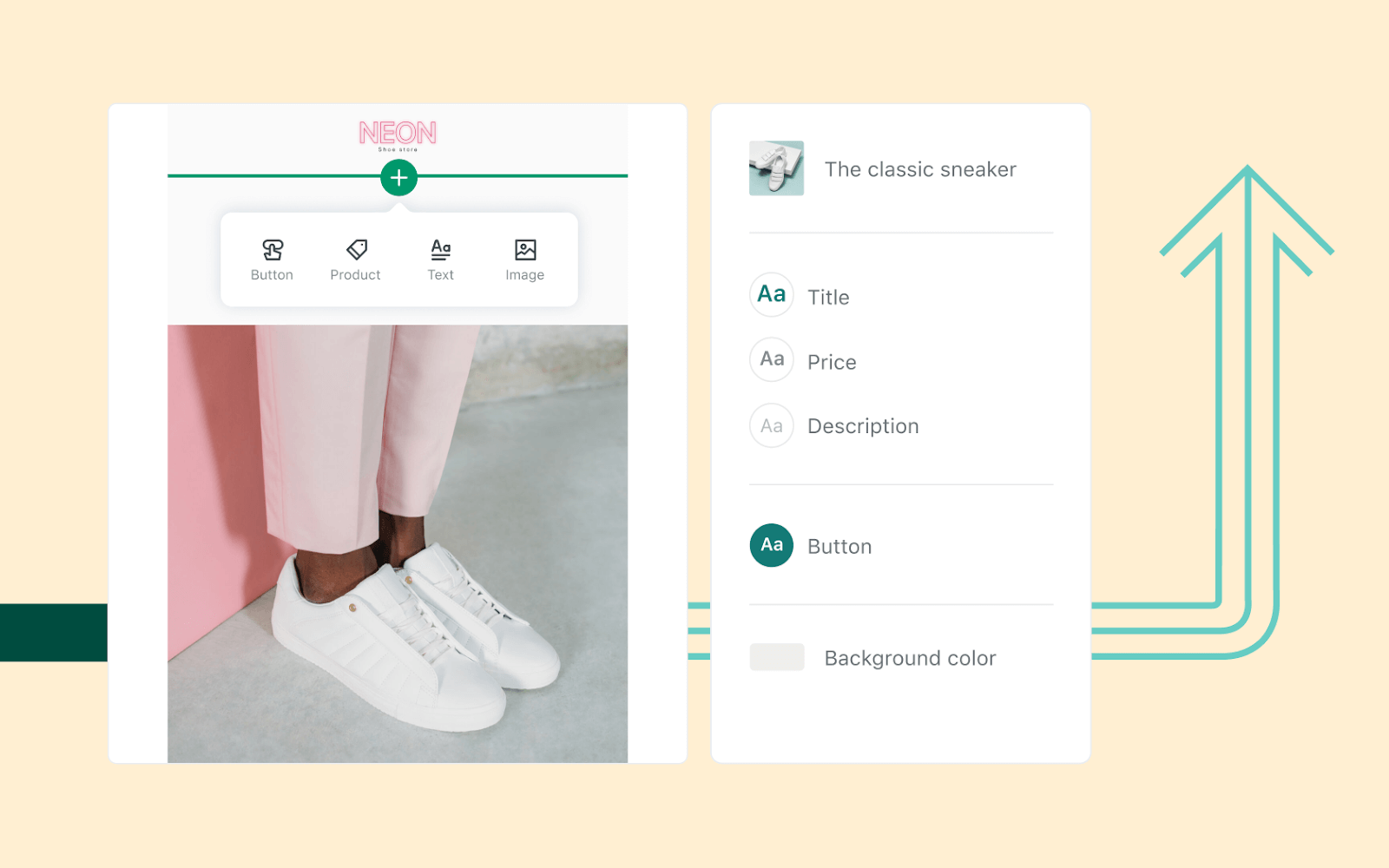 The verdict: This one is a draw, both Shopify and BigCommerce offer great tools for boosting your marketing.
8. Security
Ecommerce site security is critical for several reasons, specifically when it comes to protecting the privacy and sensitive data of customers on a website, safeguarding the finances of an online business, preventing fraud and financial scams, and defending the reputation of an online store as a safe place to conduct transactions.
One of the benefits of implementing security for eCommerce is that you're able to better gain the trust of your customers, as they feel safe buying from you while also protecting the sensitive data of both them and your online store. When the right security measures are put in place on your website, it also ensures customers' privacy and integrity, being that none of the information they share online will be used in any way without their knowledge or approval.
As a SaaS, BigCommerce provides multiple layers of strong security for all sites they host. All servers are PCI DSS certified at level 1 to protect against credit card data breaches. Additional security measures include perimeter and server-specific firewalls, file integrity scanners, intrusion detection software, 24/7 human monitoring, and fraudulent transaction protection provided. It's safe to say that BigCommerce leaves little to nothing to be desired in terms of its approach to security.
The SaaS solution offers you an SSL certificate issued by a trusted third party for a specific domain or subdomain. It verifies that a secure web page is properly encrypted, ensuring that all information passed between a user and the site is private.
To keep your business and customers secure, all of Shopify's stores are PCI compliant by default so you can keep payment info and business data safe.
Shopify provides SSL certificates to your store after your custom domain has been properly added. To improve security, SSL certificates encrypt your store's content and publish it securely using HTTPS instead of HTTP.
The verdict: In terms of safety, BigCommerce surely is the winner. It's the better choice if you're looking to build a site with amazing security.
9. Customer Support
If you want to get the most out of your eCommerce store building experience, then you need to look beyond pricing plans. Having access to tech support is crucial for any business. You never know what kind of problem you might run into. Ecommerce customer service is how online businesses assist customers with everything from making online purchase decisions to resolving issues, all while creating a seamless customer experience across the platforms.
Whether you choose Shopify or BigCommerce, you'll get access to similar options to explore when it comes to supporting. Here following are the support options:
24/7 phone support
24/7 live chat
Help center
Support forum
Email
Video tutorials
Advanced specialist support
BigCommerce's help center is useful but less clear than Shopify's. In Shopify, the different sections are clearly separated in detail. While in BigCommerce's help center, the separated sections are too broad and not specific enough to facilitate the user's search.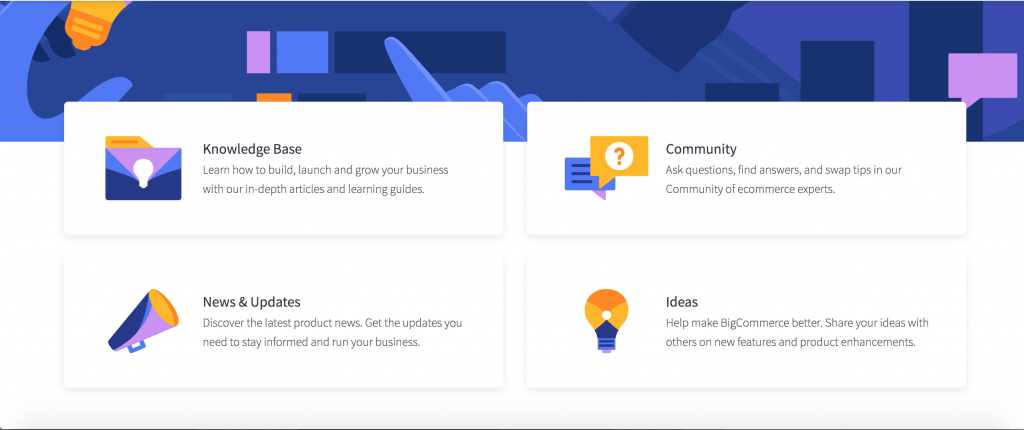 In addition to this, Shopify also offers support through social media, unlike BigCommerce. When you request help within the Shopify editor, you're directed to a relevant page within the Shopify knowledge center. This is a great help feature and puts Shopify ahead of BigCommerce in this department.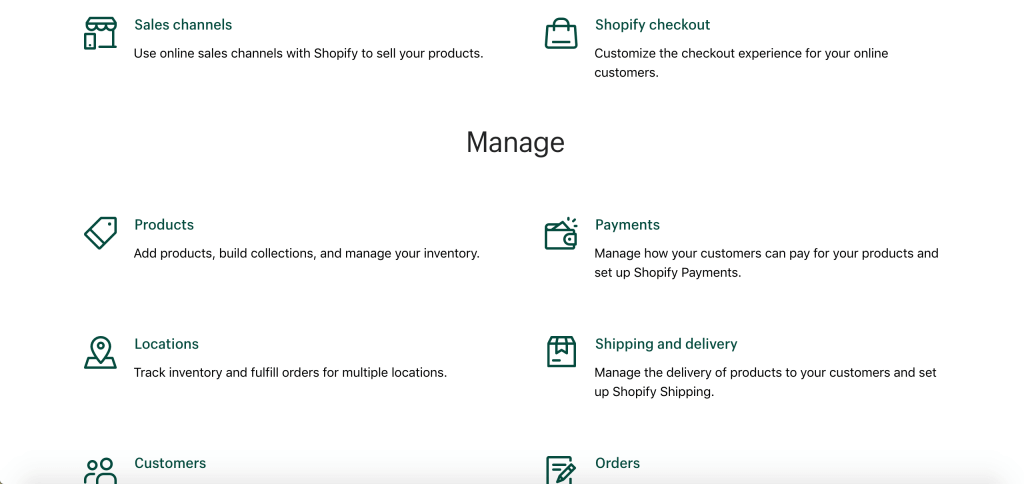 The verdict: Shopify is the one that provides better customer support than BigCommerce. It gives you a straightforward and easy-to-navigate help center. Additionally, you can reach out for help through social media which makes it super easy to get in touch with Shopify's experts.
10. BigCommerce vs Shopify – Final Words
Both BigCommerce and Shopify are excellent site builders and online managers and there's a lot of overlap between the two. Overall, when comparing BigCommerce vs Shopify, it's hard to pick a clear winner. Finally, there are some differences between the platforms that can help you differentiate between the two when you're choosing which one to go with.
In conclusion, the decision lies in your hands, hopefully, this article has given you enough information to help you choose the best platform that can cater to your business in the best ways.
If you are planning to migrate your platforms to BigCommerce or Shopify, the LitExtension team is willing to help you re-platform! As the world-leading shopping cart migration tool with 150,000+ successful migrations for 50,000+ worldwide customers in the last 7 years, LitExtension can transfer all your data including products, customers orders automatically, quickly, and accurately, especially, with no technical skills required.
If you have any questions related to the migration process,  don't hesitate to contact us! Join our Facebook Community to get more eCommerce tips and news.