If you are meaning to start a business and looking for solutions for your online store, we are all able to agree on one thing. That is the selection of the right solution that will generate a great impact on your company's extended customer reach and profitability. In this article, we are going to present to you:
An overview of Shopware
Detailed analysis of outstanding features 
Should you go with Shopware?
Overview of Shopware
Shopware is a scalable and customizable eCommerce solution that gives users permission to create their own online business at ease, irrespective of its specifications and requirements. This eCommerce software is based on new eCommerce technology, with upgraded innovation marketing and SEO-integrated capacities.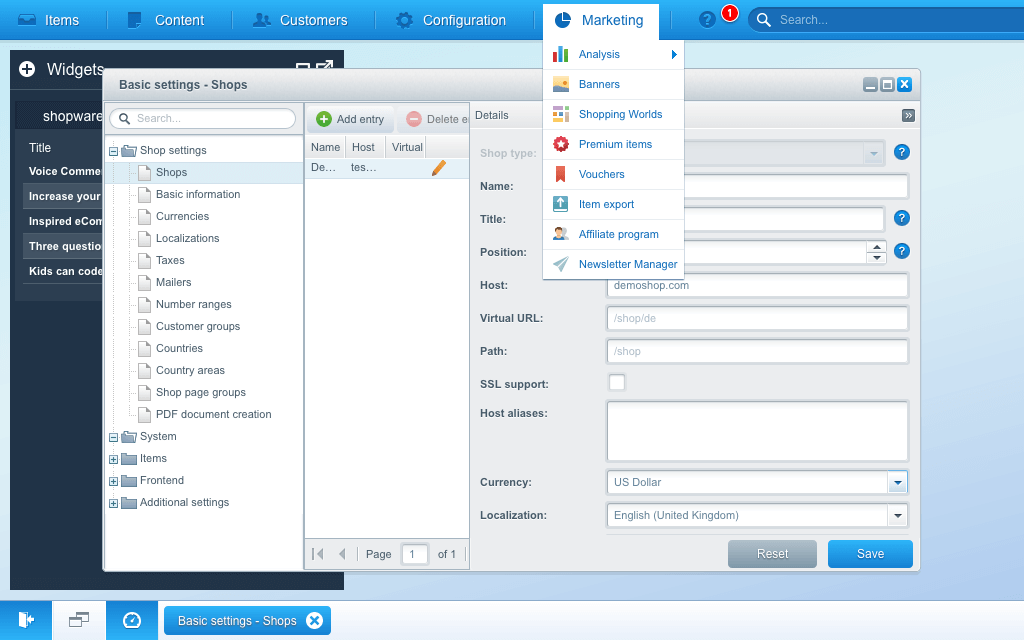 Shopware currently has topped the list choice of many online retailers, as well as other business and organizations thanks to its friendly backend and interface. Some international brands such as L'Oreal, Segway, and Euronics' online business are now backed by this e-Commerce solution.
Shopware will bring you an e-Commerce platform packed with a diverse collection of features and capacities. Its standard edition is portrayed by many innovative and unique features allowing you to build up an appealing online store. To further improve the Shopware features, you can add various useful and profitable extras. You can also begin your small online business with Shopware and extend the usability of the program as your company flourishes.
For beginners who want to taste the flavor of e-Commerce, you will discover and appreciate how Shopware can enable your business to make progress, bring home the bacon, and show you the capability of your online store if you opt for the premium version.
Shopware has been demonstrated to be very capable of excellently managing lots of incoming site visitors during top hours and enormous floods of orders. The tools of Shopware make this scalability easy to achieve.
Such as a varnish cache, the capability to use Apache JMeter, which enables users to construct duplicate environments for scaling), clustering tools and the constant platform support you get hold of as a part of the Shopware Enterprise license.
For specific tasks, Shopware can add additional servers, which empower you to further scale your store and accomplish better response times.
Keep scrolling down the Shopware review to see more details.
Key Features of Shopware
You've had just a taste of Shopware, let's take an in-depth look at Shopware review to see what it is able to offer. 
1. Product streams
Item data that is rich, constant and detailed elevates customer's experience. Your items become simple to discover and it gets less complex for you to extend your item collection.
The product setup in Shopware is just direct so you can encompass your products and make variations together with their various costs and photos. Its vending capabilities let you set principles based on the set criteria for attributes.
For instance, you can use data in the attributes section to boost various products depending on set criteria. You can use rule-based merchandising to promote your products above those of other brands or boost products that have a higher margin. This strategy comes in handy for larger online stores.
With example, in the attributes tab, you can use data to improve different products based on certain criteria. You will promote your products above other brands with rule-based merchandising and boost products with a higher margin. For larger online shops this strategy is beneficial.
2. Customer streams
Client streams are increasingly similar to client portions you make, which is dependent on set up criteria. Gender or amounts spent on automation can be included. For example, for customers under 25 years old, who have purchased with a mobile device, you can set up a customer stream filter.
New customers who meet this criteria may be delivered automatically in your client circulation so you can assign marketing newsletters and promotions that suit this target audience.
Shopware also provides advanced options that allow consumer customization. For your clients, it makes choice seamless and improves their experience. It also helps you to apply an additional cost to the options.
3. World Shopping
The World Shopping functionality of Shopware enables users to create dynamic web pages. For goods, blog posts, video guides, and banners, it uses the drag and drop feature. This storytelling feature helps brands with their new and existing customers build a higher level of engagement.
Consequently, Shopware has its built-in blog with all core blogging features such as user management, digital publishing, media management, and an easy theme system. However, you should note that this CMS solution is not as effective as WordPress.
4. SEO optimization and marketing
Shopware offers an automatic SEO configuration, providing a strong foundation for Google's effective ranking and offers powerful marketing features. This includes:
Affiliate program: Shopware allows you to create affiliate links, commission amounts and individual codes with different cookies.
Loyalty programs: The store also includes loyalty programs, in which the number of loyalty points for various articles and client groups can be defined manually.

Story telling:

This role contributes to the identity and credibility of your product. Customers will establish an image of your product. This increases customer participation, inspires your shopping experience and promotes loyalty. You create this in our previously discussed chapter for the shopping world.
5. Integration
SAP, Stripe, WordPress, Paypal, Skrill, and Braintree are the integration components for the Shopware. It also includes several APIs for personalized integration and can help you with its continuous customer support. 
6. Support
Shopware's customer service comes at a monthly cost and hence its fine. The assist gives a chosen technical account supervisor for widespread inquiries and Shopware related troubles. Additionally, Shopware provides its own website only in German for users. It can be a bit daunting unless you are able to learn a new language. However, Shopware has a Live Learning, Webinars and Certifications academy. 
7. Pricing
Shopware has four pricing plans separated by the features they offer. Let's see what each plan offers for online store owners.
Community Edition – Free
Support through the community

Extendable via plugins

Product Streams

Customer Streams

Shopping worlds presets
Professional – €1,295 One-Time Fee
Commercial edition

Manufacturer support

Extendable via plugins

Product Streams

Customer Streams

Shopping worlds presets

Incl. warranty

Storytelling feature

Digital Publishing feature

Shopware ERP
Professional Plus – €5,995 One-Time Fee
Commercial edition

Manufacturer support

Extendable via plugins

Product Streams

Customer Streams

Shopping worlds presets

Incl. warranty

Storytelling feature

Digital Publishing feature

Shopware ERP

All Premium Plugins
Enterprise – Custom Enterprise Pricing
Features of Professional Plus

24/7 support

Individual care

Developer support

Extremely scalable

B2B Suite

Exclusive access to the Enterprise Portal

Marketplace

Dealer Integration

Client Management

Enterprise Search
8. Community Edition
For the entrance level holders, the Group version is an appropriate choice. This uses open source for the group to engage in the development process. It includes support for groups, product sources, application flows and feature extensions. The edition plan for the Public shall be free.
9. Professional Edition
The Professional version is tailored for companies who need a full support system for manufacturers. The package includes assistance for suppliers, brand sources, consumer flows, insurance, World Shopping templates, ERP shopware, electronic publication and telling apps. A one-time charge costs € 1295 to the Professional version.
Conclusion
Because of its scalability, flexible nature, simpler user interface, a rich extension base and sophisticated SEO features, it is a better alternative to other e-commerce solutions like Magento. According to builtwith.Com studies, Shopware has been actively gaining clients from Magento and other robust solutions with code access since 2011. Needless to say, there of course has been an increasing number of customers flocking to us to migrate their e-Commerce website to Shopware. The most 5 popular platforms that our customers mostly ask for migration are:
Have you any questions about this analysis of Shopware review? Or are you interested in Shopware and wanna migrate to it? Then LitExtension is here to bring you a suggestion exactly addressing your concern. See more details about migration to Shopware here.
We hope that the Shopware review is useful for you. Don't hesitate to leave us a message via live chat on website or an email via contact@litextension.com for any question. We will be assist you!
You can also join our Facebook Community to get more eCommerce tips and news.