If you are meaning to start a business and looking for solutions for your online store, we can all agree on one thing. That is the selection of the right solution that will generate a significant impact on your company's extended customer reach and profitability.
Shopware is a German-based eCommerce platform, founded in 2000. Shopware currently has topped the list choice of many online retailers, as well as other businesses and organizations thanks to its friendly backend and interface. Some international brands such as Haribo, Bijou Brigitte, and PowerBar online business are now backed by this e-Commerce solution. In this Shopware Review, we are going to present to you:
An overview of Shopware
Detailed analysis of outstanding features
Should you go with Shopware?
Overview of Shopware
Shopware is a scalable and customizable eCommerce solution that gives users permission to create their own online business at ease, irrespective of its specifications and requirements. This eCommerce software is based on new eCommerce technology, with upgraded innovation marketing and SEO-integrated capacities.
Shopware will bring you an e-Commerce platform packed with a diverse collection of features and capacities. Its standard edition is portrayed by many innovative and unique features allowing you to build up an appealing online store. To further improve the Shopware features, you can add various useful and profitable extras. You can also begin your small online business with Shopware and extend the usability of the program as your company flourishes.
For beginners who want to taste the flavor of e-Commerce, you will discover and appreciate how Shopware can enable your business to make progress, bring home the bacon, and show you the capability of your online store if you opt for the premium version.
Shopware has been demonstrated to be very capable of excellently managing lots of incoming site visitors during top hours and enormous floods of orders. The tools of Shopware make this scalability easy to achieve.
Such as a varnish cache, the capability to use Apache JMeter, which enables users to construct duplicate environments for scaling), clustering tools and the constant platform support you get hold of as a part of the Shopware Enterprise license.
For specific tasks, Shopware can add additional servers, which empower you to further scale your store and accomplish better response times.
Keep scrolling down the Shopware review to see more details.
Key Features of Shopware
You've had just a taste of Shopware, let's take an in-depth look at Shopware review to see what it is able to offer.
1. Ease of use
Since Shopware is not a hosted shopping cart like Shopify or BigCommerce, you will need to download and install their source code to customize. Please note that Shopware only provides support for Unix-based operating systems, therefore, Windows users are incompatible with Shopware. The installation of Shopware is linear but quite complicated, you will need to have good background knowledge on technology to set up your website. Fortunately, Shopware dedicates a whole section for both developers and end-users to guide you through this process.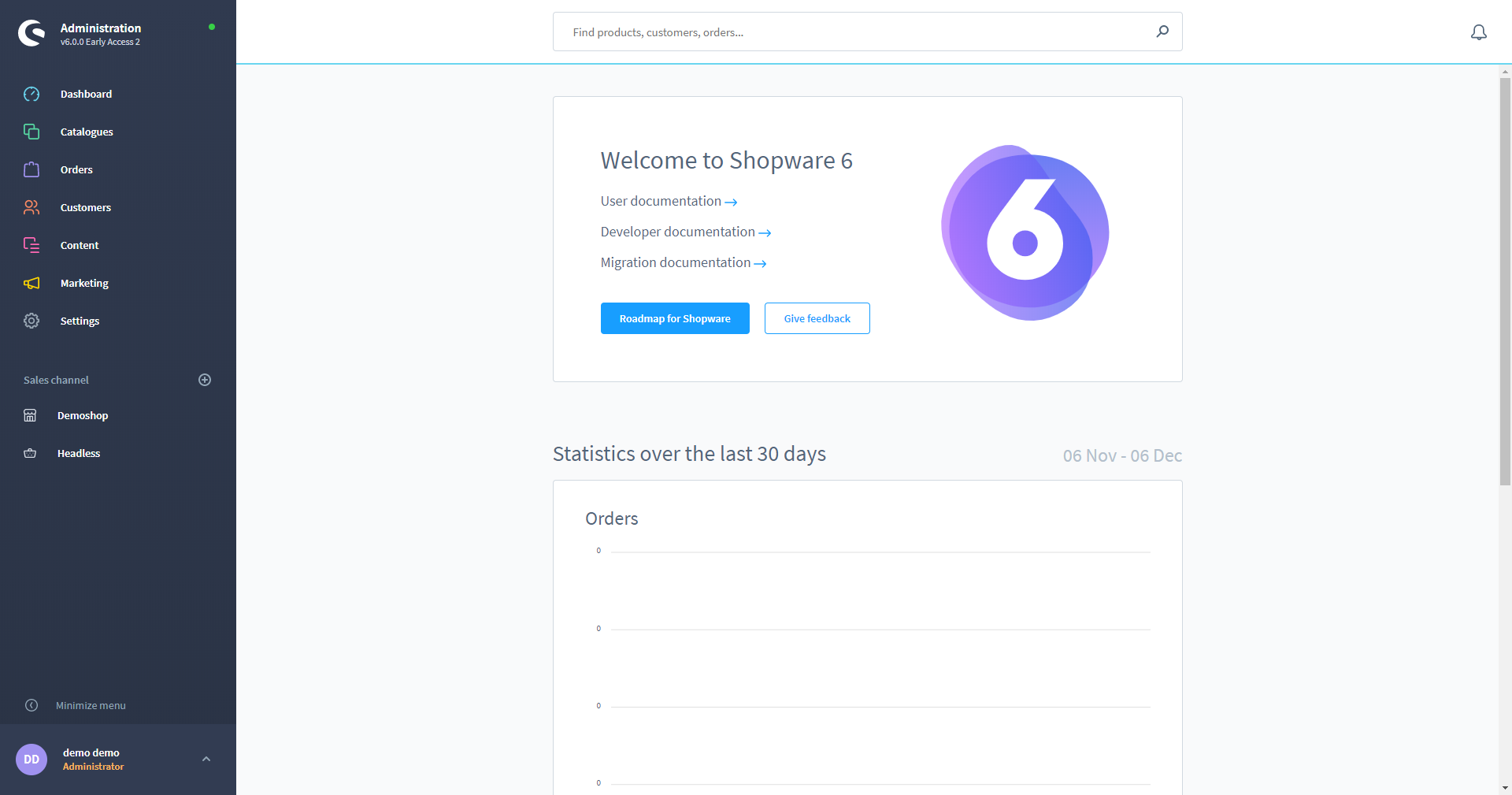 Shopware uses Vue.js for the administration. All you need to kick-start your store with this programming language is a basic knowledge of HTML, CSS, and JavaScript. This process could be effortless for tech-savvy, however, users who barely have knowledge in this field might need help from professionals.
2. Theme and customization
Shopware is an open-source platform, hence, users can customize their website freely and without boundaries. Shopware allows users to design a new theme from scratch. However, you should keep in mind that creating a brand new website template is not "a piece of cake" since it requires a comprehensive knowledge of design principles and technical skills.

On the other hand, you can opt for a pre-made template among 290+ website templates that Shopware offers. These themes are divided into 9 categories to fit your store's industry, including both free and paid options. In comparison withto another open-source eCommerce platforms like Magento, Shopware provides a larger variety of themes, but the price might be a tad higher.
3. Product streams
Shopware provides a clean, linear, and straightforward way to work with data in their Admin Dashboard. You can easily add new products or deactivate/delete existing ones without breaking a sweat. Shopware product setup allows users to create variants along with their different prices and images. Moreover, you can set rules based on the set criteria for attributes.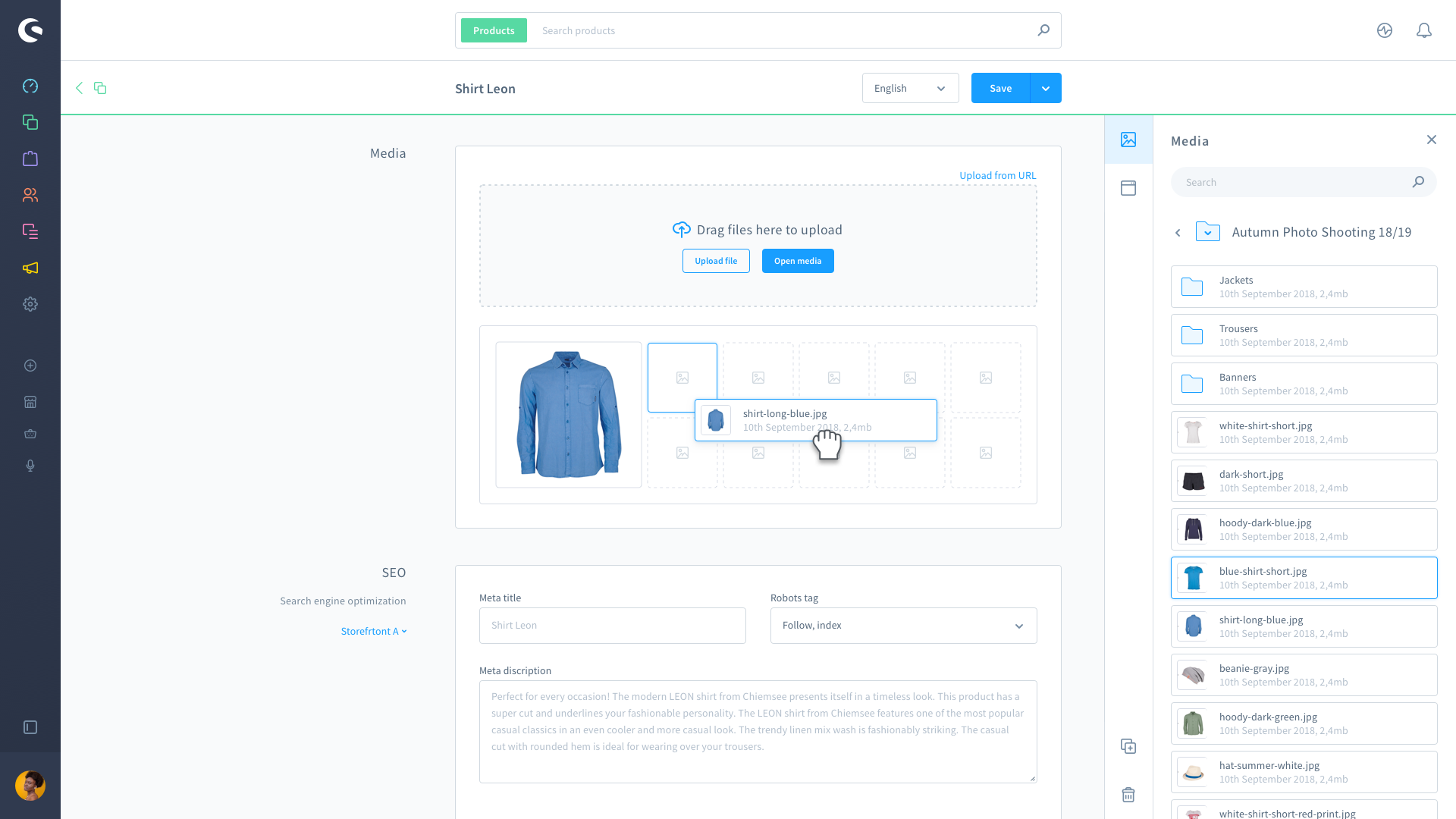 4. Customer streams
You can establish criteria, including gender, age, and amount of money spent to automatically create customer segments. For instance, you can create a filter for female clients under 25 years old, with a total purchase of $1000.
New customers who meet this criterion may be delivered automatically in your client circulation so you can assign marketing newsletters and promotions that suit this target audience.
Shopware also provides advanced options that allow consumer customization. For your clients, it makes choice seamless and improves their experience. It also helps you to apply an additional cost to the options.
5. World Shopping
World Shopping allows store owners to create attractive landing pages, visual product presentations, and marketing campaigns. This function uses a drag-and-drop mechanism, quite similar to WIX or Squarespace, to customize your webpage. World Shopping is an immensely helpful tool to attract new customers and increase engagement with existing ones.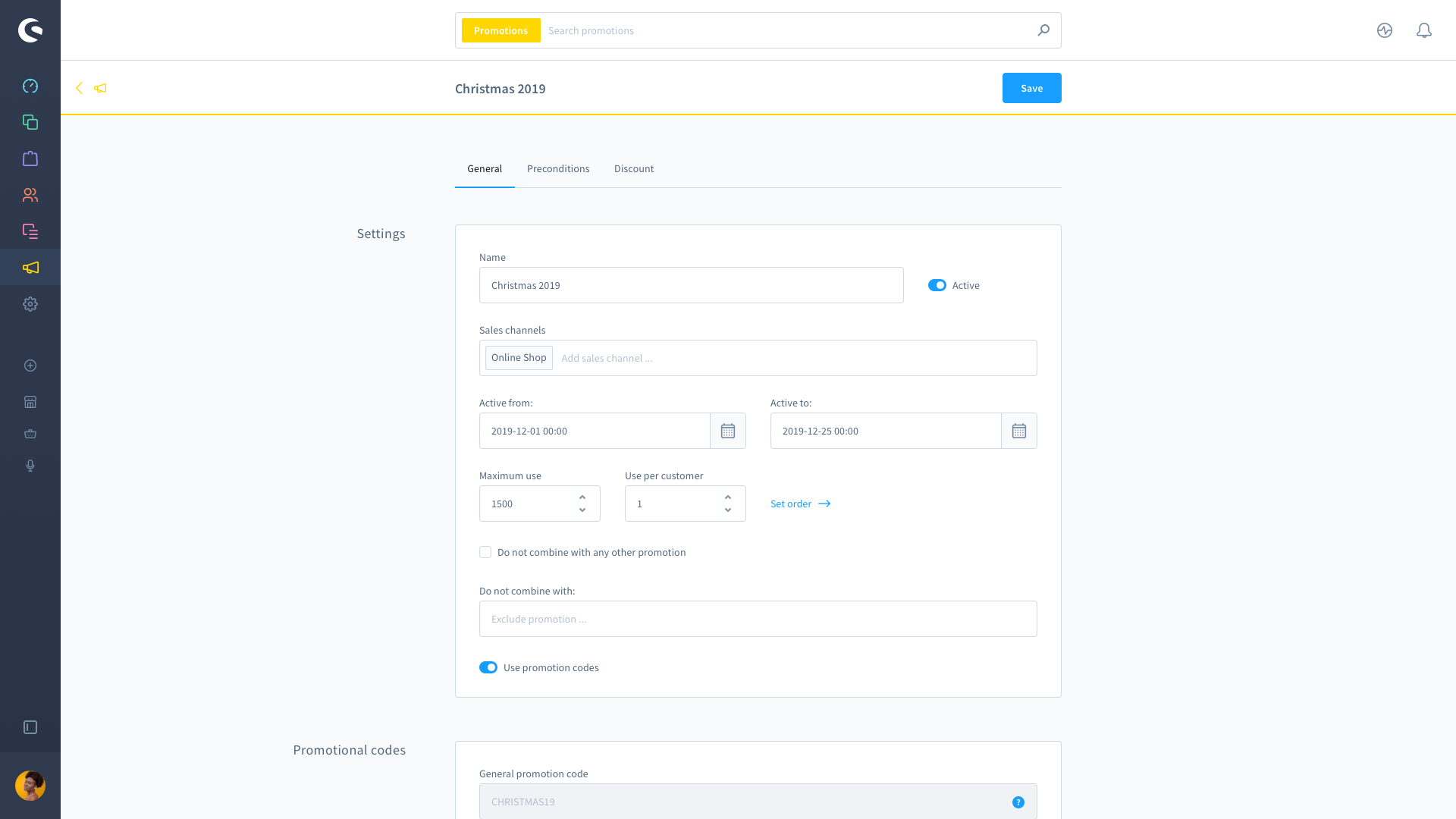 Moreover, Shopware also supports several blogging features, such as user management, digital publishing, and media management.
6. SEO optimization and marketing
Shopware offers an automatic SEO configuration, providing a strong foundation for Google's effective ranking and offers powerful marketing features. This includes:
Affiliate program: Shopware allows you to create affiliate links, commission amounts and individual codes with different cookies.
Loyalty programs: The store also includes loyalty programs, in which the number of loyalty points for various articles and client groups can be defined manually.

Story telling:

This role contributes to the identity and credibility of your product. Customers will establish an image of your product. This increases customer participation, inspires your shopping experience and promotes loyalty. You create this in our previously discussed chapter for the shopping world.
7. Integration
Shopware provides several third-party integrations for Shop System, Enterprise Resource Planning (ERP), Shipping, and Payment. These integrations come in both free and paid options (up to €7,990), available on Shopware Store.

Payment method is an important factor of every shopping cart. Therefore, Shopware equips users with a pre-installation of PayPal and PayPal Express to improve the financial flexibility of your online store. Don't like PayPal? Shopware also recommends other plug-ins and add-ons for you.
8. Support
Shopware provides support based on subscription level. There are four levels in total, including Silver, Gold, Platinum, and Diamond. The higher level comes with different perks, such as faster response time (up to two working hours), call-back telephone, or 24/7 emergency support.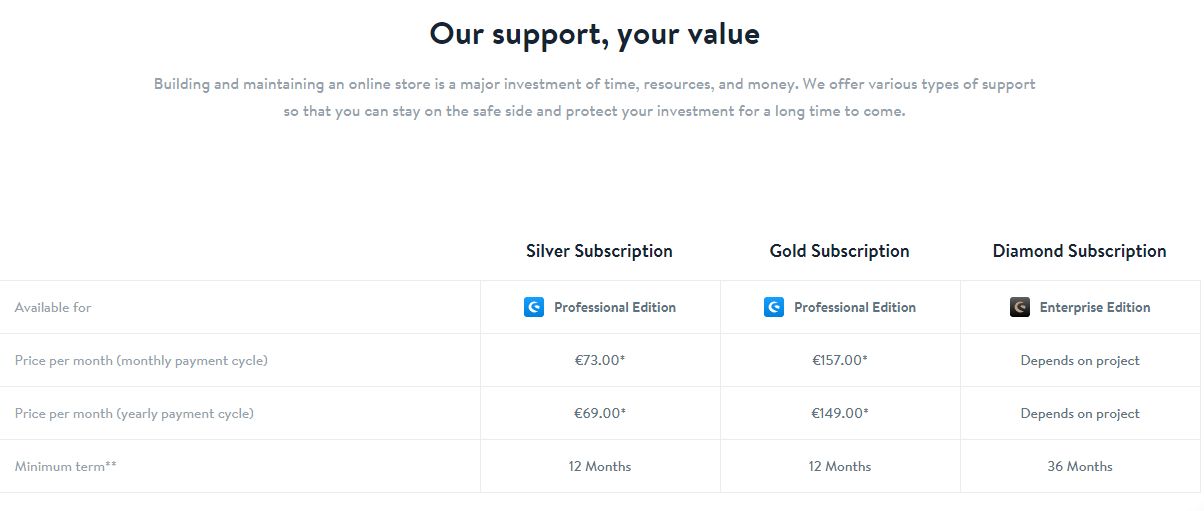 Besides, Shopware also dedicates a whole section for instruction documentaries, as well as training and certificate system. There is also a users' forum for discussion, unfortunately, this forum is available in German only.
9. Pricing
Shopware has four pricing plans separated by the features they offer. Let's see what each plan offers for online store owners.
Community Edition – Free
Support through the community

Extendable via plugins

Product Streams

Customer Streams

Shopping worlds presets
Professional – €1,295 One-Time Fee
Commercial edition

Manufacturer support

Extendable via plugins

Product Streams

Customer Streams

Shopping worlds presets

Incl. warranty

Storytelling feature

Digital Publishing feature

Shopware ERP
Professional Plus – €5,995 One-Time Fee
Commercial edition

Manufacturer support

Extendable via plugins

Product Streams

Customer Streams

Shopping worlds presets

Incl. warranty

Storytelling feature

Digital Publishing feature

Shopware ERP

All Premium Plugins
Enterprise – Custom Enterprise Pricing
Features of Professional Plus

24/7 support

Individual care

Developer support

Extremely scalable

B2B Suite

Exclusive access to the Enterprise Portal

Marketplace

Dealer Integration

Client Management
Conclusion
Thanks to its scalability, flexible nature, simpler user interface, a rich extension base and sophisticated SEO features, Shopware is a better alternative to other e-commerce solutions like Magento. According to builtwith.Com studies, Shopware has been actively gaining clients from Magento and other robust solutions with code access since 2011. Needless to say, there of course has been an increasing number of customers flocking to us to migrate their e-Commerce website to Shopware.
Have you got any questions about this analysis of Shopware review? Or are you interested in Shopware and wanna migrate to it? Then LitExtension is here to bring you a suggestion exactly addressing your concern. See more details about migration to Shopware here.
We hope that the Shopware review is useful for you. Don't hesitate to leave us a message via live chat on website or an email via contact@litextension.com for any question. We will be assist you!
You can also join our Facebook Community to get more eCommerce tips and news.