If you are owning an online store with million-dollar annual sales, it is very likely that you need to migrate to an enterprise-level eCommerce platform. A SaaS-based platform will save you a great deal since you don't have to worry about the cost of ownership, platform maintenance & management overheads.
Two of the most trusted SaaS-based platforms for enterprises are BigCommerce Enterprise and Shopify Plus. This article will compare the functionality of these two platforms to help you determine which to use.
Overview
Shopify Plus is the enterprise version of Shopify, giving access to much more powerful features and integrations, underlying code, as well as dedicated and comprehensive support than other Shopify plans. You can look more into the difference between these platforms in our ultimate comparison of Shopify and Shopify Plus.
BigCommerce Enterprise is the platform for high-volume brands. This platform offers out-of-the-box functionalities and integrations, allows 99.99% uptime, handles huge traffic seamlessly to ensure the highest conversion rate for your store.
Both Shopify Plus and BigCommerce Enterprise are the heavyweights in SaaS-based eCommerce solutions for enterprises. This article will give you an overview of how these two platforms work for large-scale businesses by indicating the advantages and limitations of each SaaS website builder.
Stay tuned and find out more!
Shopify Plus vs BigCommerce Enterprise: Pros and Cons
1. Shopify Plus
Shopify Plus pros:
Agency and technological partner ecosystem: It is straightforward and efficient to manage back-end tasks, make frontend changes and add new functionalities with Shopify Plus due to the platform having a diverse app and integration ecosystem. There are hundreds of firms building their business around Shopify, which makes extending the functionalities of your store quick and simple. Moreover, the agency eco-system of this platform is also strongly growing, including many big Shopify-only agencies.
Ease of use: Shopify back-end is very clean and simple. Even with apps installed, the back-end remains intuitive and organized. In addition, the standardised nature of the back-end prevents any back-end issues. You don't need to think about clearing the cache or re-indexing if you use Shopify Plus.
Shopify Plus cons:
Lack of multi-store architecture: Users of Shopify Plus cannot manage multi-brand or international set-ups as effectively as they can on other platforms. There are many areas that are manual and time-consuming, for example pushing changes across multiple stores, app management and promotion management.
Lack of control over SEO: You cannot control the overall URL structure. To be more specific, every page has to sit under /collections, /blogs, /pages/ or /products/. In addition, international stores cannot be subfolders of your main store. You have to use a sub-domain or CCtld for each international store. BigCommerce Enterprise
2. BigCommerce Enterprise
BigCommerce Enterprise pros:
SEO benefits: Beside basic SEO features, BigCommerce Enterprise also allows many advanced SEO optimization abilities. For example, this website builder has a built-in mobile optimization feature that makes sure that your website fits both mobile and tablet screens.
Many product options and variants available: While Shopify Plus allows 100 possible combinations/variants, BigCommerce Enterprise provides you with up to 600 variants and up to 250 values in a single option. You can also display their options in a wide range of styles including native support for drop-down menus, radio buttons, checkbox options, swatch options, text/number fields, date fields, files uploaded and product pick lists
BigCommerce Enterprise cons:
Limited availability of add-ons: BigCommerce app marketplace is small and lacks the depth or breadth of other setups when it comes to very custom solutions. Especially when you compare it with Shopify Plus – the platform with a huge app and agency ecosystem, BigCommerce Enterprise definitely has the disadvantage in this area.
Features comparison
Cost
To run your business successfully, it is necessary to optimize your cost. Because Shopify Plus detailed pricing is not public on their website, you need to get in touch with them to get the information. Notably, you can negotiate the pricing based on your sales volume.
The other costs that you might have to pay to run your store on Shopify Plus include:
Platform fee: Shopify Plus platform fee starts at $2,000 per month. Once your turnover reaches $800,000 per month, the pricing method turns into a revenue-based model. Then, you will have to pay 0.25% of your monthly revenue. The ceiling price of Shopify Plus is $40,000.
Credit card processing fee: The credit card processing fee of Shopify Plus varies by country. For example, in the U.S., you will have to pay 2.15% + $0.3 for each domestic transaction on domestic Visa and MasterCard, and an extra 1% on AMEX and international cards. If you are not using Shopify Payments but other payment gateways like PayPal or Skrill, you have to pay an extra 0.15% on top of whatever your current credit card processing fees are.
Development cost: If you use a Shopify pre-made theme, the build cost is going to be from zero to $180. Nevertheless, if you demand custom features for your store, the development fee is going to be much higher since you have to pay for developers or an agency to customize the code.
Similar to Shopify Plus, there is no detailed pricing displayed on BigCommerce website. They also require you to contact to get custom pricing. It is worth noting that BigCommerce proudly states that its custom pricing is lower than both Magento and Shopify Plus.
Platform fee: BigCommerce Enterprise price starts at $1,000 per month and can range up to $15,000 per month. BigCommerce determines your pricing based on the sales that you can make. The same as Shopify Plus, the pricing of BigCommerce Enterprise is negotiable.
Credit card processing fee: The processing fee for debit and credit cards begins at 2.9% + $0.30 per transaction for all BigCommerce plans if you use the default payment option, Paypal powered by Braintree.
Development cost: BigCommerce pre-made themes cost from $145 to $235, which is pretty high in comparison to Shopify. It will also cost more development fee if you require more customization.
All in all, the pricing of BigCommerce Enterprise might be lower than Shopify Plus.
Support
With a Shopify Plus plan, a dedicated Merchant Success Manager will support you 24/7 via various channels such as email, phone, and live chat. Besides technical problems, you can also ask for their help with other matters like brand strategy, conversion, and business management.
BigCommerce Enterprise offers 24/7 technical support. This platform provides you with support regarding Account Management, Solution Architecting, Technical Account Management, Implementation Project Management, and in-house Catalog Transfer Services. As a larger merchant, your request will benefit from priority support which means a Senior Technical Support agent will answer your call in under 30 seconds. BigCommerce Enterprise also provides you with support beyond technical matters as the Premium Account Services team will offer business recommendations and advice to help you succeed.
There is no winner in this criterion. Both Shopify Plus and BigCommerce Enterprise offer excellent support regarding both technical and business matters.
Flexibility
Large-scale stores usually require an enormous number of product variants such as colours, sizes, styles,… With Shopify Plus, you only have a restriction of 100 variants and 3 options on a specific configurable product. On the other hand, BigCommerce allows you to create large lists of product options — up to 600.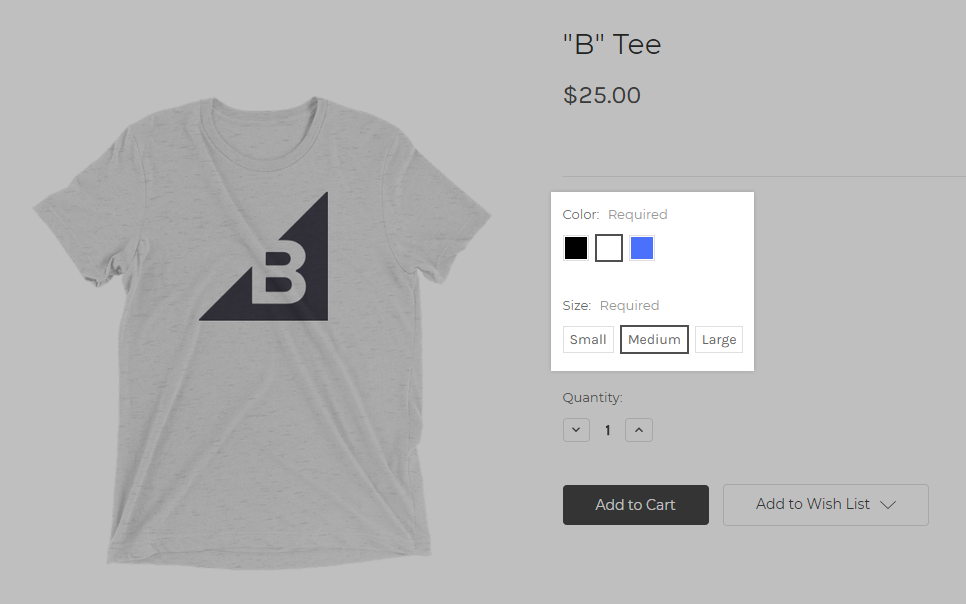 In terms of storefront flexibility, both platforms have storefront API which allows a headless approach which brings more front-end flexibility.
For BigCommerce Enterprise, beside storefront API, this platform also has checkout API and developed integrations with WordPress and Acquia in order to give users the possibility to build a content-led online store with customizable front-end design. On the other hand, Shopify also has a Shopify Scripts and Script Editor function which allows you to create personalized experiences for your customers in their cart and at check-out by modifying small pieces of code.
To sum up, even though both Shopify Plus and BigCommerce are hosted platforms, their headless architecture allows very flexible front-end design. But if your products have various features, you will definitely need to go with BigCommerce.
Multi-store management
Multi-store management is a crucial function for big companies. As you start selling internationally, it is important to localize your online store so that it appeals to customers in that region. You also need to incorporate different languages, products, and payment options depending on which regions your site is serving. In addition, if your company operates more than one brand, a platform that allows you to centrally manage all websites will be more efficient than managing them separately.
Shopify Plus offers 3 features that allow multi-store management:
Expansion store: Shopify Plus enables you to add 9 more storefronts for shoppers from various locations besides the main one. You can manage your store performance, employee accounts, users permission and tools of all of your stores from only 1 dashboard. Each additional store would be charged based on your Gross Merchandising Value. However, this Shopify Plus function has a few limitations. You cannot set individual product IDs per store or install apps being independent to each store. You also cannot manage attributes at global and local level separately.
Currency converter: This feature is available for Shopify Payment users. The conversion fee will be added to the last price and automatically converted based on the foreign exchange rate. However, it is noteworthy that you cannot set different prices for different locations.
Multi-warehouse: Shopify Plus allows you to set up many locations to track your inventory and fulfill your orders efficiently. The maximum number of locations that you can set for a Shopify Plus plan is 20.
On the other hand, BigCommerce Enterprise has not released the add-on to support managing data across different stores. Nevertheless, with this platform's partner integrations, the multi-store management possibilities include:
Multi-store: You can launch multiple websites on BigCommerce and use a BigCommerce partner product information management system to keep track of all product and marketing data as well as update global storefronts.
Multi-brand: BigCommerce Stencil framework allows you to set up localized content for each geographic location.
Multi-currency and localized payment options: BigCommerce has over 65 payment gateway integrations available and over 250 local payment methods. This platform also offers integrations to the most popular digital and mobile wallets, such as Apple Pay, Amazon Pay, Venmo, etc. In addition, BigCommerce facilitates automatic currency conversion based on customer IP.
Localized catalogue and pricing: You can also customize product catalogues, pricing and promotions for your target regions.
International shipping: Because of BigCommerce having integrations with the world's most popular shipping providers.
In the multi-store management area, both platforms are quite limited if we only consider the built-in functions for multi-store management. However, there are more multi-brand and international sellers using Shopify Plus than using BigCommerce Enterprise.
Merchandising
Shopify Plus does not provide multiple product types (like simple products, downloadable products, virtual products…). You can still use product variants for configurable products and sell downloadable products with the help of additional apps. You can also sell gift cards like any other products in your store.
So, Shopify Plus is a little limited in terms of the number of product types. Nevertheless, it provides you with many merchandising options. Users can choose from base ordering options and also manually reorder products in their collections. The options for base order are:
Best selling
Product name: A-Z and Z-A
Price high-low and low-high
Newest and oldest
Beside simple and configurable products, BigCommerce Enterprise also allows you to sell downloadable products on default. There is no limit to how many files can be attached to a downloadable product. Similar to Shopify Plus, customers can also buy gift cards on your BigCommerce Enterprise store.
Furthermore, BigCommerce Enterprise has many built-in features that will help increase your conversion rate. For example, you can set up bulk pricing to encourage customers to buy larger quantities. BigCommerce Enterprise also has a Product Option Filtering built-in feature which allows you to install any filter options such as colour, size, sale off etc to help your customers find their desired products in seconds. In addition, customers can checkout without creating an account or logging in their existing accounts, which enables speed checkout.
Also, BigCommerce gives you the ability to enable different checkout experiences for guests and customers, as well as link any guest orders made by customers to their existing account. Another notable feature of BigCommerce Enterprise is Optimized One-Page Checkout, which minimizes the steps before purchasing to increase sales conversions.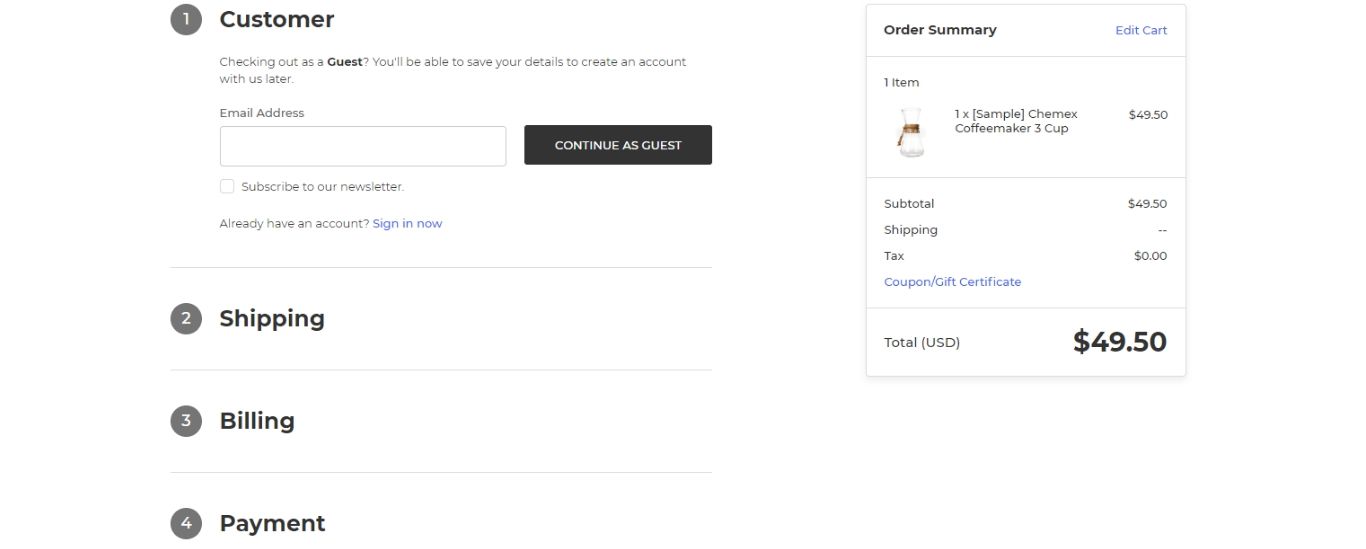 We can clearly see that BigCommerce has more diverse built-in features than Shopify Plus regarding merchandising.
B2B functionality
If you are a large-scale company, it is likely that you will have customers that buy in bulk to resell. In this case, you will need to have different storefront, content and especially, pricing information for this type of customer. Therefore, selecting the right eCommerce solution for B2B is fundamental to the success of your enterprise.
On Shopify Plus, there are 3 options to manage a B2B storefront:
The Shopify Wholesale Channel: This channel is based on your original store and shares the same data. It will invite your customers to the wholesale channel and assign them into a group. You can manage the pricing, visibility of products or order limit separately in the wholesale channel area. Nevertheless, the front-end template of Shopify Wholesale Channel is very limited in terms of customizability.
Customizing the theme for different groups of tagged customers: You can use customer tags in Shopify terminology to create different customer groups, along with different pricing, availability, discounting for different products etc.
A separate Shopify store: An alternative option would be to open a separate store which allows completely different customer experience. However, it can be inconvenient to manage various aspects of two stores at the same time.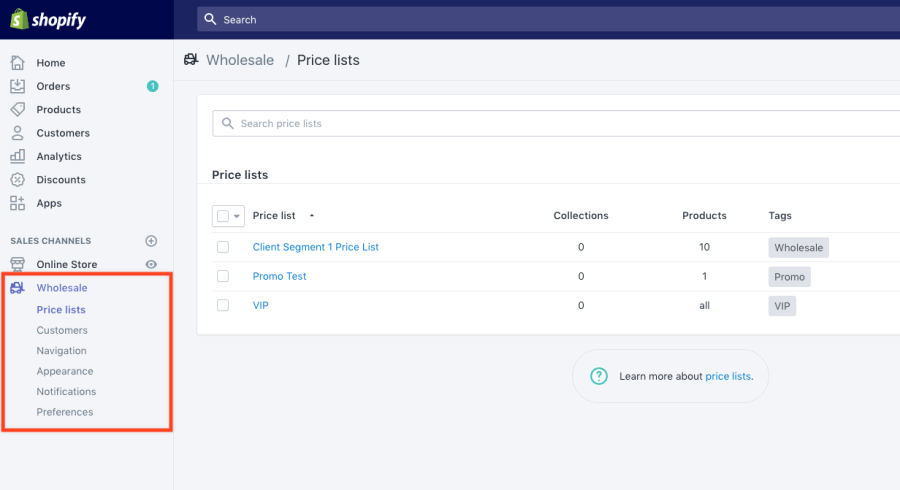 BigCommerce is among the top SaaS platforms that are B2B-focused. This platform empowers you to manage large catalogs with customer and pricing segmentation down to the SKU level.  BigCommerce Enterprise also has various B2B-specialized built-in features. Some B2B features that this website builder has on default are:
Customer-specific pricing (via price lists)
Quote / CPQ management
Volume / tiered pricing (which can also be set at a customer-level)
Purchase orders and credit terms management
Customer-specific catalogues, shipping options, availability, payment methods, content and more
Customer segmentation features
Advanced shipping capabilities such as customized shipping rates (via ShipperHQ)
Advanced product management features (attribute sets, custom fields, variant handling etc)
Quick order functionality
Although Shopify Plus Wholesale Channel can support a lot of basic functions, it doesn't allow customisation of the theme or any additional customisation beyond the areas that are configurable against the channel. At the same time, BigCommerce has developed many native B2B features into their platform.
All in all, B2B is an area where BigCommerce Enterprise is more powerful than Shopify Plus.
Extensions and apps
Shopify Plus has thousands of applications for merchants on its marketplace. This platform also has a Shopify Plus Certified App list which has 42 free and paid apps that Shopify has chosen for their high quality.
Some advanced Shopify Plus apps for high-growth merchants are:
Privy includes conversion, email marketing, & SMS tools. This app provides store owners with the possibility to generate coupon codes, display popups, spin to win wheels, announcement bars, and many other marketing tools to optimize your store sales.
Smile allows you to build a powerful loyalty program. A Smile loyalty program gives your customers access to exclusive perks, attractive discounts, and a fun way to engage with your brand every time they log in to your store. There are 3 types of programs that you can set up with this application: Loyalty points program, Referral program and VIP program.
BigCommerce Enterprise also provides a wide range of applications of over 600 apps of 19 categories such as Marketing, Analytic & Reporting, Payment & Security and Accounting, etc on its marketplace. Some advanced apps that enterprises will definitely find useful are:
Facebook Ads helps you use Dynamic Product Ads for Facebook and Instagram to increase your BigCommerce store traffic and sales. This app also automatically syncs your products and data and generates catalogues.
LiveChat allows you to answer incoming sales and support questions as customers browsing your store via live chat. You can also send chat invitations, view customer's carts right in the LiveChat app and send Product Carts as suggestions.
Despite both Shopify Plus and BigCommerce Enterprise having various robust apps for you to choose, Shopify marketplace clearly surpasses BigCommerce marketplace in terms of the number of apps.
SEO
Shopify Plus has a basic set of SEO options. You can make any configuration at the server level. Shopify Plus allows you to edit meta tags and optimize your inventory as well as your product page.
The platform also generates redirects for you if you change the name of a page's URL. However, you cannot make some technical SEO changes easily, modify your URL structure and hierarchy and caching headers. It is also impossible to build a Shopify Plus store on a sub-directory. Indeed, Shopify Plus is not very flexible regarding SEO.
On the other hand, the SEO functionality of BigCommerce Enterprise is a big plus. This platform allows many more possibilities to optimize your store SEO. You have full control over URLs with BigCommerce, as you can change URL structure for different pages and no forced directories. You can also edit the robots.txt page and use directories in URLs.
In addition, it's also straightforward to handle things like canonical URL logic, hreflang implementation, structured data etc. BigCommerce also supports accelerated mobile pages management and redirect management.
For these reasons, BigCommerce Enterprise is having a slight edge in the SEO area in comparison with Shopify Plus.
Which one is for your business?
Shopify Plus and BigCommerce Enterprise are both powerful platforms. Even though Shopify is undoubtedly a market-leader among SaaS-based eCommerce platforms, BigCommerce is building up its position with its extensibility and various features.
Among the factors discussed above, BigCommerce Enterprise has the advantage when it comes to SEO, product options and B2B functionality; but Shopify Plus has a considerably wider range of apps, integrations and agency partners available. In the other areas, it is difficult to pick a clear winner between the two.
Therefore, it is up to you to determine which criteria are more important to your business in order to choose whether you go with Shopify Plus or BigCommerce Enterprise.
Conclusion
In conclusion, Shopify Plus and BigCommerce Enterprise both have many powerful functions as well as limitations, especially around multi-store management. But it seems like BigCommerce Enterprise allows more complex options while Shopify Plus is aiming at focus and simplification for merchants. Hopefully, this article has contributed to your decision.
If you are planning on migrating to BigCommerce, to Shopify, between these two platforms or any other platforms, LitExtension team is willing to help! As the world-leading shopping cart migration tool with 140,000+ successful migrations for 40,000+ worldwide customers in the last 6 years, LitExtension can transfer all your data including products, customers orders automatically, quickly, and accurately, especially, with no technical skills required.
You can find the list of LitExtension supported carts here. If your platform is not on the list, contact our team via live chat to make a request. For any further information about LitExtension, please feel free to contact us!