No longer fit with BigCommerce? Looking to migrate your online store to Shopify? Look no further! LitExtension BigCommerce to Shopify migration service will seamlessly transfer your BigCommerce store to the Shopify platform, ensuring that all your data is preserved and your store is up and running in no time. 
The A-Z BigCommerce to Shopify migration process includes these below steps:
Backup database of the BigCommerce store
Set up a new Shopify store
Set up Source and Target Cart
Select entities to migrate
Perform full migration from BigCommerce to Shopify
Follow a go-live checklist for Shopify stores after data migration 
In case you want to dig deep into a complete guide on switching from BigCommerce to Shopify, please look at our comprehensive BigComerce to Shopify migration guide here! Now, let's head straight to 3 critical steps of the BigCommerce to Shopify migration with LitExtension. 
Step 1: Set up BigCommerce and Shopify carts
To set up your shopping cart, select BigCommerce as your source cart type, and provide the store URL. Follow the brief instruction to get your API info and fill them in the form.
Moving to Target Cart setup, enter your Shopify store URL and the API password to the blank spaces right after you choose Shopify as your Target Cart.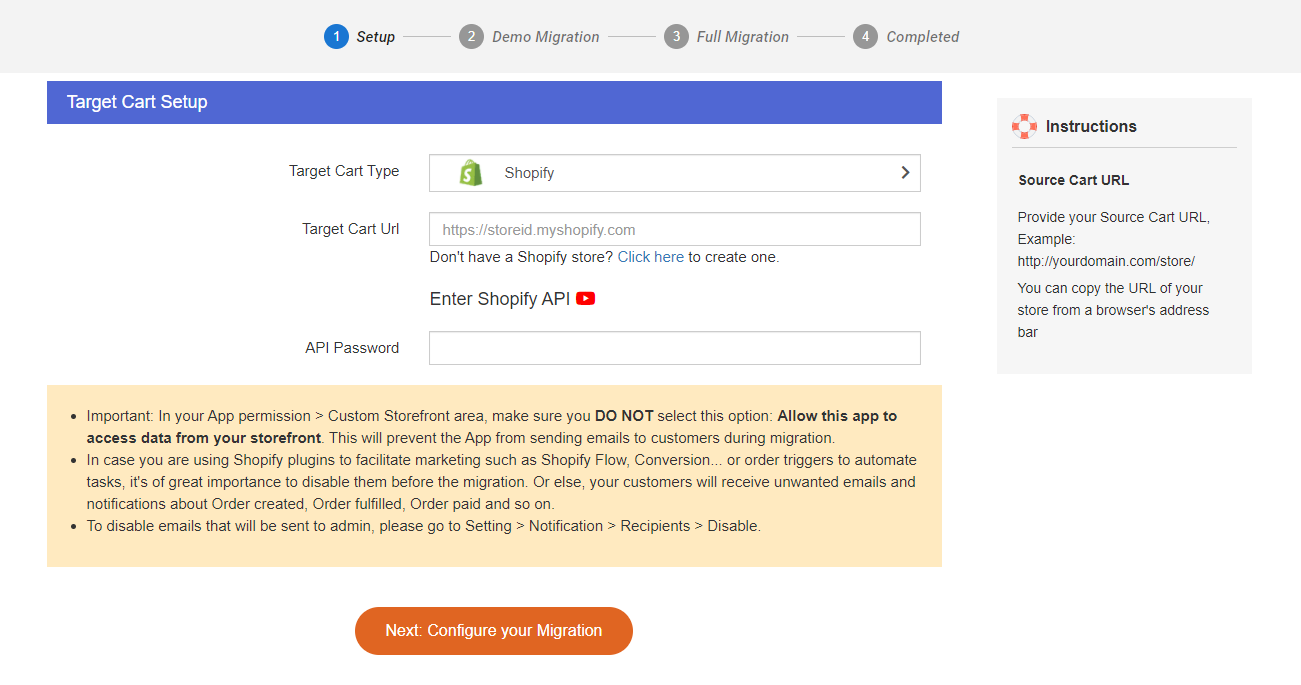 In case you don't know how to get an API password from the Shopify store, please follow the easy instructions in this video below!
Do not hesitate to contact LitExtension's support team if you encounter any difficulties. We are available 24/7 to help you fix all problems as well as answer any questions about this field.
Step 2: Choose entities you want to migrate
LitExtension supports migrating products, customers, pages, blog posts, and coupons in this case. You can choose to migrate only a few or click "Select all" to migrate all of them.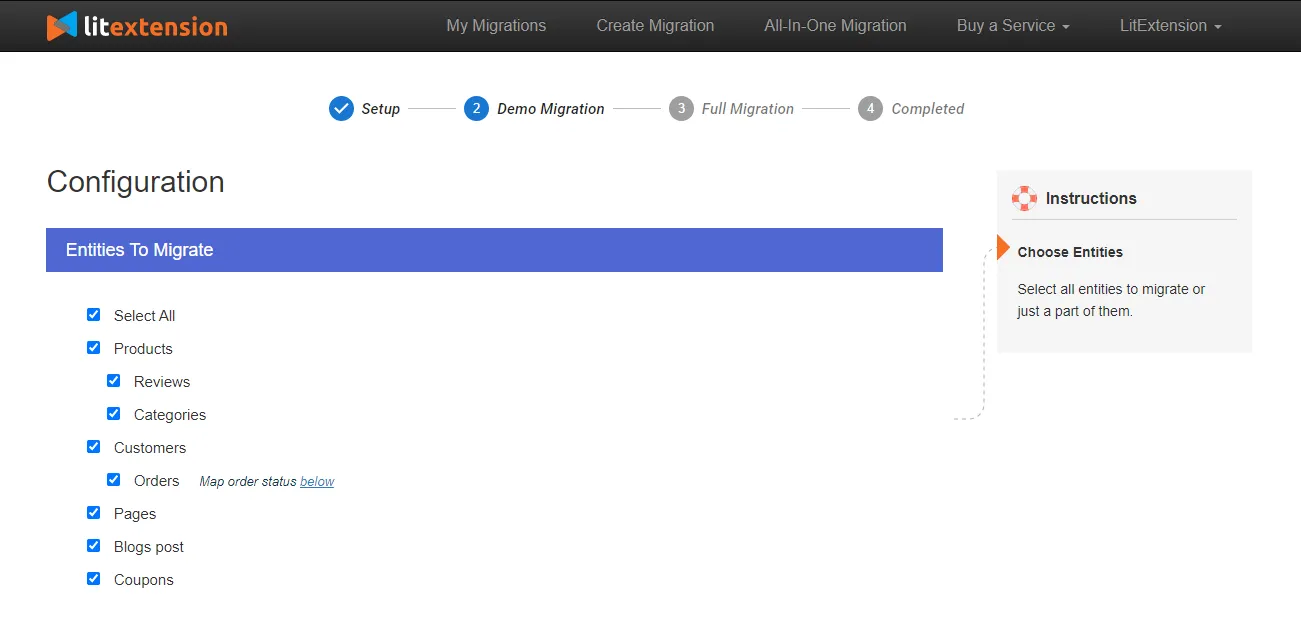 Then, scroll down to see a list of additional options to expand your migration possibilities. For example, 301 Redirect is essential when re-platforming because it helps to create 301 redirects to the new site. The SEO rankings you have built up for years will be kept.
Step 3: Perform BigCommerce to Shopify Migration
Now you are ready for the full migration. I highly recommend you to try our FREE DEMO to see what your website will look like after the migration before you decide to pay for it. You will receive $5 in your balance and you can use it as a discount when running the Full Migration.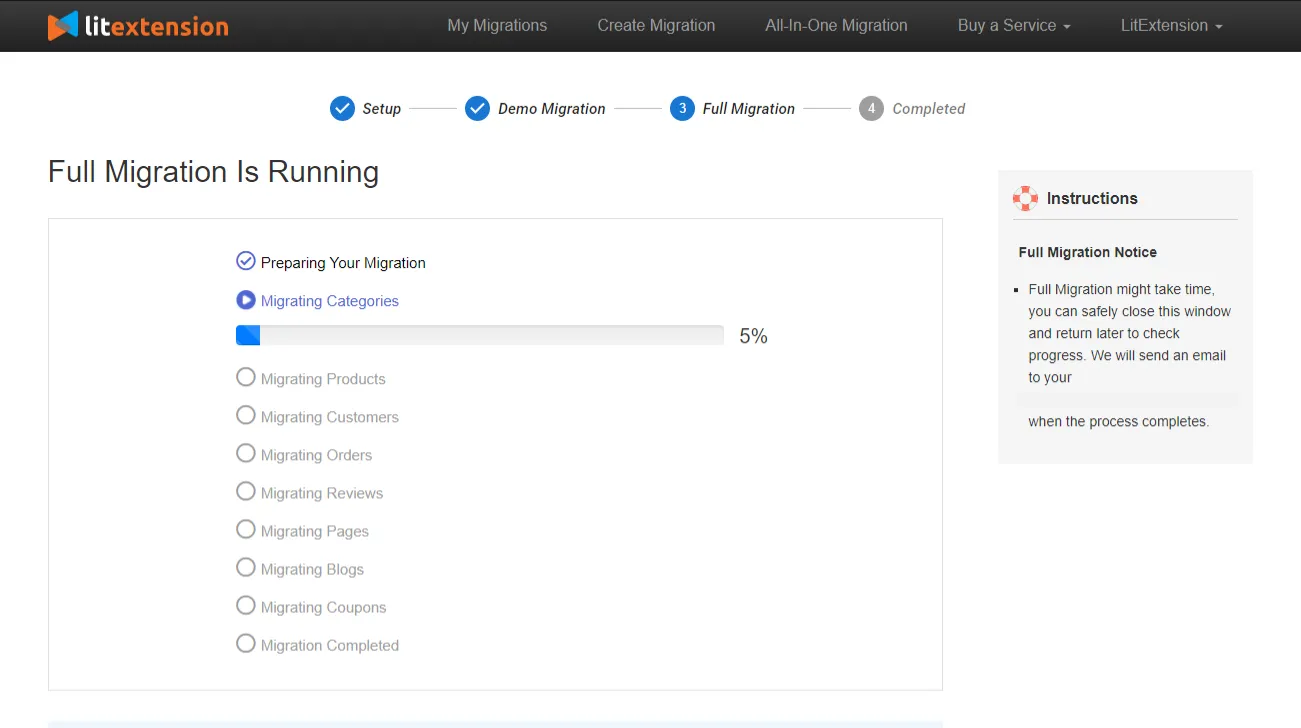 Take note that once the migration starts, it will run seamlessly on the server. Therefore, there's no need to keep your PC on while the data is being transferred. It is completely safe to turn it off! All you need to do is take a break. Having a cup of coffee is equally important and your email will receive a notification when the process is completed.
So, don't hesitate to move to Shopify with LitExtension since the process is easy peasy! If you aren't tech-savvy, leave your BigCommerce to Shopify migration in good hands with our All-in-One Migration Package. Our Shopify migration experts will lift the weight of manual tasks off your shoulder and handle the migration at a committed response time, with a personal assistant and free additional options.
---
Why Should You Migrate from BigCommerce to Shopify? 
Shopify, a renowned eCommerce platform, offers businesses a wide range of powerful tools to establish and oversee their online stores. The level of Shopify's popularity can be measured by the number of active users that are currently using this platform. Up to the present time, Shopify is the home to more than 4 million websites across the globe up to the present time.
Shopify Migration is the process of transferring an existing online store or website from your current eCommerce platform to Shopify. During this process, you'll have to move all the essential data from BigCommerce to Shopify, including products, customers, orders, and other relevant information. 
If you are considering migrating to Shopify, here are four difficulties that may validate the decision.
1. You want to access a larger app store
During the process of migrating a Shopify store, one crucial aspect to consider is the compatibility of apps and add-ons on the new store.
Shopify prides itself on its comprehensive selection of add-ons, which houses a diverse collection of third-party plugins (with over 8000 apps available on the Shopify App Store). This vast array of options empowers you to effortlessly bolster your online store's capabilities and functionality, making the transition to the new platform seamless and feature-rich.
If you require advanced marketing tools, inventory management systems, or customer support solutions, the Shopify App Store offers a wide array of options to meet your specific needs. With these integrations, you can effortlessly enhance and optimize your store's capabilities.
For those seeking access to exclusive apps, Shopify Plus is the perfect choice! By performing a Shopify Plus migration, you can gain access to a range of premier apps and features that allow you to scale your business even further. Don't miss out on this opportunity to take your online store to the next level!
2. You need more payment options at high security
Shopify offers a wide number of payment methods, including Shopify Payments, its own service. This exclusive payment method comes with data encryption, PCI compliance, and support for 3D Secure checkouts.
Moreover, the wide availability of 100+ payment options and support for 140+ currencies directly facilitates the localization and internationalization of your business. This feature empowers you to cater to customers from various regions, offering them convenient payment methods that align with their preferences and local currencies. As a result, you can enhance the overall shopping experience for your global clientele and foster stronger relationships with customers worldwide.
3. You want more robust marketing features
With Shopify, you have access to a variety of marketing tools that can help you draw in and keep clients. These technologies have functions like discount coupons that let you entice your audience with offers and incentives.
Additionally, Shopify automatically interacts with email marketing providers, enabling you to take advantage of email campaigns and communicate with consumers in a targeted and tailored way.
4. You need a better support community & documents
Shopify has won a lot of praise for its top-notch customer service. Notably, you may contact their support staff at any time through a variety of means, including live chat, email, or phone.
Additionally, Shopify has a vibrant and engaged community of business owners and industry professionals who are always willing to share their knowledge, advice, and practical solutions. You are certain to have a dependable supply of aid thanks to this encouraging network.
Additionally, Shopify offers Shopify Learn, a complete in-house learning facility. With information on everything from setting up your store from the beginning to using marketing and promotion strategies to boost sales and revenue, this book arms you with the knowledge and direction you need to establish your company on the platform.
Given these elements, it seems sense that, as a potential shop owner, you could also find Shopify to be an intriguing option. In the end, evaluating your needs and doing extensive research are essential to figuring out whether Shopify is compatible with your company's aims and ambitions!
---
What to Consider Before Migrating to Shopify? 
Before moving to Shopify, there are several factors you should pay attention to in this Shopify migration checklist:
1. Identify how Shopify fits your customization need
Examine Shopify's various themes, layouts, and customization choices to see whether they complement your intended store layout and brand identity. Check to see if the platform enables you to alter the layout, programming, and functionality to suit your needs.
2. Review data to Shopify before migration
It could be difficult to comprehend the peculiarities of two distinct eCommerce systems.
You must determine the difficulty and viability of your data conversion to Shopify if you want to handle the migration process yourself. Basically, to become active before migrating, do the following:
Identify data to be migrated
Clean up your data
Export data from your current platform
Map data fields
Review data integrity
For example, if you want to send orders to Shopify, utilizing CSV files for Shopify import orders is an excellent choice. When using the Transporter app for Shopify, your CSV files must use UTF-8 encoding and must at the very least contain the name of the item type.
Make sure you are aware of the migration procedure and any potential difficulties. And as you can see, the work is quite challenging. Consider a Shopify migration company or app, which LitExtension strongly suggests.
3. Consider integration requirements
Analyze the integration requirements you have with external systems like accounting, CRM, and inventory management. Check to see if Shopify's app ecosystem has the requisite integrations or if bespoke development is necessary. Consider how simple it is to set up new integrations and how compatible current ones are.
However, given how hard it is to completely comprehend the distinctions between two defunct platforms, what we described above may seem intimidating. Consequently, we advise using Shopify migration services.
4. Examine SEO & Marketing possibilities
Before implementing Shopify SEO, you should assess Shopify's built-in SEO features and whether search engine optimization (SEO) is crucial for your company.
In addition, pay close attention to Shopify's analytics capabilities and marketing tools. Make sure the platform has the features you'll need for organizing promotions, streamlining your online store, and measuring the success of your campaigns.
5. Consider scalability & store growth in the future
You must assess your long-term growth goals and determine whether Shopify can scale with your organization before doing a Shopify data migration. Additionally, it's crucial to evaluate the platform's functionality, architecture, and capacity for handling rising traffic and sales volumes.
Additionally, you may search for case studies and success stories of organizations like yours that have expanded effectively on Shopify.
6. Consider ways to perform migration to Shopify
Of course, you have this question: "How to migrate website to Shopify?". Basically, there are 3 main ways to migrate your data to Shopify. 
Manually migrate, and you transfer data to Shopify yourself.
Hire a Shopify expert/developer; a third person will handle your data.
Use an automated Shopify migration service, LitExtension, for example, and your data will be transferred to Shopify without interference from third parties.
If you go for LitExtension, you will know how to automate data migration for Shopify import products, orders, or other entities. 
7. Consider cost implications of moving to Shopify
The amount of data (for example, items or orders) in your shop will affect the transfer cost. The cost of your transfer to Shopify will increase as your data volume increases.
For information on our migration fees, please use the calculation below.
---
What Is the Cost of Shopify Migration?
When using LitExtension, there will be 2 options for you to choose from:
1. Basic package starts at $79. If you opt for additional options, you will enjoy some free options, including: 
Clear Data On Target Store Before Migration
Create Product Variants Based on Combinations of Options
Migrate Images from Products, Categories and Blog Post Descriptions and many more. 
However, if you want "Preserve Product, Order, Customer IDs on Target Store" option, you must pay $39.
2. All-in-One package starts at $139. With this package, all additional options will be free.
How long does Shopify migration take if you choose LitExtension? Depending on the volume of data and level of complexity involved in the transfer, the procedure's length may change.
---
Tips to Optimize Shopify Store After Migration
LitExtension can help you migrate to a new Shopify shop, and we have some advice to get you started and make the most of the platform:
1. Customize Shopify storefront
Review the branding, layout, and design of your store. Choose a unique theme that reflects your brand's personality to create a polished and eye-catching storefront.
Have you not yet found your ideal Shopify theme? Please refer to these 30 best Shopify themes for your online store.
2. Organize products & Set up payment and shipping on Shopify
You may now improve product navigation by utilizing Shopify's capabilities for product organizing, such as collections, tags, and categories.
A flawless checkout process for your clients may be provided by configuring your payment gateways, such as Shopify Payments or other third-party suppliers like PayPal. Set up delivery choices and prices in accordance with your company's needs.
3. Optimize SEO (Search Engine Optimization)
Use SEO best practices to increase the visibility of your shop in search engine results. Make products' meta tags, URLs, and titles and descriptions search engine friendly.
4. Install apps & integrations
Browse through the Shopify App Store and select applications that improve the usability of your store. Utilize the applications that are already accessible to streamline your operations, whether it be with marketing tools, customer service options, or inventory management programs.
Here is the list of best Shopify apps you should have on your new Shopify store: 15+ best Shopify apps for any type of website.
5. Set up store analytics & tracking
Shopify Analytics is a set of internal analytics. To measure website traffic from various sources, user activity, and conversions, you may install analytics solutions like Google Analytics. To understand your store's success and make data-driven decisions, keep an eye on crucial indicators.
6. Implement marketing strategies
Any online store must engage in marketing. Therefore, don't forget to create a marketing strategy to increase visitors and boost revenue. You may use Shopify's built-in marketing tools, like as discount coupons, abandoned cart recovery, and email marketing connections, to draw in and keep consumers.