How to export data to CSV Files from Weebly
Exporting your order history to Quickbooks or a CSV file makes it much easier to keep track of sales in your online store. To export data to CSV Files from Weebly, let's follow these steps: To export Order data, go to
Store
–>
Orders
–>
Export Orders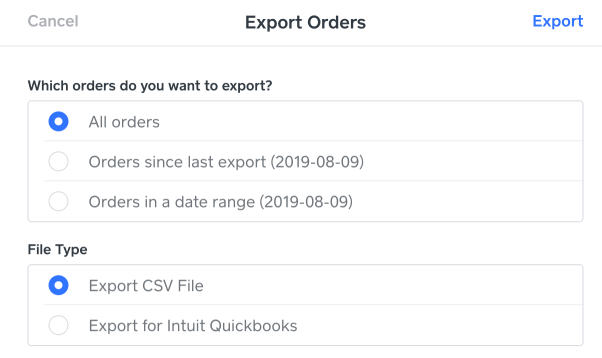 Choose a timeframe from among the following options:
All orders: This will export every order you've received.
Orders since you last did an export: This will download all the data that's been collected since the last time you ran an export. If you've never exported any data previously, it will export all orders.
Orders within a specific date range: You select the date range for the export, using YYYY-MM-DD format.
Next, choose a file format for the data:
A CSV (comma-separated-values) file. This can be opened in a spreadsheet app like Microsoft Excel or Google Sheets
An Intuit QuickBooks ".iif" file. Choose this option if you manage your finances using Quickbooks.
Once you've made your selections, click
Expor
t and you'll receive an email with a link to download the file. If you don't receive the email immediately, give it a few more minutes. You may also want to check your spam folder as it may have ended up there. That's how you export your data to CSV file. Should you need any help, feel free to
contact us
. LitExtension is always available to help.