Introduction
Wix Payments is the platform's all in one payment provider from Wix that allows users to manage orders and payments. Wix Payments grants users these features and options:
Free and easy to set up
Secure online payments
To accept credit cards and debit cards and other online payment methods
A unified dashboard for payouts, refunds and chargebacks
In this Wix Payments review, we will take an in-depth look at this payment provider to see if it's really worth it for your website or online store. Read on to get a full list of features along with pros and cons with some suggestions regarding alternatives.
What is Wix Payments?
Wix Payment is a relatively new feature, in the beginning of 2019. With 8 out of 10 new Wix users now already using it as their processor is an accomplishment in itself. Wix Payments has some advantages compared to competitors but also lacks some characteristics. Continue reading for a complete review.
1. Wix Payments Pricing
Wix Payments is free to set up, however there are two conditions to be able to use Wix Payments: you need to have an existing website and have to subscribe to one of the Business and eCommerce Plans. You can easily set it up if you already have a Business or eCommerce plan. If not, you have to upgrade to one of these options, otherwise, you won't have access to Wix Payments. Make sure to pick the most suited plan for your business.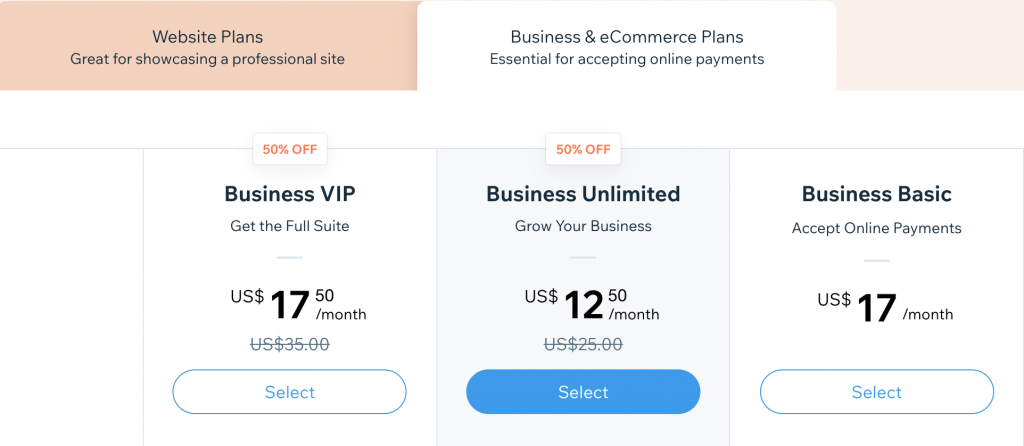 2. Security and Compliance
Wix Payments ensures security of their users financial transactions with the Payment Card Industry Data Security Standards (PCI DSS). PCI DSS is a must by credit card companies to make online transactions for organizations and sellers secure and protect them against identity theft, fraud and data breaches. Any merchant that wants to process, store or transmit credit card data is required to be PCI compliant, according to the PCI compliance security standard council.
In addition, the Strong Customer Authentication (SCA) requirements of the Payment Services Directive (PSD2) aim to make electronic payments more secure within the EU. However, the new requirements may affect any online entity processing payments where both the seller and the buyer's bank are located in the European Economic Area (EEA). According to the new requirements, the identity of a user placing an online transaction must go through an authentication process by the customer's bank in order to fight fraudulent payments.
3. Billing Methods
Wix Payments is free to use, and doesn't charge transaction fees. On the other hand, a "processing fee" is a fee charged for every payment you receive through Wix Payments. Fees change respectively for regions as well as methods of payment.
To accept credit and debit cards payments, Wix Payments charges a processing fee of 2.9% of the transaction amount plus 0.30 USD. This is charged for every payment you receive through Wix Payments. Credit payments have the lowest fee and ever cheaper rates for transactions with European cards.
Billing Methods
Methods/Regions
With Wix Payments you can accept these different payment methods:
Major credit cards/debit cards: Visa, Mastercard, Maestro, Discover, AMEX, Diners, CUP and JCB
In terms of credit/debit card transaction fees for Wix Payments, they are as follows:
– EU countries: 1.9% of the transaction amount + 0.30 EUR

– United Kingdom: 2.1% of the transaction amount + 0.20 GBP

– Switzerland: 2.3% of the transaction amount + 0.30 CHF

– United States: 2.9% of the transaction amount + 0.30 USD

Other payment methods:
Wix POS (only in USA): 2.6% of the transaction amount + 0 USD

Pay Now (online bank transfer):

– Austria, Belgium, Germany: 2.5% of the transaction amount + 0.30 EUR

– Switzerland: 2.5% of the transaction amount + 0.40 CHF

iDeal: 2.5% of the transaction amount + 0.30 EUR

Giropay: 2.5% of the transaction amount + 0.30 EUR

Wix Payments alternatives as payment provider:
– Wix Payments: 2.9% of the transaction amount + 0.30 USD

– PayPal: 2.9% of the transaction amount + 0.30 USD

– Square: 2.9% of the transaction amount + 0.30 USD

– Pinwheel: 2.9% of the transaction amount + 0.20 USD

– Braintree: 2.9% of the transaction amount + 0.30 USD
Before Wix rolled out their own payment provider, users could receive payments through manual payments or payment processors such as PayPal. Since the adoption of Wix Payments, the only alternative that might be a better one remains PayPal because it accepts 25 currencies and is available in around 250 countries compared to the current use of Wix Payments of 5 currencies and only 14 countries.
Although, comparing to Wix vs Shopify Payments, the transaction fees are similar when you use their built-in payment processors. Wix is 2.9% and Shopify Payments is 2.4%. But Shopify take a percentage of your sales if you use a third party payment gateway. Wix on the other hand doesn't charge you for using third party payment gateway, so a bit of a win for Wix.
Minimum charge amount by region:
Europe countries: 1 EUR
United Kingdom: 1 GBP
Switzerland: 1 CHF
United States: 1 USD
Brazil: 1 BRL
Refunds:
Refunding customers in Wix Payments rule has changed as of the 16th of November 2020. Processing for refunded payments is no longer free or charge. The original processing fee for that customer's purchase will not be paid back to your Wix Payments account.
Note:
Refunds can take up to 3-5 business days
You can't cancel or reverse refunds
You can refund a customer for all or part of a payment they've made and refund the remaining amount later
Chargebacks:
Unlike a refund, a chargeback involves banks and payment networks. Upon the customer's request, a chargeback is called for if the goods or services are defected, not as described or not delivered at all. The funds will be automatically returned to your customer's credit card unless proven otherwise.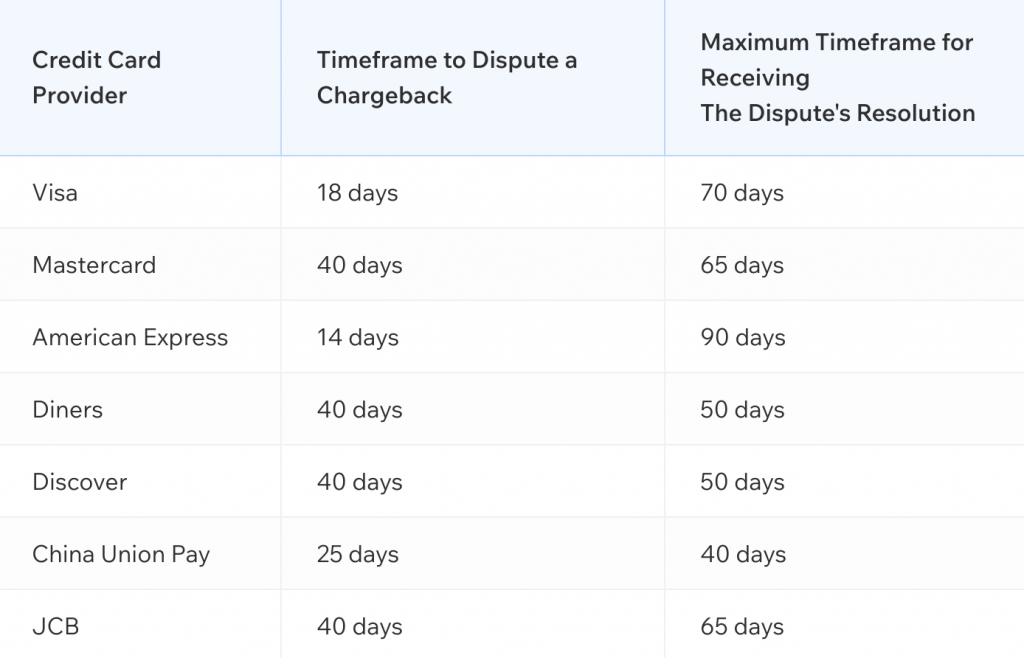 4. Pros and Cons of Wix Payments
Since Wix Payments is a relatively new feature, there still aren't many detailed experiences by users. There are many clearly visible perks and benefits, as well as upsides in terms of its conditions compared to other eCommerce platforms. However, as mentioned that Wix Payments is unavailable in many countries, and that is probably the biggest con at the moment. Here are some advantages and disadvantages that might make you change your mind.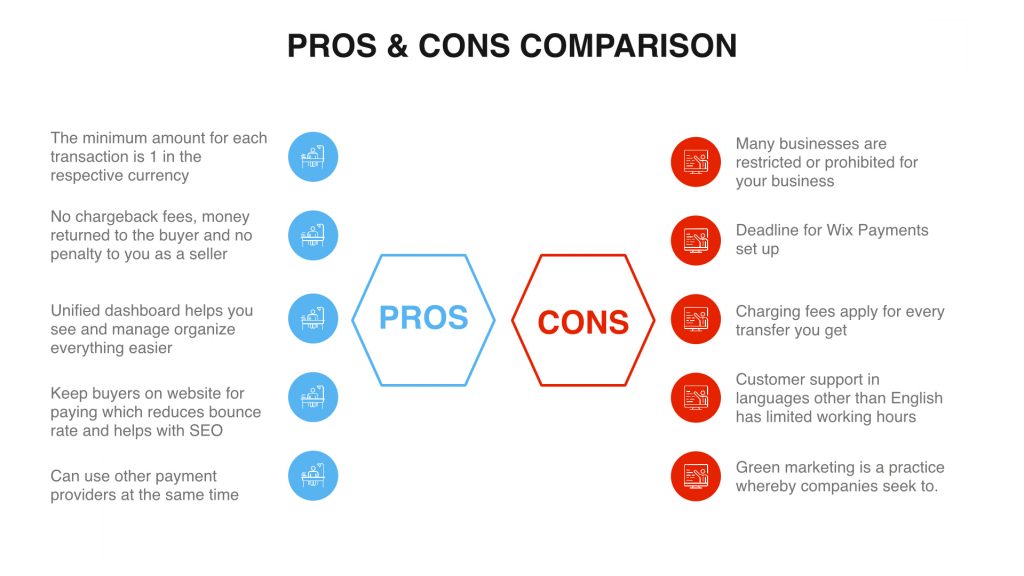 How to set up Wix Payments?
You can easily set up Wix Payments if you already have a Business or eCommerce plan. If not, you have to upgrade to one of these options, otherwise you won't have access to Wix Payments.
Wix Payments can also be used with most of Wix's Services such as Wix Stores, Wix Invoices, Wix Bookings, Wix Art Store, Wix Music, Wix Video, Wix Event, Paid Plans or Covid by Wix.
Once you have an eCommerce or Business plan, here are the 2 simple steps to setup Wix Payments:
Step 1: Complete your account setup form
From 'Settings' in the sidebar click on 'Accept Payments' in the 'eCommerce and Finance' section.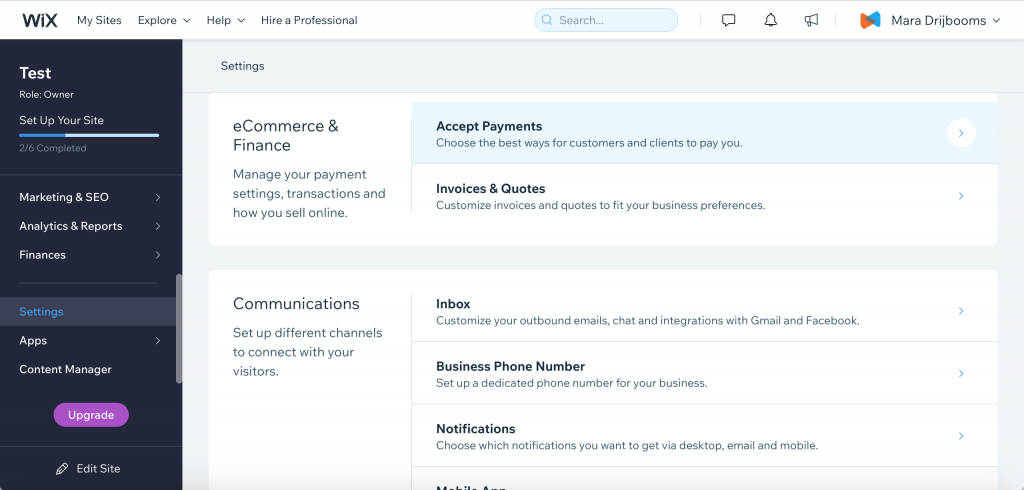 Select Wix Payments as one of your payment methods then click on 'Connect Me'.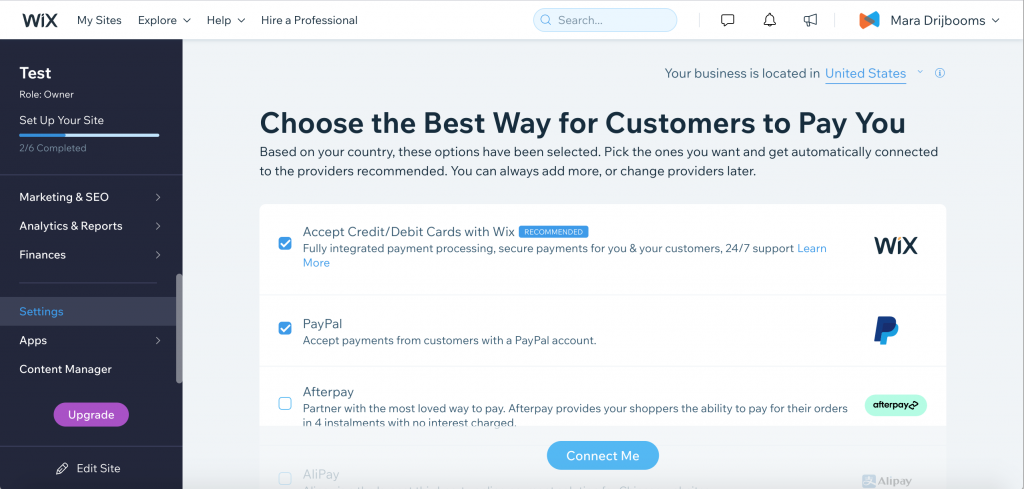 A list of prohibited products or services that are banned to be sold will appear. It is important to make sure you and your business aren't selling products or providing services that fall on this list. Products and Services that appear here like CBS oil aren't supported by Wix Payments and your account won't go through. Once you've reviewed the list, then proceed to the bottom of your form and press on 'I confirm that i'm NOT selling any of the above'.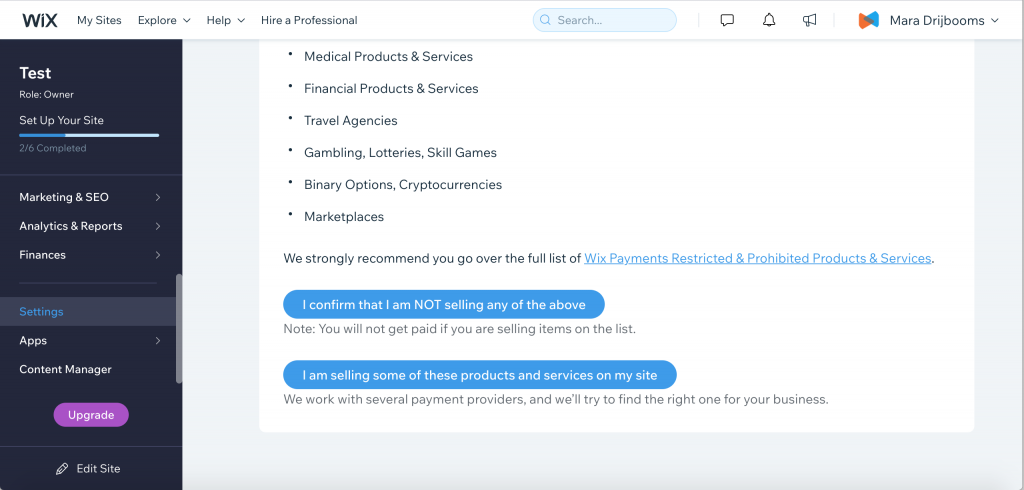 Then click on 'Complete Account Setup'. You will be led to the Payment Methods page then click on 'Complete Setup'.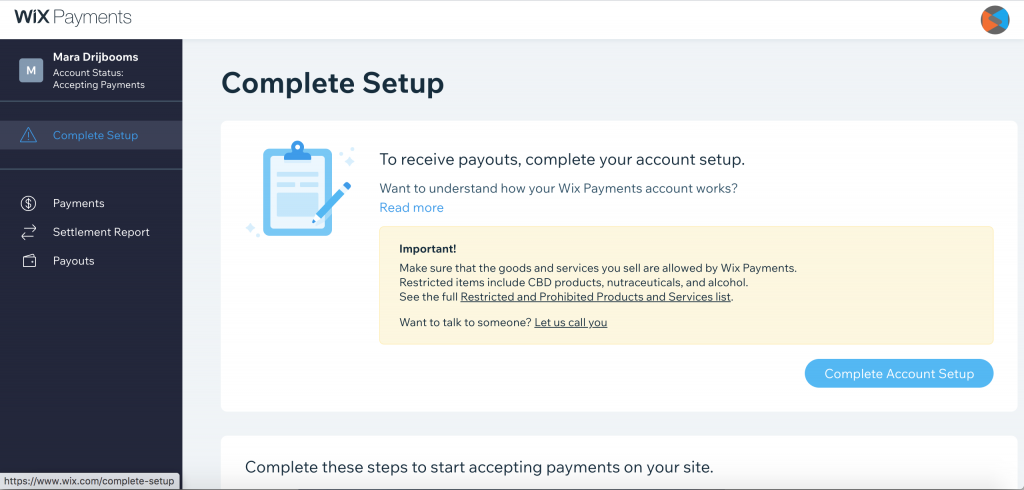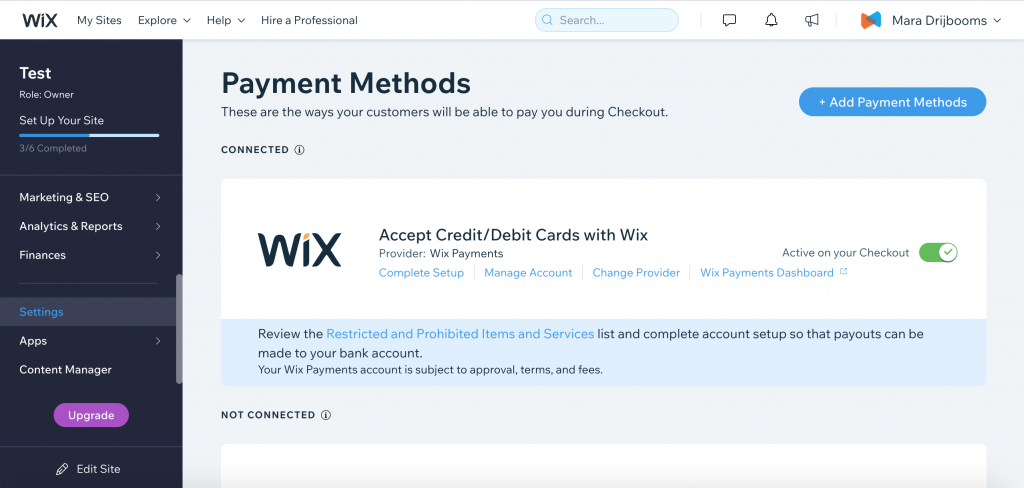 Fill out the 'Account Details' form with your personal, business and bank account details. While setting up, Wix will ask you to state your business type. Make sure you fill out your information carefully and choose the right option, because you cannot change this later.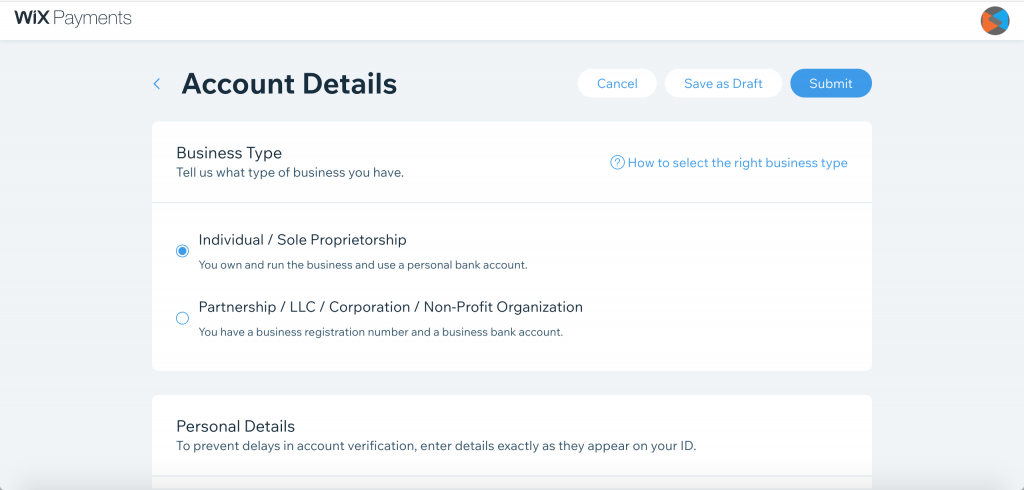 Choose the type of business you have in the 'Business Type' part.
Complete your bank account details next for your payouts
(Note: the bank account must be under the same person as entered above)
Afterwards, upload a statement or document (jpg, png or pdf) from this bank account so Wix Payments can verify your bank details
(Note: it should clearly show the bank logo, account number, and account holder name)
Don't forget to accept the Terms and Conditions of Wix Payments before you submit your form.
Step 2: Wait for account verification and approval
Approval can take several business days. Wix will notify you via email and in your Wix dashboard when your account is active, once your account is complete you'll receive regular payouts right to your bank account.
Keep in mind that Wix Payments may ask you to provide additional documents in the future, this may be to verify your identity when you pass a certain sales threshold or other situations.
Warning:
If you do not complete account setup within 30 days, your Wix Payments account will be suspended and you will not be able to accept any more payments through your site.
If you do not complete account setup within 60 days, your customers will receive previous transactions.
FAQ
1. How often do I receive payouts?
You can choose a payout cycle so that payouts are sent daily, weekly, or monthly depending on your individual needs. Remember to allow three to five business days for funds to land in your account.
2. Wix's built in payment gateway is currently only available in the following countries and currencies:
Austria (EUR)
Belgium (EUR)
Brazil (BRL)
Finland (EUR)
Germany (EUR)
Great Britain (GBP)
Ireland (EUR)
Italy (EUR)
Lithuania (EUR)
Netherlands (EUR)
Portugal (EUR)
Spain (EUR)
Switzerland (CHF)
United States (USD)
3. Can I sell in multiple currencies?
Wix Payments does not have that option yet. Although they support five different currencies, you have to choose one for your store. It's not possible to sell in multiple currencies at once. The currency of your store will depend on your bank account's location, or the country of your business' registration.
4. What types of businesses aren't allowed to use Wix Payments?
Prohibited products and services list Wix Payments doesn't allow to be sold:
CBD
Tobacco and Alcohol
Firearms and weapons
Adult Content and Services
Medical Products and Services
Financial Products and Services
Travel Agencies
Gambling, Lotteries, Skill Games
Binary Options, Cryptocurrencies
Marketplaces
Conclusion
In conclusion, Wix Payments is a very helpful feature for your eCommerce Wix website. The main benefit to Wix Payments is that it keeps customers on your site for checkout, rather than directing them to a third party page.
However, if your country or currency is unavailable, PayPal remains a good universal alternative. You'll have a harder time organizing your transactions, but the market is a lot wider by using PayPal.
Wix Payments is also a fairly new update, and will most likely expand in more and more countries and currencies. Therefore, a lot of customers still feel safer and happier using a payment processor they trust, such as PayPal, to cover all bases. The best possibility is to have multiple checkout options giving your customers greater control and flexibility over how they want to purchase your products or services.
Hope this article contains the answers your questions and helped you make a decision.
If you are planning on migrating from a platform Wix or any other platforms, LitExtension team is willing to help! As the world-leading shopping cart migration tool with 150,000+ successful migrations for 50,000+ worldwide customers, LitExtension can transfer all your data including products, customer orders automatically, quickly, and accurately, especially, with no technical skills required.
Join our Facebook Community to get more eCommerce tips and news.