It has arrived ! 1.7.6, the most ambitious version of PrestaShop, is launched!
This release includes many front and back office optimizations, bug fixes, and new features that will boost your store's potential at every step of its evolution.
You will be able to:
strengthen the commitment of your users
profit from a better highlight of your products (SEO)
target a wider audience
What's new in version 1.7.6?
Version 1.7.6 of PrestaShop has been shaped around 3 key words in order to support the development of online stores: performance, acquisition & conversion, and internationalization.
With PrestaShop 1.7.6, merchants benefit from new features, increase the engagement of their users, a better highlight of their products and reach a wider audience.
Performance of tools
PrestaShop 1.7.6 allows merchants to improve customer satisfaction, rise productivity, and efficiently optimize their online store.
1. Experience
New design for transactional emails (optimized for mobile screens), which strengthen the customer relationship and communications;
Optimized theme navigation at all key stages of the purchasing process to improve customer reassurance and conversions;
Enhanced stability of the software with more than 100 bug fixes from previous versions and an optimized quality process.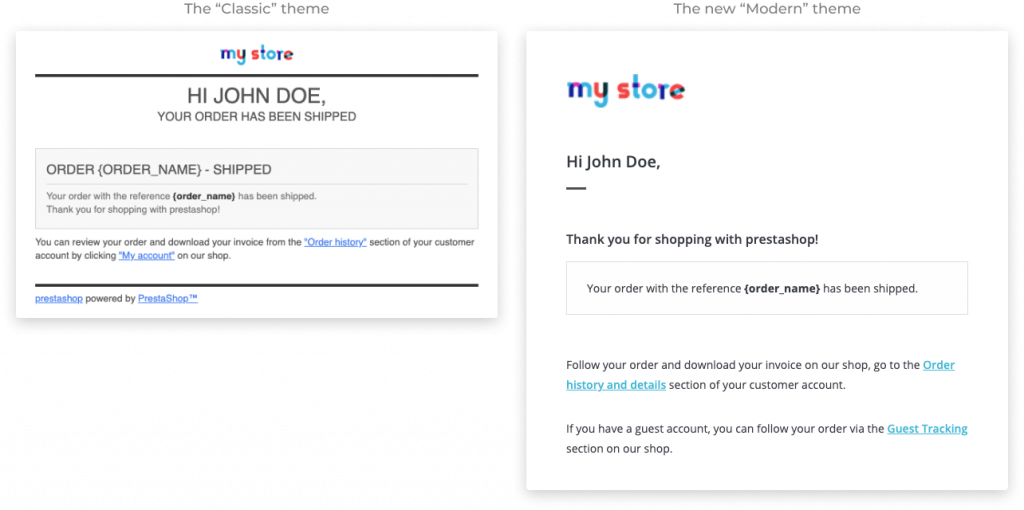 Transactional emails
2. Administration
Optimized back office on mobile devices;
Management and preview of transactional emails directly from a new back-office page (Email Theme);
Overview of prices including tax from the back office product catalog page.
3. Conviviality & accompaniment 
Help cards for the most important pages in the back office (Category, Customer and Employee pages);
Dynamic preview of SEO on search engines: product page, category, content page (CMS);
Direct access to resources (documentation, training, agencies, help center…) from the profile used.
Conversion & Acquisition
PrestaShop 1.7.6 allows merchants to generate traffic and increase sales.
1. Conversion
New feature: Customers Reviews;
New faceted navigation (for sorting and filters) on the category and listing pages with the addition of a price slider
Ability to enable or disable the display of prices for showcase sites in "catalog mode";
Added watermark feature – developed by the Community.

Customer reviews
2. Traffic
Rich Snippets feature added to the Customer Reviews module.
SEO optimization for products with variations.
It's time to update your store!
LitExtension provides the best solution to upgrade your store to Prestashop 1.7.6. If you are looking for upgrading your Prestashop store to 1.7.6, Please check LitExtension Prestashop Upgrade to 1.7 and get started migration now.