The global B2B market is on the rise. Therefore, figuring out the best B2B eCommerce platforms has been on the mind of many e-merchants.
Understanding your concern, LitExtension – #1 Shopping Cart Migration Expert, has spent a whole year (from February 2022) conducting in-depth research into the eCommerce world to select the top B2B eCommerce platforms for your business.
Here are our recommendations on the best B2B eCommerce platforms to expand your business:
And, in the latter part of this article, let's discover what is B2B platform and all the must-have features for B2B eCommerce platforms.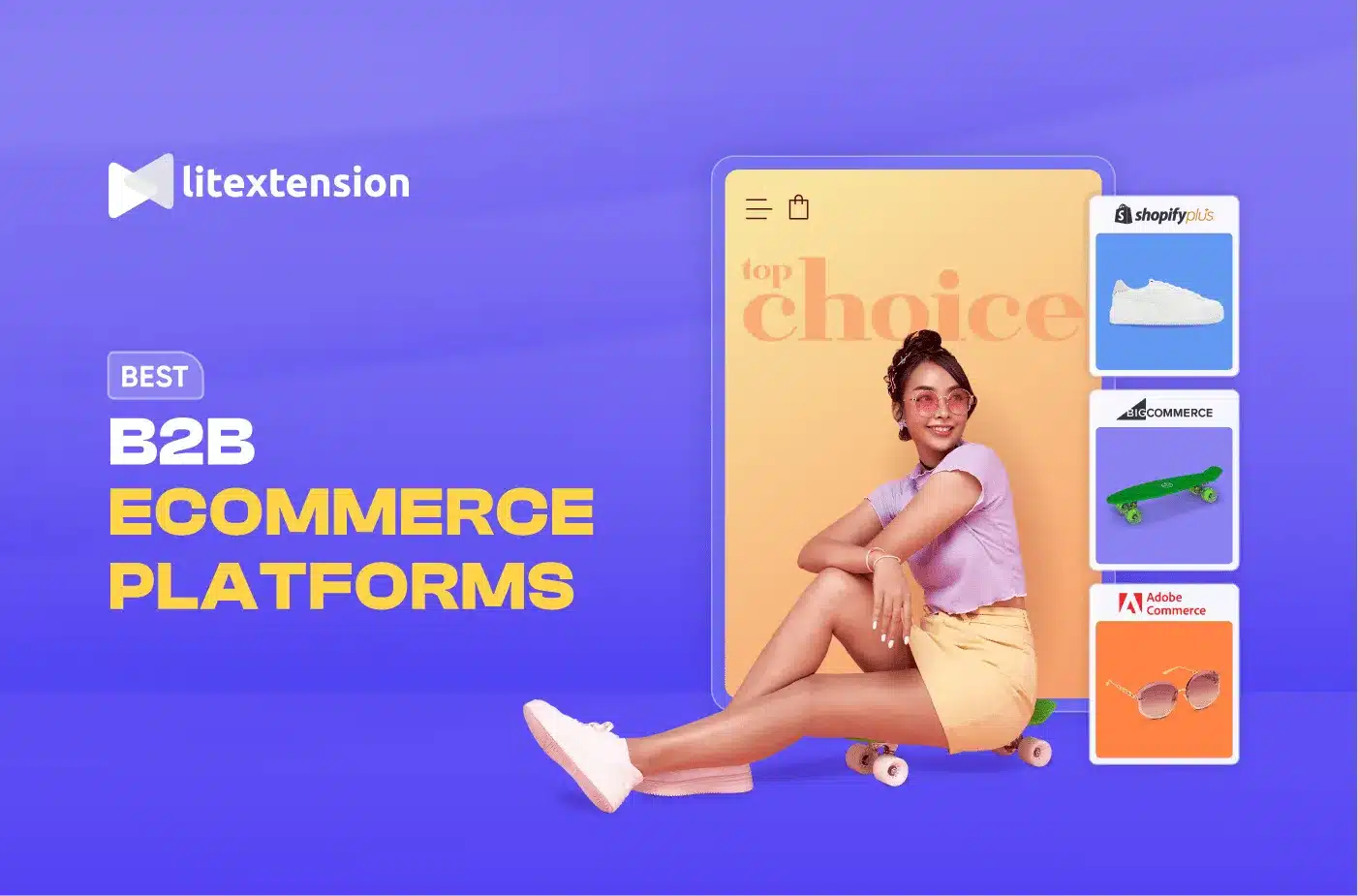 ---
What are the Top B2B eCommerce Platforms?
#1. Shopify Plus
It is the enterprise edition of Shopify, one of the most powerful online shopping carts in the eCommerce market. Shopify Plus offers the same core dashboard and features as Shopify, however, it's safe to say that this platform gives more tools and B2B functionalities. You can refer to our "Shopify vs Shopify Plus – The Ultimate Comparison" to take an in-depth look at the key differences between these two.
Curious about how to create a Shopify store? Check out our less-than-10-minute Shopify setup tutorial:
Talking about best B2B eCommerce platforms, I must state that Shopify Plus is gaining universal recognition for a prominent solution. There are more than 12,000 B2B eCommerce websites choosing this best B2B platform.
They include the world's best brands like Nestle, Unilever, Kylie Jenner, Hawkers, and so on.
Are you ready to start a new adventure with Shopify? Check out our Shopify resources now to learn everything you need to know about this eCommerce platform:
Shopify Review: Is Shopify The Crown Jewel of The eCommerce World?
Top 10 Best Shopify Themes – Have You Got One?
Shopify Tutorial: 9 Complete Steps to Get Instant Sales
Security
As one of the best B2B eCommerce platforms, Shopify Plus is a 100% secure solution. It is a great idea for B2B merchants who want to have a safe and secure platform to base their online business on.
For credit card processing, Shopify Plus is Level 1 PCI DSS compliant. You needn't do anything or pay any cost.
The customer data is secure thanks to the application of GDPR, the toughest privacy and security law in the world.
Shopify Plus has an excellent fraud prevention system – built-in SSL certificate and a secure back-end to keep your store and customer data safe.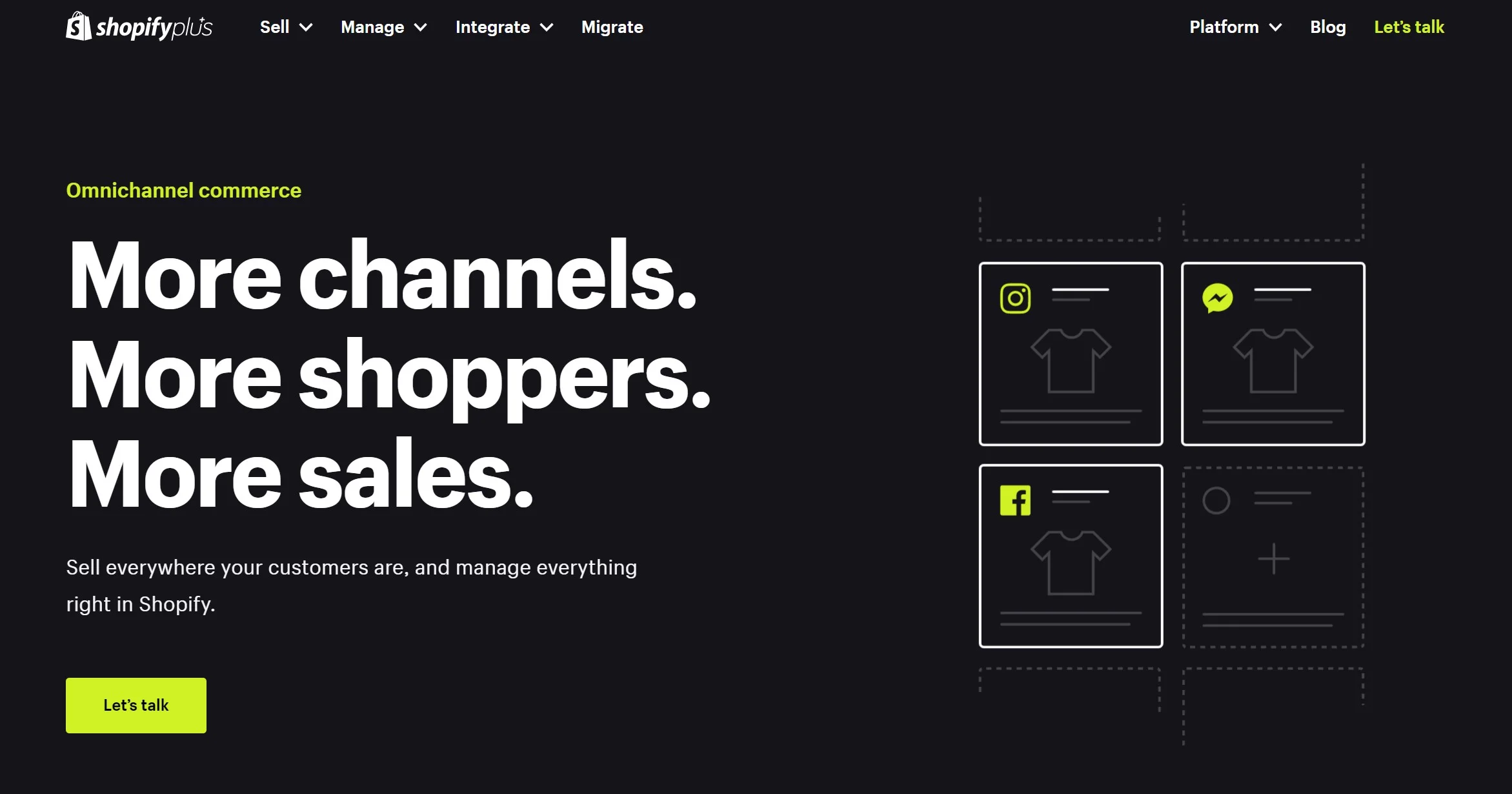 Omni-Channel
As one of the best B2B eCommerce platforms, Shopify Plus grants you access to 23 sales channels available from your dashboard. You can sync inventory, orders, and customers' information across all channels from one central place. It also allows B2B businesses to sell online and in-store with Shopify POS system.
Internationalization
Shopify Plus offers Shopify Payments, which makes selling in multiple currencies seamless, simple, and scalable based on our testing of the product. Especially it automatically chooses suitable currency for your customers based on their IP addresses.
When it comes to multi-language stores, Shopify Plus allows merchants to translate into 20 different languages.
To scale internationally, tax calculations for specific countries should be taken into account. In terms of Shopify sales tax, the platform integrates with several third-party add-ons to make your tax work a breeze.

Wholesale
Shopify Plus delivers an automated wholesale experience at any required scale. B2B buyers have the ability to purchase, track, and reorder products. They can also review wholesale orders before invoicing.
This B2B selling platform offers Wholesale Channel that lets store owners:
create a wholesale store that has a different storefront from their current online store
customize the prices that they offer to their wholesale customers and process order placing
Additionally, among other top B2B eCommerce platforms, Shopify Plus comes with a wide selection of the best Shopify apps for wholesale. You can integrate with these third-party plugins to enhance your B2B sales features.
Customization
Shopify is a hosted platform. Therefore, when it comes to B2B eCommerce platform comparison in customization, it cannot be compared with open-source solutions like Magento, in all honesty. However, it allows merchants to customize the look of their checkout for a pleasant customer experience by utilizing Scripts Editor. This is one of the huge innovations of Shopify for their Plus plan over standard plans.
Want to Grow Your Business on Shopify Plus?
If you intend to migrate to Shopify Plus, LitExtension offers a great migration service that helps you transfer your data from the current eCommerce platform to a new one accurately, painlessly with utmost security.
#2. BigCommerce B2B Edition
When looking at the best B2B eCommerce platforms, you'll want to consider BigCommerce B2B Edition. We personally think this is one of the top B2B eCommerce sites for mid-market and enterprise brands.
This top B2B eCommerce platform is known for its low total cost of ownership and ability to easily integrate with mission-critical systems (ERP, PIM, CRM, etc.) through versatile APIs. It also offers a variety of eCommerce features that support the complexities of B2B businesses, whether you're a wholesaler, manufacturer, distributor — or selling both B2B and B2C.
Here are several big brands that are using BigCommerce for B2B: Avery Dennison, Tectran and Black Diamond.
BigCommerce continues to earn recognition as a top-rated SaaS platform for B2B eCommerce. Our Open SaaS approach gives B2B sellers the power to configure their technology to their business needs while creating beautiful, personalized B2C-like shopping experiences.

Brent Bellm, CEO at BigCommerce
Security
This is the utmost concern of all B2B eCommerce companies, and every part of the BigCommerce platform is built with security top of mind.
With a move to the Google Cloud Platform, BigCommerce's security benefits have only increased based on our experience. Additionally, BigCommerce offers merchants a reliable, secure and scalable platform by:
ISO/IEC 27001:2013 Information Security Management Certificate compliant
Certified as a PCI DSS 3.2 Level 1 Service Provider
Secure coding and business practices from OWASP and CIS
Providing SSL certificate provided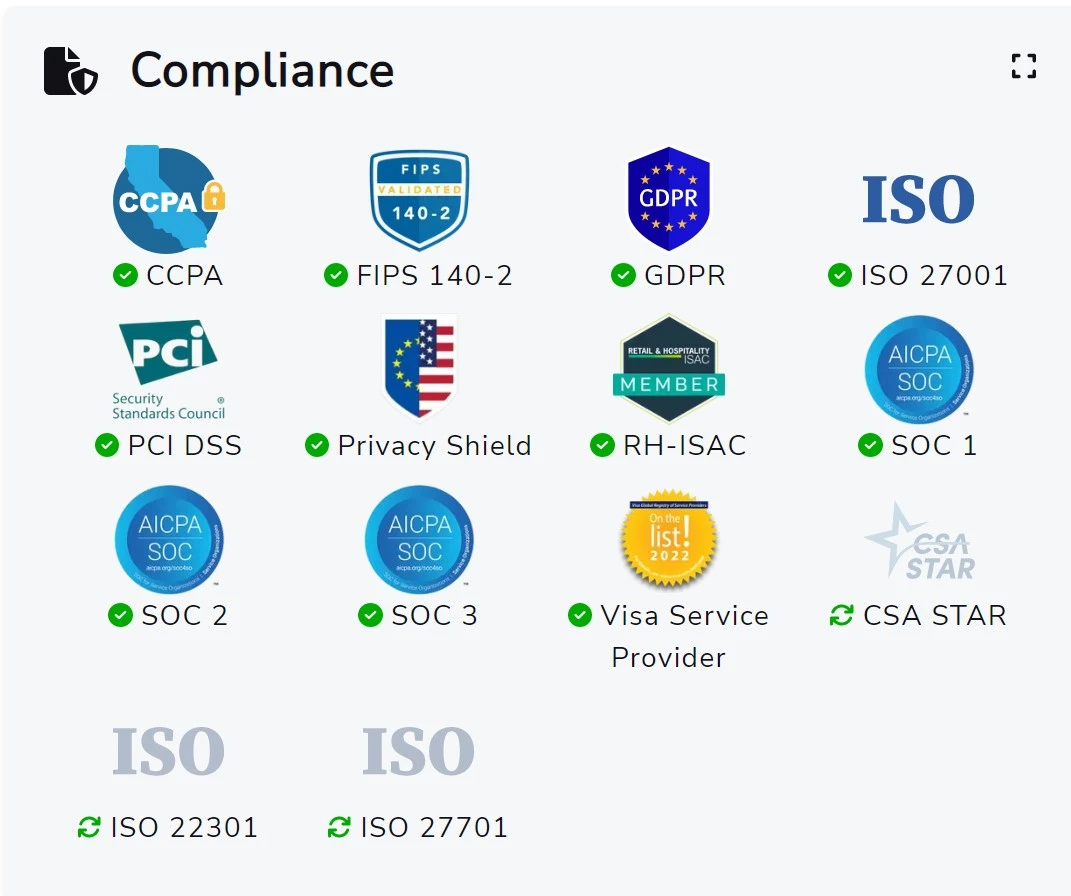 Internationalization
Expanding internationally is a key growth lever for B2B merchants, and BigCommerce supports many of the fundamental functionalities that enable selling into a new market, including currency, payment methods, taxes and language. For instance:
BigCommerce Payment supports 100+ currencies. Additionally, it even allows store owners to set specific prices per product, per currency, giving store owners full control of their pricing and promotional strategies when selling internationally.
This B2B eCommerce solution offers several BigCommerce payment gateways. As a result, merchants can choose the best one for the targeted markets.
BigCommerce B2B merchants can either set these up manually within the control panel or automate their sales tax calculations.
BigCommerce also helps to localize content and conversion tools, using Stencil, a BigCommerce front-end development framework.
Customization
Our impression is that BigCommerce is designed to enable users easily make changes to their sites while also giving technical users the freedom for more extensive customization.
For instance, using Page Builder, you can seamlessly create and edit pages on your site and customize storefront attributes, such as colors and fonts, with no coding required.
For further customization, B2B Edition allows you to adjust the placement of app elements, display text, styling, and checkout configurations. You also have access to the lifecycle methods for many modules to inject your own JavaScript functions.
Additionally, you can use the REST API to create, read, update, and delete items such as orders, companies, addresses, payments, sales reps, and users. This API allows you to build your own services or integrate with critical business systems, such as ERPs and CRMs.
Get inspired by the best BigCommerce storefront designs that can take your B2B eCommerce websites to the next level.
Need Help To Migrate Your Store?
LitExtension provides a well-optimized BigCommerce migration service that will help you transfer all your data accurately, and painlessly with utmost security.
Wholesale
As one of the best B2B eCommerce platforms, BigCommerce B2B Edition also offers powerful features and functionality to support wholesale commerce, such as:
Payment method visibility control
Set Buyer Roles and Permissions
Invoice Portal
Sales Rep Masquerade
Restricted Login
Customers Requested Quotes
Customer Groups
Quick Reorder
Visit the BigCommerce website to learn about all the features of B2B platform and watch a demo.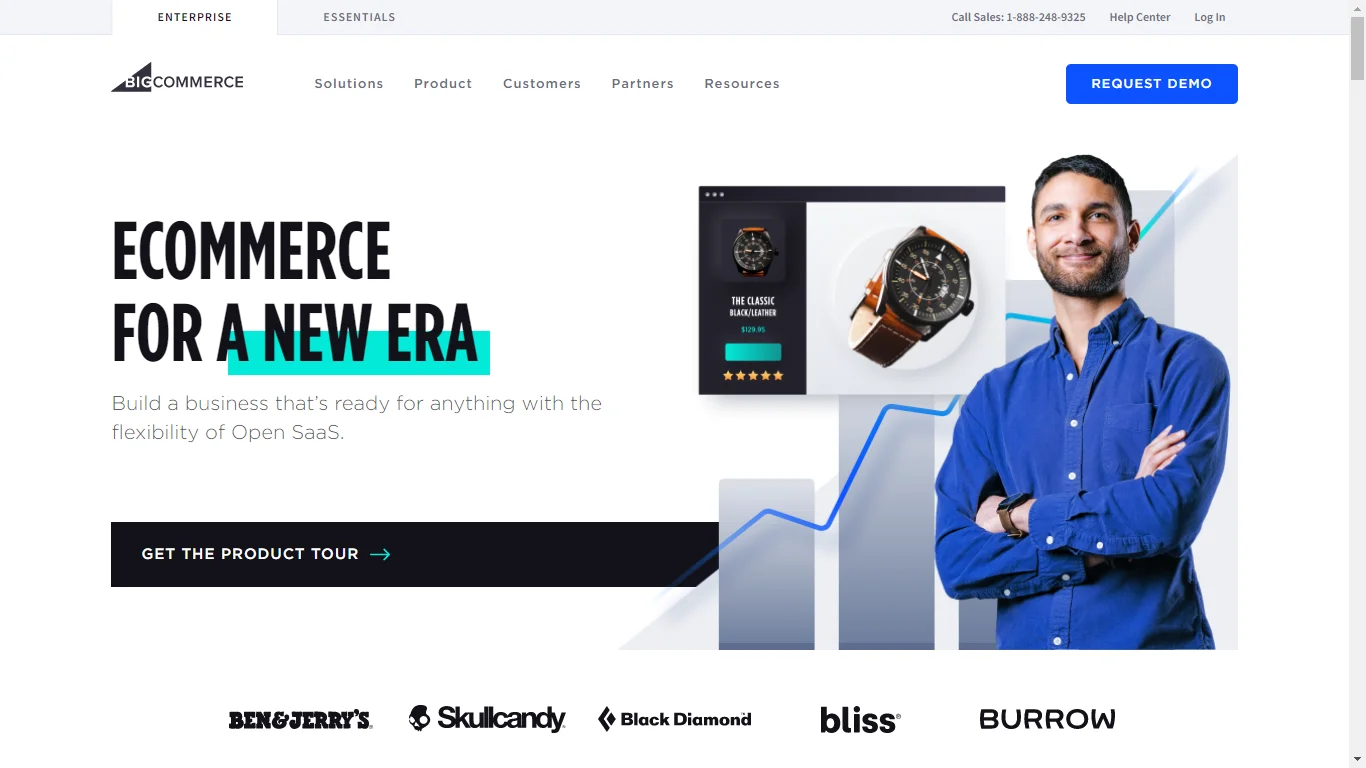 Omnichannel
Through Channel Manager, BigCommerce offers integrations with many of the top social media platforms and marketplaces, including:
Amazon & Amazon Multi-channel Fulfillment (MCF)
eBay
Facebook
Instagram
Pinterest
Google Shopping
Mercado Libre
Walmart Marketplace
#3. Adobe Commerce (Formerly Magento Commerce)
Being one of the top B2B eCommerce platforms, Magento has made waves due to its high customizability and scalability. Therefore, in our humble opinion, it is a sensational option for those in search of the best B2B eCommerce platforms.
After the acquisition by Adobe, Magento currently has two editions. The first is Magento Open Source (previously Magento Community) – a free version that requires Magento hosting. The other is Adobe Commerce, previously Magento Enterprise, which is the premium version of Magento.
In the comparison between Magento Commerce vs Magento Open Source, Magento Commerce brings a better commerce experience to customers. This enterprise-grade eCommerce platform offers a richer set of out-of-the-box features, including B2B data, functionalities, security, customizable solution, etc.
Some of the popular brands using Adobe Commerce are Rural King, JCB, Bulk Powders, and so on.
Access our resources on Adobe Commerce (formerly Magento): 
Internationalization
We personally think that Adobe Commerce has comprehensive internationalization features to support merchants with very high sales volume.
The B2B eCommerce platforms support currency from more than 200 countries. Currency rates can be updated manually or imported into your store as needed.
Merchants can customize and localize the store for multiple regions and markets with Localization.
Adobe Commerce also automatically calculates tax for transactions in the EU with VAT-ID validation & supports fixed product taxes, such as WEEE/DEEE in the EU.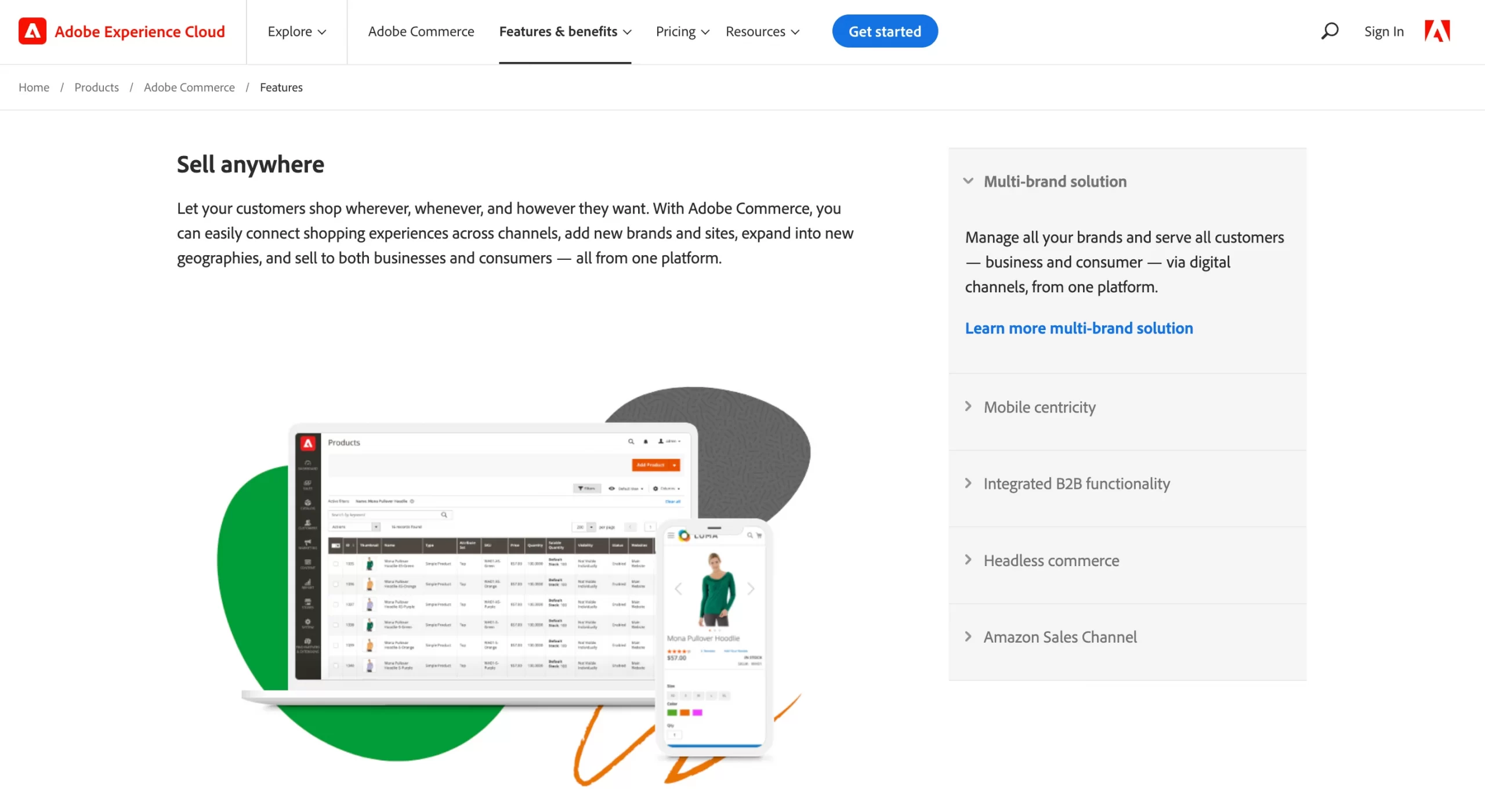 Customization
With open access to its source code, Adobe Commerce grants you endless ability to modify your online store.
The Adobe Commerce frontend is designed to optimize storefront customization.
This B2B eCommerce software provides tools to help you improve the storefront customization process more efficiently.
Merchants can modify the management screens to speed up their daily tasks.
You can also take advantage of third-party extensions from Magento Marketplace to make your online store outshine opponents. There are more than 1,700 third-party extensions that support both Enterprise Edition and Cloud Edition for you to choose from.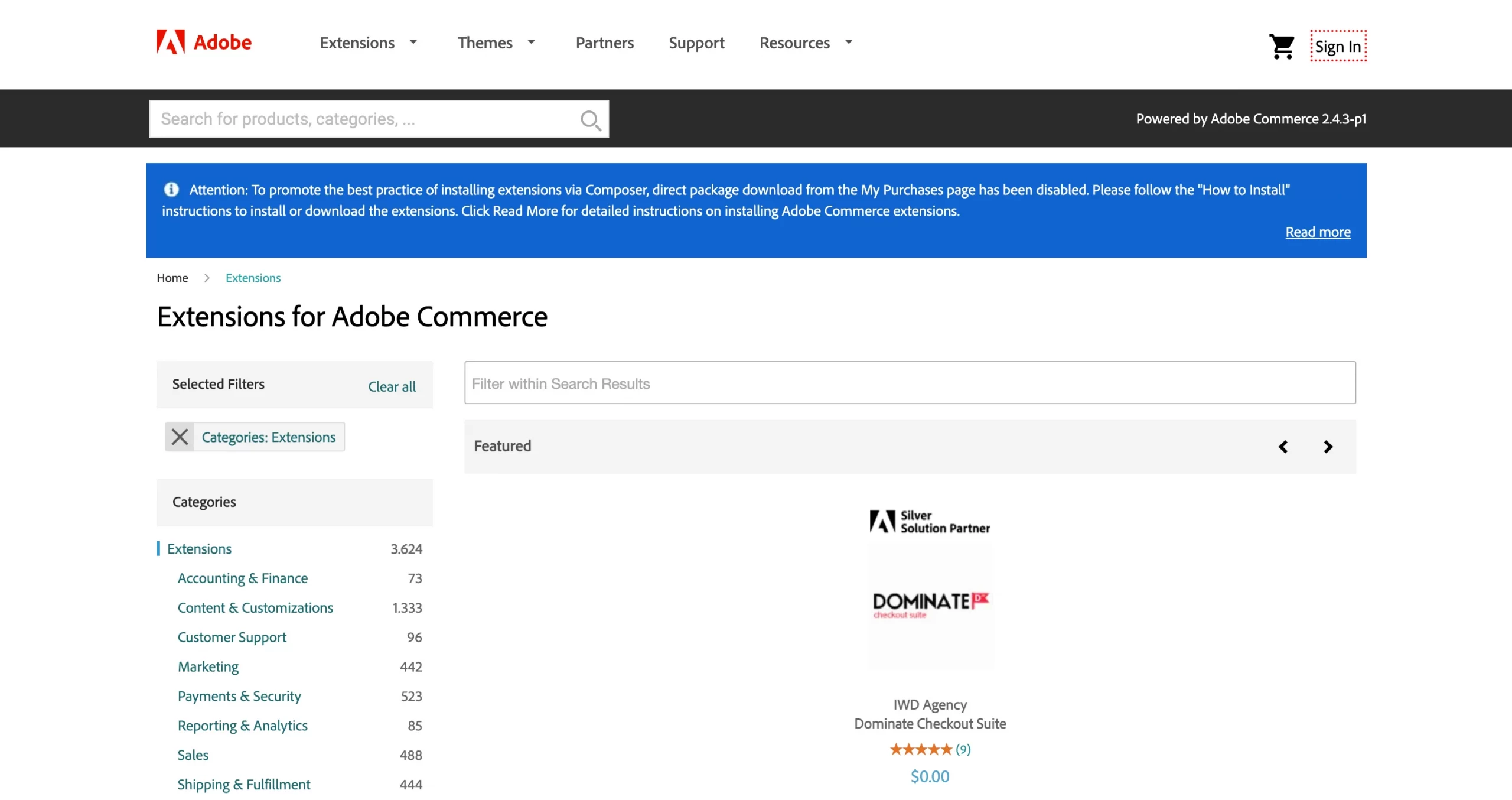 Wholesale
Being among the best B2B eCommerce platforms, Adobe Commerce includes everything you need to manage B2B eCommerce sites.
Your B2B customers can manage their company accounts themselves and set up multiple tiers of buyers with specific roles and permissions. They can also track quotes, view order histories in detail, and manage their credit online.
Besides, Adobe Commerce helps your B2B buyers to maximize their sales by accepting Payments on Account. This offline payment method allows them to make purchases up to the credit limit, which is specified in their profile.

Security
As I've mentioned before, security is one of the most concern factors for all B2B eCommerce platforms. With that being said, it seems to us that Adobe Commerce surely provides superior security. This solution offers you Magento Security Scan Tool and a dedicated Security Center to get the latest patches, security updates, and best practices for your sites. Adobe Commerce is also PCI certified as a Level 1 Solution Provider.
Here are some elements of Adobe Commerce security environment:
SSL certificate
Content Delivery Network (CDN) & DDoS Protection
Web Application Firewall (WAF)
Virtual Private Cloud
Penetration testing
Payment Gateway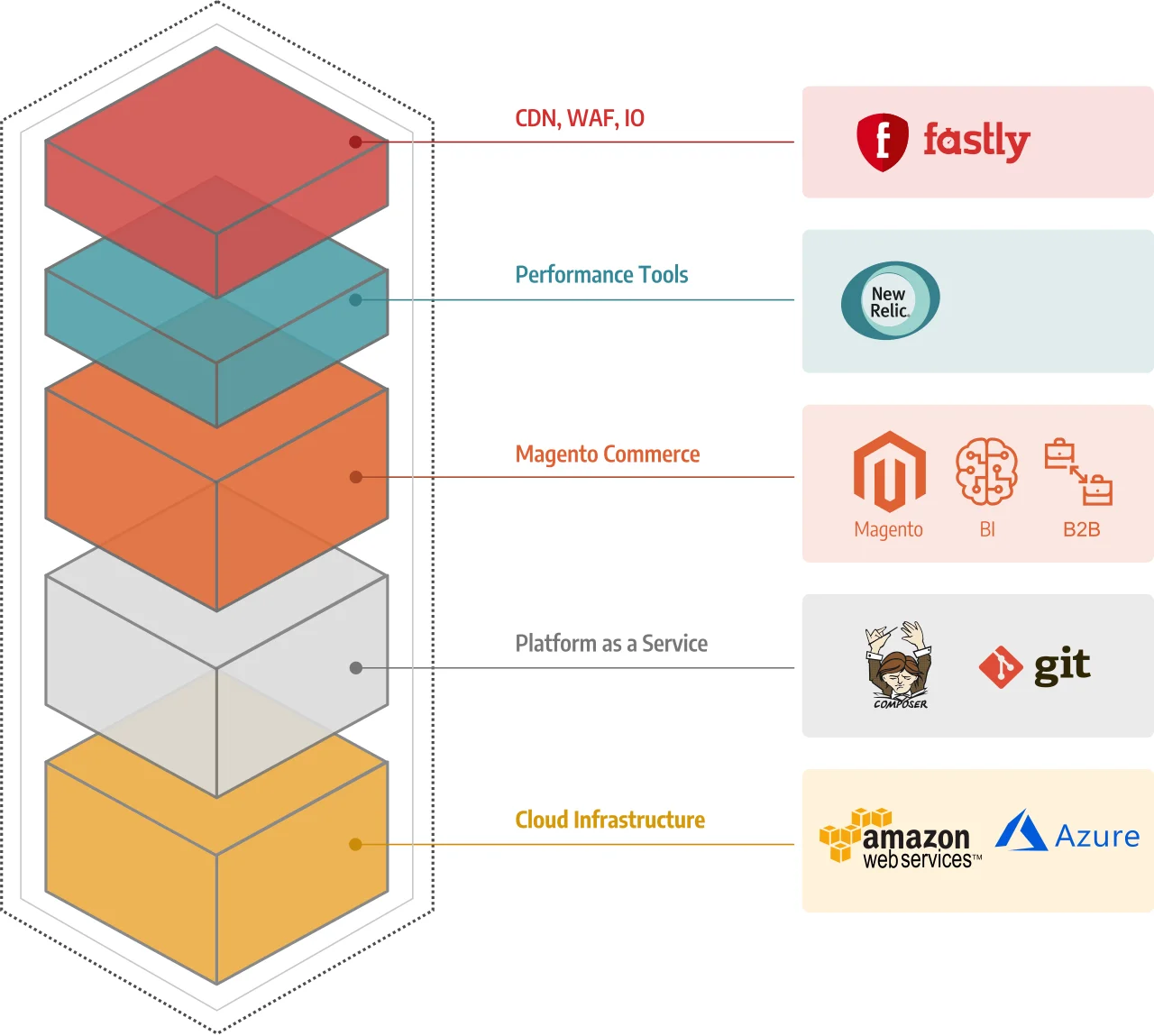 Omnichannel
Adobe Commerce helps merchants to meet the needs of customers by creating world-class omni-channel experiences.
Our impression is that Adobe Commerce offers Order Management System to sell from and fulfill from anywhere. Merchants can consolidate global inventory, intelligently source items for fulfillment, and enhance customer service. For example, it unites multiple eCommerce channels by handling complicated order and fulfillment needs like back-order and BOPIS (Buy Online Pick-up In-Store).
What's more, the owner stores can use Magento Business Intelligent (BI) to find out the most profitable customers. You sell through multi-channel, for instance, BI can query your entire data warehouse, analyze your products, etc, to identify new growth chances.
Need Help To Migrate Your Store?
If you're considering switching your eCommerce platform to Magento (Adobe Commerce), LitExtension provides a fulfilling solution to ensure a smooth, secure, and error-free transition.
#4. OroCommerce
We have no doubt that this is among true flexible, enterprise-grade B2B eCommerce platforms built from the ground up for B2B duty. It's ideal for manufacturers, distributors, wholesalers, suppliers, multi-channel, and marketplace sellers of any size.
This platform offers two editions, a free Community Cloud and a paid Enterprise Edition that supports multiple websites, currencies, and cloud hosting with OroCloud.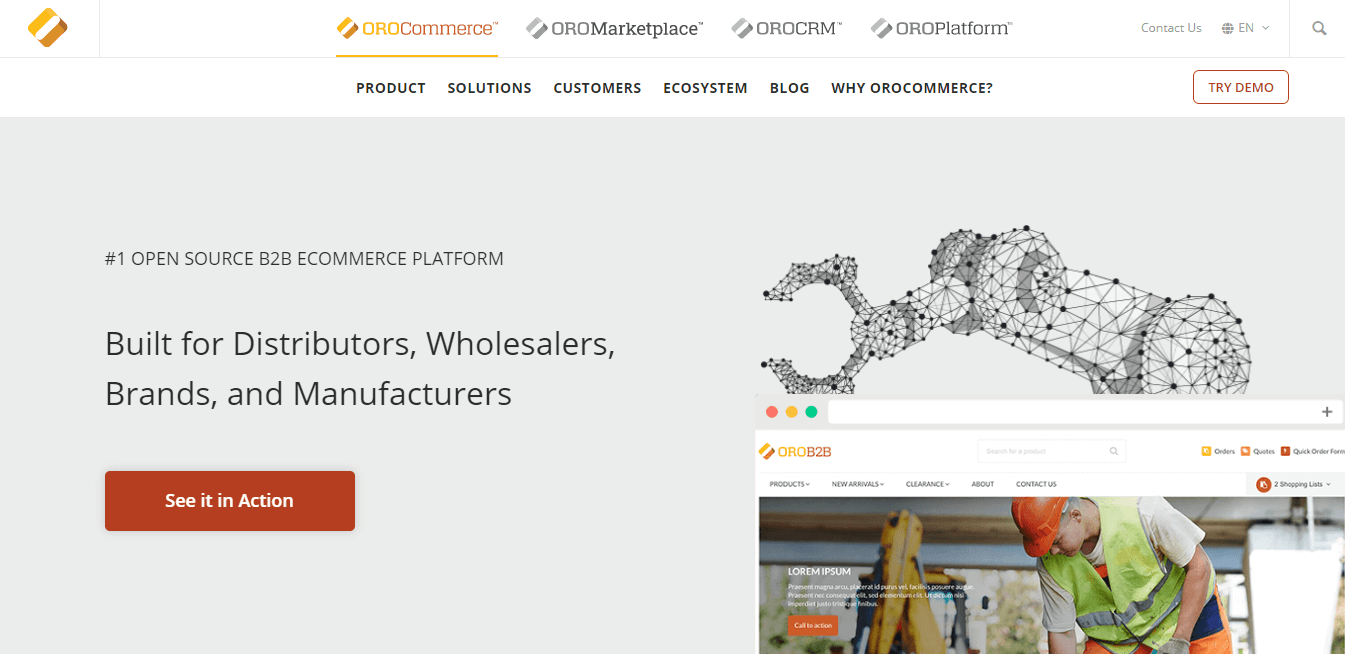 Based on our testing of the product, OroCommerce includes many powerful B2B features out of the box, such as reporting, segmentation, automation tools, and so much more. Aside from the open-source architecture, it comes with dynamic APIs, the latest infrastructure technologies, and a large ecosystem of solution integrators and partners.
Furthermore, OroCommrece offers a built-in CRM system at no additional cost.
Some of its big customers include Igual, Animal Supply Company, Petra Industries, and Saltworks.
Security
As a top B2B eCommerce platforms, it focuses on iron-clad protection of customer data, payment information, and access permissions and includes the following:
Role-based ACL security
PCI DSS Compliance
SOC 2 Type 2 Certification
Internationalization
OroCommerce brings strong localization features, supporting numerous languages, currencies, and tax rules. From our perspective, it's ideal for international organizations or those operating with multiple brands, websites, and storefronts.
Yet, offering the right website content isn't enough. This platform allows you to integrate multiple payment gateways tailored to every region.
Aside from payments, your B2B buyers can use local shipping carriers or shipping methods, leading to greater customer satisfaction and repeat business.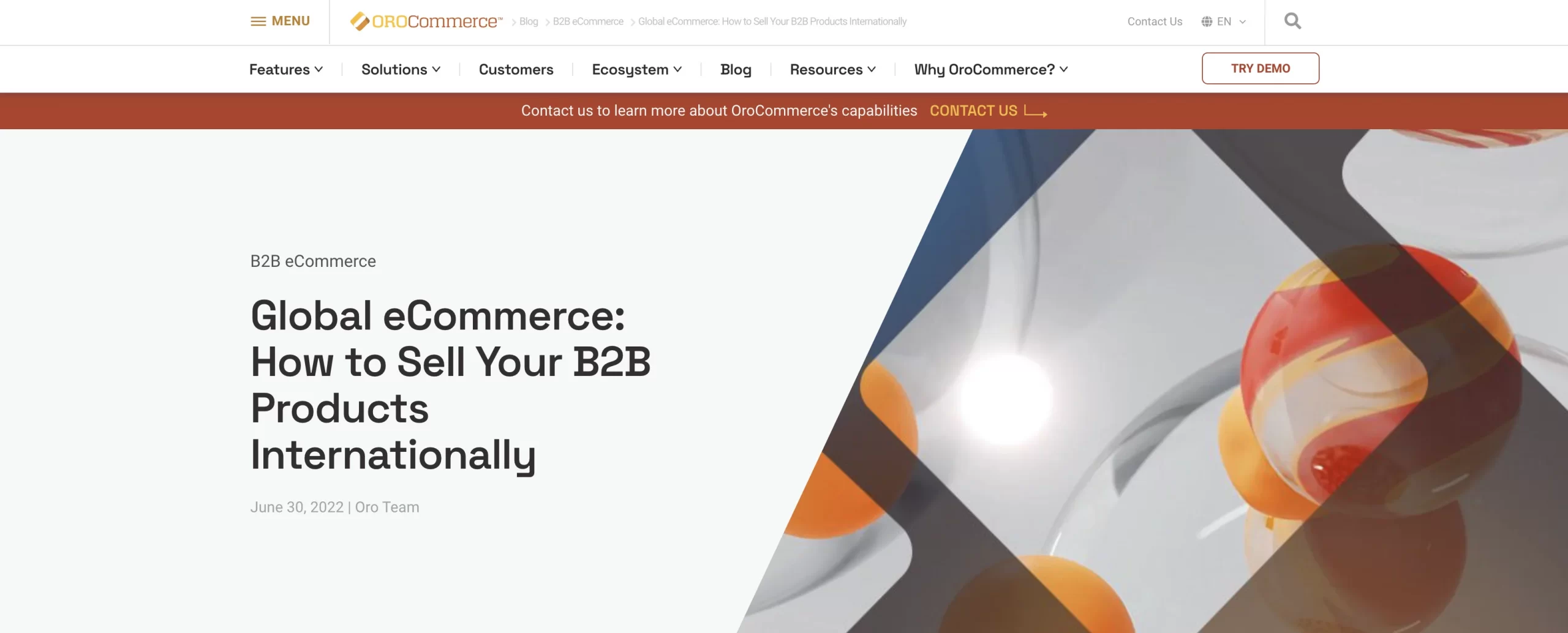 Customization
Being an open-source platform, OroCommerece offers near-limitless ways of building up, extending, and integrating the software to realize some of the most complex B2B use cases. Furthermore, merchants can grant the ability to create new storefronts or sell through separate models such as B2C, D2C, or multi-vendor marketplaces.
Additionally, Oro boasts an integration marketplace, which is not only to find Oro integrations to extend functionality but also a community for partners to display their extensions.
Wholesale
OroCommerece is built with enterprise B2B brands in mind, which we believe brands can confidently grow and develop their business without thinking about re-platforming.
Oro's infrastructure supports millions of SKUs and transactions, allowing you to offer unique, personalized experiences to customers regardless of how big your sales teams or customer base grows.
You can give customers the option to place quick orders, work with shopping lists, or involve other decision-makers to approve purchases.
You can personalize the customer experience with tailored pricing, checkout, and invoicing according to buyer needs.
Omnichannel
B2B brands can offer omnichannel experiences with a single customer view from OroCRM, a built-in CRM as part of OroCommerce. You can launch targeted campaigns, personalize product catalogs, or alter promotions when needed. With its powerful integration capabilities and robust APIs, OroCommerce integrates with ERP, CRM, PIM, or procurement systems of choice.
#5. eWorldTrade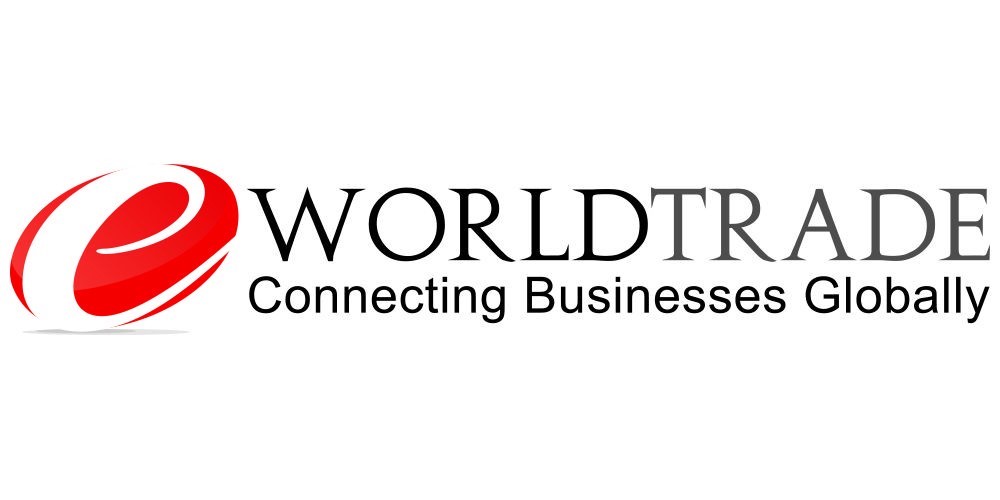 The next name in this B2B eCommerce platform comparison is eWorldTrade. It is a global B2B marketplace platform servicing millions of businesses. I must say that it is the fastest-growing B2B platform that has made an impressive mane in the B2B industry.
On eWorldTrade, they have integrated a directory of manufacturers and suppliers. They connect buyers and sellers through digital platforms from across the globe. They welcome and encourage businesses to join eWordTrade to connect with genuine and reliable buyers and sellers. eWorldTrade aims to shape strategies for great trading and to improve the overall procedure of trade.
Security
Based on our experience, eWordTrade has an incredible security system. They keep an updated security system on their platform to ensure the safeguard of the customers and everyone. eWolrdTrade is PCI certified as a level 1 Solution Provider. eWorldTrade uses cookies to keep information and track the website. They have some security elements that include:
SSL certificate
Payment Gateway
Web Application Firewall (WAF)
Admin Security
Fraud protection
Transaction security
Data validation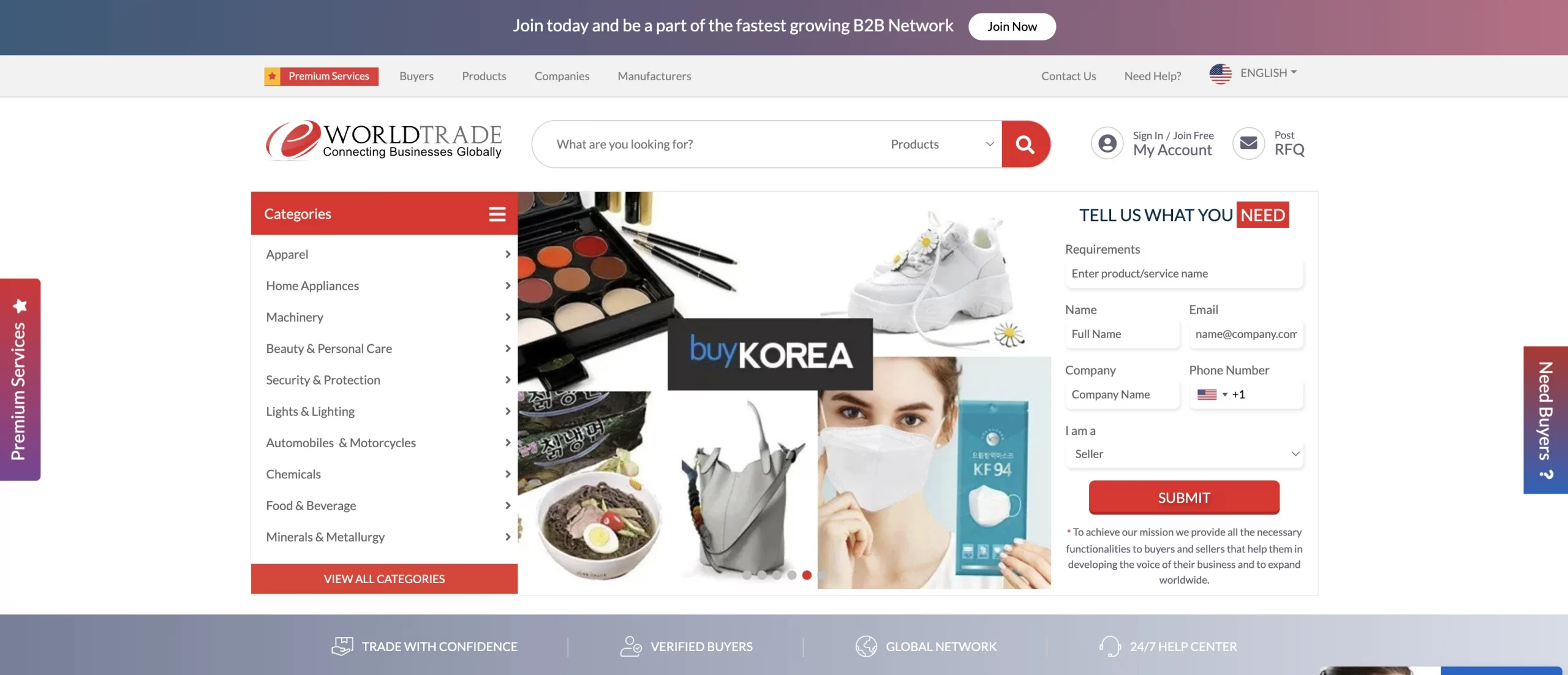 Internationalization
eWorldtrade is an eCommerce platform that caters to clients on a global level. They are supporting their platform in 2 languages English and Chinese.
The platform allows trading in multiple currencies for the wholesale product. The B2B buyers can use a local shipping method that leads to more business and engages more customers.
Customization
It seems to us that eWorldTrade does not limit its customers from expanding its business. The customization offers are built as per the needs of a business. Merchants can freely customize storefronts. The retailers can change banners, show the latest promotions, ads or update other important sections.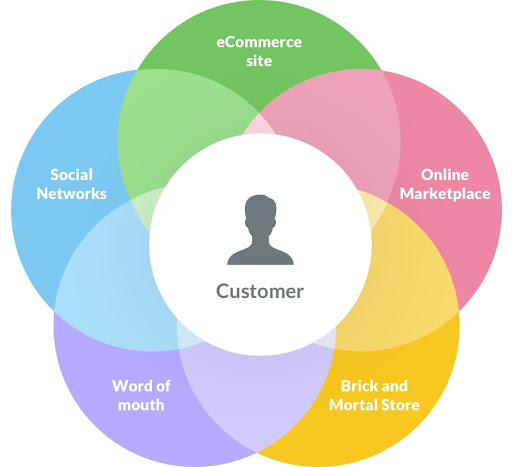 Omnichannel
eWordTrade is expanding its horizon in business and is opening its platform to market with other B2B platforms. They allow their clients to sell their products to more people and open new business avenues. eWorldTrade has an inventory that looks after and simplifies sales across other channels.
Wholesale
eWorldTrade is a B2B wholesale platform allowing businesses to transact in wholesale business operations with features such as automated wholesale management to look for purchase's returns, and delivery. We are impressed by their smart analytical tools to analyze and look after business decisions.
#6. Sana Commerce Cloud
The secret to effective eCommerce is choosing a platform that offers B2B buyers a reliable and convenient buying experience. That is what Sana Commerce Cloud – one of the top B2B platforms, is committed to delivering.
A recent study reports that 84% of B2B buyers are more likely to choose a supplier they have a strong relationship with, even if another supplier were to offer more favorable terms. Customer loyalty cannot be undervalued. To capture your buyer's loyalty, you need a scalable eCommerce solution that offers a substantial set of built-in features.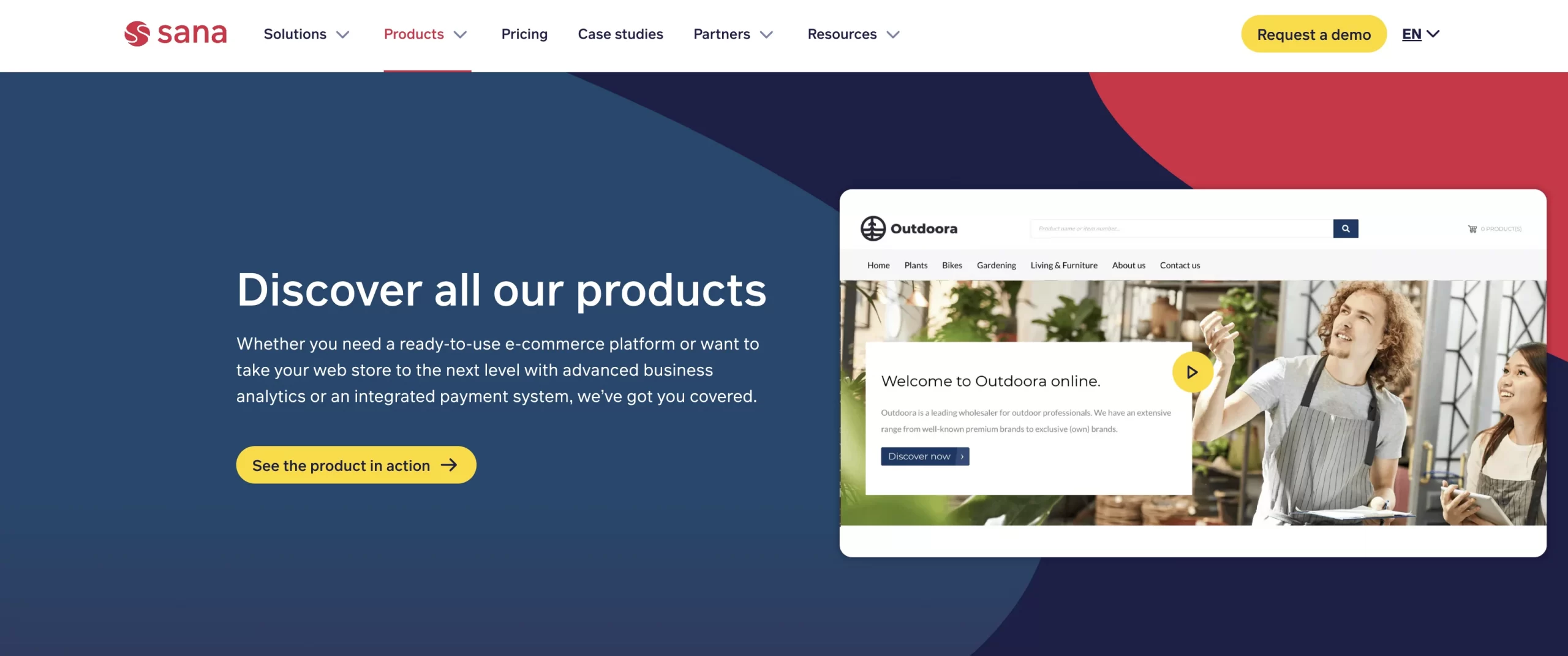 However, the most important factor in harnessing true eCommerce functionality is by integrating your eCommerce platform with your ERP completely. True ERP integration allows you to offer a completely transparent, self-service experience that your customers can rely on. And, we think it's safe to say Sana Commerce Cloud is the first SaaS solution to offer complete ERP integration.
Major brands that use Sana Commerce include Vera Bradley, K-Rain Manufacturing and Mitsubishi.
Security
Security is a vital part of eCommerce and Sana Commerce Cloud provides top level security and assurance.
There is a dedicated security team that continuously monitors, tests and improves Sana's security measures:
Keeping our data and application infrastructure safe within Microsoft Azure.
Compliance with the latest security standards and recommendations (OWASP).
Using SonarQube for continuous inspection of code quality to perform automatic reviews with static analysis of code to detect bugs, code smells, and security vulnerabilities.
Regularly monitor and test our application Proactive testing of our application by a qualified and specialized third party.
Certified PCI-compliant version 3.2.1.
Sana uses secure SSL to encrypt data and has built-in features to help merchants adhere to GDPR standards.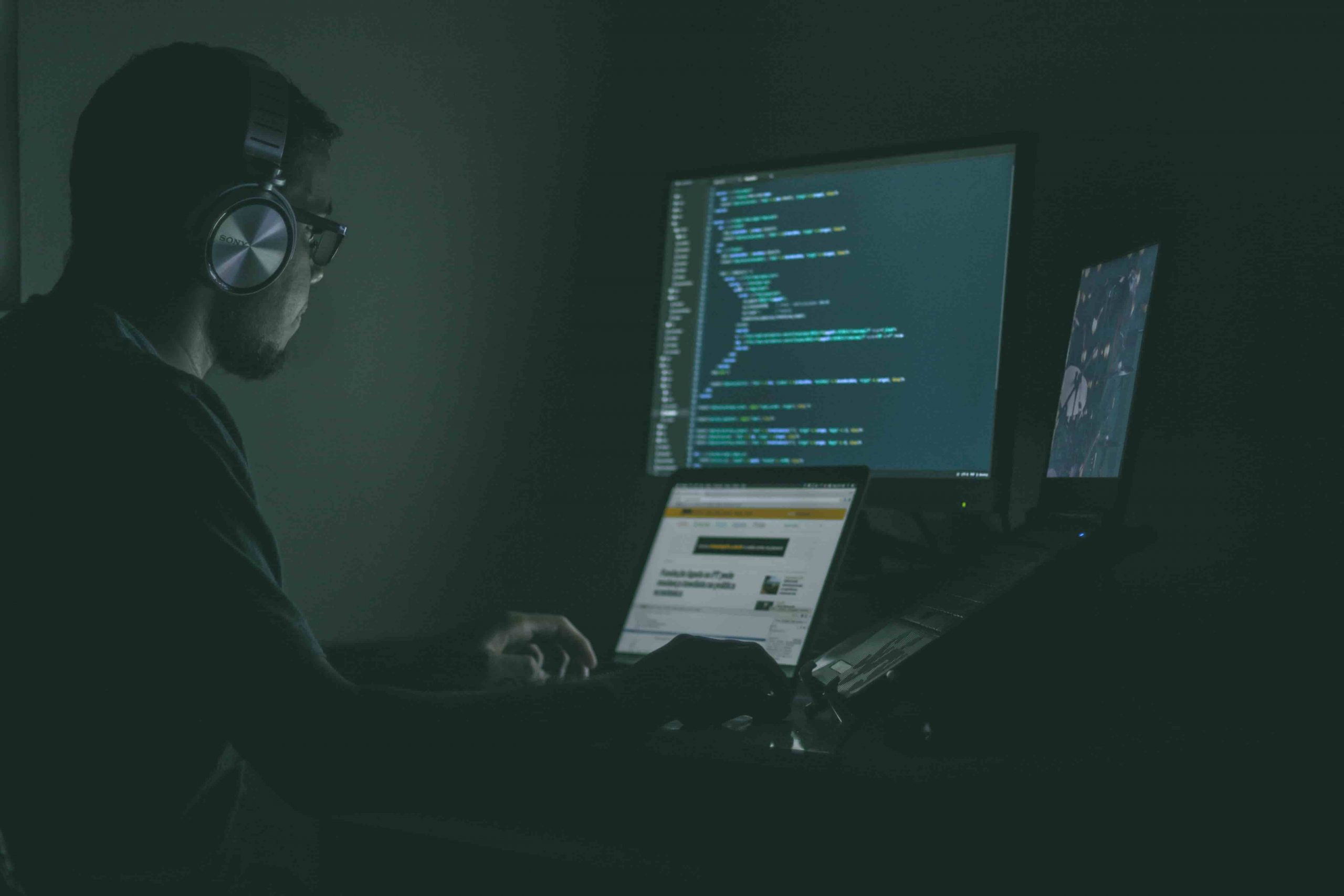 Internationalization
Internationalization is an area where ERP integration can truly set your eCommerce solution apart from the crowd.
With Sana Commerce Cloud, you can allow your ERP to do the heavy lifting when it comes to cross-border sales.
For instance, Your ERP system stores your sales tax and VAT calculations. Connecting your ERP to your web store will make it easier for your business to automatically and accurately project this ERP data into your web store. This will ensure your web store always displays the right sales tax amount in real time. This accounts for all jurisdictions your company operates in.
Localized content is extremely important. Sana Commerce allows you to create as many region-specific web stores as your company requires. In all honesty, these web stores can be adjusted easily to fit each of your global audiences for maximum success.
A Sana web store supports multicurrency. This means that when a customer logs in to the Sana web store, he or she will see prices in his or her local currency based on their region.
Sana is a multi-lingual eCommerce solution. You can install the necessary language pack and create your web store content in any language.

Customization 
Based on our testing of the product, the ability for easy adjustment and customization is another area where Sana Commerce Cloud really shines.
Sana Commerce Cloud features an effortless front-end Visual Designer that makes changing your web store easy and fast. Convenience is built into SCC with a responsive tool that allows you to customize the look and feel of your B2B web store with intuitive drag-and-drop features.
You can adjust the imagery in any way that pleases your customers the most. From a single product image, customers can:
Choose their needed products or product parts
See important product information
Add the selected product to their shopping cart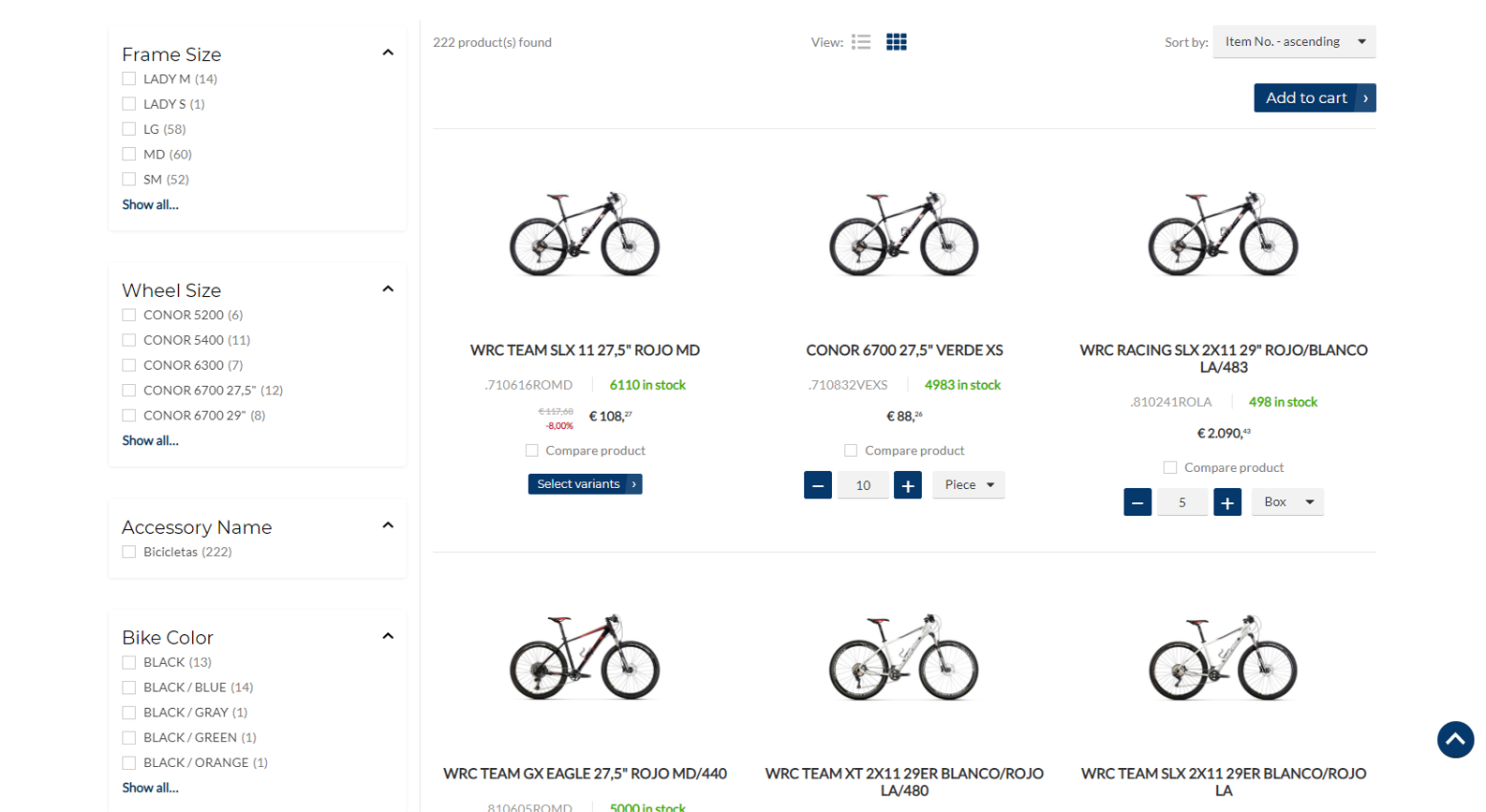 Wholesale
Sana Commerce Cloud is created with the understanding of how complex B2B wholesaling can be with the mission to make it easier for suppliers and buyers alike.
That's why SCC prioritizes hyper-personalization with customer-specific pricing, order history, assortments, and shipping addresses. All of this is available completely out of the box. With real-time ERP integration, you'll no longer have missing, incorrect or delayed orders. This ensures you deliver the right materials at the promised time.
You can also use your ERP data to streamline and automate processes, gain visibility into supply chain operations and adapt to scale down the line. This is a level of control that puts the wholesaler in the driver's seat of every transaction.
Omnichannel
Sana Commerce Cloud knows what it takes to give your customers a consistent experience that keeps them coming back for more. 
SCC eliminates the digital divide by incorporating features that buyers have become accustomed to seeing in B2C online environments like Amazon to a B2B use case. Easy reordering and customized product recommendations come standard with Sana Commerce Cloud.
Finally, ERP integration helps with creating a consistent experience. All product information is based on your ERP. This means that pricing and inventory data will always be correct across all your channels. Your customers will know in real-time on your site what is available for purchase.
Sana Commerce also integrates with third-party marketplaces such as Amazon, Google Shopping and eBay.
#7. Salesforce Commerce Cloud
Salesforce Commerce Cloud is another excellent solution among the best B2B eCommerce platforms listed. In our humble opinion, it is absolutely for companies that want to go ahead in this market.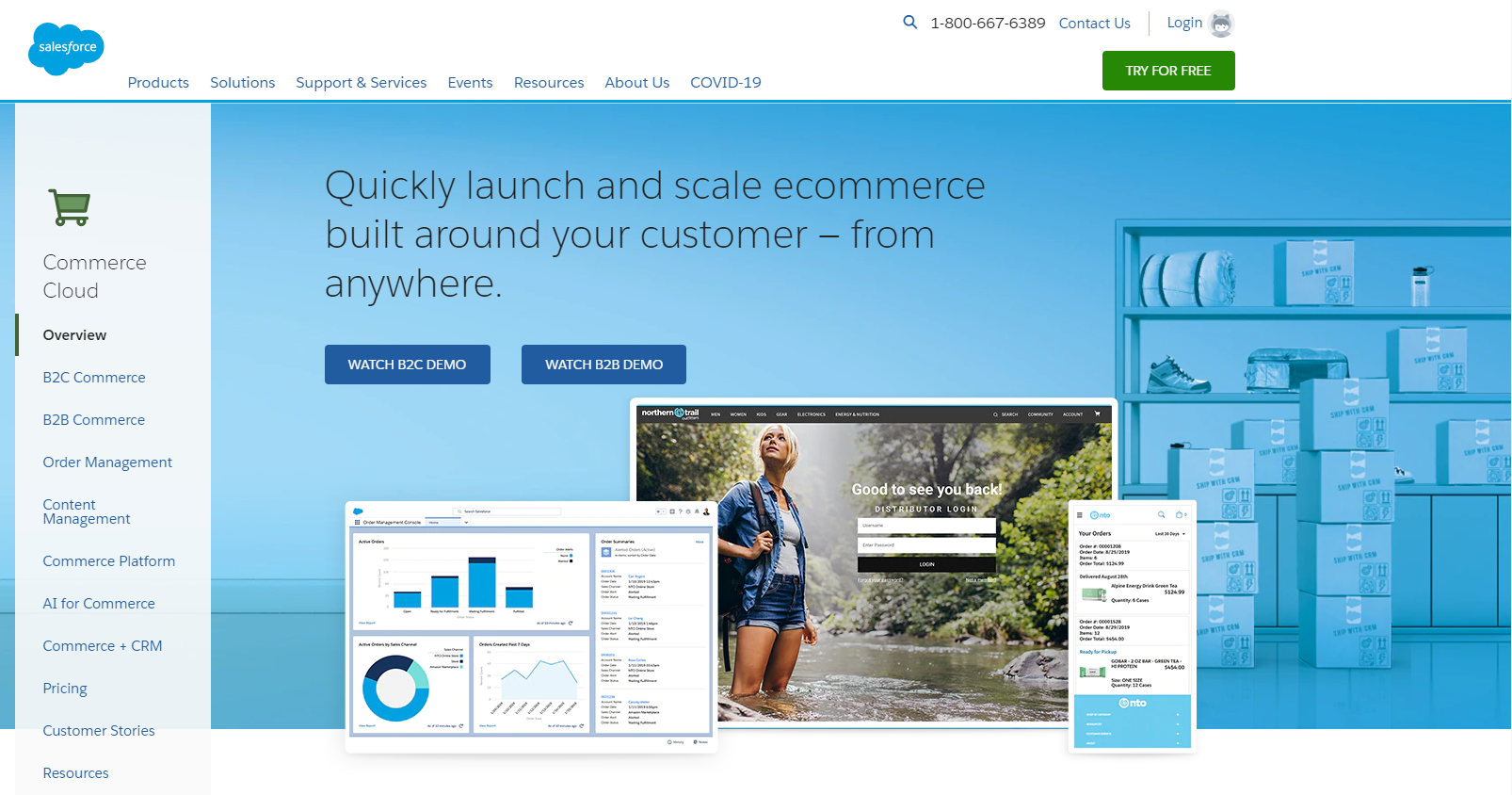 Salesforce Commerce Cloud, previously Demandware, is a multi-tenant, cloud-based platform that targets large enterprises. Multi-tenancy refers to a software architecture in which a single instance of the software runs on a server and serves many customers. All the tenants share one software application, however, their data are still dedicated to ensuring the security requirements.
Salesforce Commerce Cloud offers users outstanding features and functionalities to create storefronts that are specifically designed for businesses making bulk order purchases.
Security
This platform provides a robust security and privacy program that highly concentrates on customer data protection. There are some outstanding security services:
Control of processing: Ensure Customer Data is processed only by the customers through the entire chain processing activities by Salesforce and its sub-processors.
Audits and Certifications relate to security and privacy: This platform undergoes security assessments, including infrastructure vulnerability assessments and application security assessments. Information about the audits and certifications is available from the AWS Security Website and AWS Compliance Website.
Security Policies and Procedures: enhance security relating to user passwords.

Internationalization
Salesforce Commerce Cloud's internationality feature is pretty equivalent to that Magento Commerce offers in our opinion. There are 3 internationalization strategies for merchants to choose from. Each option suggests different internationalization practices with a different number of sites, customizability, complexity in Business Manager, and so on.
Salesforce Commerce Cloud enables multiple currencies and multiple languages. This platform offers Translation Workbench, a tool that allows you to translate Salesforce texts to different languages.
About taxation, you can use Tax Provider to easily configure the charging of sales tax on Orders. You can set a fixed rate or use a third-party tax rate table and configure a different tax rate for different regions.
Customization
The design of your Salesforce store is pretty easy to customize.
Although Salesforce Commerce Cloud customizability is not as strong as that Adobe Commerce offers, it is still more extensible than other SaaS solutions like Shopify Plus or BigCommerce Enterprise.
According to TrustRadius, a qualified review site for business technology, Salesforce Customization features score 8,4/10, which indicates the high customizability of this eCommerce site builder.
This platform gives merchants the "Page Designer" tool to help them design, schedule, and publish pages. Store owners can make use of Commerce Cloud Partner Marketplace to get support and value-added services for their stores.
Wholesale
From our perspective, Salesforce Commerce Cloud maximizes your online growth with easy-to-use eCommerce features tailored to B2B customers. It helps wholesalers engage more customers by making every B2B eCommerce interaction seamless, relevant, and connected.
Here are some important features of Salesforce Commerce Cloud B2B in terms of wholesale:
Ability to freely adapt to a lot of SKUs per order
Double-clicks to easily reorder regardless of the number of products of the purchase
Advanced delivery functionality, including multiple delivery dates and locations
And here is a brief video that covers some of the key features of the Salesforce B2B Commerce Solution:
Salesforce Commerce Cloud is also supporting 59 payment methods to make bulk purchases easier.
Omnichannel
Omnichannel is a strong feature helping Salesforce Commerce Cloud outshine other solutions on the best B2B eCommerce platforms list.
This platform helps retailers to deliver a "buy anywhere, fulfill anywhere" experience to their customers.
The platform provides Commerce Cloud Digital, a product that helps retailers to anticipate the customers' needs and then make suitable content available anywhere on the site.
Commerce Cloud Order Management is a powerful add-on that allows you to control real-time inventory across all channels.
Commerce Cloud Endless Aisle can unify customer data, including information on products, purchasing, order fulfillment, and return activity from all channels. Then it will identify the customer insights that help you to extend the shopping experience.
#8. NuORDER
The next platform that gets its name on the scoresheet of best B2B eCommerce platforms is NuORDER. This B2B eCommerce platform concentrates on B2B processes such as bulk order purchases and reordering.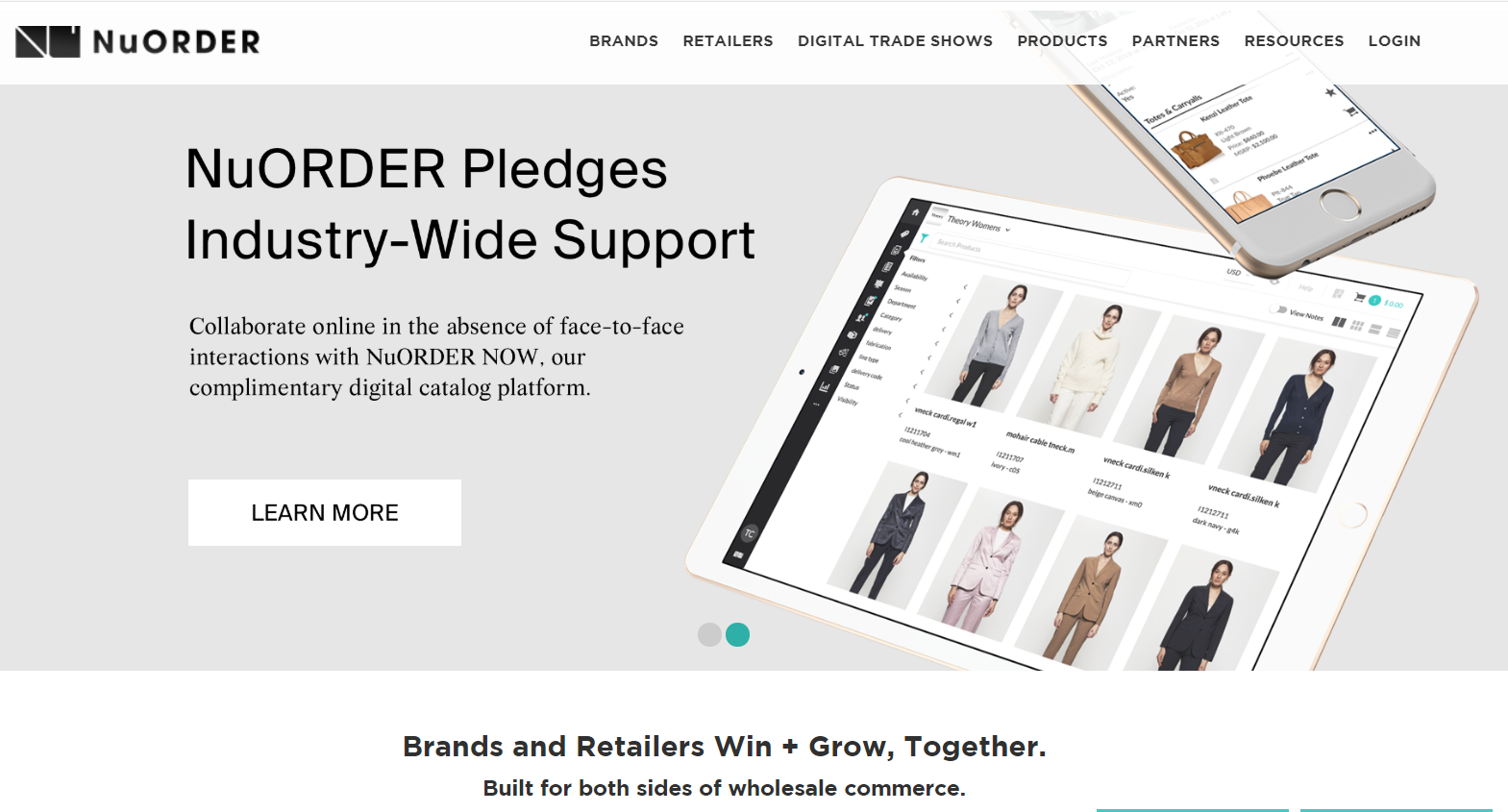 If you need a two-way marketplace and ordering system that enables brands to connect to retailers and retailers to find out more brands, this platform will cover you. Brands choose NuORDER to deliver a seamless and more cooperative wholesale process. Thanks to this, shoppers can search for products, plan assortments visually, and make smarter decisions in real time.
NuORDER currently connects more than 3,000 brands and 500,000 retailers, including Acne, Rag & Bone, Lacoste, etc.
Security
NuORDER takes measures to protect personal information from loss, misusage, unauthorized access, disclosure, alteration, and destruction.
This B2B eCommerce platform complies with the U.S.-EU and U.S.-Swiss Privacy Shield Principles. This framework regards the collection, use, and safekeeping of personal information transferred from the EU and Switzerland to the US, respectively.
There is one notable thing is that each customer needs to remain responsible for the privacy and security of the Customer Data on their own. NuORDER just stores personal data for as long as necessary for individuals who come from the EU and Switzerland.
Internationalization
NuORDER supports multilingual, however, in our opinion, this feature hasn't met its full potential. Currently, it supports 5 languages: English, French, German, Italian, and Hebrew.
This platform also allows merchants to apply multiple currencies for one wholesale product price. There are 5 currency units available in NuORDER: RUB, EUR, CAD, GBP, & USD.
About taxation, NuORDER offers Tax Rules to help you automatically charge tax at the point of sale and in sales orders. Tax Rules are set to apply globally. NuORDER also provides Tax Jurisdiction, which determines where to set up tax and applies different tax rules for each area.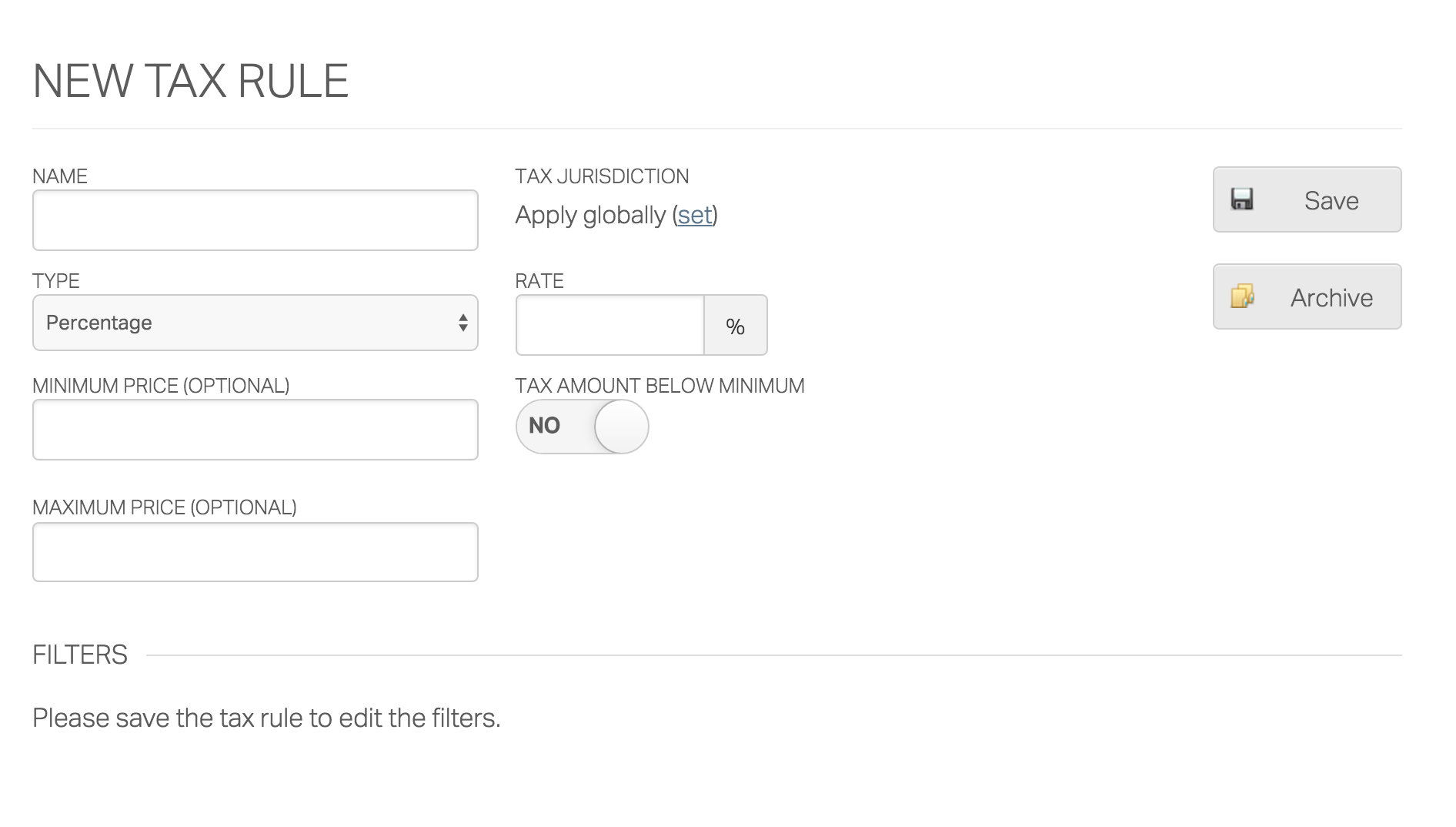 Customization
NuORDER grants store owners to make changes to the portal to better represent their brand and style. Nonetheless, NuORDER customizability is inferior to what the above-mentioned best B2B eCommerce platforms offer. You have the ability to customize the Wholesale section to the image you expect. Once your retailers access your store, they'll get a better shopping experience.
Wholesale
NuORDER is a prominent name for the best B2B eCommerce software when talking about wholesale features. This platform delivers great wholesale features to help brands and retailers grow and win together.
NuORDER offers Order Tab from which your B2B buyers can find it is much more convenient to manage their orders.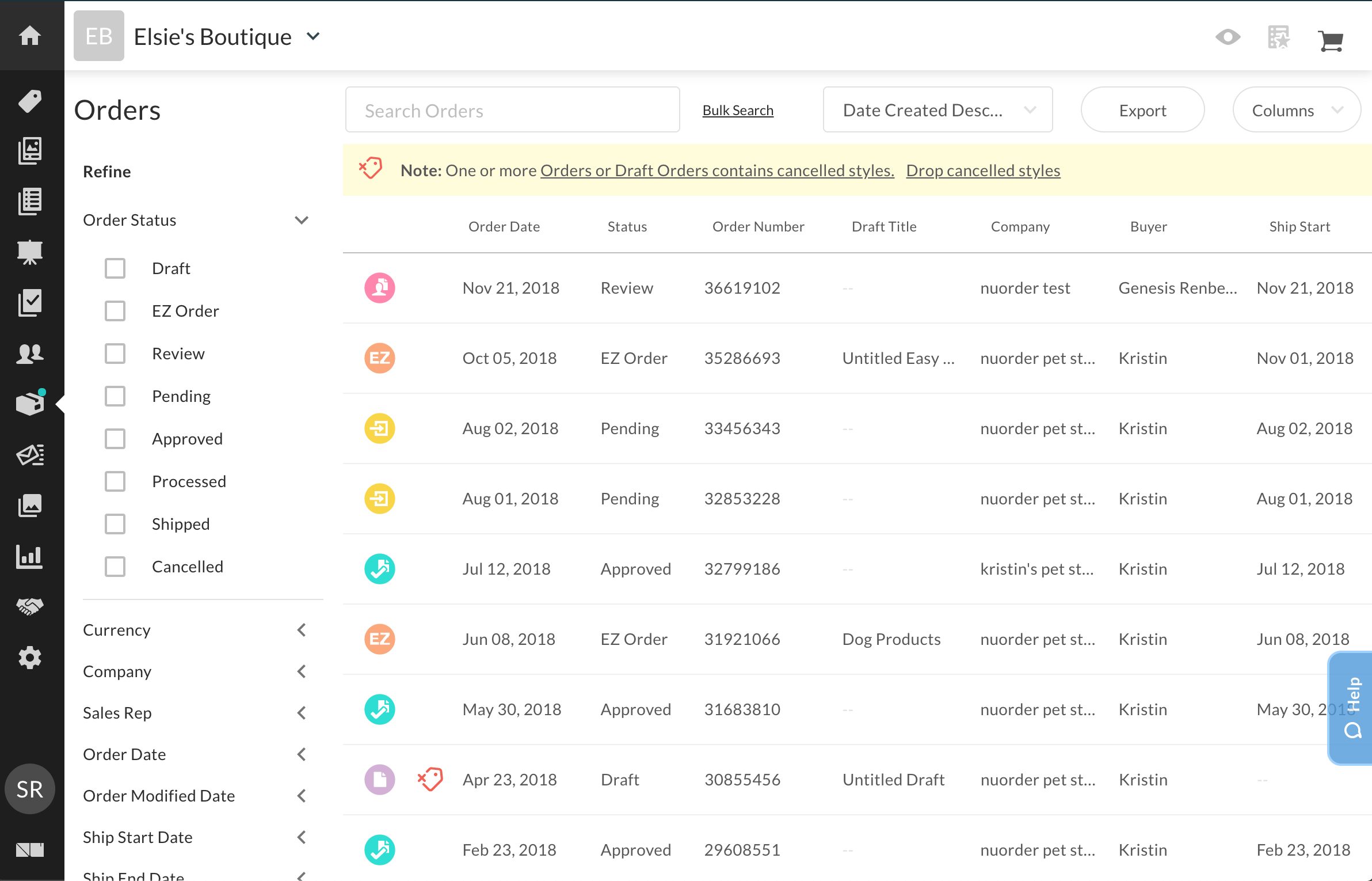 Order Statuses: the orders are organized by eight status levels.
Filters: include Company, Sales Rep, and Date. B2B buyers can choose the items they want based on these criteria. Filters help your B2B buyers save more time in finding out their products.
Search: B2B buyers can search for their previous orders by order number by using Search Bar.
Actions: include Edit and Re-order. In terms of Re-order, B2B buyers can re-order for the purchase with all the same products and shipping information.
Other actions: Cancel (if applicable), Download Order XLS, Download a PDF copy of the order.
In our assessment, NuORDER offers outstanding eCommerce and Order entry features that make seamless ordering and help boost sales and grow your business.
Omni-Channel
NuORDER integrates with Stitch Labs with the aim of providing B2B customers with more ways to sell their products to more audiences. Stitch is an online inventory control solution that simplifies the omni-channel retail business. It automatically syncs inventory, orders, and sales across channels.
This partnership allows NuORDER and Stitch Labs to provide both brands and retailers with a complete end-to-end platform.
#9. Growcer
When any merchant looks for a robust solution to launch a marketplace, Growcer by FATbit Technologies ticks all the boxes. This eCommerce software solution is among the best B2B platforms and is developed to help set up new online businesses with progressive features and distinguished user journeys.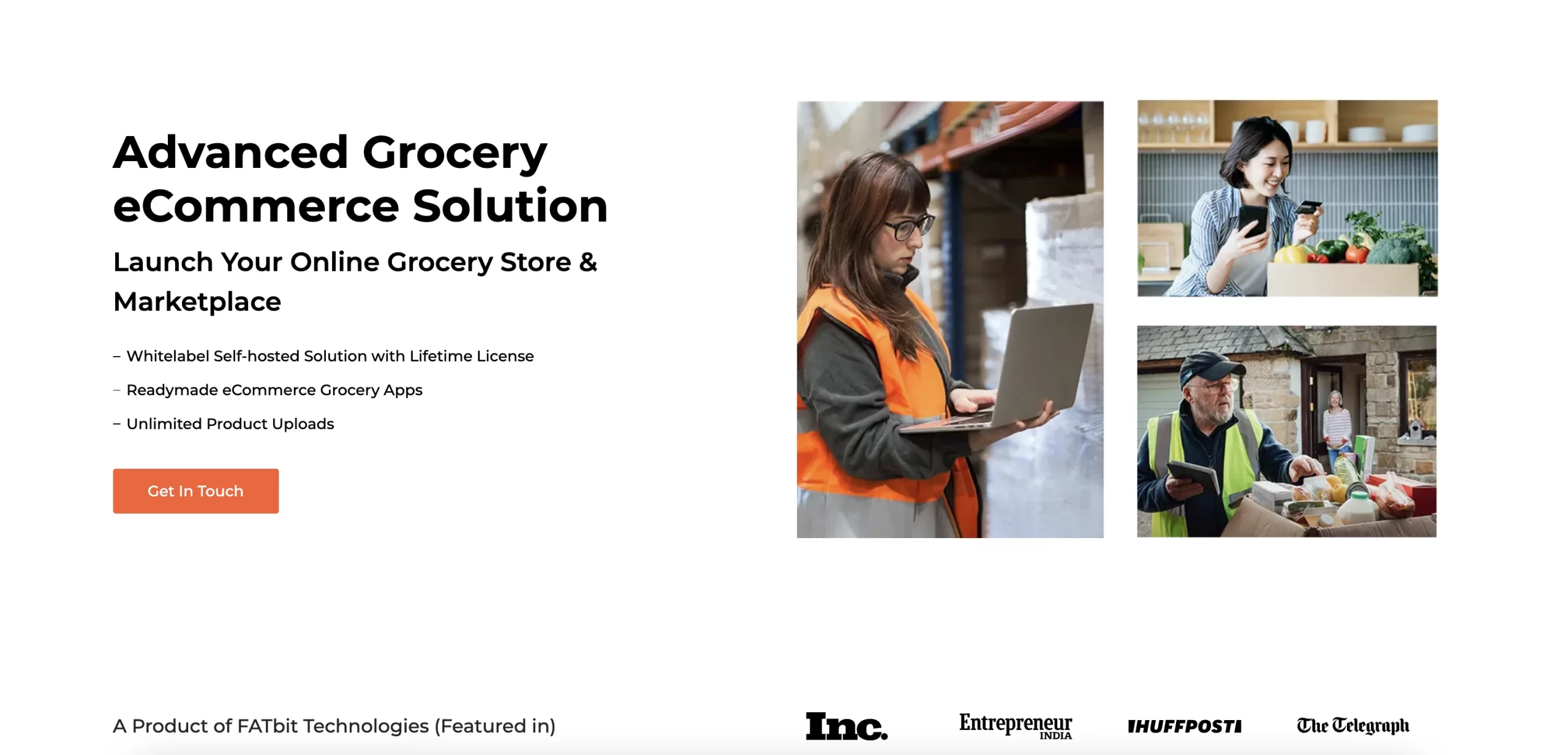 Growcer is a hyper-local marketplace software that allows for establishing streamlined ordering & delivery processes for the business launched. From everyday grocery to critical items like medicines, Growcer has by far built ideas into significant operating systems.
Security
The security parameters of Growcer have been integrated, keeping in mind the standards and expectations of the admin, vendors, and sellers. The system is supported with strong security enabling facets, including:
SSL – To secure connectivity between the browser and the server hosting the marketplace, SSL certification guards the website for its communication safety.
Data validation – Any information or input received on the portal is validated by the Growcer B2B eCommerce software security settings for its accuracy.
Security Assets – Security assets for restricted SQL injection, restricted Cross-site scripting (XSS), restricted cross-site request forgery, handled sensitive data exposure, data sanitization, broken authentication, and restricted direct access for folder/files have been integrated.
Internationalization
The product has been built with a perspective so as to meet the requirements of businesses across borders. With a base comprising 240+ languages, the barrier to launching an online portal anywhere in the world is dealt with.
The feasibility of launching a marketplace with Growcer anywhere is evident not only by the possibility of a multi-language UI but also by the fact that a multi-currency payment option is also present. The admin can integrate regional payment gateways that the locals relate to most easily, so as to gain popularity in the area of service.
Customization
A product that is rigid and not open to changes tends to outgrow people and runs out on its popularity. Growcer has taken care that neither does it end its scope to grow nor limits admins when they think of expanding as a business.
A turnkey solution offering a vast array of opportunities to customize on top of the available platter to meet what suits the need. The Growcer team also offers customization plans that build requirements as per the desired business needs. Experts and market specialists assist the development at every step of the process to guide you towards an adept marketplace.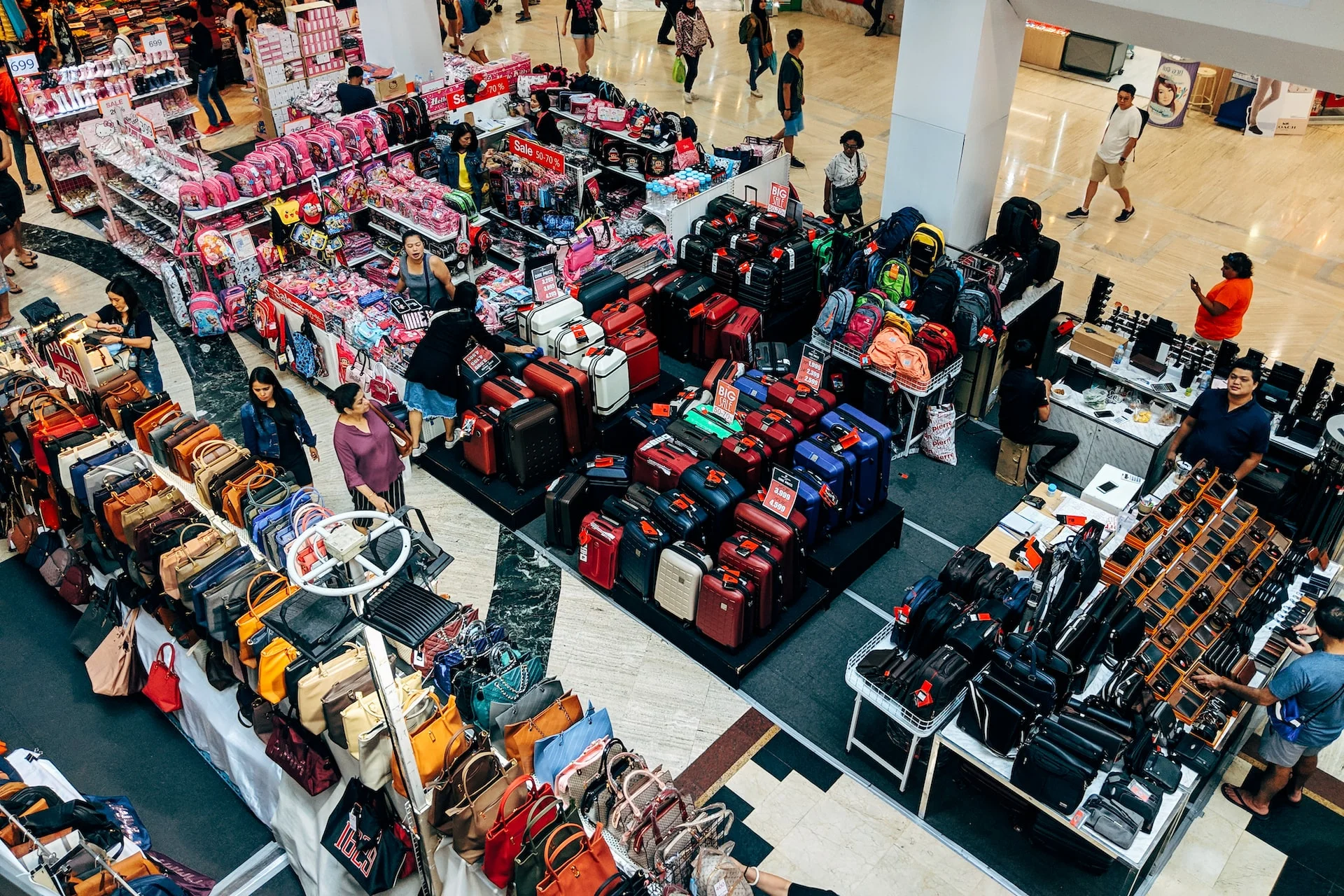 Wholesale
When a marketplace is set up that caters to local people, providing them a place where they can come and order items from their favorite neighborhood stores, they must be given the leverage to buy certain items in bulk at special prices.
Growcer, as the software, supports sellers in defining bulk item pricing for their customers placing large orders. Based on experience with this platform, it gives buyers the ability to view the wholesale pricing for such items and make decisions accordingly.
Omnichannel
The Growcer marketplace software has been prepped as an MVP solution that can be expanded according to the vision of the admin. As a vendor, if you have accounts on multiple selling platforms, Growcer can integrate your accounts in one place so as to ease all your operations from a single account (at additional cost).
All-in-all Growcer is a complete package that comes with a go-to-market marketplace solution, driving your business from idea to reality in no time.
#10. Quick eSelling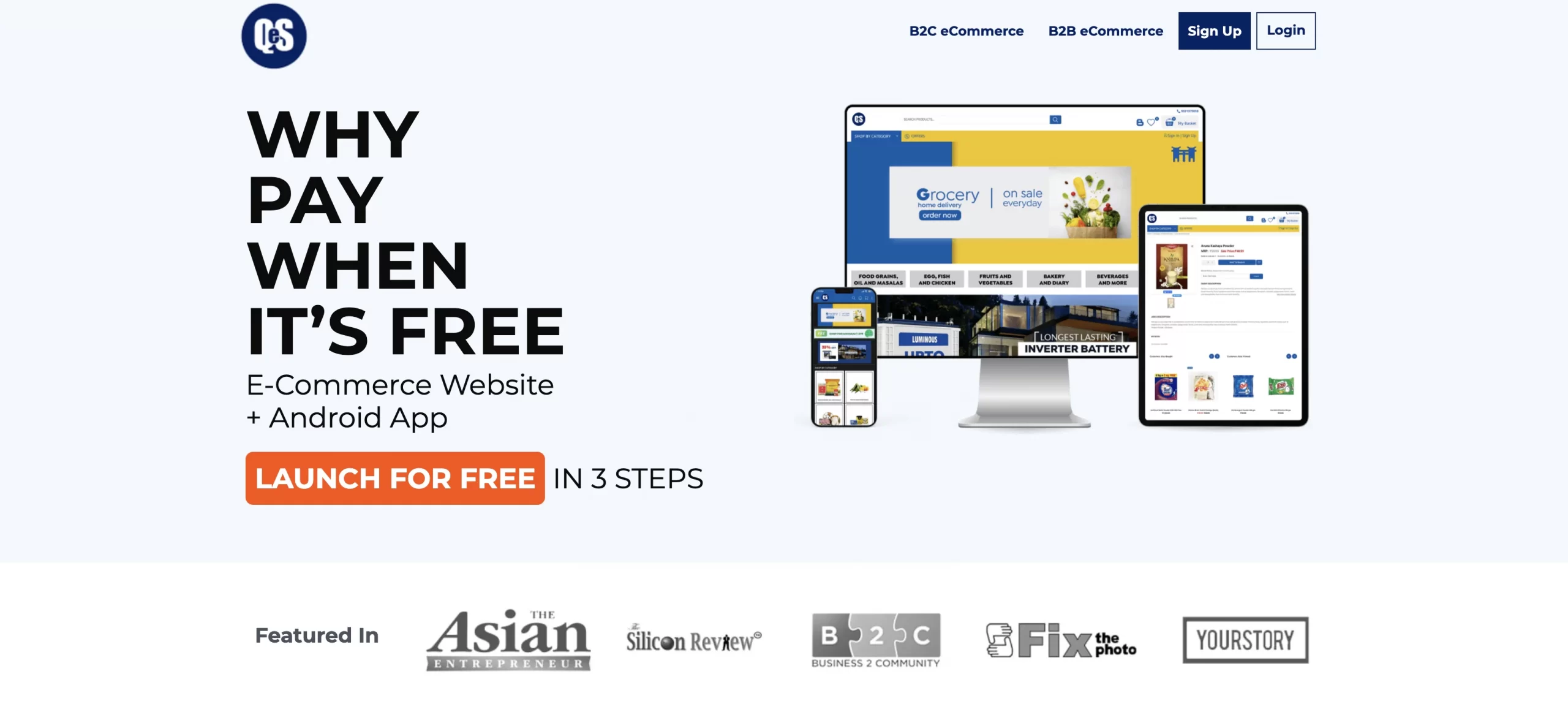 Quick eSelling is one of the best B2B eCommerce software solutions for today's businesses. It is a fully managed hosted eCommerce platform that comes with a powerful CRM to manage the website and apps. Quick eSelling enables business owners to sell round the clock, minimizing admin and freeing up sales representatives' precious time and streamlining the business processes.
To build a successful online B2B business, the platform comes with features like purchase quantity restriction, e-catalog, restricted delivery zone, custom pricing, advanced data analytics, and ERP integrations.
Security
For high data security, the platform provides comprehensive Server, Transaction & Data Security with Firewalls and Advanced Encryption. Here are the security features that the Quick eSelling B2B eCommerce platforms has:
Server security
Transaction security
Data encryption
Authentication & authorization
SSL certificate for domains
Option to upload your custom SSL certificate
Firewalls
Advanced encryption
Internationalization
This eCommerce platform for B2B is integrated with multiple payment gateways that enable global business owners to use the platform. Also, the features like multi-currency, multilingual, shipping, and Tax APIs.
Over 20,000 retailers and business owners are relying on Quick eSelling platform across the globe.
Customization
We have no doubt that Quick eSelling is a fully customizable and scalable eCommerce platform. The B2B eCommerce platform comes with a customizable front-end that allows business owners to make changes on the go to keep the online store content fresh, change banners, highlight the latest promotions, add or update sections, and much more without any coding experience.
Quick eSelling offers multiple free themes to enhance the look and feel of an online store. To integrate any new features and API, Quick eSelling has an agile technical team.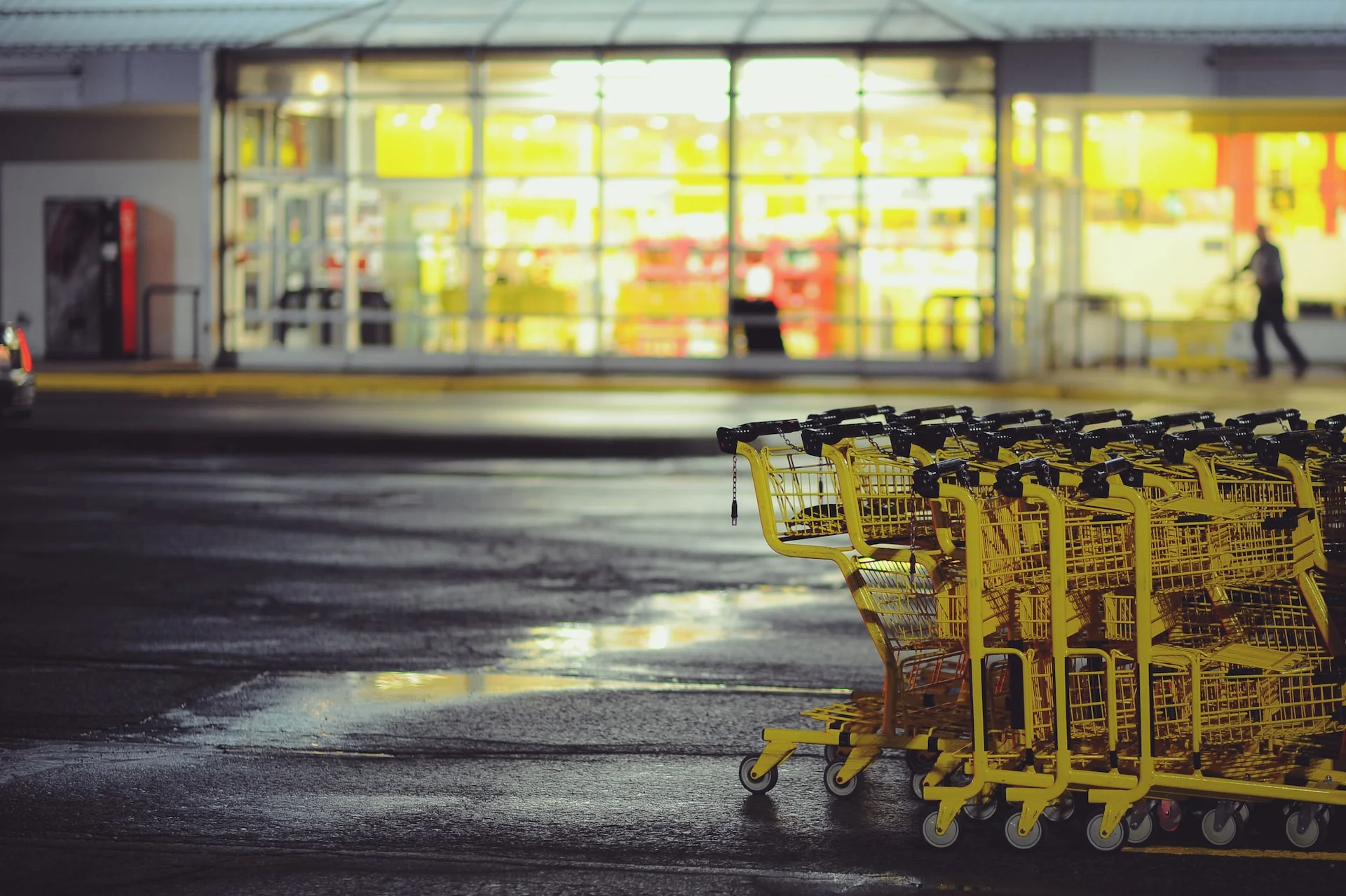 Wholesale
To accelerate wholesale businesses operations, Quick eSelling offers the following set of whole features:
Automated wholesale order management to handle purchases, returns, and delivery
Real-time inventory management updates
Deep linking of your existing inventory and order management solutions
Smart analytical dashboards to make better business decisions
In-built marketing tools such as push notifications, discount coupons, cart recovery, email alerts, etc.
Omni-channel
Today business owners want to sell on multiple channels to increase sales and for higher brand exposure. Quick eSelling allows retailers to sell on eCommerce marketplaces such as Amazon or Flipkart while simultaneously selling on their own online stores.
#11. SeeBiz
SeeBiz is among the best B2B wholesales platforms. It helps connect wholesale businesses from across the USA in one place. Here, manufacturers, distributors, wholesalers, and retailers can easily connect and interact with each other to grow their respective businesses.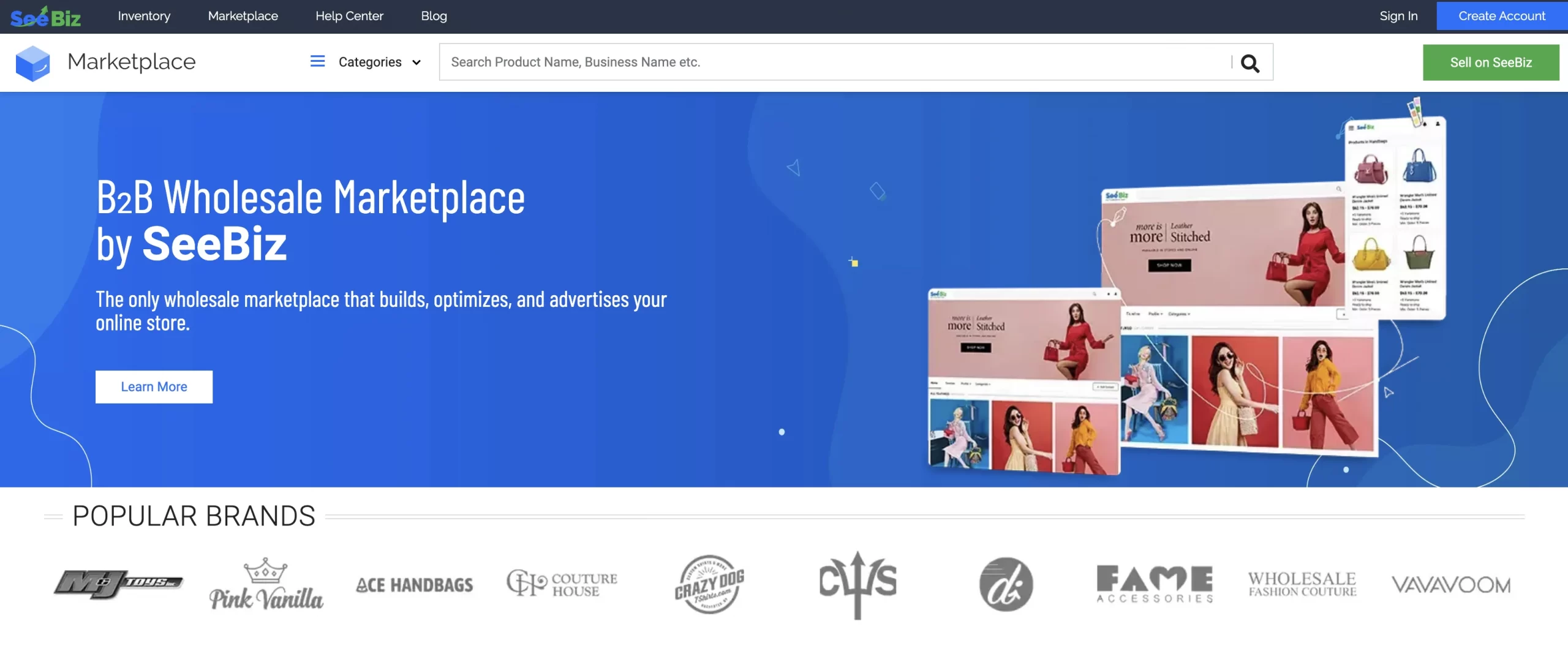 Security
SeeBiz takes data privacy into its topmost consideration. Wholesalers upload product information and SeeBiz keeps it safe. From login credentials to your contact list, SeeBiz makes sure every bit of information is safe. 
Its security environment includes: 
Content Delivery Network (CDN) & DDoS Protection

Web Application Firewall (WAF)

SSL Certificate

Data validation
Internationalization 
Since SeeBiz is only available in the United States, its default language is English. 
However, as SeeBiz launches its services in other parts of the world, it aims to incorporate different languages and currencies. 
Customization
We must say that there's a lot of customizability when it comes to business profiles on SeeBiz. Vendors can customize everything from business logos to product data. One of its biggest customizability features is group pricing. It allows you to display different prices to different ‌customers.
Wholesale
SeeBiz provides an interactive business networking platform. Users can announce new prices, upload products, connect with other wholesale businesses, and perform various other activities. 
SeeBiz also has a huge wholesale marketplace filled with over 600,000 products provided by 1000+ verified vendors. It's filled with everything from general merchandise to antique products. 
This wholesale eCommerce platform has some of the best selection of products across the following categories:
Apparel
Food & Beverages
Electronics
Home and Garden
Toys and Games
Sporting Goods
SeeBiz's vendor network and listed products are rapidly expanding as new businesses join the platform. You can both join as a seller and as a buyer. 
As a seller, you'll be a part of the SeeBiz wholesale network. This means you'll not only connect with other businesses, but also boost your online presence. This will help potential buyers contact you easily. 
As a buyer, you'll have access to one of the biggest supplier networks in the USA. Sourcing inventory for your business will become a lot easier. Here you can contact and deal with multiple suppliers at a time. This ensures product variety, quality, and a consistent flow of goods. 
Omnichannel
SeeBiz is gradually emerging into the omni-channel scene by introducing its other applications. Although still in development, SeeBiz plans to provide an inventory management system and an invoice management system. 
---
What is B2B eCommerce?
B2B eCommerce, or business-to-business eCommerce, refers to online transactions and interactions between businesses. It involves the buying and selling of products or services between companies through virtual channels such as websites or online marketplaces.
In B2B eCommerce, one business acts as a buyer, while the other business acts as a seller. The transactions can involve various types of products or services, ranging from raw materials and components to finished goods, software solutions, or professional services.
---
Must-have Features for B2B eCommerce Platforms
#1. Security
Needless to say, security is at the top of one business's agenda. In the eCommerce world, we believe that keeping your information safe is more important and difficult because hackers always try to sabotage internet sites. Hence, the best B2B eCommerce platforms need to keep both their retailers' data and their buyers' data safe.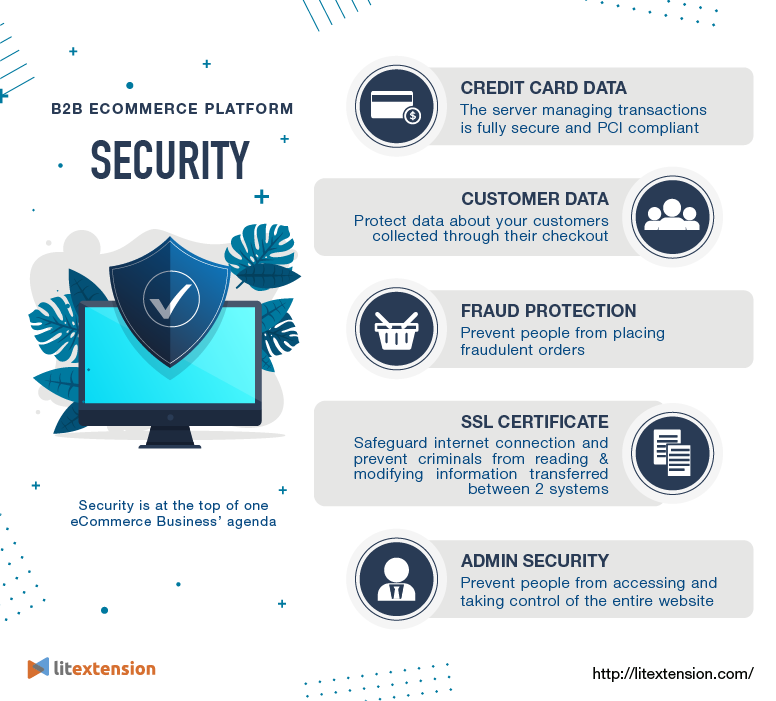 A B2B digital Commerce platform is considered highly secure when it can provide the best solution to deal with the following items:
Credit card data: When your customers do a transaction, they usually enter a form of payment such as primary account number (PAN), cardholder name, and expiration date. If your customers have their credit card data stolen from your website, you will not only lose your customer forever but you could also potentially face legal action.
Customer data: Your customers' credentials and information during their checkout. For example, name, address, email address, products ordered, passwords, and so on.
Fraud protection: Prevent people from placing fraudulent orders.
SSL certificate: This is a basic requirement for safeguarding the internet connection and preventing criminals from reading and modifying any information transferred between two systems. The two systems refer to server and server or a server and a client (for instance, an eCommerce website and a client).
Admin security: A secured Admin account prevents people from accessing and taking control of the entire website.
#2. Internationalization
Internationalization is the process of increasing the involvement of enterprises in international markets. It ensures your website's adaptation to multiple languages, various currencies, taxation, and locations without requiring engineering changes to the source code.
All eCommerce retailers desire to engage more customers and boost their revenue. Going global obviously gives eCommerce businesses and their B2B selling platform more chances to achieve these goals. Therefore, internationalization is the essential feature that top B2B eCommerce platforms need to provide to their customers.
#3. Customization
Customization is modifying a program or writing a program to do something that the software does not currently do. Or these platforms support users to use B2B eCommerce platforms design services.
The platform which enables customization usually attracts more merchants to use it to base their online businesses. The reason is that it saves online merchants a lot of money when it comes to scaling up. Users who have coding skills or an in-house development team can make changes to the stores' functionality and design without additional cost. Moreover, the customizability of a platform makes sure that you have everything under control and can adjust your store to the fullest according to your desire.
For this reason, the top B2B eCommerce platforms should grant their users the ability to make essential changes to their sites.
#4. Wholesale
Wholesale eCommerce refers to online transactions in which a business purchases goods in large quantities from manufacturers or distributors, then resell them to other businesses.
When you do it right, enabling wholesale eCommerce will bring up more opportunities for your business, increase sales, decrease costs, and improve customer retention.
B2B buyers are just like other customers of yours. They also demand to receive a personalized and streamlined customer experience from their suppliers. Therefore, you need to set up an eCommerce platform that offers wholesale eCommerce features in order to increase operational efficiency and reduce costs.
#5. Omni-channel
Omni-channel is a multi-channel sales approach that provides the customer with an integrated customer experience. This term refers to the consolidation of multi-channel selling and the collecting of customers' interaction with the company across channels. Whereby the company can determine the customers' perspectives and interests. They then can make use of this knowledge to balance the goals and message across each channel to deliver a better customer experience.
For this reason, omni-channel is becoming a must-have feature for B2B eCommerce platforms when online merchants want to thrive in their businesses.
---
Choosing the Best B2B eCommerce Platforms
Now that you can know the criteria to identify B2B eCommerce platforms and what the top B2B eCommerce platforms are, it's time to tighten your choices.
Among Shopify Plus, Magento Commerce, BigCommerce B2B, Salesforce Commerce Cloud, and NuORDER, it is not easy to vow which one is the best of all. For example,
Shopify Plus covers a bunch of outstanding B2B functionalities. Nevertheless, its customizability is still inferior to that Magento Commerce provides.
Magento Commerce is not easy to use and it can be a little pricey for some companies. Correspondingly, the others also have their pros & cons when talking about B2B functionalities.
These top B2B eCommerce platforms constantly take essential actions to improve themselves to meet the needs of customers. Just remember that choosing the best B2B platform means that you choose one best suited for your online business.
Besides, this article reviews the above-mentioned top B2B eCommerce platforms based on a few must-have criteria. There are still other aspects to keep an eye on, like Pricing Plans, Marketing tools, SEO features, or Support. You can get detailed information about these features of those platforms through the Cart Review section on our blog.
Additional resources you might want to read:
---
Best B2B eCommerce Platforms – FAQs
---
B2B eCommerce Platforms – Final Thought
Hope that with these above B2B eCommerce platform comparison & review, you can find your desired B2B selling platform. If you wish to move from your current B2B eCommerce site to a new one, feel free to perform your data migration with LitExtension.
As a World #1 Shopping Cart Migration Expert, LitExtension offers an automated migration tool that works with 200+ eCommerce platforms, including popular B2B eCommerce solutions. Up to now, LitExtension has helped more than 100,000 global customers with over 200,000+ store migrations.
In case you have any questions, don't hesitate to contact our dedicated support team. Our friendly and professional support experts are willing to resolve your issues quickly.
Lastly, don't forget to check out our LitExtension blog and join our Facebook Community to get more eCommerce tips and news.