Along with the rapid growth of digital commerce, the number of online businesses is skyrocketing. According to the statistics of Statista.com, the global B2B eCommerce market was valued at USD 12.2 trillion in 2019 and was 6 times larger than the B2C market size. The B2B eCommerce market value is intending to increase quickly. This will cause more and more merchants to set up their online business, which results in raising the demand for B2B eCommerce platforms.
In this article, we will cover the top B2B eCommerce platforms based on 5 must-have features, and give you a comparison among them. Let's read on to see what distinguishes each platform and which may be the best option for your business. We will help you cover:
What is B2B eCommerce?
Must-have features for B2B eCommerce platforms
How to choose the best eCommerce platforms for your business
What is B2B eCommerce?
B2B eCommerce stands for Business to Business electronic Commerce, which is an online transaction where both parties involved are businesses.
In other words, a company that sells its products or services to another company would be participating in a B2B transaction.
Identifying the must-have features for B2B eCommerce platforms
1. Security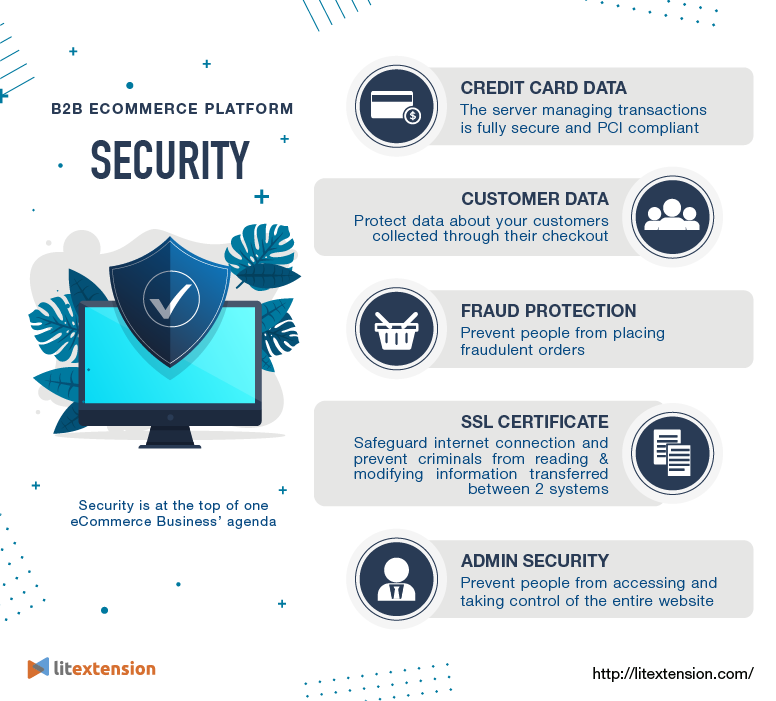 Needless to say, security is at the top of one business's agenda. In the eCommerce world, keeping your information safe is more important and difficult because the internet site is easy to be attacked by hackers. Top B2B eCommerce platforms need to keep both their retailers' data and their buyers' data safe.
A B2B eCommerce platform is considered highly secured when it can provide the best solution to deal with the following items:
Credit card data: When your customers do a transaction, they usually enter a form of payment such as primary account number (PAN), cardholder name, and expiration date.   If your customers have their credit card data stolen from your website, you will not only lose your customer forever but you could also potentially face legal action.
Customer data: Your customers' credentials and information during their checkout. For example, name, address, email address, products ordered, passwords, and so on.
Fraud protection: Prevent people from placing fraudulent orders.
SSL certificate: This a basic requirement for safeguarding internet connection and preventing criminals from reading and modifying any information transferred between two systems. The two systems refer to server and server or a server and a client (for instance, an eCommerce website and a client).
Admin security: A secured Admin account prevents people from accessing and taking control of the entire website.
2. Internationalization
Internationalization is the process of increasing the involvement of enterprises in international markets. It ensures your website can be adapted to multiple languages, various currencies, taxation, and locations without requiring engineering changes to the source code.
All eCommerce retailers desire to engage more customers and boost their revenue. Going global obviously gives eCommerce businesses more chances to achieve these goals. Therefore, internationalization is the essential feature that top B2B eCommerce platforms need to provide to their customers.
3. Customization
Customization is modifying a program or writing a program to do something that the software does not currently do. Or these platforms support users to use B2B eCommerce platforms design services.
The platform which enables customization usually attracts more merchants to use to base their online businesses. The reason is that it saves online merchants a lot of money when it comes to scaling up.  Users who have coding skills or an in-house development team can make changes to the stores' functionality and design without additional cost. Moreover, the customizability of a platform makes sure that you have everything under control and can adjust your store to the fullest according to your desire.
For this reason, the top B2B eCommerce platforms should grant their users the ability to make essential changes to their sites.
4. Wholesale
Wholesale eCommerce refers to online transactions in which a business purchases goods in large quantities from manufacturers or distributors, then resells them to other businesses.
When you do it right, enabling wholesale eCommerce will bring up more opportunities for your business, increase sales, decrease costs, and improve customer retention.
B2B buyers are just like other customers of yours. They also demand to receive a personalized and streamlined customer experience from their suppliers. Therefore, you need to set up an eCommerce platform that offers wholesale eCommerce features in order to increase operational efficiency and reduce cost.
5. Omni-channel
Omni-channel is a multi-channel sales approach that provides the customer with an integrated customer experience. This term refers to the consolidation of multi-channel selling and the collecting of customers' interaction with the company across channels. Whereby, the company can determine the customers' perspectives and interests. They then can make use of this knowledge to balance the goals and message across each channel to deliver a better customer experience.
For this reason, Omni-channel is becoming a must-have feature for online merchants who want to thrive in their businesses.
What are the top B2B eCommerce platforms?
It is the enterprise edition of Shopify, one of the most powerful online shopping carts in the eCommerce market. Shopify Plus offers the same core dashboard and features as Shopify, however, it gives more tools and B2B functionalities. You can refer to "Shopify vs Shopify Plus – The Ultimate Comparison in 2020" to take an in-depth look at the key differences between these two platforms.
Talking about top B2B eCommerce platforms, it is no exaggeration to say that Shopify Plus is gaining universal recognition for a prominent solution. There are more than 7000 B2B eCommerce brands choosing this B2B platform. They include the world's best brands like Nestle, Kylie Jenner, Hawkers, Pepsi Co, and so on.
Security
As being one of the top B2B eCommerce platforms, Shopify Plus is a 100% security solution. It is a great idea for B2B merchants who want to have a safe and secure platform to base their online business.
For credit card processing, Shopify Plus is Level 1 PCI DSS compliant from the first day. PCI DSS (Payment Card Industry Data Security Standard) protects the security of credit card data and cardholder data in e-commerce transactions. You needn't do anything or pay any cost.
The customer data is secure thanks to the application of many security measures, especially the introduction of GDPR, the toughest privacy and security law in the world. This platform also has an excellent fraud prevention system, SSL certificate built-in, and a secure back-end to keep your store and customer data safe.
Internationalization
Shopify Plus offers Shopify Payments which makes the selling in multiple currencies seamless, simple, and scalable. Especially, it automatically chooses suitable currency for your customers based on their IP addresses.
Come to multilingual, it allows you to translate your store into 20 different languages through its powerful apps or themes.
In terms of taxation, the platform integrates with Alavara AvaTax that is a paid service helping you calculate and file tax automatically.
Customization
Shopify is a hosted platform, therefore, when it comes to customization, it cannot be compared with open-source solutions like Magento. However, it allows merchants to customize the look and feel of their checkout for customer experience by utilizing Scripts Editor. This is one of the huge innovations of Shopify for their Plus plan over normal plans.
Wholesale
Shopify Plus delivers an automated wholesale experience at any required scale. B2B buyers have the ability to purchase, track, and reorder products. They can also review wholesale orders before invoicing.
This platform offers Wholesale Channel which enables store owners to create a wholesale store that has a different storefront from their current online store. They can also customize the prices that they offer to their wholesale customers and process order placing.
However, the pages and goods on the wholesale store aren't indexed by Bing or Google. Therefore, they can't show up on search engine result pages. Moreover, Wholesale Channel displays only prices that include taxes and it cannot integrate with external systems or 3rd-party apps. Therefore, in case you want to show your products to a global audience or display prices including and excluding taxes, you need to open an expansion store.
Omni-Channel
There are 20 sales channels available from your dashboard. You can sync inventory, orders, and customers' information across all channels from one central place. This platform grants B2B businesses to sell online and in-store with Shopify's POS (Point Of Sale) system.
In eCommerce circles, Magento showed up and made waves due to its high customizability and scalability. It is a sensational option for those in search of the top B2B eCommerce platform.
After the acquisition by Adobe, Magento currently has two editions. The first is Magento Open Source, previously Magento Community, which is a free version. The other is Magento Commerce, previously Magento Enterprise, which is the premium version of Magento. In the comparison between Magento Commerce and Magento Open Source, Magento Commerce brings a better commerce experience to customers. This enterprise-grade eCommerce platform offers a richer set of out-of-the-box features including B2B data, functionalities, security, customizable solution, etc.
Magento Commerce offers two options: a self-hosted option (Magento Commerce On-Premises) and a cloud-hosting option (Magento Commerce Cloud Edition).
Some of the popular brands using Magento Commerce are Rural King, JCB, Bulk Powders, and so on.
Security
Magento Commerce surely provides top security. This platform offers you Magento Security Scan Tool and a dedicated Security Center to get the latest patches, security updates, and best practices for your sites. Magento Commerce is also PCI certified as a Level 1 Solution Provider.
Here are some elements of Magento Commerce security environment:
SSL certificate
Content Delivery Network (CDN) & DDoS Protection
Web Application Firewall (WAF)
Virtual Private Cloud
Penetration testing
Payment Gateway
Internationalization
One strong point that makes Magento Commerce become one of the top B2B eCommerce platforms is its comprehensive internationalization features. This platform offers many languages, multiple currencies, and tax rates to support merchants with very high sales volume.
Magento Commerce supports currency from more than 200 countries all over the world. Currency rates can be updated manually or imported into your store as needed. Currency symbols can be customized and the display of the price can be set separately for each store or view.
Magento Commerce Cloud allows its merchants to use any language to run their businesses in different countries. Merchants can use Magento Translation to customize and localize the store for multiple regions and markets.
Magento Commerce Cloud automatically calculates tax for transactions in the EU with VAT-ID validation. It also supports fixed product taxes, such as WEEE/DEEE in the EU.
Customization
With open access to its source code, Magento Commerce grants you the endless ability to modify your online store.
The Magento Commerce frontend is designed to optimize storefront customization. This B2B eCommerce platform also provides some tools to help you improve the storefront customization process more efficiently. Besides, you can modify the management screens to speed up your daily tasks.
You can also take advantage of third-party extensions from Magento Marketplace to make your online store outshine opponents. There are more than 480 third-party extensions that support both Enterprise Edition and Cloud Edition for you to choose from.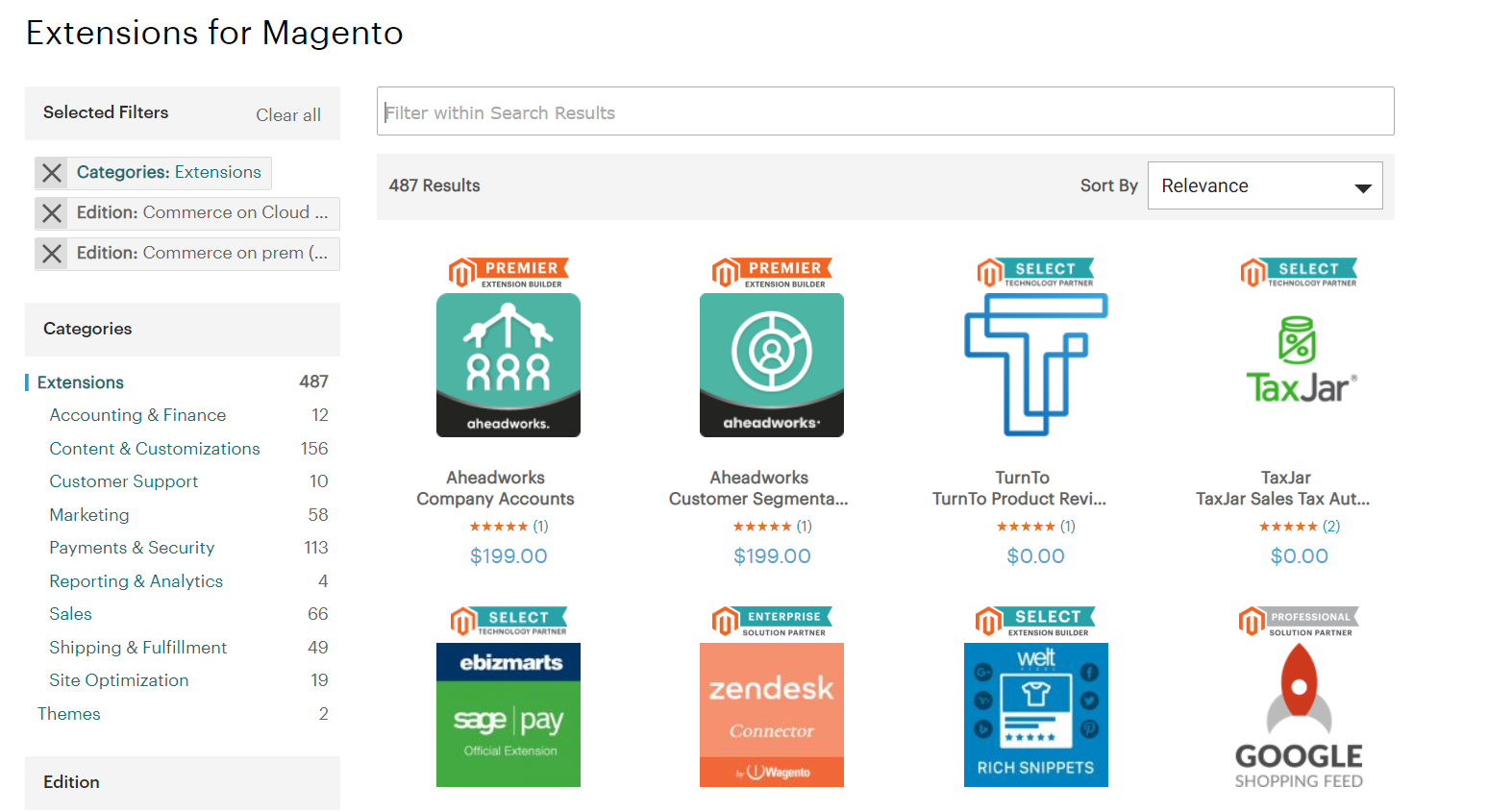 3. Wholesale
Magento Commerce includes everything you need to manage B2B eCommerce sites.
Your B2B customers can manage their company accounts themselves and set up multiple tiers of buyers with specific roles and permissions. They can also track quotes, view order histories in detail, and manage their credit online. These actions will reduce the need for customers for your support.
Besides, Magento Commerce helps your B2B buyers to maximize their sales by accepting Payment on Account. This offline payment method allows them to make purchases up to the credit limit, which is specified in their profile.
Omnichannel
Magento Commerce helps merchants to meet the needs of customers by creating world-class omnichannel experiences.
Magento Commerce offers Magento Order Management to sell from and fulfill from anywhere. With Order Management, merchants can consolidate global inventory,  intelligently source items for the fulfillment, and enhance customer service. For example, it unites multiple eCommerce channels by handling complicated order and fulfillment needs like back-order and BOPIS (Buy Online Pick-up In-Store).
What's more, the owner stores can use Magento Business Intelligent (BI) Tools to find out the most profitable customers. You sell through multi-channel, for instance, BI can query your entire data warehouse, analyze your products, etc to identify new growth chances.
If you take a look at top B2B eCommerce platforms, you probably will hear of BigCommerce. BigCommerce is a hosted solution to build your online business. This platform is well-known for being feature-rich, easy to set up, and offering excellent support. BigCommerce Enterprise targets wholesalers, distributors as well as manufacturers.
"BigCommerce for B2B extends BigCommerce's native functionality with scalable, enterprise-level eCommerce tools for established brands operating within the more traditional B2B verticals", said Maryann Bekkedahl, senior vice president of business development for BigCommerce.
Here are several big brands that are using BigCommerce Enterprise: Toyota, Ben&Jerry's, Natori, etc.
Security
BigCommerce is a reliable, secure, and scalable platform for several reasons:
Being ISO/IEC 27001:2013 Information Security Management Certificate compliant
Being certified as a PCI DSS 3.2 Level 1 Service Provider
Keeping all systems on Debian Linux Long Term Support (LTS)
Secure coding and business practices from OWASP and CIS
Providing SSL certificate
Internationalization
The BigCommerce team helps the store owners to localize content and conversion tools. They can use Stencil – BigCommerce front-end development framework to build a unique online store and enhance localized content to suitable geographies. They then can empower sales teams with region-specific growth and conversion tools.
Besides, with a Stencil theme, store owners can define multiple translations for each theme. They need to create a JSON file for each language they choose to support them in translating a theme.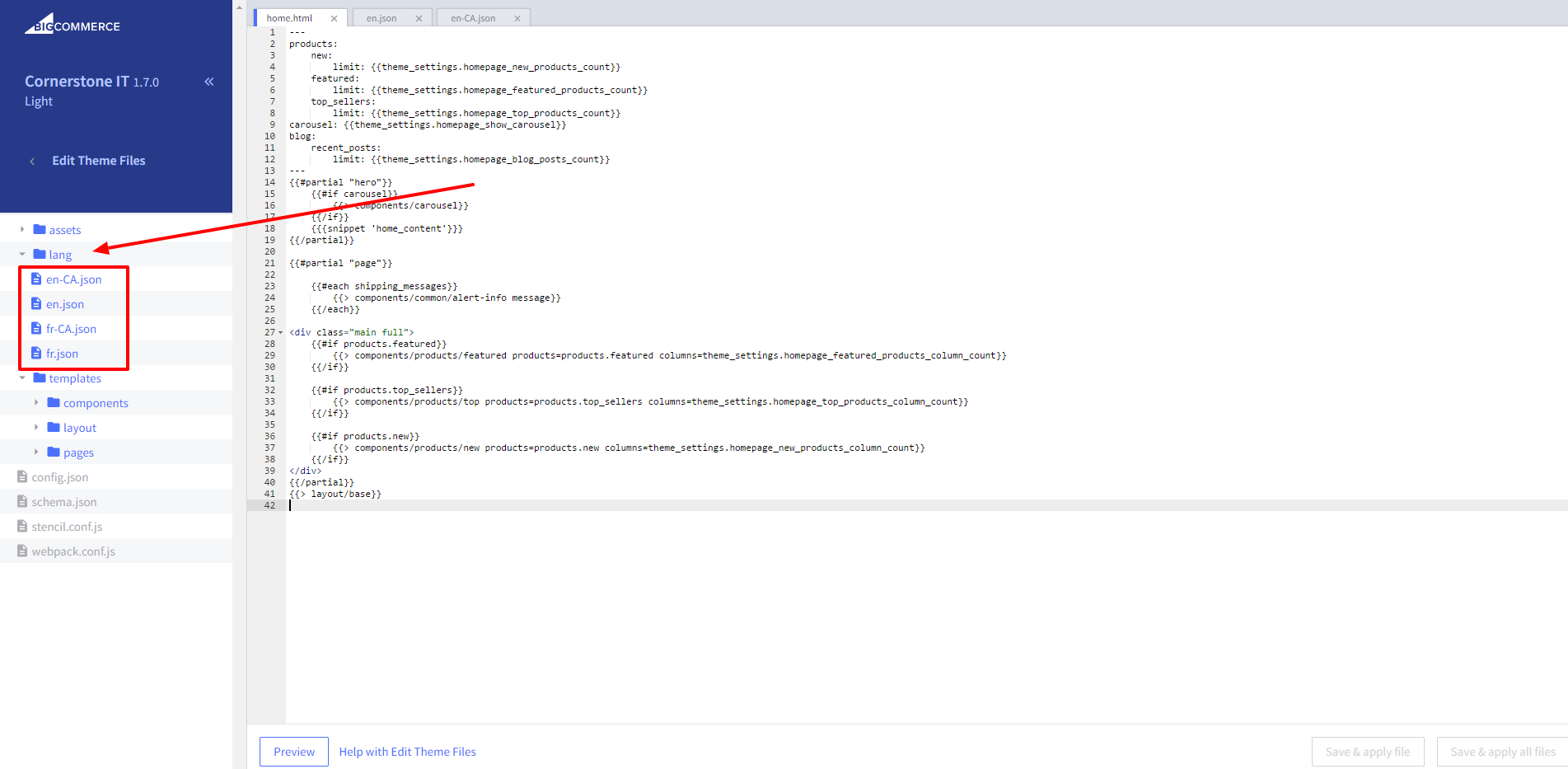 BigCommerce also provides Avalara Tax to help merchants from over 150 countries to configure taxes globally.
Customization
BigCommerce is designed for merchants who don't have many technical skills, but it does allow tech-savvy people to tweak the website.
You can make use of the Stencil theme to customize and manage storefront attributes such as colors, fonts with no coding required.
Wholesale
BigCommerce offers Landing Page to help you source new wholesale clients. You can also customize your online store for the customers' product and price needs when they log in. Plus, it assigns wholesalers to certain customer groups. Merchants, therefore, can customize their prices, products, re-ordering, and approval processes. By the way, they can customize prices and discounts down to the unique SKU for every individual client.
This B2B platform also has advanced B2B-friendly shipping to reduce costs thanks to the integration with ShipperHQ, the leading shipping rate rules engine. Besides, BigCommerce offers customers payment by purchase order and allows a wide variety of flexible payment methods and credit authorization.
Omnichannel
BigCommerce pre-built integrations with Amazon, eBay, Facebook, Instagram, Pinterest, and Google Shopping. So you can sell on multiple channels from a single dashboard. Moreover, BigCommerce also ensures the B2B customers can integrate new channels when they launch their online business.
All multiple channel integrations are built on BigCommerce catalog API to sync inventory from 3rd-party channels to the back-end. Therefore, you can avoid over-selling.
Salesforce Commerce Cloud is another excellent solution among the top B2B eCommerce platforms list. It is absolutely for companies that want to go ahead on this market.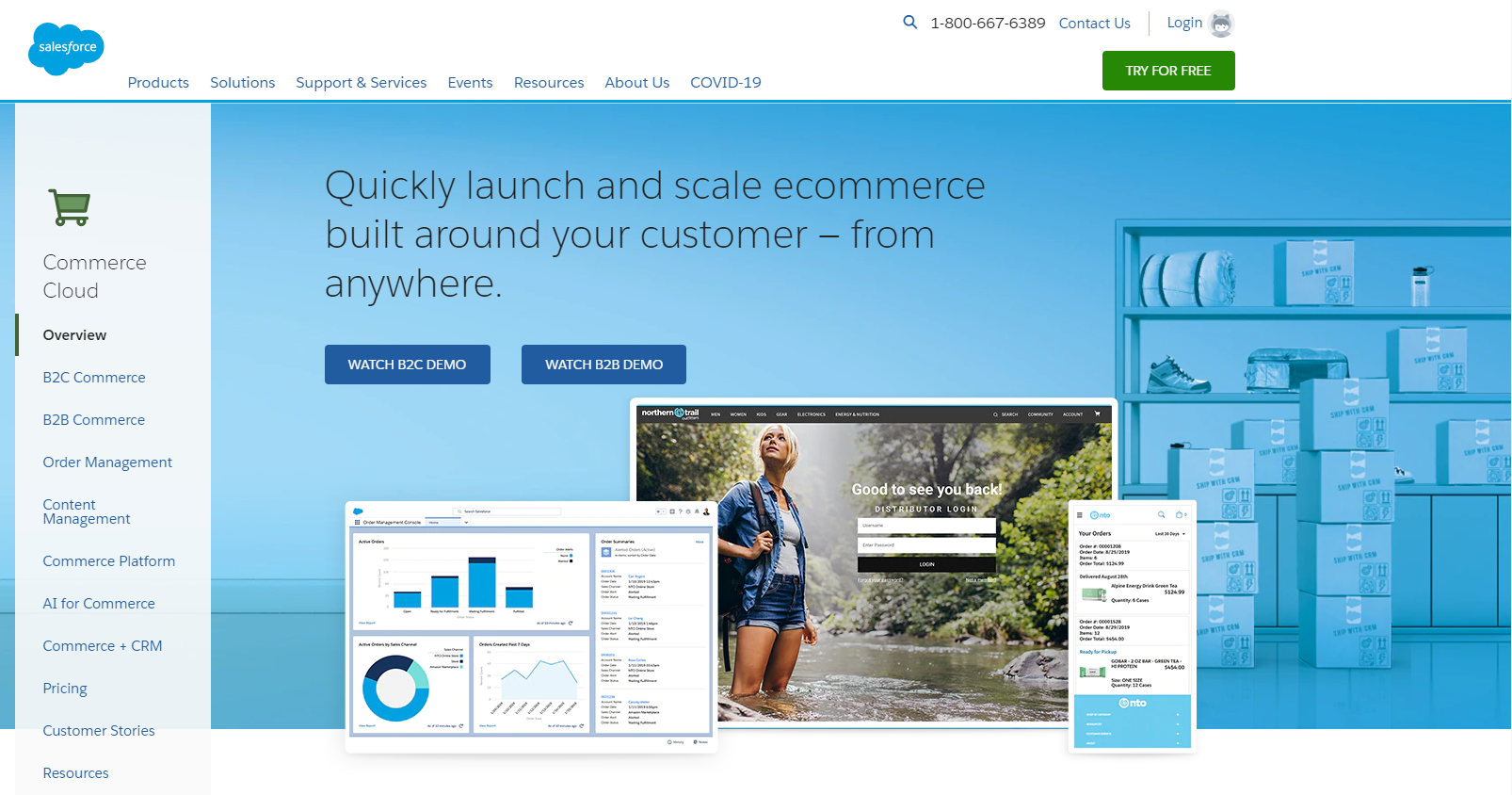 Salesforce Commerce Cloud, previously Demandware, is a multi-tenant, cloud-based platform that targets large enterprises. Multi-tenancy refers to a software architecture in which a single instance of the software runs on a server and serves many customers. All the tenants share one software application, however, their data are still dedicated to ensuring the security requirements.
Salesforce Commerce Cloud offers users outstanding features and functionalities to create storefronts that are specifically designed for businesses making bulk order purchases.
Security
One point helping Salesforce Commerce Cloud become a prominent name among top B2B eCommerce platforms is its high security. This platform provides a robust security and privacy program that highly concentrates on customer data protection.
There are some outstanding security services that Salesforce Commerce Cloud covers:
Control of processing: Ensure Customer Data is processed only by the customers through the entire chain processing activities by Salesforce and its sub-processors.
Audits and Certifications relate to security and privacy: This platform undergoes security assessments including infrastructure vulnerability assessments and application security assessments. Information about the audits and certifications is available from the AWS Security Website and AWS Compliance Website.
Security Policies and Procedures: enhance security relating to user passwords.
Internationalization
Salesforce Commerce Cloud internationality feature is as pretty equivalent as that Magento Commerce offers. There are 3 internationalization strategies for merchants to choose from. Each option suggests different internationalization practices with a different number of sites, customizability, complexity in Business Manager, and so on. Merchants need to consider their personnel resources to identify the best practice approach.
Salesforce Commerce Cloud enables multiple currencies and multiple languages. This platform offers Translation Workbench, a tool that allows you to translate Salesforce texts to different languages.
About taxation, you can use Tax Provider to easily configure the charging of sales tax on Orders. You can set a fixed rate or use a third-party tax rate table and configure a different tax rate for different regions.
Customization
The design of your Salesforce store is pretty easy to customize.
Although Salesforce Commerce Cloud customizability is not as strong as that Magento Commerce offers, it is still more extensible than other SaaS solutions like Shopify Plus or BigCommerce Enterprise. We have covered the detailed differences in terms of customization as well as other aspects between Salesforce and Magento Commerce, you can refer to this article here.
According to the TrustRadius, a qualified review site for business technology, Salesforce Customization features score 8,7/10, which indicates the high customizability of this eCommerce site builder.
This platform gives merchants the "Page Designer" tool to help them design, schedule, and publish pages. Store owners can make use of Commerce Cloud Partner Marketplace to get support and value-added services for their stores.
Wholesale
Salesforce Commerce Cloud maximizes your online growth with easy-to-use eCommerce features tailored to B2B customers. It helps wholesalers engage more customers by making every B2B eCommerce interaction seamless, relevant, and connected.
Here are some important features of Salesforce Commerce Cloud B2B in term of wholesale:
Ability to freely adapt to a lot of SKUs per order
Double-clicks to easily reorder regardless of the number of products of the purchase
Advanced delivery functionality including multiple delivery dates and locations
And here is the brief video which covers some of the key features of the Salesforce B2B Commerce Solution:
Salesforce  Commerce Cloud is also supporting 41 payment methods to make bulk purchases easier.
Omnichannel
Omnichannel is a strong feature helping Salesforce Commerce Cloud outshine other solutions on the top B2B eCommerce platforms list. This platform helps retailers to deliver a "buy anywhere, fulfill anywhere" experience to their customers. Retailers can manage inventory, merchandising, and promotions with a shared view of customers, orders, etc from multiple channels.
The platform provides Commerce Cloud Digital, a product that helps retailers to anticipate the customers' needs and then make suitable content available anywhere on the site. They can easily manage and share product content, launch campaigns, or refresh seasonal promotions with marketing, merchandising promotions, and more. Therefore, they have more chances to engage and convert shoppers across all the digital channels like web, mobile, etc.
Commerce Cloud Order Management is a powerful add-on that allows you to control real-time inventory across all channels. Hence, you can easily catch every opportunity to offer customers an available product from anywhere – in another store, a warehouse, or an entirely different zip code.
Another comprehensive commerce solution this platform offers is Commerce Cloud Endless Aisle. With Endless Aisle, your customers will have unlimited purchase possibilities. Especially, this solution can unify customer data including the information of product, purchasing, order fulfillment, and return activity from all channels. Then it will identify the customer insights that help you to extend the shopping experience.
The last name on the list of top B2B eCommerce platforms in NuORDER.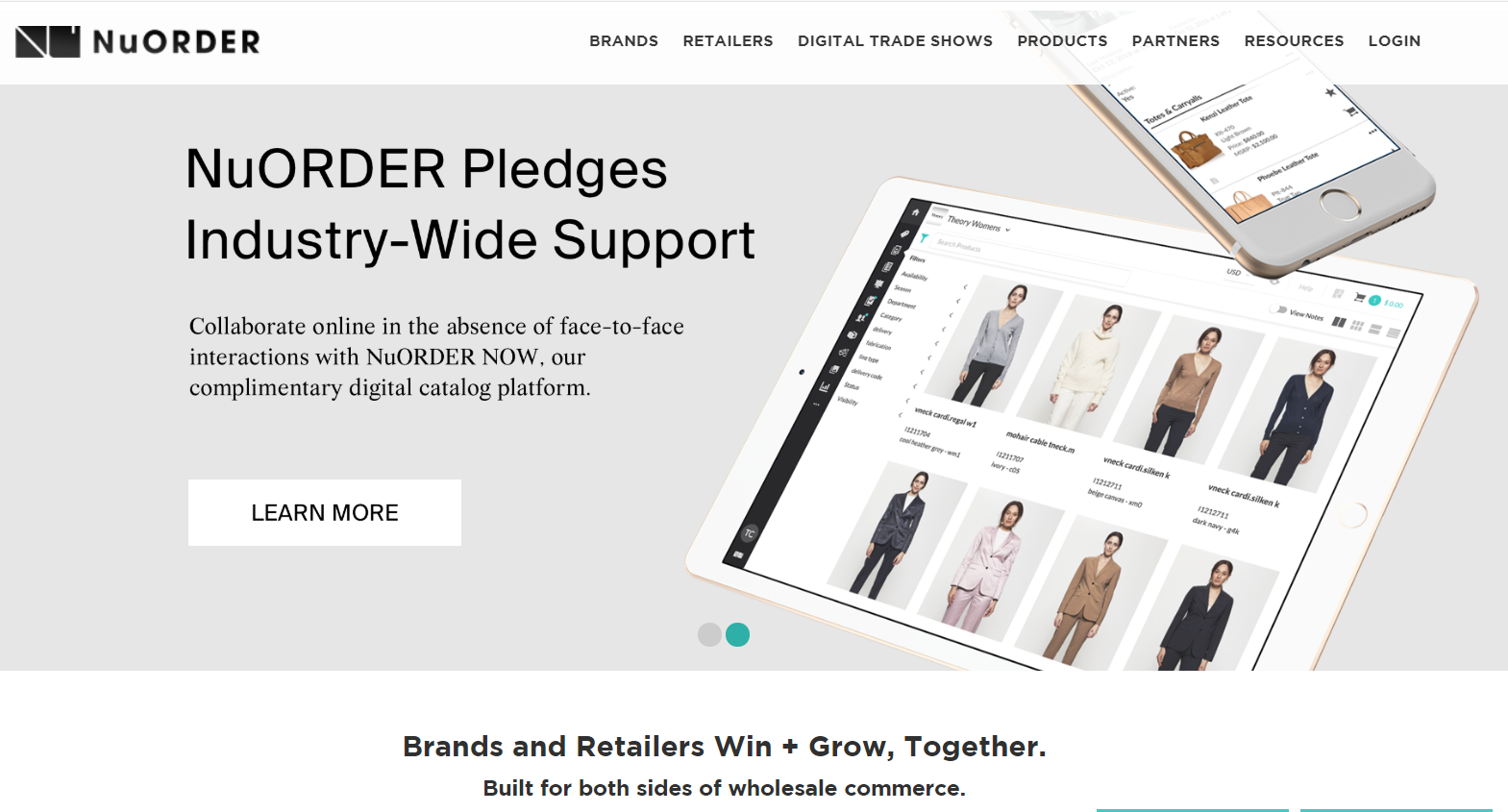 NuORDER currently connects more than 2,000 brands and 500,000 retailers including Acne, Rag & Bone, Lacoste, etc. This B2B eCommerce platform concentrates on B2B processes such as bulk order purchases and reordering.
If you need a two-way marketplace and ordering system that enables brands to connect to retailers and retailers to find out more brands, this platform will cover you. Brands choose NuORDER to deliver a seamless and more cooperative wholesale process. Thanks to this, shoppers can search for products, plan assortments visually, and make smarter decisions in real-time.
Security
NuORDER takes measures to protect personal information from loss, misusage, unauthorized access, disclosure, alteration, and destruction.
This B2B eCommerce platform complies with the U.S.-EU and U.S.-Swiss Privacy Shield Principles. This framework regards the collection, use, and safekeeping of personal information transferred from the EU and Switzerland to the US, respectively.
There is one notable thing is that each customer needs to remain responsible for the privacy and security of the Customer Data on their own. NuORDER just stores personal data for as long as necessary for individuals who come from the EU and Switzerland.
Internationalization
NuORDER supports multilingual, however, this feature is still quite limited. Currently, it is supporting 5 languages: English, French, German, Italian, and Hebrew.
This platform also allows merchants to apply multiple currencies for one wholesale product price. Thanks to this feature, the sales team can sell products in different currencies. There are 5 currency units available in NuORDER: RUB, EUR, CAD, GBP, and USD.
About taxation, NuORDER offers Tax Rules to help you automatically charge tax at the point of sale and in sales orders. Tax Rules are set to apply globally. NuORDER also provides Tax Jurisdiction which determines where tax is required and sets up a different tax rule for each area.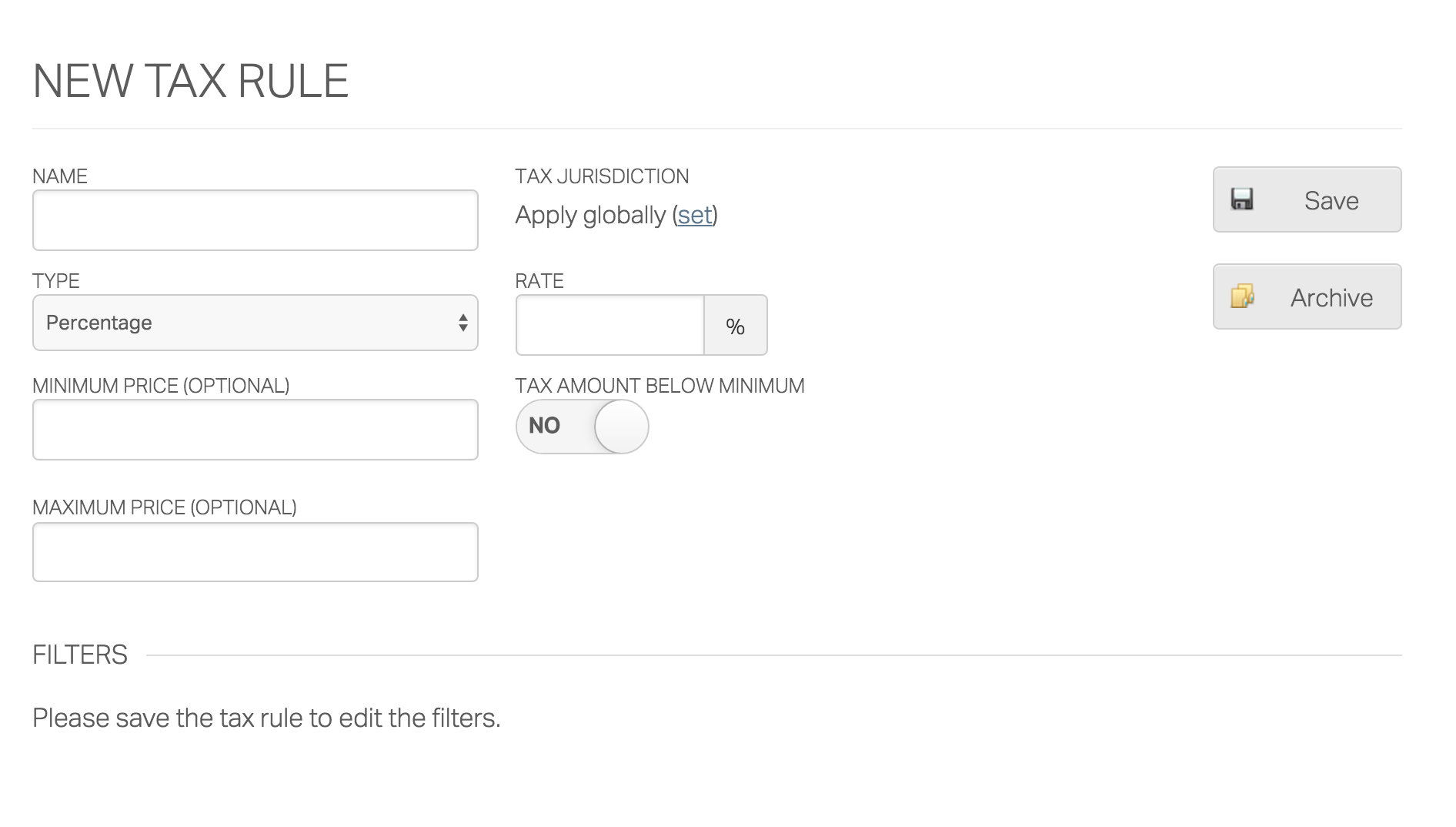 Customization
NuORDER grants store owners to make changes to the portal to better represent their brand and style. However, NuORDER customizability is inferior to what the above-mentioned top B2B eCommerce platforms offer. You have the ability to customize the Wholesale section to the image you expect. Once your retailers access your store, they'll get a better shopping experience.
Wholesale
NuORDER is a prominent name among other top B2B eCommerce platforms when talking about wholesale features. This platform delivers great wholesale features to help brands and retailers grow and win together.
NuORDER offers Order Tab from which your B2B buyers can find it is much convenient to manage their orders.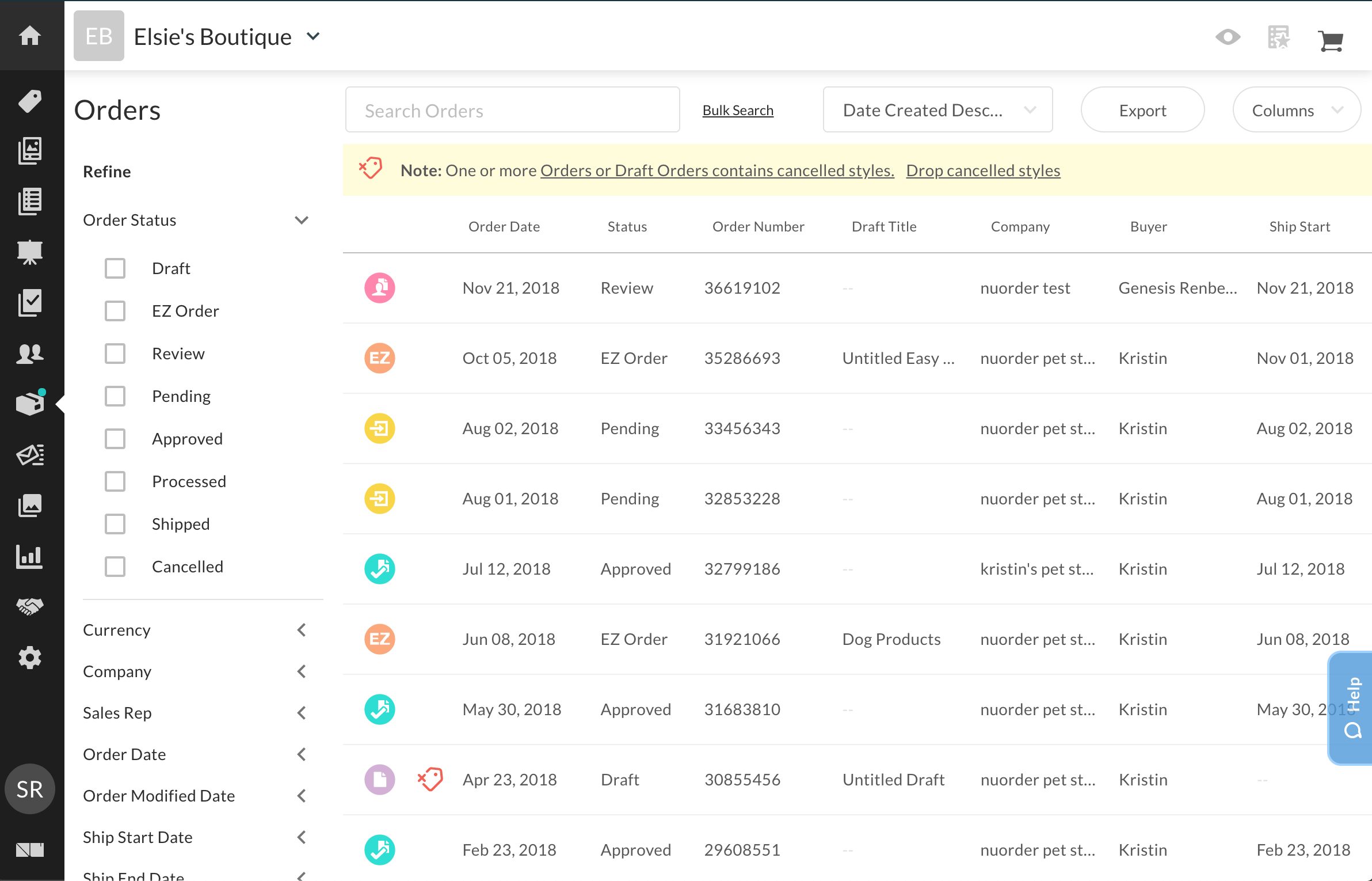 Order Statuses: the orders are organized by eight status levels.
Filters: include Company, Sales Rep, and Date. B2B buyers can choose the items they want based on these criteria. Filters help your B2B buyers save more time to find out their products.
Search: B2B buyers can search for their previous orders by order number by using Search Bar.
Actions: include Edit and Re-order. In terms of Re-order, B2B buyers can re-order for the purchase with all the same products and shipping information.
Other actions: Cancel (if applicable), Download Order XLS, Download a PDF copy of the order.
NuORDER offers outstanding eCommerce and Order entry features that make seamless ordering and help boost sales and grow your business.
Omni-Channel
NuORDER integrates with Stitch Labs with the aim of providing the B2B customers more ways to sell their products to more audiences. Stitch is an online inventory control solution that simplifies the omnichannel retail business. It automatically syncs inventory, orders, and sales across channels.
This partnership allows NuORDER and Stitch Labs to provide both brands and retailers with a complete end-to-end platform.
6. Growcer
Introduction
When looking out for a robust solution to launch a marketplace, Growcer by FATbit Technologies ticks all the boxes. A software solution developed to help set up new online businesses with progressive features and distinguished user journeys.
Growcer is a hyper-local marketplace software that allows establishing streamlined ordering & delivery processes for the business launched. From everyday grocery to critical items like medicines, Growcer has by far built ideas into significant operating systems.
Every time an admin decides to bring on-board multiple vendors to cater to people within a neighborhood with their favorite stores, Growcer has been able to meet all expectations and bridge all gaps. The software allows the admin to set up a platform that is home to stores wanting to connect to their customers through online channels and deliver items to their doorsteps.
Security
The security parameters of Growcer have been integrated keeping in mind the standards and expectations of the admin, vendors, and sellers. The system is supported with strong security enabling facets including:
SSL – To secure connectivity between the browser and the server hosting the marketplace, SSL certification guards the website for its communication safety. Growcer developers have kept in mind all information that can possibly be transferred to and fro between the admin, vendors, and customers, and that needs to be protected from any outside maligning.
Data validation – Any information or input received on the portal is validated by the Growcer software security settings for its accuracy. A secure flow for seamless connectivity and transaction capability is offered along with the solution.
Security Assets – Security assets for restricted SQL injection, restricted Cross-site scripting (XSS), restricted cross-site request forgery, handled sensitive data exposure, data sanitization, broken authentication, and restricted direct access for folder/files have been integrated as parts of the overall Growcer solution, offering all-round protection as well as reliability.
Internationalization
The product has been built with a perspective so as to meet the requirements of businesses across borders. With a base comprising 240+ languages, the barrier to launch an online portal anywhere in the world is dealt with.
The feasibility of launching a marketplace with Growcer anywhere is evident not only by the possibility of a multi-language UI but also by the fact that a multi-currency payment option is also present. The admin can integrate regional payment gateways that the locals relate to most easily, so as to gain popularity among the area of service.
Apart from this, Growcer can be identified as a product that can be built as per user choices with numerous third-party integrations for taxation, connectivity, and payments significant in any particular area, country, or city.
Customization
A product that is rigid and not open to changes tends to outgrow people and runs out on its popularity. Growcer has taken care that neither does it end its scope to grow nor limit admins when they think of expanding as a business.
A turnkey solution offering a vast array of opportunities to customize on top of the available platter to meet what suits the need. The possibility to change the look, flow, and brand identity of the marketplace gives a sense of freedom while operating businesses backed by Growcer.
The team offers customization plans that build requirements as per the desired business needs. Experts and market specialists assist the development at every step of the process to guide you towards an adept marketplace.
Wholesale
When a marketplace is set up that caters to local people, providing to them a place where they can come and order items from their favorite neighborhood stores, they must be given the leverage to buy certain items in bulk at special prices.
Growcer as the software supports sellers in defining bulk item pricing for their customers placing large orders. Buyers get to view the wholesale pricing for such items and take decisions accordingly.
Omnichannel
The Growcer marketplace software has been prepped as an MVP solution that can be expanded according to the vision of the admin. BOPIS being an integral part of the existing offering, APIs for third-party integrations can equip the platform with multi-channel capabilities for convenient management.
As a vendor, if you have accounts on multiple selling platforms, Growcer can integrate your accounts in one place so as to ease all your operations from a single account (at additional cost).
All-in-all Growcer is a complete package that comes with an established go-to-market marketplace solution, driving your business from idea to reality in no time.
7. Quick eSelling
Quick eSelling is an end-to-end B2B eCommerce platform for today's businesses. It is a fully managed hosted eCommerce platform that comes with a powerful CRM to manage the website and apps. Quick eSelling enables business owners to sell round the clock, minimizing admin and freeing up sales representatives' precious time, and streamlining the business processes.
To build a successful online B2B business, the platform comes with features like purchase quantity restriction, e-catalog, restricted delivery zone, custom pricing, advanced data analytics, and ERP integrations.
Security
For high data security, the platform provides comprehensive Server, Transaction & Data Security with Firewalls and Advanced Encryption. Here are the security features that the Quick eSelling B2B eCommerce platform has:
Server security
Transaction security
Data encryption
Authentication & authorization
SSL certificate for domains
Option to upload your custom SSL certificate
Firewalls
Advanced encryption
Internationalization
Quick eSelling B2B eCommerce platform is integrated with multiple payment gateways that enable global business owners to use the platform. Also, the features like multicurrency, multilingual, shipping, and Tax APIs. Quick eSelling platform is used by 20000 retailers and business owners across the globe.
Customization
Quick eSelling is a fully customizable and scalable eCommerce platform. The B2B eCommerce platform comes with a customizable front-end that allows business owners to make changes on the go to keep the online store content fresh, change banners, highlight the latest promotions, add or update sections, and much more without any coding experience. It offers multiple free themes to enhance the look and feel of an online store. To integrate any new features and API, Quick eSelling has an agile technical team.
Wholesale
To accelerate wholesale businesses operations, Quick eSelling offers the following set of whole features:
Automated wholesale order management to handle purchases, returns, and delivery
Real-time inventory management updates
Deep linking of your existing inventory and order management solutions
Smart analytical dashboards to make better business decisions
In-built marketing tools such as push notifications, discount coupons, cart recovery, email alerts, etc.
Omni-channel
Today business owners want to sell on multiple channels to increase sales and for higher brand exposure. Quick eSelling allows retailers to sell on eCommerce marketplaces such as Amazon or Flipkart while simultaneously selling on their own online stores.
Choosing the Best B2B eCommerce Platform
Now that you can know the criteria to identify a B2B eCommerce platform. You also know what the top B2B eCommerce platforms are, it's time to tighten your choices.
Among Shopify Plus, Magento Commerce, BigCommerce B2B, Salesforce Commerce Cloud, and NuORDER, it is not easy to vow which one is the best of all. For example, Shopify Plus covers a bunch of outstanding B2B functionalities. Nevertheless, its customizability is still inferior to that Magento Commerce provides. Meanwhile, Magento Commerce is not easy to use and it can be a little pricey for some companies. Correspondingly, the others also have their pros and cons when talking about B2B functionalities.
These top B2B eCommerce platforms constantly do essential actions to improve themselves to meet the needs of customers. Just remember that choosing the best B2B platform means that you choose one best suited for your online business.
Besides, this article reviews the above-mentioned top B2B eCommerce platforms based on a few must-have criteria. There are still other aspects to keep an eye on like Pricing Plan, Marketing tools, SEO features, or Support. You can get detailed information about these features of those platforms through the Cart Review section on our blog.
Are you going to switch your B2B eCommerce platform?
If you wish to move from your current B2B eCommerce site to a new one, feel free to perform your data migration with LitExtension.
As a World Leading Shopping Cart Migration Service, LitExtension offers an automated migration tool that works with any shopping carts. The tool has been developed so as to limit almost all human intervention to migrate data automatically.
Up to now, LitExtension luckily has helped more than 40.000 global customers with over 140.000 store migrations.
In case you have any questions, don't hesitate to contact our dedicated support team. Our friendly and professional support experts are willing to resolve your issues quickly.
Join our Facebook Community to get more eCommerce tips and news.