As the end-of-life date approaches for Magento 1, it's important for stores to upgrade to Magento 2 as soon as possible. If you are still wondering why this move is necessary, I highly recommend you have a look at our latest article that explains in details reasons why to upgrade to Magento 2.
With regard to the upgrade process, it is now referred to as migration because the coding structures and database architecture of Magento 1 and Magento 2 are greatly different. Therefore, it is much harder than any other Magento version upgrade. As such, to move to Magento 2, you need to have a careful plan sooner than later.
In this article, I will show you 6 things to consider when migrating Magento 1 to Magento 2. These things will include where to start, what to expect from the transition and how much it may cost.
Let's begin!
1. How difficult can the migration from Magento 1 to Magento 2 be?
As I mentioned above, Magento 1 and Magento 2 are dissimilar in many aspects. A few differences that I can list here are: file structure, built-in technologies, JavaScript library and so on. For more information, please see our analysis of how Magento 1 differs from Magento 2. Therefore, it is still true if we consider them as two different platforms.
The migration between the two is so complicate so that you cannot just import or export manually. You can refer to three methods of moving from Magento 1 to 2 and their comparison at this blog here.
If you want a do-it-yourself solution, make sure you have enough technical experience to avoid or fix any problems that may happen during the transfer including data loss or downtime on your Magento 1 store. Otherwise, we highly recommend you hand over the migration to experts.
Because of its complexity, the cost of moving from Magento 1 to Magento 2 is of course not pleasant at all, especially if you are trying to hire a certified developer. Later in this article, we will discuss deeper into this part. Stay tuned and let's move on to another important point!
2. How to migrate extension.
You can migrate all the data relating to products, customers and orders automatically with LitExtension tool, even media files which are impossible to transfer in most other ways. To know exactly what data we are able to migrate, you can refer to our detailed information about Magento 2 upgrade service here.
However, as for extensions, it cannot be moved easily in any method. On your Magento 1, you might have used third-party extensions to add more functionality to your store. These extensions are unlikely to be compatible with Magento 2, which makes the migration of extensions hard to deal with.
But don't lose hope yet! There is still one way to do it. LitExtension can custom code to transfer data from extension for you. You and our team will need to co-operate and review carefully before-hand all the extensions. The aim is to find out if there is a Magento 2 equivalent extension available on Magento Marketplace. Then, you need to install the extensions on your new store. And LitExtension experts will take care the rest.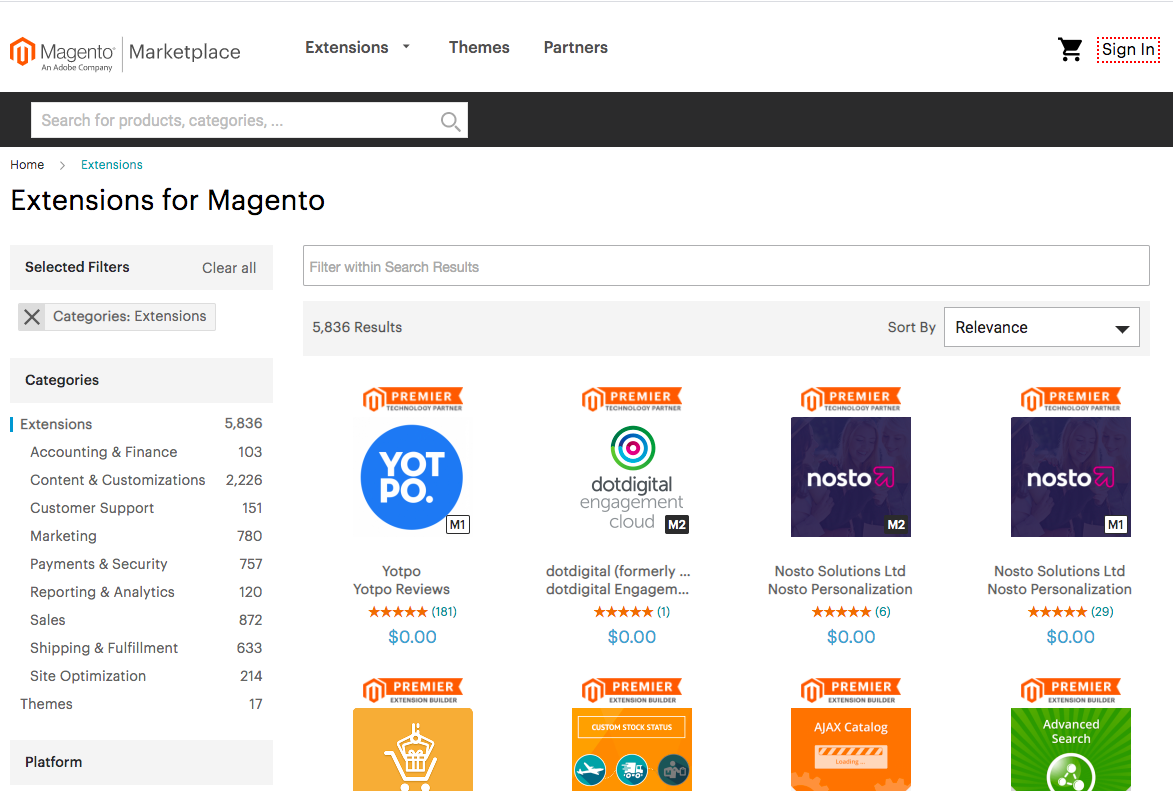 3. Is it possible to migrate theme?
I don't want to be pessimistic but currently there is no solution to migrate theme. This is really one of the things to consider when migrating Magento 1 to Magento 2.
You will need to re-create a similar theme to work properly with Magento 2 structure. However, this will be an opportunity for you to make any front-end improvements. Or, if you have soldiered on without executing a fully responsive design in your Magento 1, moving to Magento 2 will give you a great chance to rectify that.
4. How to migrate incremental data without manual effort.
Process of migrating the above-mentioned data is about to take you some time. During this time, your Magento 1 store will receive new customers, orders or you may add new products. Therefore, after finishing the process, you need to transfer the newly incurring data and update the edited ones in your new store also.
In this case, if you're reading other tutorial articles, you may be told that the incremental data migration can only be done manually. However, if you perform Magento 2 migration with LitExtension, you can update the data automatically in the blink of an eye.

LitExtension provides 3 options so that you can bring all of your data up-to-date. These options are made based on different needs of merchants. You can read more about Recent Data Migration, Re-migration and Smart Update to find out which option is the most suitable for you. But first, this is one thing you would be very happy to know: All three options are FREE and you can use them for UNLIMITED times!
5. How long does downtime last?
Downtime is undesirable because it will bring your customers unpleasant experience and negatively affect your business. As a result, this is one of the most important things to consider when migrating Magento 1 to Magento 2.
Luckily, downtime will only last for a few minutes. It starts when you begin changing DNS and reindexing, and ends once you finish these tasks. Therefore, it will not affect your sales heavily. However, to avoid displeasing moments, it's highly recommended that you inform your customers of the downtime via email or on your website.
6. What is the cost of moving from Magento 1 to Magento 2.
Cost and method are the last things to consider when migrating Magento 1 to Magento 2. Basically, the cost varies depending on what method you use to perform the migration.
If you're confident about your technical knowledge, you can use Magento migration tool. It may take a long time but will save you a bunch of money because it's free. However, please note that, when problems arise, you can only rely on yourself or the community to fix them, Magento doesn't provide support along the way.
Secondly, you can hire a developer to migrate the data for you. In this case, you need to consider the credibility and competence of the developer because data is of great importance. The cost to hire a qualified developer is at least $80/hour.
The last method is to use an automatic migration tool, yes, that's what LitExtension provides. To ensure the highest level of accuracy, our team has written a migration script which is only for Magento 1 to Magento 2 migration. Hence, it's perfectly compatible with the structures of two platforms and can yield a flawless result.
LitExtension's tool is automated so it costs the least compared to any other method. We have an automated pricing tool which allows you to calculate how much your migration costs and how long it takes. Suppose you want to migrate 500 products, 500 customers and the same number of orders. Then, the approximate amount of money you will pay is only $59.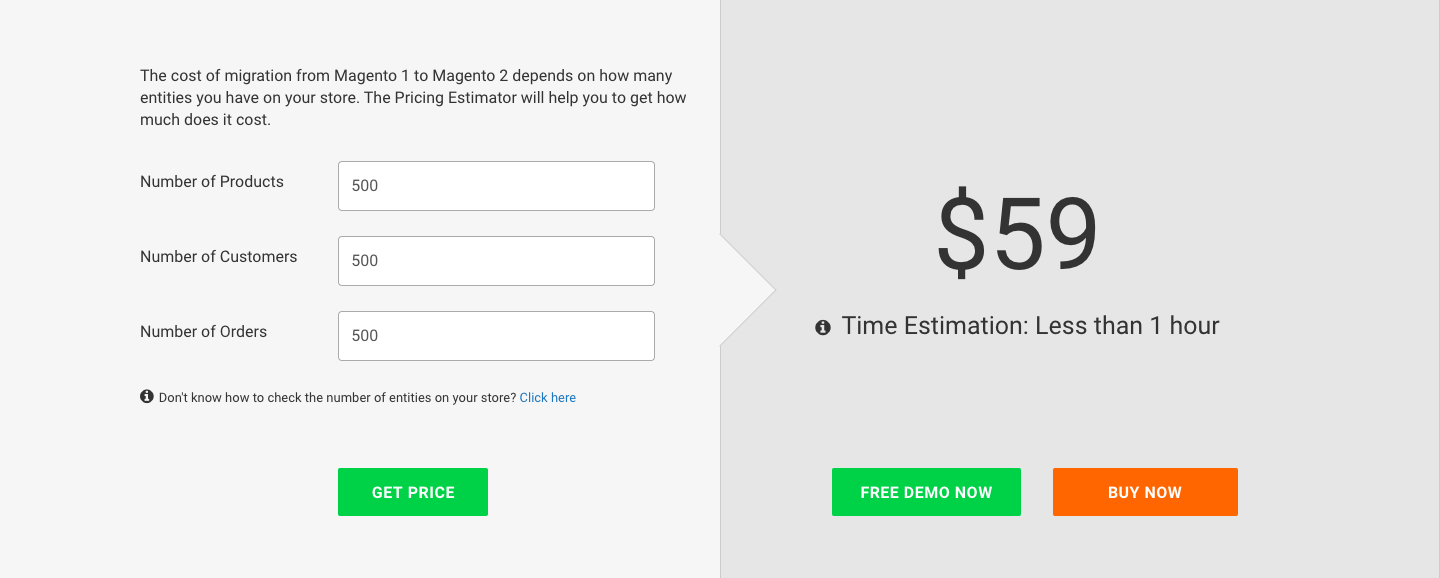 And of course, when working with LitExtension, our Magento experts will be there for you anytime you have questions. The dedicated team will surely bring you a satisfactory experience.
If you don't have time to run the tool yourself, LitExtension also provides an All-In-One migration service in which your migration will be taken care of by our experts from A to Z. The cost is only from $119. Voila!
To discover the process of migration with LitExtension, please see our detailed tutorial for Magento 1 to Magento 2 migration here!
Wrapping Up
Switching your store to another platform is such an important move that you need to pay close attention to. Especially, when you're making a switch from Magento 1 to Magento 2 which is very complex. Please take a look at our blog here for the detailed steps on upgrading from Magento 1 to Magento 2.
The article has provided you with 6 things to consider when migrating Magento 1 to Magento 2. I hope that after reading, you can be more confident when making your migration plan.
Thanks for reading and see you soon!