Introduction
OpenCart is one of the most popular eCommerce platforms to run an online business with more than 900,000 live websites all over the world (Builtwith.com). Like every open-source initiative, OpenCart evolves constantly with great new features.
First and foremost, OpenCart is a user-friendly and powerful platform that can help you flexibly manage multiple stores from a single back-end. OpenCart latest version 3.x was released with a couple of new features, among which is Marketplace and Translations. With the marked changes compared to the previous version, it is definitely reasonable to hit the nail on the head of how to upgrade OpenCart without extensive hands-on. Here is the overall guidance to upgrade OpenCart that you should keep in mind:
Backup your current data and create an OpenCart 3.x store.
Perform Data migration with LitExtension by filling your store information, selecting entities that you want to migrate to the Opencart 3.x
Check the result after the migration
Perform extra migration activities and ready for action!
Now, scroll down to see the detailed instructions to perform these steps and upgrade OpenCart.
Preparation
1. Backup database of your OpenCart store
Firstly, it's important to back up your data before any changes to your store. However, you do not need to worry about any distortion of your database when updating your OpenCart store with LitExtension.
Yet, in this article, we will still provide you with a guide on how to back up an OpenCart store. Please follow these steps:
Log in to your OpenCart store and go to your store backend
Go to System → Maintenance → Backup/ Restore.
Put a tick beside the file types you want to download. Select all option will allow you to export all data in your OpenCart store.
Click Export.
As a result, the data you export are all the data tables in the MySQL database usable for download.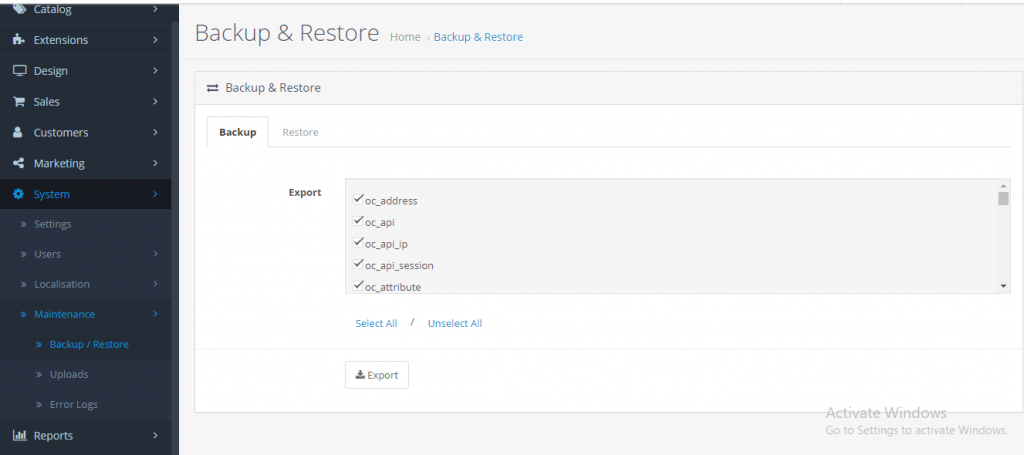 Note: If you need to restore a backup file which you saved on your computer, simply select Restore and choose the SQL file from your computer. Then, it will recover the database.
2. Create an OpenCart store in the latest version
To upgrade OpenCart to the latest version, of course, you need to download and install its latest one. At first, go to the official OpenCart Website and click to "download the file".
Then, make sure you make a well – preparation for some database like:
The hosting address of your database;
The database name;
A username with full access privileges to it;
That user's password.
Now, you have everything you need to start creating your own store. Open any browser and enter your OpenCart directory path in the address bar. You will see the OpenCart installation page:
Installation license
Pre-Installation
Configuration
Installation complete.
Upgrade OpenCart with LitExtension
To begin with, LitExtension allows you to migrate data from one eCommerce platform to another desired one using its automated migration app. With 9 years of experience, LitExtension guarantees to satisfy all customers' needs to perform the migration speedily, securely and accurately. We do also provide you with the first-class services as well as support.
You can quickly upgrade OpenCart 3.x with LitExtension in only 4 simple steps within a few hours.
We have made a 2-minute video tutorial with detailed instruction for you to visualize easily how to carry out this process. Check it below:
1. Create an account on LitExtension website
Firstly, you will need to Register an account or Sign In on LitExtension site to create a new migration and upgrade OpenCart 3.x.
2. Fill in requested information about your stores
In the migration setup page, you need to enter OpenCart source store info into the blank bar. Then, click LitExtension Connector to download the connector. After that, extract the zip file and upload the connector to Source Store's root folder.
LitExtension Connector files are used to connect and make data exchange possible between your shopping carts. Actually, they are access gates that are fully secured by special LitExtension secured tokens.
The process is the same for macOS, Windows and Linux users. You can use Filezilla or any FTP app (FileZilla, WinSCP, FileFTP, CuteFTP).
Download Connector to your computer via the LitExtension provided link.
Upload folder "le_connector" to your Source/Target store's root folder via FTP.
Once you've uploaded the connection properly, its installation status will be checked automatically and you will be informed by a message on the screen.
Here is the detailed step-by-step set up to help you install LitExtension Connector easier within 5 minutes.
Now, let's select OpenCart again as your Target Cart type and enter your new OpenCart store information. Then, follow the same procedure above to add connector to your Target Store.
3. Choose entities you want to migrate
LitExtension allows you to transfer all of the important data from your old OpenCart store to the new one. You can select either all of them together or certain data.
For example, if you only migrate Products, Customers or Orders, just click to the data you want as below.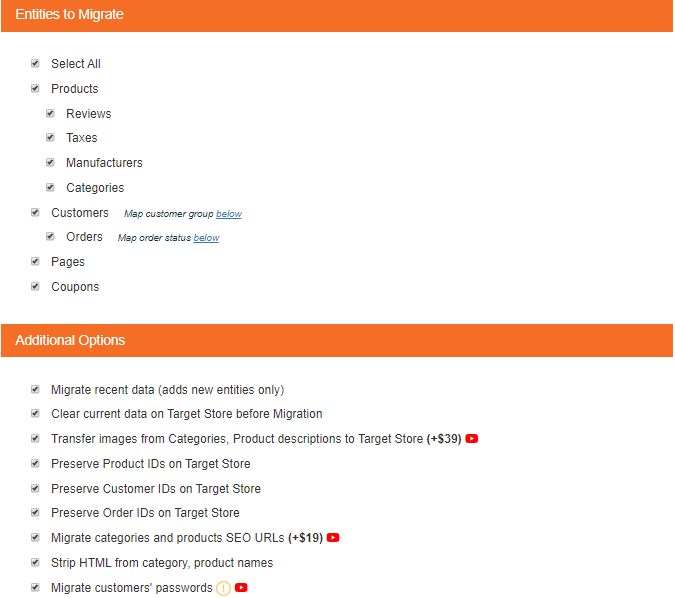 We also provide Additional Options here to extend your migration potentials. Languages, Order Status and Customer Group will be matched together to display consistently in the new store.
4. Perform migration
We highly recommend you to try a demo first to see how our system works. Or else, you can run full migration right away.
To Try Demo: Start your demo migration with a limited number of entities. You will see the same actions as the actual migration. After selecting entities and extra options, click "Start Free Demo Migration" to start migrating.

Free Demo Migration

During Demo migration, you will see the progress bar with the process of data transfer. Test transfer will last no longer than 20 minutes depending on how many entities you migrate. After finished, you will get the notification email and start your work, so there is no need to sit and wait.

To Perform Full Migration: Please click on the "Skip Demo Migration" button to perform full migration right away. Once the migration is started, it will run smoothly on the server. Therefore, there's no need to keep your PC on while the data is being transferred. It is completely safe to turn it off! Take a break, have a cup of coffee and you'll be notified via email when the process is completed.

Full Migration
Check results after migration
After the full transfer, click on "Check Result" to make sure everything is well migrated to your new OpenCart store.
All items in the catalogue, categories and onsite search can be seen on the front-end. If any product from the source is not on display on the new one, you will need to check from the admin panel. Log into the back-end and choose Catalog > Products to find the entities and make sure it is enabled.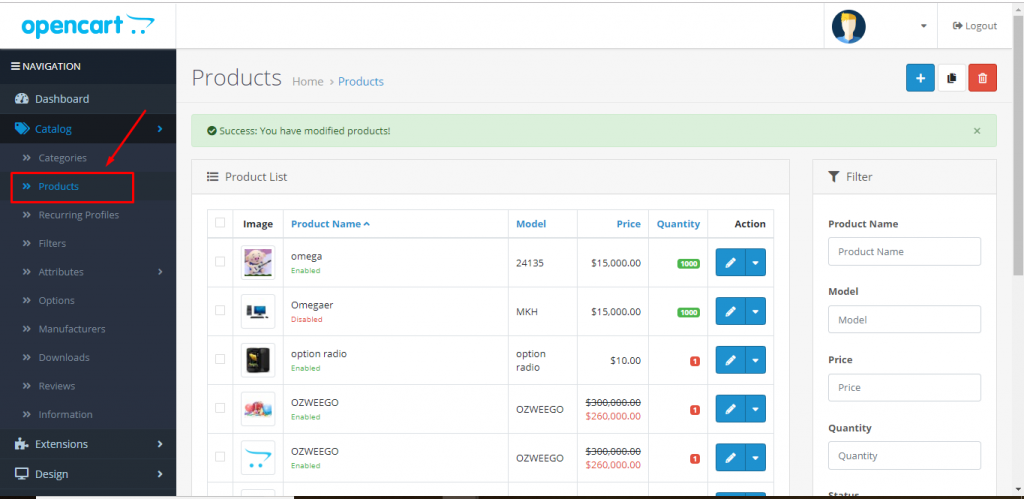 Note: Out-of-stock products can be disabled and not visible from the front office.
Furthermore, please contact LitExtension support team if there are any problems after the migration.
Post-migration activities
Finally, some steps need taking for your store to go live. Here is the checklist to set up an OpenCart store after a platform migration.
1. Choose a theme from your OpenCart store
If you want to maintain the same design in your new OpenCart store, you should check whether the old theme is compatible with your current OpenCart version. Otherwise, contact your theme provider or choose a similar theme out there.
OpenCart offers a variety of themes both free and paid for you to choose from. Check out our article here, we have listed out 8 best themes for OpenCart ever.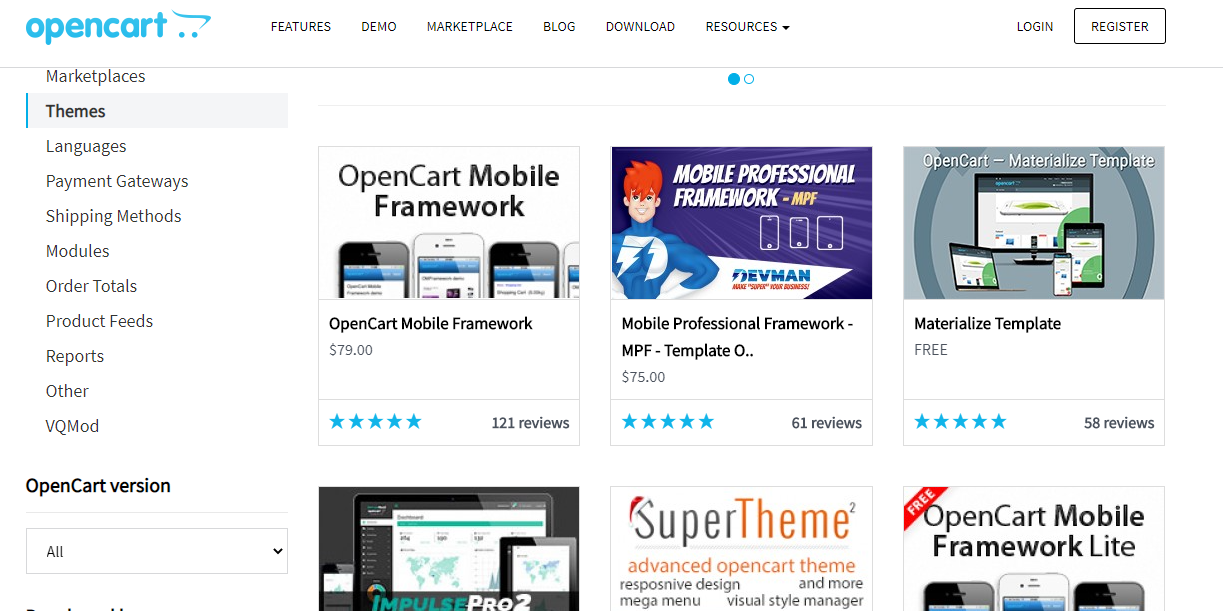 OpenCart theme
2. Add necessary extensions
To power up your store, adding extensions can help to enhance your store in every aspect. There are more than 13,000+ additional extensions available in OpenCart Marketplace for you to download.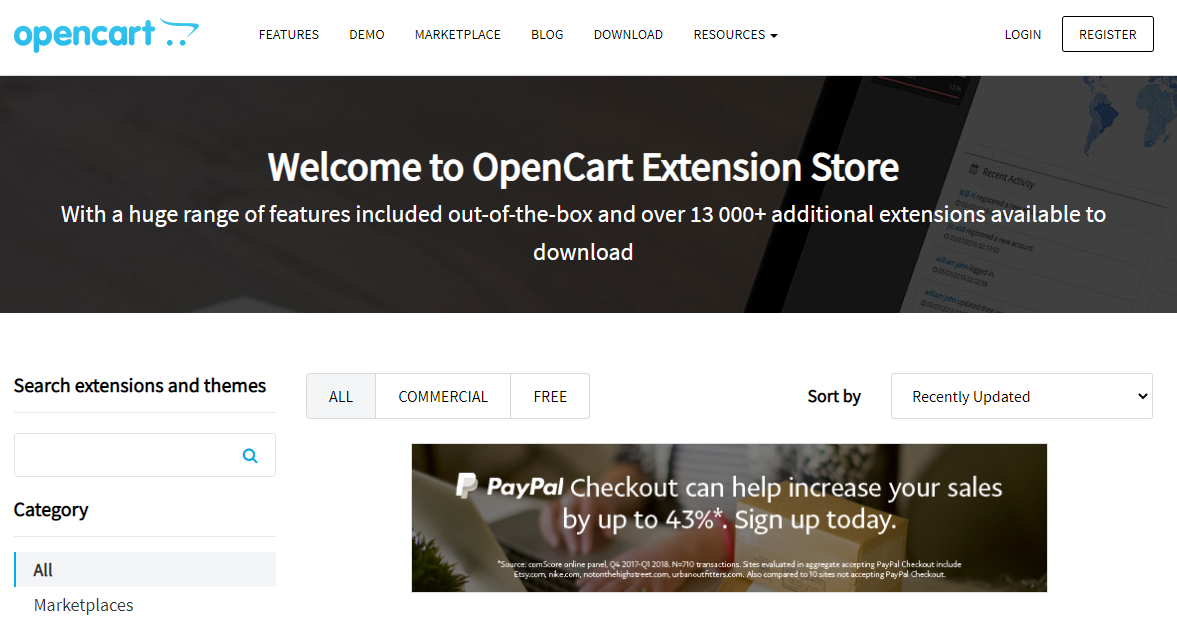 OpenCart marketplace
3. Run recent data migration
When transferring data with LitExtension or configuring your new store, your source store will be operating normally without any interruption. Accordingly, you can still receive new orders, customers, or add new products throughout the data transfer.
Recent data migration is a function of LitExtension that allows you to migrate new-formed entities in the old OpenCart store to the new one.
This video will show you how to do it:
4. Change DNS and switch domain
Domain name system (DNS) is the phone book of the Internet. Your DNS settings provide the link between your old custom domain name and the IP address of the network. When you are setting it up, you will need to get your DNS settings updated to direct to the new IP address. In fact, the easiest and fastest way to do it is to contact your old hosting provider.
Luckily, we also have clear guidance in switching domain after the migration. Let's check out to get your job done easily.
Final words 
In summary, to upgrade OpenCart, instead of using system upgrade methods, LitExtension's automated migration tool is more effective and applicable to everyone.
Want to know more about our trustworthiness? LitExtension scores 4.8/5 stars with 264 reviews on Trustpilot at the time of writing. Moreover, we are getting 96% of users happy with our service according to Financesonline. You can also look for our customers' testimonial videos on YouTube!
LitExtension team is available 24/7 to help you in all cases, and you just need to Contact us! Let's join our community to get more eCommerce knowledge.