Do you already have a Shopify store or have just started out? Do you want to get an effective way to rank on SERPs? What is the Shopify SEO checklist for creating SEO strategies?
There are so many questions to answer. Don't worry so much because LitExtension has your back! In this article, we'll review the top 6 criteria for setting up your SEO for Shopify.
Don't wait anymore! Let's start our Shopify eCommerce SEO checklist!
Need Help To Migrate Your Store?
LitExtension provides a well-optimized Cart to Cart migration service that will help you transfer all your data accurately and seamlessly with utmost security.
---
Ultimate Shopify SEO Checklist to Rank on SERPs
Shopify SEO is a set of SEO tweaks tailored to the Shopify platform. While Shopify stores include SEO-friendly features with high customizability, there can be some SEO problems like duplicate content. Therefore, this Shopify SEO Checklist will assist you in reducing risks and improving your store's ranking!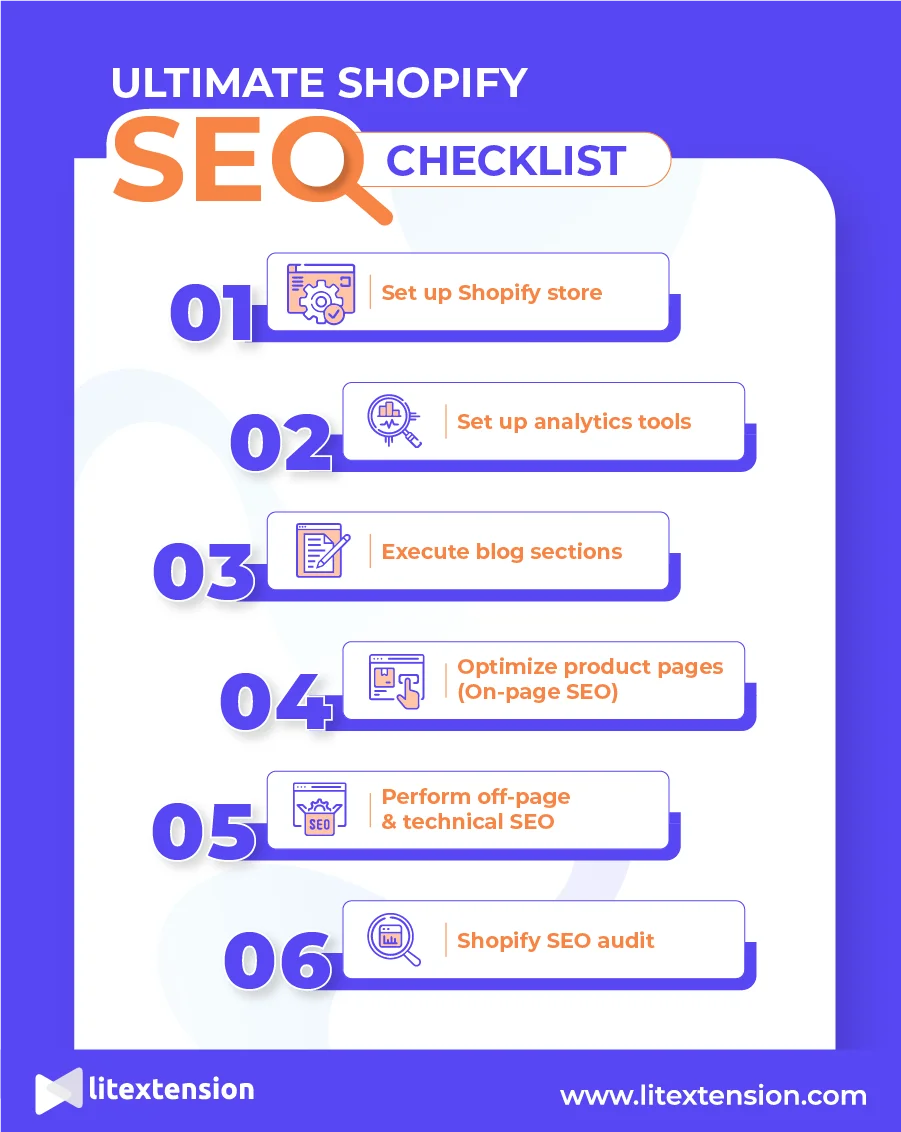 #1 Shopify store setup
At the very first step of creating your Shopify site, there will be many factors that can affect your site performance. From the plugins you add to the images you use, all of these factors can affect your SEO performance. Thus, consider everything at this phase!
Select a Shopify domain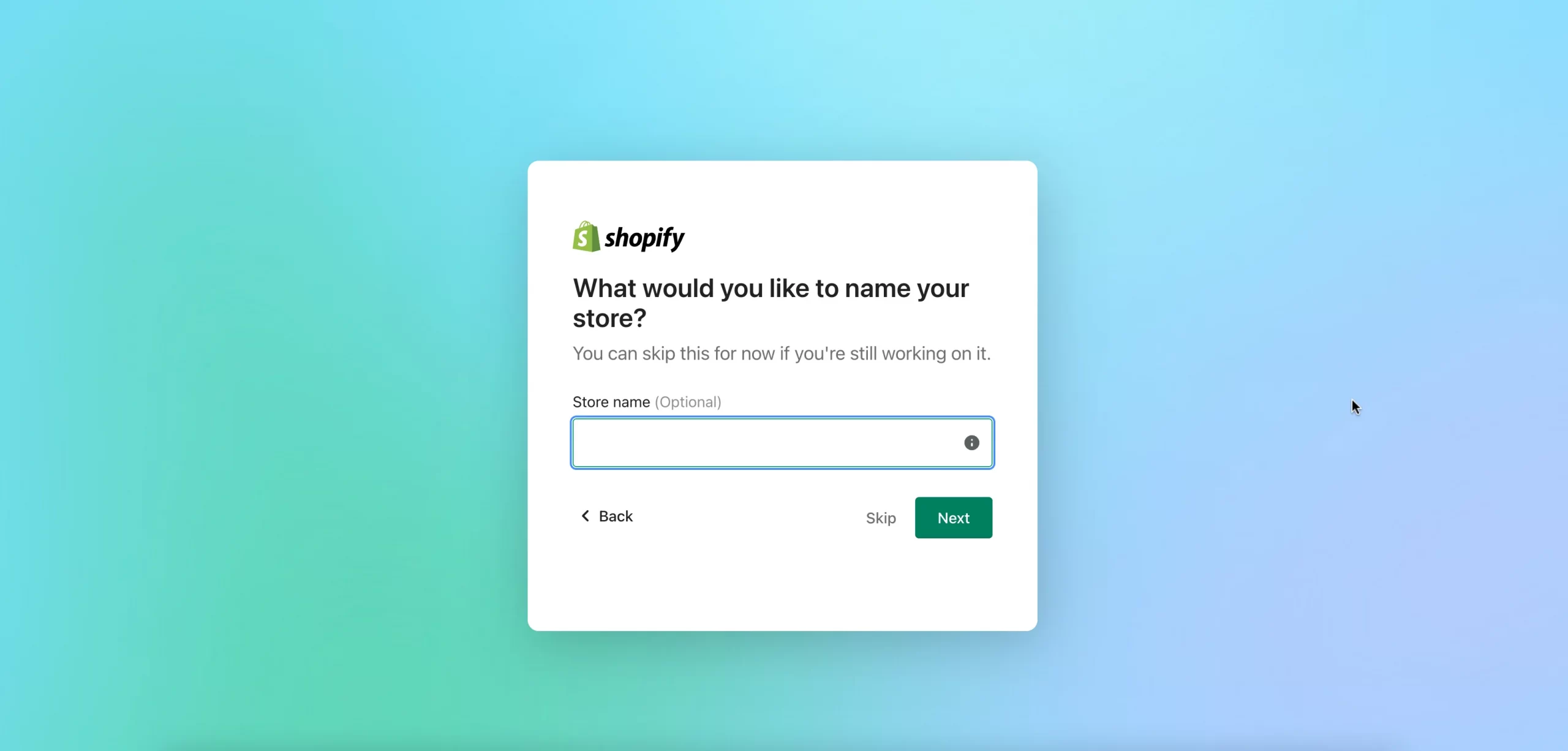 Your online store's presence is represented by its domain and store name. Choosing a distinctive domain name for your Shopify website is the first step in SEO checklist for a new website. You can always register for a unique domain with Shopify!
Or do you want to continue using the domain you got for your new Shopify store from a third-party distributor? You can follow the comprehensive instructions for transferring a domain to Shopify, which is the perfect answer to the aforementioned problem.
If you have just started out with Shopify? Read on to learn how to start a Shopify store, or watch the video below for a basic Shopify store setup.
Choose responsive theme
Whether visitors use desktop, mobile, or tablet devices, they want to enjoy a seamless experience. Your site's bounce rate will reduce, and your visitors will stay longer on your site if:
page layout is fit to the screen size
page speed is high
theme elements are well-organized
A responsive website can enhance the overall user experience as the customers visit your sites, and thus, it is vital to create a good and vivid first impression.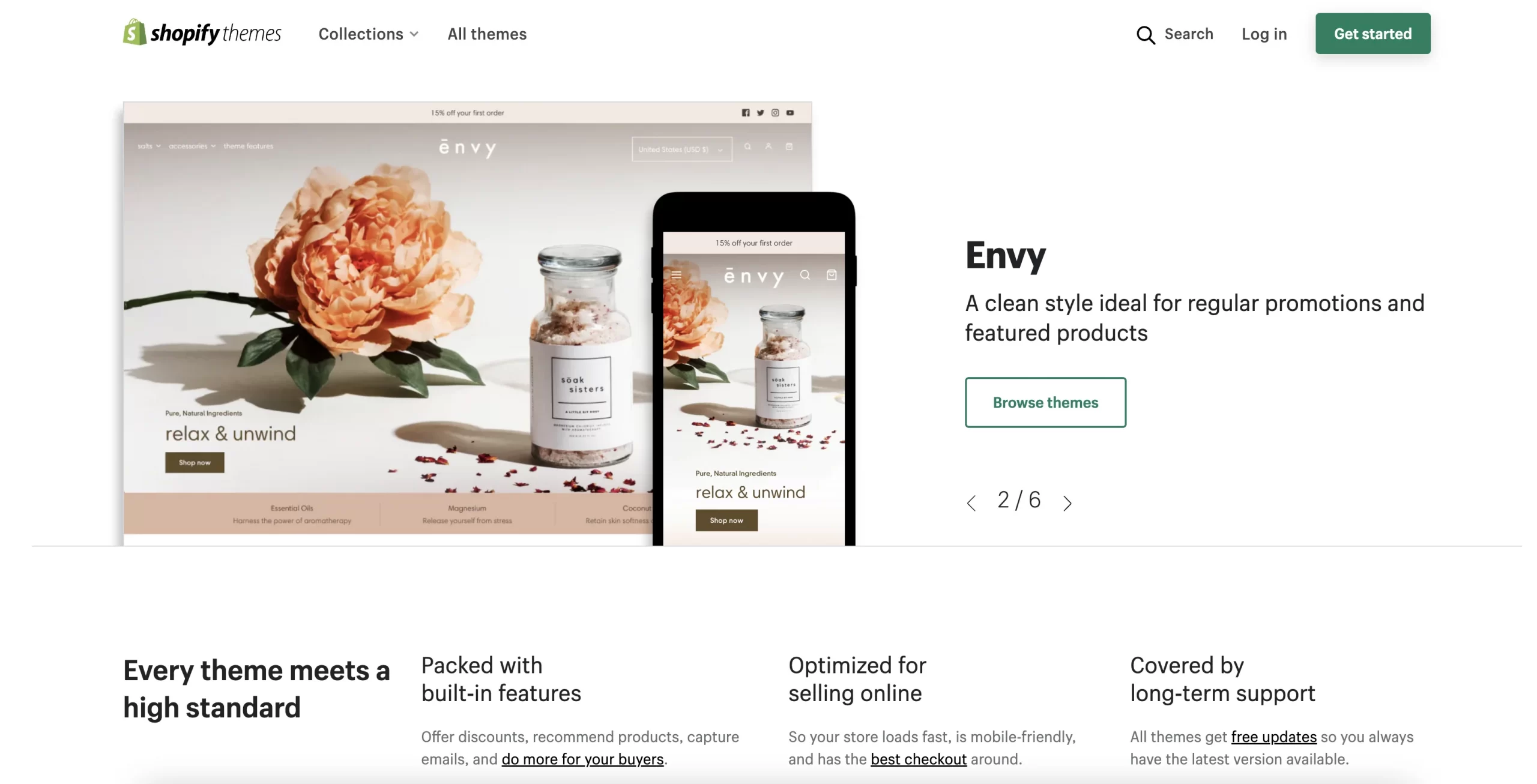 Choosing the best Shopify theme for your website will help you achieve success. However, it can be challenging to select the best Shopify theme from these sources for your website.
To improve your store's appearance and increase your Shopify SEO, LitExtension has compiled a list of the top 10+ Shopify themes.
Make use of Shopify SEO apps
You should take into account your Shopify store issues when choosing the best Shopify SEO apps from the list. Additionally, you need to be aware of your current SEO knowledge in order to make the best choice. All of these apps are helpful in resolving your SEO issues, despite the fact that each one has a special selling proposition.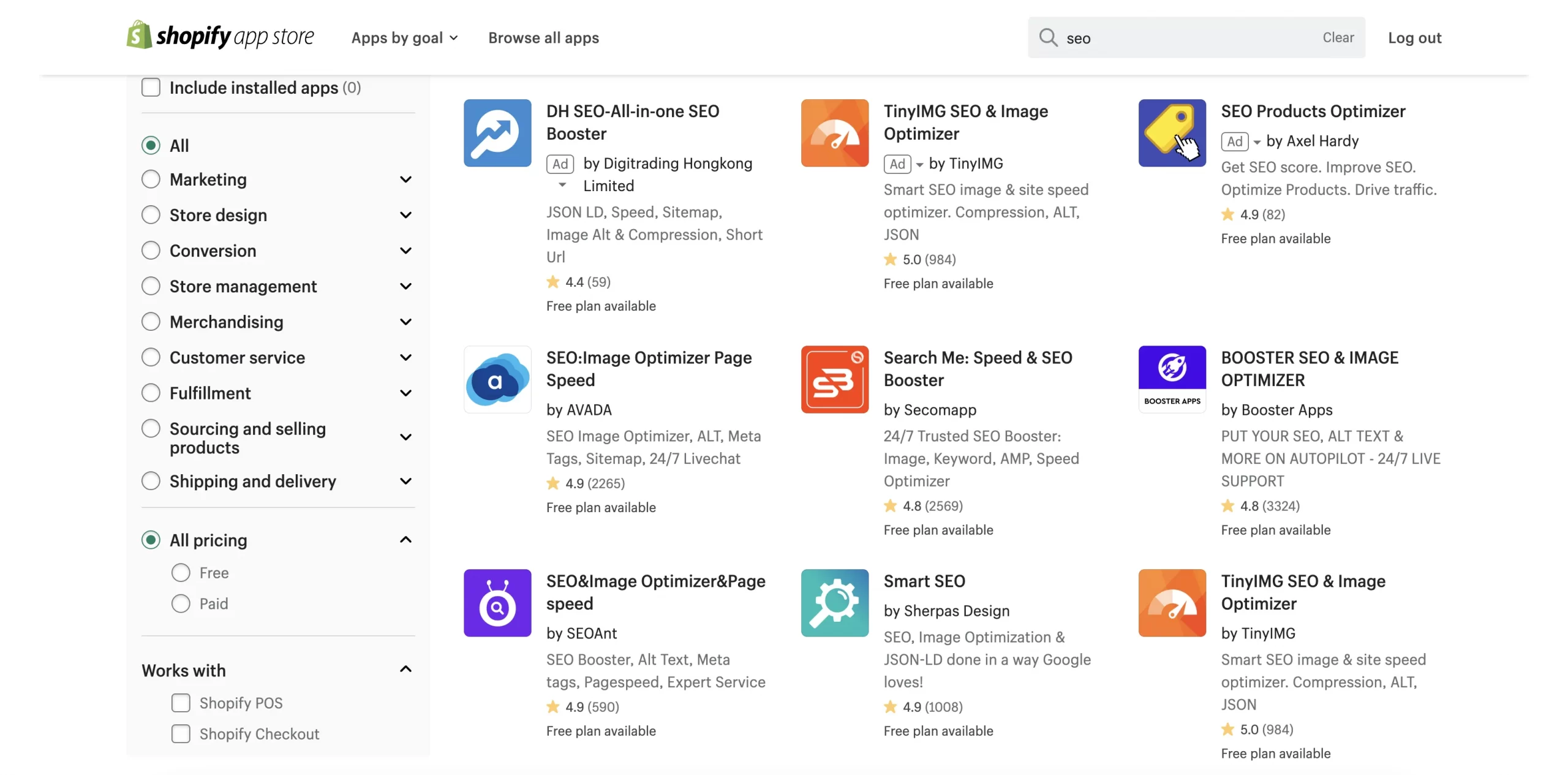 You can find 600+ Shopify SEO apps when you search for "SEO" in the Shopify app store. However, choosing the best option from the list seems tricky since there are likely many riddles from which to pick. LitExtension collects a list of the best Shopify app for SEO with feature analytics, and the pros & cons so that you can focus on other stuff.
#2 Analytics tools setup
What's more in this Shopify SEO checklist? How to set up SEO on Shopify? First, you need to choose appropriate eCommerce analytics tools. In this article, we will mention 2 most essential tools for Shopify search engine optimization – Google Search Console & Google Analytics.
Set up Google Search Console & Submit XML sitemap
On Google Search Console, Shopify stores generate a sitemap file that contains a list of your website's individual pages. That sitemap will inform Google and other search engines about your site's structure. Shopify store owners can find their sitemaps at [www.yourstore.com/sitemap.xml].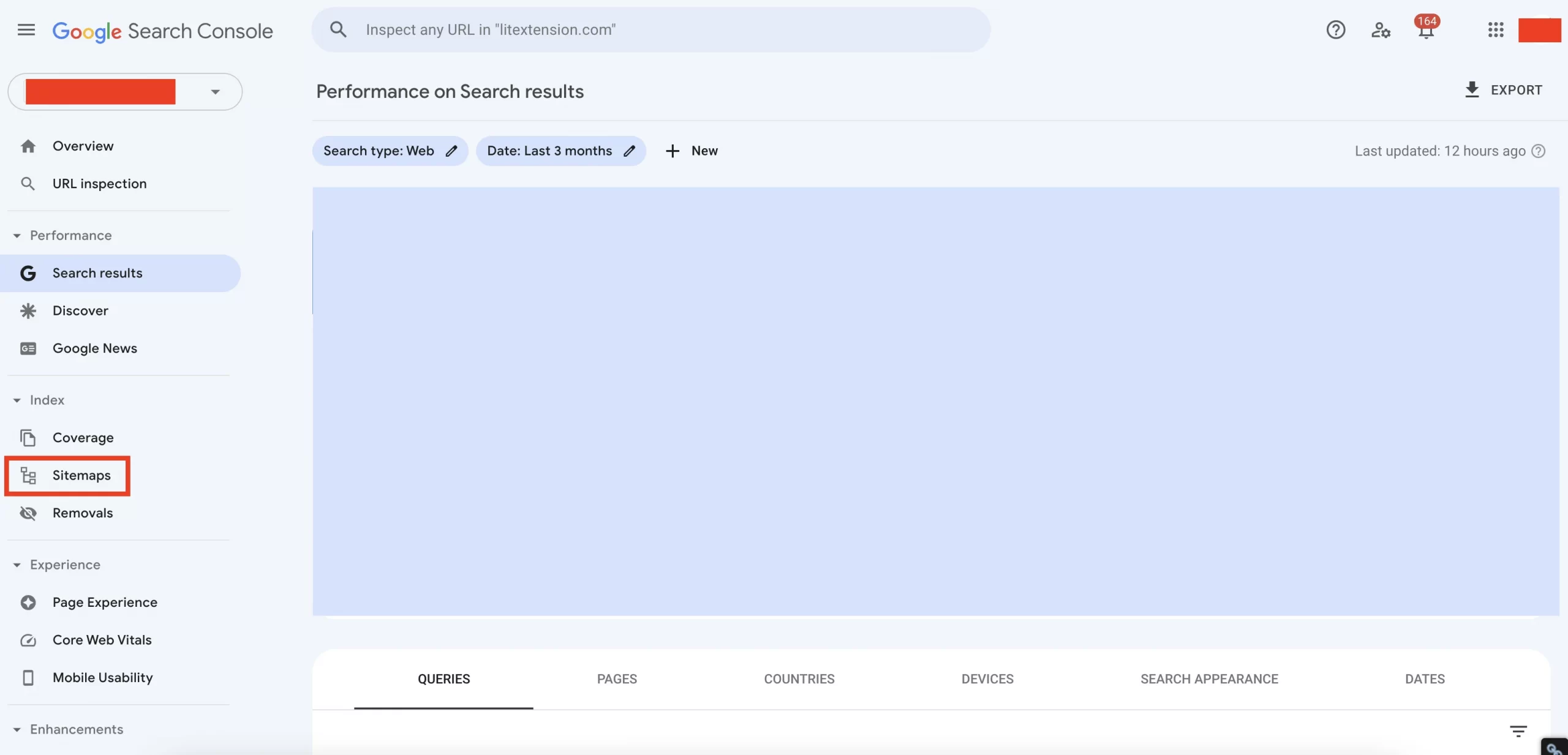 You can follow the Shopify guide for Google Search Console setup. As you are done getting your site indexed, you can do many other things with Google Search Console. To specify, you can:
Determine which keywords get the highest performance on your sites. Tools like Google Analytics and Google Trends API can help to create a list of relevant keywords.
Examine the evolution of your keywords' performance by date & time
See how your keywords & Shopify store rank in different countries
Know which devices the search engines work on (desktop, mobile, or tablet)
Understand how your pages appear on Google
Request Google to index your Shopify website's pages
Let Google receive your sitemap
Receive Google warnings about your website errors
Set up Google Analytics
To set up Google Analytics, firstly, you should register a Google Analytics account.
You can go to Google Analytics and follow the instructions to create a property and a tracking code so that Google can collect data from your website. Shopify also created a guide on how to set up Google Analytics, you can check it out at Shopify learn.
As you finish setting up with Google Analytics on your website, you will get the following information:
Real-time performance of your Shopify sites
Store conversions that you make from SEO
The channels are driving the most traffic to your website
The most appealing content that customers are into
Performance of different marketing campaigns whether it's the most or least successful
The countries that your user comes from
Your visitors search Shopify stores on desktop, mobile or tablet devices
#3 Blog sections execution
For a better Shopify website SEO, put informational blog posts together for targeted keywords. Create high-quality blog content that is optimized for relevant long-tail queries to capture users near the top of the sales funnel.
If you haven't had a blog on your Shopify site yet, for the Shopify SEO checklist, we strongly suggest you start one. It can be a valuable asset in increasing organic traffic by having your site rank for keywords related to your business.

Creating high-quality posts on a regular basis isn't the only way to boost the SEO of your company blog. Search engines will probably penalize your site if it is not optimized. Google's algorithm will reward websites that produce these posts, so be consistent.
#4 Product pages optimization (On-page SEO)
Apart from the blog section, having an on-site optimization strategy will also help you achieve higher rankings in search results. This is one of Shopify SEO best practices.
Perform keyword research
Before you begin optimizing your content, you must first determine which keywords are highly relevant to your products and will drive qualified traffic to your website. For Shopify SEO checklist, it is a good idea to become acquainted with a keyword research tool.
For example, as you search for "long sleeve shirt" on Ahrefs tool, you will know how difficult it is to rank 1st on SERPs, the volume and traffic potential for that keyword.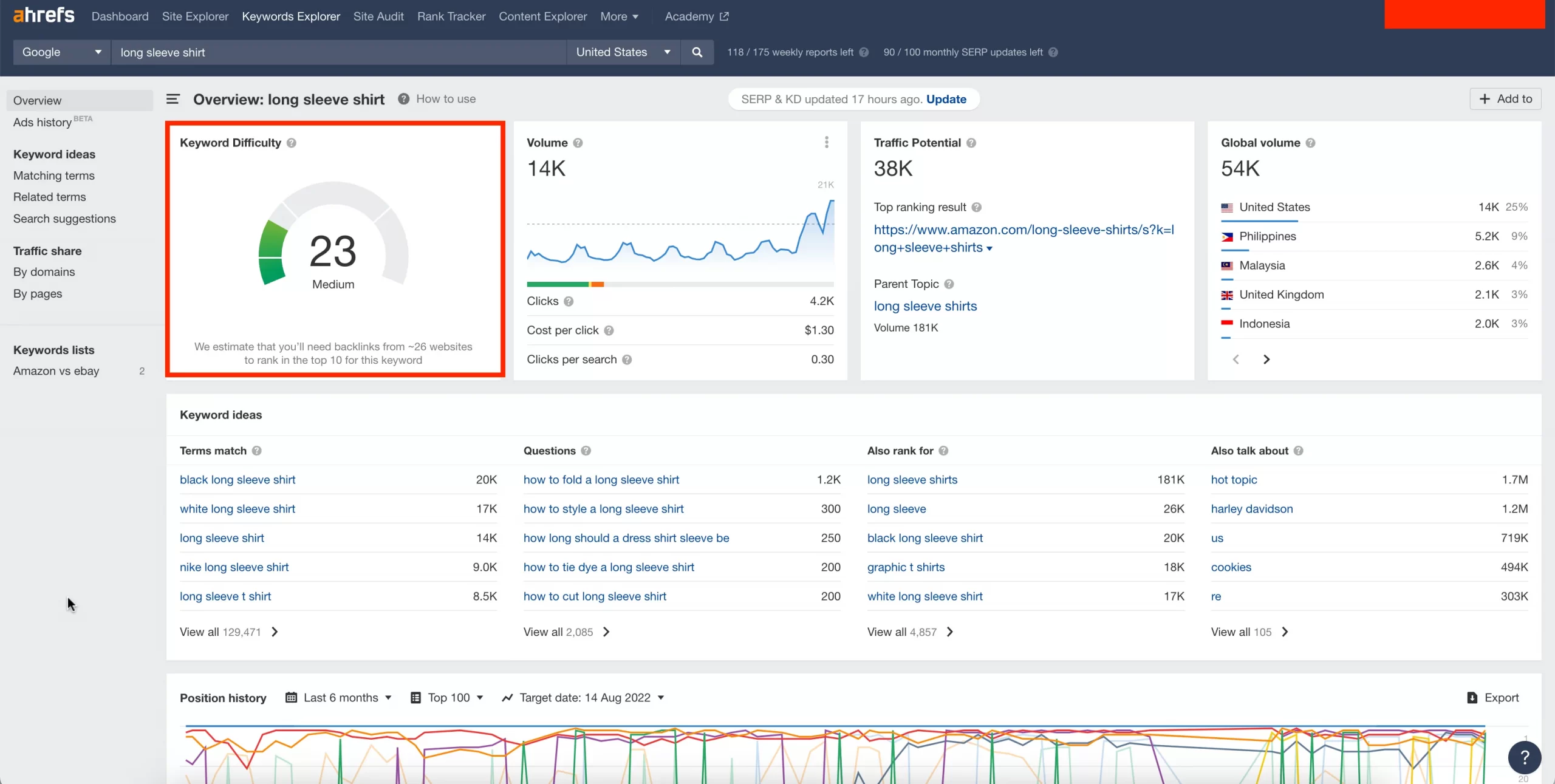 Users may search for products like yours in hundreds or thousands of different ways. Different keyword tools can let you discover different perspectives of what users are looking for.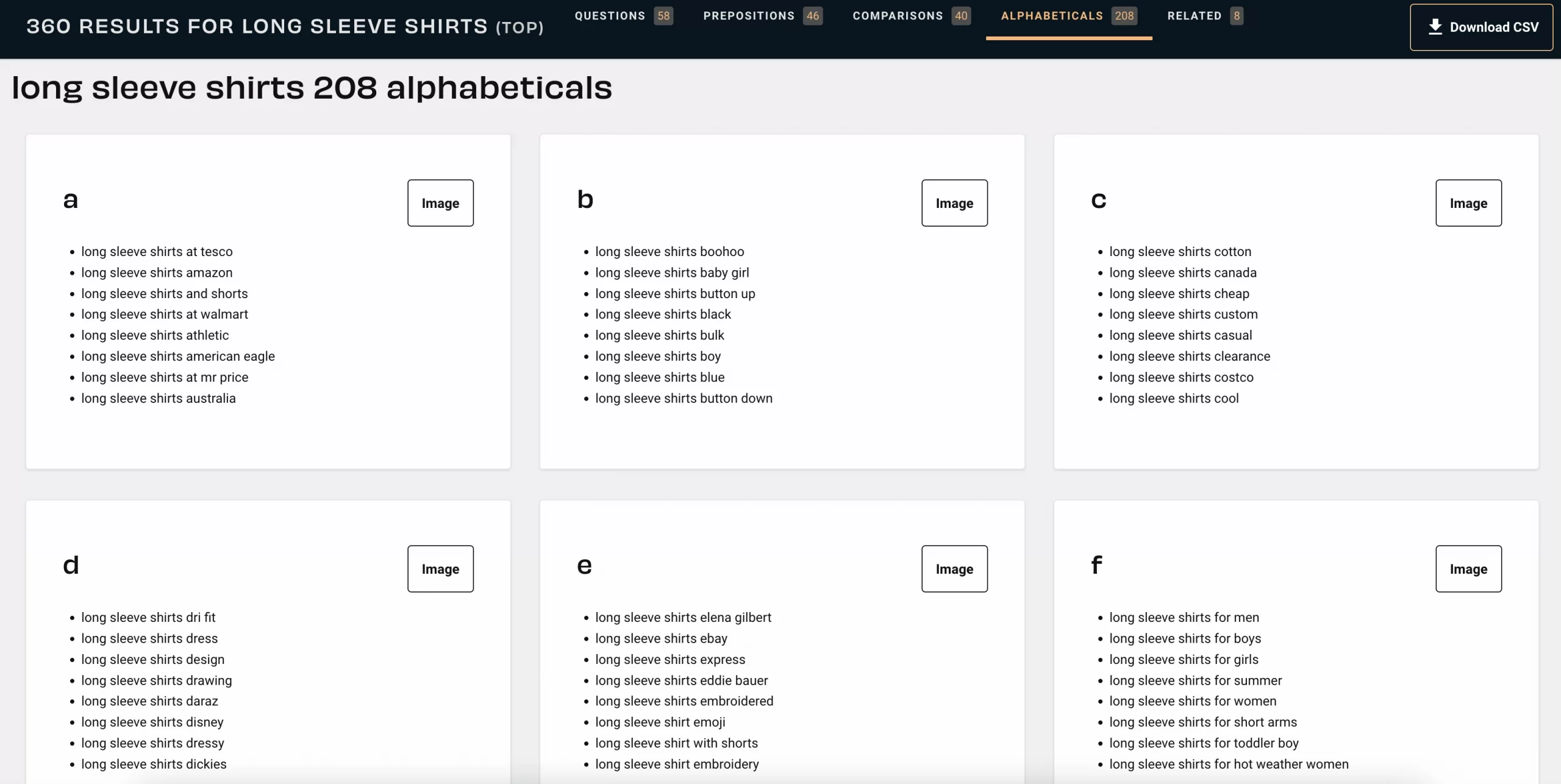 Small Shopify SEO tips: If you go with AnswerThePublic, when you're searching for "long sleeve shirts", you will get a bundle of related keywords. By this, you can have a glimpse of what the customers are looking for and how to approach their needs.
Optimize meta title & meta description
Meta titles and meta descriptions are the texts that appear on search engine result pages. Although these aren't official ranking factors, they do contribute to SERPs click-through rate (CTR), which SEO experts consider to be a significant ranking factor.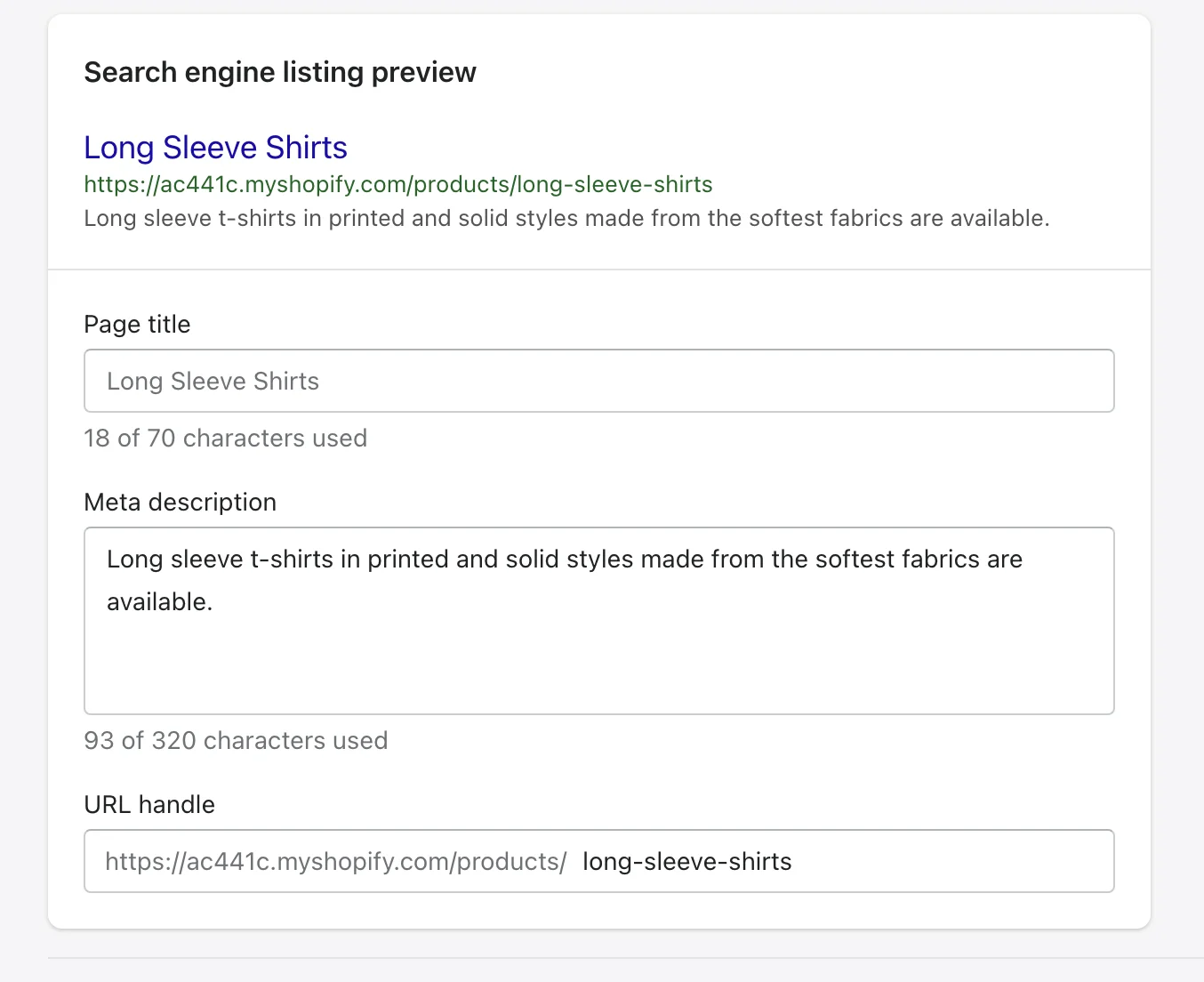 Make sure to utilize the meta title & meta description in the most impressive way so that when the customer searches for the product and looks at them, they have the reasons to click and go to your store. To optimize SEO for Google search, you should include your main keyword and its keyword variations in the page titles and meta descriptions.
Further reading: How to add meta tag to Shopify – Complete guideline.
Optimize internal linking
A set of quality internal links is as powerful as quality external links (backlinks). Optimize it with relevant content that is well-organized, and you can improve:
your website's crawl ability
user experience
page authority & ranking
And that is the reason why the previous idea – executing a blog post session matters!
Product URLs
Long URLs, for example, myshopifystore.com/index.php?route=product/product&product id=90 can ruin your efforts to rank high on Google and other search engines. Thus, you should make your Shopify website URLs shorter.
To be more specific, in order to create Shopify SEO-friendly URLs, you must:
Remove any extraneous characters
Only lowercase characters should be used to separate words in the URL
Avoid the words "a," "an," and "the"
Include product information such as the product name, brand name, and color
Optimize product images
Product photos should always be considered an essential part of your store's SEO strategy because they can significantly improve your results.
To improve the product image SEO for Shopify store, consider the following 3 factors:
Images alt texts
Use your product's keywords as the alt texts for your images. You can also include sub-keywords to boost your ranking chances.
Images size
Large photos can cause your website's pages to load slowly. Always upload Shopify product images in the recommended or optimum size.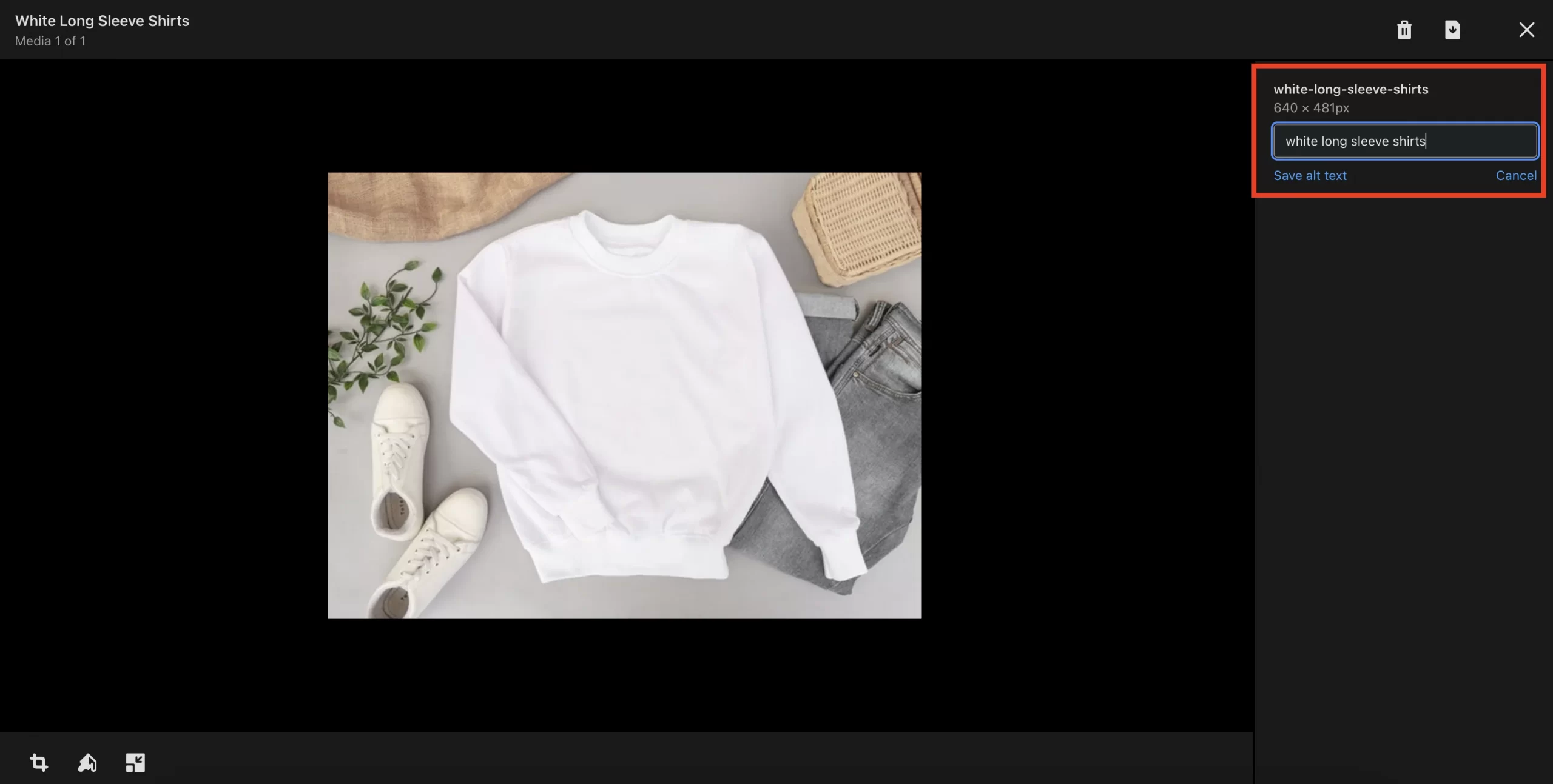 Images title
In the SEO world, an image title like "image-abxs-e890" should never be used. When search engine bots crawl a website online with the image title "image-abxs-e890.png", they will notice that it is meaningless. Save your product images with titles that accurately describes them.
If you're selling a white long-sleeve shirt, for example, write "white-long-sleeve-shirt" or any other phrase you want to rank for.
In this Shopify SEO checklist, we want to emphasize the importance of creating SEO-friendly image file names. When naming your image files, use a few words to capture the image's content, and use dashes to separate each word. It's beneficial to include your target keyword in both filenames and alt text, but don't overdo it. Otherwise, Google may flag it as spam, and that drastically affects SEO for Shopify stores.
Utilize headers
Keep it simple! Before performing any other complex task for search engines, remember to include a Homepage Title that is easy to follow. By default, your brand name will appear on the homepage of your Shopify store.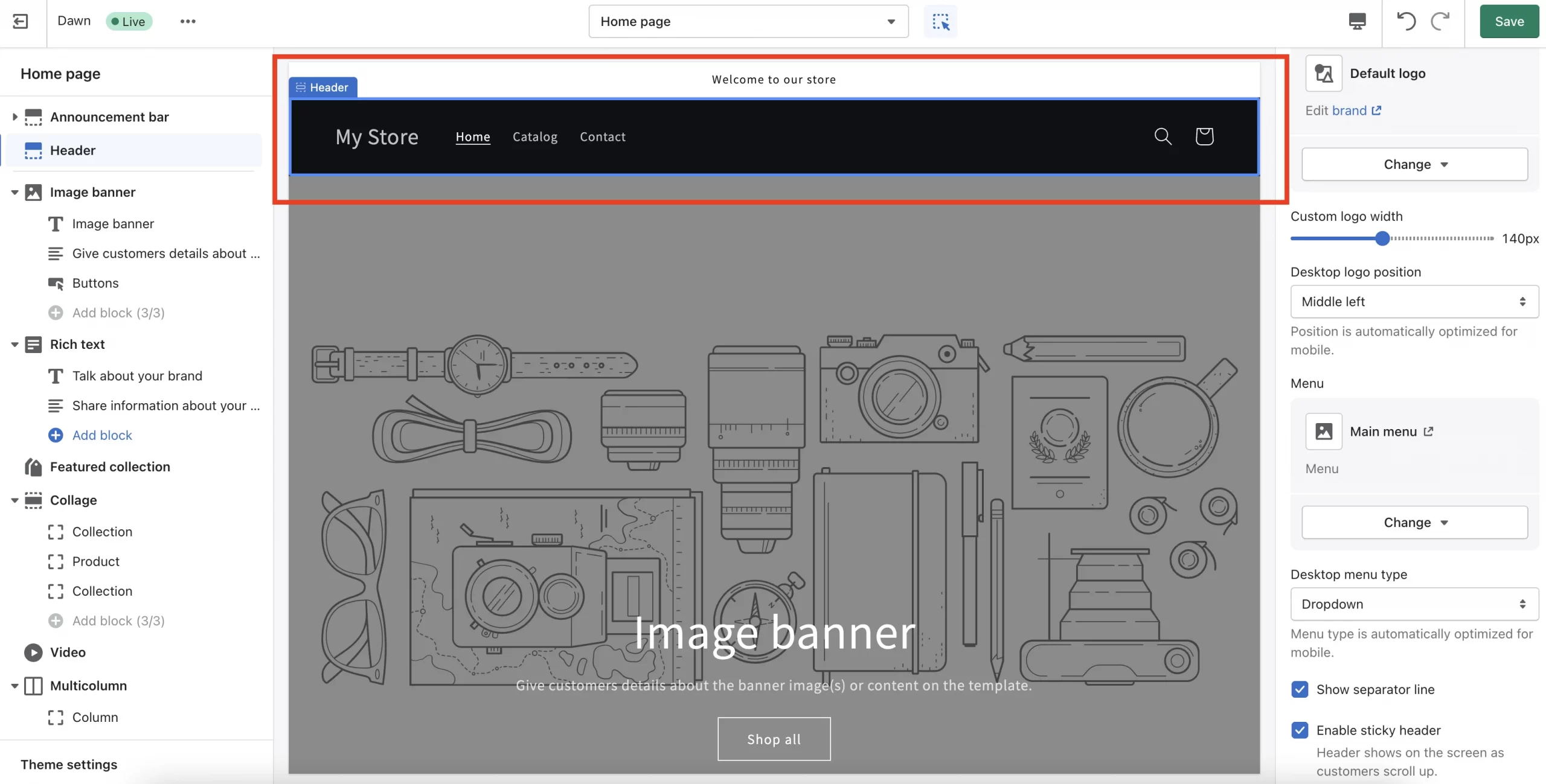 The ideal homepage SEO title should include:
1 SEO keyword
Brand name
50 – 60 characters maximum
There is no keyword stuffing
What is SEO? How to improve SEO? Here comes our SEO tips so that you can utilize to improve SEO on Shopify!
#5 Shopify Off-page SEO
Build backlinks
Receiving a large number of backlinks to your website is one of the most effective ways to boost your search engine rankings. Backlinks are used by Google in its algorithm to determine which businesses are experts at what they do.
A large number of high-quality backlinks to Shopify sites will boost credibility and domain score. The more domains link to your website, the higher Google ranks your site in search results.
There are several ways you can take to increase the number of backlinks to your Shopify store. For this Shopify SEO checklist, we recommend creating niche, in-depth content that people want to share or refer to in their blog posts which is one way to get more backlinks. Alternatively, you can contact prospects and propose them to link to your domain.
Perform social media SEO
Though social media is not a direct ranking factor, it does contribute to your SEO results. Here's how social media presence can help your Shopify store's SEO:
Multi social media profiles can rank for search terms
Social media presence helps Shopify store grow followers and drive traffic
Links on your social media channel can help your site to index
#6 Shopify SEO audit (Shopify technical SEO)
How to get your website on top of Google? Here comes the last action for Shopify SEO checklist – perform Shopify SEO audit. All of your previous efforts in optimizing the website for SEO will matter in this step.
Check duplicate content
Google will severely penalize duplicate content, so make sure you're not copying anything from somewhere else.
However, as you're selling, especially with many product variants, there will surely be duplicate content. Duplication issues may arise if the same content appears on two different pages of your website. Your rankings will suffer if Google does not index that page!
So, you need to add rel="canonical" to the page that you wish Google did not index. Canonical URLs notify Google bots that your website has multiple pages that contain the same information, and they provide Google with the main source page of the content.
Do mobile-friendly test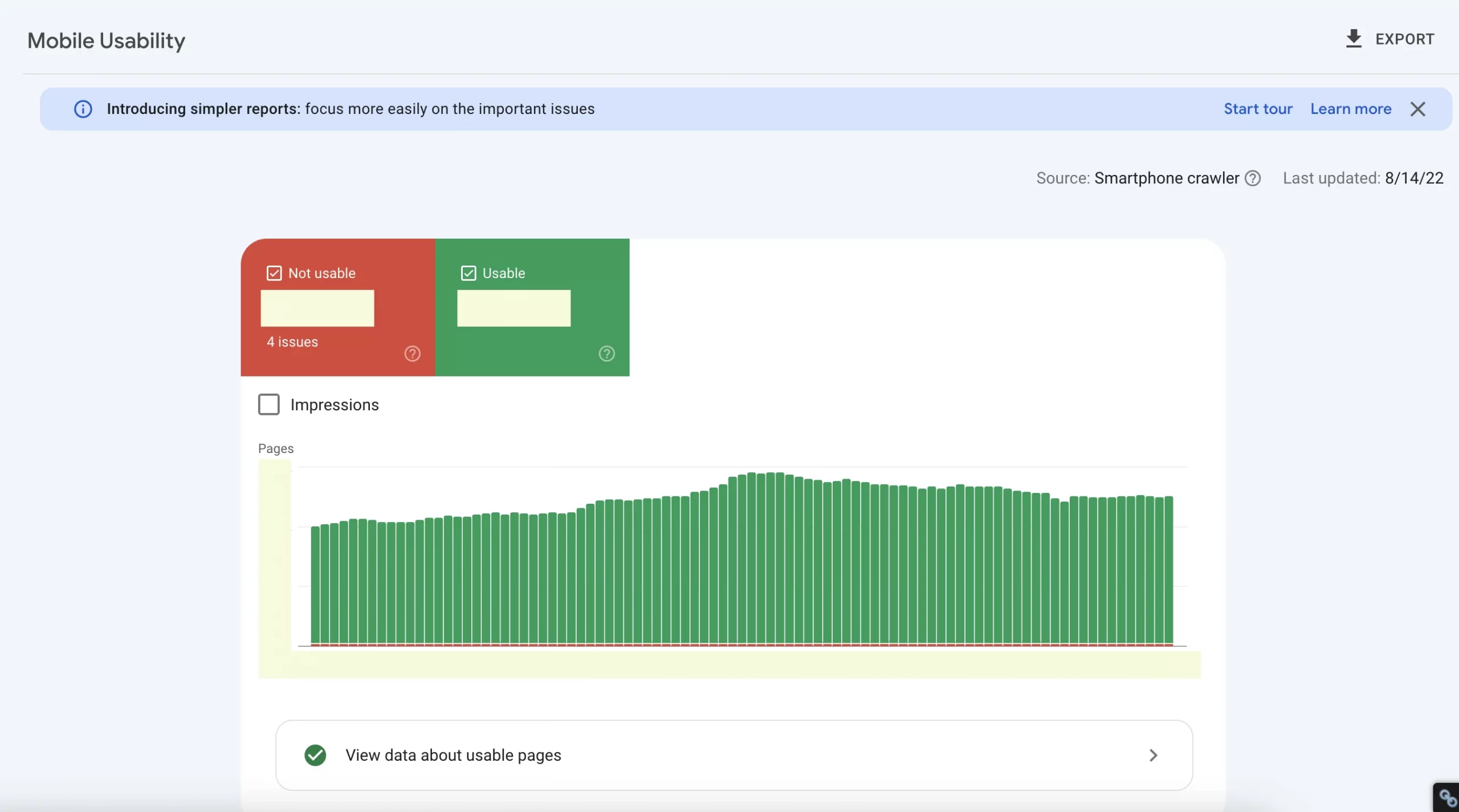 You can do a mobile-friendly test with Google Search Console. As your sites are done crawling, you will know where the problems lie and whether the pages are usable or not.
For example, the below issues can affect your mobile-friendly results:
Content wider than the screen
Text too small to read
Clickable elements too close together
Viewport not set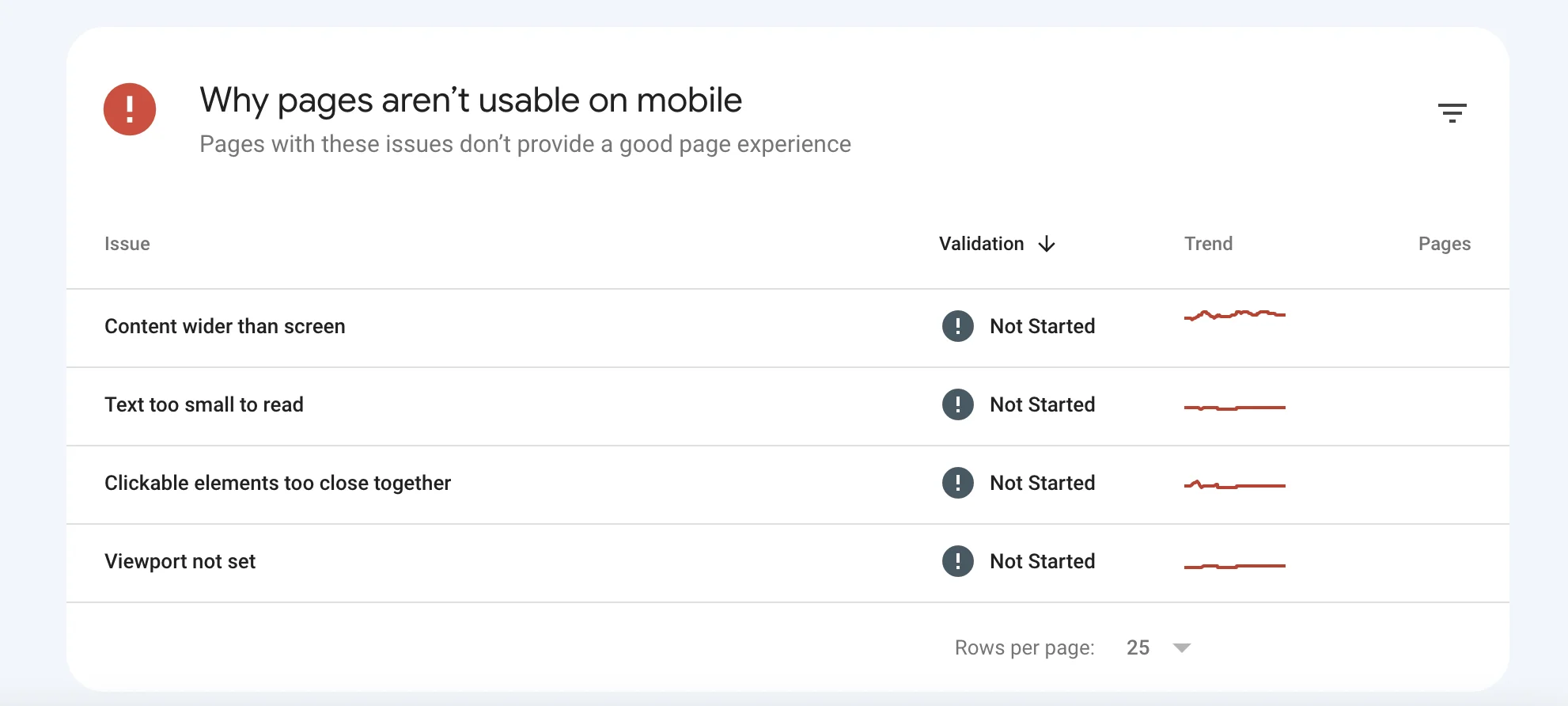 Shopify SEO Checklist – Speed up page loading time
There are numerous methods for testing the speed of your website. Here, we use PageSpeed Insights by Google. You can also use this tool to examine your Shopify store to execute the right SEO for Shopify websites to better their performance.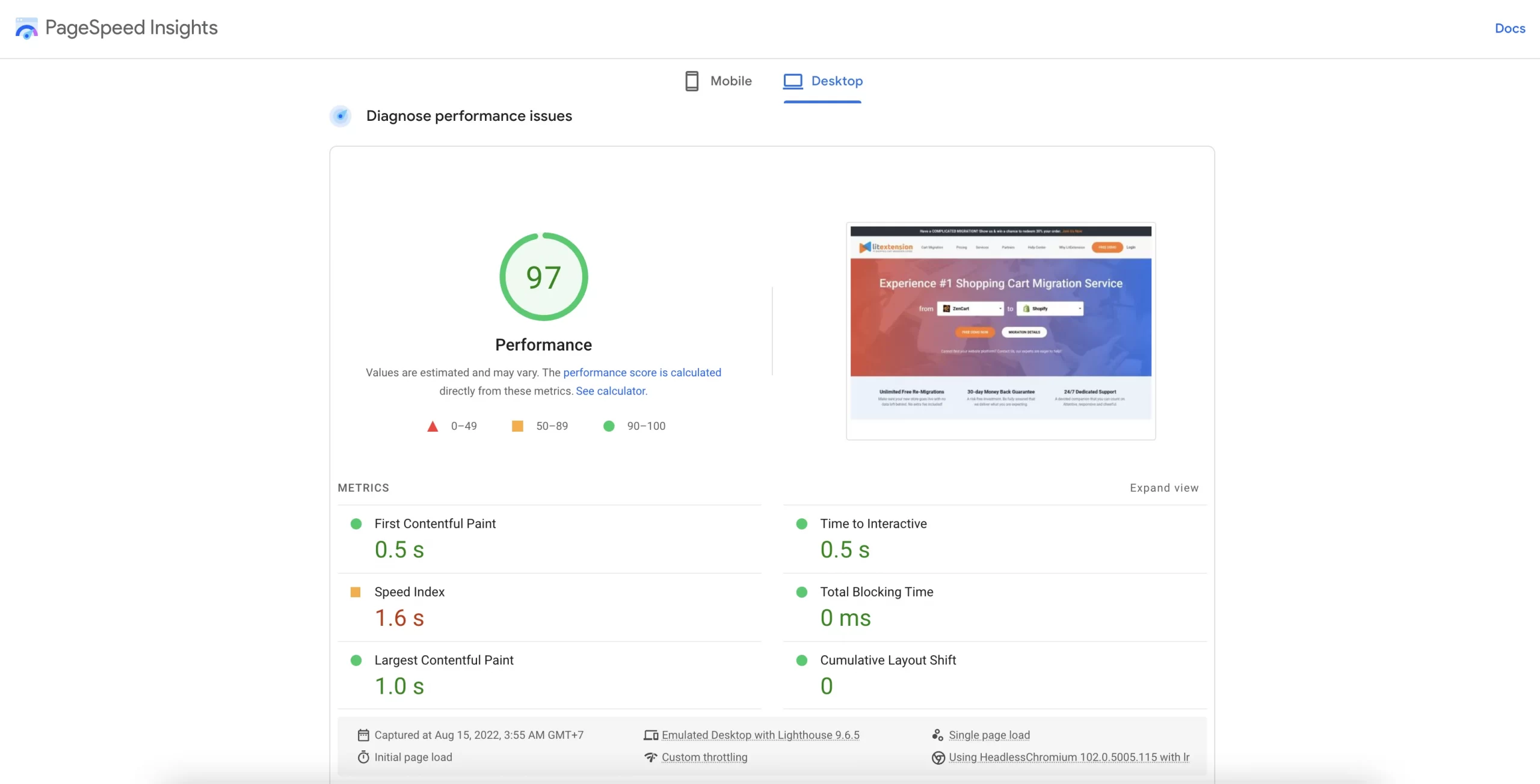 Repair broken links
Heading to the final piece on the SEO best practices checklist – repairing broken links. Broken links make it difficult for search engines to index your pages and for users to navigate your site. Stay alert that broken links indicate a low-quality site and may impact your rankings.
Check whether Google has indexed your sites or not. Or else, you will need to fix the link, retake SEO setup & submit it once again and let Google index it.
And that's it! Now you got all criteria on how to optimize SEO on Shopify with our SEO tips for Shopify!
Are you afraid of redirect issues? If you are intending to move to Shopify, LitExtension offers a great 301 Redirects service that helps you transfer your old URLs with all the power score to your new URLs.
Further reading: Shopify store examples – 50+ best successful store to learn from.
---
Shopify SEO Checklist – FAQs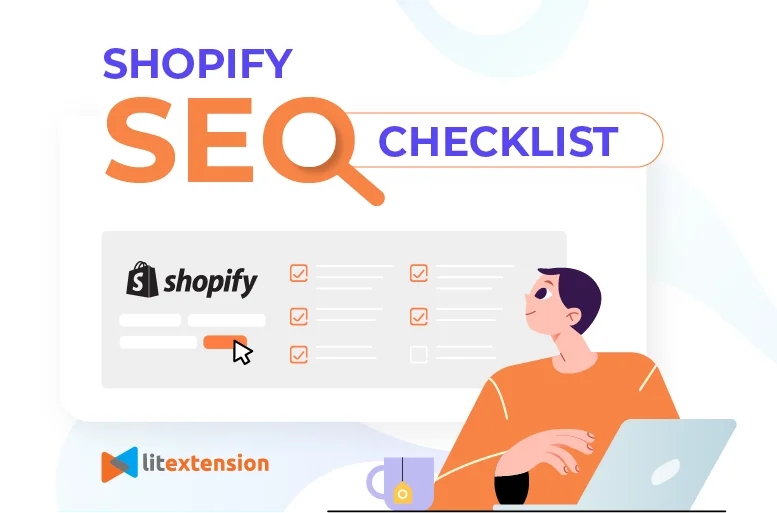 ---
Bottom Line
Going high on SERPs and getting impressive performance have always been a desire for merchants. We hope that with this Shopify SEO Checklist, you know how to optimize Shopify store and ultimately rank high on Google or other search engines to drive conversions.
If you want to move to Shopify, LitExtension – #1 Shopping Cart Migration Expert, is here to help! With 200,000+ successful migrations for 100,000+ worldwide customers, we can seamlessly and accurately transfer all your data from your current eCommerce platform to Shopify.
If you want to discuss more online stores, and eCommerce tips & tricks, don't hesitate to join our dynamic Facebook Community. We hope that your store performance will bloom in 2023!