Introduction
Being self determine itself as a customer-oriented eCommerce platform, Shift4Shop is a complete and robust eCommerce platform designed to help online store owners thrive in a competitive market. With hundreds of features built directly into its software, merchants can effectively open, operate and maintain a successful eCommerce website with relative ease and efficiency.
In this article, we will provide a comprehensive Shift4Shop review that analyses various aspects of this hosted shopping cart.
Overview
Before diving into the details of Shift4Shop review, let's take a look at an overview of this platform.
Shift4Shop was initially known as 3dCart before the acquirement of Shift4 in November 2020. 3dCart rebrand visualizes the mission of offering an eCommerce website builder of a giant in payment technology with over 21 years of experience.
Therefore, Shift4Shop is a promising collaboration for online merchants to rocket their business. Opening a live shop in this platform means that you can benefit from a reservoir of built-in features of 3dCart and simultaneously avail of a fully-integrated payment processing solution of Shift4.
Keeping the same functionality as 3dCart did provide, Shift4Shop comes as a suitable option for a wide range of business models of any different industries, especially those who are searching for a quick entry to the market.
With Shift4Shop, you are able to display both physical and digital products on your shelves. In addition, the support of various fulfillment methods allows Shift4Shop users to manage their store checkouts effortlessly.
"It is feature-rich. It does everything it should, and It even has modules that can be turned on that do even more. This is an excellent shopping cart and I now have three of them. Easy to use once you get the hang of it" (Review from Tom K. – Capterra)
In short, Shift4Shop is not only preferable for large enterprises and SMEs but it is also an ideal choice for beginners and non-coders. Dig into the next paragraphs of Shift4Shop review to figure out whether this eCommerce platform fits your business demand.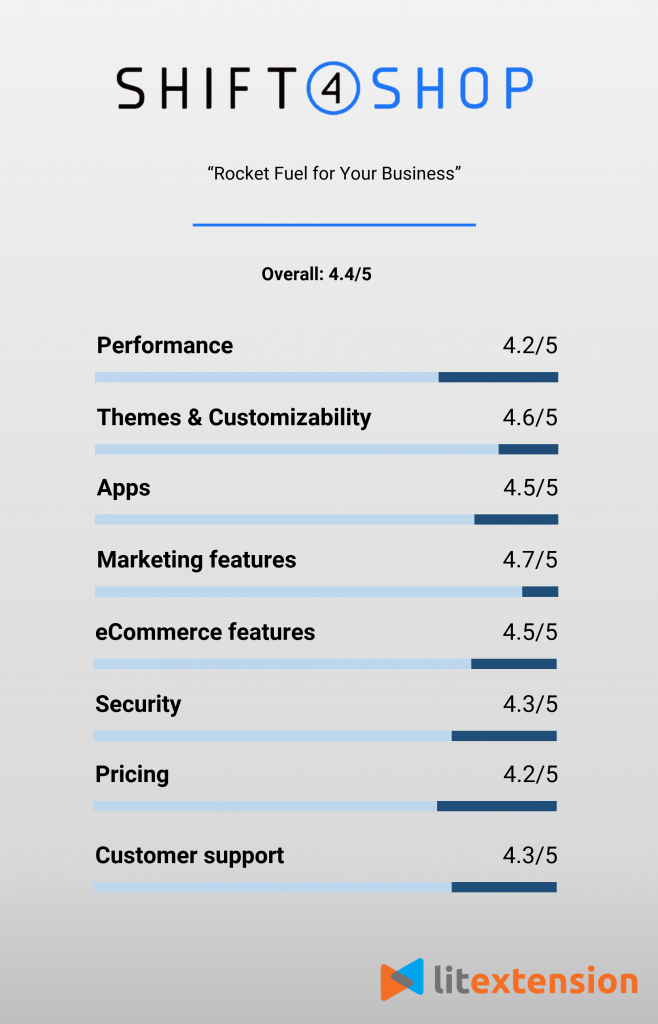 Detailed Shift4Shop review
There is a multitude of reasons why Shift4Shop stands out from other competitors in the market. Stay on this page and let the answer be revealed in our comprehensive Shift4Shop review below.
1. Pricing
The first section of Shift4Shop review is Pricing. There are three premium plans for you to choose from, which are Basic Store, Plus Store, and Pro Store. The price ranges from $29 to $229 per month. You can get a 10% discount if payment is made one year in advance.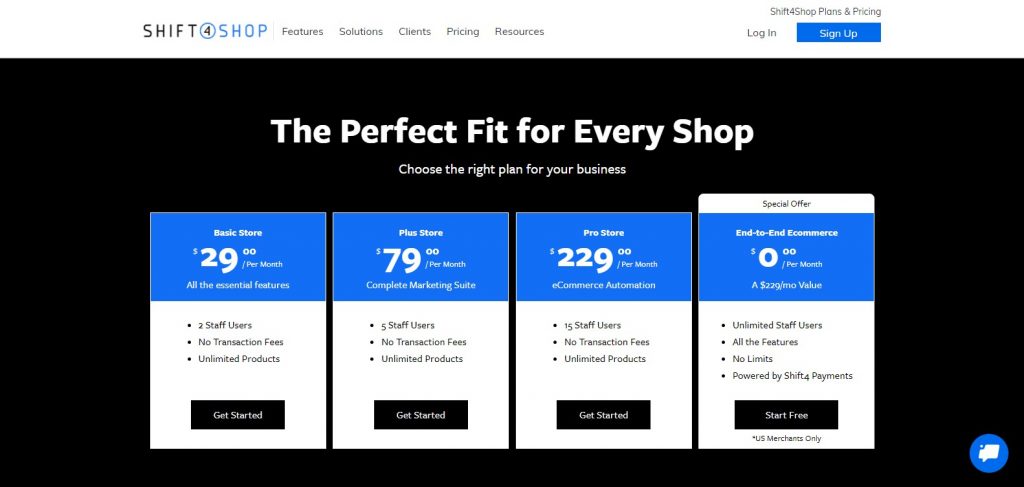 You can rest assured that there are no hidden fees and contracts. Therefore, you can cancel the pricing package at any time besides a 30-day Money-back Guarantee. In addition, all the packages have some common features such as Unlimited Bandwidth, API Access, 24×7 Tech Support and so on
Most importantly, Shift4Shop offers a special deal called End-to-End Ecommerce for U.S merchants only.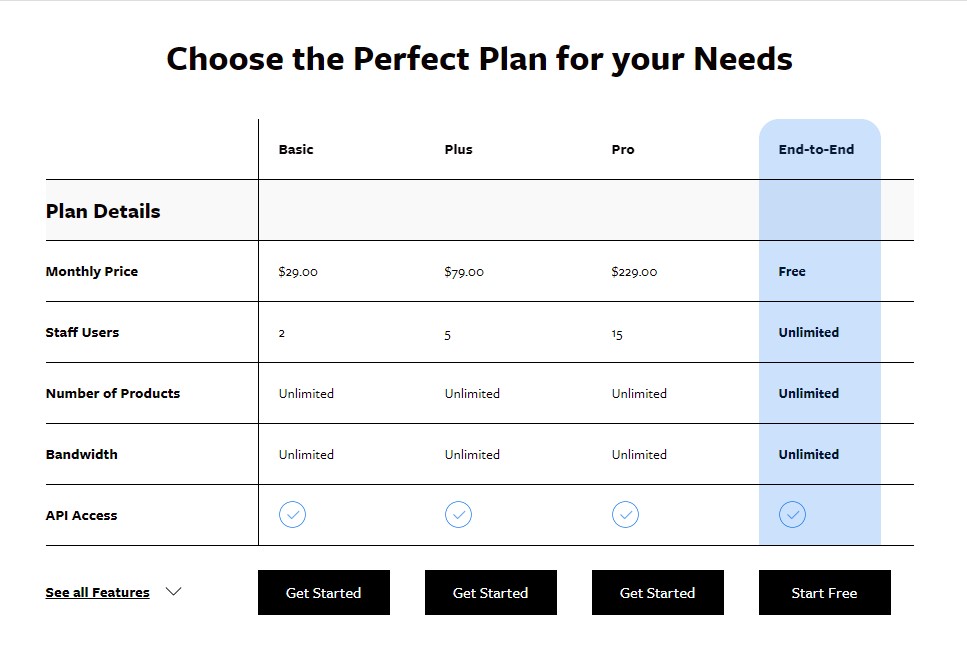 For big sellers who want to scale up their business on this SaaS platform, Shift4Shop offers enterprise-level packages. Otherwise, you can contact Shift4Shop to customize a specific plan for your own to take advantage of numerous advanced features in terms of shipping, product management, and eCommerce automation.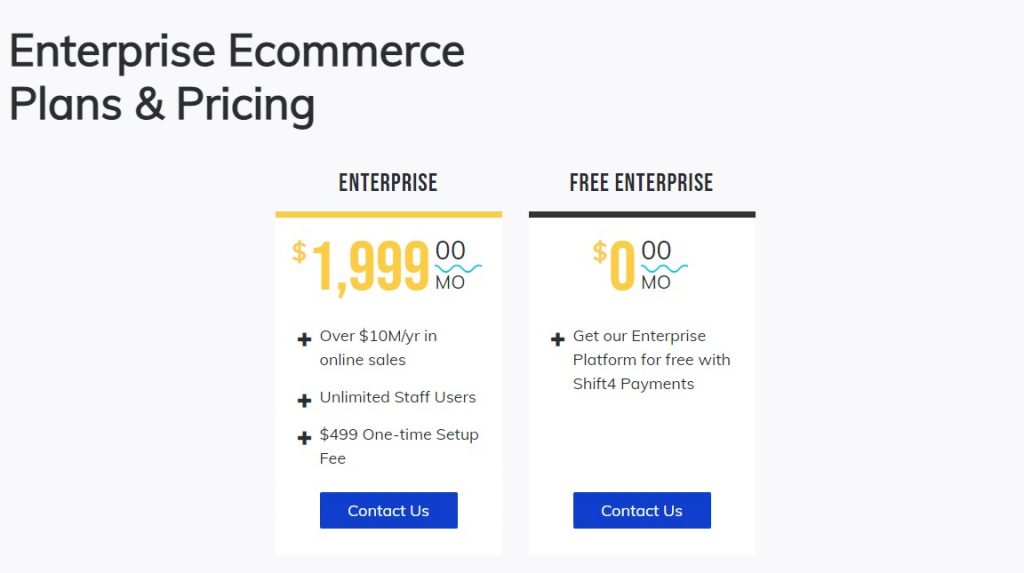 All in all, Shift4Shop offers diverse pricing plans for eCommerce merchants to start and scale their businesses effectively. Regardless of the fact that Shift4Shop pricing packages are complicated, chances are that you can choose the one that is made-to-measure for the store's actual performance.
2. Ease of use
Shift4Shop possesses an easy-to-navigate dashboard and eye-catching interface. Most importantly, this platform also provides you with instructions and video tutorials which seamlessly walk you through basic setup of an online store as in the image below: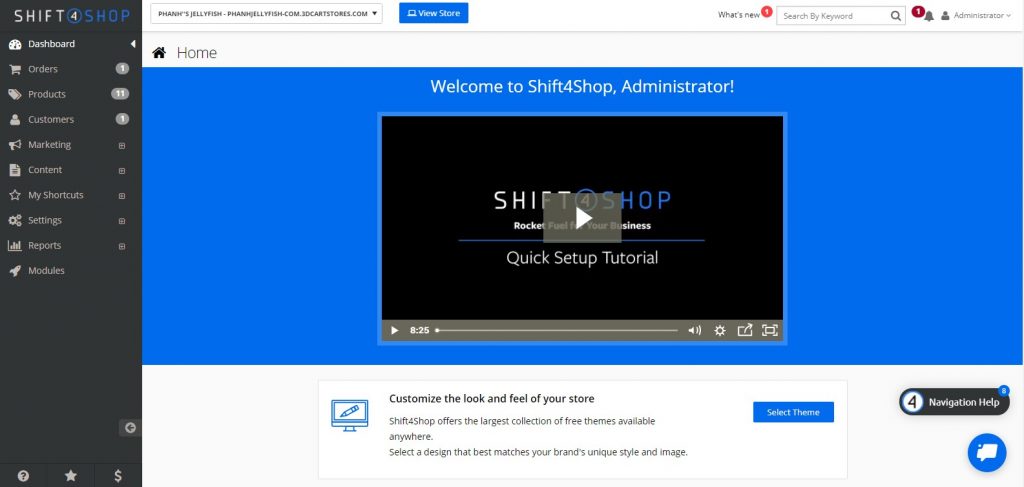 Spectacularly, Shift4Shop recently optimizes itself by adding a drag-and-drop HTML editor for editing content on the homepage and blog. Hence, you don't need to spend much time learning how to use Shift4Shop.
Similar to other hosted platforms, Shift4Shop attempts to simplify all the processes of creating and managing an online store for big sellers and newcomers as well.
3. Templates and customizability
Customizing the feel and look of your website is of great importance to attract potential customers and drive more sales. With Shift4Shop, users have the chance to access more than 100 freemium, fully-responsive themes from the platform itself and third-party providers. You may need to spend up to $199.99 to decorate your storefront with a mesmerizing design.
Furthermore, every design has distinctive characteristics. Some of them are well-tailored for certain industries, namely, art, electronics, health & beauty, and so on.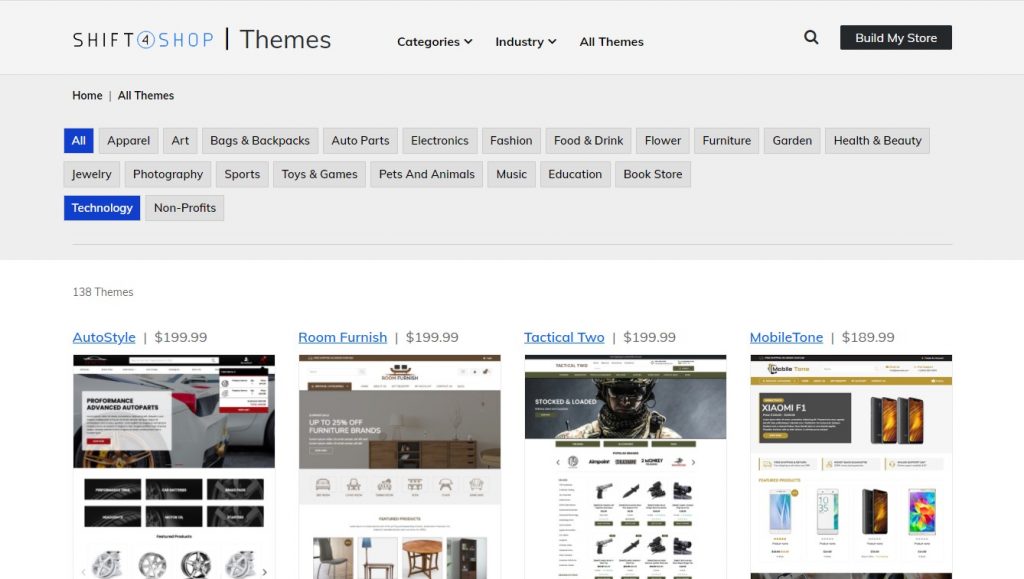 Especially, your Shift4Shop store theme will be built on Core Template Engine. This is an eCommerce website framework that ensures your storefront looks great and runs fast on every device.
Before choosing a default theme, you can preview and make some pre-modifications to see how your web page will look like. The good news is you can easily switch to another template without distorting the whole content of the storefront.
Shift4Shop does give its users the flexibility to create their website design from scratch or make some changes to the existing theme. However, keep in mind that Shift4Shop limits the non-coders to customize their stores on their own. Instead, they need to have HTML and CSS knowledge to level up the website appearance to fit their taste.
4. Performance
Another integral part of our Shift4Shop review is the performance of this website builder, which refers to the time needed to load the content on a web page. Explicitly, fast loading speed brings numerous advantages to the table because search engines take this factor into consideration when ranking your website.
By the same token, if the visitors have to wait for pages to load, it may worsen their experience on your store, leading to a huge loss in sales and revenue.
According to PageSpeed Insights, a program that measures how quickly a webpage loads, the speed index of 3dCart was 0.7s for desktop and 1.9s for mobile. This means that its loading speed was relatively fast because it matches the recommendation of Google (less than 3.0s).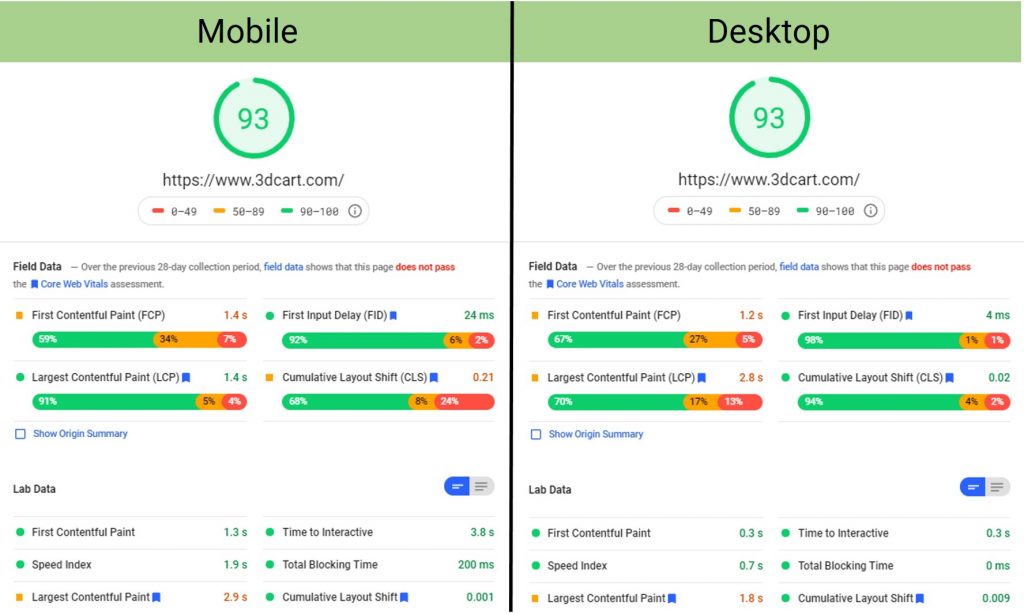 After changing its name from 3dCart to Shift4Shop, your store theme's code is optimized to ensure important page elements load first. In addition, these design conventions are preferred by Google, which significantly improves your store's ranking on its search result pages
5. Apps store
Moving to the next part of our Shift4Shop review,  this platform monetizes online businesses by offering over 200 apps that allow you to integrate with just a click. In spite of the fact that Shift4Shop's app store is not as large as other hosted solutions, there are indispensable add-ons that help online merchants to create a feature-rich store.
You are able to find a wide range of options for Accounting, Dropshipping, Live chat, and so on. All of them are in the Categories drop-down list in the header section. However, remember to read user reviews about any apps you want to connect before making payments.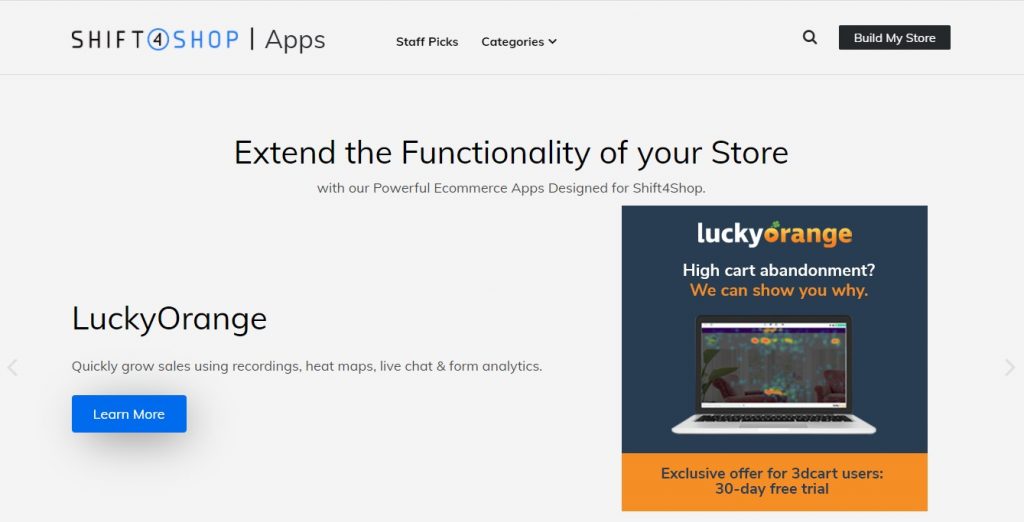 Especially, you can activate some pre-integrated apps by enabling them from your Modules dashboard. By doing this way, Shift4Shop equips your online store with more built-in features while keeping the basic platform relatively simple to control.
One unique thing about Shift4Shop is the REST API. This functionality enables you to install third-party applications. Hence, you can freely hire a developer to build custom connections if there is no available app you expect in Shift4Shop's app gallery.
6. Marketing features
Undoubtedly, Shift4Shop offers a variety of powerful toolkits to facilitate your marketing strategies. Unlike other eCommerce platforms, marketing-related settings are all grouped in one page. All you need to do is navigate to the Marketing section in the back-end and follow the Onboarding checklist from beginner to advanced level. In the next part of our Shift4Shop review, we will be providing you with SEO features and email marketing.
When it comes to SEO features, Shift4Shop proves its strengths by allowing store owners to configure Meta tags, Robots, Facebook Like Button, Social Bookmarking, and Google Tools.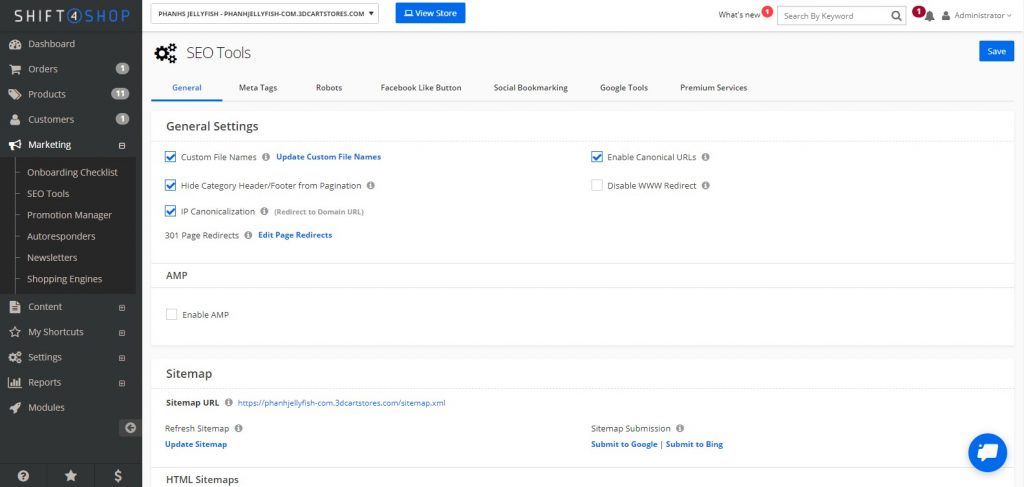 In addition, Shift4Shop compiles a list of trusted marketing agencies that will surely help you get your site displayed to the top of search results. Each of these providers will charge different Project starts prices. Some of them even require you to pay an additional rate per working hour (Hourly rate). These expenses vary greatly depending on different third-party service providers.
Email marketing plays a crucial role in promoting online stores and engaging potential customers. To enhance the act of sending commercial messages, Shift4Shop comes with its Newsletters and Autoresponders settings which enable store owners to customize to their taste.
You can build a mailing list with Newsletters to share news, promotions and pieces of useful information with existing customers and new leads. Furthermore, you are able to conduct effective email marketing to target groups of customers.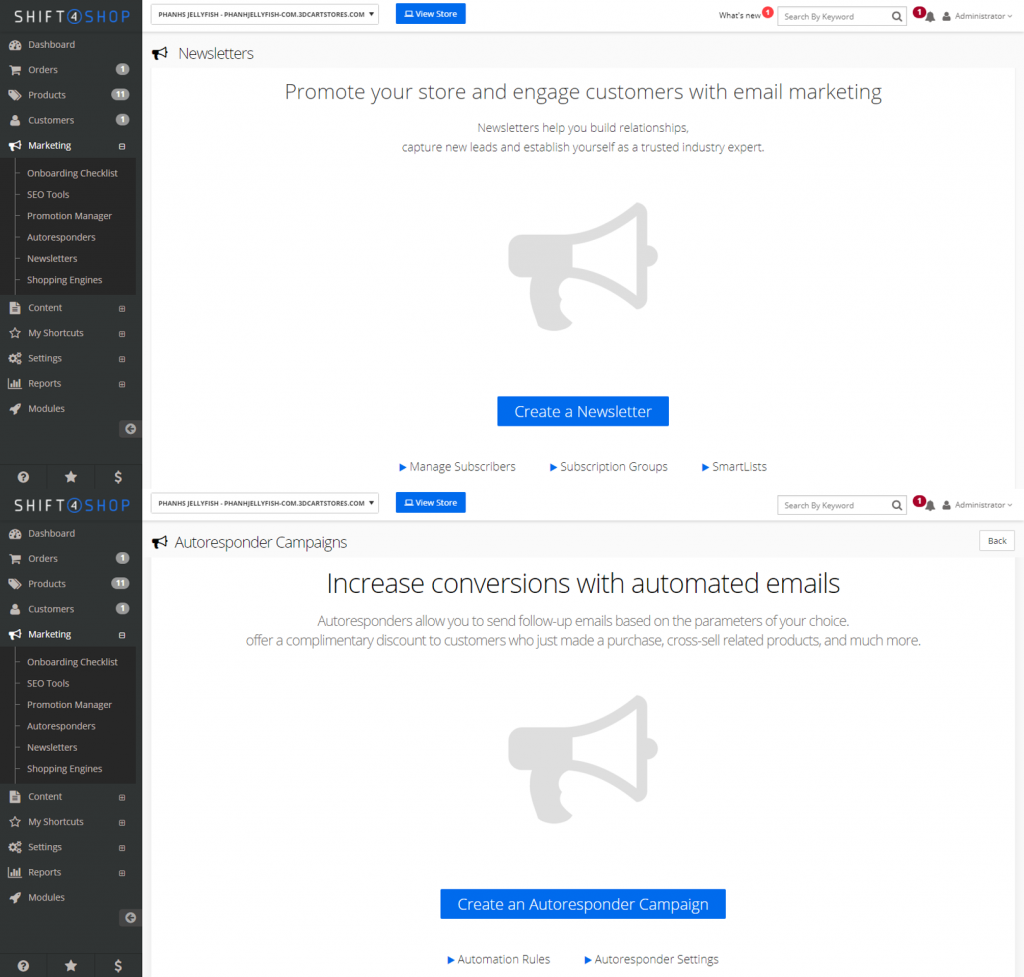 Together with Newsletters, Autoresponders helps store owners to increase conversions by sending automated emails. They are follow-up emails for orders that meet specific criteria.
7. eCommerce features
To continue our Shift4Shop review, let us show you an overview of its eCommerce features.
Regarding payment methods, the biggest leap of Shift4Shop is the integration of payment processing solutions right on the dashboard. By doing this way, the store owner neither set up a separate merchant account nor integrate with another payment provider, which saves a lot of time and effort
To set up the payment gateway for your store, navigate to Settings > Payment from the Shift4Shop dashboard. Here you can find all the necessary information including Payment methods, tax management, gift certificates, and credit card type.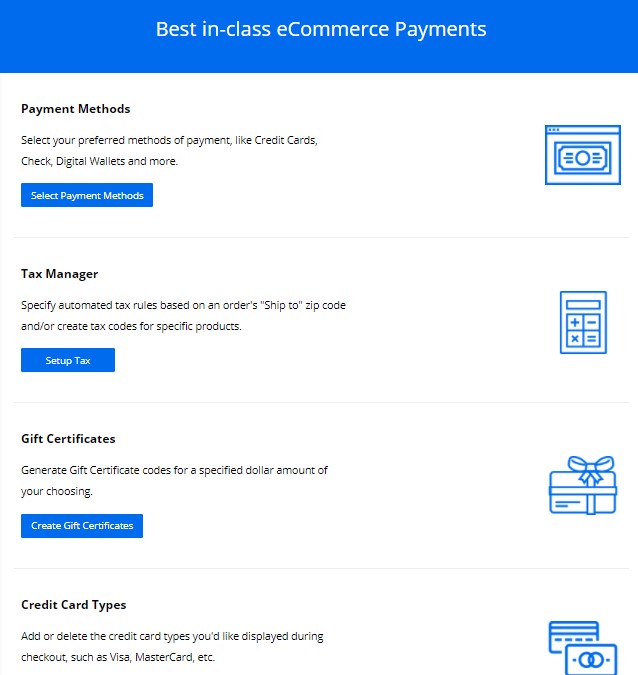 Shift4Shop allows its users to set up and manage both online and offline payment methods. In terms of online payment, you can choose from 7 accepted payments including Visa, Mastercard, American Express,… with the simple pricing of 2.9% + $0.30 per transaction.
Similar to other hosted carts, Shift4Shop avoids the complication of inventory management by arranging Orders and Products tabs right on the dashboard. Therefore, you can keep track of order status and stock-keeping units in a minute because the Shift4Shop will display all of your available items in a comprehensive list.

Notably, in the expansion of the Products tab, there is a Waiting list section. It shows a list of purchasers who have already placed the orders and are waiting for the delivery of the goods. This is a plus of Shift4Shop since you can't find this function in most eCommerce platforms.
If you are in an international plan, expanding your online business to diverse selling channels is a wise decision.
Shift4Shop allows store owners to integrate their businesses with social sites through REST API. Therefore, you can connect your shop page with prominent marketplaces like Facebook, Amazon, Shopzilla,…
Shift4Shop also sets an affordable price that encourages store owners to implement multi-channel strategy. For example, it charges you only $39.99 per month (plus referral fee) to sell on Amazon with Shift4Shop. Take a look at the image below to see how Shift4Shop empowers its sales channels: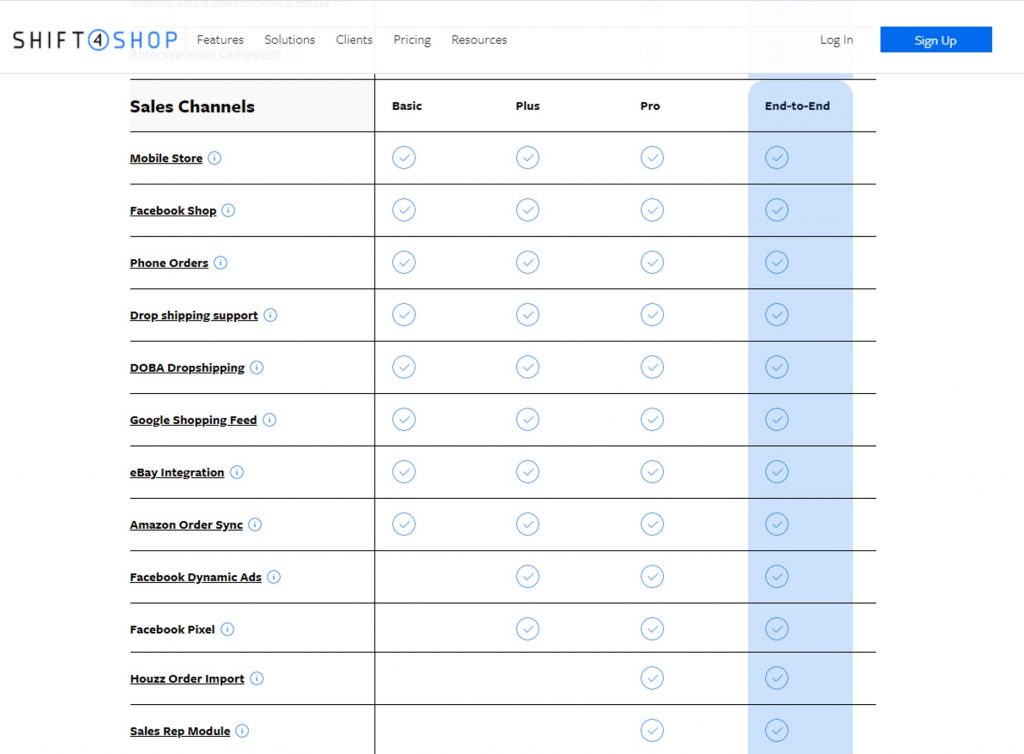 Although Shift4Shop tends to pay more attention to upgrade its SEO features, store owners still seize the chance to dropship on this platform easily.
Shift4Shop Dropship surely benefits store owners in many ways thanks to the integration with prevailing dropshipping tools like Doba or AliExpress.

Not only does this built-in integration allow you to connect with other dropshippers, but it also gets the product from these suppliers displayed automatically on your storefront. Plus, there is no need to worry about real-time shipping rates because Shift4Shop will be in charge of this task. Last but not least, this platform schedules to send email notifications to inform your providers about new orders or cancellations as well.
Interestingly, Shift4Shop enables its users to own hosted email accounts that help you synchronize the whole business system. The number of this type of email will depend on the plan you choose.
Shift4Shop also comes with impressive shipping tools. You can print labels, number order list from the dashboard, avail of shipping discounts, and split shipments for multiple locations. However, you need to integrate with third-party service providers to enable these features.
8. Security
One criterion we take into consideration in the Shift4Shop review is Security. When it comes to security, Shift4Shop meets the requirement that we expect from an eCommerce platform. It is Level 1 PCI DSS (Payment Card Industry Data Security Standard) compliant. In addition, every premium plan includes a free 256-bit SSL certificate. Therefore, you can rest assured that Shift4Shop protects your business data at a high level.
Apart from the basic protection barrier, this platform also performs daily scans to check for more than 40,000 possible vulnerabilities. Shift4Shop also suggests its users to take advantage of 3D Secure 2.0 in order to reduce the risk of conducting online payment.
Another app that is worth installing is FraudWatch. It monitors certain transactions and alerts you when something suspicious occurs. Therefore, FraudWatch prevents the risk of information leaking from hackers.
Last but not least, Shift4Shop uses Cloudflare's Content Delivery Network (CDN) as a way to transfer the information of your online store to customer computers faster. To make this process risk-free, Cloudflare's CDN also includes DDoS attack protection and mitigation.
Among all the factors discussed above, Shift4Shop provides all the security features necessary that shift the burden of fraud and mistake away from store owners.
9. Customer support
Being a store owner of Shift4Shop means you can avail of dedicated support via User's guides, audio, webinars, blog, posts,.. and especially eCommerce University – a free resource for learning everything about online selling.
No matter what pricing plan you'll go for, online chat and tickets are always available. However, all the packages include 24/7 phone support except for the Startup plan. Even if you want to optimize particular marketing or other features, Shift4Shop allows you to communicate with third-party design experts and install new add-ons via REST API.
"The program has just about everything we need and other stuff to grow into. The support people are great, they help us when needed and normally solve my issues and questions in a few hours or less." (Review from Stephen H. – Capterra)
Here is the list of support channels you can dig into whenever problems arise:
Help manual for modules
Developer portal with API documentation
Blog and Newsletter
Shift4Shop review: Pros and Cons
With a tight connection between 3dCart and Shift4, the introduction of Shift4Shop comes as a reliable eCommerce solution for its customers thanks to the abundance of top-notch features, especially SEO-focus functionality. Nevertheless, there are some limitations that may be out of your expectation.
Therefore, a summary of Shift4Shop's strengths and weaknesses will help you a lot in assessing this platform before kicking off an online store.
Pros
Ease of use: Shift4Shop provides basic website tools to build a dazzling storefront along with a fully-optimized dashboard. Therefore, this platform is suitable for large merchants, beginners and those who want to enter the market quickly.
Powerful built-in features: Shift4Shop has a comprehensive guidance to boost the ranking of your store. Things seem to be easy as all you need to do is get the check box ticked. In the most general sense, Shift4Shop's Marketing tools are strong enough to empower your business as you want.
A variety of Payment Gateways: the integration of payment processing solutions comes as a rescue for store owners to increase the checkouts. By doing this way, they can avoid putting potential customers off due to the lack of payment method.
API Access: Shift4Shop allows you to hire professional developers to design store themes and create customized applications via REST API. As a result, store owners can grasp the golden chance to get their business reach its full potential.
Cons
A huge source of apps: This seems to be a plus of Shift4Shop. However, some modules have the same function yet at different prices. Somehow, store owners may find it confusing to choose what they exactly need.
Limited free templates: Shift4Shop doesn't provide its users with a wide selection of free themes. In addition, these templates are quite basic and simple, which may disappoint you.
Expensive price: Shift4Shop doesn't charge any additional transaction fees. However, you may need to pay up to $199.99 to possess a mesmerizing store design. In addition, adding modules from its app market is a must to fuel your online business, which costs you a lot of money.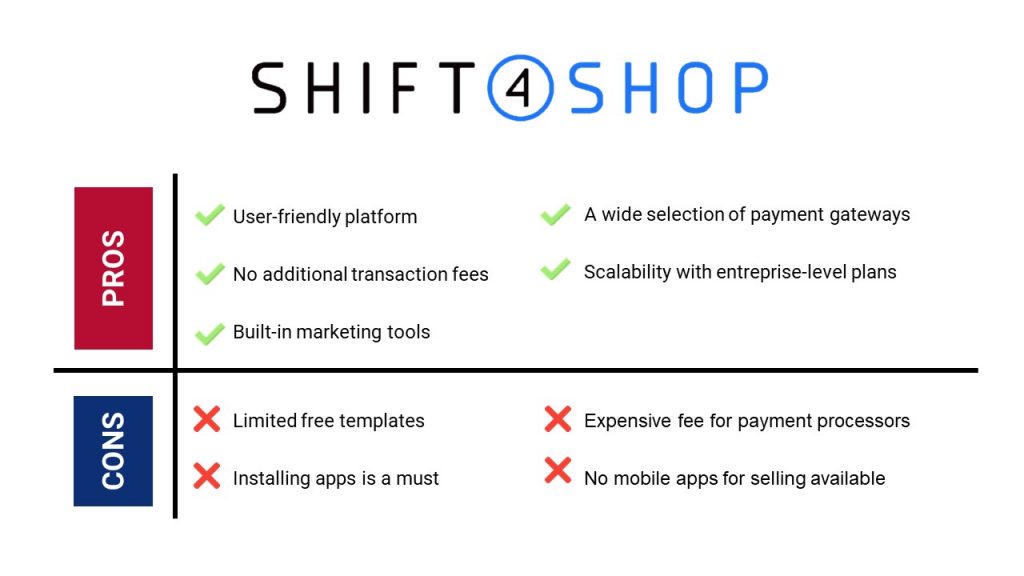 Conclusion
In the most general sense, Shift4Shop is an outstanding eCommerce platform that offers most of the tools you need to create an online store effortlessly. Depending on our Shift4Shop review, this platform fits all sizes of business, especially those who plan on opening an online shop as quickly as possible.
Each platform has certain benefits and drawbacks, and so doesShift4Shop. If you are considering several hosted solutions including Shift4Shop, we hope that our comprehensive Shift4Shop review will help you make the final decision.
In case you are planning on migrating to Shift4Shop from an existing eCommerce store, LitExtension is proud to be your trustworthy partner.
We are one of the leading companies specializing in providing shopping cart migration service with over 10 years of experience. Our job is to transfer all the business data securely, flawlessly from one platform to another.
You are able to try out the free Demo migration with limited entities to see how this process works. For more information, don't hesitate to contact our customer support. We are always eager to help you in a minute!
You can also join our Facebook Community to get more eCommerce tips and news.