Shopping cart migration in general or migration to Magento in particular is no longer scary with the help of LitExtension. You only need 3 simple steps to automatically transfer every important data from your old store to your new one on Magento accurately and securely. If you are wondering how the process looks like, check out our tutorial video below:

If you've just finished a migration with LitExtension, here is the checklist to set up Magento store after a platform migration.
Step 1: Check if your data has been migrated accurately
Once the full migration is completed, you need to check if all of the data has been transferred accurately to your new Magento store.
Firstly, go to your Magento store backend and compare the data with those on your source store. If everything is there, it means the data migration was performed successfully.
Secondly, go checking in your frontend. If the data is not shown there correctly or some are missing, it can result from an issue in your theme or configuration.
In order for the data to show on the frontend, you need to run command line to resize images, reindex and clear cache as follows:

Note: Out-of-stock products are disabled on Magento store by default. This means they will not be shown on the frontend and not visible to your customers.
To display these products, you need to follow these steps:
Go to Stores > Configuration > Catalog > Inventory > Stock options > Choose "Yes" in Display Out of Stock Products and click "Save config"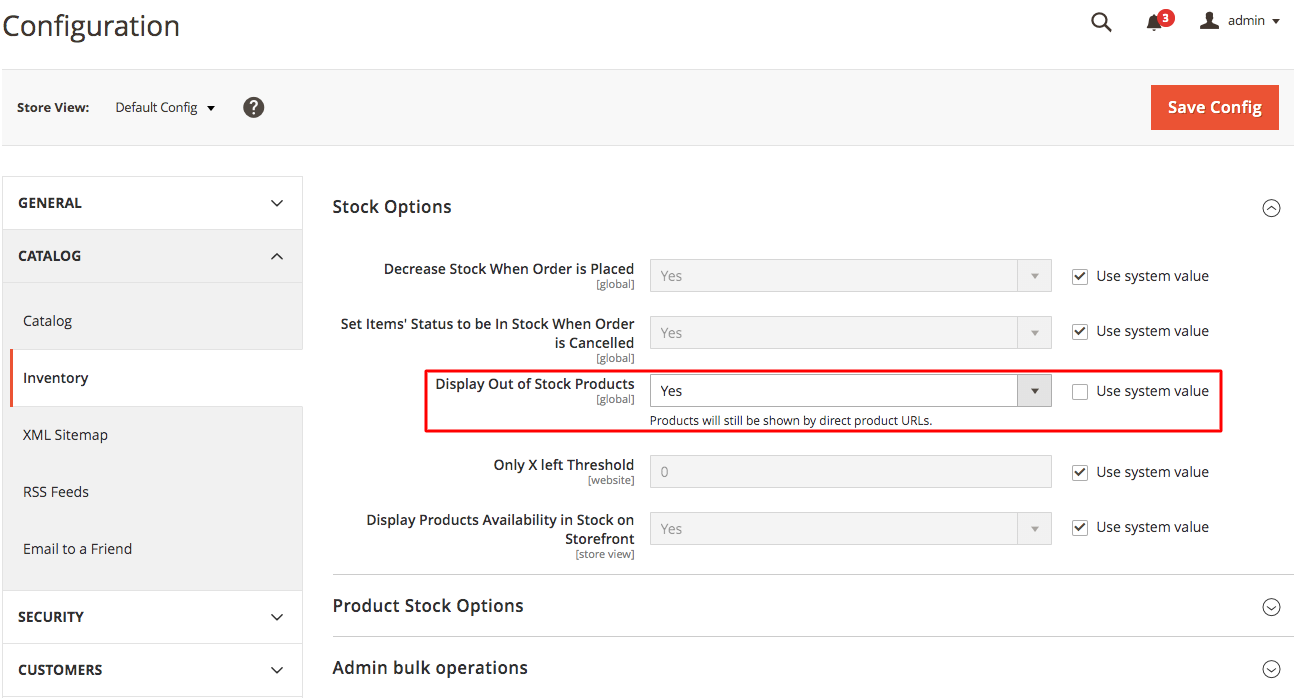 Step 2: Setup theme for your new store
Since you cannot migrate theme to Magento, you should install a third-party theme for your store or design a new one by yourself.
To install a theme, you need to add its code to your Magento 2 instance code base, and then register it in the database. The way a theme is distributed determines how to do this.
First of all, set your Magento application to the developer or default mode.
Secondly, install a theme:
The theme belongs to a set of files
If the theme is just a set of files, for example, an archive, you can install it manually. All you need to do is copying the <theme> directory to the <Magento root dir>/app/design/frontend directory.
However, you need to make sure that all the theme files are stored in that <theme> directory and the directory structure is <VendorName>/<theme>.
The theme is a composer package
If the theme is a composer package, install it using composer. You can follow this guide by Magento for more details.
Basically, the procedure includes 7 steps:
Purchase the theme from Magento Marketplace.
Get the theme's Composer name.
Change to your Magento root directory and enter the command:

composer require <vendor>/<name>:<version>

For example:

composer require zero1/theme-fashionista-theme:1.0.0

Wait for dependencies to update.
Enter the following commands:

git add -A && git commit -m "Add theme"
git push origin <branch name>

Log in to the Magento Admin.
Click Content > Design > Themes.

The theme is distributed as an extension
If the theme is distributed as an extension, you can use the Web Setup Wizard in Magento Admin to install it. See more here.
Thirdly, register a theme. After you install a theme, go to your Magento Admin or reload any Magento Admin page to register your theme.
To make sure if a theme is registered, navigate to Content > Design > Themes in Magento Admin. You can find registered themes in the lisst of available templates
Step 3: Install necessary extensions
Next thing to do is powering up your Magento store with extensions. There are 5,800+ extensions on Magento Marketplace and they can help you enhance your online store in every aspect.
You can refer to this selection of the best extensions for Magento 2 store to find the best one in each category. If you are looking for a place to find every extension you want, Mageplaza should be named. They are one of the top Magento Extension Providers with not only excellent extensions but also great policy. Their policies include 60-day money back guarantee, 1-year free support and life-time free update. You will definitely be content with their products and service.
To install and configure an extension on Magento 2, please follow Magento guide here.
We can summarize the procedure as follows:
Login to your Magento admin as a user with full administrator rights.
Click Extension Manager, then click Sign In.
Follow the instruction to fill in the blanks with the Public Access Key and Private Access Key from your Marketplace account.

Enter access key to sign into Extension Manager

After signing in, it will show you the summary and list of all available updates, recently purchased extensions, currently installed extensions and sample data.

Under Extensions Ready to Install, click Review and Install to see a list of all available extensions.
In the Latest version column, choose the version that you want to install. Then in the Action column, click Install.
After that, follow Magento step-by-step instruction to install.
Step 4: Development
Development services come in handy when you cannot find a theme at your will or there is no extension that can fulfill the function you want. To get the best results using Magento, you need an expert developer.
There are plenty of companies and freelancers that deal with Magento development. Among all, we would highly recommend our partner, Magenest. They are a seasoned system integrator and a top-tier Magento Business Solution Partner. Beside that, Magenest is also winner of Magento Imagine 2019: Top Magento 2 Certifications Award. We believe that with their experience, Magenest will bring you the top-quality service and the best store.
Step 5: Run recent data migration
After you've finished all the mentioned-above tasks, you need to run recent data migration.
During and after the migration, LitExtension still keeps your source store active normally to ensure the service doesn't affect your sales or business performance. Therefore, your store will still receive new orders, customers and new products throughout the data transfer or when you're configuring your new store after the migration.
After finishing the setup, you have to transfer the data newly incurring in your old store to your new store as well and that's when our Recent Data Migration comes in handy. You can perform recent data migration with LitExtension for free and unlimited times within 3 months after the initial migration.
Here are 3 simple steps to do it:
Go to your account on LitExtension site.
Choose from your migration lists the transfer you need to migrate new entities additionally
Choose "Recent Migration" button and follow the simple steps that you did when setting up the full process.

Recent data migration

For more information about Recent Data Migration, please check this article.
Step 6: Run command line again to show new data on front end
Now, you need to run command line again, just like in step 2, to show the newly updated data on your front end:

Step 7: Change DNS and switch domain
After the migration completed, you should switch the domain to your new store.
Here are the three most prevailing situations you might face after completing a migration:
You have both stores hosted by the same provider, under the same domain. Yet, your target store is in the subdirectory.
You use the same hosting provider for both your stores, yet each of them has a different domain name.
You have source and target stores hosted by different providers, under different domain names.
Please check this document to find the step-by-step instruction to switch domain to your new store in each case.
These are all essential steps you need to take to set up a Magento store. Make sure you don't miss a thing. After that, you can confidently launch your new store! Let's join our community to get more eCommerce knowledge.