Since 2007, Magento has developed to become one of the best eCommerce platforms. With over 300,000 online stores established over Magento platform, choosing Magento for your eCommerce store is totally preferable.
E-commerce stores running on Magento have to face a tough keyword competition as similar products are usually on sale on high traffic online stores. It costs a lot of time achieving the DA (Domain Authority) or PA (Page Authority) for the product keywords. Therefore, if you are running a business, it is wise to hire a professional unless you are an SEO expert yourself.
Magento has some good options to make them search engine friendly. You can see 6 effective SEO tips for Magento store here:
Allowing search engines to index your sites
Go to System > Configuration > Design > HTML Heads, then change the "Default Robots" setting to "INDEX, FOLLOW".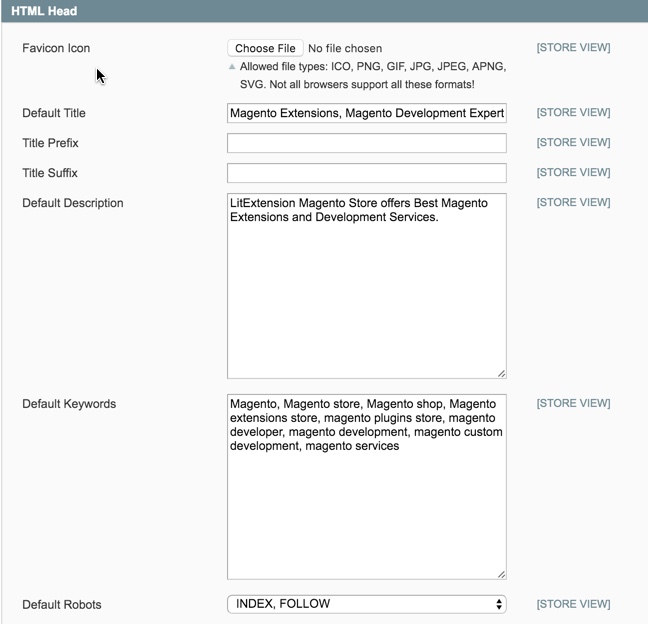 Making your URLs clean and clear
You should use common characters, product related words for your URLs. It helps your links to be human readable too. Magento supports to simplify URLs by default. You should go to System > Configuration > Web > Search Engines Optimization (SEO).
Enter "URL Options" menu, set "No" for "Add Store Code to URLS" to avoid store codes being added to your URLs.


Magento URL options
Eliminate Duplicate Contents
Please keep in mind: Content is King, so you should not have duplicate contents. Magento allows you to sort and easily navigate them all to categories.
Here to dismiss the duplication in URLs, click System > Configuration > Catalog > Search Engine Optimization and set "No" for "Use Categories Path for Product URLs".
To avoid duplicating contents in case your items show off in various categories, set "Yes" to both "Canonical Link Meta Tag" boxes. Google doesn't like duplicate contents.
Updating Title, Metadata Tags
Update default metadata info for your store. It is recommended to avoid using the same metadata info for all pages.
For example, metadata description for your site will not be appropriate for your specific product pages. Google and others show the metadata description below the link in the SERP. A description relevant to the searched keyword would surely convince the user to follow your link.
Enter Admin Panel (System > Configuration > Design > HTML heads) and define generic rules for the whole site. To set the title and metadata on a page to page basis, go to individual categories and product pages in the catalog section of Admin Panel.
Writing concise descriptions with relevant key words for your new categories, products and services help search engines to match user search query to your product link.
Label your files correctly: For example, Instead of "img11111.jpg", image name as "litextension_service.jpg" makes more sense for everyone. This should always be followed with "alt" tag for the image file in question.
Creating a "URL Key " so that the URLs are specific for the product keyword.
Analytics Integration
Google Analytics Integration supplies the statistic not only about your visitors but also the keywords and traffic sources. You can also see your best performing products and pages.

To enable Google Analytics Integration in your Magento system, click through System > Configuration > Google API.
Set "Yes" for "Enable option" and submit your Account Number.
Google XML Sitemap Generator
Google XML Sitemap is an effective method to communicate with Google search engine. Through the XML sitemap, the structure and essential contents of your web site can be indexed directly.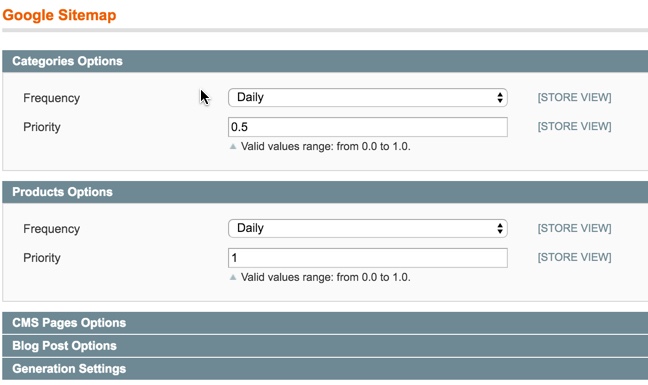 A huge utility of Magento is that the system enables its own Google XML sitemap generator to help you create and submit an XML sitemap to Google with ease. Click through System > Configuration > Google Sitemap to select your own priority and configure the frequency and the time you want the XML sitemap to be generated. Just save the "sitemap.xml" file to the root level of your server.
To automate the work, just click through System > Configuration > Google Sitemap to hand in your sitemap automatically: Enter "Generation Settings", enable sitemap generation and define the frequency according to your e-store frequency. Thus each time you get your web site update, Google gets your sitemap update, too.
Set sitemap settings upon adding a new category, product or page, so that the sitemap presents all the new items for sure.
If you are running your business on another eCommerce platform and looking for migration to Magento, we would like to recommend LitExtension Magento migration tool.
If you have any questions, please don't hesitate to Contact Us or join our Facebook Community, we are always available to help.