Introduction
Currently, since the eCommerce world is growing rapidly, it opens up a great opportunity for brick-and-mortar stores to reach more customers online, thereby increasing sales. Merchants need to catch up quickly with this trend and bring their stores to the eCommerce market as soon as possible. To run an online business effectively, selecting the most suitable shopping cart solution is the top priority.
Among several shopping carts, Prestashop and WooCommerce are two prominent names thanks to the benefits that they bring to users. However, merchants usually feel quite confused and find it hard to differentiate between these two platforms.
"Prestashop vs WooCommerce: Which one is better?" is a tough question, especially when you realize that the decision you make would profoundly affect your future business. To answer this question, this article will help you cover:
Prestashop vs WooCommerce – Overview
Detailed comparison of Prestashop vs WooCommerce
Which eCommerce solution is better for your business?
Overview
WooCommerce is a flexible, open-source eCommerce plugin built into WordPress. Since its release in 2011, it has quickly become the primary solution for users looking for a platform to run their online store. Due to its open-source nature, you can customize every aspect of your store and easily build custom design and functionality. 
PrestaShop is an immensely feature-rich, open-source eCommerce solution and officially started in 2007. Afterward, it has become one of the most popular choices for e-commerce store owners. This platform gives you good administrative features, lots of design options, and a very user-friendly interface.
Prestashop vs WooCommerce – Detailed Comparison
1. Popularity
It can be seen that WooCommerce is superior to PrestaShop in terms of popularity. With over 3.3 million websites using WooCommerce, WooCommerce's market share currently is about 28% in the eCommerce category. In contrast, PrestaShop's market share is significantly lower, at only 3.2%.
Furthermore, in the geographical aspect, WooCommerce is leading in most regions such as the USA, the UK, Iran… while PrestaShop's users are mostly from France and Spain.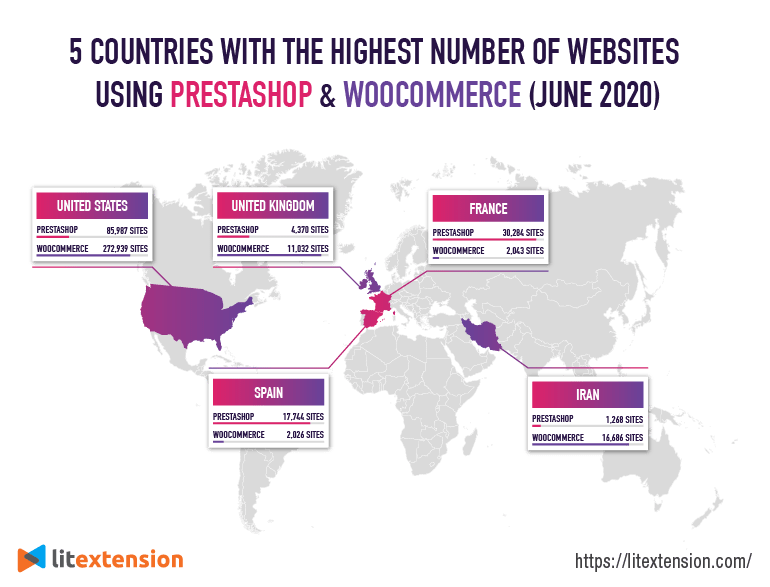 2. Pricing
Both Prestashop vs WooCommerce is open-source eCommerce solutions, they are free to download and install. However, merchants have to pay some fees to have a complete website such as a domain name (about $12/year), a hosting provider (from $5 – $25/month), and a Secure Socket Layer Certificate (SSL – about $5/year).
Besides, to create a powerful and attractive store, you have two options to choose: design themes and create extensions on your own, or buy themes and plugins from these two platforms' stores.
The average price of themes and modules in PrestaShop starts at $54.99/year, which is almost three times more expensive than that in WooCommerce ($19/year).
The verdict: WooCommerce beats PrestaShop down with a cheaper range of price.
3. Support
WooCommerce does not offer direct support for users when troubles arise. In fact, merchants can not solve their issues through live chat or phone, instead, they can seek help from a large community whose members are willing to help. Besides that, some resources such as FAQs, tutorials, and documentation are also available to guide users and help them deal with problems.
Another way that store owners can get help is by opening a support ticket on the WooCommerce website. Although it is stated that the WooCommerce support team will respond to questions within 24 hours, the actual time will depend on the complexity of your problems.
On the other hand, PrestaShop offers two main support services: PrestaShop Online Assistance and PrestaShop Technical Assistance.
The first option provides a lot of free resources for users to consult: guides, tutorials, FAQs, and training courses (for merchants and developers). If you can not find any suitable solutions within these resources, visit the PrestaShop forum and chat with the forum members (the community contains over 1.2 million members and many solved issues).
The second option is called PrestaShop Technical Assistance. This is a unique service of PrestaShop compared to other platforms. With the service, online merchants will meet PrestaShop's expert by phone to get their problem solved in 15 minutes. However, the cost is not cheap. It ranges from $249 to $1399 depending on the support level.
The verdict: PrestaShop is undoubtedly a winner because it has a variety of support options for e-merchants.
4. Ease of use
In terms of installation, the setup time of a WooCommerce store is quite longer than that of PrestaShop because you need to have WordPress first.  After that, WooCommerce can be installed directly from the WordPress admin panel. As mentioned above, this plugin is free so you do not need to pay any fee to install it. All you need to do is "Login into your WordPress admin site", then go to "Plugins", search for "WooCommerce" and click "Install Now".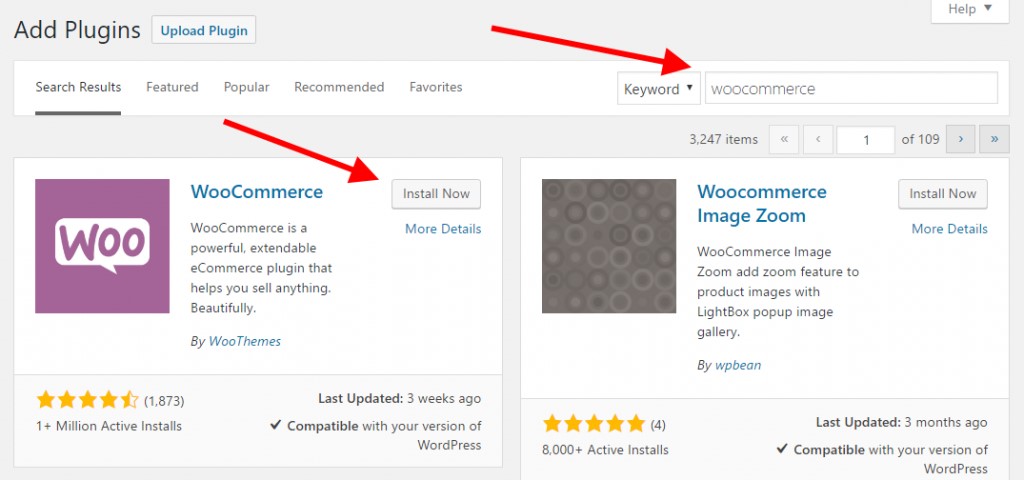 Referring to PrestaShop, there are two ways to install a store, which are One Click Install and Manual Installation. Firstly, merchants can install PrestaShop in 5 minutes if they choose a web hosting provider that provides a one-click installation script (there are 3 popular script libraries to install PrestaShop with one click: SimpleScript, Installation, Softaculous). The second method is more complex than the first one. You will need to:
Set up server space, a domain name, FTP client, and Text editor
Download the latest version of PrestaShop as a zip file
Extract zip files and work with them on your web server via the FTP application.
If you are confused by this complicated process, you can follow the platform's documentation instructions or video tutorials. Less experienced users might need between 10 and 20 minutes to complete the whole process.
In terms of interface, WooCommerce and PrestaShop both have a user-friendly interface. All the features needed to manage your online store are on the left of the dashboard so it's very easy to navigate anywhere you want.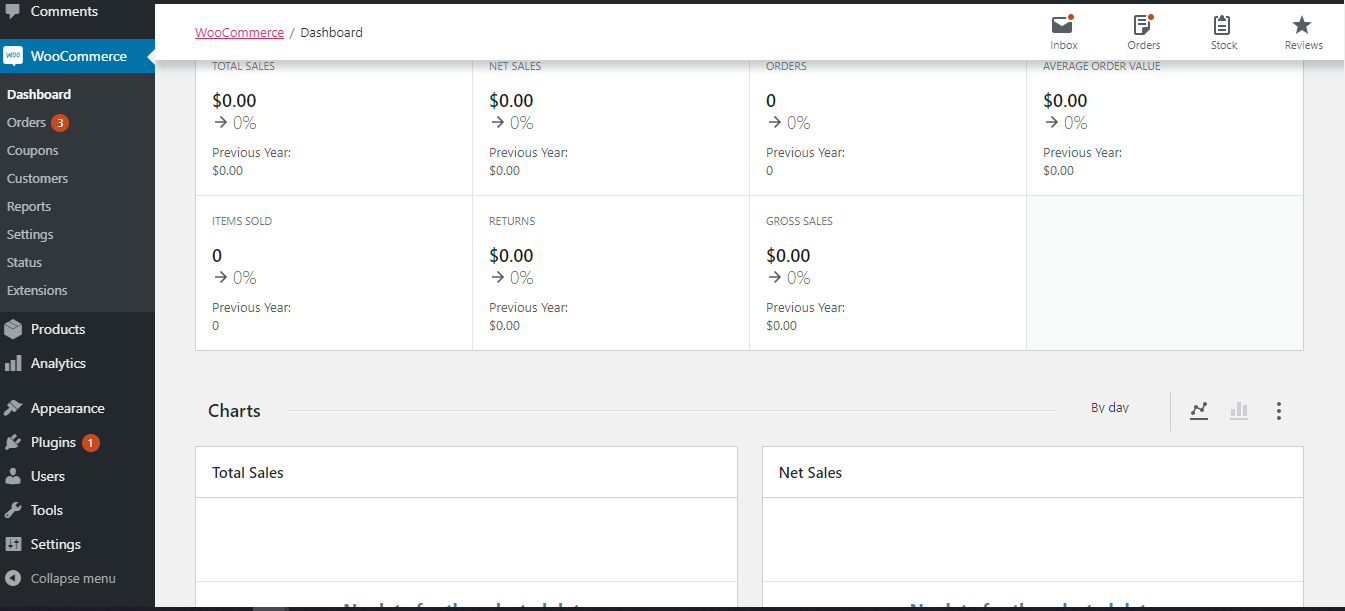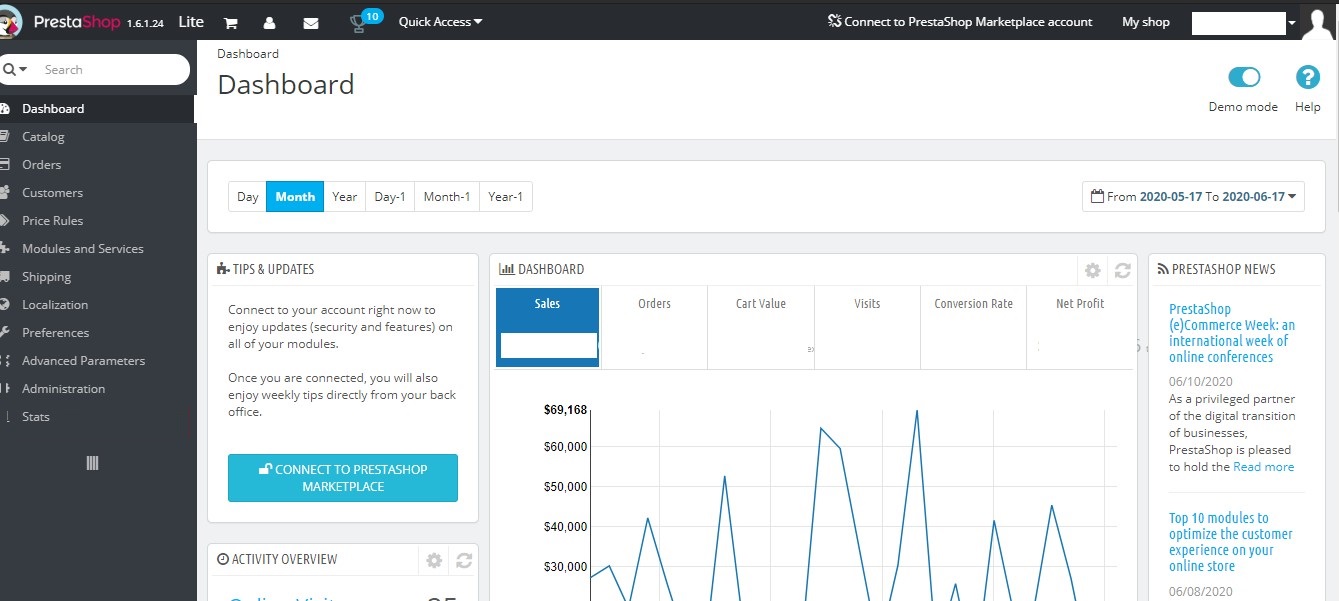 The verdict: Both WooCommerce and PrestaShop require users a lot of time and effort during the installation and operation processes. Therefore, the result is a tie.
5. Built-in Features and Plugins
In the competition between Woocommerce and Prestashop, it's important to mention built-in features and plugins of the two platforms. Both of them provide some basic built-in features that merchants need to manage their online stores. For example import and export products, payment processing, order management, a basic analytic/statistic tool, etc. They also allow the creation of bulk products (grouping of several products), as well as the creation of combinations (products with variants of sizes and colors).
As a WordPress plugin, WooCommerce seems to be more powerful regarding the management of posts, media, pages, and blogging. On the other hand, PrestaShop is stronger in creating and managing multiple stores. While this is a built-in feature of this platform, WooCommerce's users have to install a plugin to run multiple stores.
To improve the performance of your online stores, it's necessary to add some extensions or modules. For example, email marketing, accounting, analytic tools, etc.
Up to now, the WooCommerce plugin store has hosted over 400 extensions developed by the WooCommerce team or third parties. Moreover, WooCommerce can be easily integrated with WordPress plugins, which means that WooCommerce users can also take advantage of the huge plugin store of WordPress with approximately 58,000 ones.
Meanwhile, the number of modules that PrestaShop Addons offers is significantly lower, at about 4,000 modules.
The verdict: PrestaShop vs WooCommerce, these two shopping cart solutions provide their customers some necessary built-in features, but thanks to the diversity of extensions, WooCommerce is the winner.
6. Design and flexibility
Thanks to the open-source nature, both  WooCommerce and PrestaShop allow users to have endless customization possibilities. Merchants can create and design their stores as they want to, the better the technical skills they possess, the better design and performance their stores have.
However, users who are not tech-savvy, tend to select themes and templates from their platform's marketplace. Let's take a closer look at Prestashop vs WooCommerce marketplaces to see the differences.
WooCommerce only offers its store owners 19 themes. However, users can also take advantage of WordPress themes by accessing Themeforest to select the most suitable one for their online shop with over 48,000 options (both free and paid). The price of WooCommerce paid themes normally starts at $29.99.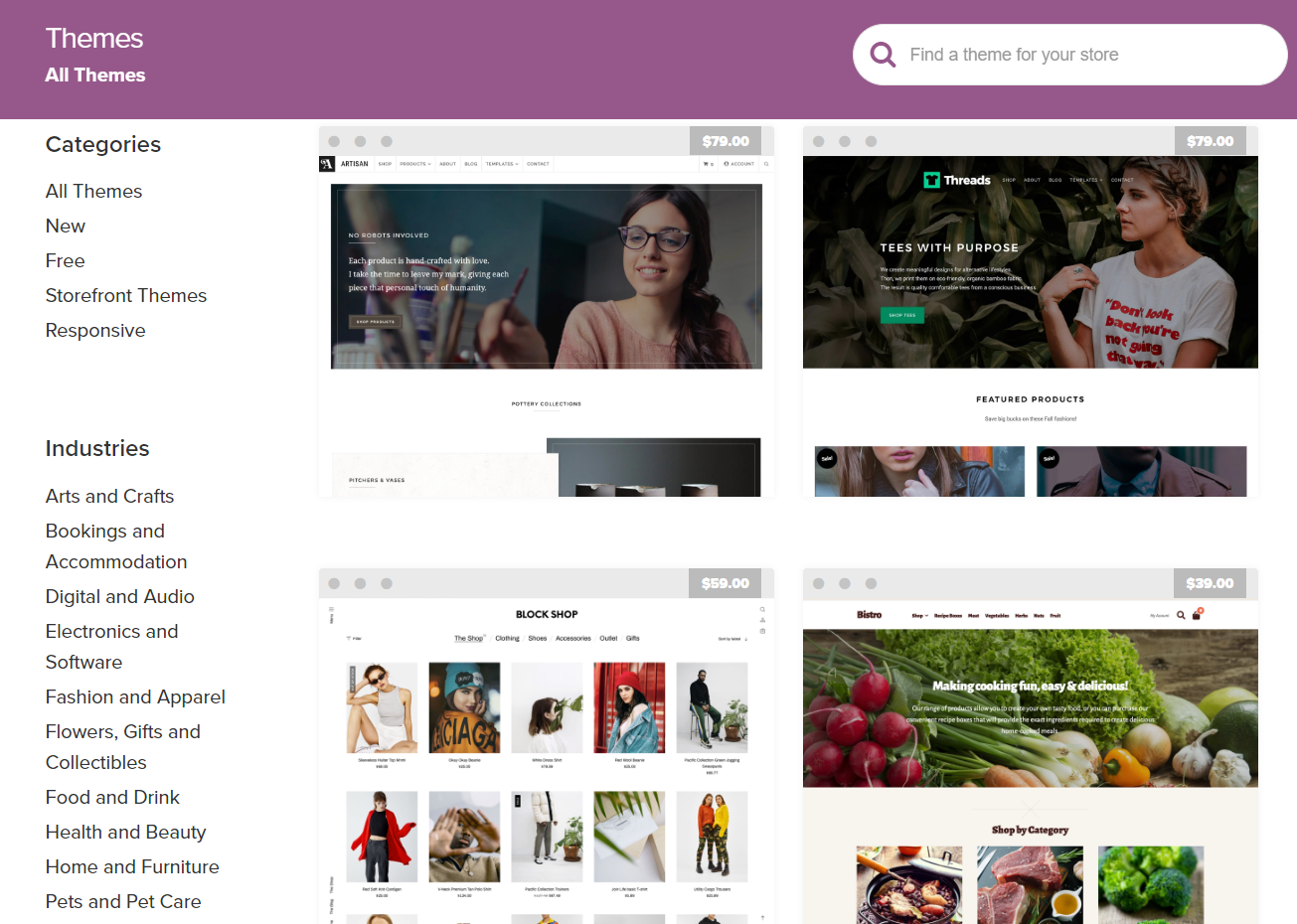 On the other hand, Addons – the PrestaShop apps market has nearly 3.200 themes for users. However, all of them are paid versions and their prices start from $59.99. The LitExtension has made a collection about "Best PrestaShop Themes in 2021" to give merchants the best decision of selecting the theme for stores.
With both WooCommerce and PrestaShop themes, merchants can access the code of the themes and then adjust them through Javascript or HTML code.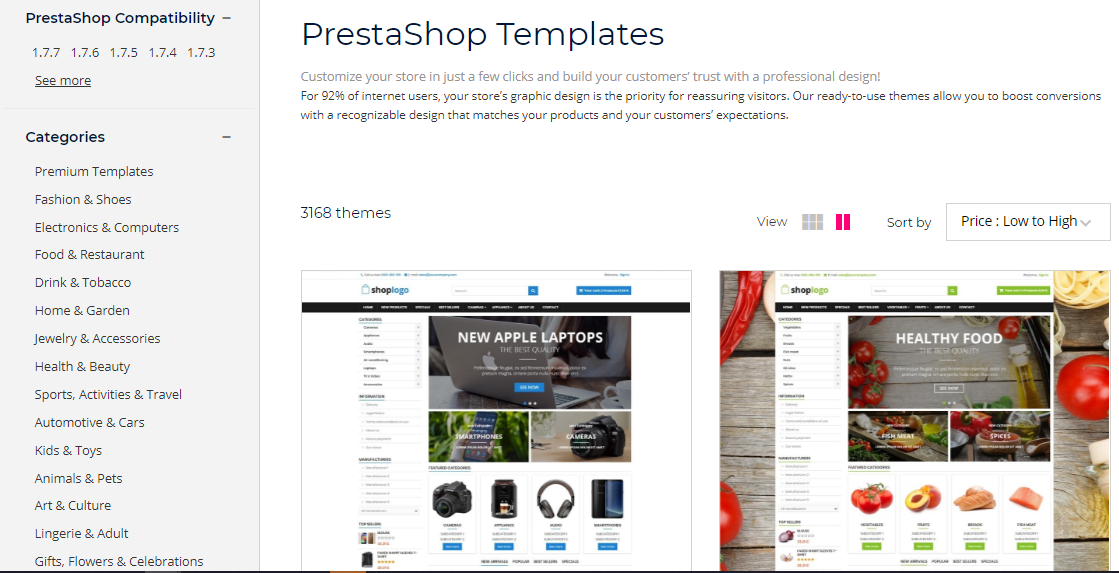 The verdict: WooCommerce has a wider range of designs. As a result, the winner of Prestashop vs WooCommerce in this field is WooCommerce.
7. SEO
When considering a platform for your online store, SEO is one of the most important factors. With good SEO, your website or products will appear at the top of searching results and this inserts your brand into a customer's mind.
Both WooCommerce and PrestaShop equally offer the possibility to optimize the SEO of your site.  For example, writing SEO-friendly product titles, adding Product SEO descriptions, URL redirects, generating the sitemap, etc… are available.
| | | |
| --- | --- | --- |
| SEO features | WooCommerce | PrestaShop |
| Page titles | Available | Available |
| Meta description | Available | Available |
| Personalized URLs | Available | Available |
| 301 Redirects | Will attempt to redirect any change automatically. It could be more effectively work with supports by plugins | Can manually adjust in the root folder |
| Sitemap | Install plugin to generate | Install Google Sitemap module |
| Canonical Tags | Available | Available |
| Google Analytics | Install a Google Analytics plugin name MonsterInsights | Install the Google Analytics module |
The verdict: WooCommerce would beat PrestaShop in the SEO aspect. Firstly, WooCommerce inherits all of WordPress's available SEO capabilities, especially for blogging. For more specific, users can easily create a blog directly from the WordPress dashboard. In contrast, PrestaShop's users need to install a blog module whose price is significantly expensive and should take into consideration.
8. Security
Regarding security, users of WooCommerce and PrestaShop have to ensure data security on their own. For example, they can buy an SSL certificate, choose a reliable hosting provider, or always update their store to the latest version.
With WooCommerce, the good news is that this platform allows merchants to create two-factor authentication by installing plugins such as Duo or Two factors. This feature will bring users to a new level of data security. For example, when merchants want to login to the admin site, they have to verify the user identity through code in SMS, email, or phone calls. Furthermore, WooCommerce store owners will be responsible for PCI compliance, follow WooCommerce Docs about PCI-DSS Compliance to learn more about details, and how to make a site PCI compliant.
In the case of PrestaShop, its downloadable setup file is already PCI compliance. Because of being a European company, it recommends users to be GDPR compliant (General Data Protection Regulation) for data safety purposes. This can be done by installing a module named "Official GDPR compliance" developed by the PrestaShop team in the Addons marketplace, this module will cost you €99.99 in 3 months and support many languages of the store from version 1.5 to version 1.7. With this compliance, the personal data of your customers will be under protection.
The verdict: Both platforms are open-source solutions and share similar security issues. However, PrestaShop would surpass WooCommerce thanks to its default PCI compliance.
9. Payment Gateways
Flexibility and diversity of payment gateways can be a great advantage to any online store. The good news is that users of two platforms can integrate by default with popular gateways like Stripe and PayPal in their store. However, let's take a closer look at Prestashop vs WooCommerce payment options to see the differences.
WooCommerce offers not only 100+ payment gateways (free and paid plugins), but also its payment gateway which is free to install. With WooCommerce Payments, you'll be able to securely accept major credit and debit cards. It can even help you to increase conversions by allowing customers to proceed to checkout without leaving your website.
With PrestaShop, users can choose between a third-party payment processor from 250 options on the PrestaShop marketplace or PrestaShop Checkout solution. The same as WooCommerce Payments, your customers will not be redirected to another site when processing their payment with PrestaShop Checkout. Moreover, is fully compliant with all regulations, especially GDPR.
The verdict: Each platform has its own benefits that can satisfy users' demands. As a result, there is no winner in this aspect.
Which one is ideal for your business?
We have been through many aspects to illustrate the differences between Prestashop vs WooCommerce, and what these two platforms can offer.
The benefits of WooCommerce are undeniable. The platform provides a lot of advantages, powerful built-in features, more plugins, and an ideal SEO environment. If you are already running a WordPress website, do not hesitate to start with WooCommerce.
In case your business has a small size coming with small revenue, pick WooCommerce as well due to its affordable prices in extensions and themes. In contrast, PrestaShop would be more suitable for a bigger scale. Additionally, if you are planning to start an online store in Europe, or your customers almost come from Europe, PrestaShop with GDPR compliance is an optimal solution.
Conclusion
Determining a suitable platform to start a business is not as straightforward as we generally think. Hopefully, this comparison between Prestashop vs WooCommerce in many aspects will give you the answer that you are looking for.
So, if you are trying to switch from one platform to WooCommerce or to PrestaShop, even from PrestaShop to WooCommerce (or contrast), the LitExtension team is willing to help. As the world-leading shopping cart migration tool with 140,000+ successful migrations for 40,000+ worldwide customers in the last 5 years, all your data will be transferred automatically, quickly, and accurately, especially, with no technical skills required. LitExtension also supports migrating from CSV files, database dump, and database direct.
For any further information about LitExtension, please feel free to contact us!
You can also join our Facebook Community to get more eCommerce tips and news.