Overview
With over 9 years of hard work and dedicated effort, LitExtension has developed to be a leading company that provides the ultimate shopping cart data migration. However, we keep trying to create the best customer experience by widening our network as a way to add more value to the migration package we are offering.
This is the reason why we have contacted many eCommerce service providers to find out more solutions for store owners. And we are glad to officially become a partner with Pelican Commerce. We believe that the collaboration of Pelican Commerce and LitExtension will help you to benefit from superior eCommerce services at a minimum expense.
All about Pelican Commerce
Enormous advantages of the eCommerce industry motivate thousands of merchants to start selling online. However, many of you may find it difficult to set up a booming online store. Therefore, Pelican Commerce provides solutions that assist you to optimize your eStore to full potential.
As an American-based company, Pelican Commerce focuses on bringing its service to clients across the United States. Assembling a team of experienced developers, Pelican is proud to offer eCommerce services that small business owners actually need. This is also the mission that they have been pursuing since Pelican was founded.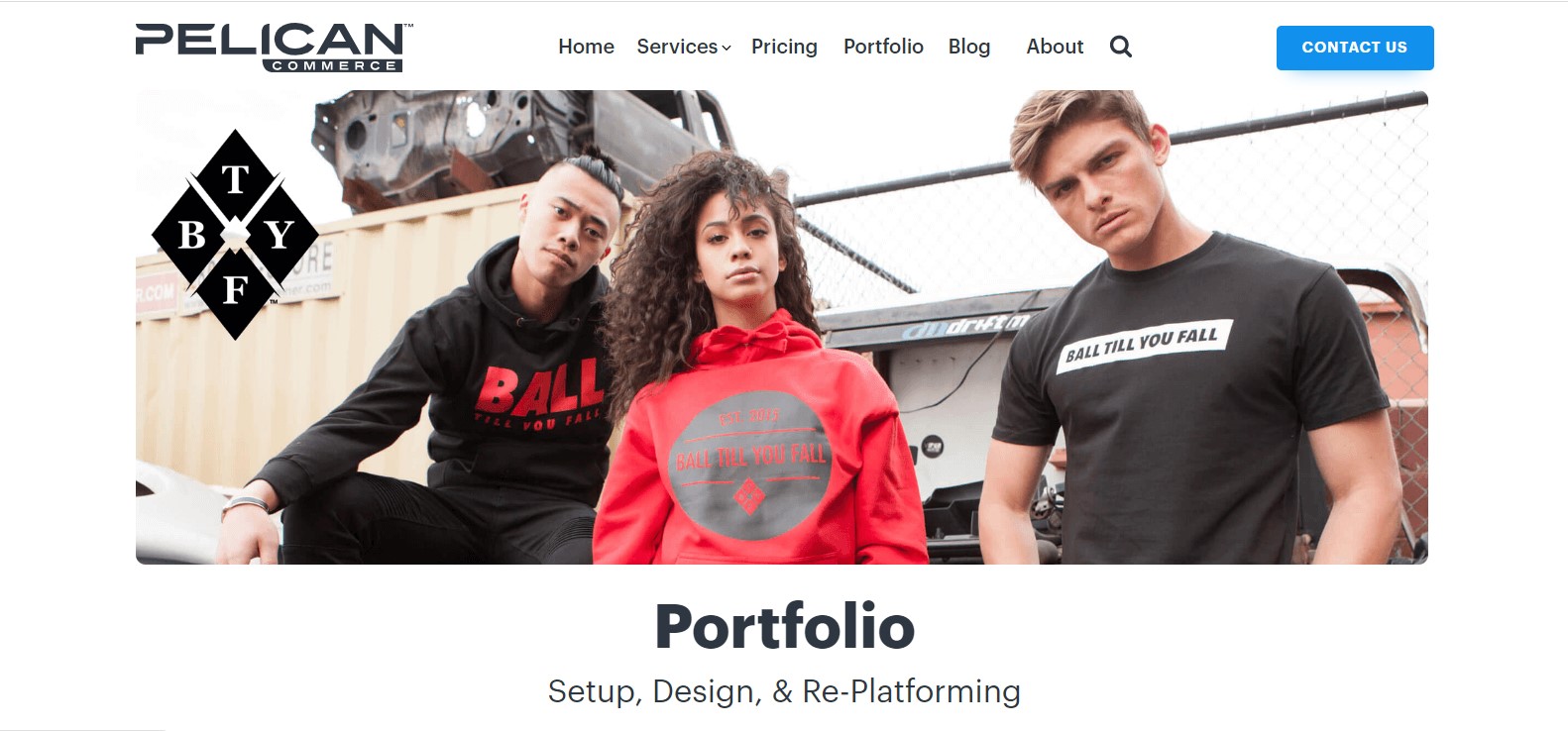 After you already create an online store, you have to manually complete a lot of tasks afterward. Therefore, to ease the complexity, Pelican will help you to choose a suitable theme, install necessary apps, and modify some functionalities. By doing this, you can enjoy a smooth and well-organized business with assistance from professionals.
Besides that, the core value of Pelican Commerce is its ability to deal with high volume selling models across dozens of channels. Therefore, your business can definitely benefit from the ultimate expansion to a higher level for greater profit.
Why is Pelican Commerce well worth being heeded?
If you are a beginner in eCommerce or you've been in the market for a long time but do not have a technical background, Pelican Commerce will absolutely bring a lot of benefits for you when talking about taking your business to the next level. Besides the technical expertise they have, their 13-year experience in running an online business helps them know what merchants actually need to operate a successful online store.
Here are some highlighted services offered by Pelican Commerce:
Shopify Setup
Pelican Commerce is a strategic partner with Shopify and Shopify Plus. They are certified experts on these platforms. Therefore, there is no need to worry about their credibility or ability.
Pelican Commerce provides Shopify personal training service so as to help you sharpen your store management skills. Therefore, you can easily make changes to your stores or processes during the operation.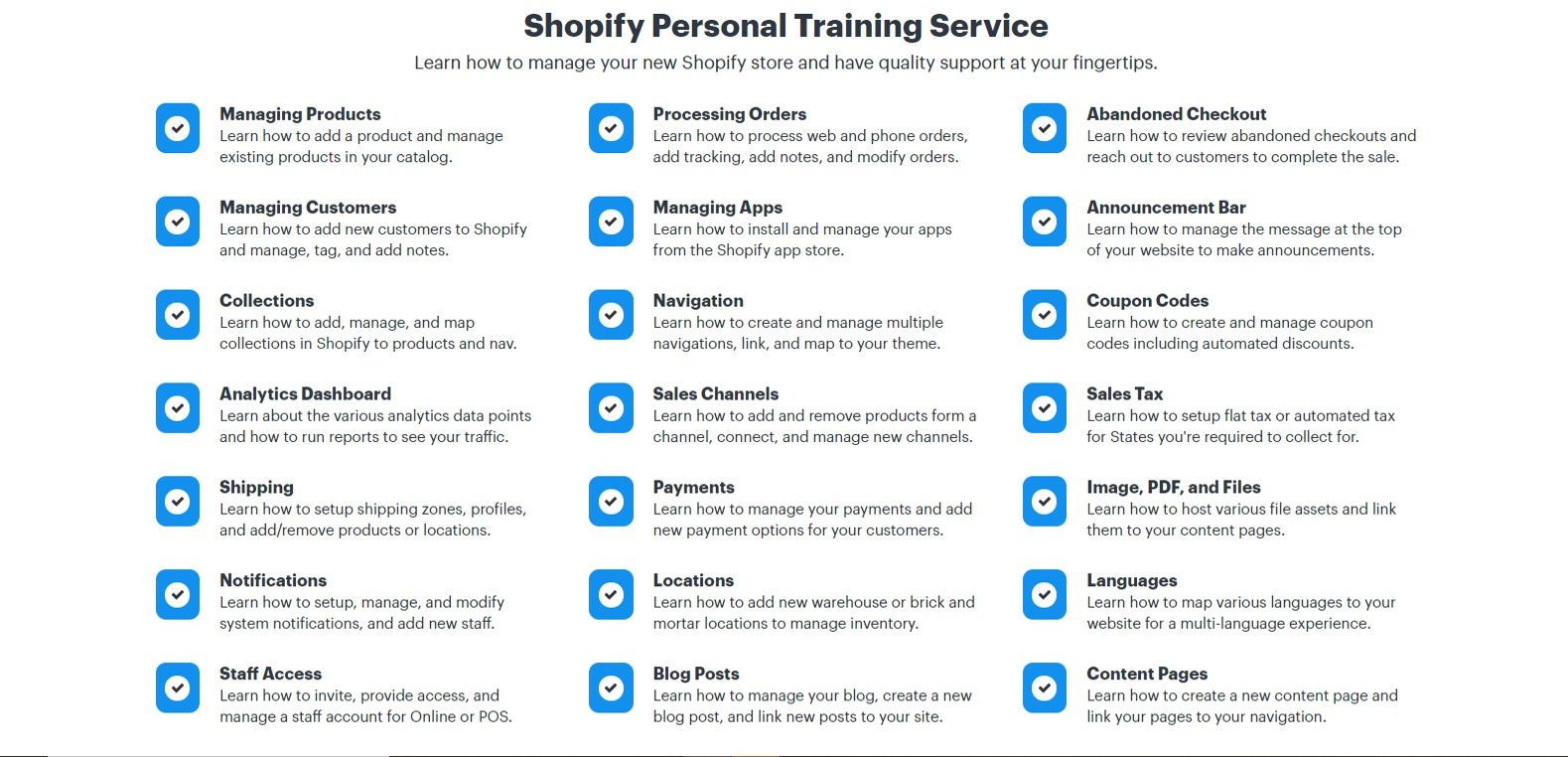 In addition to the training service, Pelican Commerce is available for ongoing support and help with necessary processes to onboard your staff and business to Shopify. They can assist you in small everyday tasks and questions you may need help with.
Walmart Product Uploading
Extending the store, increasing sales by selling products on several channels is always the goal to achieve for every merchant. Walmart – a huge online marketplace is surely one of the top names in the list as it is the world-class retail chain. However, there is a set of requirements for sellers to meet and eligibly run their online business on this platform.
Therefore, the question is how to get your products seamlessly listed on a brand-new Walmart store without much time and effort.
Understanding the demand for the business extension, Pelican Commerce is here to help you. When you assign this task, Pelican team will capture all the data in your initial store. After that, they will format these product data to ensure the compatibility and upload them into Walmart's category feed.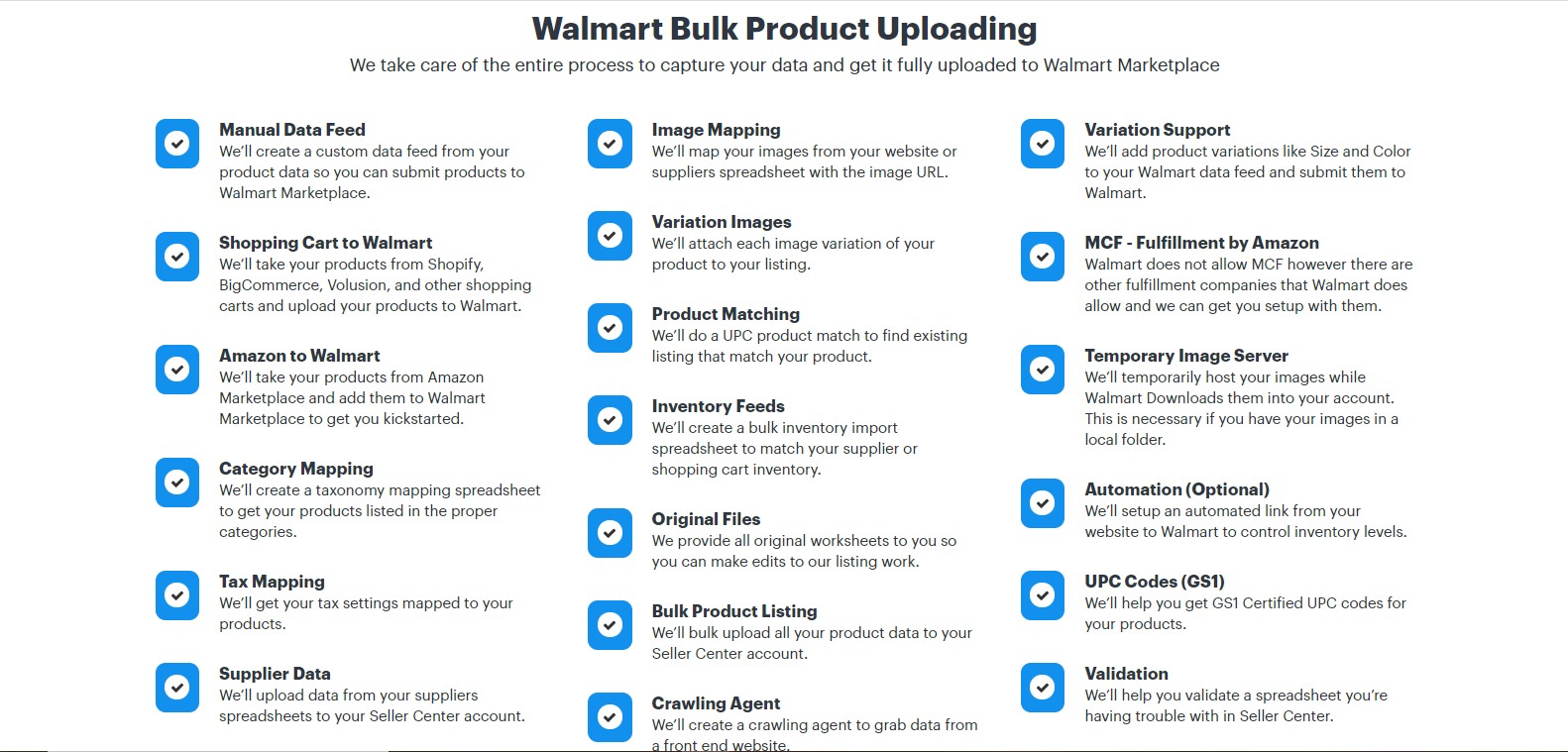 This service is available for your initial store on Shopify, Amazon, eBay, and any other platforms that you are selling products on. In addition, Pelican Commerce will take care of the entire process with no ongoing fees, contracts, or subscriptions. This is the point that reinforces the customers' loyalty in the service they offer, and thus consolidates the position of Pelican Commerce in the market.
Besides Walmart, you can also choose to create a new selling channel on Amazon, eBay, and Shopify marketplace. By making full use of their top-notch selling features, you can advertise your products to more customers from different countries all over the globe.
Product Data Crawling
Similar to Product Uploading service, Product data crawling is a solution for store owners to grow their business on other platforms. However, this service is only available on two prominent marketplaces, Amazon and Walmart.
If you are selling on these multi-vendor marketplaces and want to open an online store, you can easily export product data and upload them to your store. However, you need to configure this file to make it compatible with other platforms.
Pelican Commerce combines crawling Amazon.com and using Amazon's MWS API to collect the data. After that, you will receive a full data spreadsheet including title, description, images, multiple images, variation data, variation images, weights, dimensions, UPC codes,… Then, you can start opening a new source to earn a huge profit.
If you are owning a Walmart account for retail or wholesale, Pelican Commerce also performs the same process of crawling product data as on Amazon. Moreover, this service will separate the UCP code of your product from the existing one in the marketplace. As a result, it allows you to keep this database displaying in the right place.
What do customers benefit from Pelican Commerce and LitExtension partnership?
We have announced you the latest update of Pelican Commerce and LitExtension association. Hopefully, this article provides you necessary information about Pelican Commerce and how their services help you to launch a function-rich store.
Our partnership promises to offer overwhelming advantages to your online business. You can benefit from a full stack of ultimate migration tool from LitExtension. At the same time, Pelican Commerce will be the most supportive friend to complete all the set-up tasks for your store.
Thank you for always supporting us. Both of us will try our best to consolidate the service that we are bringing to you.
For any other questions that you may have, feel free to contact our customer support team. Or you can join our community to get more eCommerce knowledge and news. We are always eager to help you!