Introduction
Why would one change from Shopify to Magento?
Shopify is one of the most powerful eCommerce platforms constructed for businesses of all sizes. Shopify is a hosted shopping cart also known as a SaaS (Software as a Service). Designed to save users a considerable amount of time and money, as the developers will handle technical skills, and there will be no worries about the hosting of the server.
Magento, on the other hand, is an open source cart. By this means, it is an eCommerce platform where the original source code is freely available where you can adjust and modify personally. However, if your coding knowledge is limited, you will face some difficulties along the way. Although, one of the most attractive options available about an open source cart are the various customization for your website.
Continue reading this article for more details as we will take you through the necessary steps to migrate from Shopify to Magento.
Three Steps to Migrate from Shopify to Magento
Step 1: Preparation
1. Back up data from your Shopify store
First and foremost, exporting products is useful and here are a few reasons why you have to back up data from your Shopify store:
Prevent to lose data if your old store had to collapse
Make many changes to your products or inventory
Avoid other parties to intervene in your site for data security reasons
The new platform is unsupported and you cannot migrate data directly
A CSV is a comma separated values file, which allows data to be saved in a table structured format. In eCommerce, CSVs are used primarily for importing and exporting products, customers, and order information to and from your store.
So, how to back up data from your Shopify store?
Log into your Shopify admin panel and go to products or customers (and so forth)
Press the export button on the right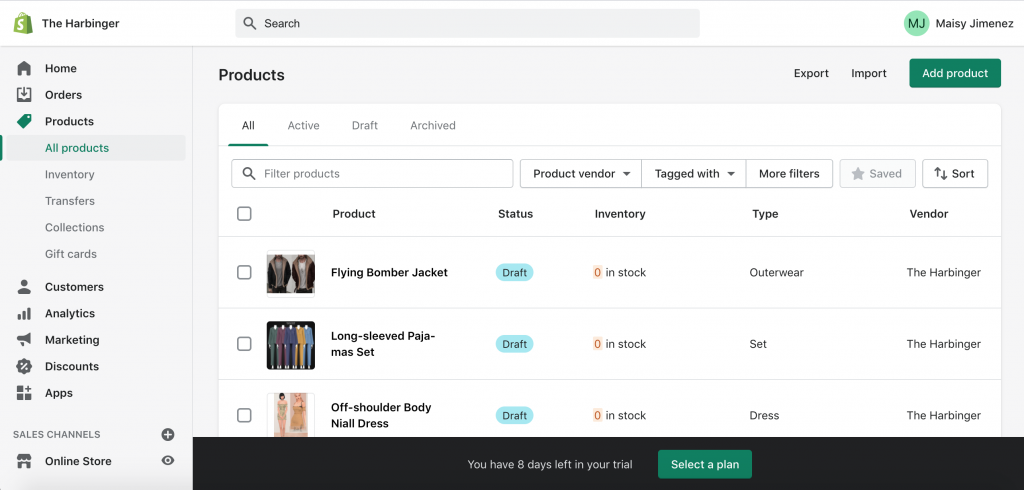 In the dialog box, in the first section choose the data which you want to export
In the next section select the desired file format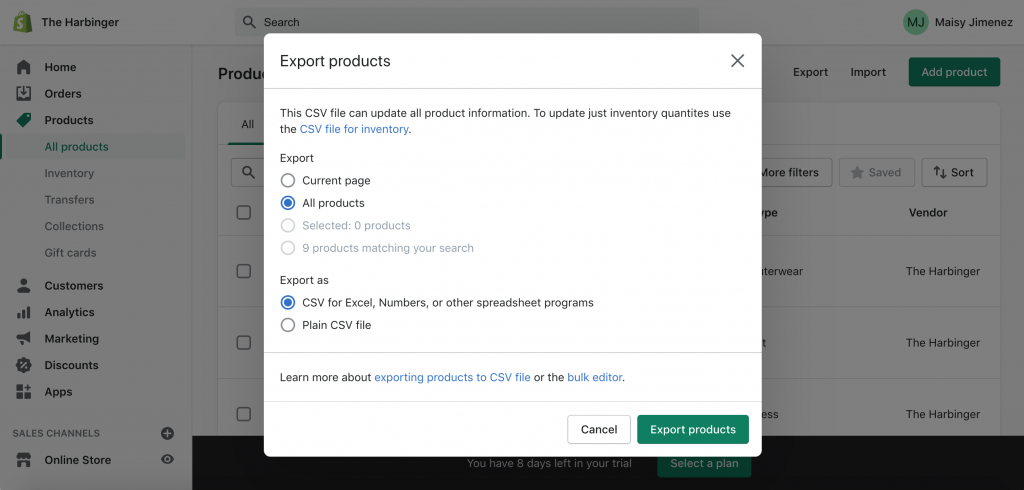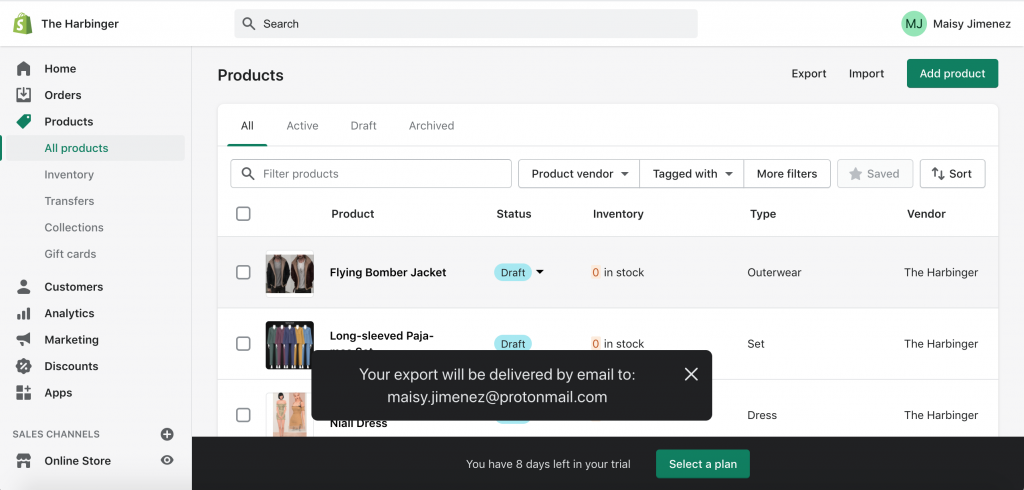 Note: When you save a CSV file, it doesn't make a copy of your product images. If you want to back up your images, then you have to save them separately.
2. Set up your new Magento store
Magento 2 provides improved performance along with security and maintenance as well as in  features of scalability. With all the new innovations, Magento 2 tops the other platforms.
Download Magento Software Market
Set up FTP
Transfer Magento Archive to Your Hosted System with FileZilla
Running Setup Wizard
Check our detailed guideline to successfully build up your new store on this platform.
Step 2: Perform the data migration with LitExtension
1. Fill in cart information
Below you will find a few information you are required to fill out in order start your Shopify to Magento migration process:
First step is to create or log into your LitExtension account. You are also able to create an account through Facebook or Google as well.
Afterwards press on "Create New Migration" on the top right corner to begin the process.
Once you have landed on the 'Setup' page, select Shopify as Source Store type, enter your Source Store URL and finally insert your API password in order to proceed.
In order to enable data migration from Shopify, you will need to provide an API Password for your store. You can find hereunder a tutorial video on how to retrieve the API Password.
After that, select Magento as your Target Store type. Fill in the required information necessary such as the Target Store URL and install the connector.
Download LitExtension Connector and receive a zip file
Upload "le_connector" folder into your target store through FTP
Enter the root folder of your store and paste "le_connector" folder from the zip
Go back to your migration page and if you receive a green tick, your connector is successfully installed.
For a more detailed instruction on how to install the connector, please follow our guide in this article.
2. Select entities to migrate
For the next step in your migration process, select the different entities you wish to migrate to your new store. You can choose to migrate all of the entities listed or pick out specific ones you would want in your new store.
Moreover, LitExtension has a wide range of additional options for you to select from to extend your migration possibilities.
3. Run full migration
Immediately after the migration process has started, you can turn your computer off and let LitExtension take care of your data transfer. There is no need to worry as it will run smoothly on the server. In the meantime, you are free to do anything and you will receive an email once your Shopify to Magento migration is complete.
If you miss any steps, this video tutorial will show you how to migrate from Shopify to Magento in minutes!
Step 3: Post-migration activities
Here is a valuable list of post-migration activities you would want to take into account in order to make sure the end result meets all your expected needs:
1. Check if your data has been migrated accurately
After the full migration process, verify that all data has been migrated accurately to your new store. Compare the data in your Magento store backend to your source store to make sure the migration performed successfully.
Afterwards, don't forget to check your target store frontend as well to make sure the data appears correctly without an issue in your theme or configuration.
2. Set up theme for new store
Magento does not allow the migration of themes, set up a theme by installing a third-party theme or design one yourself.
In order to install a theme, you will need a code in your Magento 2 instance code base and register it on the database.
3. Install necessary extensions
Magento Marketplace provides 5,800+ extensions that can strengthen your online store. To facilitate your search, categories divide all the different applications. In addition, Mageplaza is one of the top Magento Extension Providers, if you're looking for more  excellent extensions.
4. Development
Make use of an expert developer to consult you on development services. It is practical whenever you need assistance to fulfill your needs. Beside that, one of our partners Magenest will provide you with top quality service regarding Magento development.
5. Run recent data migration
Make use of the recent data migration to ensure that the new data from your source store after the migration process to your target store is complete. Our system will keep your source store active during the process and the migration won't affect your sales performance.
The Recent Data Migration with LitExtension is free and unlimited within 3 months after your first migration.
6. Run command line again + show new data on front end
Follow the instructions in step 2 once more time in order to update the data on your front end.
7. Change DNS and switch domain
Once the migration is comple, there are some situations you might encounter that will ask you to change DNS and switch domain. For example, sharing the same provider with both stores under the same domain, or both stores sharing the same provider and having a different domain name.
For further details, follow this article to help you check out the post migration activities checklist after setting up your Magento Store.
Final Words
Retailers that have done an incredible job at growing their eCommerce businesses will require that their website expands beyond its current capabilities to take on new qualities and features. When the abilities and functionalities feel limited to meet the seller's ambition then it is time to migrate to a platform that better serves the customers needs of an online store.
Magento is considered as one of the best alternatives for Shopify. If your Shopify store isn't able to cater to your business as you wish, Magento offers customization ability and wide app and extensions available.
To conclude, here is a full step by step guide for you to migrate from Shopify to Magento using LitExtension tool. Hope this article helps you for your migration. If you have any difficulties or any questions do not hesitate to contact our technical support team, we're available 24/7 or contact us through ticket, phone, live chat, email. Let's join our community to get more eCommerce knowledge.