Introduction
Email marketing is still one of the most cost-effective and impactful ways to connect with both customers and prospects. But with so many email marketing tools and platforms available, how do you know which one is the right fit for you? Some are an all-encompassing platform, while others offer simplicity.
In this article, we'll assess two of the most popular options: Mailchimp vs Constant Contact.
A quick glance at Mailchimp vs Constant Contact
Mailchimp is one of the biggest email marketing platforms available and has added plenty of new features over the years. With free pricing to start, it's also a very popular option for those looking to scale, but the cost does escalate quickly as you grow your database. The best bit is you can be up and running within minutes, and the feature list is really impressive. Even the free option benefits from automation, smart image creation, mobile app analytics and a range of email designs.
Comparatively, Constant Contact is a smaller solution than Mailchimp in terms of users, but still one of the most popular in the marketplace. Again, you can be set up in minutes and can get a full month free trial without the need for a credit card. Constant Contact also has a lot of great features, such as clever automation, but its basic email templates aren't as user-friendly as Mailchimp's.
Both solutions are well-known and established names in the email marketing world and help businesses reach customers and prospects, market products, automate communications, and re-engage previous customers with email.
Mailchimp overview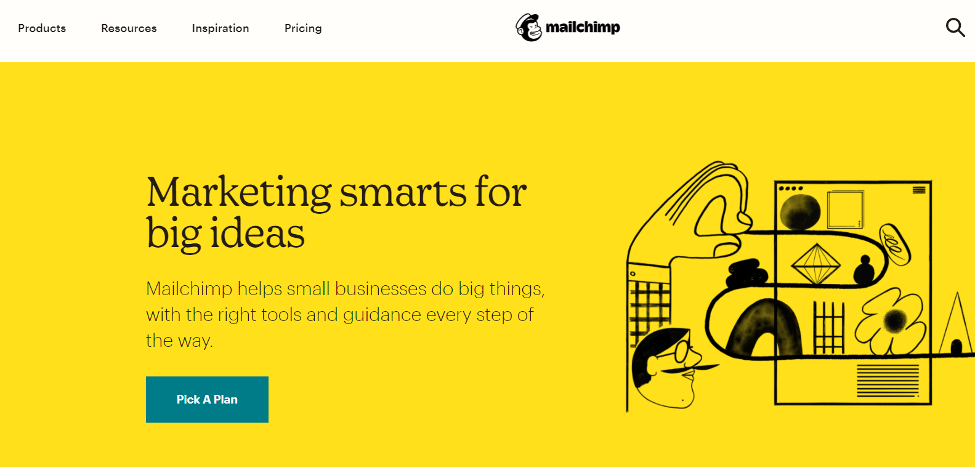 Mailchimp began in 2001 but has since evolved from a side project to a fully-functional email marketing platform. Despite being known for its email marketing capabilities, Mailchimp has expanded its marketing features to offer automation capabilities, social media scheduling, landing page creation, and more.
Constant Contact overview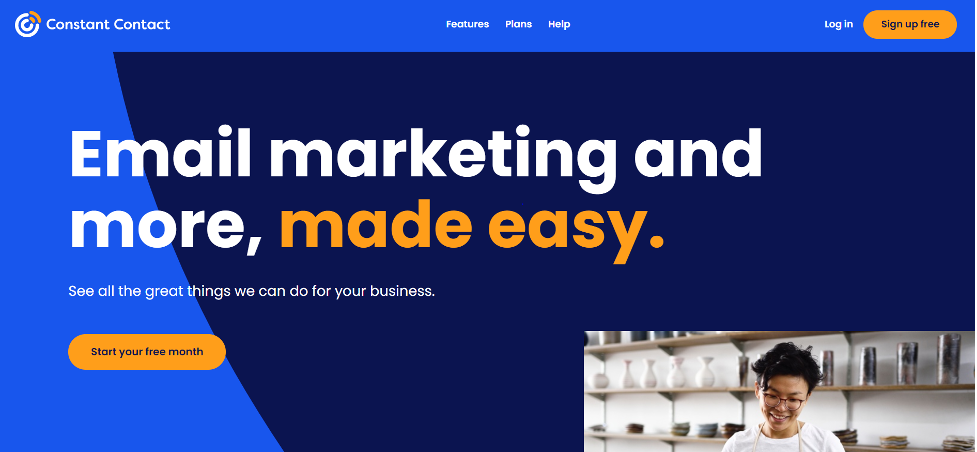 Founded in 1995, Constant Contact is also a full marketing tool, with email marketing at its core, designed to help create effective marketing campaigns. Constant Contact can help users create online stores and websites, email marketing campaigns, automate marketing, and more.
The key differences
While a lot of what both tools offer is very similar and they are both easy to use, here are the key differences between the two. Overall, when it comes to Mailchimp, the platform is more suited for those on a budget, particularly if just getting started. Additionally, the reporting and automation features are more extensive. For deliverability and customer service, Constant Contact performs higher. So it really does depend on what's important to your business.
Automation
Automation has become a key feature for most email platforms, although it's often associated with higher-paid subscriptions. Automation uses set triggers to enroll contacts to receive a certain email or action. Once set up, it can be left running in the background to continually nurture leads and interact with prospects.
Mailchimp's automation features are very good and enable the user to send personalized emails and follow-ups, as well as behavior-based emails. Constant Contact also has autoresponders and personalization tokens for emails but is more limited in terms of what it can do.
An area where both ESPs excel is integration with other platforms. For example, if you're using Shopify, and let's say you're running loyalty programs for your customers, you can easily integrate a list of these people and add them to Mailchimp or Constant Contact to add them to your email sequences.
Deliverability
Deliverability is obviously an important part of email marketing, and both tools score highly, as you'd expect. Mailchimp does the hard work before the email is sent, ensuring users send appropriate content, with around a 96 to 99% deliverability rate. Constant Contact also ensures appropriate content with an anti-spam tool predicting whether your email will experience deliverability issues. Constant Contact's deliverability rate is 98% so just edges it.
Design
Everyone wants their emails to look good. Constant Contact offers more templates but the design layout options are a lot more rigid. Mailchimp's designs are a lot more customizable and easier to use. Mailchimp provides greater design flexibility because of this. Mailchimp also comes with 'Creative Assistant', which essentially designs images for you based on your website branding.
A/B testing
A/B testing allows you to try out different variations of your email so you can find out what works best. Things you can test include subject lines, images, call to action, and copy. Mailchimp allows you to send small-batch emails to a certain segment to test out which variation works best, while Constant Contact doesn't provide the same level of automation. With Constant Contact, you need to choose which version to send recipients.
Reporting
You want to see the success of your marketing efforts and both platforms offer good reporting functionality on the usual metrics such as click-through rate, bounce rate, conversion rate, open rate, and so on. Mailchimp provides greater insight with interactive graphs as well as the click map overlay. Constant Contact has an activity tab that logs exports, removals, and updates but doesn't have the click map. There's not a lot of difference between the two and both will suit most use cases, however, Mailchimp does offer slightly more advanced analytics such as industry averages and the click map.
Pricing
Mailchimp has a free plan (up to 2000 subscribers, 1 audience, and 12000 emails every month), which includes email marketing CRM, reporting, sign-up forms, automation, basic templates, and so on. The Essentials ($9.99 per month) plan provides up to 50,000 contacts and 3 audiences, as well as more templates, greater A/B testing, and advanced segmentation. The Standard ($14.99 per month) plan provides up to 100,000 contacts and 5 audiences and includes send-time optimization, custom templates, and customer journeys. Finally, the Premium plan starts at $299 per month and includes unlimited contacts and audiences, API access, and phone support. Constant Contact has two plans, Email and Email Plus. The Email plan starts at $20 per month, provides unlimited emails and up to 10,000 contacts, as well as contact management and reporting. The Email Plus plan starts at $45 per month and includes greater storage options, event marketing features, up to 50,000 contacts, coupons, polls, surveys, and dynamic content. Mailchimp's pricing is more flexible with greater options, but Constant Contact becomes a good option for larger businesses or those with more complex needs.
Support
Good support is important when you need help or things go wrong. Mailchimp's support package isn't the best, offering a contact page to get in touch, along with a load of knowledge-based articles. Mailchimp does have live chat and email support but no phone support. Constant Contact offers more support channels including email support, live chat, and phone. They also have a section for knowledge-based articles and a help center community.
Why choose Mailchimp?
Extensive reporting suite
Flexible pricing model
A wide range of automation features
Over 700 integrations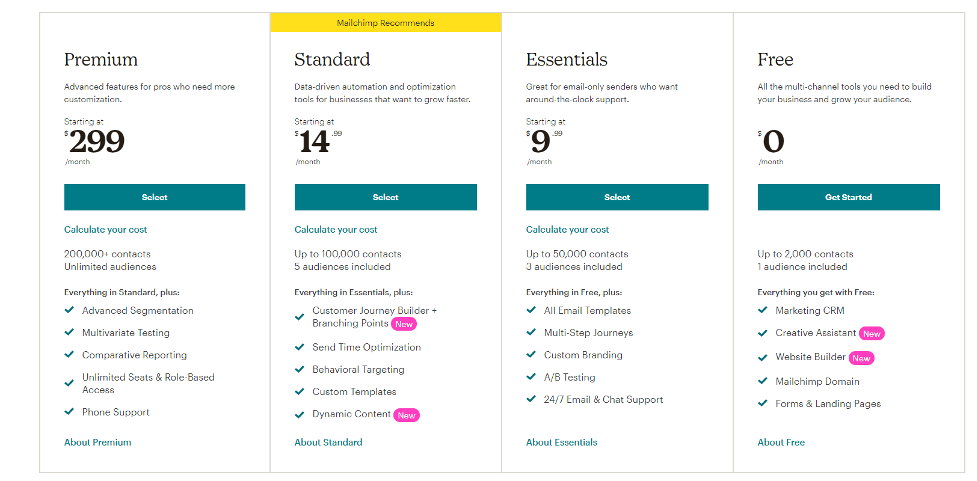 Why choose Constant Contact?
Simple list management
Excellent and reliable deliverability
More support options on all plans
450 integrations but able to search for integrations by category and business need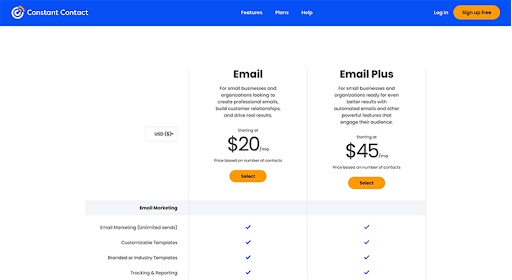 Mailchimp vs Constant Contact: The outcome
It's hard to look past Mailchimp for its usability and advanced feature set. With the free plan, making it perfect for those getting started, and a flexible pricing model, it's a game-changing tool for most businesses. Constant Contact is also packed full of great features and does have some benefits, however, such as better support and simplified list management.
Ultimately, either one of these platforms will enable you to launch great email marketing campaigns, segment your data, analyze your email marketing performance, connect with plenty of apps, and more. Both have free trials so try them both out and see for yourself.
This article is contributed by Rukham Khan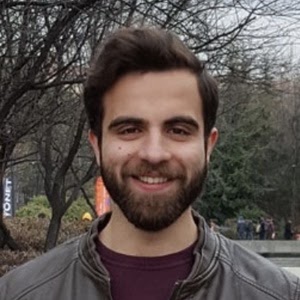 Rukham Khan is the Content Lead at MailMunch. He writes articles on email marketing and eCommerce to add value for small businesses. Outside of MailMunch, you can find him DJing and playing squash.