Introduction
Nowadays, the world of eCommerce is always expanding and most B2B transactions are moving to online platforms. Thus, when orders are processed digitally, B2B eCommerce sites need a strong and secure platform to ramp up sales. Fortunately, Magento earns a reputation as a powerful platform for both B2B and B2C companies' websites.
So, in this article, we are reviewing several outstanding Magento B2B features that make Magento truly great for B2B companies.
Overview
Business to business, also called B2B is a form of transaction between businesses, involving manufacturers, wholesalers, retailers. Compared to B2C eCommerce, there are more difficulties of running a B2B business such as complex orders, engaging your audiences, and optimizing sites for inbound marketing.
Magento is considered as a go-to option for B2B companies when they want to choose a convenient and secure website builder that meets all the requirements such as eCommerce integration or automated wholesale portal. Read our blog to get more details about those requirements.
What are the Magento B2B features?
1. Account management and catalog permission
Because B2B buyers are entire teams or groups of people, the account management is also much more complex than that of the B2C business model. Magento created company accounts as a specific feature for B2B users. This feature allows visitors who are any organization's representatives to request for an account called admin. Then, they can create sub-accounts with flexible permissions by themselves. This feature is based on the Company structure as below to share accessing capability with many users and various roles. This structure is helpful for B2B businesses that provide enterprise management tools.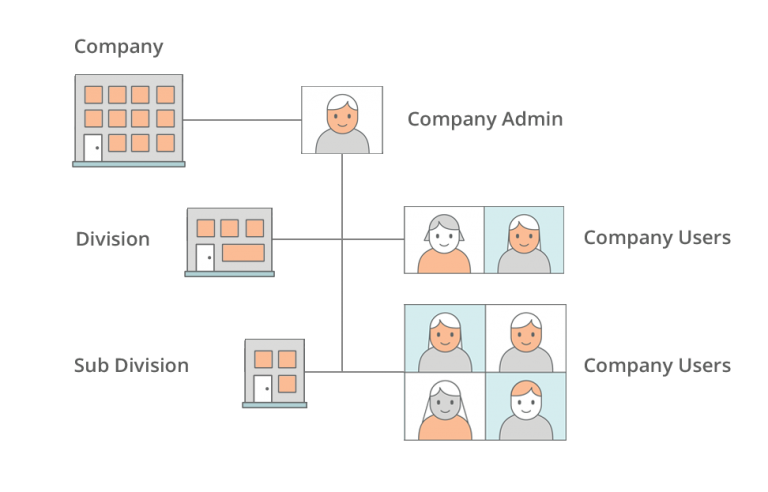 To begin, you need to create a new company account from the storefront and fill all the Company Information sections including name, email, legal name, VAT/Tax ID and reseller ID. Activating these accounts requires the verification of the email addresses of the admin and other users.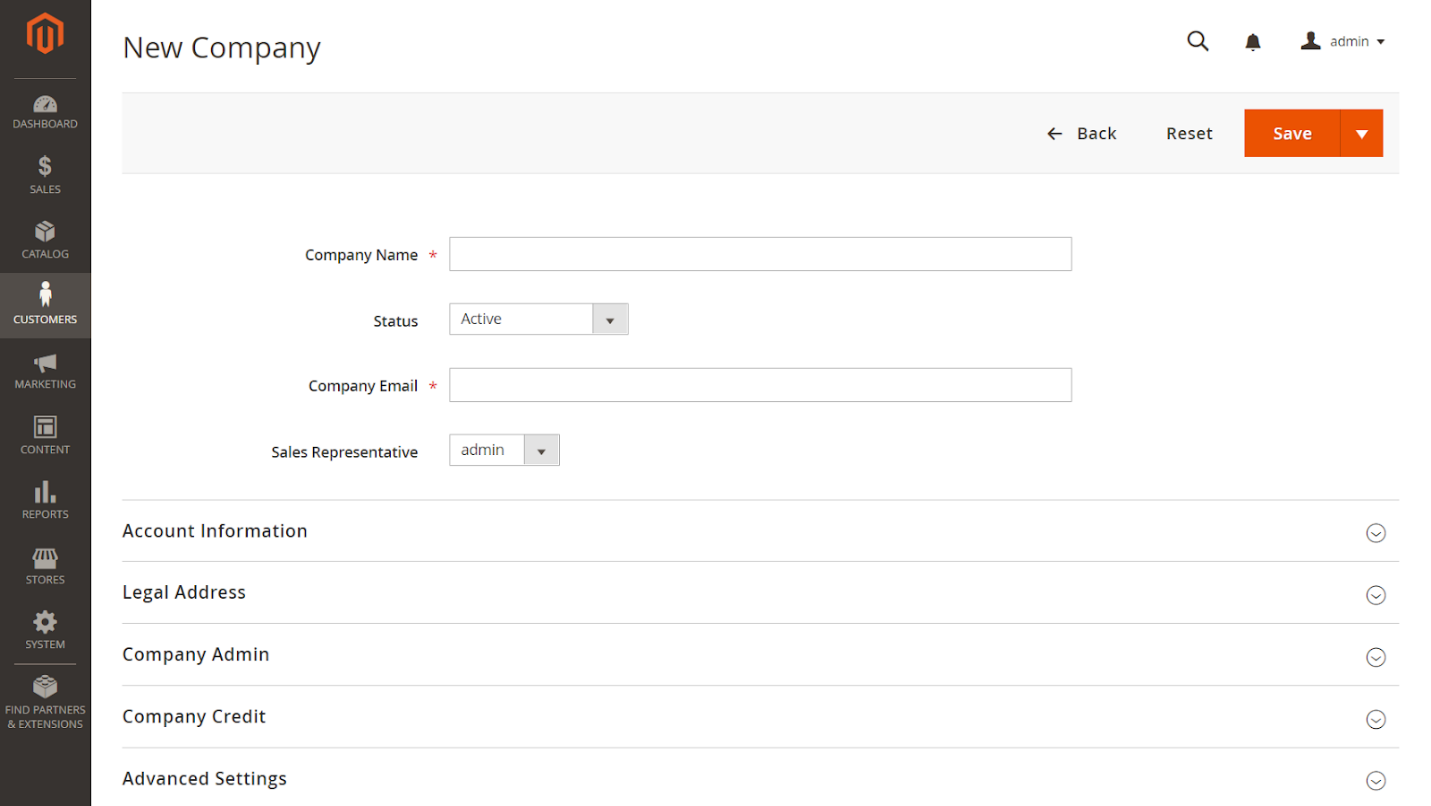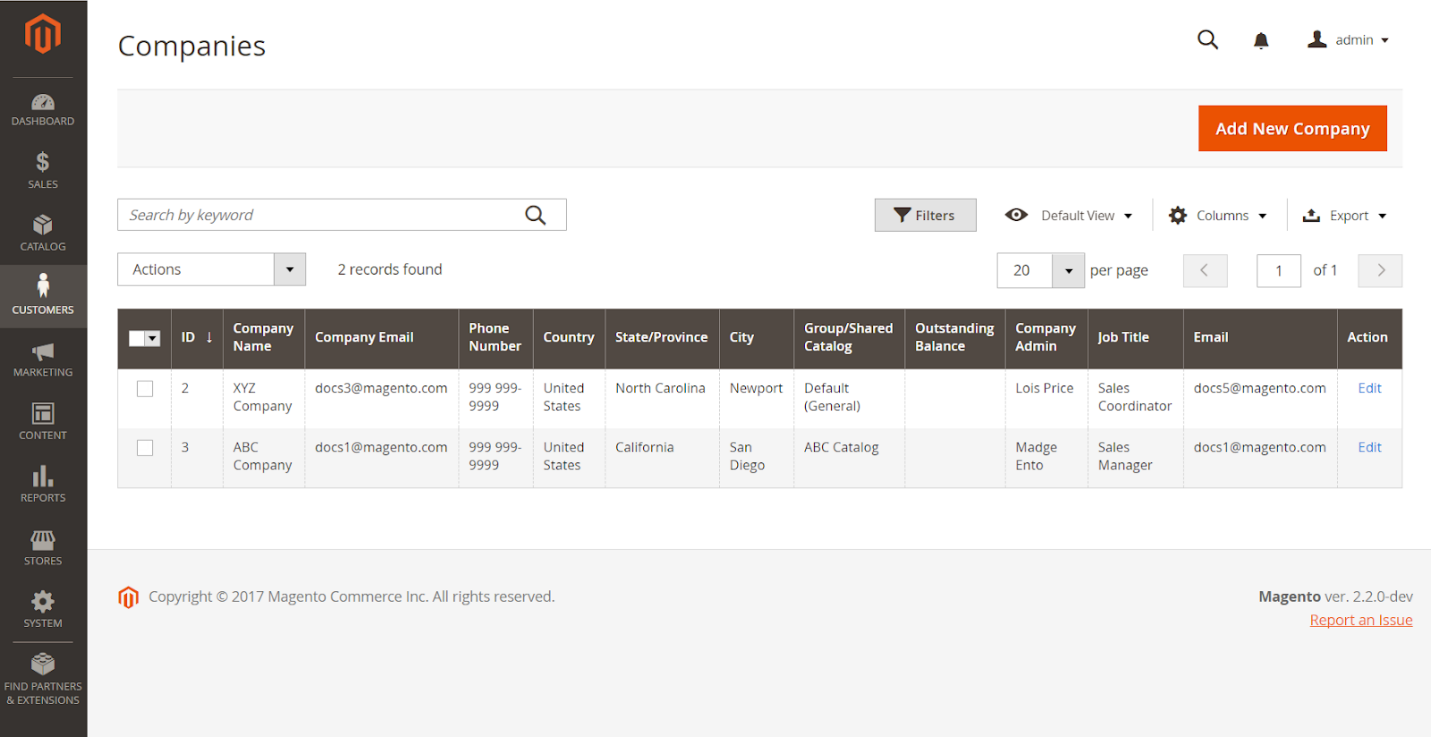 Here are some benefits of the company account feature that you can obtain exclusively from Magento enterprise B2B edition:
From the sellers' view:
Get to know more clearly about B2B customers as the human resource, business structure,….
Manage all B2B customers easily within a handy grid
Customize Magento B2B pricing rules and marketing campaigns accordingly
Grant specific payment and shipping methods per customer group
Accelerate the B2B ordering process and improve customer experience
Protect your content and assets from unwanted access.
From the buyers' view:
Assign roles and permissions to make use of human resources
Track purchase and related data: quotes, orders, wish lists, company credit, etc.
The second security wall to protect your content is "Catalog Permission". After being activated, a new "Category Permissions" section allows you to apply the needed access for each category. You can add multiple permission rules to each category for different websites and customer groups.
To configure category permissions, go to Store > Setting > Configuration on the Admin sidebar. Find the Category Permissions section and set enable to Yes. In the next step, set the Allow Browsing Category option which applies to all categories in the webstore.
If you want to allow members of a specific customer group to browse through category products, set this category to Specified Customer groups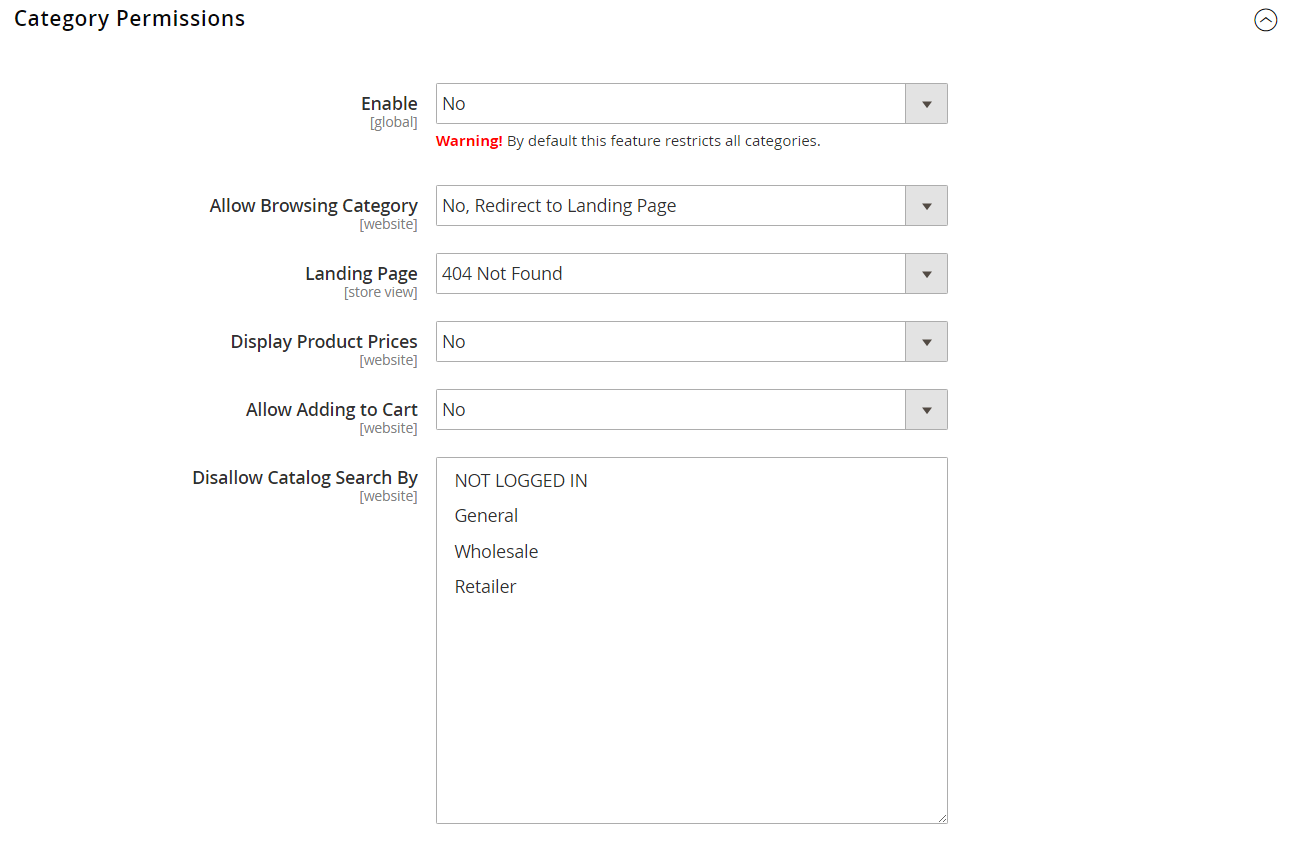 Those not permitted will be redirected to another landing page for more information. To restrict access, set the Allow Browsing Category option to No, Redirect to Landing Page and choose the Landing Page to which visitors will be redirected.

In the Customer groups box, select each group that is allowed to browse through products in the category.

By repeating this process, you can easily customize other categories' permission such as Product prices, adding to cart or Catalog search. Don't forget to click Save Config before refreshing the cache.
Next, to apply category permissions, go to Category Permissions, click New Permission to create a permission rule and choose the applicable Website and Customer Group. Then set the individual permissions as needed and click Save.

2. Security
In terms of security, it is one of the most important factors contributing to B2B companies' reputation. Hence, websites need to have a secure PCI-compliant checkout because it will help you to authorize, deliver and process B2B payments seamlessly.
Fortunately, Magento Commerce (Enterprise Edition) is PCI certified (Magento Commerce Cloud) as a Level 1 Solution provider. So any merchants using Magento Commerce Cloud can use Magento's PCI Attestation of Compliance to aid their PCI certification process.
Besides, the Magento Commerce Cloud architecture provides a highly secure environment through other elements regarding security as:
Consumer's browser (using HTTPs for all pages on the website)
Content Delivery Network (CDN) & DDoS protection – Fastly
Web Application Firewall (WAF)
Virtual Private Cloud
Penetration testing
Payment Gateway
Magento Application
Encryption
Read-only File System
Remote Deployment
Logging
Backups
3. Performance
Unlike B2C sellers, B2B sellers focus much more on keeping customer loyalty rather than looking for new ones. Businesses as customers are harder to find and at the same time bring many times more revenue than individuals. Thus, it is clear that site performance is an important part of any B2B eCommerce sites.
Loading speed: B2B customers usually have less time to spend on browsing online. If you slow down their ordering process, they will abandon their cart. Therefore, you need to reduce the loading time by optimizing images, along with front-end and back-end elements. Magento marketplace provides a range of plugins to compress the images while uploading to your site. Additionally, Magento 2 provides some optimizations to reduce page weight and improve response times such as:
Optimizes the assets required to render the page by using minification.
Maximizes the usage of the browser cache for storing assets
Improves response time by using asynchronous processing during checkout and cart operations
Furthermore, Magento also makes extensive use of caching of page content and static assets on the server to reduce the response time which is another key to delivering fast page loads. You can also hire Magento Developers to do the job for you.
4. Purchasing workflow
Quote request and negotiation
When it comes to B2B transactions, price negotiation is considered as a harsh and sensitive step. As a result, online price management should be taken care of wisely and flexibly. Since the Magento 2 release, it has been able to let you hide prices, set up quote requests and price negotiation.
The prices vary by customer groups. Hiding prices means that buyers need to take further actions to get discounted rates. Therefore, this flexible pricing policy will unleash the customer groups' purchasing power and promote the connection between sellers and buyers. To some extent, this function allows you to hide the prices of specific products, categories or hide them from selected customer groups. Then, you also can tailor the Add to Cart button with custom text and redirect it to a custom URL.
When your customers engage with your product, they will make a direct call or leave a quote request for further negotiation. With "Request for Quote" in Magento 2 Commerce B2B edition, wholesalers can submit a win-win pricing negotiation through a few steps:
Buyers request a quote
Seller review the submitted quote and respond
After receiving the quote response, buyers will convert the quote to cart.
Postponed payment
When it comes to B2B purchases with high-value orders and long term partnerships, postponed payments happen on a regular basis. Thanks to the Magento 2.4 release, you can let companies finish their checkout with postponed payments. This is a default function, meaning it comes with the platform without installing extensions. Furthermore, merchants will be able to monitor customer credit data and specify limits for each account. This means trusted buyers may get access to more generous credit limits. Besides, other fields such as credit currency, reason for changing the limit are also displayed on the Company Credit section to be fixed easily.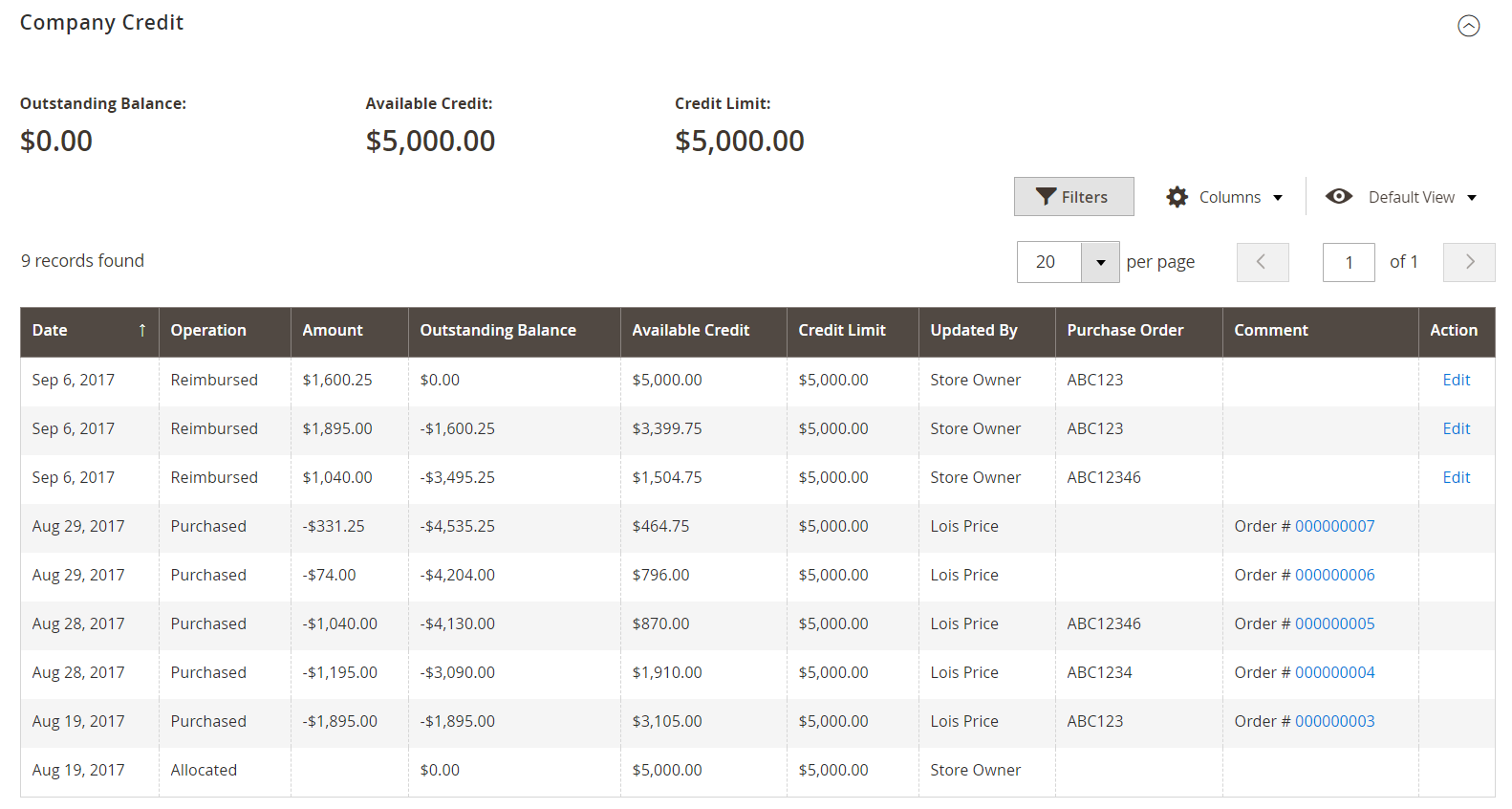 Magento lets you set a reimbursed balance for each account. This is an offline payment made by companies towards their outstanding balance. The admin enters the reimbursed amount manually in the company's profile after they pay back money. Magento will recalculate the outstanding balance and records the action in the credit history.
To apply a payment to a company account, follow these steps:
Click Customers > Companies on the Admin sidebar
Open edit mode of the company record
Click Reimburse Balance at the top of the page
Fill in the payment information and the amount of the payment as a positive or negative value.
Then, enter the Purchase Order number per reimbursement or create a separate reimbursement for each multiple purchase and describe the reimbursement at the comment
Last, click reimburse

From this board, you can easily edit the reimbursed payment and track each account's outstanding balance.
5. Quick order & requisition lists
To quickly ramp up B2B commerce sales, a fast ordering process is far more important than catalog browsing. Magento 2.4 has a few changes to the time involved with a web store's purchasing methods.
The first feature I have to mention is quick order. The good news is Magento 2 Quick Order can shorten their ordering process by using their desired products list. They just need to upload an SKU (stock-keeping unit) list in a CSV file and add products to a cart with a click. Then, Magento will automatically validate the SKU, check inventory and notify customers whether those products are available or not.
Secondly, merchants can create requisition lists to make it easy to reorder products based on the customer's intent such as best-seller products or the latest collection. Unlimited requisition lists can be created flexibly and later assigned to selected customers. To enable requisition lists, click Create New Requisition List in the sidebar of your account and then add products to them.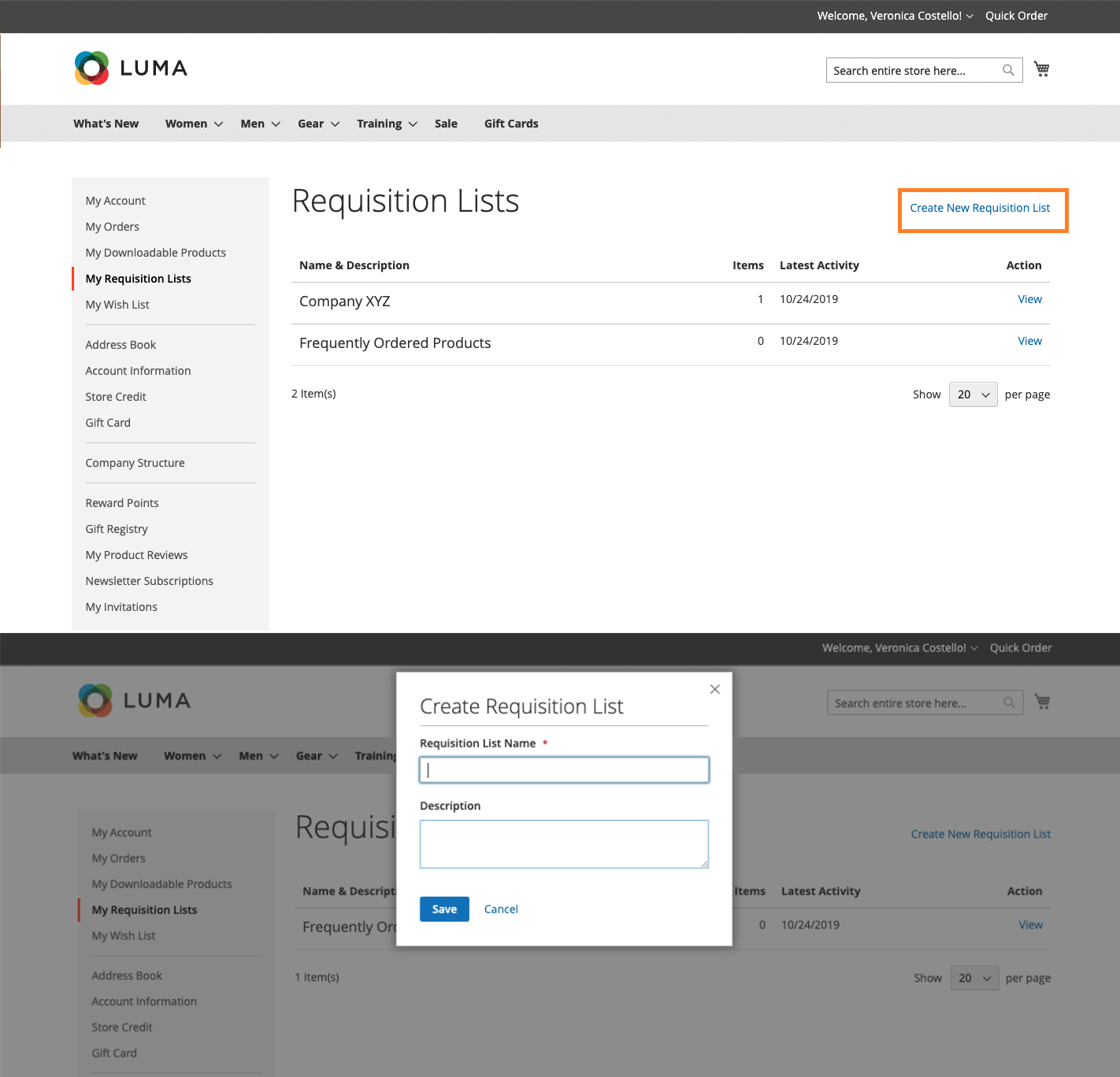 Hướng dẫn clear format trước khi chỉnh code.mov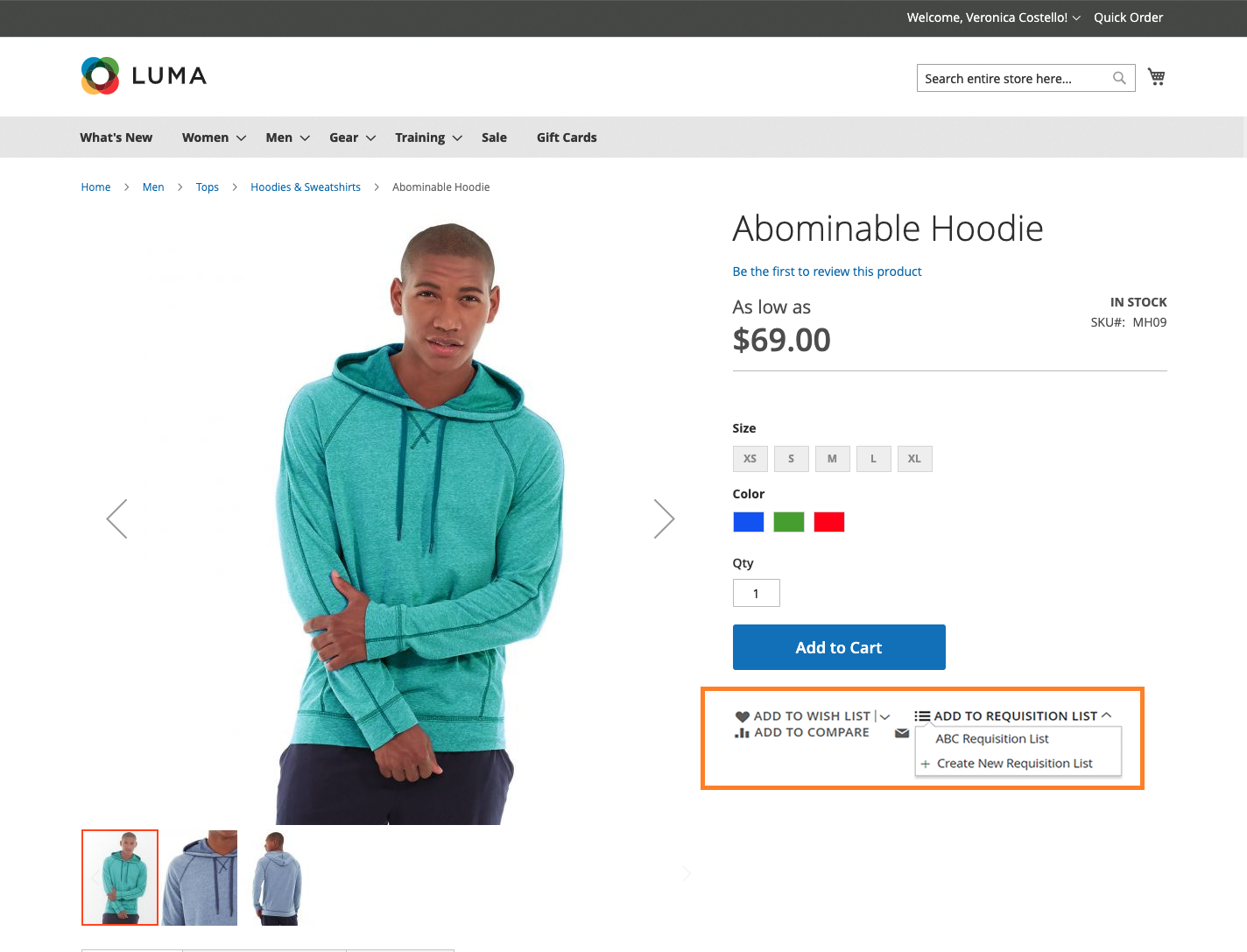 6. Advanced analytics
Unlike B2C, business to business websites require more in-depth and personalized analytic solutions because each one of their customers is unique – even if they are ordering the same products. It is crucial to have a business analytics solution that allows you to tailor KPI tracking to each customer by individual catalogs, actions, contracts, etc. Magento Business Intelligence is a simple way to monitor your business health. Especially, with Magento 2.4, you can get the most in-depth insights from over 25 B2B-focused reports in easy-to-use dashboards.
Final words
In conclusion, there is no doubt that Magento is a dedicated platform that effectively supports the operation of a B2B eCommerce website and makes it easy for you to optimize the store. You just need to concentrate on improving and advancing your business.
If you want to discover the latest updated extensions and functions of Magento and other platforms, don't forget to visit LitExtension Blog regularly!
In case you want to migrate your current store to Magento, don't hesitate to reach out LitExtension via chat, email or ticket. Our support team is always happy to help you.