Introduction
One of the primary requirements of any eCommerce store is having a good backend operator. By that, we mean a store managing software which can ensure that all your requirements are taken care of, from one place itself. Shopify is one platform that is trusted by thousands of eCommerce suppliers around the world.
Shopify is super easy to use and comes with its own set of amazing benefits, which can be easily accessed. While managing the store, it's important that a few marketing tricks and hacks are employed for better performance.
Shopify stores need to be properly optimized so that new customers are able to navigate their way easier. Proper optimization also paved the way for easier management of future transactions and marketing activities. . By understanding a few key elements of Shopify growth, you'll be able to make your eCommerce activities easier to maintain and deploy.
What are the 9 Key elements for Shopify Store growth? We'll discuss these in detail, but for now, let's address the basics about Shopify!
What is Shopify?
Shopify is a well-known, well-sought after Canadian eCommerce company that's based out of Ottawa. It is the proprietary platform for retail sale systems and online stores, with many services provided, including marketing, payments, shipping, and customer engagement tools.
The platform is home to thousands of businesses that run their backend services through Shopify. It can also be integrated with eBay and Amazon, which are the two biggest marketplaces online. You can process all your orders and connect multiple sales inputs from Shopify.
1. How does Shopify work?
Shopify can be defined as cloud-based software and comes with a monthly subscription that allows businesses to access their panel to enter data regarding their store and products and process all of the orders. It's super simple to use a feature that enables you to get the store online quicker.
There are a wide variety of templates that are free for purchase. Along with modern styles, you also get extensive editing tools to personalize the templates with your brand. There is also web hosting and secure subscriptions available, so there's no fear of crashing, especially during those all-important peak hours. The site comes with an SSL certificate and an uptime of 99.98%, so it is pretty much guaranteed to be safe.
The monthly payment lets you access 24/7 support for your customers. The all-in-one solution makes it one of the essential platforms for eCommerce sellers out there.
2. Why should you use Shopify over other eCommerce platforms?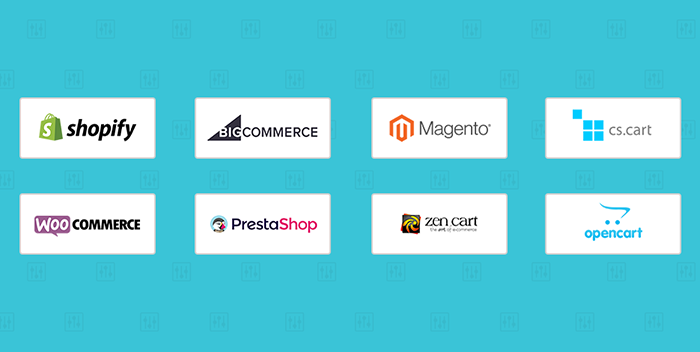 There are plenty of reasons to use Shopify, the primary of which is its hosted solution. In case you're just launching a business online, hosting is one of the biggest challenges you face. You require some form of technical support, and Shopify nullifies all of this.
Powerful inbuilt tools for marketing: Shopify also comes with its own set of tool that are super affordable. You can also integrate the service with Facebook and other social media platforms, making it simpler to market it.
Excellent technical support: With 24/7 assistance, you can easily reach out to its customer care and resolve your problems.
Site speed: The faster these pages load, the easier it becomes to retain your users. This is another reason Shopify stands out because it comes with a speed checker that is in-built and ensures users can quickly complete their payments in the fastest time possible.
Advanced functionalities : The advanced functionalities comes with applications with which you can easily customize, download, and install onto the site.
14-day trial for free: The free trial allows you to try out all of the Shopify features with ease. Especially, you can take advantage of its own payment gateway – Shopify Payment, which means lower fees for credit cards and no transactional fees. You can pretty much do all of the activities required and make sure your eCommerce store is ready to start selling on Shopify.
9 Key Elements for Shopify Store Growth in 2021
1. Messenger Marketing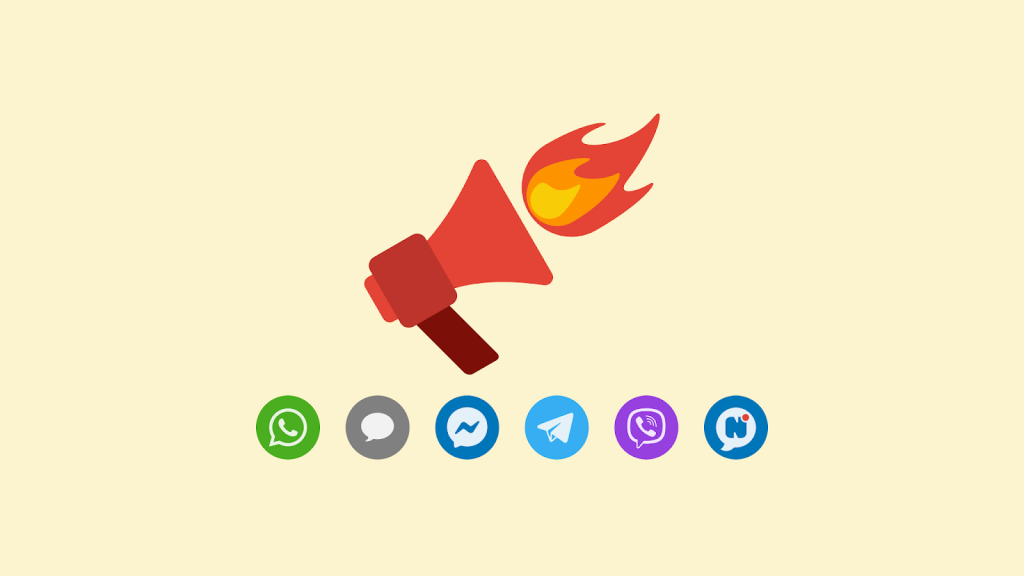 Messenger marketing allows you to smartly drive conversations on transactions with reminders, updates, and statuses of orders, among others. The messenger marketing tactic is an excellent way to get customers closer to conversion. With the retention goals available on Facebook Messenger to grow sales, it becomes easier.
One way of using this messenger tactic is by reminding your customers during the cart abandonment phase. Most of cart abandonment happens when a visitor adds a product to the cart and then leaves. They don't complete the purchase, and this can cost money. These reminders also play a role in the strategy for conversion.
Benefits
The Messenger Marketing can be easily integrated with Facebook Messenger with the store, and this includes the interactions that are recent, along with a customer experience that's seamless. The app allows you to easily chat with customers on social media platforms.
You can also browse abandonment, carts, polls, welcome messages, and status updates for customers.
Here's how you can implement it:
Click on Store
Tap the Add channel that is next to Sales Channels
Tap on Messenger and add it
A good example of stores that do proper Messenger marketing includes McDonald's, Starbucks, and Uber.
2. Cart abandonment recovery options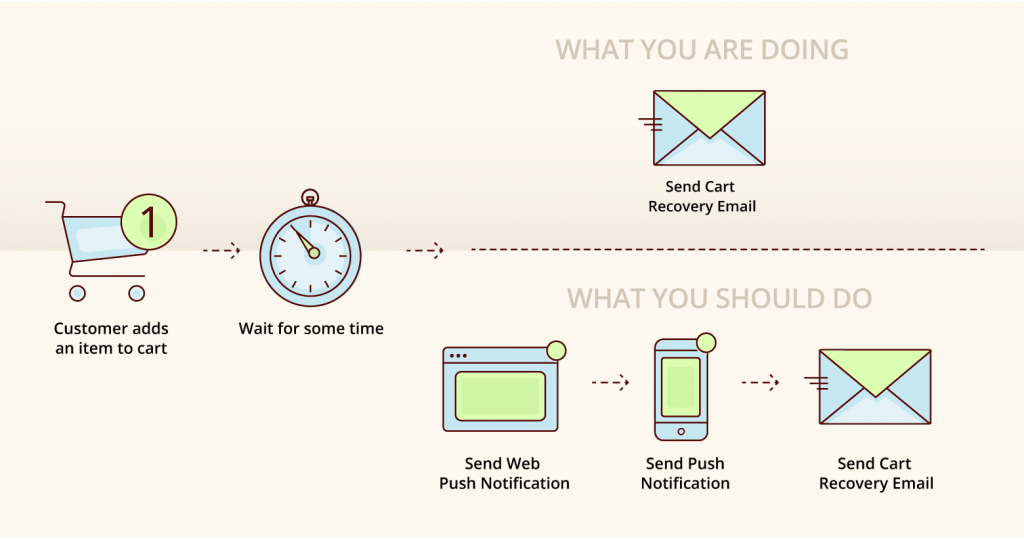 There are a few apps on Shopify with which you can recover any abandoned carts as well. This is important because you don't want to lose out on those customers who have visited the store.
Benefits
Cart Abandonment Recovery works by sending these customers emails or text reminders to come back and complete their purchase. This can increase your sales by at least 5 to 10%.
Here's how you can implement it:
Go to Orders > Abandoned Checkouts
Click the Checkout number that you'd like to recover
Click Send a cart recovery email
Good examples of Cart abandonment recovery websites include Jimmy Choo and Mr. Porter.
3. Minimal design
Multiple minimal design templates are available on Shopify for everyone to use. These designs are created so that they seamlessly integrate with your site and make it easier for you to start selling almost immediately.
Benefits
There are multiple options for you to choose from, and you can select from the templates present. These templates are proven because they've been used for other stores, received excellent reviews, and garnered maximum returns for brands.
To achieve similar results, ensure you use a design that is in sync with your store vibe, and your job becomes all the easier to go forth and create visuals that are appealing to your audience.
Here's how you can implement it:
Go to Theme Settings and then to Layout
Click on Enable Wide Layout
Tap on Save
Good examples of minimalist stores include MBK and Handy.
4. Eye-catching visuals
This is one of the most important elements because you need your store to stand out from the rest. Having nice visuals in the store guarantees you more eyeballs as more people tend to visit based on their first impression that your store sets.
Benefits
Excellent visuals result in a store that's more inviting and tempting for users to explore. While there are ways you can make these visuals stand out, it's important to remember that quality must stand out more than quantity – so don't stuff your pages with plenty of detail.
The bare minimum sometimes works the best, and lovely visuals can be a real game-changer for you on Shopify.
Here's how you can implement it:
You can choose from the many layouts available and also hire a graphic designer to help customize your elements on Shopify.
5. Mobile-friendly shopping experience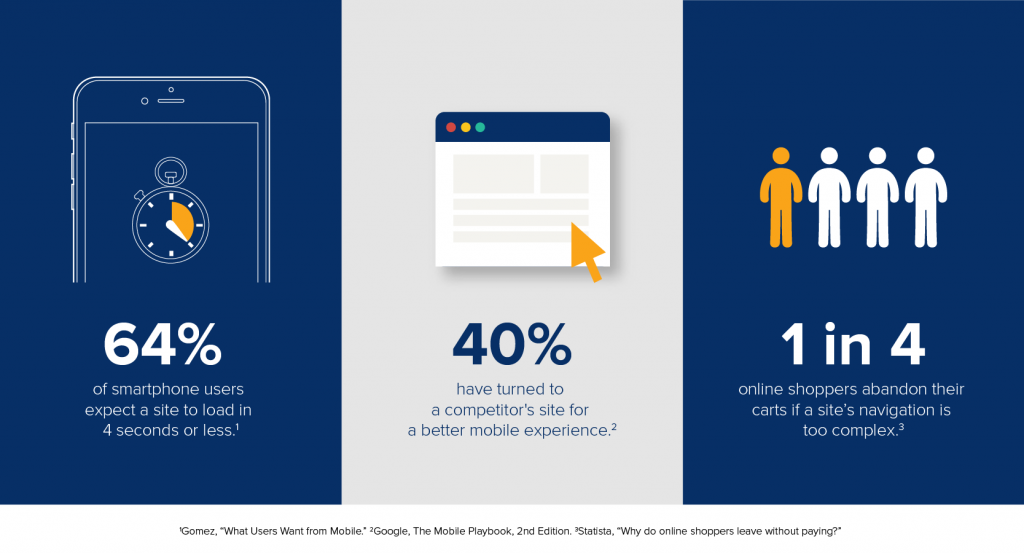 Another crucial aspect to consider for 2021 on Shopify is whether your store is mobile-friendly or not. With most people doing their shopping on eCommerce directly through mobile devices, it becomes obvious that you need a site that functions accordingly.
Benefits
With Shopify, you can choose the option to make your device more mobile-friendly.
Once you do that, it becomes easier for people to purchase your products directly off their devices, helping you up to your sales in the process too.
Mobile checkouts are faster and allow the customer the option to access your store from any place in the world.
Here's how you can implement it:
Shopify allows you to automatically set the website for mobile optimization when you're at the backend. Before you publish the store, you can click that option and complete the check.
Good examples of mobile-friendly stores include District, E-Liquid, and TLuxe.
6. Product videos
When you're selling on eCommerce, you need to give the audience enough reason to purchase from you. Whatever product you're selling needs to be convincing enough for the audience to trust and purchase.
How do you do this, though? You cannot demonstrate to each individual the benefits of using your product because it doesn't work that way. The only method that could work in your favor is creating product videos!
Benefits
Product videos showcase your brand's products in a way that is easy for people to consume. You can show your product's practical uses, and with it, the audience gets a better understanding of what you're trying to sell.
Make sure that every base is covered, with regards to the benefits. Once you showcase all of the benefits, your video will do the job of selling for you.
Here's how you can implement it:
Product videos can be easily embedded onto the site if you follow the below steps:
On the Shopify Admin page, head to Products and click on one to see its details.
Add a 3D model, video, or image by clicking on Add Media and you're good to go! Ensure the video is in the right dimensions.
Good examples of sites that do videos well are Heinz and Lazy Oaf.
7. Product referral rewards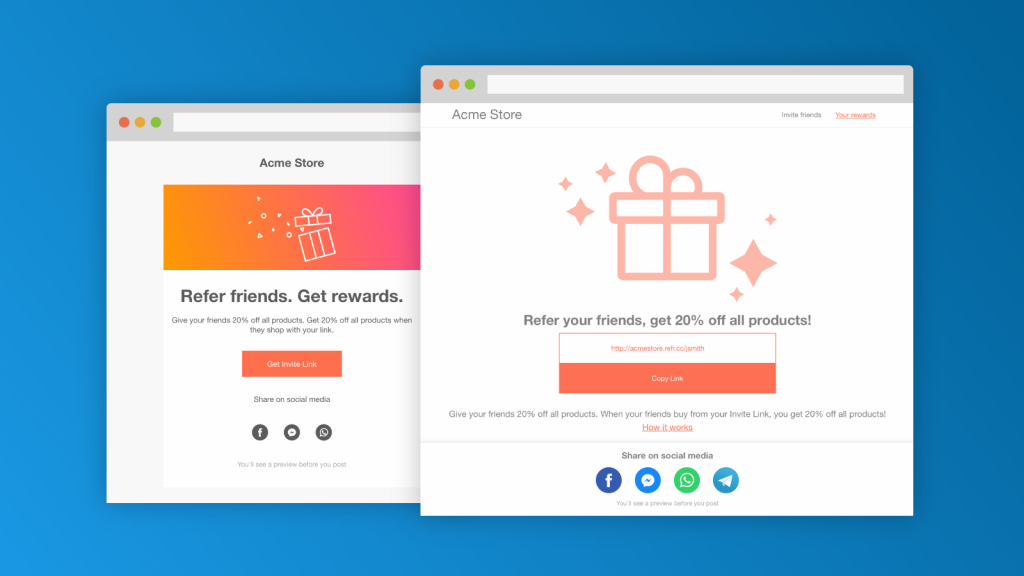 These are yet another reason to showcase your products. The more people feel like they're getting an incentive to use your products, the higher your chances of converting them as loyal customers.
Each time you sign up a new customer, you should encourage them to refer your brand to their friends.
Benefits
Product referrals can allow you to get more customers with ease. This creates a long chain of referrals, where you get new customers on board every time someone signs up.
As you increase the number of new customers, the higher your chances are of maintaining a long-term relationship with them. Make sure you offer them rewards for each referral, and soon, you'll notice the number going up.
Here's how you can implement it:
Head to the Campaigns setup and create a campaign for referrals.
Add your first campaign
Add customers onto the program
Refer to the Dashboard for any changes.
Good examples of Referral programs include Onyx x Rose, Rothy's, and Amuse.
8. Understanding and addressing customer concerns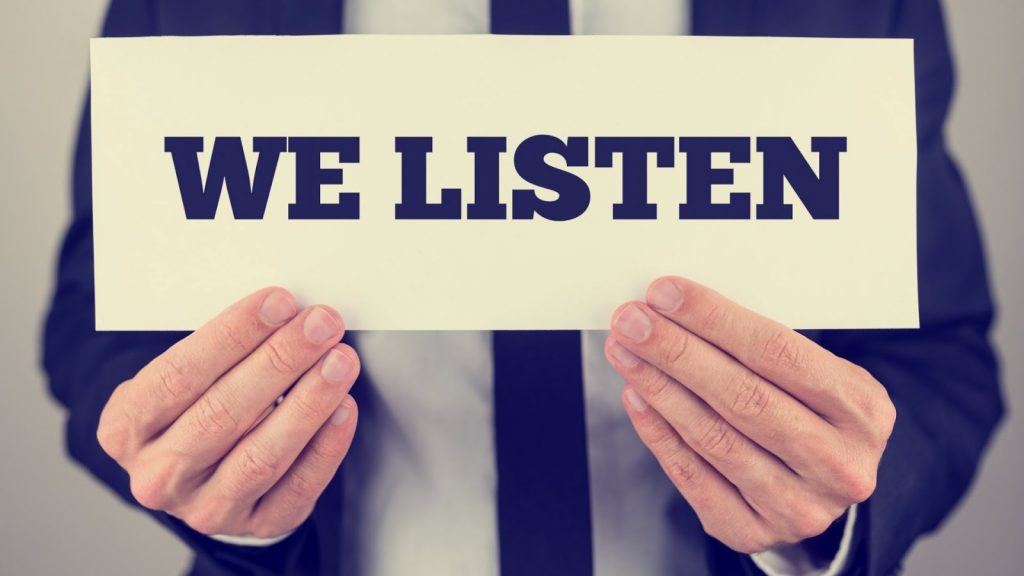 Your customers and their concerns are other crucial factors that need to be considered when you're selling on Shopify.
Each customer needs to feel like their queries are taken seriously into account – and only you can ensure that as a seller online.
Benefits
Addressing these concerns is the backbone of a strong business. You have to make sure that they feel like they're being answered, and once you do that, the trust factor shoots up too.
Another added advantage of addressing customer concerns is that it allows them to get their queries cleared faster. This ensures there's no backlog and sales moves on smoothly.
Here's how you can implement it:
You can download any product review app on the store and add the option. It makes it easier for people to add their concerns directly on the website itself.
Good examples of sites with reviews include Hasbro and The Economist.
9. Real customer reviews and personal testimonials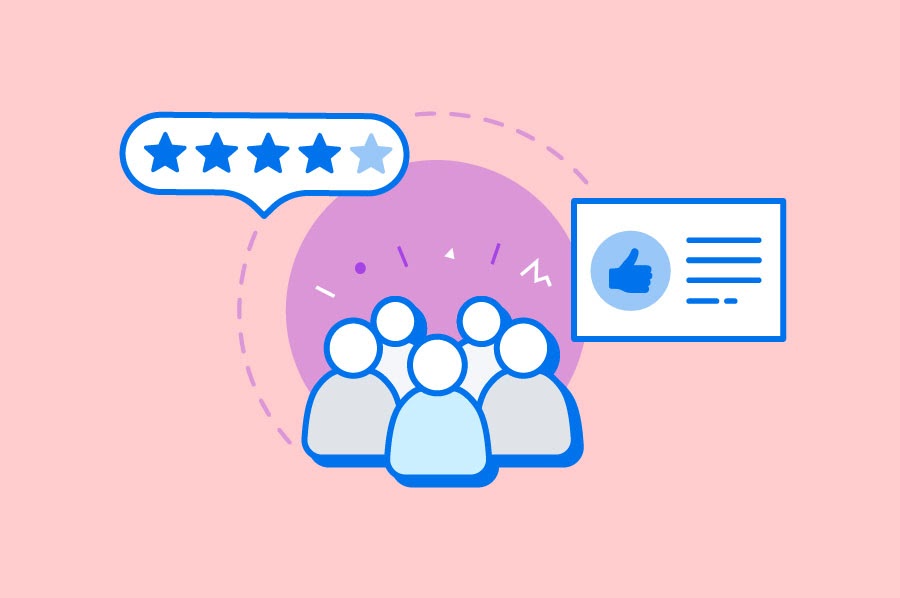 Finally, new customers have to feel that they can trust a brand. The only way to do that is by ensuring that there are real customer reviews and testimonials that back up the same claim. All of your products will be moot if there isn't actual proof to show their quality.
Benefits
Customer reviews are one of the best ways to get more customers because they showcase the proof of your quality. Every time a customer provides a testimonial, you need to highlight it on the page.
Shopify gives you the option to highlight these testimonials to make it easy for you to help customers trust your brand online.
Customer reviews are one of the best ways to showcase and grow your brand online. Ensure they're authentic and you'll soon notice people buying based on them.
Here's how you can implement it:
You can enable the customer review option directly from the Shopify Admin backend tab
Good sites that use positive customer reviews on their homepage include Sunday Somewhere and Crabtree and Evelyn.
Conclusion
Thus, with these tips, it becomes easier to showcase your brand online. Ensure that all your products and services are regularly updated, and you understand the backend well.
Shopify's user interface is super easy to navigate, and they also have a customer support team that does their job exceptionally well, so managing your store and keeping up business becomes fairly easy.
Keep experimenting with various techniques and methods till you find the ones that work best for you. Using them, you'll soon begin noticing the difference your store is making regarding business, and 2021 will soon open itself to a whole new world of possibilities for sales.
If you are planning on migrating to Shopify, LitExtension data migration service would be a great choice for you. Using our tool, you can rest assured that all the store entities will be transferred securely, automatically within a few minutes. In addition, you can try a FREE DEMO to assess a part of the migration process.
Don't hesitate to contact our customer support team in case you have any questions. Further, you can join our community to get more eCommerce knowledge.
Guest Post Contribution from AdNabu
AdNabu helps improve sales in Google Ads for Shopify stores. If you are running google search, google shopping, or display campaigns in Google Ads, Their apps help to increase your sales.