Drupal Commerce is certainly a great choice for your first small online shop because of the basic offerings and features. So, what is Drupal Commerce, and what makes the difference between Drupal Commerce and other ecommerce platforms.
After hearing about Drupal Commerce, here are a few questions you might consider asking yourself: Is Drupal Commerce better for your ecommerce business? Should you switch to Drupal Commerce?
Well, you will find the answers for all your questions about Drupal Commerce and how to migrate to Drupal Commerce in this article!
What is Drupal Commerce
Drupal Commerce is an innovative software integrating content, commerce and community. In fact, it creates engaging Web experiences that increase ecommerce traffic to lead to better results. In reality, Drupal Commerce is an open source e-commerce platform built on the Drupal framework, especially from Drupal 7. It allows store owners to develop, create and design their own online store and even manage the whole of your business processes.
The great thing about Drupal Commerce is the fact that it isn't just a software that has a limited set of predefined functions, in reality, it can do out-of-the-box. Basically, Drupal Commerce platform provides basic e-commerce functionalities such as: 
Create product types with custom attributes

Dynamic product displays

Order management, line item

Payment method API, allowing many different payment gateways

Tax calculation / VAT support

Discount pricing rules

Deep integration with systems like D7's Fields, Views, Rules and Entity API.
Apart from the basics mentioned features, there are also many advanced features offered by Drupal commerce. They can be further extended by the use of contributed modules, here they are:
Shipping: 

Inventory Management

Commerce Rules

Tax
Why you can't migrate to Drupal Commerce by your own
Firstly, the process of Drupal Commerce Migration is quite sensitive, a bit more complicated than migrating to other ecommerce platforms. In details, the default Drupal Commerce platform has a little amount of fields as shown in the below screenshot.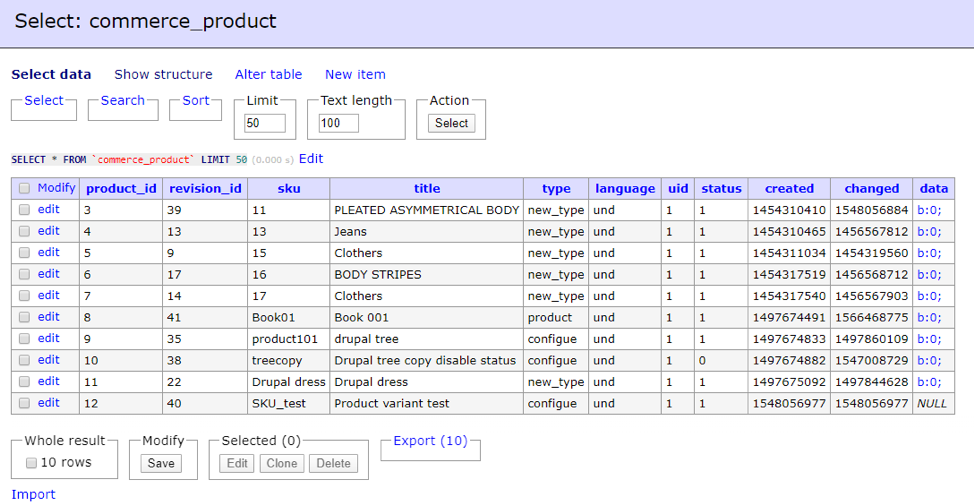 If you want to add more options, images and other fields, you need to create them manually in the admin panel.

After adding those fields, the management tables which corresponds with the fields will show up.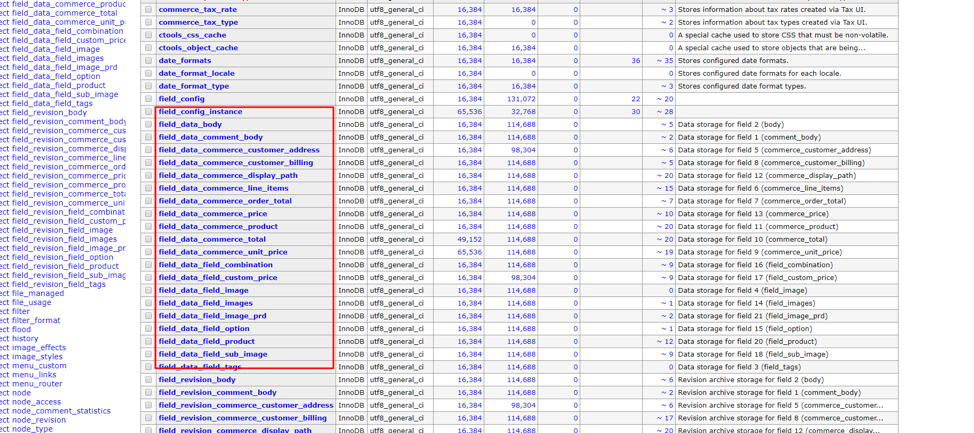 However, if you migrate data from your current store to Drupal Commerce manually, you can only transfer product names and descriptions.
Therefore, if you want to import other data fields as well, you can't definitely handle it by yourself because it needs designing and customizing by developers. Then, All-In-One Migration service provided by LitExtension is the most optimal solution for you. Our migration experts will custom code to migrate all those fields to Drupal Commerce.
With more-than-8-year experience in shopping cart migration and deep research about Drupal Commerce, we will ensure to migrate to Drupal Commerce accurately and provide all the necessary customization for you.
How to migrate to Drupal Commerce by Litextension
It only takes you a few hours and clicks to migrate to Drupal Commerce with LitExtension automated tool:
Go to your account and click "Create New Migration" to begin.

Set up your Source and Target Cart: Select your Source cart type and select Drupal Commerce as your Target cart type. Then, fill in the blanks with the requested information about your store following our wizard instruction.
Select entities you want to migrate and the additional options you may need.
Click Start to kick off the process: You can go straight to full migration by one click.
Please wait while your data is being migrated. You will be notified by an email sent to you from us after migration is completed. And you can check the final result here. Now, your subscribers and subscriptions data will have been completely moved to Drupal Commerce as your expectation without disrupting your online store performance.
Why you should choose LitExtension
Affordable Price:

LitExtension is one of the few companies which provides data migration service with a fairly low cost. We have an automated pricing tool which allows you to calculate how much your migration costs and how long it takes. Suppose you want to migrate 500 products, 500 customers and the same number of orders. Then, according to the pricing tool, the approximate amount of money you will pay is $59.

Free Demo and Trial Migration:

These two help you preview how the tool works and how your data is stored and managed in the new shopping cart.

30-day Money Back Guarantee

.

3-month Migration Assurance:

We offer 3-month Free Unlimited Recent Migrations and Re-migrations for assurance in migration and make sure migration process will be completed perfectly.

Professional Support:

LitExtension has a dedicated and professional technical support team. We provide 24/7 support by ticket, phone, live chat, or email. Hence, we can solve all of your problems quickly and accurately.

High Security: LitExtension has a set of practices, technologies and policies in place to ensure the highest level of security for your data. For further information, please take a look at our Data Security Policy.
No Technical Skills required:

With LitExtension tool, your Drupal Commerce migration

 is just a few clicks away. You don't need any advanced technical skills or knowledge to deal with the migration. Besides, you always have the support team around if any concern arises.
Finally, if you have any more questions about how to migrate to Drupal Commerce with LitExtension service, please visit our Support Center or feel free Contact Us via Live Chat.