A database dump, also known as SQL dump, includes a table and/or database structure file, and is normally present in the form of a SQL listing. The most frequent use of a database dump is to back up a database so that its contents can be retrieved once data is lost.
Overview
Database Dump Migration of LitExtension is an action of migrating your data from your database files to your target store by using Database Dump, under these circumstances:
Your old store has been collapsed and what only left there was your database dump.

You don't want other parties to directly intervene in your site as data security is paramount to you. In this case, we can help you transfer your data without requesting your source cart's access permission by using database file. 

Your platform is unsupported; therefore, you are not able to migrate your data automatically and directly to the new store.

Your store is based on cloud server instead of dedicated server. 
How To Migrate Database Dump With LitExtension
As the process is complicated and needs designing and customizing by developers, All-In-One migration service is the most optimal choice for you. In particular, this service provides high quality migration service with low cost. We will perform data migration and provide all the necessary customization for you. The main goal is to save time and minimize efforts of e-merchants.
In general, to perform the procedure, our experts will import your file into a special database app to read and recover your original data form as an ordinary e-commerce site. For more details, let's walk through the steps below!
Step 1: Import database from customer's site to our server
For example, you have a database file from Magento source store and want to migrate it to WooCommerce. At this step, customers need to send us the database file and we will import it into our server. Then we will customize the code to import data from our database server to your target store.

Step 2: Enter Source Store Information and Target Store Information
Having successfully imported database file from Source Store, we will customize to create a URL which uses database that has just been imported. Then this URL will be put into use to perform migration.
Select Magento as Source Cart Type and WooCommerce as Target Cart Type and provide their URLs into the blank bar.
Then, click LitExtension Connector to download the connector, extract the zip file and upload connector to Source Store's root folder.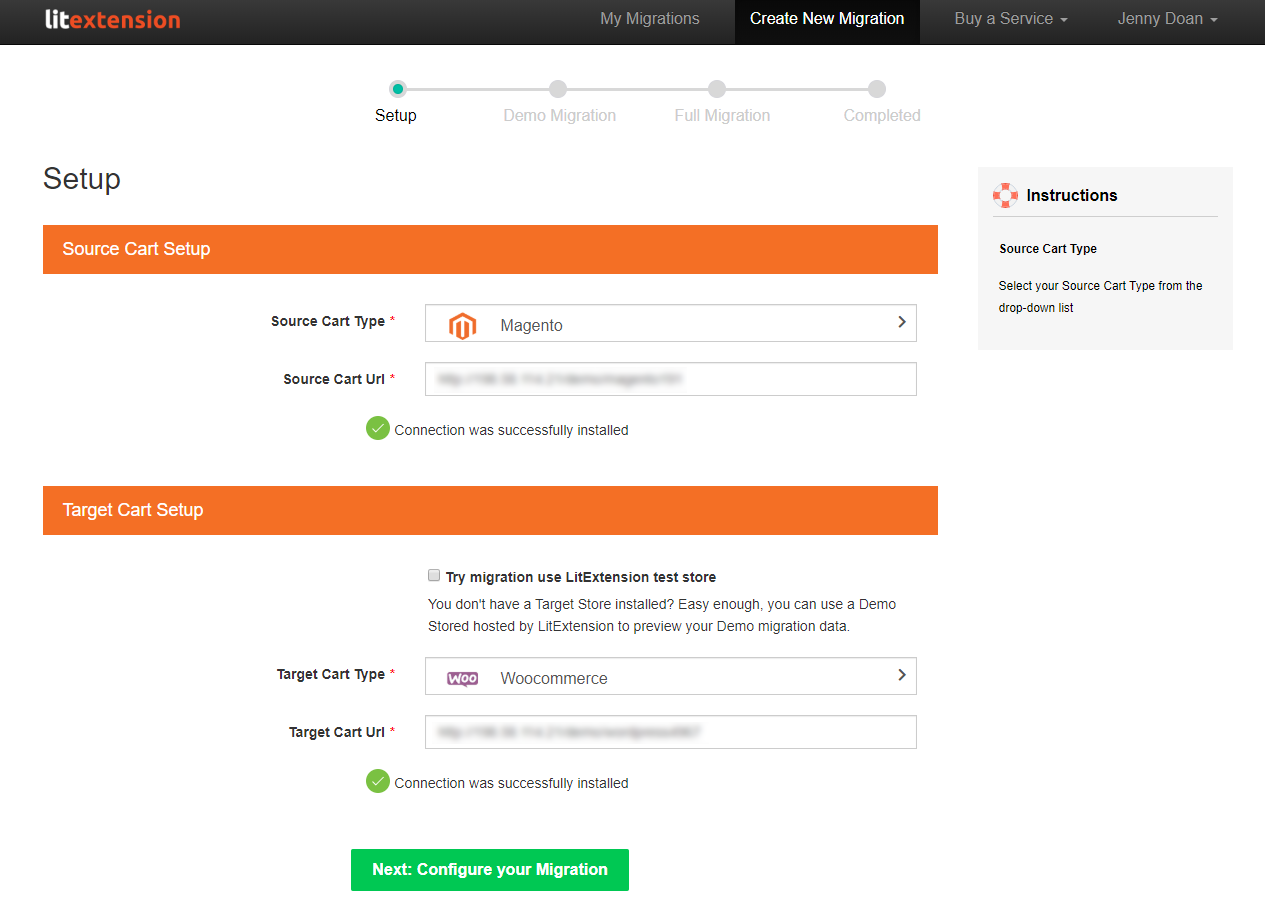 Right here, the Connector Installation will be automatically checked and informed on the screen without manual checking.
Step 3: Select Entities You Want To Migrate
Choose entities you want to migrate. You can select either all of them together or certain data. For example, only Products, Customers and Orders.
LitExtension also provides Additional Options here to extend your migration possibilities. Languages, Order Status and Customer Group will be matched together to be displayed correspondingly in the new store.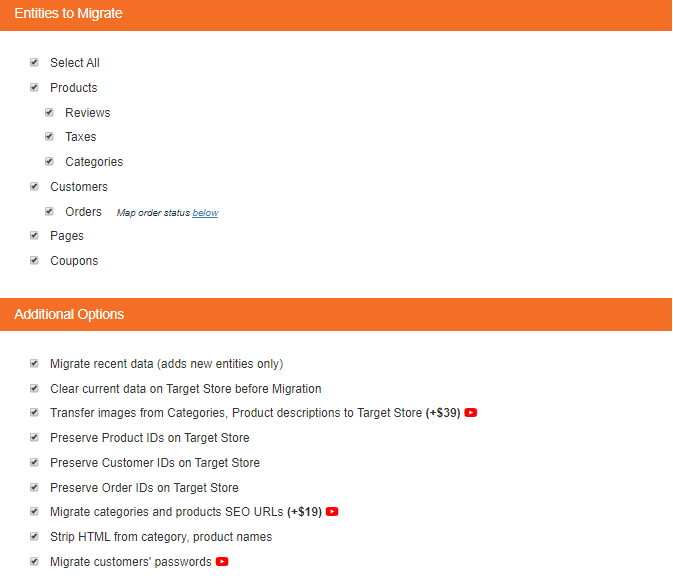 Step 4: Perform Migration from Magento to WooCommerce
You can run demo migration with limited entities to preview the result or you can straightforwardly proceed to full migration.
Please wait while your data is being migrated. Since the migration is processed in the background on the server, so there's no need to keep your PC on. Feel free to turn it off and get back with us once the process is done. You will be notified by an email sent to you from us after migration is completed.
Now, your data will have been moved to new desired store as your expectation without disrupting your online business. In case you have new data on your old site, after full migration is done, you can resend us the database file as we have brought a new feature called "Recent Data Migration" on board. This will help you.
Why choose LitExtension?
Data security
You don't want other parties to directly intervene in your site, we can help you transfer your data without requesting your source cart's access permission by using Database file.
Risk avoidance and quality insurance
During the online business operation, once in a while, the risks caused from customization and configuration is inevitable. It can negatively affect your sales and cost you an arm and a leg to solve the issues. Moreover, finding a trust-worthy experienced experts in data migration field sometimes has its own risks because once you go to the wrong address, your store which you have been putting a lot of time, effort and money to develop can collapse and that is a scenario no one wants it to happen.
Fortunately, LitExtension can help you deal with this professionally alongside an affordable price. To bring out the best service to e-merchants all across the globe, LitExtension always work hard to find solutions for all matters. And Database Dump Migration has never been far away from our capability.
Professional Support
We're proud to bring you professional support by ticket, phone, live chat, or email. You'll talk to our experts and get your issue resolved quickly.
We hope this article has helped you figure out a migration solution for your online business. Beside migrating from database dump, LitExtension also provides other migration service such as migrate from CSV files or migrate custom fields. Within a few simple steps, your brand new store is already there awaiting you!
Contact our support agent if you need any help! We are happy to assist you!