You are having a big question "Any way to migrate from CSV files to one desire shopping cart?"
That's great! You are definitely in the right place because this article will brings your issue to light!
What is CSV files?
Basically, CSV files (Comma Separated Values files) is a text based format representing the data typically found in a spreadsheet or a database table.
Owing to the simplicity, compactness and omnipresence, it becomes a common format for data interchange. It will open into Excel and nearly all databases have a tool to allow import from CSV.
To clarify, CSV files Migration is an action of migrating your data from your CSV files which are exported from your source store to your target store by using LitExtension's automated data migration service.
Why you have to migrate your store by using CSV files?
In some cases, you can't transfer directly all data from one e-commerce platform to another one, however, it supports you to export data to CSV files which contains products file, categories file, customers file…Then from a CSV file, your data will be converted normally to your target cart.
So, what are the reasons why you have to migrate your store by using CSV files?
Your old store has been collapsed and what only left there was your CSV files.
You don't want other parties to directly intervene in your site as data security is paramount to you. In this case, we can help you transfer your data without requesting your source cart's access permission by using CSV files.
Your platform is unsupported; therefore, you are not able to migrate your data automatically and directly to the new store.
Your store is based on cloud server instead of dedicated server.
How to migrate CSV files with LitExtension?
As the process of CSV Files Migration is quite sensitive, a bit more complicated and it needs designing and customizing by developers, All-In-One migration service is the most optimal choice for you. In particular, this service provides high quality migration service with low cost. We will perform data migration and provide all the necessary customization for you. Our highest priority is to save time and minimize efforts of e-merchants.
Before performing the migration, you need to give us your CSV files exported or our experts will get your CSV files by accessing your store from the old platform to read and recover your original data form as an ordinary e-commerce source cart.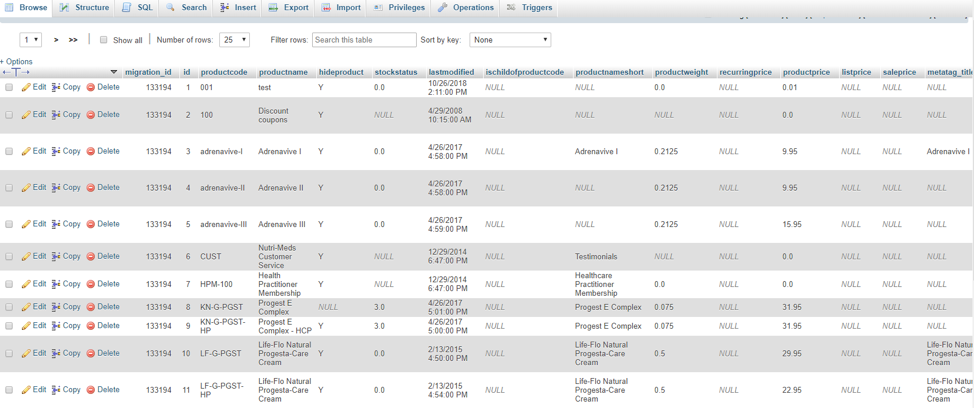 For example, you have a Product CSV file and are planning to move it to Magento. After giving this CSV file for us, we will collect and prepare it then import it into our server.
Next, after having successfully imported data into Database, LitExtension's experts will customize to create an URL which uses Database that has just been imported. Then, we customize code in our module and also the connector to perform data migration from this URL to the Target Cart.
Step 1: Enter Source Store Information and Target Store Information
In this step, Select Source Cart Type as Cart Custom and Select Target Store as Magento, fill URL into the blank bar.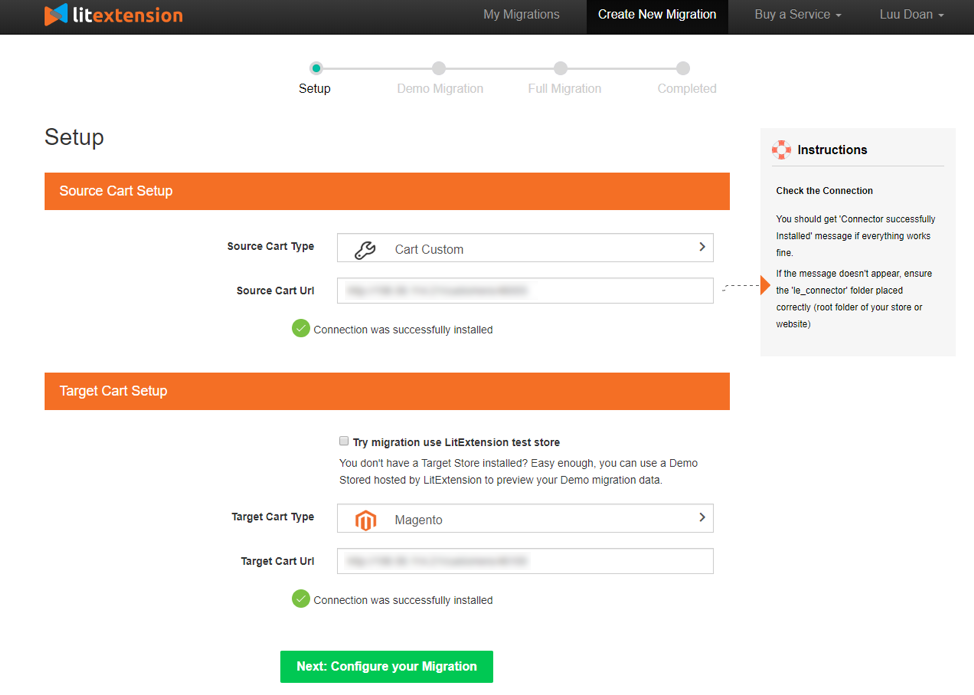 Right here, the Connector Installation will be automatically checked and informed on the screen without manual checking.
Step 2: Select Entities You Want To Migrate Import CSV files from customer's site to our server
Choose entities you want to migrate. You can select either all of them together or certain data, it depends on what CSV file type you have. For example, only Products.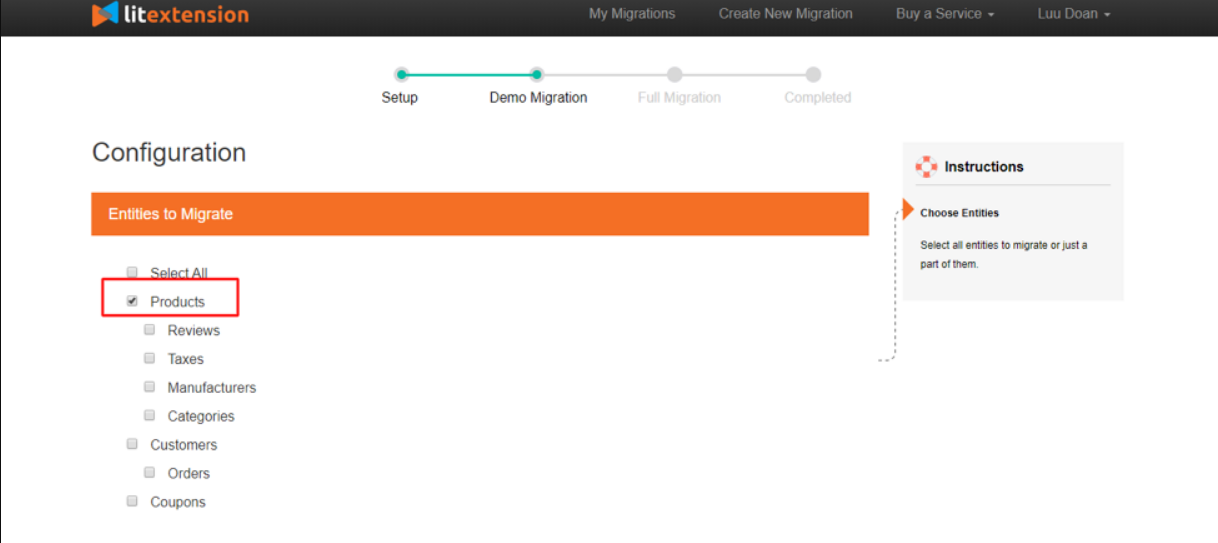 Furthermore, LitExtension also offers additional options to extend your migration possibility.
Step 3: Perform Migration from CSV Files
Right here, Click Start Full Migration button, your All-In-One full migration will be carried on immediately.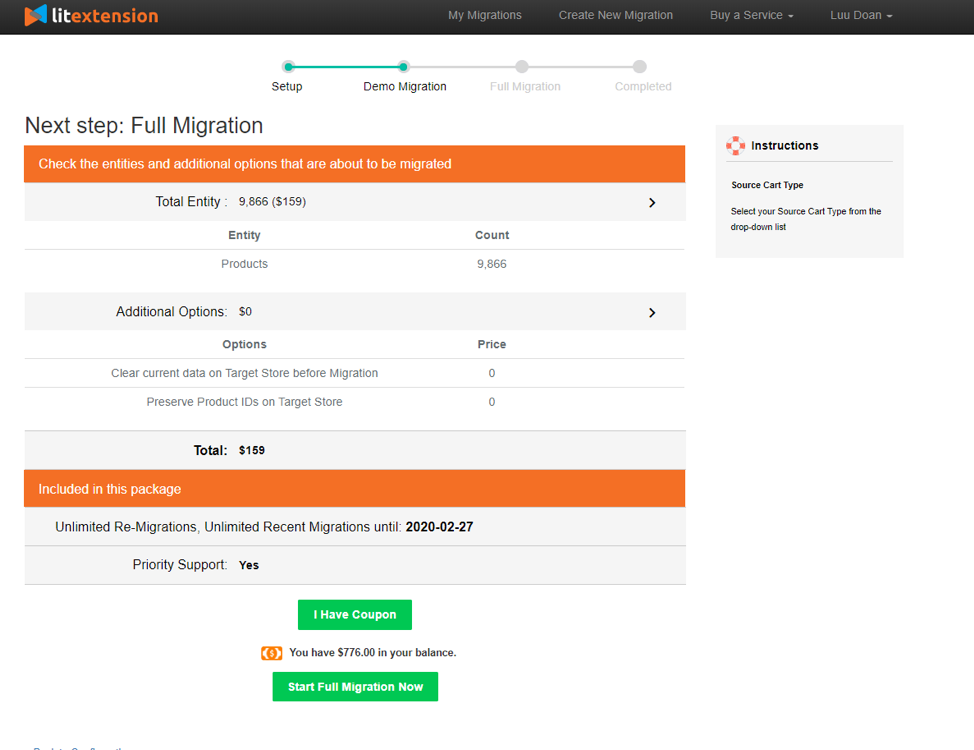 Once the migration is started, it will run seamlessly on the server. Therefore, there's no need to keep your PC on while the data is being transferred. It is completely safe to turn it off! Take a break, have a cup of coffee and you'll be notified via email when the process is completed.
In case you have new data on your old site, after full migration is done, you can resend us the CSV files as we have brought a new feature called "Recent Data Migration" on board. This will begin to help you.
Conclusion
That's it! Migrating from CSV files to another platform is much easier with LitExtension! Besides migrating from CSV files, LitExtension also supports migrate from database dump. Check it out if you are interested! With only 4 simple steps and a couple of hours, you will get ready for a complete online business on the new desire shopping cart.
Contact our support agents via live chat now for more information about migration from CSV files! Let's join our community to get more eCommerce knowledge.