The brick and mortar establishments allow customers to interact freely with the seller and store representatives. So, communication, resolution, transaction, and personalization are easily delivered. But, sadly the current eCommerce setup falls flat when it comes to offering a wholesome shopping experience.
While customers have become a major driving force behind eCommerce growth, 76% of the customers expect them to understand their expectations and needs.
Therefore, in a market that is known for volatile customer interests and fierce competition, offering highly personal, always accessible, and reliable customer support can be the key to keeping customers delighted.
To make this a reality, many online businesses are investing in a help desk, and rightly so. A recent CX research pointed out that every dollar invested in customer support solutions, such as help desk software, fetches an ROI of US$3.
Read this blog to learn how a help desk can prove to be a magic bullet for your growing e-commerce business.
What is Help Desk Software?
A help desk system serves as a highly reliable, efficient, and innovative customer contact platform to cater to your customer support needs. For an eCommerce setup, this can comprise the following:
Emails to and from the online store
Live chat support
Phone call and messages
Knowledge Base for self-resolution
Automation for fast, efficient, and integrated query resolution
A help desk support software allows you to track customer communication from various channels and resolve customer queries at a faster pace. It offers your customers a direct line of communication with your support team and can be easily interfaced with the existing suite of business tools and software. Further, it allows you to offer 24X7 support to your customers irrespec54redcxtive of the time zones.
But, what makes a help desk software important for eCommerce setups? Let's find out!
Why do you need a help desk for eCommerce?
Competing in a market where people are online 143 minutes a day posting comments, feedback, reviews, suggestions, and sharing their stories and experiences can be daunting!
With customer communications seeping in from multiple sources such as chats, text messages, emails, and calls, etc., customer support falters when it comes to eCommerce setups. Hence, having impeccable service desk software is a must!
A reliable help desk tool for eCommerce can deliver great results across various verticals, some of which are covered in the following section.
Manual Tracking is Cumbersome
Suppose your sales manager asks you for a report on your customers' most common issues with a new product you recently added. Counting and crunching the numbers to come up with factual data is going to eat-away your productive days.
On the other hand, help desk software for eCommerce is equipped with features such as ticket prioritization, automation, shared inboxes, and tracking tools to do the job in a few minutes, and that too diligently.
Overwhelming Email Volume can lead to Customer Drop
Losing a trail of customer emails or unopened emails from your customers sparks the first wave of customer churn. A reliable help desk management software allows you to integrate your support email into your ticketing system. So, your team has a streamlined communication system with all your customer-facing inboxes under a single roof.
Evolution of Customer Expectations for Communication
Modern customers do not want to limit themselves to a single channel when contacting your business. Help desk software makes your business easily reachable across major communication channels, such as live chat, email, and social media, etc. Further, it allows you to create a knowledge base to help your customers find instant help.
Effortless Internal Collaboration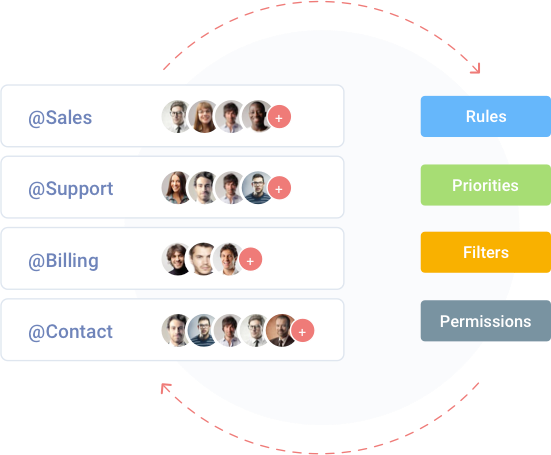 Suppose one agent is unable to solve a query and wants help from an expert. A help desk software for eCommerce allows you to communicate with the entire team in just a few clicks. The teams can collaborate over issues such as delivery dates, product catalogs, and other innumerable online queries.
What are the top features of the eCommerce help desk?
By now, you must have realized the importance of help desk software for your eCommerce business. Now, let's explore the top features of a help desk tool for eCommerce.
Helpdesk enables you to automate business processes and create a sequential workflow for your teams. Whether you talk about automated alerts or sharing automated survey emails with customers- the right help desk tool can make your life easier. With the help of process automation, you can focus on more productive tasks, and tackle the mundane and repetitive tasks efficiently. Helpdesk software solutions offer powerful automation functionality based on business rules that you can customize as per your work requirements. You can automate workflows for onboarding, document customer communication, and send an automatic notification for query resolution or issue escalation, etc. Thus, a smart helpdesk tool improves workplace productivity and helps in boosting customer satisfaction levels.
Quick comparison (pros, cons, feature ratings) of top 6 eCommerce platforms from LitExtesion.

Including: Shopify, Magento, WooCommerce, OpenCart, PrestaShop, and BigCommerce.#Shopify #Magento #WooCommerce #OpenCart #PrestaShop #BigCommerce #eCommerceplatformreview #eCommerce pic.twitter.com/TYkGxXqYnc

— LitExtension (@litextension) November 15, 2020
Failure to respond to social media mentions and tags can prove fatal for your business. As per the recent studies, 25% of the customers are likely to use social media for communication. The help desk management software automatically converts your social media mentions, posts, and queries to tickets and allows you to deliver support across multiple social media platforms.
It is neither possible nor efficient for your support agents to continuously monitor all your social media channels every day, track the incoming queries and complaints, and send a response to every single one of them. A helpdesk software emerges as an efficient method to track, understand, and resolve the incoming queries, depending on their nature. Automated greetings, AI-powered automatic responses to basic queries, and routing of queries – helpdesk offers many advantages!
Disconnected systems, multiple applications, and archaic user interfaces impede your customer delight delivery curve. While your customers seek communication via social media, calls, chats, and emails, if you fail to embrace multichannel support, then you are bound to fail to unlock customer satisfaction. A help desk system automatically converts all communication types into tickets, so you never miss any communication.
Thus, you can overcome the hurdles of tracking customer communication on multiple channels and find the entire customer history at one place that you can refer to at any time you want.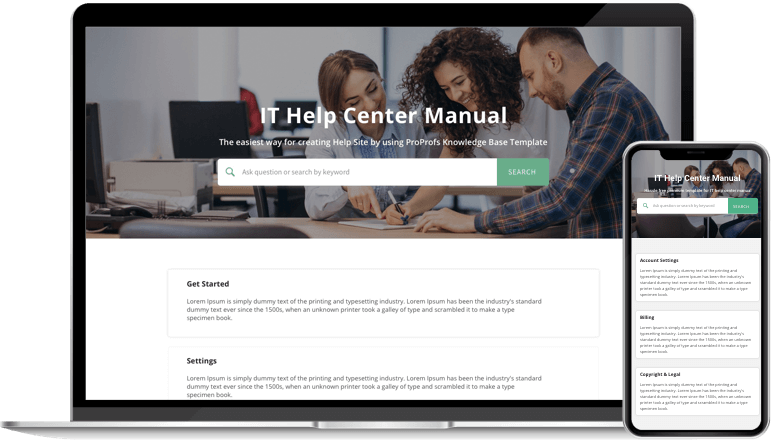 Help desk software for eCommerce such as ProProfs Help Desk comes with canned responses, a knowledge base, and self-help modules to enhance your support operations. The core benefit the knowledge base offers is the 24X7 availability. Your customers can access information as and when required via any device. This also helps you overcome the hurdle posed by different time zones, all the while offering high-quality and fast support to your customers. Your customers can solve primary or common issues on their own by reading the online modules and self-help articles.
How to choose the best help desk software for eCommerce?
Every eCommerce business might have some distinct requirements when it comes to customer support. However, there are four key areas that can help every business owner to identify the support goals and the type of helpdesk software he should opt for. These key areas are:
Customer expectations
Team goals
Scalability
Team expectations
Still, it is highly likely for every business setup to have different criteria for the best help desk software, and every business owner might not have a clear understanding of the various business goals and expectations. Hence, we are sharing some pointers that can help you in choosing just-the-right-one for your business:
Analyze your business requirements and identify areas where you lack. For example, if you lack multi-channel support, go for a help desk that offers this feature. Some other features that you can look for are – knowledge base, mobile app support, phone support, team inbox, and live chat, etc.
Make a list of functionalities you need and compare them with different help desk software available in the market.
Go for a help desk that comes with a free trial offer. This will help you get a fair idea of the tool without spending any money.
Finally, we recommend finalizing a budget for your help desk software right from the start. Your team size and software compatibility & integrations play a major role in deciding the budget.
How can an eCommerce help desk reduce your costs?
An eCommerce help desk helps in cost-cutting by:
Automated tracking and business processes that reduce the reliance on human resources
No need to buy separate tools such as live chat software, survey software, analytics tools, etc
In-built customizable dashboards for internal collaboration and real-time collaboration for customer support
Canned responses and self-help modules reduce time spent on elementary and similar query resolution.
Measure employee productivity and monitor performance
Help Desk Software for Happy Online Customers
Catering to the ever-increasing needs of your customers can be a major challenge. By investing in the right help desk software, you can grow your eCommerce business and create a pool of delighted customers. You can also gain insights into valuable customer data to curate personalized customer experiences.
So, get started with a smart and efficient help desk software today, and give your business the right head-start in customer support!
Author bio:
Jared Cornell is a customer-support specialist, a marketing evangelist, and a book lover, associated with ProProfs Help Desk. Jared is passionate about customer support and loves to solve customers' queries. He is always keen to develop new strategies to help customers seeking Help Desk assistance for a delightful experience.  You can connect and engage with Jared on Twitter, Facebook, and LinkedIn