Shopify is one of the most famous and robust shopping carts in the world today. It allows users to create and run their online stores easily without much in the way of technical or design skills. Due to its characteristic of a hosted solution, you don't have to be concerned about web hosting or installing any software.
Shopify provides you with a variety of apps on Shopify app store so that you can customize and beef up your store. LitExtension is also available on Shopify app store. We hope that this can make it easier for you to find us and download our migration app to move your store to Shopify easily.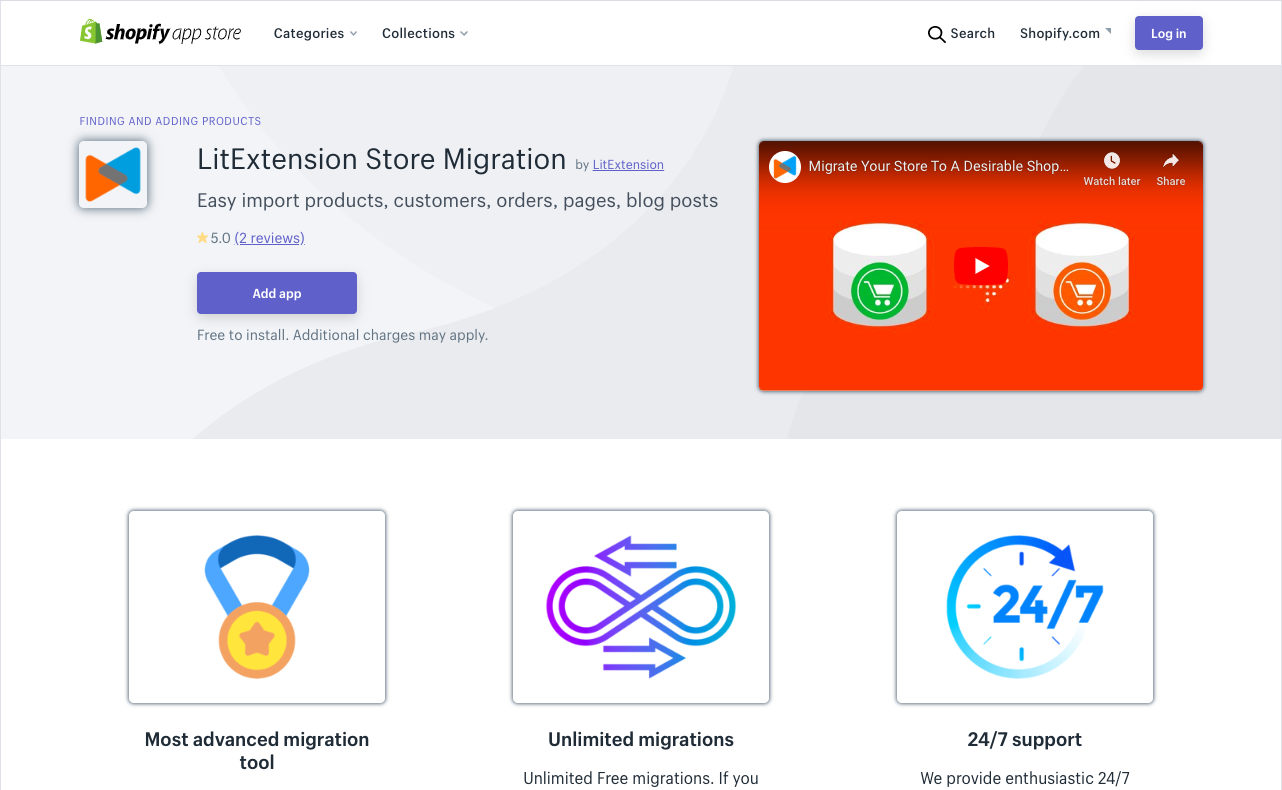 How to migrate to Shopify with LitExtension migration app
Now, you may be wondering how to transfer your data through LitExtension migration app because normally you are supposed to do it with only a few clicks on our website. However, do not panic, here is the detailed instruction on how to use our app and it is just as simple as running your migration on LitExtension website.
Let's get started!
First, go to Shopify app store and log in using your Shopify store url.
Type "litextension" on the search bar.
When you've found us, click on "Add app" button, it's free to install.
After that, you will be navigated to your store, click on "Install app".
Then, you will be led to LitExtension migration interface. Your target store information has already been input. You only need to enter your source store info.
When migrating your store to Shopify with LitExtension migration app, you can transfer 100 entities for free, simply click Next to start the migration.
Why you should choose LitExtension
Affordable Price: LitExtension is one of the few companies which provides data migration service with a fairly low cost. We have an automated pricing tool which allows you to calculate how much your migration costs and how long it takes. Suppose you want to migrate 500 products, 500 customers and the same number of orders. Then, according to the pricing tool, the approximate amount of money you will pay is $59.
Free Demo and Trial Migration: These two help you preview how the tool works and how your data is stored and managed in the new shopping cart.
30-day Money Back Guarantee.
3-month Migration Assurance: We offer 3-month Free Unlimited Recent Migrations and Re-migrations for assurance in migration and make sure migration process will be completed perfectly.
Professional Support: LitExtension has a dedicated and professional technical support team. We provide 24/7 support by ticket, phone, live chat, or email. Hence, we can solve all of your problems quickly and accurately.
High Security: LitExtension has a set of practices, technologies and policies in place to ensure the highest level of security for your data. For further information, please take a look at our Data Security Policy.
No Technical Skills required: With LitExtension tool, your migration to Shopware is just a few clicks away. You don't need any advanced technical skills or knowledge to deal with the migration. Besides, you always have the support team around if any concern arises.