One of the most challenging parts of running a dropshipping business is finding a trustworthy supplier and a suitable dropshipping platform to use. Among hundreds of dropshipping platforms, users tend to consider Dropified vs Oberlo. So what are Dropified vs Oberlo and how different those two platforms are? Let's have a look at our head to head comparison based on the following criteria:
Pricing
Customer support
Product research
Product import
Order fulfillment
Marketing
Dropified vs Oberlo: A closer look
What is Dropified?
Dropified is one of the most famous dropshipping apps, connecting merchants with suppliers globally and simplifying business tasks with automation. Dropified empowers you to quickly launch a new eCommerce store, source products, and fulfill the orders automatically. Sellers will not have to worry about sourcing,  inventory, shipping, and packaging, just focusing on marketing activities.
Currently, dropshippers can use Dropified to import products from AliExpress, Amazon, eBay, Etsy, Walmart, SammyDress, Overstock, Wish.com, and even more websites with a single click. However, your online store needs to run on one of the eCommerce platforms listed below:
What is Oberlo?
Oberlo was one of the pioneers in the first dropshipping apps market, as it has been on Shopify App Store since 2015. That means Oberlo only supports Shopify users. If you are using other shopping carts but still want to use Oberlo, you should migrate your store to Shopify.
Similar to Dropified, Oberlo also helps you to easily import dropshipping items from AliExpress into an online store (on Shopify only) and even deliver them directly to your customers – in only a few clicks.
Dropified vs Oberlo Comparison
1. Pricing
Fortunately, Oberlo has a Starter plan for merchants to use without having to pay in advance or provide credit card information. However, there would be some restrictions on what you can do with the tool.
If you want to take more advantage of Oberlo, you may want to choose the Basic and Pro plan, which are $29.90 and $79.90 per month respectively. Those two premium plans include more advanced features that the Starter plan does not offer: Variant mapping, Bulk orders, Real-time orders tracking, Affiliate program, Orders fulfillment monitoring, Captcha Solver.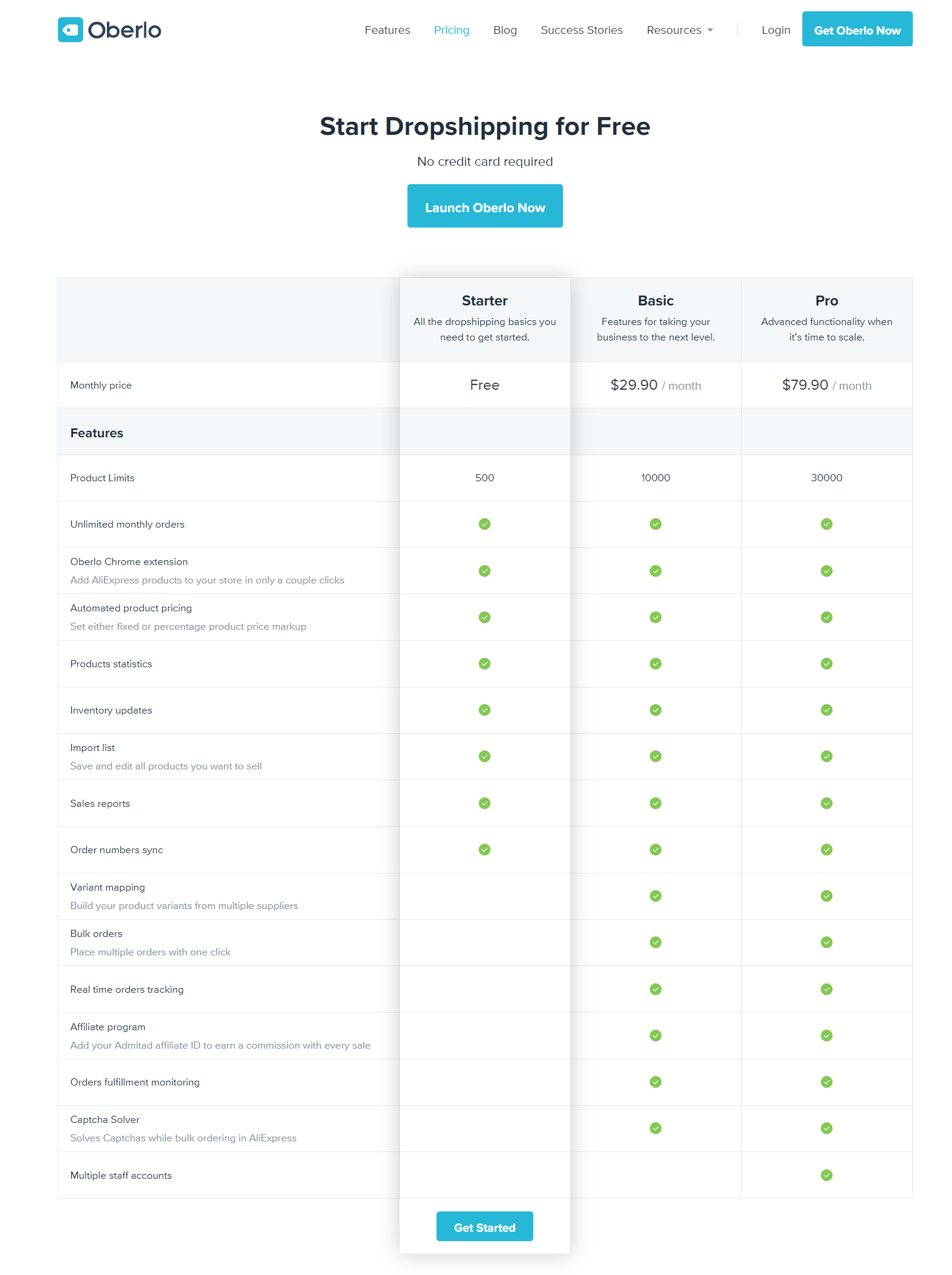 In contrast, there are no Dropified plans that are free of charge. However, all of its 3 pricing tiers include a 14-day-trial-period, counted from the day you register, provide your account info and fill in credit card information. After 14 days, Dropified will charge you according to the plan you choose. The cost you have to pay for the Builder, Premier, and Supplements on Demand plan are respectively $47, $127, and $197 per month.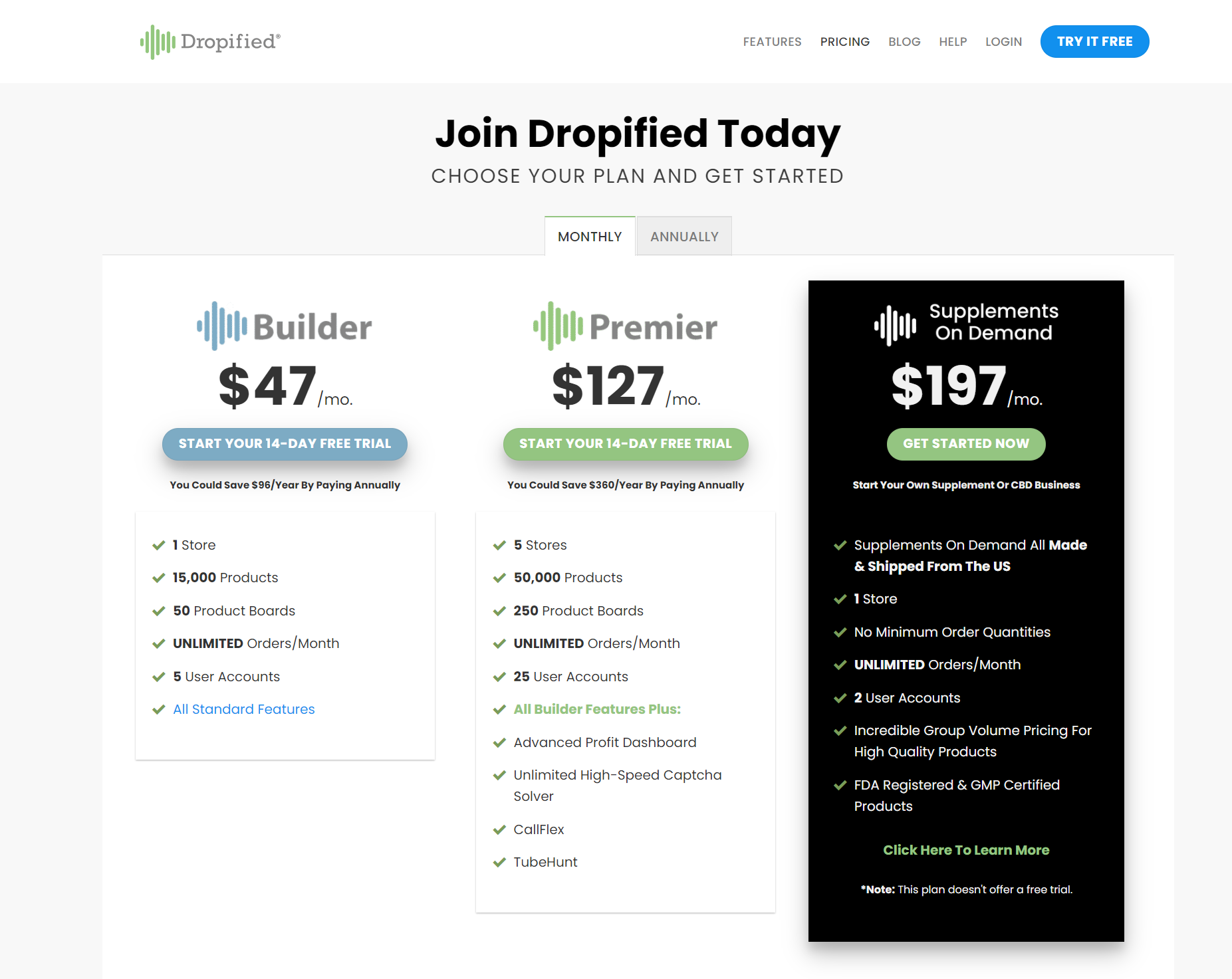 However, if your budget is ready and you want to save some cash, you can choose to pay annually. Even when you are using the cheapest plan, paying annually can save you $96 per year. This is also a big plus of Dropified when you are comparing Dropified vs Oberlo because Oberlo does not have the option to pay for the entire year upfront to save money.
2. Customer support
In terms of customer support, Oberlo has more to offer when considering Dropified vs Oberlo. Oberlo's customer support team is available 24/7, therefore, customers can send an email or contact support agents through live webcast. Just leave a message, and it gets responded to in a given timeframe. Meanwhile, Dropified only provides customer support during standard business hours.
Both Dropified vs Oberlo focus on providing retailers with useful dropshipping and eCommerce knowledge so that they can thrive and keep on using the two apps. For example, Oberlo has a 101 course – a dropshipping hub, marketing hub, free ebooks, statistics hub, podcasts, and video tutorials. Merchants can also have access to the Oberlo YouTube channel to learn about tips to use Oberlo effectively, marketing, branding.
Dropified users have a variety of training videos on topics like the 'Bulk Editing Product,' 'Add the Dropified Extension to Google Chrome,' and 'Dropified Order Fulfillment Process.' For assistance, there's a string of articles focusing on ordinary topics, an FAQ section, and a chatbox to enable pinging over your complaints and questions.
3. Product research
When it comes to dropshipping business, choosing suitable and products is the main concern. The item you choose to sell should be trending, highly-rated, easy to ship, profitable… There are so many factors that you have to take into account. It is essential that you do in-depth research before selling any item.
Dropified has scored an important goal against Oberlo when partnering with AliExtractor to empower sellers to do product searches with AliExtractor for free. Meanwhile, Oberlo users have to rely on existing statistics on AliExpress and click on each product to fully see the information. A lot of essential data like retail price, estimated profit, cost, and revenue are not available on AliExpress by default. If you are using Oberlo but still want to use AliExtractor, you have to pay $29 per month.
4. Options to import products
How to import products to your store using Dropified vs Oberlo?
Both Dropified vs Oberlo provides users with a Chrome extension to automatically add products from sources like AliExpress to your website. To use the extensions, you have to open the Chrome browser on a desktop (they do not work on mobile or tablet). All you need to do is surf the web to find winning products for your business.
With Oberlo, sellers can add products to the Import list and then come to the Oberlo dashboard to add them to your online store. Meanwhile, sellers using Dropified have 2 options Send to my store and Save for later.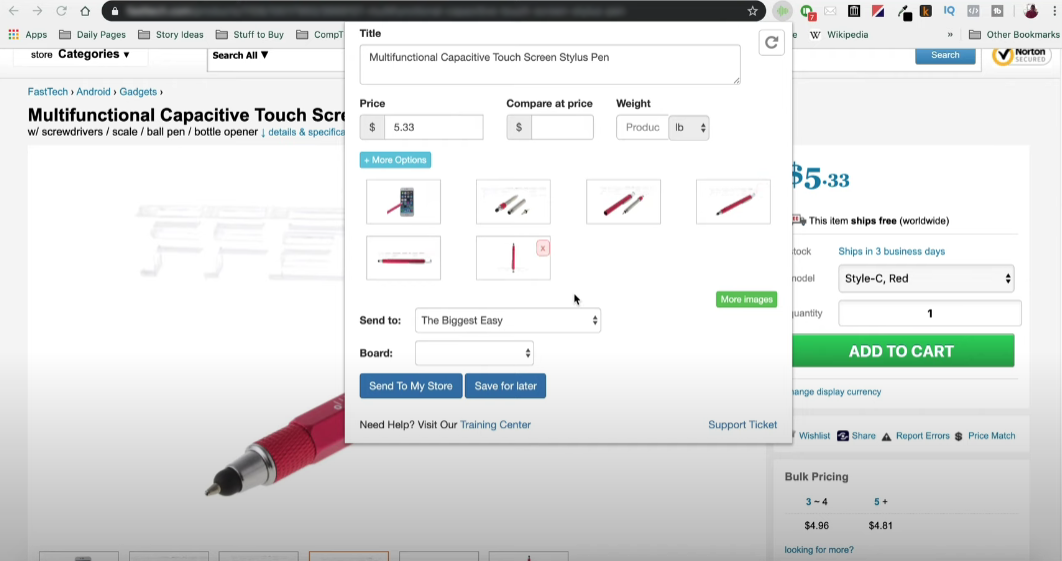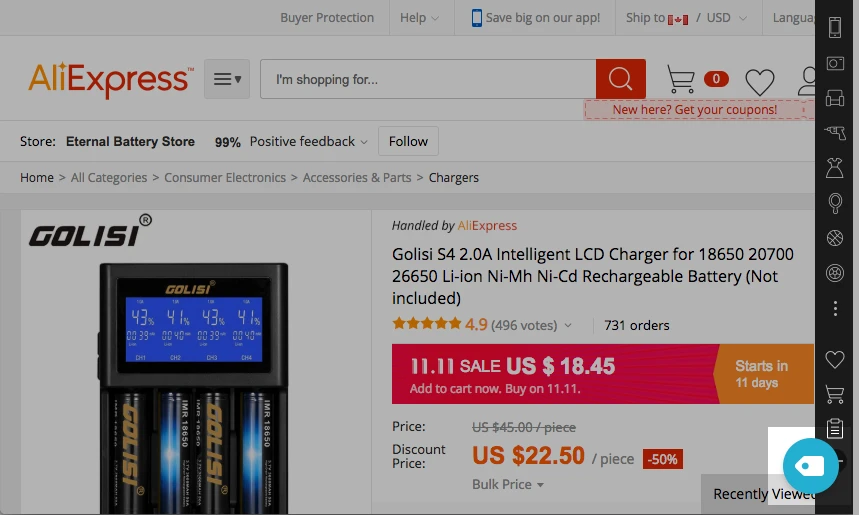 Compare dropshipping sources between Dropified vs Oberlo
Both Oberlo and Dropified offer free Chrome extensions that enable you to find and import products into your e-commerce store. One of the biggest differences between the two is that the Oberlo Chrome extension only lets you import from AliExpress, while Dropified works with dozens of marketplaces, including giants such as Amazon, eBay, AliExpress, Etsy, Walmart,…
This is a huge advantage to being able to import thousands of products from so many more sources, especially when product price on AliExpress seems to be losing its competitiveness gradually. Furthermore, a lot of merchants are choosing the US as the target market because of its huge market size and online-savvy consumers. Therefore, when opening an online store, sellers can source and sell products from U.S. vendors that can ship products and have them to your U.S. customers in just days, and not weeks like it takes to ship from China and minimize shipping cost.
5. Product Customization
As a retailer, you will not keep all product details after importing them from marketplaces like AliExpress or Amazon for some reason. Maybe the suppliers stuffed the title with tons of keywords, or the product image ratio does not match with your store setting. In some cases, some of the details might not be relevant. Therefore, it is necessary to edit product details after using Oberlo and Dropified to import products from marketplaces.
With Oberlo, you can:
Change the product title and description
Edit product variants
Adjust product weights
Change product types and add tags
Add products to collections
Choose product images
With Dropified, you can edit the details listed below:
Product title
Price
Compare at price
Weight
Type
Tags
Vendor name
Variants (add / delete)
Description
Besides, Dropified also provides an advanced image editing tool that Oberlo does not.
6. Order fulfillment
This is one of the most important parts of dropshipping automation, as sellers want to come back to AliExpress to manually fill in customers' information. Especially when there are hundreds of orders per day, it will take a decade to complete those small tasks
Luckily, both Dropified vs Oberlo offer an "Auto Place Order" Button. With Oberlo, you can place orders product-by-product or place multiple product orders at once. However, the bulk order feature is not available in the Starter subscription plan. You will be directed to the AliExpress website, where you complete the orders by making a purchase. You can also use the "Sync this page" or "Sync all orders" button to mark the order status as "Fulfilled" both in Oberlo and Shopify admin.
With Dropified, you can also select multiple orders and let the order placing process run in the background. However, while Oberlo offers the ability to create and sell Product Bundles, they do not offer the ability to Auto Place Orders for those bundled sales. Meanwhile, Dropified merchants have a tool to auto place orders for bundled products. They do not have to handle the orders and management of multiple vendors across different product variations, which is extremely time-consuming to do manually and very easy to mess up your customers' orders.
7. Marketing
Import product reviews from supplier
We all know that buyers tend to place trust in products if there are great reviews about them. With Dropified, you don't have to start building your social proof from scratch. Instead, Dropified users can easily import existing reviews from your vendors on Amazon or AliExpress to your eCommerce site.
With Oberlo, retailers will see that each product now has an "Import Reviews" button as well. You just need to click it, select the criteria you want to import and wait about 1 minute. The app will quickly transfer all the reviews from AliExpress to your Shopify store.
CallFlex
Having a phone number is so important to a business, as it helps your brand look more trustworthy to customers. But as a dropshipper, especially when you are a newbie, you do not have many human and financial resources to set it up. It will take a lot of time to answer calls, direct people to different departments or team members, …
That is the reason why dropshippers need a full-service telephone system that automates everything to kill two birds with one stone: increased customer trust and spending, and fewer tasks for you to manage.
Dropified has addressed this need and enabled its users to integrate with a telephone service called CallFlex right inside its dashboard. This system offers everything you need to create an amazing call platform that allows customers to leave voicemail messages, forward calls, and more. This is such a huge advantage of Dropified over Oberlo, as Oberlo does not offer any Customer Support Phone System.
TubeHunt
TubeHunt is a powerful targeting tool to help you search for videos based on any category that is being used on YouTube. It is absolutely free for people using the Dropified Premier Plan. This feature seems to exceed the expectations of any dropshippers, as hardly anyone expects such an advanced built-in marketing feature inside a dropshipping platform. Oberlo users probably will not have any complaints either, as the Dropified Premier plan is $47.1 more expensive than the Oberlo Pro plan per month.
With TubeHunt, you can quickly find YouTube videos related to your niche and products based on keywords. TubeHunt will give you video metrics such as the number of likes, dislikes, comments, and shares and let you know whether ads are enabled on the video or not. After building a list of videos to advertise on, you can paste them into YouTube ad campaigns.
This tool is a very powerful advertising and targeting tool to help you grow your dropshipping store. TubeHunt will help you control your advertising costs by enabling precise product placement and reducing your bid costs.
Which one should you choose?
If you're a small business or starting an eCommerce business as a sidearm to your day job, then Oberlo seems like a great choice. If you opt for their free tier, it doesn't cost you anything, and you won't have to shell out for other overheads. On the whole, Oberlo seems like a good choice for beginners who are just dipping their toes into the realm of eCommerce, or if you're a small company and plan on staying that way. Just remember Oberlo limits the number of monthly orders you can place, but if that isn't a problem for you, then using Oberlo is a no brainer
However, if you want to scale your dropshipping store to the next level, Dropified will be a better choice as it offers so many more integrated features. You can start with the Dropified Builder plan first and upgrade later as your business grows. This provides you with the flexibility to scale your business in the future, should you need to.
Hope that with the detailed instructions above, you can choose the most suitable dropshipping platform and help your business thrive.
Join our Facebook Community to get more eCommerce tips and news.