Magento is the most popular open-source platform. Releasing since 2008, Magento 1 has provided many versions that serve different objects. In order to improve features of the leading eCommerce platform, Magento team continues to develop Magento 2. In November 2015, Magento 2 is released to the Magento community. It is the next-generation open-source platform that is faster, easier and more secure than Magento 1. It is available for download both versions right here.
In this article, LitExtension will share the points we know about some differences between Magento 1 and Magento 2. If you want to upgrade to this version of Magento, I think you might find many helpful information after reading this article.
We'll cover:
New File Structure. 
New Buit-in Technologies under The Hood. 
Reduce Upgrade Costs and Efforts. 
Improve Performance and Scalability. 
jQuery Library.
Risks of Migration to Magento 2.  
1. New File Structure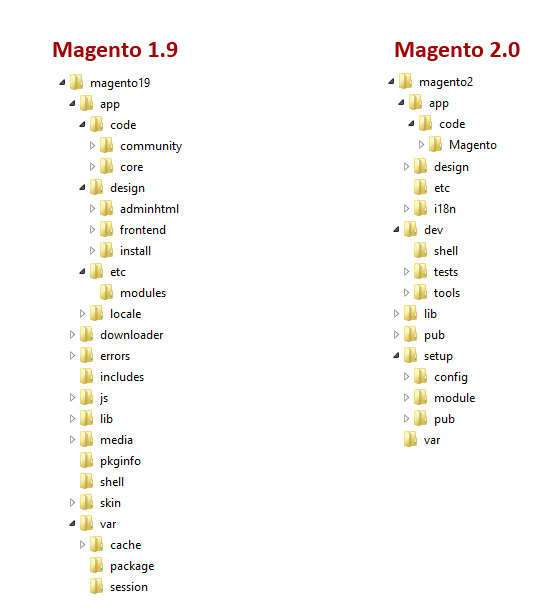 With Magento 2, everything is placed directly under the "app" structure, except for config.xml. It is easy for you to access all templates, layouts and js, css file. It gives developers more opportunities for customization without changing site functionality.
2. New Built-in Technologies under The Hood
| | |
| --- | --- |
| Magento 1 | Magento 2 |
| Sass/Compass | HTML5 |
| Prototype JavaScript library in core | CSS3 |
| Jquery in rwd package | RequireJS |
| Additional JavaScript libraries | Apache 2.2 or later |
| HTML5/ CSS3 | PHP 5.5.x |
| | PSR Compliance |
| | Install needed components via Composer |
| | Magento UI library |
| | CSS Pre-processor |
| | Full page caching |
| | Magento performance toolkit |
| | Dependency Injection |
3. Reduce Upgrade Costs and Effort
Magento 2 allows you to install and upgrade core software and extensions quickly and simply with lower upgrade costs and efforts. It includes information on versioning policies, so developers can upgrade to the new version easier. However, you need the support of new standalone installer to set up Magento 2 faster.
4. Improve Performance and Scalability
The new default indexers in Magento 2 allow you to improve the speed of query performance with more efficient updates. Magento performance toolkit is the key to optimize system performance. Developers can create test environments and set up automated test easily. Moreover, Magento 2 integrated with Varnish Cache to reduce server load and speed up the page load.
5. jQuery Library
Prototype is the main JavaScript Library in Magento CE 1.7 – 1.9 and EE 1.11 – 1.14, which targets to ease development of dynamic web applications. The demand from Magento Community rises, jQuery becomes the new default JavaScript library.
6. What are the Risks of Migrating to Magento 2?
Weak Community
Magento 2 inherited the large community from Magento 1. However, many developers and experts are continuing to research and learn about it after a month of releasing. The previous communities are huge but they need time to become strong communities for Magento 2.
Command Line
Magento 1 focuses on graphical user interface (GUI) with easy customization. GUI does not require complicated commands, so it is available for a beginner. GUI allows users to navigate through a system. You should get the benefits of WYSIWYG. It makes Magento user-friendly. On the other hand, Magento 2 uses mainly command line. The command line has a big number of commands. It has a steep learning curve to cause many difficulties for new users without any experiences to experienced users.
Extensions
The number of extensions for Magento 2 is still limited in comparison with Magento 1. Most companies have to pay the third party to install Magento extensions properly from essential extensions to advanced ones.
Conclusion
According to statistics of LitExtension, on average Magento 2 migration is about 20% larger than a store upgrade between two versions of Magento 1. If you plan to migrate Magento 1 to Magento 2, you can accomplish it with the automated migration tool of LitExtension.  We are always available 24/7 to help.