Shopify is one of the strongest eCommerce platforms in the eCommerce market with over 2 million websites. This shopping cart is the best suited for everyone, even a newbie who is just getting started with an online store, a non-technical person, or those who have been in the eCommerce market for a long time.
For that reason, there are more and more people who want to switch to Shopify to build their own online store. However, migration to Shopify is not an easy process for almost all store owners because there are a lot of differences in the database structure among eCommerce platforms. Therefore, before jumping to the execution, you need to make a careful migration plan.
This article will help you plan your migration by bringing all the considerations when migrating to Shopify to the light.
Let's begin!
How many ways are there to migrate to Shopify?
One of the most important considerations when migrating to Shopify is choosing an optimal option to move your store to Shopify successfully at an affordable price.
Currently, there are 3 ways to perform a Shopify migration:
Manual migration
Using the import store app of Shopify
Using LitExtension automated migration tool
1. Perform a Shopify migration manually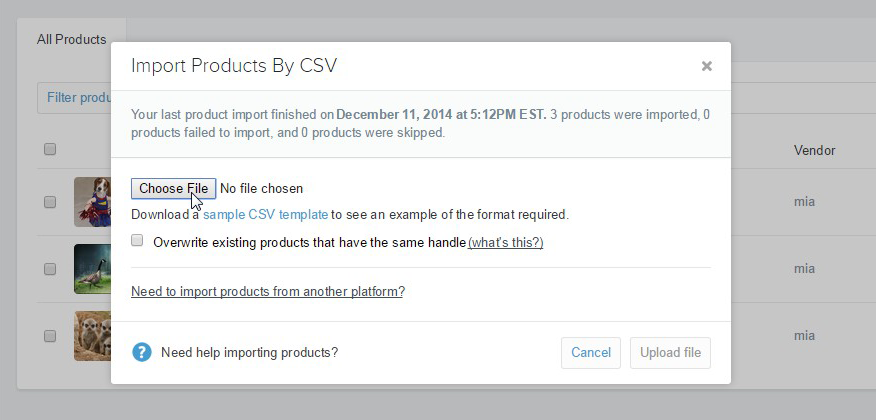 Basically, you have to export all data from your source store to CSV files and import them to Shopify.  This may sound simple but it can turn out to be the most complicated method for those without technical knowledge. Why? Because you are going to compare the database structure of two platforms and make changes where needed in order to ensure a proper import. What's more? You also need to fix any errors happening along the way yourself. So, make sure you take this into consideration when deciding away to go with.
Before you start the manual migration, you need to prepare two things below:
Firstly, review your existing data and decide what kinds of data you want to migrate (for example products, product categories, customers, manufacturers, orders, coupons, etc).
Secondly, find out what types of data you can export CSV files from your source store and what types are supported by Shopify to be imported by CSV files format to the platform.
In fact, products and customers are the only two data you can import by CSV files to Shopify. Consequently, for the unsupported data, the only solution to import them is to copy and paste content from your old site.
As a result, this method is very time-consuming and takes you a lot of effort because you need to import some data by hand to the Shopify store. If you have around hundreds of data, you can possibly import them manually, but how about thousands of data? It could be a huge problem! Furthermore, you can run into unexpected errors and this could be a challenge for you to fix them all if you are not an expert.
2. Migrate data with the import Shopify app
The second solution is using the Shopify import app.
With this option, you also have to export data from your old store to CSV files and then use the app to import them to Shopify. However, you need to make sure that your source store platform is included in the list that the app supports including WooCommerce, BigCommerce, Etsy, Squarespace, Big Cartel, Prestashop. Otherwise, before importing the files, you need to review first and then make changes to them following the CSV files format provided by Shopify. In general, the process is quite simple, just follow 5 steps below:
Step 1: Log in or install Shopify's importer tool.
Step 2: Go to "Select your platform". Then select your old store platform from which you exported the data.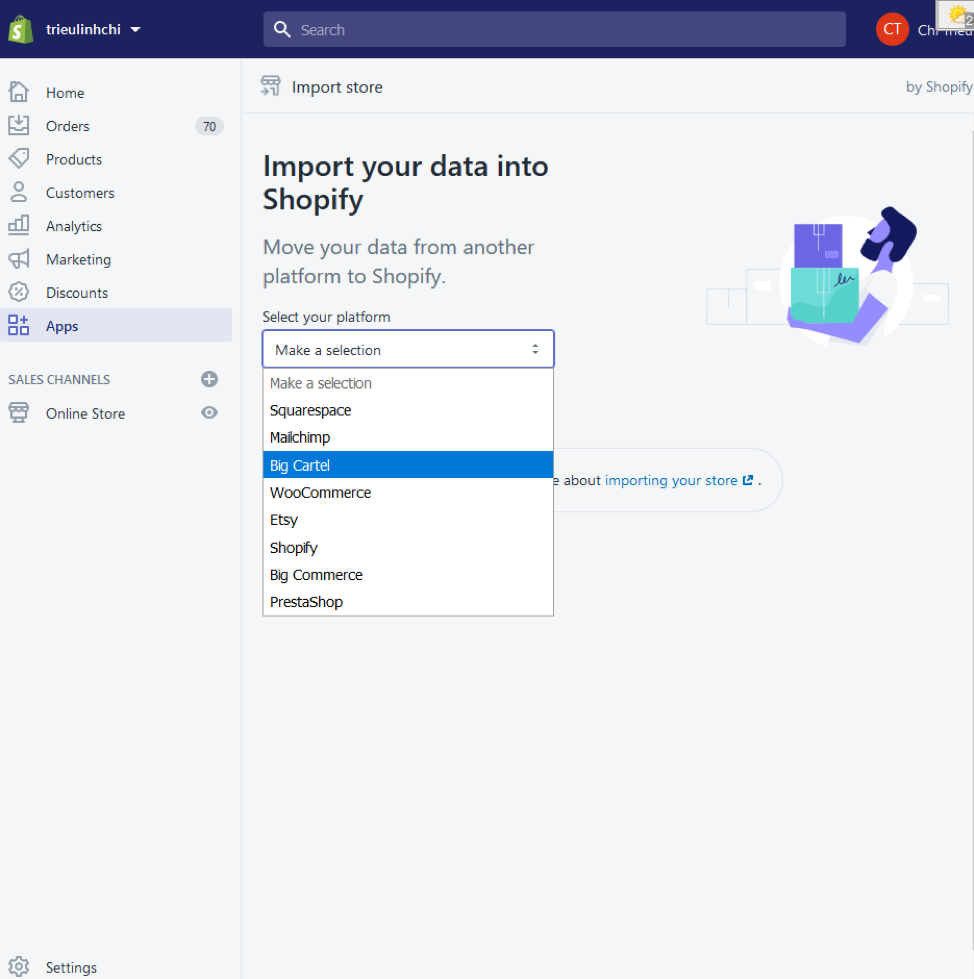 Step 3: Click "Add file" and select the CSV files that you downloaded.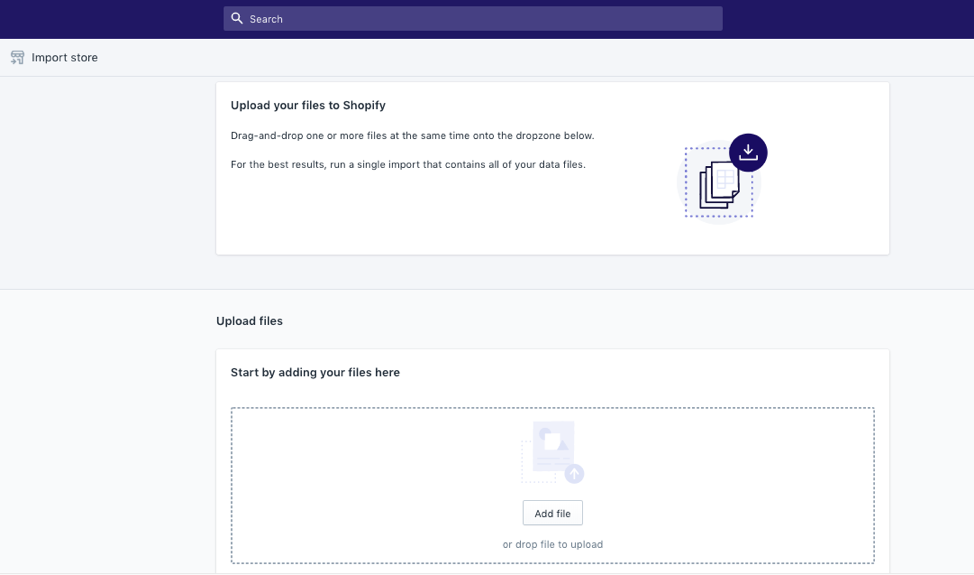 Step 4: Click Import.
Step 5: Review your import process.
If you're unsatisfied with data that you've just imported, you can easily delete them and start importing again. According to Shopify warning, the tool may carry a high risk that some of your products or customers did not import completely, therefore, you have to add them manually.
3. Migrate data by using LitExtension – an automated shopping cart migration tool
With this solution, you can easily migrate your store from one eCommerce platform to Shopify in a blink of an eye.
LitExtension Shopify migration tool helps you migrate all your data including products, customers, orders,… directly from 85+ most popular shopping carts to Shopify safely and accurately.
You can get a successful Shopify migration by following these 5 simple steps:
Step 1: Register a new account or log in to the LitExtension website.
Step 2: Go to your account and click "Create New Migration" to begin.
Step 3: Set up your Source Cart and Target Cart: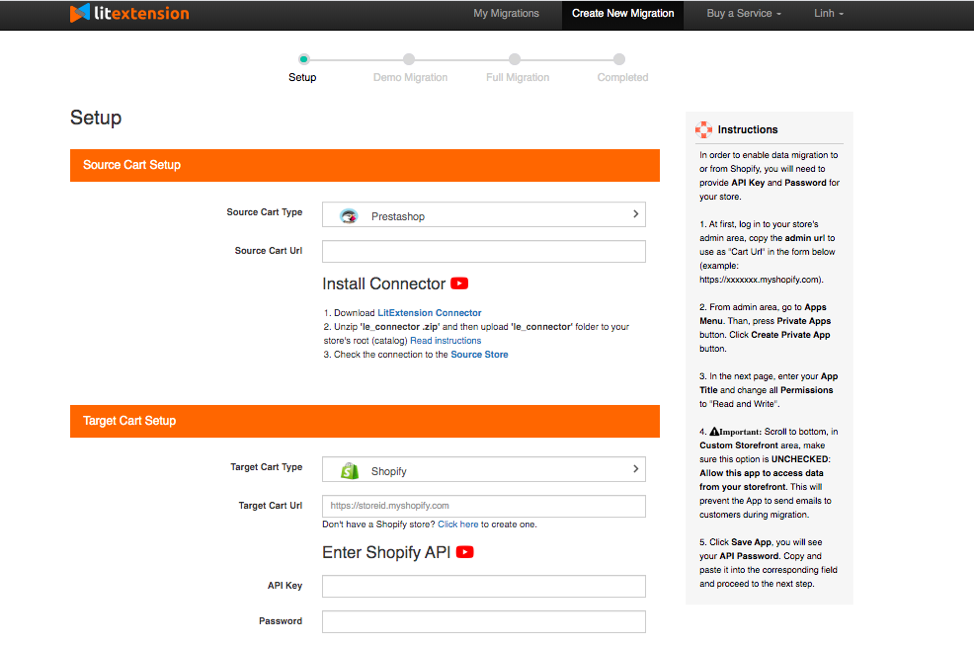 In this step, select your Source cart type and fill in the blanks following the instructions. Select Shopify as your Target cart type, then provide the target store's URL, your API key and password into the blank bar.
Step 4: Select entities you want to migrate
Choose entities you want to migrate. You can select either all of them together or certain data.
LitExtension also provides Additional Options here to extend your migration possibilities.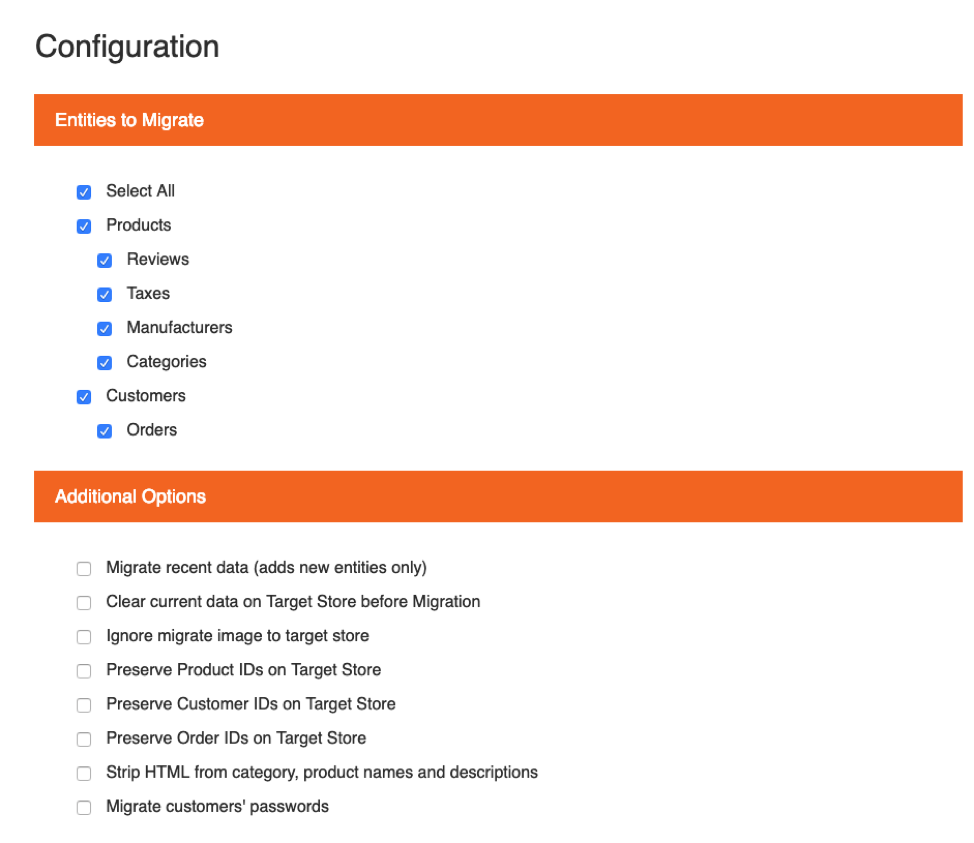 Step 5: Kick start the Shopify migration process
To Try Free Demo: Start your demo migration with a limited number of entities. You will see the same actions as the actual migration. However, you can skip this step by clicking the "Skip Demo Migration" button to immediately move forward to Full Migration.
To Perform Full Migration: Please click on the "Skip Demo Migration" button to perform full migration immediately. Please wait while the data is migrating, an email will be sent to you from LitExtension system after migration completed. Now, your data will be moved to Shopify.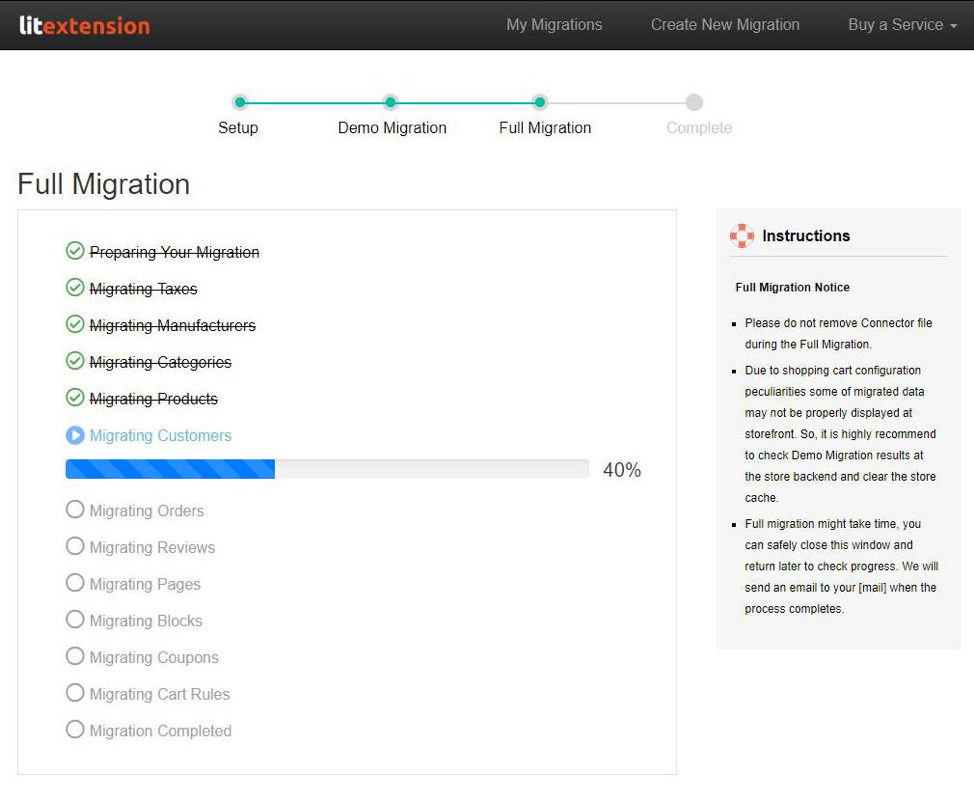 To have a better visualization about how a migration to Shopify is carried out with LitExtension, you can check our tutorial video below:

Protocol-independent assets and URL redirects
One of the most necessary considerations when migrating to Shopify is removing specific protocols and setting up URL redirects. The former ensures all your store assets (theme files, stylesheets, or images) are always accessible. On the other hand, the latter will minimize the risk of losing customers who return to a page and find it unavailable after you've migrated to Shopify.
If you've migrated your store to Shopify with LitExtension tool, you don't have to worry about this part. Our tool will automatically remove the protocol-independent assets and set up URL redirects for you during the migration.
However, if you move to Shopify by exporting and importing data or with the Shopify import store app, you need to perform these tasks manually.
Remove specific protocols from your assets such as http: and https: from their URLs.
Set up redirects: You need to set up URL redirects for pages that customers might have bookmarked. Here are the steps for you to follow:
Step 1: Log in to the platform that you're migrating from.
Step 2: Find the URL redirects section in your account settings. The placement of this varies by platform. If you're unable to find where to add URL redirects, search the Help Center of the platform you're migrating from.
Step 3: Enter your old URL in the "from" field and a new Shopify URL in the "to" field.
Step 4: Repeat this process for all the URLs you want to redirect.
Cost of migrating data to Shopify
After analyzing 3 options to migrate data to Shopify,  below is the pricing of each Shopify migration solution. This is among the most important considerations when migrating to Shopify. You need to calculate your budget when choosing a way to go:
| | |
| --- | --- |
| Solution | Price |
| Migrate data manually | Free |
| Use the Shopify Import store app | Free |
| Use LitExtension automated shopping cart migration tool – Basic Migration | From 59$ |
| Use LitExtension's All-In-One Service | From $149 |
The best solution to migrate to Shopify in terms of both performance and cost
Now, let's decide which way among the before-mentioned three is the best by examining their pros and cons:

So, you must have your own answer to the question: Which way is the most optimal when migrating to Shopify?
One important tip: If you are a tech-guru with a solid background of technical knowledge, go to the manual way or use the Shopify import app. If you don't have or only have little technical experience, LitExtension tool is the best for you.
What if you don't have time to perform Shopify migration by yourself?
In case you are busy and want someone to completely take care of your store migration, LitExtension's All-In-One Migration Service will suit you best. With this service, our data migration experts will perform the data migration and provide all the necessary customization for you. The main goal is to save time and minimize the efforts of e-merchants.
What to do after a full migration to Shopify?
After the Shopify migration, you have a lot of things to set up to complete your new store. You might not know where to start and consider what will be the first move. Don't worry!
We highly recommend you to follow this checklist to set up a Shopify store after migration. This will lead you through all the instructions step-by-step to create and customize a complete store on Shopify.
Conclusion
So, this is all the considerations when migrating to Shopify you might need to take into account.
When using the LitExtension tool, all your data will be completely transferred to Shopify without any error and all your considerations when migrating to Shopify will be well resolved.
Currently, we are supporting migration from 85+ shopping cart platforms to Shopify. You can check whether your platform is supported for the automated migration in our list of supported carts here. If your platform is not on the list, contact our team via live chat to make a request.
Here are the most 5 popular platforms that our customers mostly ask for migration to Shopify:
Should you have any concerns regarding Shopify migration, please leave us a message via live chat or join our Facebook website for further information!