In this retail age, businesses expand out of the traditional brick and mortar shops. E-commerce platform is growing at an unprecedented rate all over the world and changing our shopping habit. Now, the platform is the bridge between you and your customers, it plays an important role in facilitating your business' growth and profits. Therefore, you will want to make sure that your e-commerce platform is operating well or even want it to be better than that.
So, let's take a look at 5 signs it's time to change your e-commerce platform and check whether you are one of the "disappointed" business owners.
5 Signs It's Time To Change Your E-commerce Platform
1. Slow site speed
How long does it take your customer to load your homepage when landing on your site? New research by Google has found that 53% of shoppers will leave a site if it doesn't  load within 3 seconds. Common causes of sluggish loading websites include:
Too much images/ads/flash content
JavaScript issues
Unclear code
Insufficient hosting
Outdated or excessive third-party apps.
2. Lack of features or outdated software
At the beginning of a business life cycle, many merchants choose to use free or inexpensive platform to set up a basic store. However, as the business grows, these platforms might be a hindrance as they don't provide advanced store functionality of your needs to better your customer's experience. Or they may charge unrightfully high when you ask for updates.
3. Integration Problems
To develop a business, just your e-commerce platform is not enough. You may be selling across multiple sales channels. Therefore, integration is of great significance here to transfer data back and forth and manage your business activities. Unfortunately, different e-commerce platforms deal with multichannel integration differently in terms of speed, security, functionality and cost. If you are having problems with data integration in your current platform, it's time to consider re-platforming.
4. Too much maintenance
Are your developer team spending a lot of time fixing bugs that results in more bugs? This implies that you are wasting money and time and bugs also have negative impact on your customer's experience. Your software structure is actually responsible for this problem and if this is happening to you, it's necessary to switch to a better-built e-commerce platform.
5. Restricted capacity
Some platforms offer unlimited products, orders, variants,… while others set a cap. Be honest if you ever feel annoyed when you have to keep bumping up against the store limits. Or do you want to use a product configurator which allows your customers to design their own products? Remember that there are e-commerce platforms which are offering these features without charging any further cost.
What To Do Next
Above we have listed out 5 signs it's time for you to re-platform. If your website are facing more than one of these problems, you'd better move on with another e-commerce platform.
Many of e-store owners might fear moving to a new platform because it takes time, costs and requires you to migrate all your data. Hence, those merchants often avoid it for as long as possible. But, it's really a bad idea because the longer you postpone it, the more your sales will suffer.
Data migration now can be performed automatically and only takes a few hour with no technical skill required. More importantly, the source store works normally during migration, which means it isn't going to ruin your sales.
You only need 3 simple steps to migrate your data to your target store with LitExtension: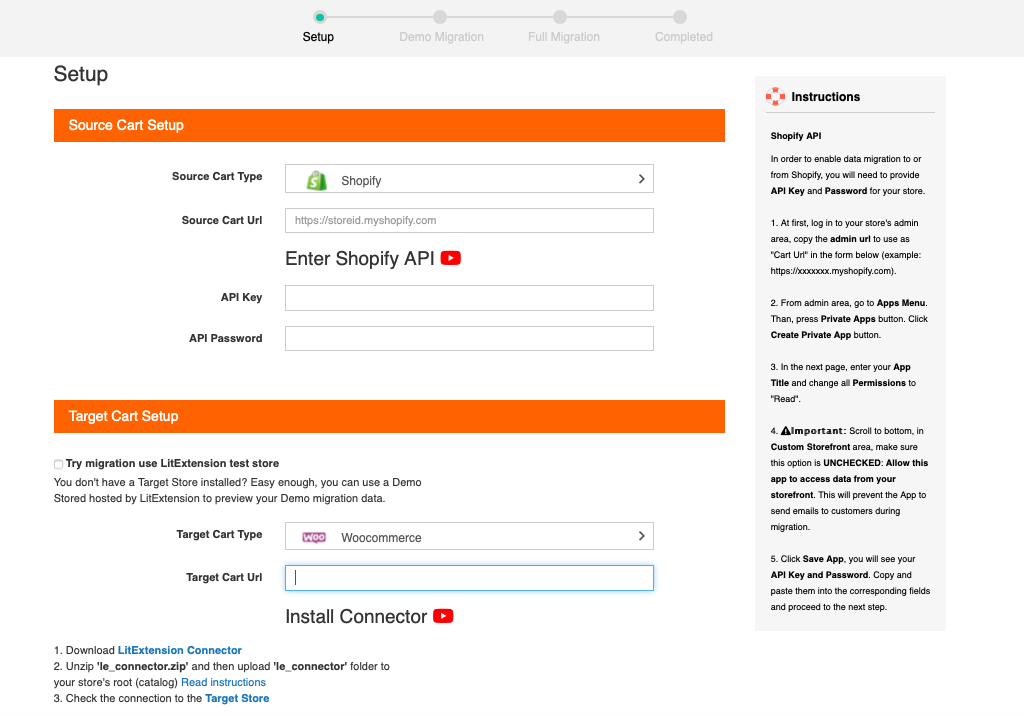 Input cart information
Select data to migrate
Perform migration
Check out in detail how easily our migration tool works and facilitate your business with your new powerful store.