Volusion has widely proved itself as an easy-to-use eCommerce platform, which is a good solution for creating online businesses. However, with the breaking news related to bankruptcy, it may come as a shocker to many store owners.
At this time, choosing the right Volusion alternatives can be overwhelming for merchants. If you are still considering which platform is suitable for your store, you are already in the right place.
In short, some Volusion alternatives that we highly recommend are:
Shopify
Bigcommerce
X-cart
In this article, we will walk you through the outstanding points of each platform compared with Volusion and the step-by-step guideline to perform your Volusion migration smoothly.
Why is it time to migrate from Volusion?
1. What are the Volusion limitations?
Performance
The website's performance is determined mainly by its loading time. Sluggish loading times along with the "can't reach" status will bring unpleasant experience to customers. This is a reason why many merchants have to switch their platforms to avoid this issue. In simpler terms, the faster the loading speed is, the more likely customers will stay in your store.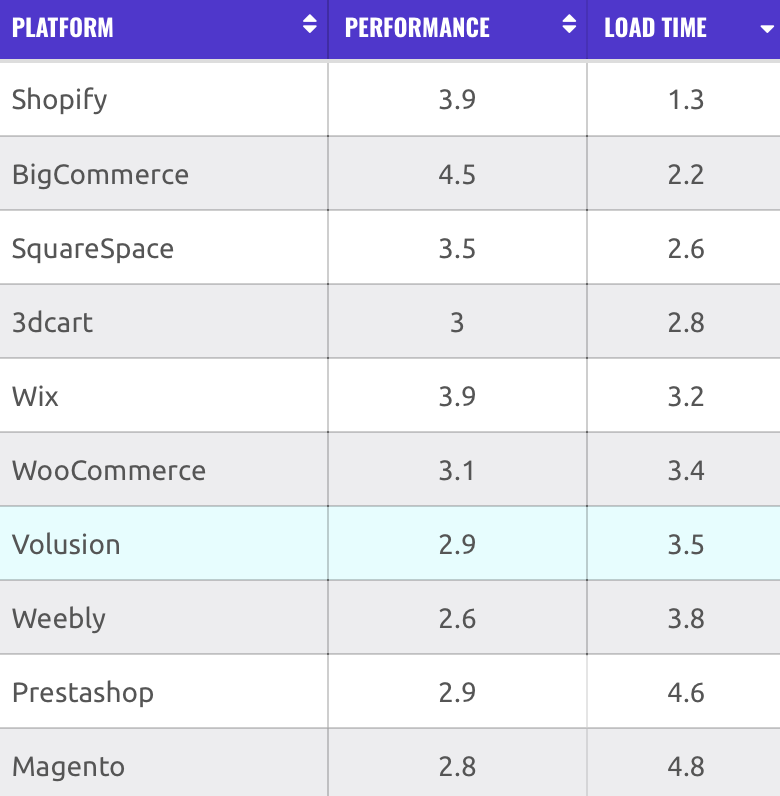 Regarding eCommerce platforms, speed is money. Overall, the average load time is 3.2 seconds while Volusion stays at 3.5 seconds, which is far behind compared with other competitors.
Design and Themes
To date, Volusion offers 11 free and 34 paid themes which cost you $180 each. Different from other platforms, Volusion charges the same price for all templates, which is quite expensive.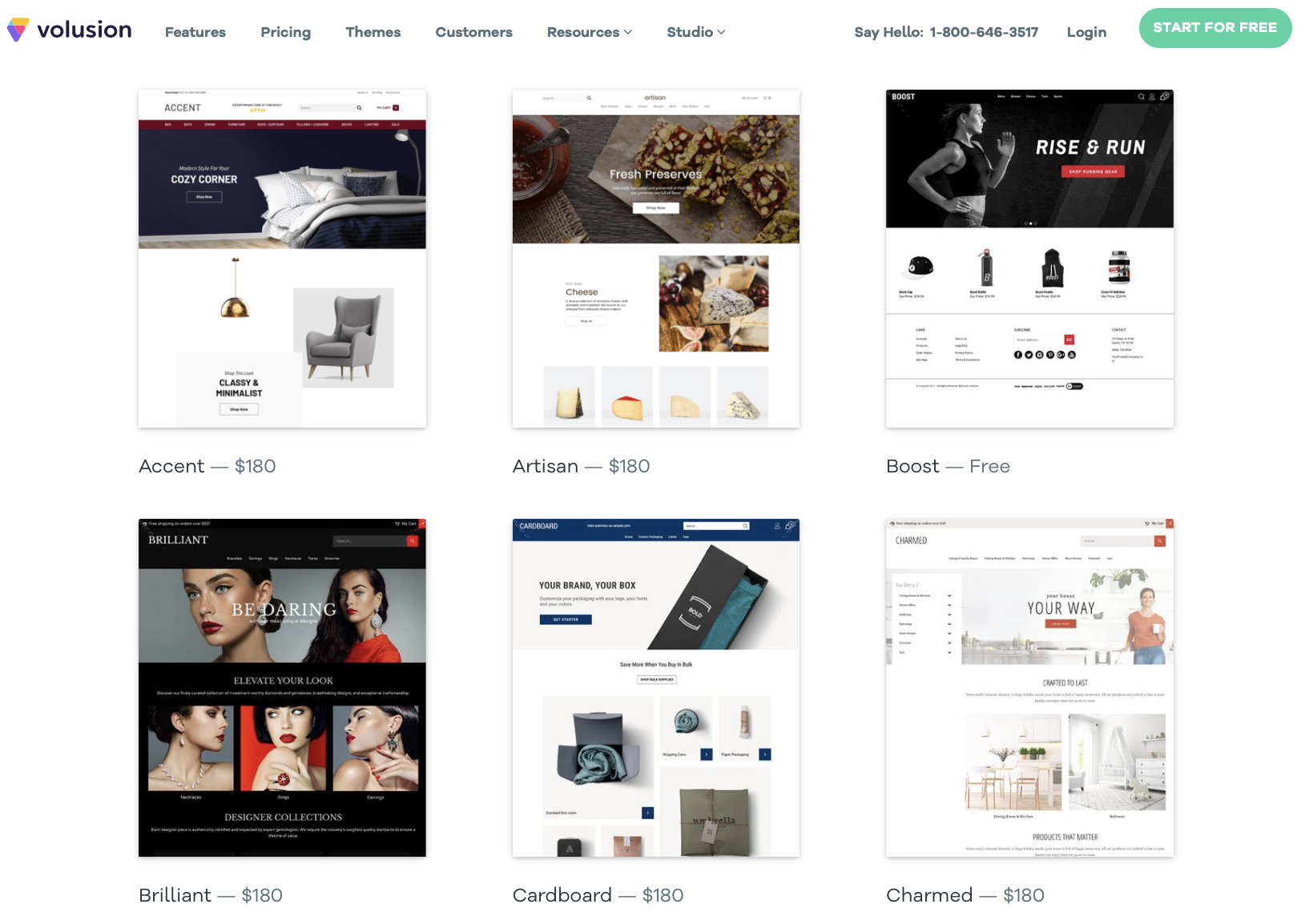 Unlike other eCommerce platforms, Volusion templates are all hard-coded and set-up in a structure that is hard to browse. It's fine to edit if you have strong CSS or HTML skills, but it's really not a fit for someone who doesn't have technical knowledge. Plus, it simply has no "drag and drops" features to make up for the lack of templates.
Add-ons & Extensions
There are fewer apps and plugins available with Volusion than there are with other platforms. Notably, only 20 apps are provided for you to integrate with and extend the functionality of your store.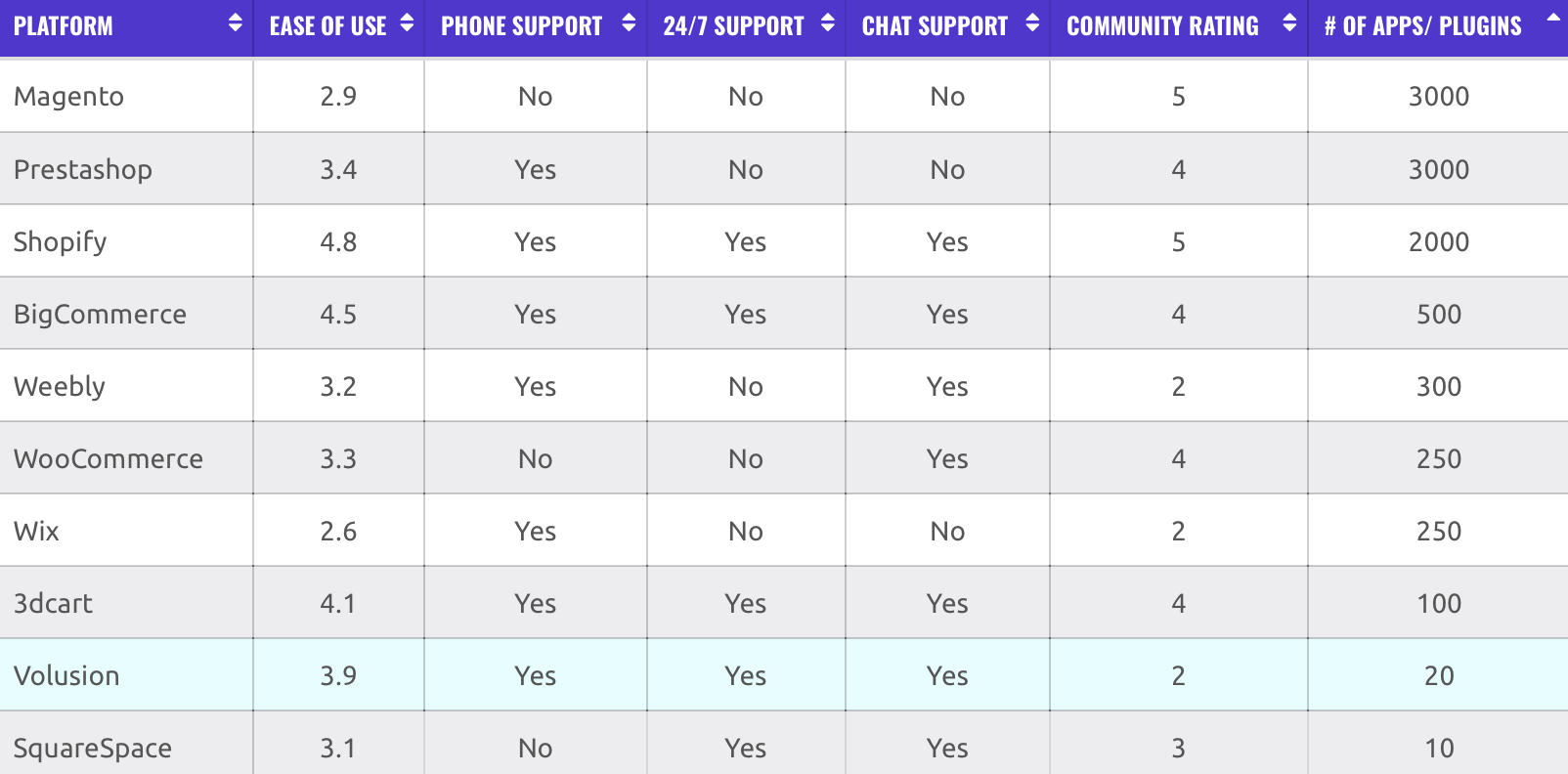 That said, Volusion is certainly expanding the feature set, but there's no strong app store or giant list of amazing features. In other words, it has a feature set to start your store, but nothing to add-on and adapt. Thus, for a small store's merchant who wants to choose an inclusive platform and avoid developer fees, Volusion is not an optimal option.
2. Volusion's bankruptcy and migration trend
Volusion has filed for bankruptcy due to a hacking breach, which is the shocking news for various online store owners. This is a reason why many merchants at that moment need to prepare for their transfer as well as search for a new platform.
Recently, more and more users are leaning towards moving to three Volusion alternatives eCommerce sites: Shopify, BigCommerce, and X-cart. Specifically, according to BuiltWith statistics, Volusion has lost 3,300 and 972 customers to Shopify and BigCommerce, respectively.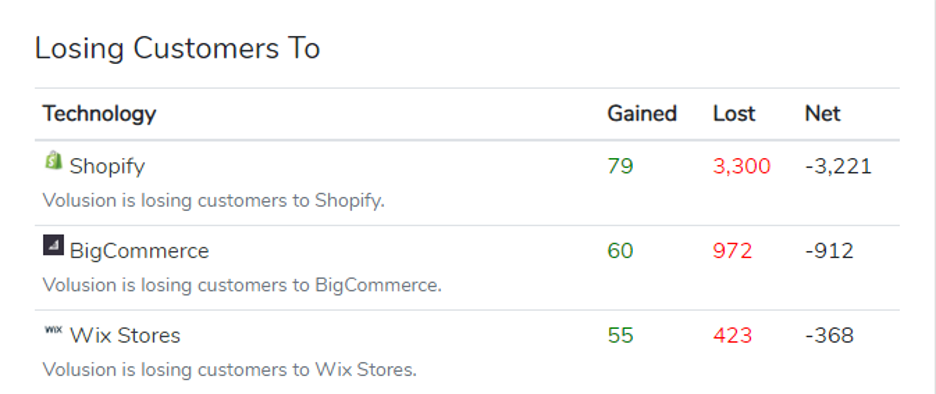 Regarding X-Cart, it is known as a rising star in the eCommerce industry. Until now, there are more than 4,600 live X-Cart websites globally. And according to Google Trends, merchants are paying more attention to the keyword "X-Cart" in the last 12 months.
What are the top 3 Volusion alternatives?
1. Shopify
With 1,546,770 live websites, Shopify has embedded itself as the biggest name in the eCommerce market. Looking at its popularity, it's not wrong to say that Shopify is one of the best Volusion alternatives. Let's take a look at our detailed Shopify review for more information.
Basically, Shopify is a perfect option for building your own online store without any technical know-how. Apparently, this platform would definitely overweight Volusion in terms of various aspects.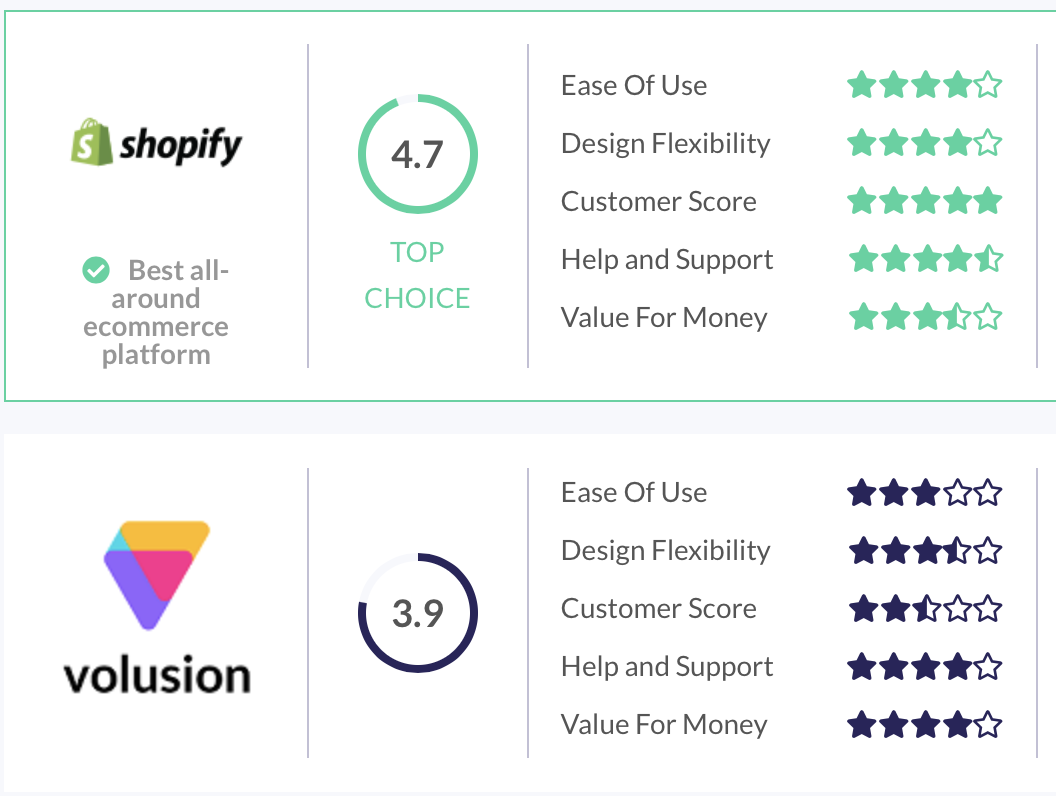 Why is Shopify better than Volusion?
It is undeniable to claim that Shopify is an outstanding website thanks to its fast loading speed. With only 1.3 seconds, Shopify totally surpasses Volusion by 2.2 seconds faster.
Regarding the number of templates, Shopify is offering 73 themes including 9 free options and 64 premium ones range from $140-$180. Besides, each theme has specific variations. Thus, you are getting more than 100 different designs. Not only does Shopify provide more templates compared with Volusion, but they also cost less on average, too. It seems a better deal for choosing Shopify, right?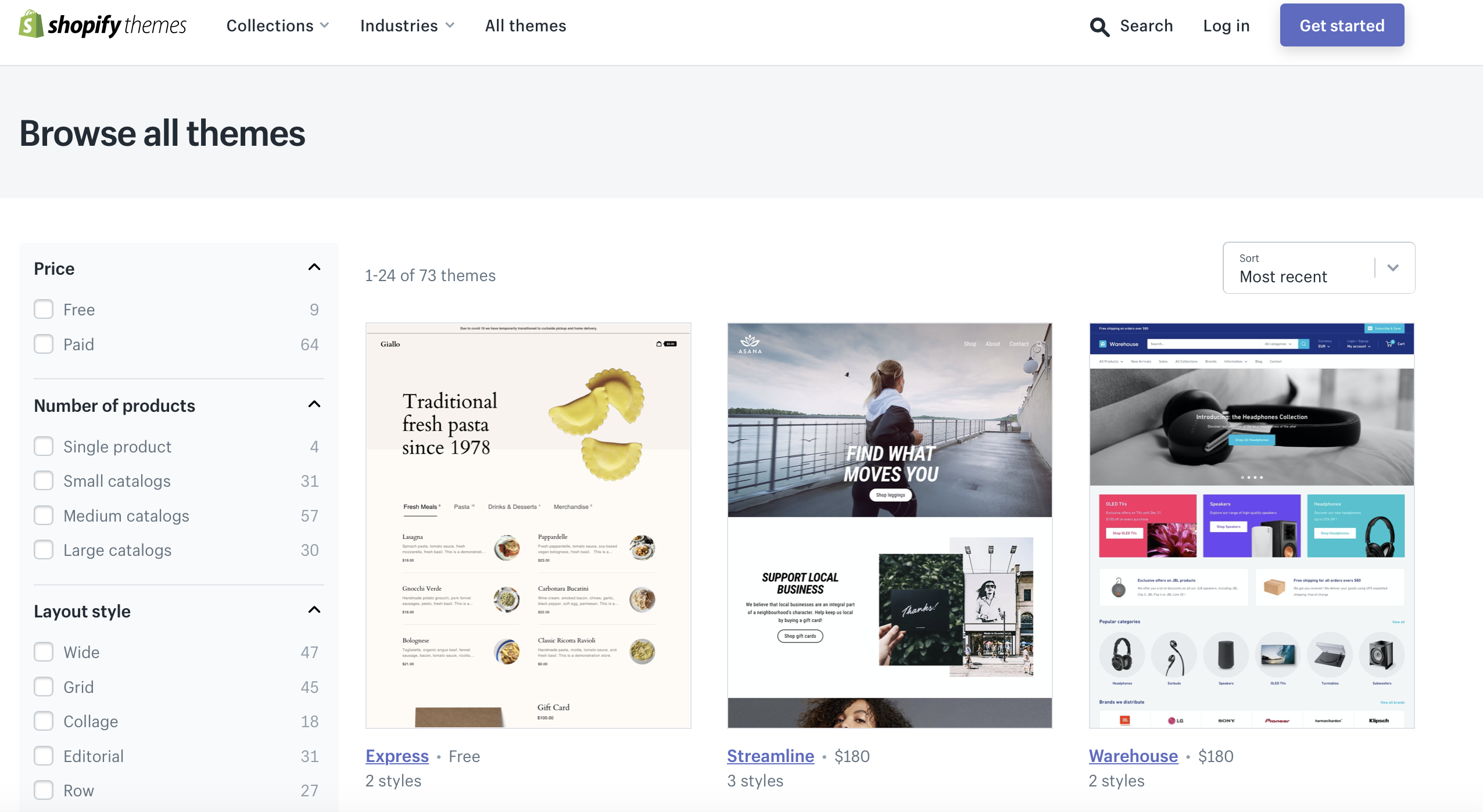 Plus, these templates are mobile responsive, so they look good on any screen size, and they're suitable for almost any type of business. Additionally, Shopify also comes up with a useful 'product zoom' function, so you can make edits on the move with their mobile editor.
In fact, when it comes to integrations, Shopify outshines Volusion and most other eCommerce solutions. Currently, Shopify offers over 1,200 different add-ons so you can easily scale up your store anytime you desire. Go through Shopify App Store, you certainly find the extensions you're looking for.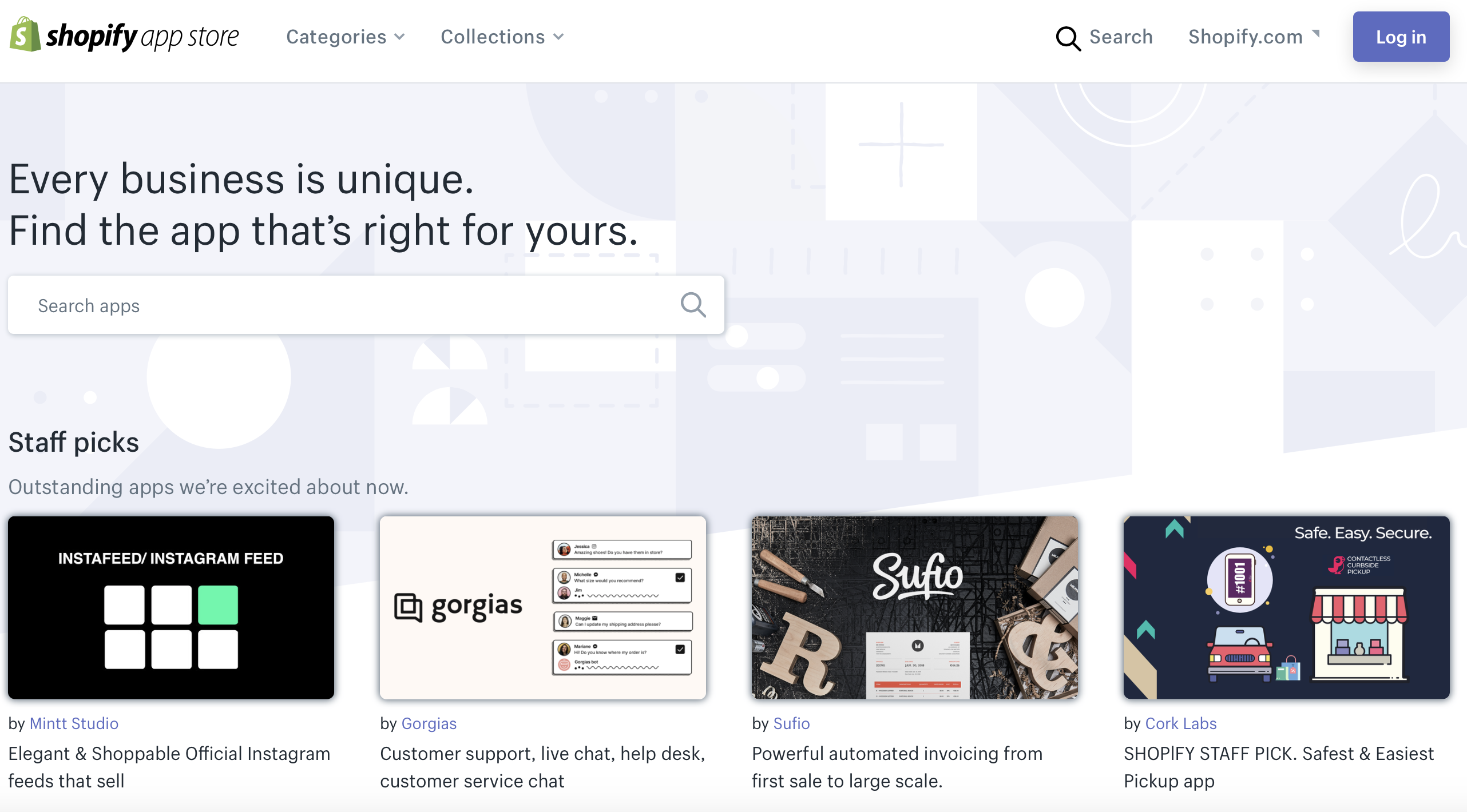 The add-on apps vary widely from shipping, marketing to accounting aspects, which help your store become more powerful. Particularly, Plugin SEO is one of the best free Shopify apps that you have to notice. With this app, you can find and fix SEO issues to gain more traffic to your online website.
In terms of security, you can protect your account with two-step authentication. Enter your account password first and then verify through a mobile app, SMS message, or biometric sensors.
Furthermore, for effective data protection, every Shopify store is equipped with a free 256-bit SSL certificate. Also, all stores using Shopify platform are automatically PCI compliant by default. It means that they are equipped with data encryption tools, protection of Shopify payment transfers, prevention of viruses at the servers, risk analysis tools as well as constant security monitoring.
Other Shopify plus points
Ease of use: The user's manipulation is much easier than Volusion. With a few clicks, you can start your online business with Shopify. It always keeps the editing interface really easy by providing lots of visual cues and a clearly labeled 'undo' button. Whereas, Volusion is quite tricky to navigate, with no obvious cues or simple navigation menu.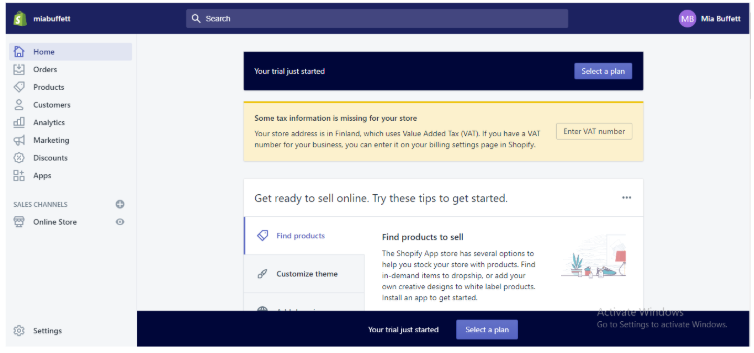 Customer support: Shopify provides 24/7 phone and live chats and email and social media support. You can freely select the best option for you.
Payment gateways: Shopify offers a range of payment gateways including 100 partner gateways including PayPal Stripe, Apple Pay,…
Multi-channel selling: Shopify has over 20 channels available for integration. So you can sell on both Facebook, Amazon, or eBay easily with Shopify.
Impressive inventory system: Shopify inventory system allows to track orders, and update the stock list simply. Moreover, you can even monitor your storage rates along with label items when they are running out automatically.
Shopify cons
Limited customizability and flexibility: Due to a hosted platform as Volusion, you are not given full control over website editing.
Transaction fees: With Shopify, you have to pay transaction fees ranging from 0.5% to 2% of each sale you make depending on the plans you choose. And of course, you can avoid this by using its payment gateway – Shopify Payments.
When switching themes, your content doesn't automatically reformat.
Because Shopify comes with fewer features out-of-the-box, you'll probably have to pay for more extensions.
To clearly understand the differences between Shopify and Volusion, you should take a look at our comprehensive comparison right here. If you want to migrate from the Volusion store to a new Shopify one, please follow these detailed steps.
2. BigCommerce
Another Volusion alternative that I highly recommend is BigCommerce. To date, BigCommerce is home for 49,795 online stores. Specifically, some of the big brands are using this platform such as Toyota, Kodak, and Ben & Jerry's, etc.
BigCommerce is well-known as a robust platform with many built-in features, many support methods, and also high security. Although this is a hosted platform, its open SaaS allows you to flexibly apply new features and tools to your site.
So now, do you want to find more information about Volusion vs BigCommerce? Let's do it!
Why is BigCommerce better than Volusion?
Regarding loading speed, BigCommerce stays at second place among various platforms with 2.2 seconds, which is much faster than Volusion.
Recently, BigCommerce is providing 12 free templates and 100+ paid options which cost from $150 to $300 each. Particularly, the way it approaches themes is nearly similar to Shopify's strategy. You can simply design your store's look by choosing and applying many different nicely-designed templates to your store with just a few clicks.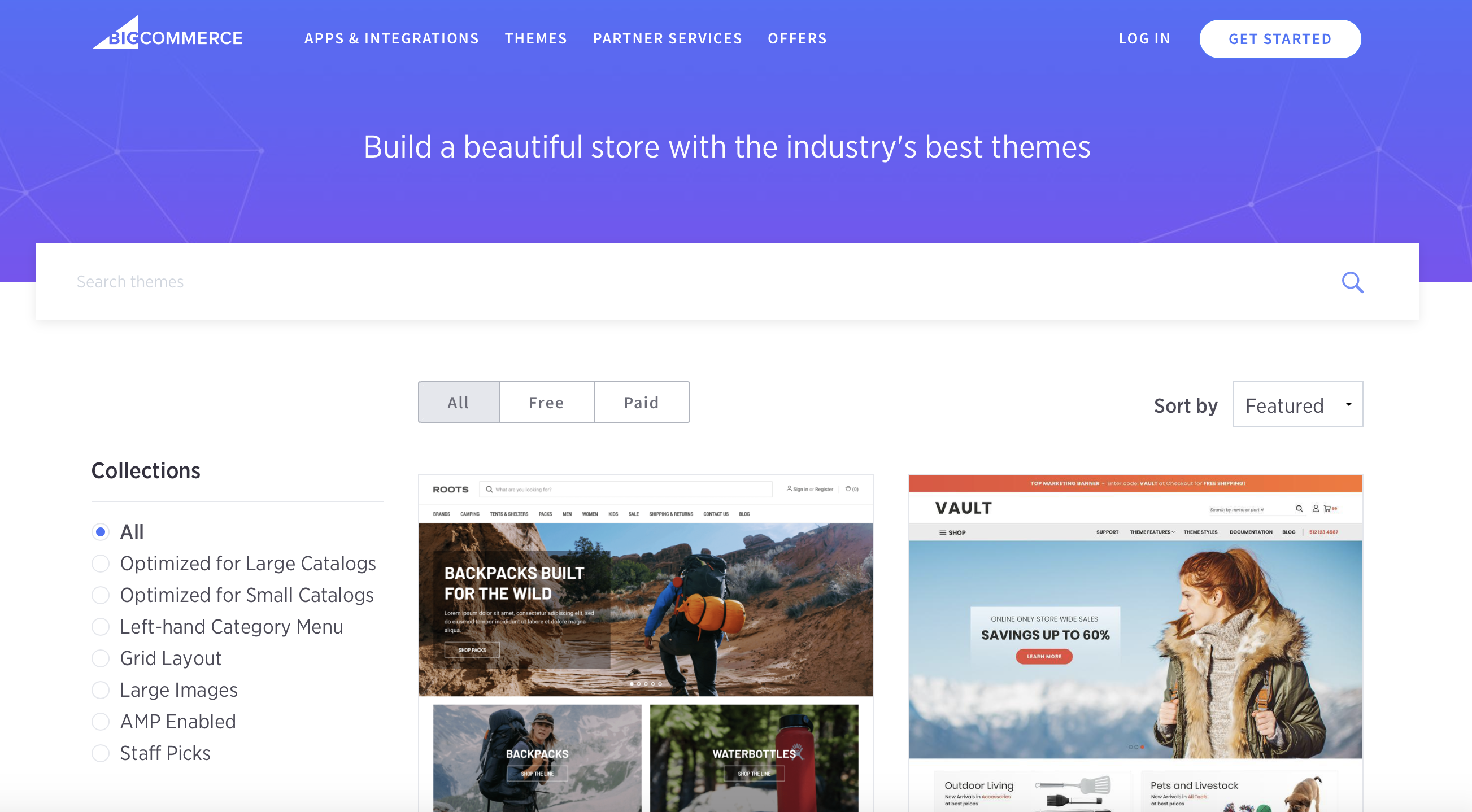 Besides, both of them are mobile responsive and easy to customize with the help of Stencil – BigCommerce front-end development framework. Plus, it helps you integrate with state-of-the-art practices in technology, design, conversion, and SEO.
Plus, Both Volusion vs BigCommerce have app stores, but BigCommerce users can benefit from a much larger range of apps than Volusion ones. At present, it supports over 600 apps which range from different categories such as Marketing, Analytic & Reporting, Payment & Security and Accounting, etc.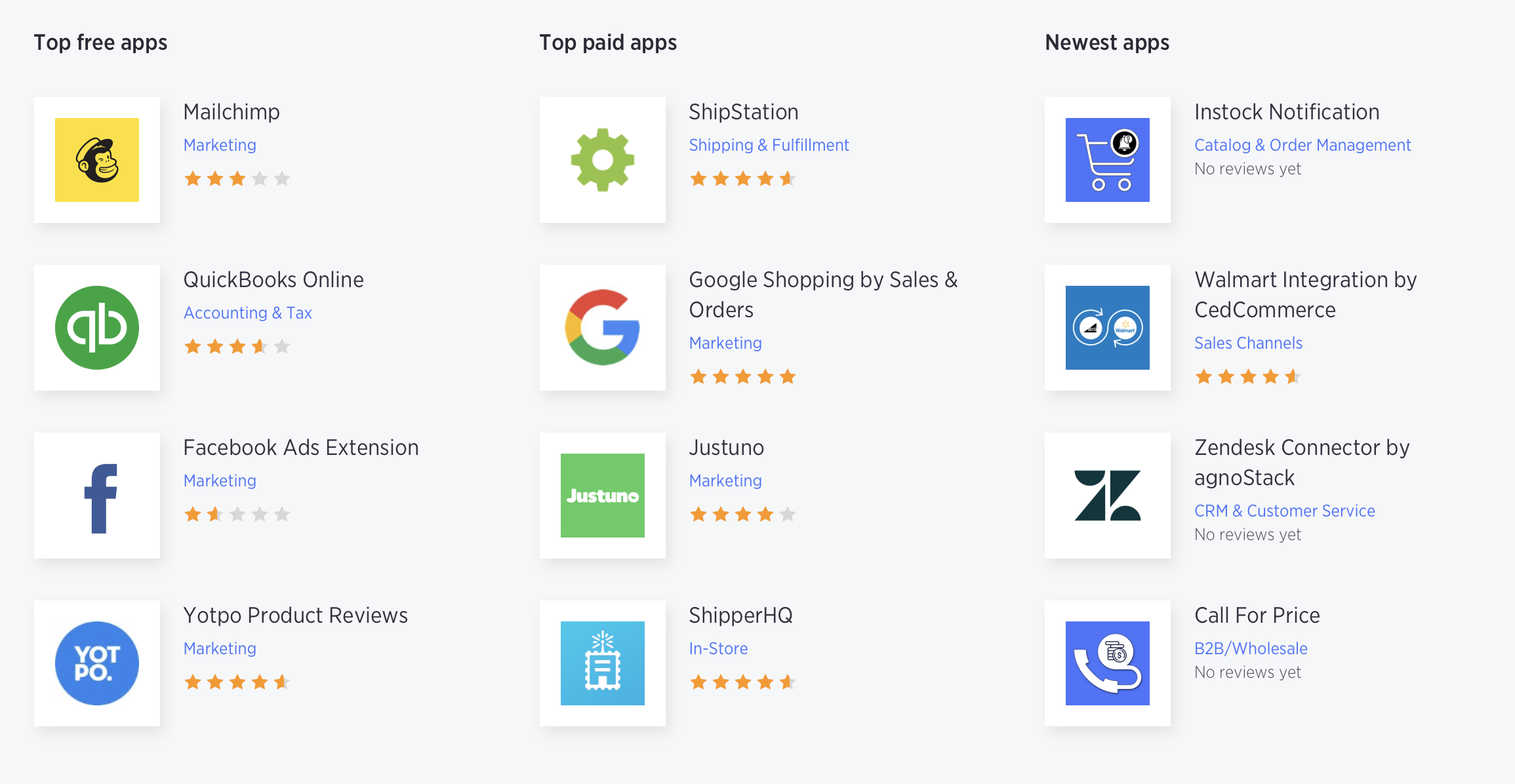 Some of these are available, whereas most are for purchasing. MailChimp is one of the most famous extensions in the BigCommerce Apps store, which is free to install. Its outstanding feature is automatic product recommendations based on customers' previous purchases. Also, BigCommerce also offers some excellent native integrations with popular marketplaces like eBay, Amazon, and ShipperHQ.
BigCommerce provides a secure shopping experience for customers by keeping their security systems up to date with the best practices. Same as Shopify, BigCommerce includes the SSL certificate within every plan. Plus, in order to secure payment card transactions, BigCommerce servers are PCI DSS 3.2 certified at Level 1, which protects against credit card data breaches.
Other BigCommerce plus points
Easy of use: BigCommerce has a slightly more intuitive interface than Volusion. It allows easy navigation on its interface, everything is quite smooth.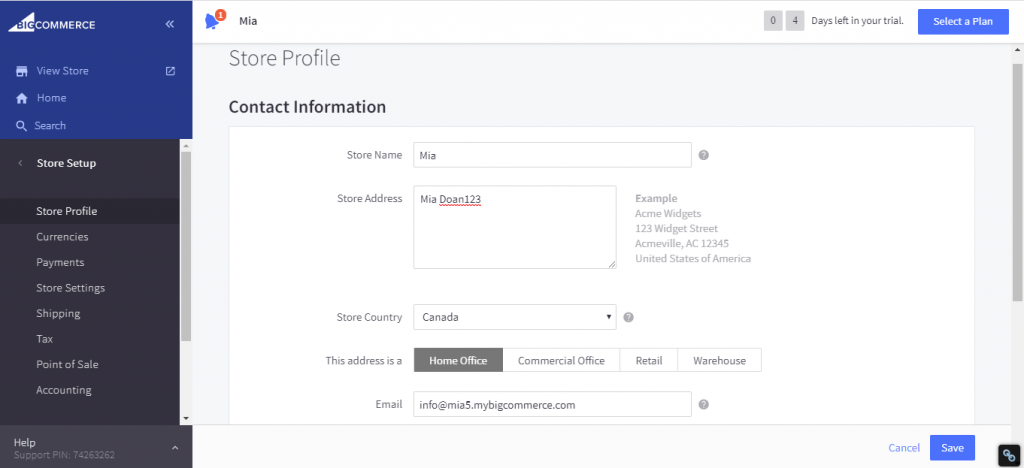 High scalability: With an open API, BigCommerce enables developers to create a totally customized user experience for their customers. Plus, BigCommerce ensures 100% uptime, which means your store will maintain the normal loading speed during peak periods.
Powerful built-in features: BigCommerce has the largest amount of built-in features in comparison with other website builders. This means less hassle and less cost because you don't have to worry about using third-party apps.
Excellent support: You can easily contact for 24/7 support right from the dashboard, including phone, email, and even live chat. They also offer support from its user community where you can discuss any issue and search the questions.
No transaction fees: BigCommerce not only provides a various choice of payment gateways serving over 100 countries, but it also doesn't charge any transaction fees.
BigCommerce cons
BigCommerce platform uses various tech terms, which is not easy to handle for non-technical people. If you are not tech-savvy, you may need help from Google to understand all the terminologies, even when performing basic tasks such as adding new products.
Implementing annual sales threshold: Once you reach a certain level of sales, you must upgrade to the higher BigCommerce plan.
3. X-Cart
At this time, X-Cart has been an emerging shopping cart in the market. Unlike the two previous brand names above, X-Cart is an open-source eCommerce platform that presents itself as the ideal solution for online merchants who want to full control over its software and get support for a vast number of products.
X-Cart receives a lot of good reviews from customers related to its ease-of-use, service or features, etc. And overall, it gains a very respectable rating of 4.5/5 on Capterra review.
Why is X-Cart better than Volusion?
X-Cart teams conduct a test to measure its loading time with an X-Cart store of 2000 products, 1000 categories, 1000 users, and 1000 orders. And the page load times given are quite acceptable:
Home page: faster than 1.5 second
Category page: faster than 1.5 second
Product page: faster than 2 second
Moreover, this is how the customer talks about the performance of X-Cart:
"This was a very good decision. Previously, I was running on a dedicated server but its performance on the X-Cart virtual server was significantly faster." (Source: Capterra)
With X-cart, you have 45+ eCommerce website designs both free and paid to choose from. The price is also more affordable compared with Volusion, which fluctuates from $99 – $175.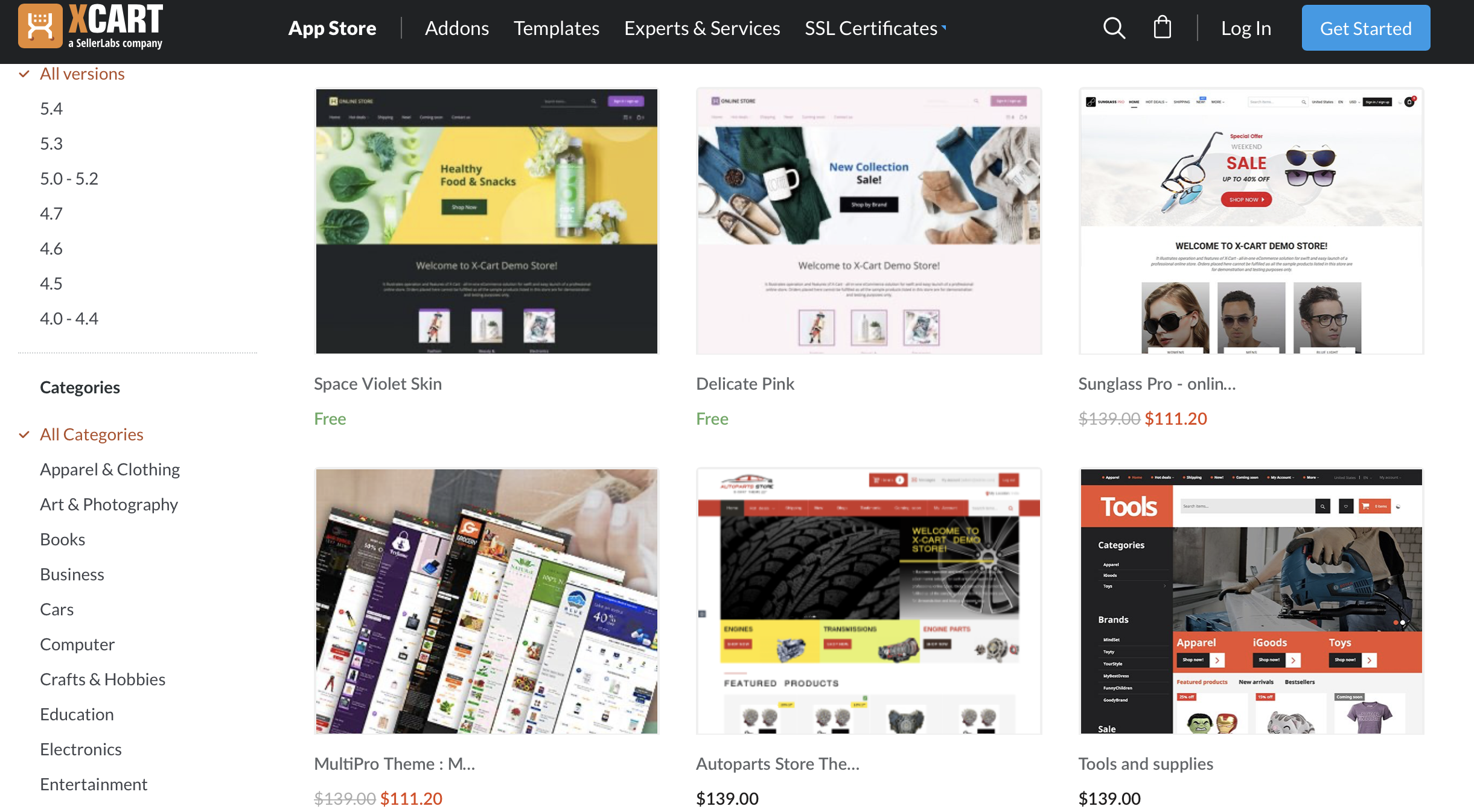 All these templates are 100% mobile-friendly and especially 100% open source. In other words, you can select a desirable theme and easily customize it to reflect your brand as well as appeal to the viewers. It is quite different from Shopify, BigCommerce, and also Volusion.
Plus, X-Cart supports REST API, which means X-Cart can be integrated with virtually software or service. All of X-Cart add-ons and extensions are available in the marketplace.
There is a various number of integration systems, so you can select which one is suitable to perform your online business better:
400+ payment gateways.
Shipping carriers and fulfillment companies.
Fraud check and prevention.
Accounting systems.
Extra sales channels (Facebook, Instagram, Twitter,…)
Tracking and statistics (Salesforce, Mixpanel,..)
Social media channels and messengers.
Customers care systems and chatbots.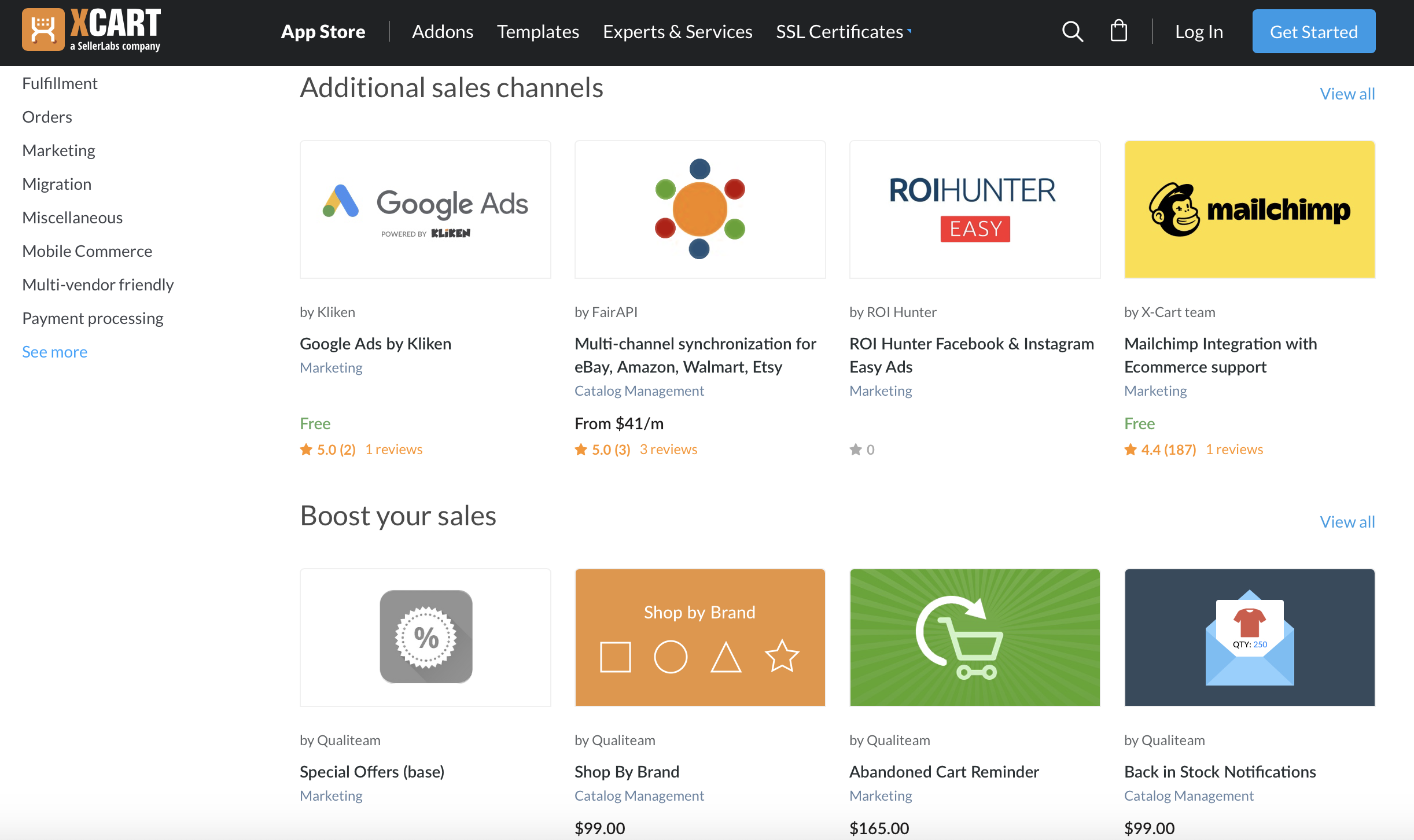 The last point, X-Cart states itself as PCI compliance, however, you still need to buy an SSL certificate to encrypt your site. There are three plans for this certificate offered by X-Cart, which starts at $84.50/year.
You can follow these steps here to set-up your X-Cart store security that helps minimize the threat of fraud and instill trust within your customer.
Other X-cart plus points
Customer service: X-Cart provides many options for supporting customers such as 24/7 phone, live chat, email,… and tickets, which put this platform ahead of Volusion.
Advanced features: Unlike Volusion, X-Cart concentrates on your store maintenance and security features like product database, SEO, online marketing as well as a loyalty program for customers. They will help you to manage and scale the business performance in the future.
X-Cart's community: This consists of very active users, eCommerce professionals, and also developers. Many queries and issues are answered and resolved daily on this forum.
X-cart cons
Monthly payment: You have to pay for the hosting service monthly. Recently, X-Cart offers a selection of hosting packages from $29.95/month to $399/month.
Technical skill requirement: When trying X-Cart, you will have to take care of the download and installment by yourself. It may be a challenge for those merchants who are not confident with development skills. Plus, when customizing your site, you'll need to know CSS, or at least know someone who can help you with it.
Payment for customer support: For most eCommerce platforms, you will receive 24/7 customer support, all without having to pay any extra fees for it. However, actually, you need to pay for X-Cart's service if you need their help.
To get more information about X-Cart and Volusion, please read our comparison article to get more detailed information.
How to perform Volusion migration successfully?
Now, it's time for you to take the Volusion migration process into account.
The most advanced solution to move away from Volusion is to use LitExtension – an automated data migration tool. All your databases including products, customers, and orders will be transferred accurately and securely to another shopping cart. You absolutely make your migration project quicker and easier than ever!
You can follow 4 simple steps to smoothly perform the Volusion transferred.
Step 1: Register an account or Sign In on the LitExtension website. Next, Click "Create New Migration" at the top right on the screen.
Step 2: Select Volusion as your Source Cart then choose the Target Cart Type. After that, enter your store URL and the API password (if needed) to the blank spaces correspondingly.
Step 3: Choose entities you want to migrate. You can either tick all types of data or only tick the necessary categories you want, which depends on your purpose.
Step 4: Perform Full Migration. Just take a break while waiting for the process. And you're done!
Final Words
In this article, we have discussed three Volusion alternatives, both their pros and cons, and how they deal with the Volusion's limitations. Generally, depending on your requirements, your objectives, and also your capability, you can choose the most suitable eCommerce platform for your store.
Recently, with the bankruptcy of Volusion, it's urgent to re-platforming from this shopping cart. We highly suggest using LitExtension – the World-leading Data Migration Service to switch your site because of simplification, effectiveness, and saving time.
Plus, if you don't have enough time or technical skills to perform the Volusion migration by yourself, All-In-One Migration is the best choice. It is a one-time payment service where our experts will take care of the whole project from top to bottom with the highest accuracy and security.
I hope you will find this article helpful to you in some way. Gook luck with your migration!