Subscription is an emerging business model applied by many merchants, especially in the eCommerce field thanks to its advantages. Merchants selling subscription services in eCommerce can gain customer loyalty, enhance marketing opportunities, improve financial forecasting capabilities, and bring customers more convenience. If you are following other business models and now you want to move to a subscription-based one, you might want to know the exact answer to the question: "Which is the best subscription eCommerce platform?"
In this article, we will walk you through an analysis of the most popular subscription eCommerce platform. Here are the best subscription eCommerce platforms in 2020:
WooCommerce
Shopify
Magento
WIX
Subbly
Sellfy
Recurly
Let's dive in!
What is a subscription eCommerce platform?
A subscription eCommerce platform is a system that empowers merchants to sell products or services online, having payment gateways integrated that let you bill and invoice customers periodically. These platforms can help you to collect subscription fees from customers on a weekly, monthly, or annual basis effortlessly.
A subscription eCommerce platform must have some basic features as follows:
Create and manage subscriptions
Automatically collect payment from subscribers on a recurring basis
Allow subscribers to suspend, cancel, and renew their subscription
Best Subscription eCommerce Platform
1. WooCommerce
Without a doubt, WordPress is the number one website builder with over 1.3 billion active websites, accounting for 35% of the total number of websites on the Internet. As a result, WooCommerce Subscriptions is the most popular tool to quickly bring subscription capabilities to your eCommerce website.
In essence, WooCommerce Subscriptions is not a standalone system, but a WordPress plugin. That means you need to have a WordPress website first in order to install WooCommerce and WooCommerce Subscription. Luckily, WordPress is a free CMS, you just need to pay for hosting and domain to quickly own a website or a WooCommerce WordPress theme. However, WooCommerce Subscriptions plugin is not free at all. You will have to pay $199 per year to buy the plugin and access its full features.
Features
Support both simple subscription products and variable subscription products: each variation in a Variable Subscription can have a different sign-up fee, trial period, Recurring price, Billing period, Subscription length.

Product types in WooCommerce Subscriptions

Integration with over 33 payment gateways: By using WooCommerce Subscriptions, you can offer your subscribers a variety of payment methods, including all the popular ones such as PayPal, Stripe, Authorize.net, Amazon Pay,… You can have a look at the list of payment gateways below:

Supported Payment gateways in WooCommerce subscriptions

Support automatic payment: With automatic payments, a recurring payment is charged without any involvement from the store owners or customers. This is not only convenient for subscribers but also beneficial to suppliers. Suppliers do not have to put effort into persuading customers to stay with them. By default, the payment mode is automatic payment. If your payment gateway does not support automatic renewal, you still have a manual renewal option, which means a subscription is suspended until the customer logs into your store and pays to renew the subscription.
Built-in renewal notifications and automatic emails: this feature lets you and your subscribers know when subscription payments have been processed and when the next payment occurs.
Detailed reports: This allows you to keep track of your upcoming revenue, the number of active subscribers, cancellations, retention rate,…
If you are using other subscription eCommerce platforms, such as ReCharge to sell subscriptions on Shopify but now you want to sell on WooCommerce, LitExtension supports not only Shopify to WooCommerce migration but also migrating subscription data to WooCommerce Subscriptions Plugin.
2. Shopify
Natively, Shopify is not a subscription eCommerce platform as it has no built-in features for subscriptions. However, there are still dozens of third-party apps providing this function on Shopify App Store.
To sell subscriptions on a Shopify, you need to create a Shopify store first. You will have 14 days free trial, and after that, you have to choose a premium plan to pay. Shopify has 3 main different pricing options for you to choose from, which are Basic, Standard and Advanced: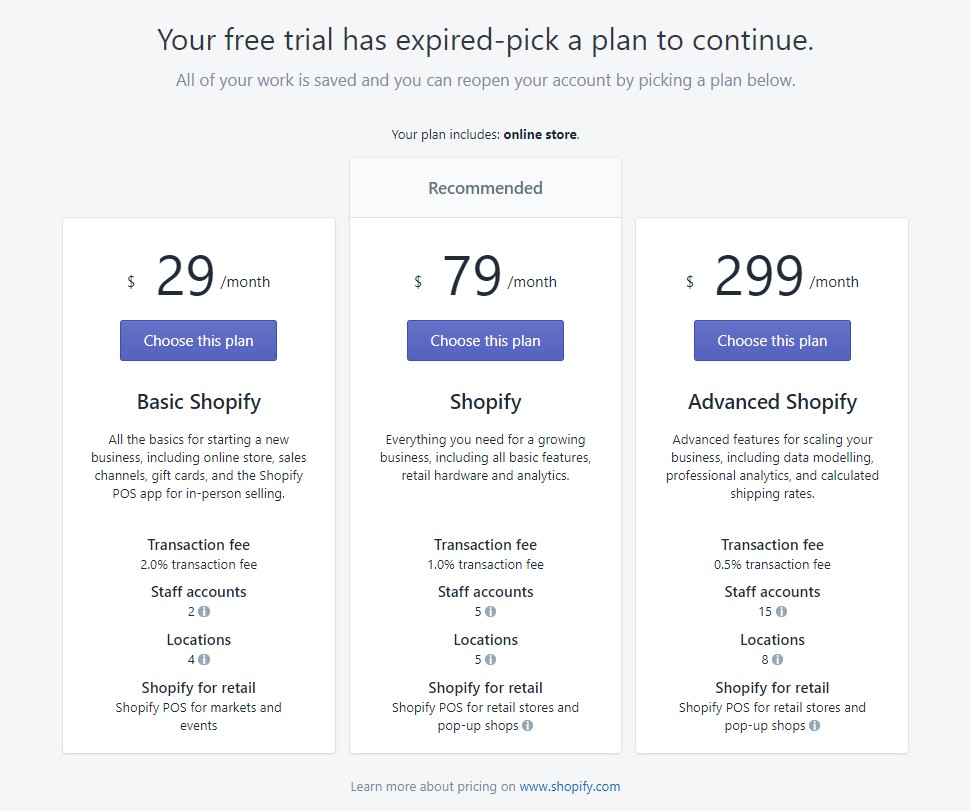 As a merchant on Shopify, you need to choose and install a subscription app (just in a few clicks), and then your eCommerce store can sell any subscription products or services that you want. The most recommended Shopify apps for subscription are Subscriptions by ReCharge and Bold Subscriptions.
Bold Subscriptions
Bold Subscriptions is an official Shopify solution for merchants selling recurring orders & subscription boxes. By using this app, you can create your own unique subscription that renews payment at whatever interval you want. Similar to other Shopify Apps, you can integrate Bold Subscriptions with your Shopify store within a few clicks.

Moreover, Bold offers a bunch of features to help you manage your subscriptions and business performance:
Forecast revenue and inventory with automated projections
Access robust analytics and powerful reports
Automatically send emails to notify you when you have low inventory for upcoming orders.
Get full control over language and styling from product pages to checkout.
Connect with major payment gateways for auto-payment renewal.
Reduce unsubscribes with custom cancellation flows that offer incentive or alternatives when people go to cancel.
Integrate with other apps in Bold's ecosystem to enhance your subscription.
Bold Subscriptions has 2 premium plans, which are Essentials and Advanced. You can consider choosing between those two based on the featured offered:

Subscriptions by ReCharge
Similar to Bold Subscriptions, Subscriptions by ReCharge is also exceedingly popular to Shopify store owners due to its comprehensive subscription solution. However, in the Standard plan, Recharge is free to use through the first $100,000 in processed orders. Once that threshold is crossed, Recharge has a base cost of $39.99 per month plus 1% + 5¢ on all transactions. The 1% fee for Recharge is only based on what was charged during checkout, without shipping or taxes.
By default, ReCharge applies a subscription rule to an entire product, including the variants. In case you want to offer your customers the subscription option on a specific variant, you may need support from a developer.
Using ReCharge, merchants can get access to the following features:
ReCharge enables customers to manage their own subscriptions
Merchants can control every aspect of their subscription product offering
Fully customize your subscription experience via advanced features such as enhanced analytics, theme engine, upsells.
Moreover, ReCharge allows you to get access to ReCharge API, webhooks and custom workflows to solve complex subscription needs. The ReCharge API allows your developers (or a ReCharge certified partner) to create essentially anything you would like.
In case you are running a subscription-based business on other eCommerce platforms, you can switch to Shopify and use ReCharge to sell and manage your subscription data. LitExtension can help you migrate to Shopify automatically and transfer your subscription data to Shopify ReCharge app at the same time.
3. Magento
Similar to Shopify, Magento stores do not support selling subscription products and services natively. Therefore, you have to install an extension from Magento MarketPlace to make Magento a subscription eCommerce platform (If you have not had a Magento store yet, you can learn how to install Magento 2 here).
Magento Open Source is completely free, but you still have to pay for hosting and domain just like WooCommerce. Since Magento is a platform that requires technical knowledge, you may have to pay development costs if you are not a tech person.
Amongst tons of subscription extensions, we would love to recommend you Subscriptions & Recurring Payments by Magenest. In order to download and install this Magento extension, you have to pay $249 and an additional installation fee of $50 if you want Magenest team to install it for you. However, this is a one-time payment, you do not have to renew your payment the next period.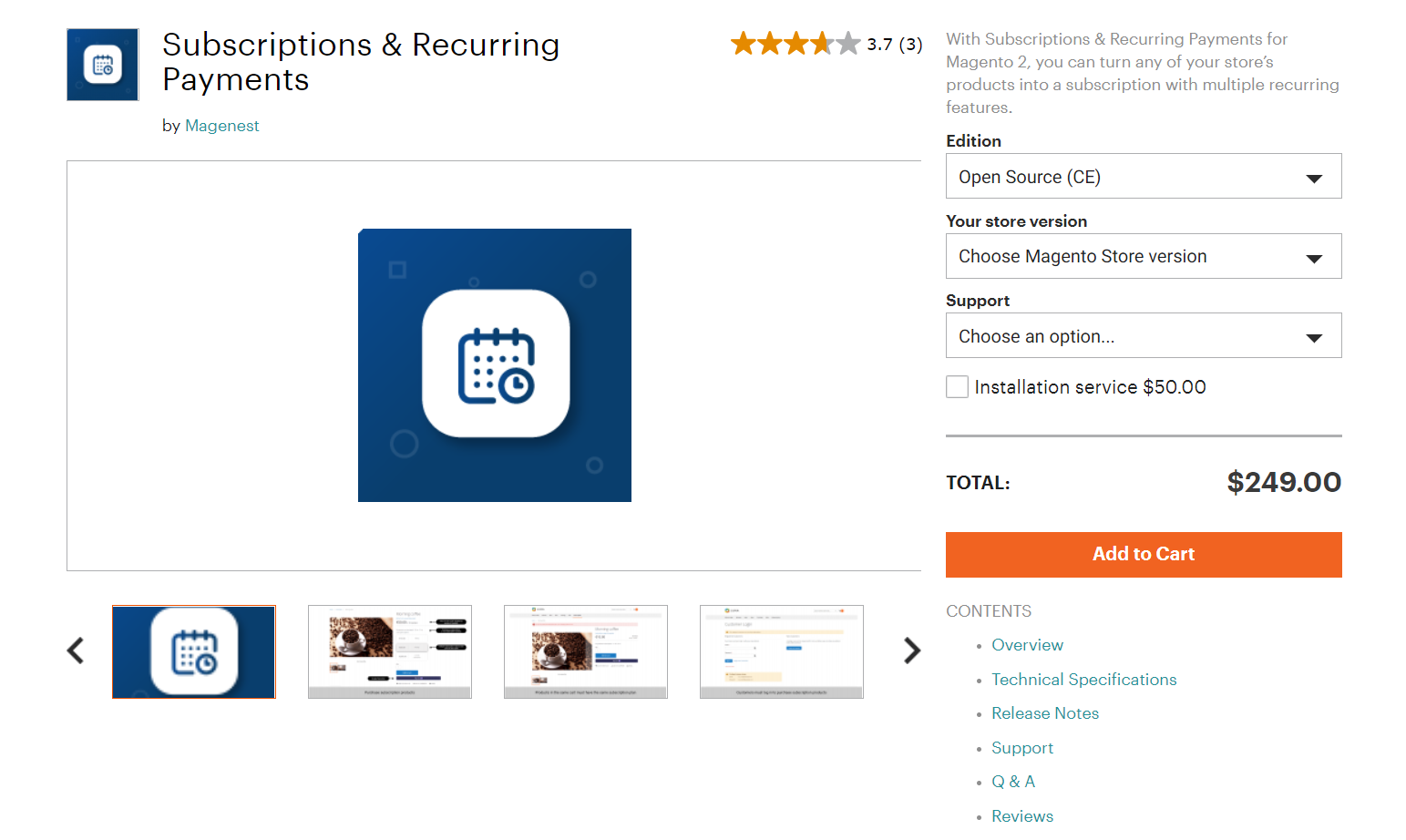 Subscriptions & Recurring Payments is a Magento 2 extension that allows customers to subscribe to products – they will be able to automatically reorder the products between each interval, and an amount of money will automatically be deduced from their account.
Fully compatible with Magento 2 Open Source and Magento 2 Commerce
Integrate with Paypal, Stripe and Authorize.net
Create different subscription plans and apply those plans to existing products
Set up whether customers can choose a start date for their subscription or not
Manage and edit all the customers and subscription information
Allow subscribers to suspend, cancel, and renew their subscription from the user dashboard
Offer a free trial period for customers to try your products or services for free
Use initial fee for subscriptions (only available in Paypal)
PCI DSS (Payment Card Industry Data Security Standard) compliance
4. WIX
Recently, Wix has released a new feature that enables merchants to sell products subscriptions in Wix Stores. As it is a built-in feature, you do not have to pay any extra fee to sell subscription products and services.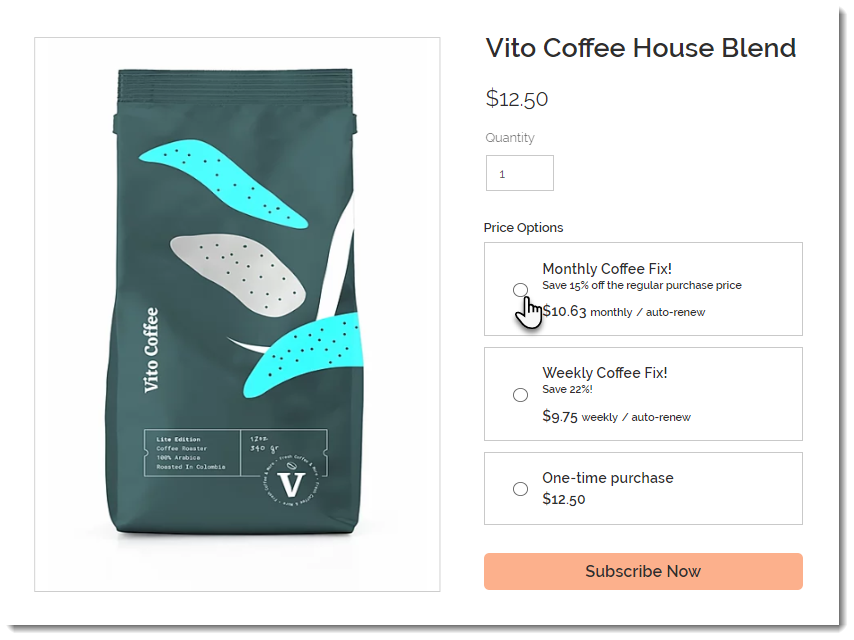 In order to sell subscriptions in WIX, you need to create a new physical product first (Product subscriptions are not for digital products) or come to edit an existing one. There would be a button "Create a Subscription" for you to click and start selling subscriptions.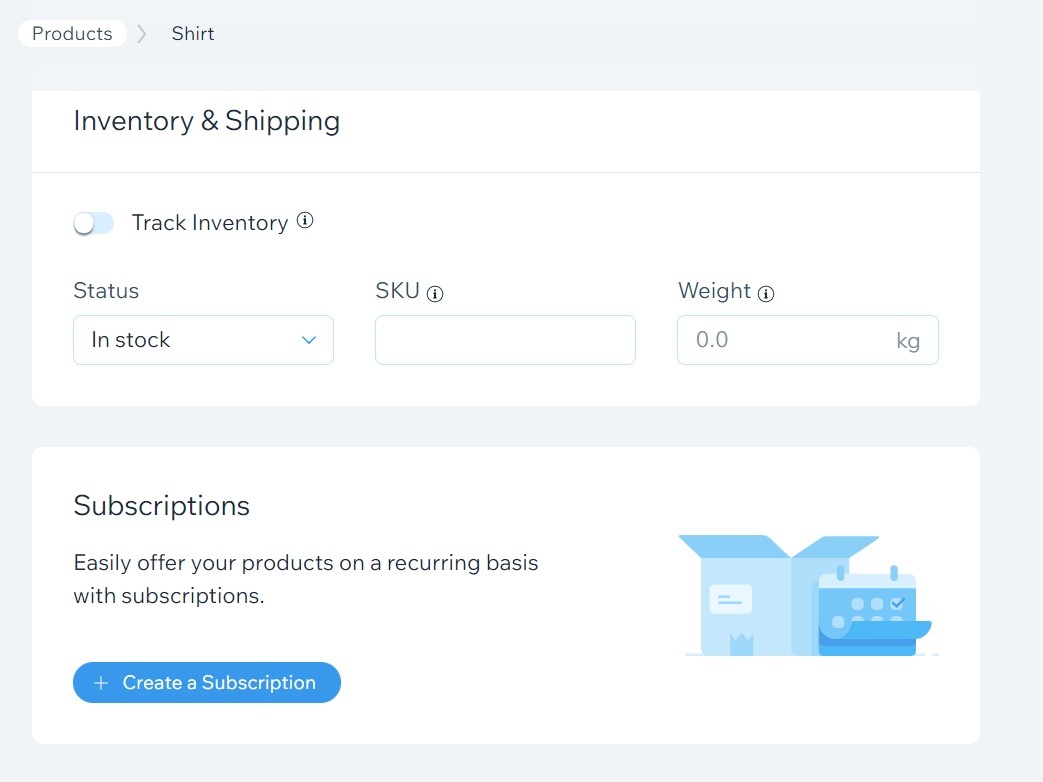 There would be some information that you need to fill in before turn a normal product into a subscription in WIX:
Title and tagline: they appear on the Product Page as the picture below

Title and tagline of subscription products in Wix Stores
Frequency: the period of time that your customer is charged and a new order is created
Duration: the period of time that the subscription plan lasts
Discount (optional): It can be a price discount or percentage discount.
Besides, if each product has different subscription plans (such as weekly, monthly, quarterly, or annually), you can easily arrange them just by dragging and dropping.

The feature that is most concerned about is the ability to collect recurring payments from subscribers. When selling subscriptions in WIX, you need to connect a payment method that supports recurring payments. Currently, there are 4 payment providers integrated with WIX supporting recurring payments:
WIX Payments
Isracard
Stripe
PayPal
You may want to note down that some payment providers place restrictions on product types(e.g. restriction on CBD products). For more detailed information, you have to check with the payment provider that you chose.
5. Subbly
Unlike the platforms mentioned above, Subbly is fundamentally a subscription e-commerce platform, focusing on subscription business only. If you are trying to compare Subbly vs Shopify or Subbly vs other eCommerce providers, it is just not a meaningful comparison.
In case you already have an eCommerce store on Shopify, WIX, Squarespace, WordPress or Weebly, you can easily integrate Subbly's checkout to your existing store. Otherwise, you can also build your online store from scratch with Subbly just by dragging and dropping.
Based on what Subbly offers, merchants have 2 pricing plans to choose from. The first one is Checkout Only ($14/month), which means you must have an online store on other eCommerce platforms already. The second option is Website + Checkout ($29/month), which means you can get access to Subbly website builder.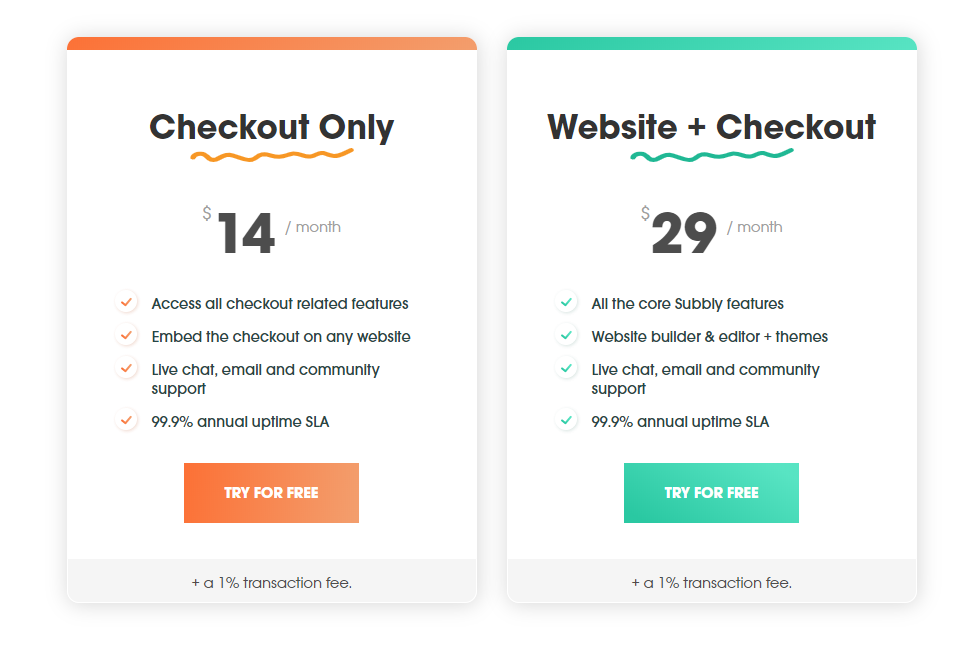 An important thing to note down is that you will have to pay 1% transaction fee of your sales besides the monthly licensing charge above.
Beside website builders, Subbly also provide a bunch of powerful features:
Flexible Subscription Billing: Subbly can help you collect payment from subscribers automatically, let your customers customize their subscriptions, customize billing and shipping cycles (weekly, monthly, quarterly, or annually), recover failed payment,
Basic Ecommerce features: Besides subscriptions, you can still sell normal eCommerce products on Subbly with integrated payment gateways (Stripe), cart functionality, and tax calculation.
Checkout & Flows: Merchants can also control every aspect of the customer's journey and experience by customizing the Subbly website to match their branding, embed the entire checkout experience directly onto your non-Subbly website, collect customer data via surveys, on-boarding flows & quizzes.
Shipping & Logistics: Streamline fulfillment and logistics to make your life easier and to make sure your customers reliably receive their shipments and have an enjoyable experience over and over again.
Marketing & Growth: offer discounts and coupon codes to your customers to incentivize them to subscribe and purchase your products, send SMS to old and new customers by Subbly Automation,
Management: Subbly also offers you a full CRM (Customer relationship management) to manage your customer, order or subscription information.
6. Sellfy
Sellfy is an eCommerce platform focusing on selling digital products. Whether you are writers, designers, comic book authors, music producers, or filmmakers, you can use Sellfy to earn money from your work.
About pricing, Sellfy has 3 different pricing options for you to choose from, which are Starter, Business, and Premium. You would choose a suitable plan based on your annual revenue. One of the advantages of Sellfy is that it does not charge you a translation fee, which can help you save a lot of money.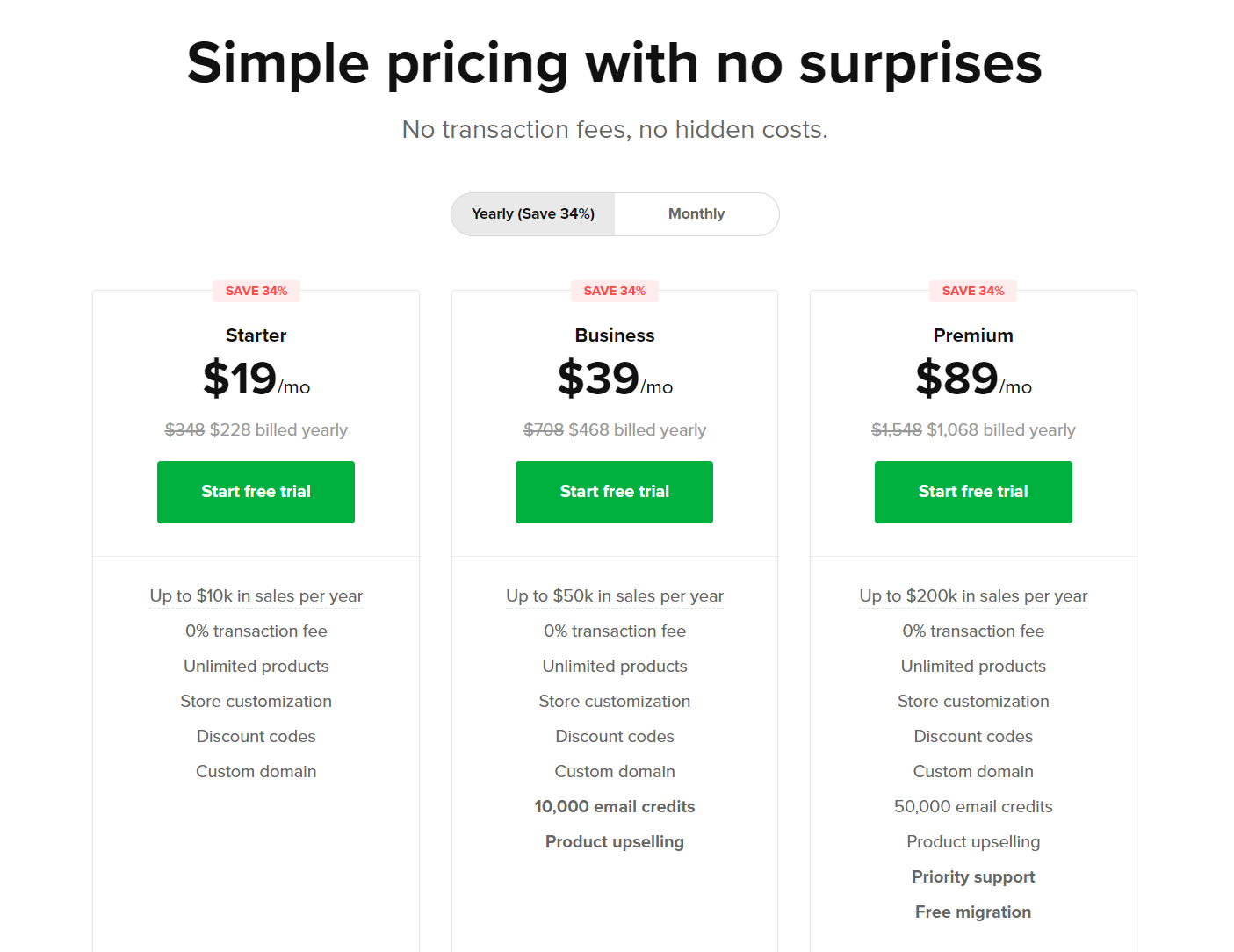 Besides digital products, Sellfy also gives you the opportunity to sell physical products and subscriptions as well. Similar to selling other product types, selling subscriptions on Sellfy is extremely easy thanks to its features:
Store builder: You can quickly create a beautiful subscription eCommerce website within minutes. Your online store would be customizable, multilingual and optimized for mobile devices.
Payment: After connecting your store to a payment solution (Sellfy only allows you to choose between PayPal and Stripe), you would be able to collect payments from customers periodically. You just need to set up your billing interval
Embed anywhere: If you already have a website or you want to sell your subscription products or services on social media channels, you can still use Sellfy. Buy Now buttons, products or even the whole store are all embeddable.
Built-in marketing features: You can send product updates to existing customers and collect newsletter subscribers by email marketing, use discount codes and product upsells to engage with customers and increase your sales or add tracking pixel from Facebook or Twitter to run ads and track their performance.
Powerful analytics: besides the best performing products, you can also have a better understanding of the traffic channel and locations of your subscribers.

Traffic sources report in Sellfy

Location report in Sellfy
7. Recurly
Currently, thousands of companies worldwide are using Recurly to manage and optimize their rapidly-growing subscription companies. Recurly is the top subscription eCommerce platform, providing a set of excellent features to maximize revenue for subscription businesses.
If you choose Core premium plan, you will have to pay Recurly $149/month and 0.9% of your revenue. If you want to add more users, more payment gateways and customize your subscription store, you have to contact their sales team for their Professional plan and Elite plan.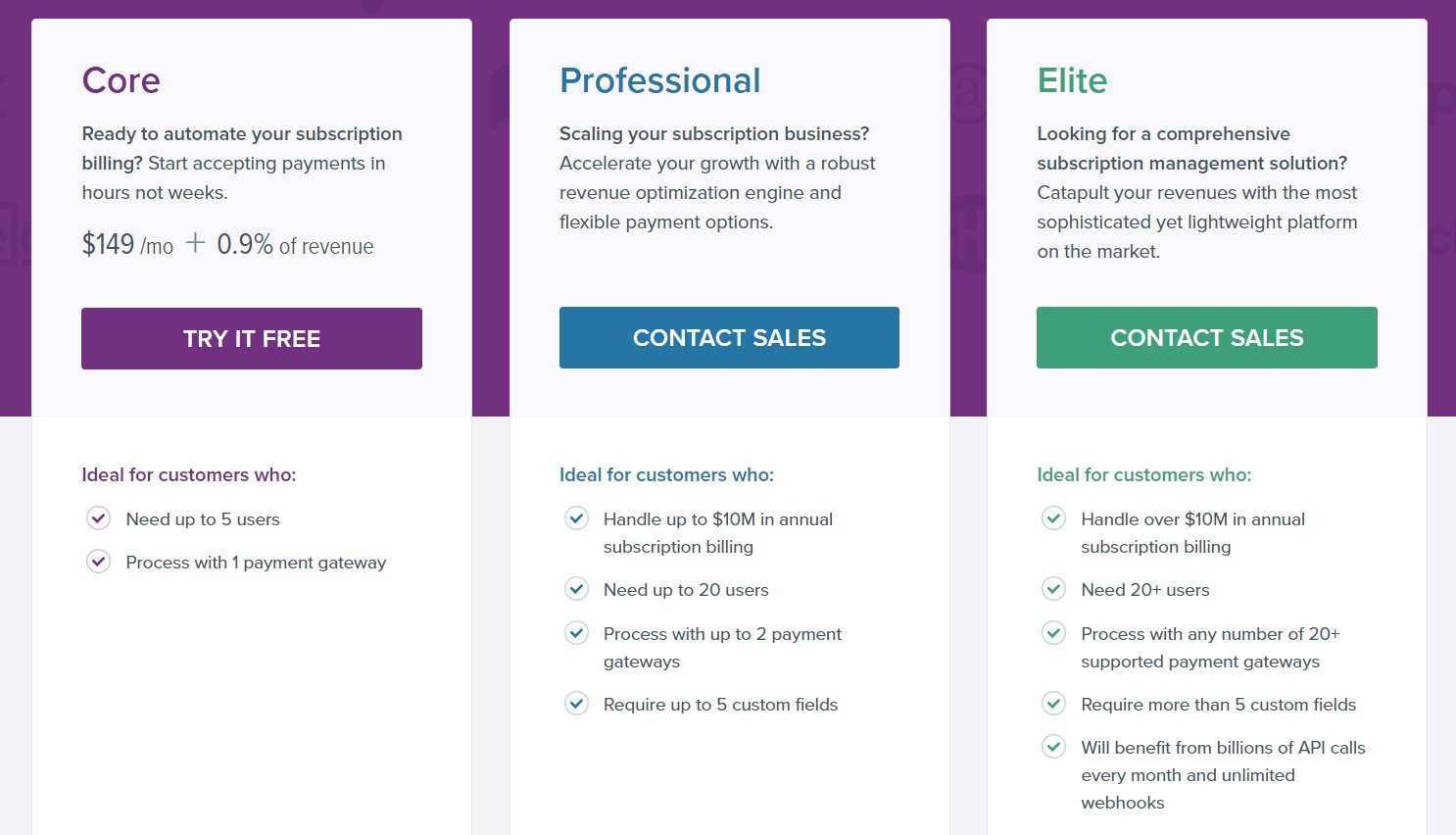 No matter which plan you choose, you can still have access to the following subscription features:
Subscription management: With Recurly, you can create as many plans as you want, offer free trial and convert trial users to subscribers as well.
Upsell Products and Services: you can also upsell one-time products and services with your subscription plans. Your subscribers purchase complementary one-offs when subscribing to your product or service.
Payment Optimization: In the US, Recurly support 16 payment gateways as you can see in the picture below. If you are selling in other countries, you can choose that country and see which payment gateways are available there.

Supported Payment gateways in Recurly in the US

Billing: You have 5 different billing models in Recurly, which are fixed recurring, quantity-based, usage-based, one-time charge and hybrid.
Accounting: Recurly automatically creates an invoice for all billing scenarios, including charges, refunds, credits, shipping fees and taxes. Automating billing features can ensure invoices are accurate and processes are scalable. Besides, Recurly also calculates and collect sales, VAT, or GST tax for any charge managed within Recurly
Analytics & Insights: In Recurly analytics dashboard, you can see an actionable insight about your subscriber, plan and revenue data, along with KPIs and trend analysis, surface the insights you need to monitor and even actions you have to take to improve your business every day.

Recurly analytics dashboard

Subscriber Retention: Recurly has developed a technology named Recurly's Revenue Optimization Engine using advanced statistical models and machine learning. Therefore, it can recover an average of 70% of failed subscription renewals.

Subscriber Retention report in Recurly
Conclusion
In short, each subscription e-commerce platform has its own advantages and disadvantages. Here is a quick summary of the subscription eCommerce platforms mentioned above:

If that platform really focuses on providing in-depth subscription capabilities like Subbly or Rucurly, it will certainly have fewer eCommerce features than WooCommerce, Shopify, Magento or Wix. In contrast, for normal eCommerce platforms, you may have to install additional plugins, apps or extensions to equip your online store with subscription features. The most important thing is finding the most suitable subscription eCommerce platform for your current business and your future goal.
Do you intend to switch your subscription eCommerce platform?
If you are using WooCommerce and Shopify to sell subscriptions but not satisfied with your current subscription e-commerce platform for some reasons, LitExtension is here to give you a hand. Fortunately, we can automatically migrate not only all your subscription data including subscribers, payment method, purchase history… but also other eCommerce data with no downtime. Helping you preserve all your data, LitExtension can allay the fear of losing your recurring customers. In addition, our tool also has additional options, for instance: SEO URLs migration, customers password migration,… to ensure your best experience with our migration service.
Until now, we have migrated more than 140,000 stores with over 40,000 customers worldwide. Our support team is available 24/7, so please contact us if you have any questions about migrating from one subscription eCommerce platform to another.
Join our Facebook Community to get more eCommerce tips and news.